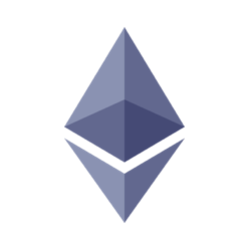 Ethereum (ETH)
Price
What is Ethereum (ETH)?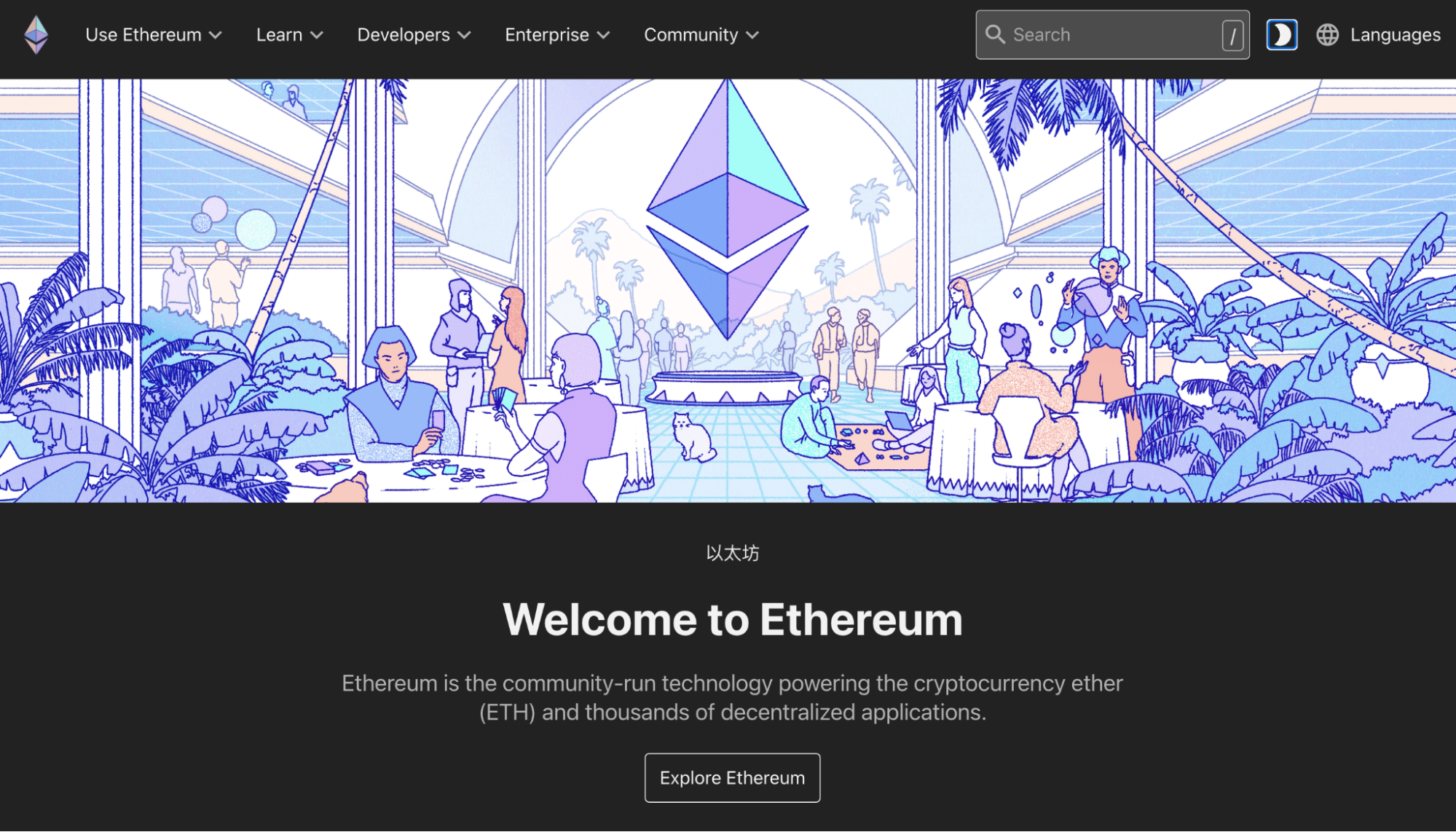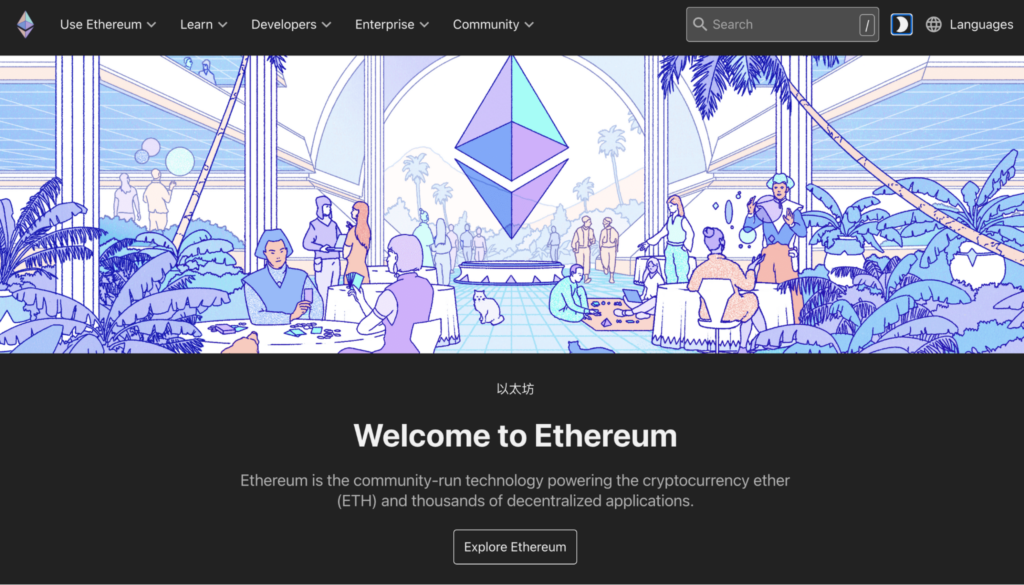 The famed Ethereum co-founder, Vitalik Buterin, once said, "When I came up with Ethereum, my first thought was, 'Okay, this thing is too good to be true…'" Fortunately for him and the other co-creators, Ethereum has exceeded expectations since its 2015 inception.
Aside from Bitcoin, Ethereum is arguably the most important cryptocurrency project. It was influential in ushering in the age of second-generation blockchain technology by promoting the concept of 'programmable money.'
Ethereum is a proof-of-work, open-source blockchain. But unlike Bitcoin, one can essentially build things on the network, namely smart contracts and a host of decentralized applications. Everything from NFTs (non-fungible tokens), utility tokens to financing protocols and full-scale exchanges have leveraged Ethereum's technology to a small or large extent.
ETH, or ether, is Ethereum's native currency used for processing transactions and rewarding miners for securing and advancing the blockchain. Ethereum has consistently ranked second for the most-traded cryptocurrency for several years.
ETH's current market cap is roughly $198,501,064,798 with a price of $1,650.95. This article will outline whether Ethereum is a good investment and ETH price prediction observations.
Is Ethereum a good investment?
Laypeople who may not be able to mention more than three popular coins off the top will probably have heard of Ethereum.
This means Ethereum has gained enough traction in the markets and, having existed for over six years, continues to prove staying power. It's time to consider the utility and what sets it apart, having established the recognition factor.
Ethereum is built like an engine for other coins rather than being another digital payment currency. One of the reasons why so many cryptocurrencies exist is thanks to the ERC20 token standard powered by Ethereum.
Prominent digital currencies like Tether, Chainlink, Binance Coin, USD Coin, and DAI were built on Ethereum. A conservative estimate of the number of existing ERC20 tokens is at least 500. This means there's always demand for Ethereum transactions, and if such activity increases, the price is likely to follow suit.
Enthusiasts and holders have been highly anticipating Ethereum 2.0 or Eth2, which is about making the network more scalable. Eth2 should result in even more demand overall if the upgrade is successful.
Should I buy Ethereum today: Crypto technical analysis for ETH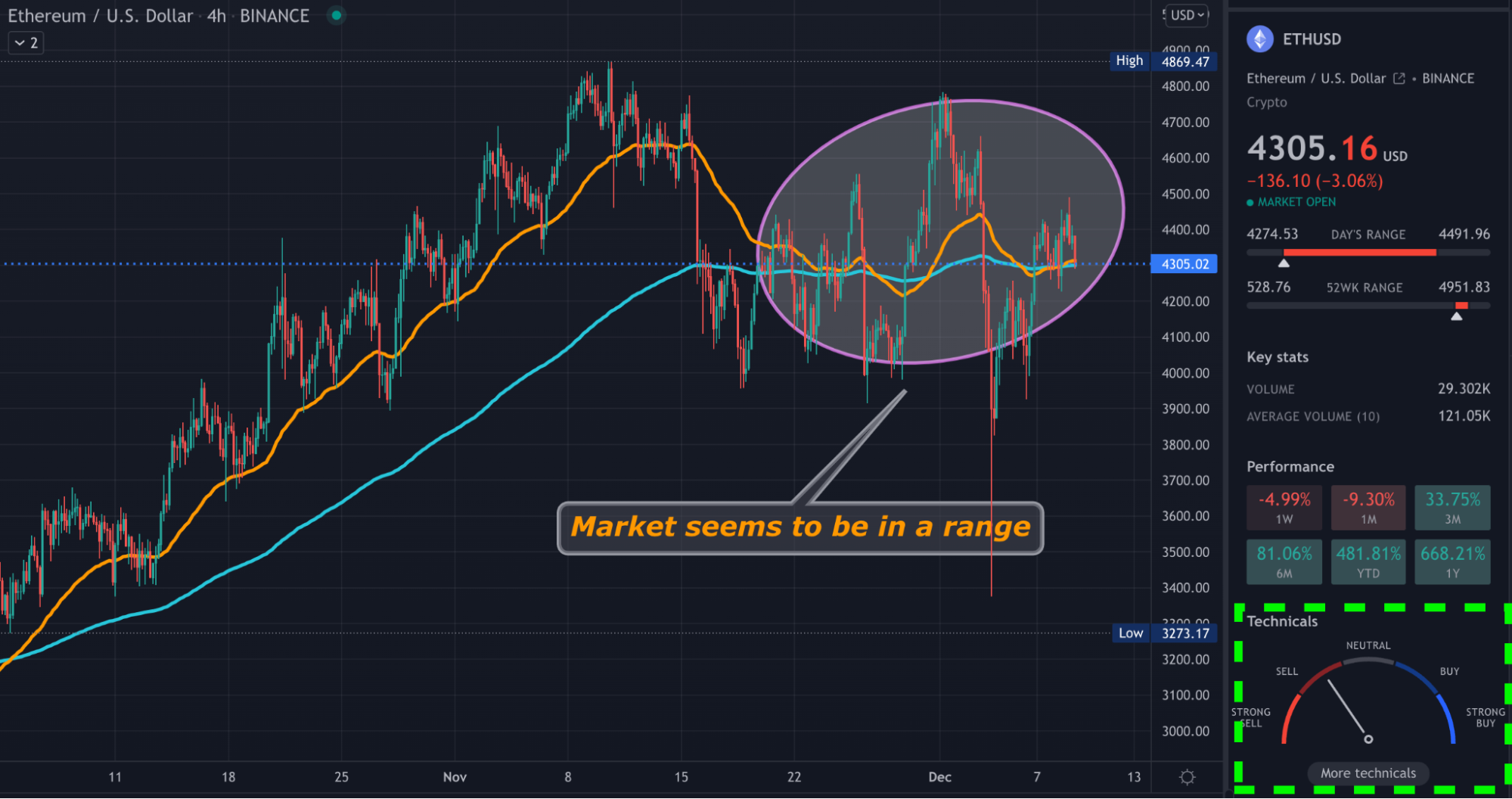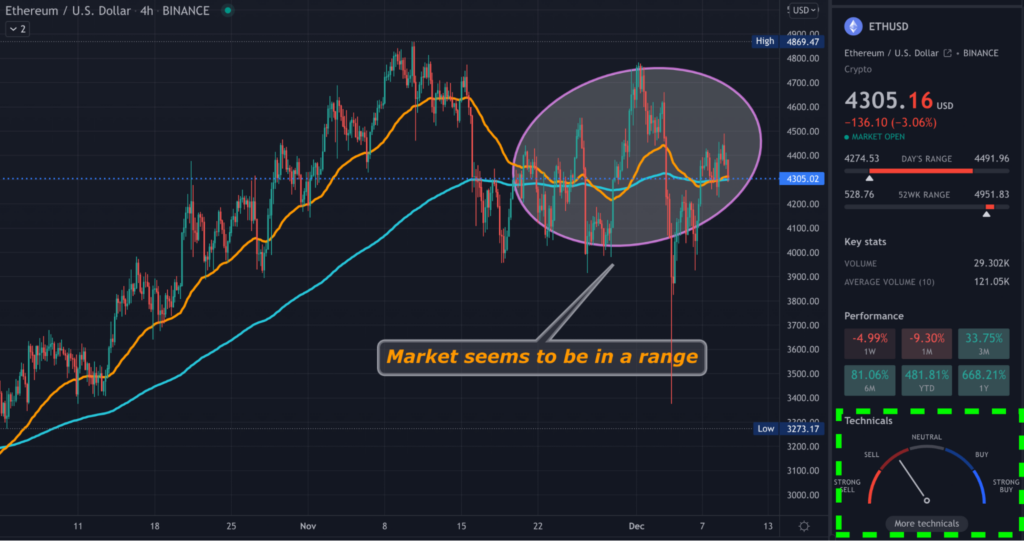 Our analysis for ETH suggests a neutral bias leaning towards the sell side. Firstly, TradingView's technicals in the bottom right corner of the chart suggest a 'SELL.' The second confirmation factor is using a 50-day and 200-day moving average crossover.
The 50 (orange) must be on top of the 200 (blue). Moreover, the price must be trading above both to generate a buying trigger. Judging by the flat slope of the moving averages, it indicates somewhat of a range.
Furthermore, the price isn't above the moving averages. So, the price action doesn't provide a precise bullish scenario based on these factors. Nonetheless, ETH price prediction forecasts for the future are more favorable.
Will ETH coin price hit $10 000 in a year?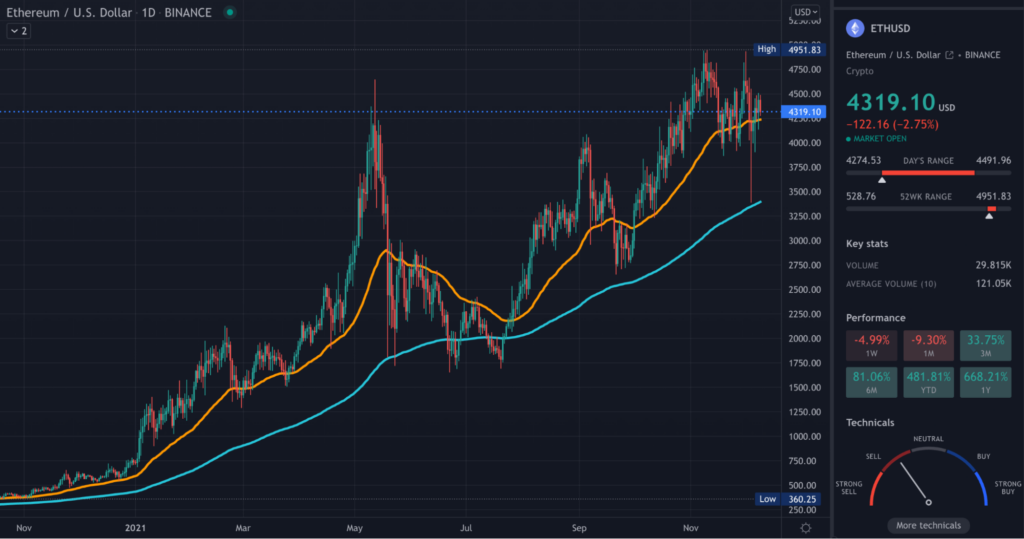 Ethereum hit an impressive all-time high of $4,951 in November 2021. Investors and enthusiasts alike now project $10,000 as the 'magic number' for ETH to breach within the next year. From the current value, it would take a roughly 133% gain.
Based on past performance, this increase is highly possible. However, several forecasting resources estimate valuations not above $8,000. Wallet Investor suggests a maximum price of $7,918.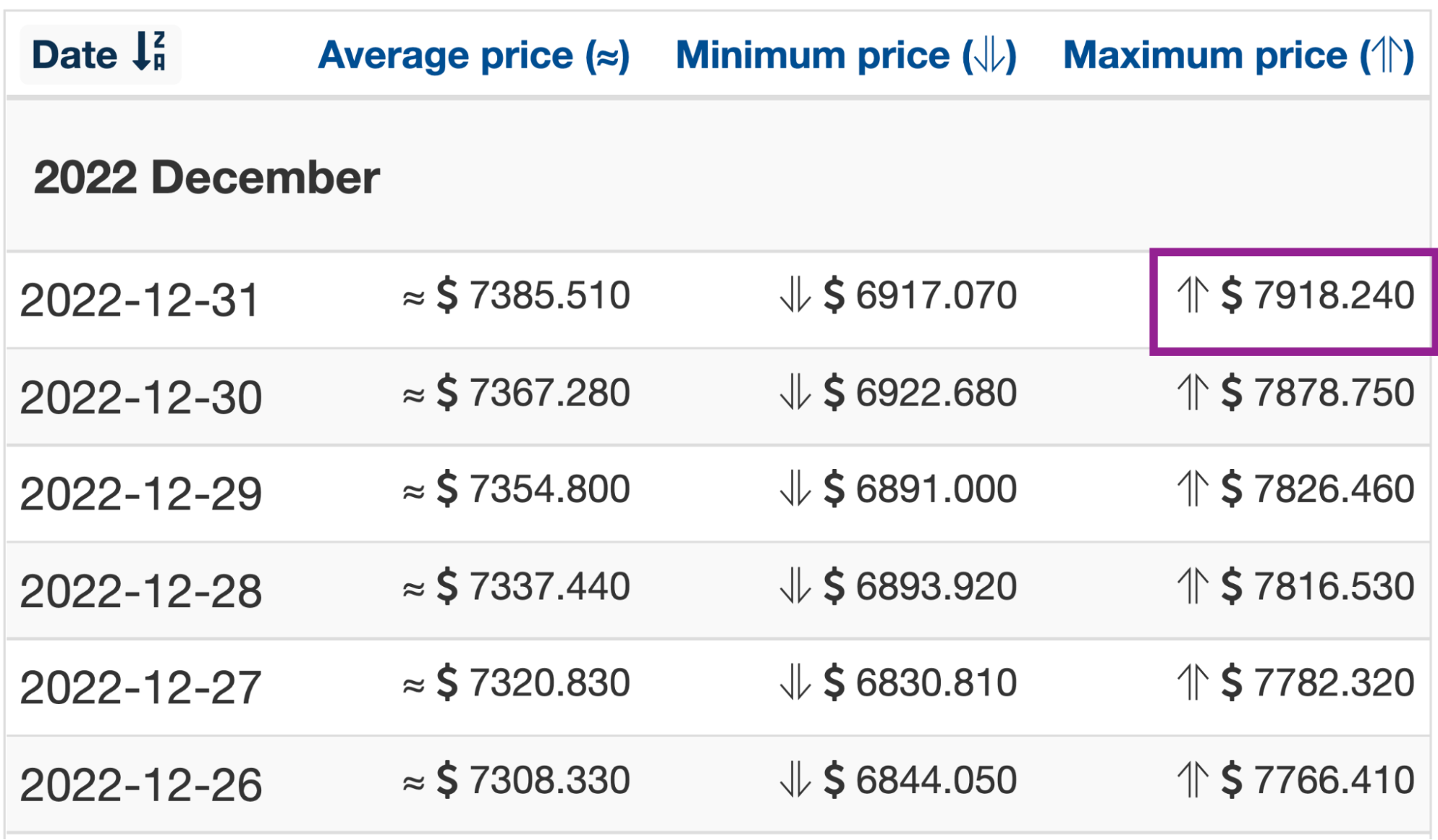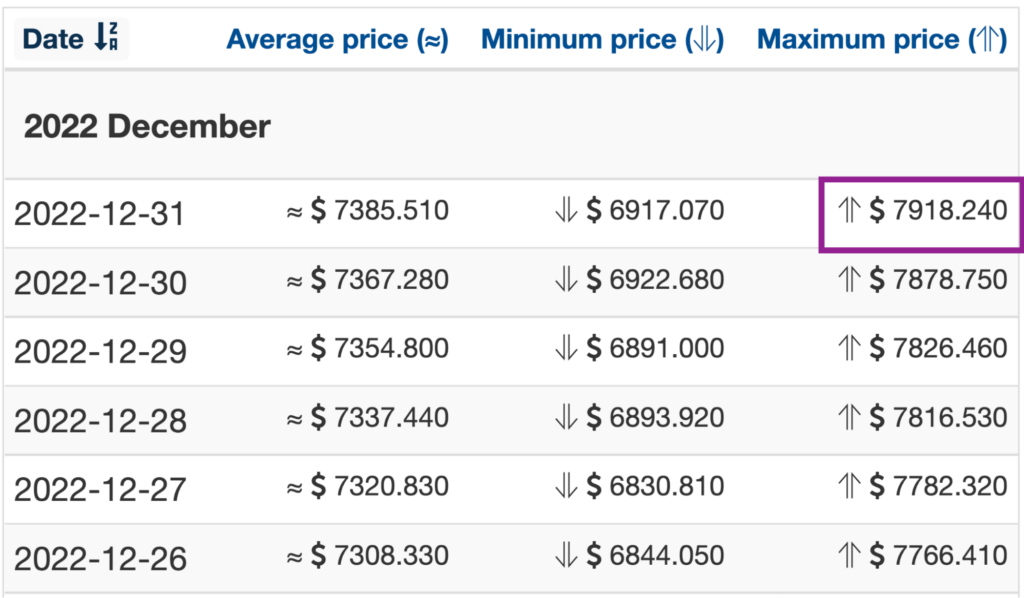 On the other hand, $7,898 and $7,419 are the estimated peak values from PricePrediction.net and Digitalcoinprice, respectively.
What is ETH's price prediction for 2025?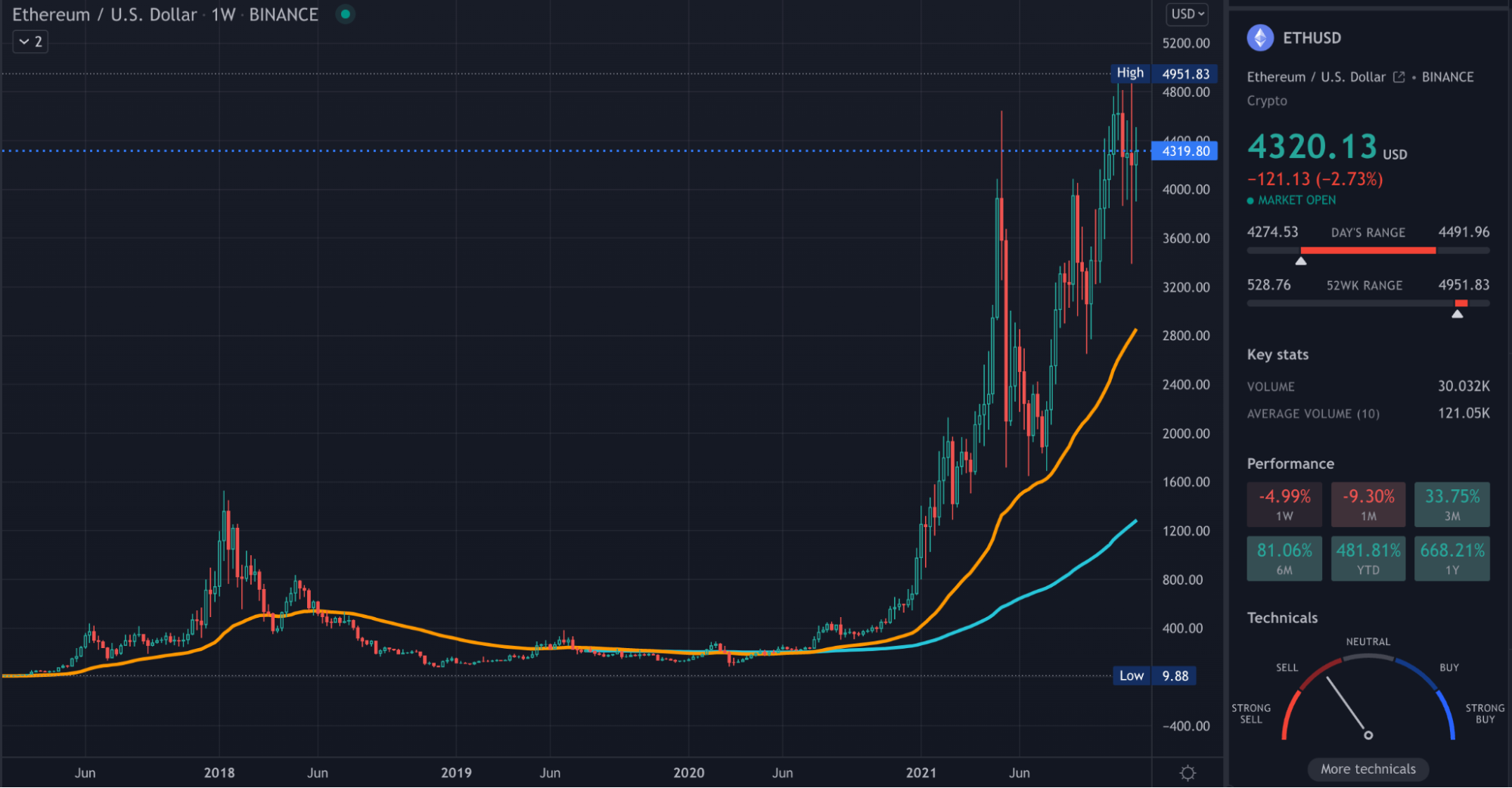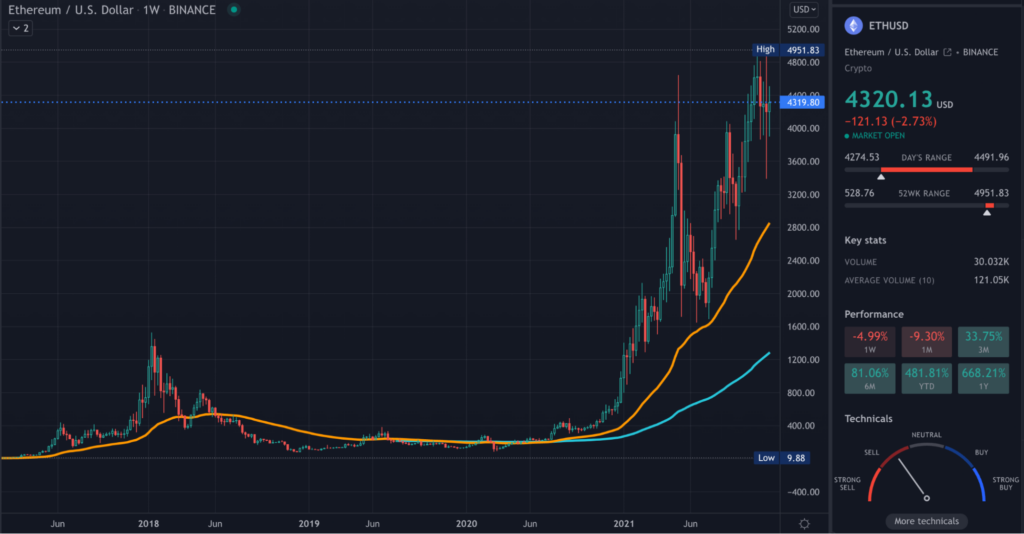 Most experts believe Ethereum is tremendously undervalued. Yet, like any cryptocurrency, we should consider the potential benefits and downsides.
Best-case scenario
The three prediction sites have estimated various impressive prices for Ethereum by 2025. Wallet Investor expects ETH to be worth $15,395 when that year begins.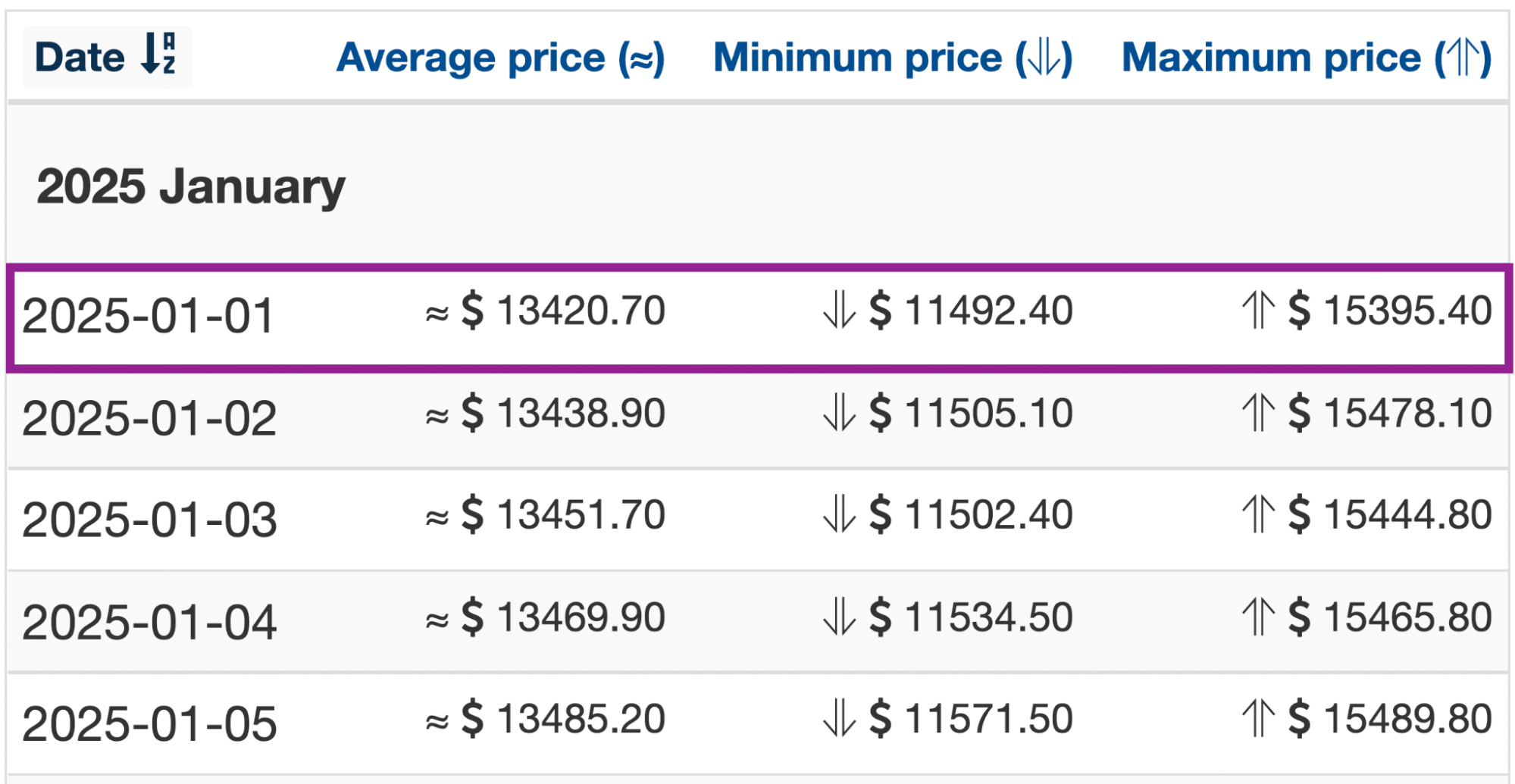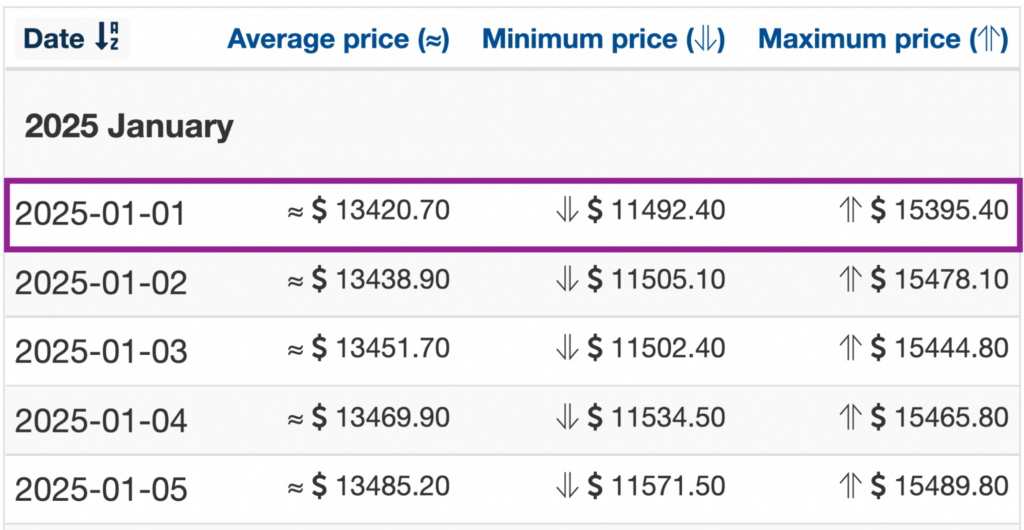 Digitalcoinprice pegs a peak value of $13,001, while PricePrediction.net is the more optimistic of the three, suggesting a maximum price of $23,413.
Worst-case scenario
Like any other cryptocurrency, Ethereum isn't perfect, particularly from a technical perspective. There already are numerous projects like Cardano, Solana, and Polkadot, which have been dubbed 'Ethereum killers.'
Therefore, the application-building blockchain space is quite competitive. Moreover, cryptocurrencies are inherently speculative, meaning they are highly volatile. These few factors can and have threatened to make ETH less valuable over time.
As an investor, you should understand that no forecasts can accurately depict the future, meaning one shouldn't invest above what they can comfortably afford to lose.
The best way to buy ETH
As a hugely popular cryptocurrency, you can purchase ETH from numerous exchanges like Crypto.com, Binance, Coinbase, Kraken, Huobi, KuCoin, etc.