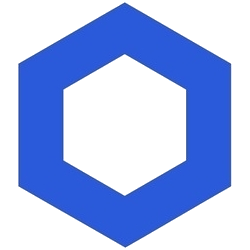 Chainlink (LINK)
Price
What is the LINK Coin?
Chainlink is a blockchain project whose goal is to help other blockchain platforms communicate with external data. For example, it can integrate external data like sports scores and share prices into a blockchain project. It does this using a technology known as oracle, which inputs this data into the blockchain.
It also provides solutions that are necessary to eliminate data counterparty risks in the smart contracts industry. Today, Chainlink is used by some of the biggest blockchain projects like Cardano, Filecoin, and Polygon. Its technology is also used by some of the leading companies in the world like Oracle and Google.
Chainlink also offers additional solutions that are important to blockchain technology. These include keepers and compute, cross-chain bridging, verifiable randomness, and decentralized market data.
LINK is the native token for the Chainlink technology. It does a similar thing to what other tokens like ETH and ADA do for Ethereum and Cardano's technology. For example, users can stake the coin and earn returns over time.
Over the years, LINK has grown to become one of the biggest blockchain projects in the world. It has a total market capitalization of more than $11 billion, making it the 16th biggest cryptocurrency in the world.
Is LINK Coin a Good Investment?
LINK has been a good investment over the years. Since its founding, the LINK token has surged by more than 6,000%, becoming one of the best performing digital currencies in the world. Still, like all cryptocurrencies, its ascent has not been a straight line. For example, between May and October 2020, its price tumbled by more than 50% during the cryptocurrencies sell-off.
Fundamentally, a case can be made that Chainlink is a good investment. For one, unlike other blockchain projects like Ethereum and Solana, it faces significantly low competition in its industry. Instead, it is used by some of the biggest blockchain projects, including DEFI platforms and exchanges to provide its data based products.
Additionally, Chainlink's solutions will become more valuable as the decentralized economy grows. That's because more projects will need oracles and bridges to interconnect with each other.
LINK coin technical analysis
The LINK coin has been in a bullish trend in the past few days. It has managed to jump by more than 95% from its lowest level in July. At the same time, it is stuck along the 61.8% Fibonacci retracement level. It is also along the 25-day and 50-day exponential moving averages (EMA).
A closer look shows that the coin has formed an inverted head and shoulders pattern. Therefore, there is a likelihood that the coin will resume the bullish trend in the near term. Still, this outlook will only be confirmed if the price remains comfortably above the two moving averages. Also, a complete bullish breakout will be confirmed if it rises above September's high of $36.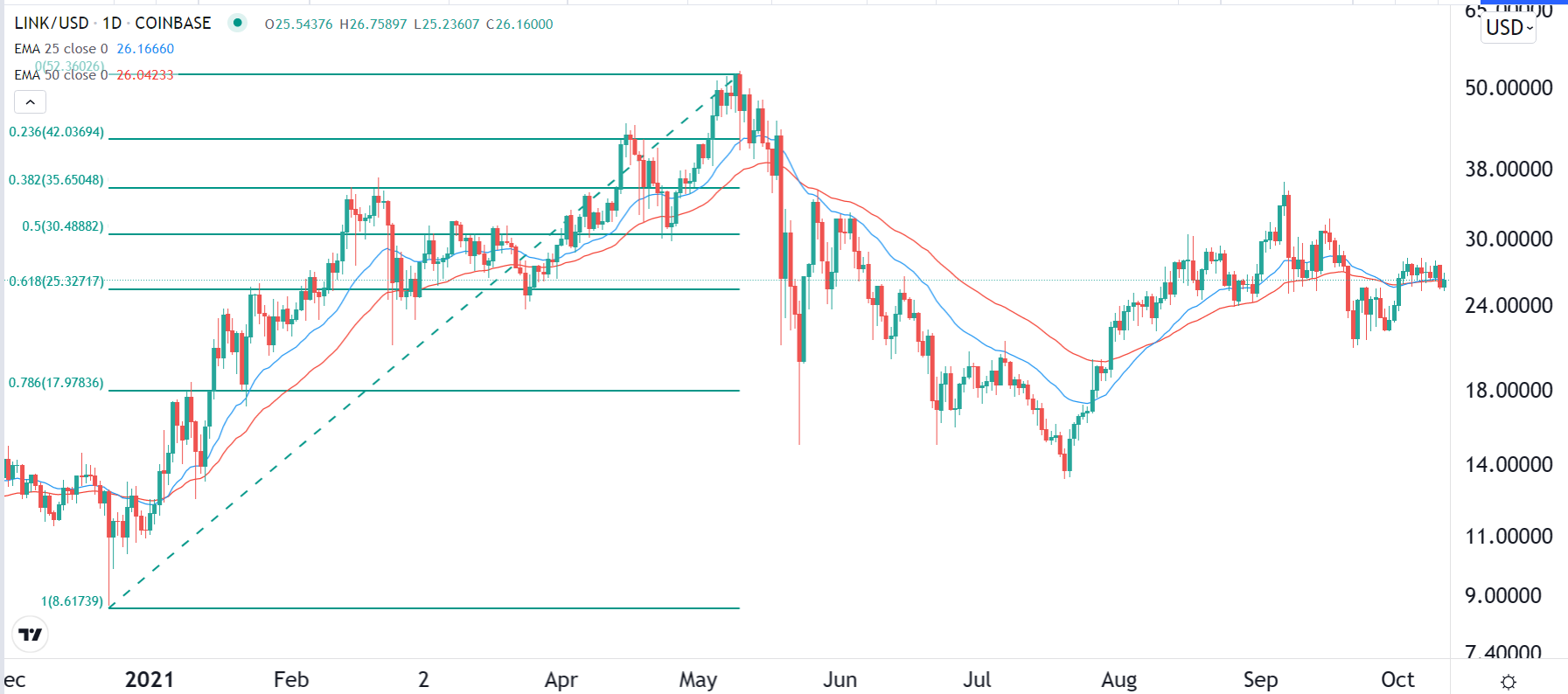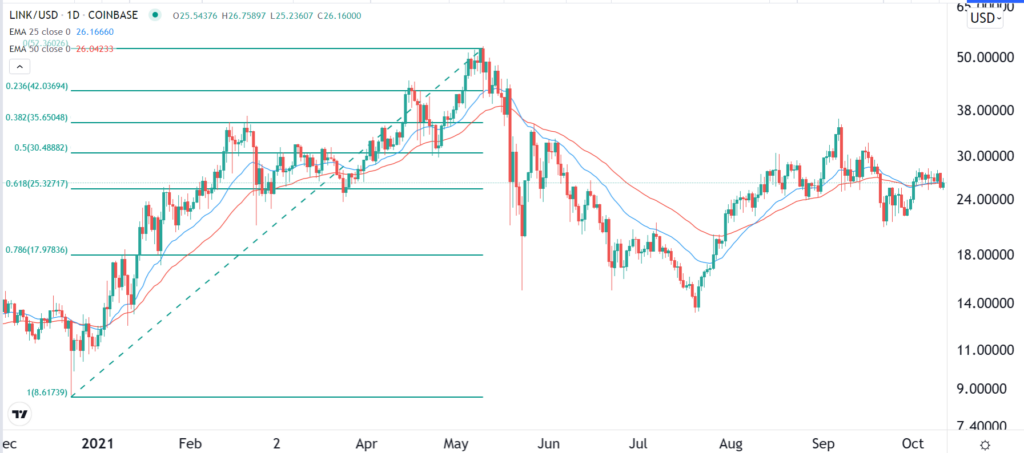 Worst case scenario
In the near term, the worst case scenario is where the token finds no buyers only for it to decline below the key support at $21. If this happens, it will mean that there are more sellers in the market, who will be keen to push it to the lowest level in July at $13.32. This price is about 50% below the current level.
Best case scenario
The best case scenario is where the price manages to move above $38, which was the highest level in September. Such a bullish breakout will open the possibility that the coin will keep rising and retest its all-time high of $52.
Should you buy LINK coin today?
While I remain bullish on Chainlink, technicals are currently stuck at neutral. This means that this is not the best time to buy the coin because it is stuck at the short and longer moving averages. As such, there is a possibility that its price will break out in either direction. Still, for long-term investors, it can make sense to buy the coin since its price will likely bounce back.
What is the LINK price prediction for 2025?
Chainlink's network is expected to expand further as the blockchain industry rebounds. Therefore, there is a high likelihood that its price will maintain a bullish momentum until 2025. A conservative estimate is where the price retests its all-time high of $52, which is about 100% above the current level.
Where to buy LINK
You can buy LINK in all of the biggest cryptocurrency exchanges like Coinbase, Huobi, Poloniex, and FTX.