Like the mythical sea monster, Kraken has been a dominant force in the cryptocurrency market for almost a decade. So, where is Kraken exchange located? The firm is US-based and was formally established in 2011 when digital currencies were still relatively obscure.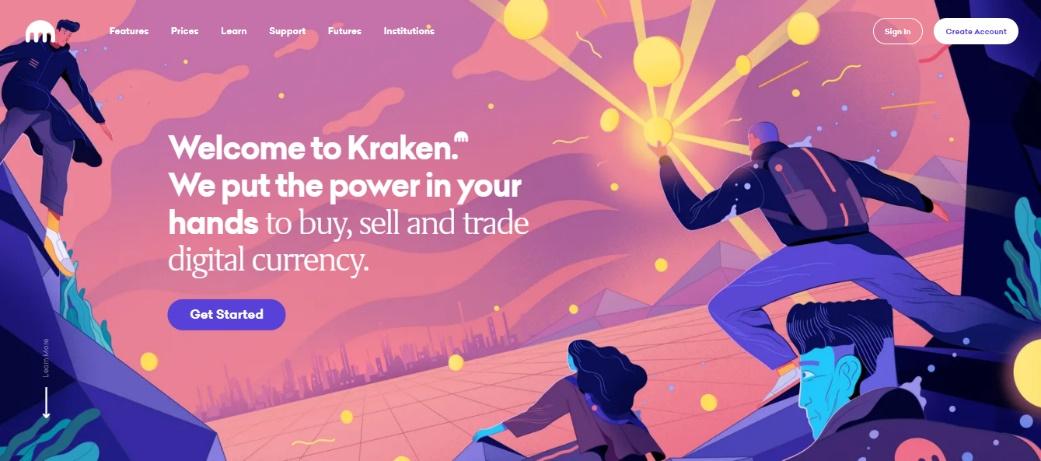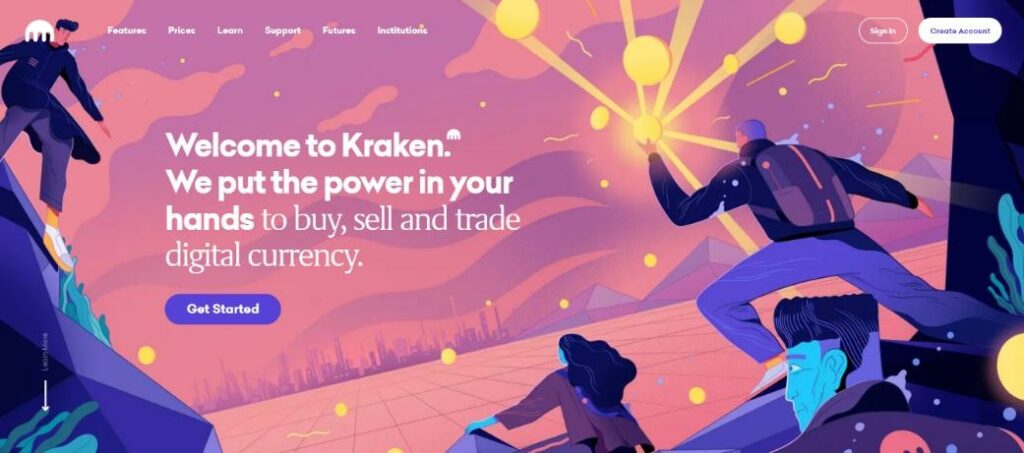 Its founder and current CEO, Jesse Powell, took advantage of the eventual closing down of the then-prominent Mt. Gox by working on the Kraken exchange as a suitable replacement in the interim. September 2013 was the official time that Kraken launched after the development phase. Kraken offers a mixed bag of products, primarily spot, margin and futures trading, and staking of cryptocurrencies.
At the time of writing, Kraken is the fourth-largest cryptocurrency exchange by trading volume, offering over 150 markets from a selection of 60 different digital currencies (according to CoinMarketCap).
Fees
To engage in these instruments, Kraken prides itself on offering funding through traditional forex currencies, namely USD, EUR, CAD, JPY, GBP, AUD, and CHF.
Depending on the chosen currency exchange, some of the funding options include SWIFT or bank wire transfers, PayPal, Fedwire, Etana, etc.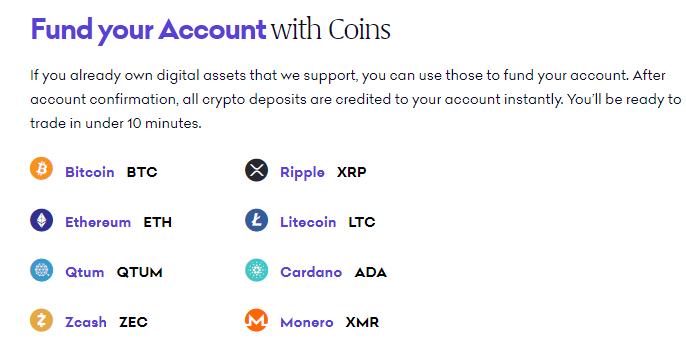 For faster deposits, users can choose from several crypto options to fund through, namely Bitcoin, Ripple, Ethereum, Litecoin, Qtum, Cardano, Zcash, and Monero. For trading purposes, there are fees for every executed order (effectively the spread), although these are relatively minimal.
Using the commonly implemented maker-taker model, maker fees range from 0.16% to 0%, while 'taker' fees are between 0.26% to 0.10% depending on your 30-day trading volume (rates decrease incrementally with bigger volume).
Furthermore, there is a rollover fee of up to 0.02% with Kraken (a fee for keeping a position overnight), but unfortunately, they apply it every 4 hours rather than once daily.
Cryptocurrency trading
The Kraken exchange allows clients to trade 60 cryptocurrency prices divided into over 150 unique markets. One can speculate on a popular market like BTC to USD or a more obscure one like XRP to GBP.
As with most exchanges, users have the option of trading these cryptocurrency markets at 'spot' (refers to trading the instrument at the current price using the entire investment) or on margin (relates to trading the instrument at the current price on a market, stop or limit order using leverage).
Users can speculate on the current bitcoin to USD price, for example, through their intuitive web-based proprietary trading platform. There are a few geographical restrictions on cryptocurrency trading with clients in America, Australia, and Canada.
Margin trading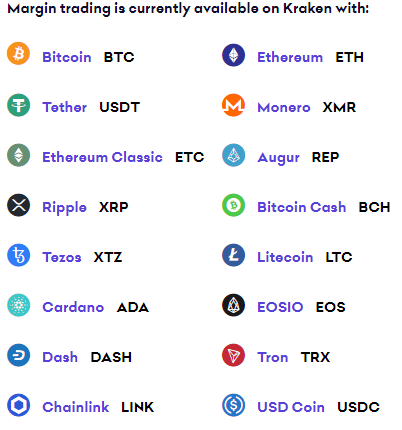 Margin or leverage is a mechanism allowing one to open a trade proportionally larger than their investment. Using this feature is a double-edged sword as it can magnify losses or gains equally. Fortunately, Kraken offers a reasonable maximum leverage ratio of 1:5, an acceptable figure in the industry.
For example, if one opened a position with 1:3 leverage, they would only need to have a third of that order's total value as their equity or deposit.
Fiat trading
The currencies used in the funding choices are all tradeable, to some degree, against their expansive list of available cryptocurrencies. As expected, users can trade US and EUR against all the coins. Bitcoin, Ethereum, and Tether are tradeable against all forex currencies on the exchange (USD, EUR, CAD, JPY, GBP, CHF, and AUD).
All other coins have some exposure to one or a few of these, depending on their popularity or obscurity. There are a few geographical restrictions, again, on fiat trading with clients in America, Australia, and Canada.
Futures trading
As an additional feature, Kraken offers futures trading on a limited number of cryptocurrency pairs, namely BTC/USD, ETH/USD, LTC/USD, BCH/USD, and XRP/USD. The leverage here is much higher, coming in at 1:50. In terms of the fee structure, it remains relatively the same as it does with margin trading.
It's essential to note there are far more nations restricted on futures than regular cryptocurrency trading (a complete list of the restricted countries is available on their website).
Other special features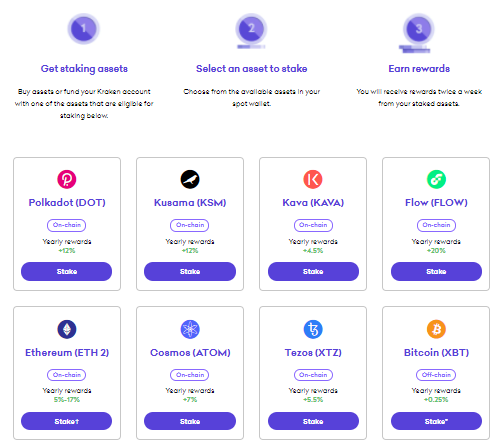 The other unique feature with Kraken is they offer the opportunity for staking of particular cryptocurrencies. Staking refers to the 'freezing' or locking of a specific amount of coins on a blockchain for earning additional rewards. The network automatically rewards holders according to the size of their stake when confirming transactions.
This process is possible on proof-of-stake digital currencies that do not involve the widespread practice of mining. Depending on the coin, there are different APYs (annual percentage yields) ranging from 0.25% to 20%, with rewards being paid out twice a week.
Also, there may be different minimum staking amounts for each cryptocurrency. Like all the previous features, some countries aren't eligible for staking.
Pros and cons of Kraken exchange
Below is an overview of what potential users may and may not like about Kraken.
Pros
Kraken is one of the oldest and most trusted names in the industry.
The exchange has, so far, maintained a record of never being hacked before. It has achieved this feat through numerous security features such as two-factor authentication, cold wallet storage for deposit reserves, penetration testing, etc.
There's a wide range of accepted fiat currencies for funding purposes. In terms of trading purposes, the same flexibility applies, allowing for more versatile crypto-to-forex or forex-to-crypto trading in the same place.
Customers experience reasonable fees overall (similar to the lowest in the industry).
Kraken offers a mobile app, downloadable on Google Play Store and Apple App Store.
Multi-language website viewing.
The exchange offers to stake directly on their site.
Cons
Kraken offers a limited choice of cryptocurrencies compared to other exchanges.
They do not offer any wallet.
Margin trading is not available with all markets on their platform.
Rollover policy may make it unsuitable to hold positions for long as the fees apply every four hours (you may potentially pay up to 0.12%).
Conclusion
There is simplicity in using the Kraken exchange; you can buy bitcoin to USD in a matter of minutes after all the necessary registration has occurred. Kraken has many plus factors: longevity and trustworthiness, high security, an extensive range of depositing and trading for crypto and fiat currencies, staking, etc.
In terms of experience, beginning traders or investors interested in more popular markets may consider Kraken.
More qualified folk might be disappointed at the limited number of markets compared with other exchanges (and also that margin trading is not available with every coin). Those looking to hold positions for extended periods may need to compare the rollover fees across the board.
Overall, Kraken is a recommended cryptocurrency exchange for the most part.