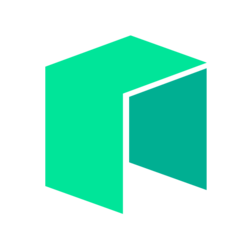 NEO (NEO)
Price
What is NEO?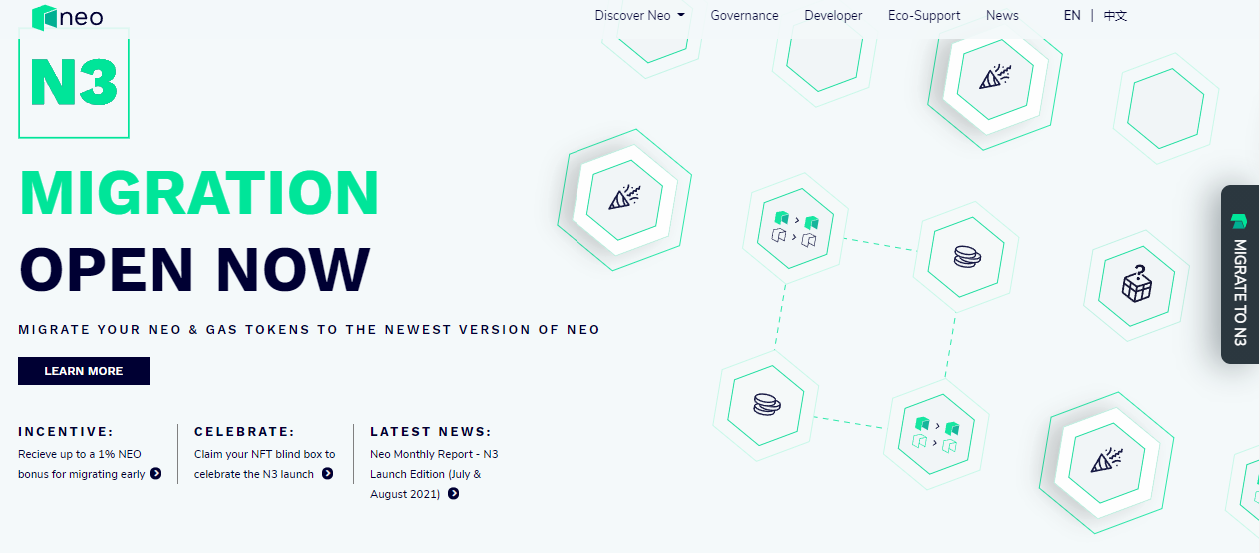 The word 'neo' means new or a revived form of something. First-generation cryptocurrencies like Bitcoin existed as distributed digital money that we could exchange freely worldwide. The second generation of projects like Ethereum disrupted this model with decentralized applications (dApps) and smart contracts.
NEO is a cryptocurrency in the same realm, often referred to as the Chinese equivalent to Ethereum.
Formerly known as Antshares from February 2014 to June 2017, Da HongFei and Erik Zhang founded the blockchain in 2014 with the mission of creating a 'smart economy,' a near-flawless ecosystem for gathering digital assets, digital identity, and smart contracts.
NEO utilizes two different tokens, its namesake cryptocurrency for governance in the network, and GAS, a separate coin used for powering smart contracts and applications similar to Ethereum's gas. Interestingly, ownership of the NEO token represents a share in the blockchain, and hence, the coin is indivisible.
CoinMarketCap presently ranks NEO #46 with an impressive market cap of about $3.2 billion and a value of $46. Let's explore why NEO may be a good investment and look at some price predictions.
Is NEO a good investment?
Let's briefly cover a few reasons why NEO is a good investment. Firstly, the project has existed for well over seven years. NEO is a second-generation blockchain and is more versatile and flexible than rigid projects like Bitcoin, which only perform a singular function.
Crypto enthusiasts make frequent comparisons between NEO and Ethereum as both are similar in their dApps and smart contract functionalities. However, NEO is distinct for a few reasons.
Firstly, it utilizes a different consensus mechanism to handle thousands of transactions per second, where most cryptocurrencies can only process a handful. Moreover, there are no transaction fees on NEO. Experts consider developing using NEO as being more accessible and less complex than other blockchains.
The last factor to consider is the intentionally clever coin supply model of NEO. No mining or staking is involved with NEO. The founders created 100 million coins initially, meaning no more will exist after it reaches its cap.
Presently, about 70.5 million or 71% are in circulation—investors particularly like projects with this scarcity factor. As the supply reaches its peak, the hope is that the coin will become more valuable with increasing demand.
Should I buy NEO today: Crypto technical analysis for NEO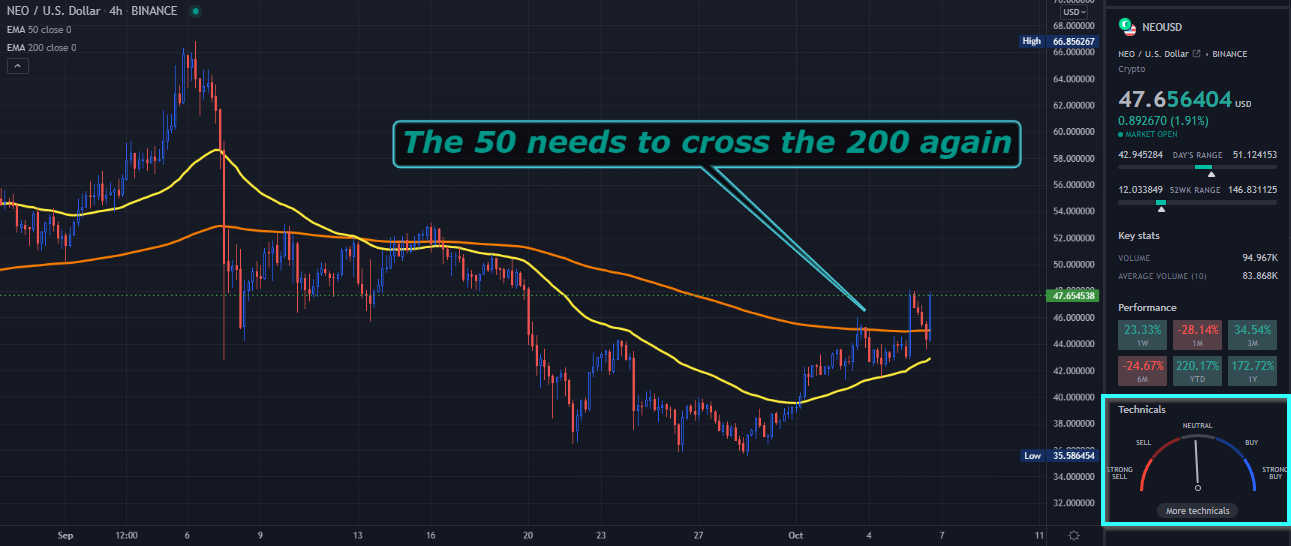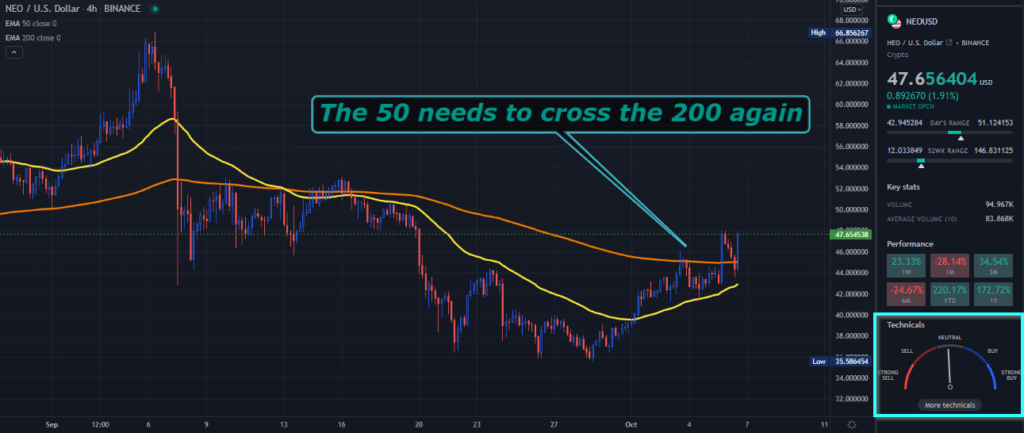 Let's use a 'vanilla' 50-day and 200-day exponential moving average crossover strategy to answer this question. The 50 (yellow) represents the short-term trend, while the 200 (orange) represents the long-term trend.
The objective is for both to align, whereby the 50 needs to be above the 200, and the price must be beyond the two. While the market is above the moving averages, we'd need to wait for the 50 to cross the 200 again. Furthermore, TradingView's technical analysis (on the bottom right corner) suggests 'NEUTRAL.'
While it may not be a good time to buy NEO today, hopefully, the 50 will cross above the 200 to confidently confirm the entry signal.
Will NEO coin price hit $100 in a year?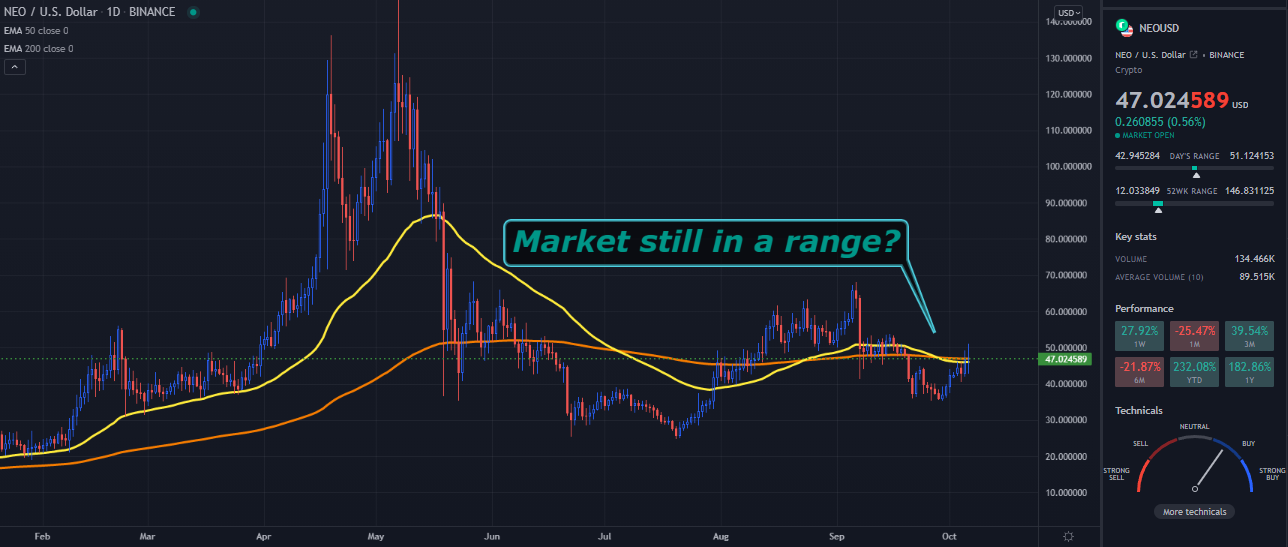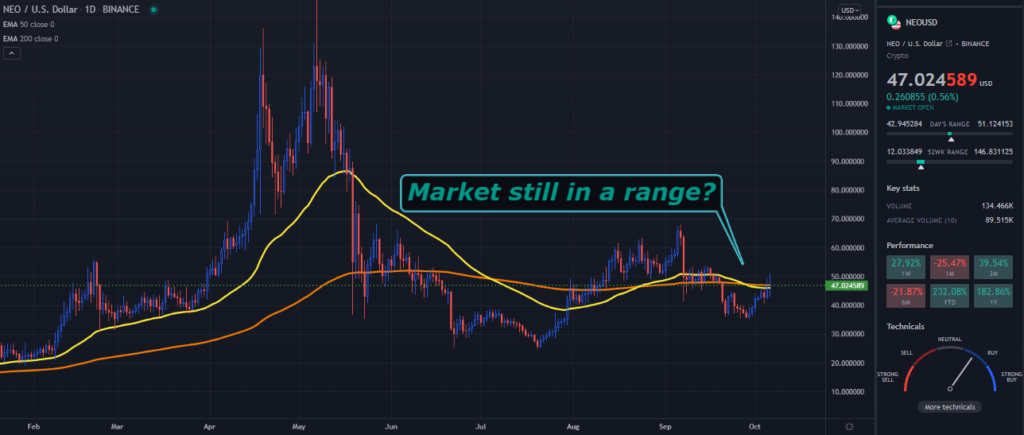 On the daily chart, we see NEO appears to be in some range judging by the flatness of the moving averages. Price is likely to stall for some time. Like the 4HR time frame, there is no buying signal. Regardless, can NEO hit $100 within a year.
If one had bought this time a year ago and still held the coin, their investment would have increased about 166%. Assuming the project went up by this margin, NEO would be worth roughly $122. However, we can also look at forecasting analysis from Digitalcoin.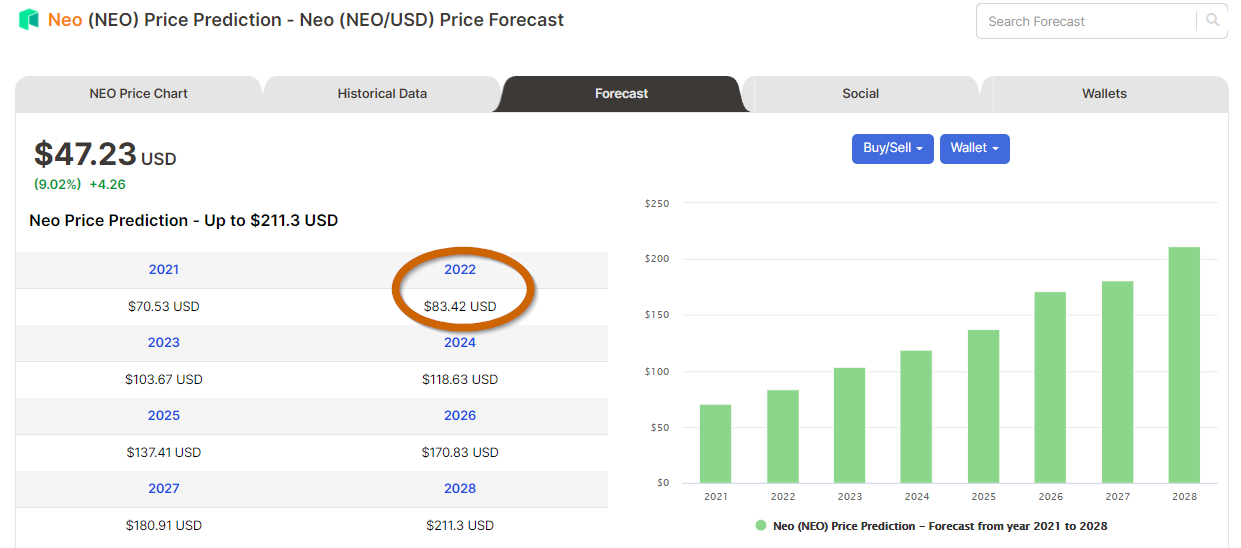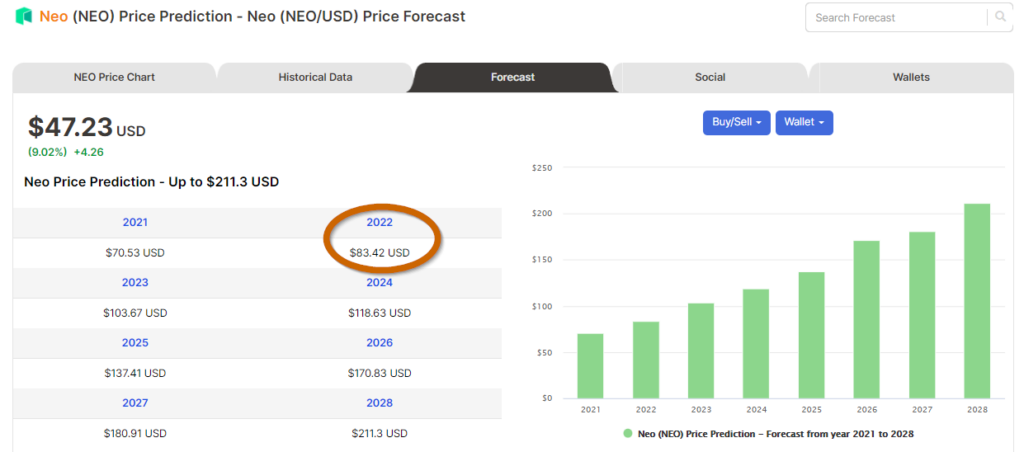 Digitalcoin approximates an $83.42 valuation, while Wallet Investor suggests a maximum price of $97 in a year. Therefore, NEO is likely to hit $100 in a year. If not, then somewhere between $80 and $125 would also be a fair assumption.
What is NEO's coin price prediction for 2025?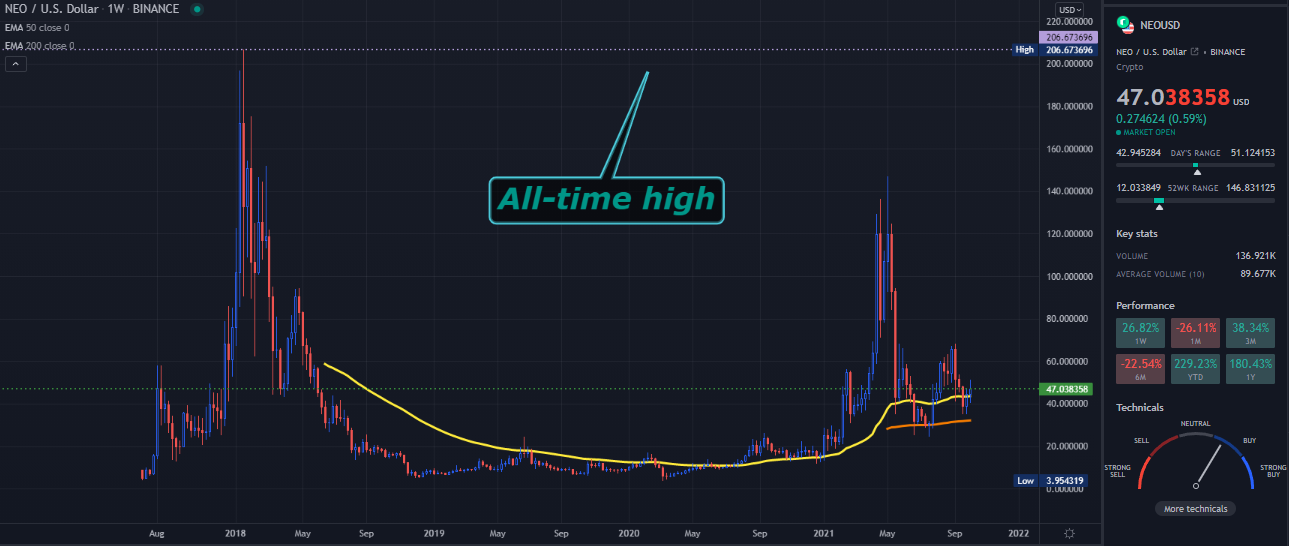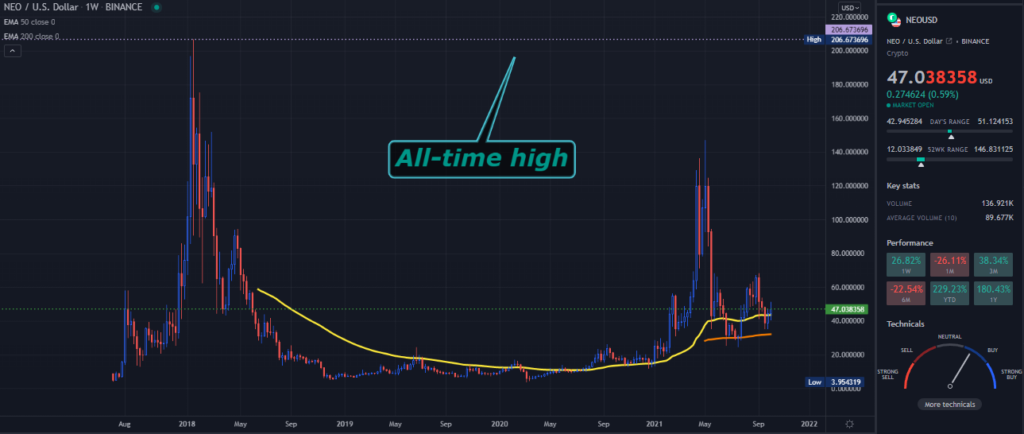 NEO's weekly chart shows the price above the moving averages, suggesting some bullishness may be on the cards, but what about 2025?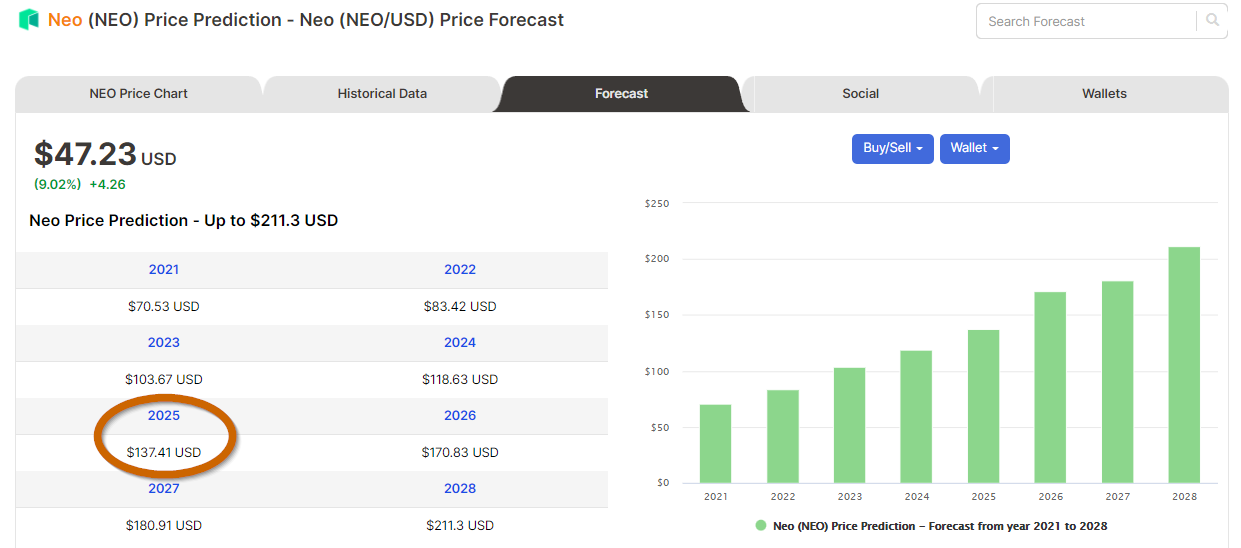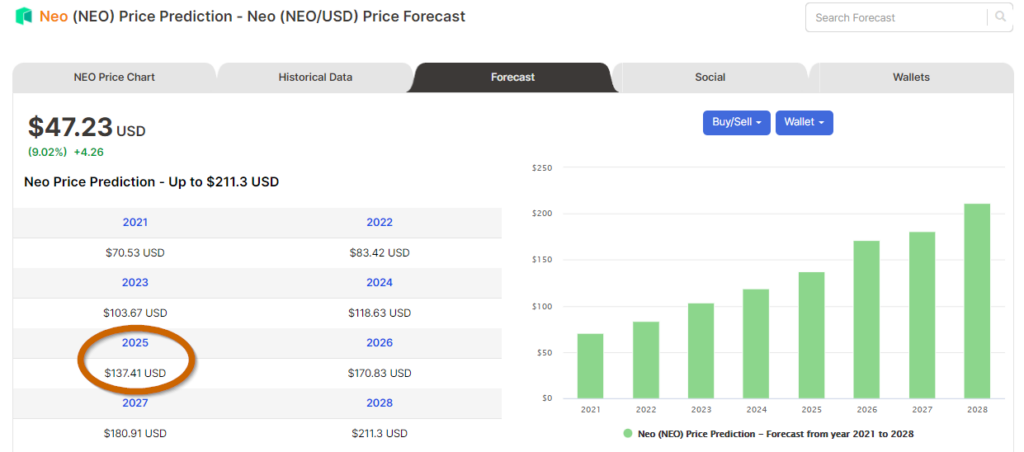 Digitalcoin approximates a $137.41 estimate. On the other hand, Wallet Investor suggests an average and maximum price of $157 and $217 by 2025. Investors should further perform their due diligence, ensure they can invest what they can afford to lose, and understand the inherent volatility of cryptocurrencies.
The best way to buy NEO
The best method of buying this cryptocurrency is through exchanges like Binance, Gate.io, KuCoin, Huobi, Bitfinex, etc. Some of these exchanges may provide their in-built wallet. Alternatively, several external providers will provide different software and hardware wallets depending on your needs.