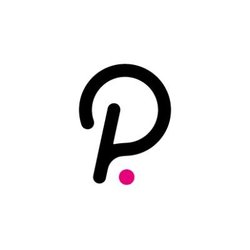 Polkadot (DOT)
Price
What is Polkadot Coin?
Polkadot is a blockchain project that was developed by Dr.Gavin Wood, who was also a co-founder of Ethereum. It is a proof-of-stake (PoW) platform whose goal is to bridge multiple chains into one sharded network.
At the core of the Polkadot ecosystem is what is known as a relay chain, which is responsible for security, consensus, and cross-chain interoperability. DOT also has other important components like parachains, bridges, validators, collators, and fishermen.
Polkadot differs from other blockchain projects in several ways. For one, it has a fully functional playground known as Kusama. Before applications move to the Polkadot ecosystem, they usually go through Kusama. Kusama's token is known as KSM and has a market capitalization of more than $2.9 billion.
Another difference between Polkadot and other networks is known as parachain auctions. Before projects move to Polkadot's network, they go through parachain auctions where community members vote for them. At the time of writing, one auction has already happened and the second one was underway.
The Polkadot coin, also known as DOT, is the native token for the network. It does a similar worth that ETH does for Ethereum's network. DOT has a market capitalization of more than $33 billion, making it the eighth biggest cryptocurrency in the world.
Is Polkadot a good investment?
Polkadot's coin has silently become one of the best-performing blockchain projects in the world. In 2021, the DOT token has jumped by more than 600%. Between January and May this year, the coin had climbed by more than 1,000%. It then declined sharply during the cryptocurrency sell-off that happened in May. Since then, the DOT price has jumped by more than 300% and is trading at $33.
Polkadot has had a good run for two main reasons. First, many people are drawn to the fact that it was founded by a former Ethereum co-founder. Today, Ethereum has become one of the most important platforms in blockchain, powering hundreds of projects. For example, its DeFi network has more than $145 billion in total value locked (TVL).
This is also the same reason why Cardano's price has soared since Charles Hoskinson, its founder, was also a co-founder of Ethereum. Second, the Polkadot price has jumped because of the growth of its ecosystem.
DOT technical analysis
The daily chart shows that the Polkadot price has had a spectacular recovery in the past few months. It is trading at $33.60, which is about 200% above the lowest level in July. The coin has formed a bullish pennant pattern and is slightly above the 25-day and 50-day moving averages. The bullish view is also being supported by the Ichimoku cloud. It also seems to be forming a cup and handle pattern, which is usually a bullish sign. Therefore, in the long-term, the coin will likely keep rising, with the next key resistance being at the all-time high of $50.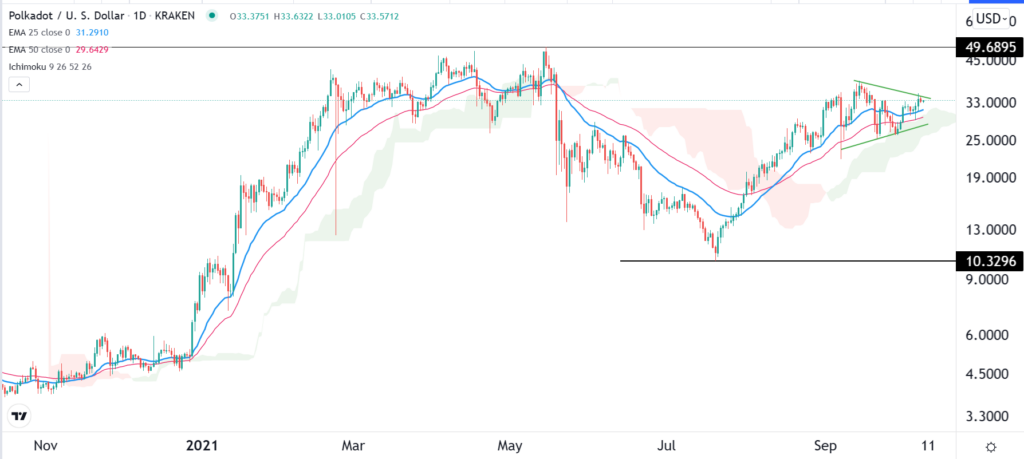 Worst case scenario
The worst-case scenario is where the coin falls below the key support at $25. If this happens, the price will likely keep dropping and hit the July low of $10. A move below $10 will mean that there are still more sellers in the market who could push it significantly lower.
Best case scenario
The best-case scenario is where the coin rises above the key resistance at $40. If this happens, it will rise to an all-time high of $50, which will then push it to above $90. This level is almost double where it is currently trading at.
Should you buy Polkadot today?
Polkadot seems like it is a good investment based on technicals and fundamentals. Fundamentally, it is a good investment because of the future of blockchain projects that are interoperable with each other. It also has a near pole position in its segment. Similarly, based on technicals, the coin seems like a good investment.
What is the DOT price prediction for 2025
The future of DOT is bright, and I expect that the price will likely keep rising in the next few years. A conservative estimate is that the price could rise to about $100 by 2025. This price is about 200% above the current level. While this seems like a lot, cryptocurrency prices tend to have such moves when there is momentum.
Where to buy Polkadot
Polkadot is one of the biggest cryptocurrencies in the world. As such, it is widely offered by both cryptocurrency exchanges and CFD brokers. You can buy it on platforms like OKEx, Huobi, and Coinbase.