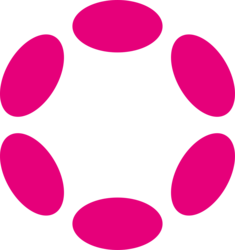 Polkadot (DOT)
Price
Disclaimer: Despite the fact that our predictions are based on objective technical and fundamental data, you should not treat them as financial advice and remember that you bear full responsibility for your investments.
What is Polkadot Coin?
Polkadot is a blockchain project that was developed by Dr.Gavin Wood, who was also a co-founder of Ethereum. It is a proof-of-stake (PoW) platform whose goal is to bridge multiple chains into one sharded network.
At the core of the Polkadot ecosystem is what is known as a relay chain, which is responsible for security, consensus, and cross-chain interoperability. DOT also has other important components like parachains, bridges, validators, collators, and fishermen.
Polkadot differs from other blockchain projects in several ways. For one, it has a fully functional playground known as Kusama. Before applications move to the Polkadot ecosystem, they usually go through Kusama. Kusama's token is known as KSM and has a market capitalization of more than $170,790,049.
Another difference between Polkadot and other networks is known as parachain auctions. Before projects move to Polkadot's network, they go through parachain auctions where community members vote for them. At the time of writing, one auction has already happened and the second one was underway.
The Polkadot coin, also known as DOT, is the native token for the network. It does a similar worth that ETH does for Ethereum's network. The DOT coin price is presently $4.14. With the market cap of $5,297,989,509, the total supply of 1,103,303,471 DOT, and circulating supply of 987,579,315 DOT, it is ranked #13 by market capitalization.
Is Polkadot a good investment?
Polkadot's coin has silently become one of the best-performing blockchain projects in the world. In 2021, the DOT token has jumped by more than 600%. Between January and May 2021, the coin had climbed by more than 1,000%. It then declined sharply during the cryptocurrency sell-off that happened in May.
Polkadot has had a such good run in the past and still remains a good investment instrument for two main reasons. The first reason is the company management — many people are drawn to the fact that it was founded by a former Ethereum co-founder. Today, Ethereum has become one of the most important platforms in blockchain, powering hundreds of projects.
The second reason is the blockchain itself, with the functionality it offers, and how it resolves the most urgent blockchain issues of scalability, interoperability, and fees. It enables cross-blockchain transactions whose scalability is provided by the set of validators, spread across many parallel blockchains.
The network ensures high efficiency by consuming but a small fraction of the energy required by older blockchains. According to the Polkadot official site, the carbon footprint they leave is the lower among all the proof-of-stake protocols, and the amount of power consumed does not exceed that of about 6.6 US households.
DOT technical analysis
Ever since July 2021, the DOT price had been following the cryptocurrency market uptrend to hit a new all-time high of $52.23 on November 4, 2021, only to be carried down by the fears, provoked by inflation fears and Ukraine-Russia tensions and dominating the market since that date.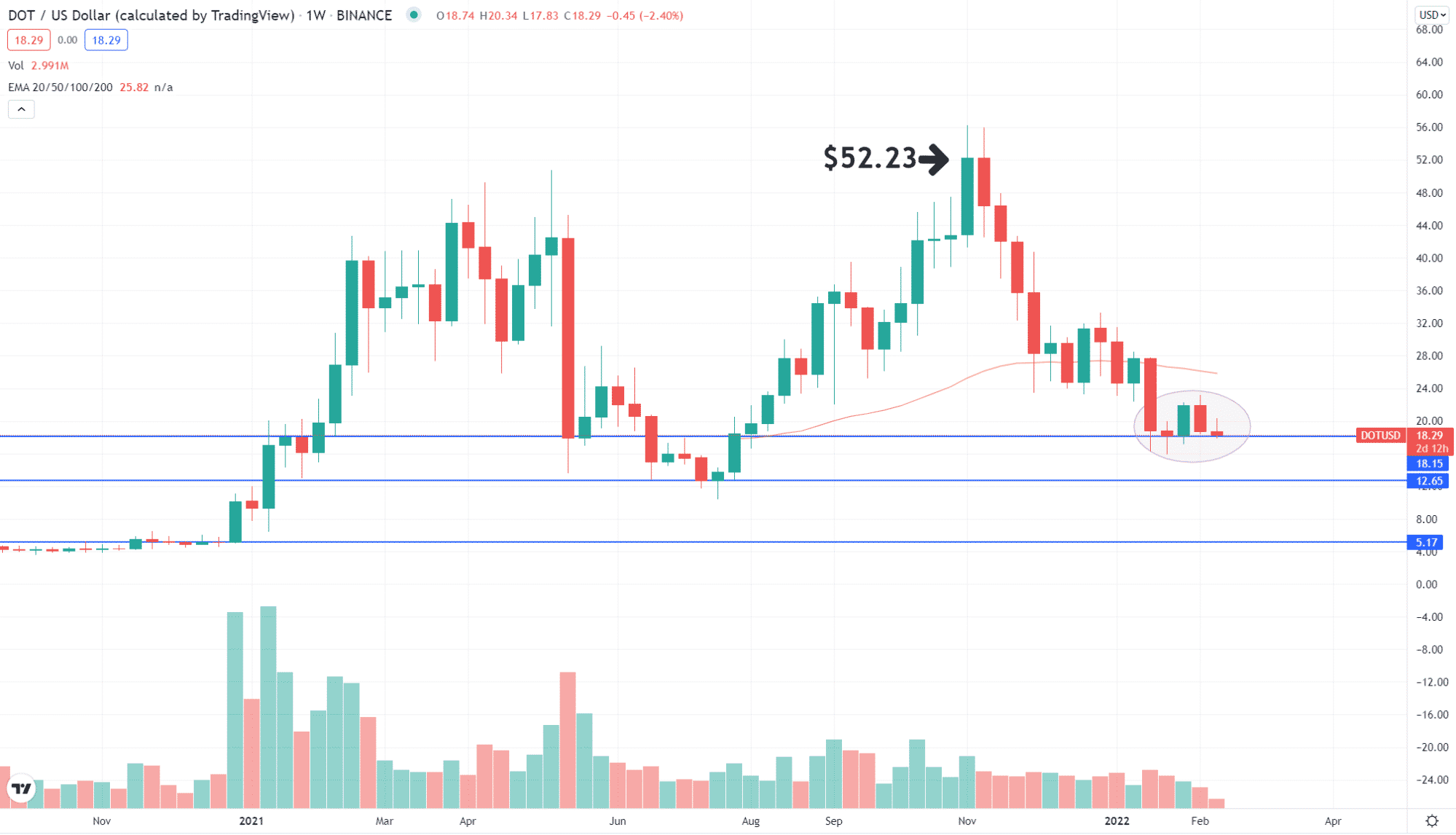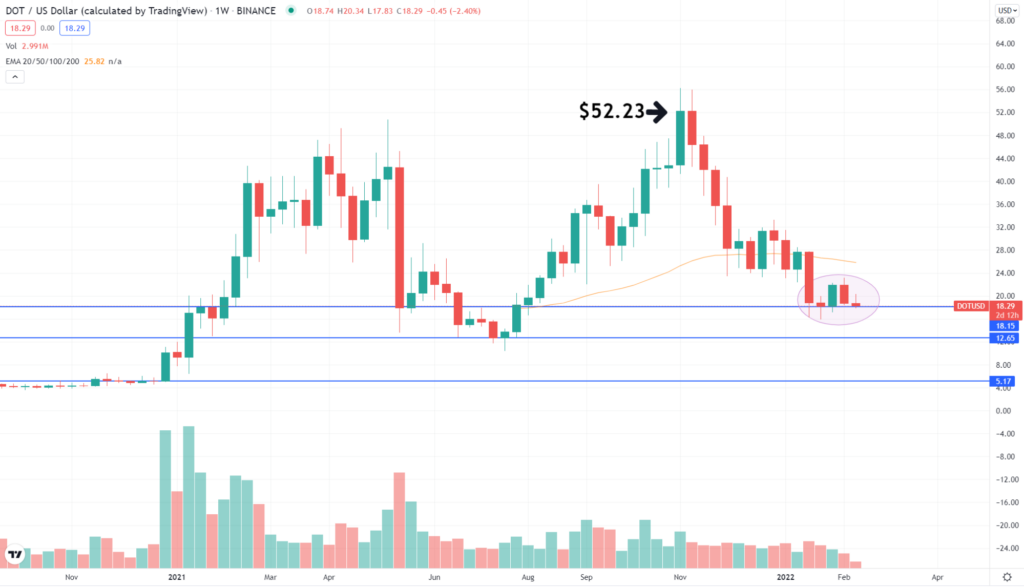 Worst case scenario
In the chart above, we can observe that the DOT price has been struggling to hold above the key support level of $18.15 ever since mid-January 2022 in a formation, similar to the double Eve-Adam top, and on declining volume. In the worst-case scenario, where the overall market sentiment remains bearish, the next support levels to test will be around $12.65 and $5.17.
Best case scenario
The bullish reversal of the cryptocurrency market will be the best-case scenario for the DOT price. If that happens, along with the growing trade volume, the DOT coin price will first test resistance at $24.57, and then above $31.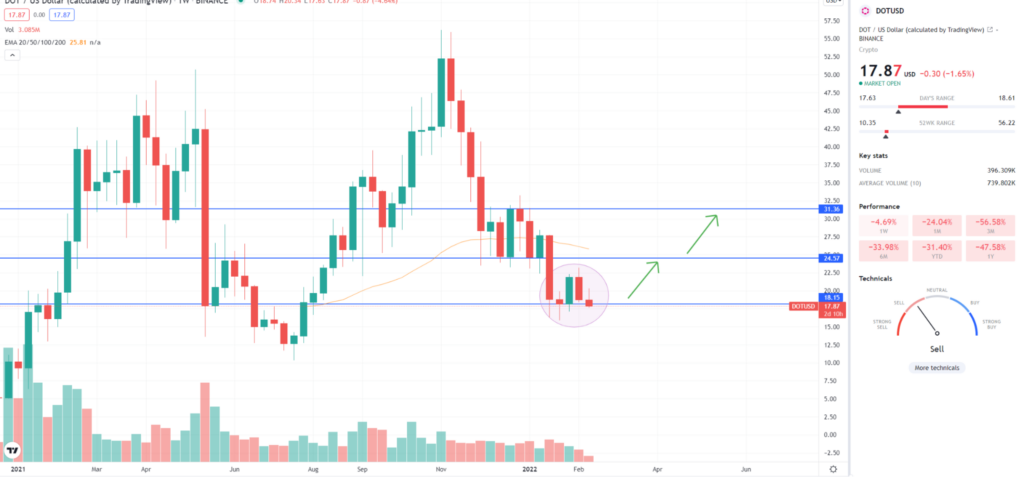 Should you buy Polkadot today?
Polkadot seems like it is a good investment based on fundamentals, but not technicals. Fundamentally, it is a good investment because of the future of blockchain projects that are interoperable with each other. It also has a near pole position in its segment of Web 3.0 blockchains. Similarly, based on technicals, the coin seems like a good investment.
What is the DOT price prediction for 2025
The future of DOT is bright, and the price will likely keep rising in the next few years, according to our readers polled here, it will reach $97.91 by 2025. While this seems like a lot, the algorithm-based price prediction by Wallet Investor looks even brighter — $109.579. cryptocurrency prices tend to have such moves when there is momentum.
Meanwhile, another price algorithm-based forecast by Digitalcoinprice is more conservative and states such a level can be reached only by the year 2031.


Where to buy Polkadot
Polkadot is one of the biggest cryptocurrencies in the world. As such, it is widely offered by both cryptocurrency exchanges and CFD brokers. You can buy it on platforms like Binance, OKEx, Huobi, and Coinbase.