Solana's (SOL) price jumped 4.46% to $98.12 in the last 24 hours. At writing (Monday, 30 August 2021 07:13 UTC), SOL coin was down to $97.74 but still trading above the previous 24 hours closing price.
SOL hit multiple all-time highs in the last seven days on the back of the growing prediction for DeFi.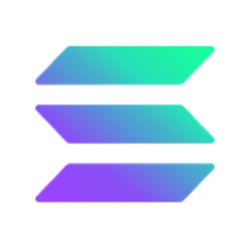 Solana (SOL)
Price
Solana is leading the charge for third-generation blockchain
Decentralized finance (DeFi) was a nonentity a few years ago, but it is now grabbing handfuls of global headlines. For context, the total value locked in DeFi projects as of 29 August 2017 was a measly $1,531, according to DeFi Pulse. Four years later, the figure is up thousands of times to $82.09 billion as of 28 August 2021.
Moreover, DeFi Pulse reveals that Aave, a DeFi platform for decentralized lending and borrowing, dominates the DeFi ecosystem with a 15.78% market share and $14.98 billion in total locked value (at writing).
As with most of the top 100 DeFi projects on DeFi Pulse's radar, Aave derives its existence from the Ethereum blockchain. This is because Ethereum pioneered the smart contracts concept, which embodies Blockchain 2.0.
But now, the third generation of blockchain is unfolding, and this time, Ethereum appears to be sliding from the front seat. It seems time is ripe for new blockchain technologies like Solana, whose technology embodies Blockchain 3.0.
The Solana DeFi ecosystem is now more than 400 projects strong, and its value is growing at a breakneck pace. Interestingly, Solana's increasing popularity comes on the heels of a series of successful capital acquisitions in the past year. For instance, Solana Labs revealed in June this year the receipt of $314 million in funding from Polychain Capital, Andreessen Horowitz, and a host of other private investors.
According to Solana Labs, much of the funding will help launch a venture investing arm and an incubation studio. While the incubation studio will streamline decentralized applications (dApps) development on the Solana blockchain, the venture investing arm will inject funds into the projects to expand the Solana ecosystem.
Solana's fundamentals are strengthening
While the Solana DeFi ecosystem has had a great year so far, SOL – the network's native token – was also an investor favorite. SOL's attractiveness stems from the idea that Solana could be the first serious rival to Ethereum. In fact, Solana aims to surpass Ethereum's capabilities by relying on a hybrid consensus protocol: Proof of History (PoH) and Proof of Stake (PoS). According to Solana Labs, the network can achieve up to 2,000 transactions per second (at writing) at an average cost of $0.00025, thanks to the hybrid consensus protocol.
However, interest in SOL increased because of two critical developments. In the first place, Solana is now compatible with the Ethereum Virtual Machine (EVM), exposing SOL to Ethereum's network effect. Previously, the two platforms were incompatible because each one uses a different programming language. The communication hindrance disappeared early this month thanks to Wormhole. Wormhole is an interoperability protocol developed to help port DeFi smart contracts across Solana, EVM, Terra, and Binance Smart Chain.
Another critical development is the integration of Chainlink Price Feeds into the Solana Devnet. According to a press statement, "Developers on Solana can leverage Chainlink Price Feeds for highly decentralized, high-quality, and fast-updating price reference data to build a wide variety of hybrid smart contract applications in DeFi."
SOL's surge is aiming for the moon
SOL reached multiple record highs in the past week. Interestingly, the token seems strong enough to extend the score in the coming days. As seen in the chart below, August is shaping up to be SOL's best month on record. Interestingly, the RSI might indicate falling buying pressure, but the MACD assures the opposite. For instance, the market resisted a downside crossover over the weekend, and the trading volume is picking up.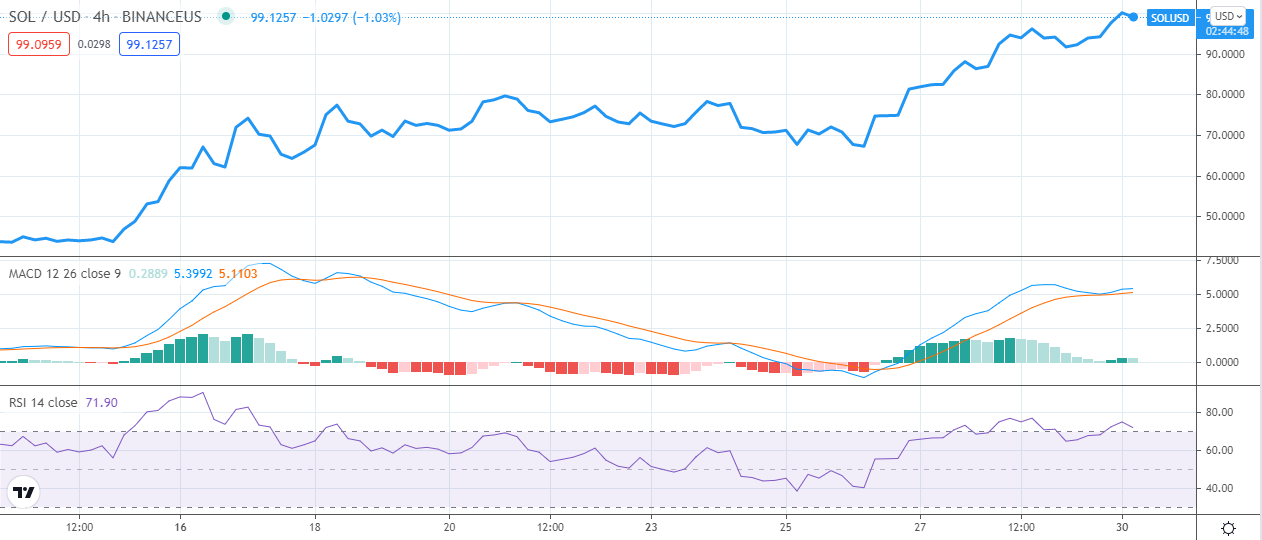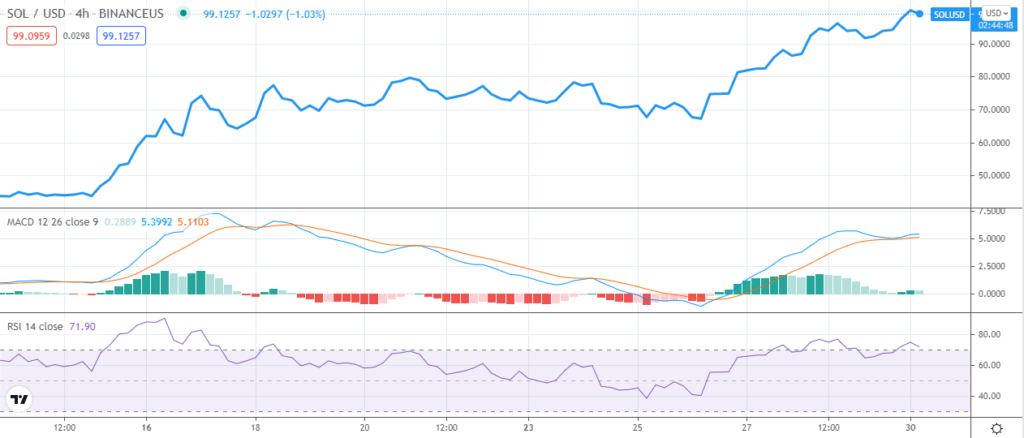 Figure 1: SOLUSD 4-hour price chart
Conclusion
Before Wormhole's launch, Solana's most promising value proposition was providing short transaction processing time while allowing for greater scalability. Now, the cross-chain bridge enables Solana to take its rivalry with Ethereum's EVM a notch higher. Moreover, with the freshly-raised capital on standby, Solana looks set to speed up the expansion of its DeFi ecosystem. Thus, we might be witnessing the birth of the next cryptocurrency juggernaut.