Coinbase bills itself as the 'easiest place to trade and manage your cryptocurrency portfolio.' They certainly have proven this statement as one of the big names in digital currency exchange globally. So, where is the Coinbase exchange located? The firm's headquarters lie in the heart of Silicon Valley.
Coinbase is one of the oldest digital currency exchanges globally (established in June 2012), not far off from a decade's existence. According to their website, Coinbase has processed over $455 worth of cryptocurrencies in trading volume, boasts a clientele of over 43 million, and is available in over 100 countries.
They offer various cryptocurrency products such as simple buying, advanced trading, and wallet services for everyday clients and bespoke offerings for businesses or institutions.
Coinbase is the third-biggest digital asset exchange by trading volume, offering 46 different cryptocurrency markets (according to CoinMarketCap, at the time of writing). So, is Coinbase the best to trade forex and cryptocurrencies? Let's have a look.
Fees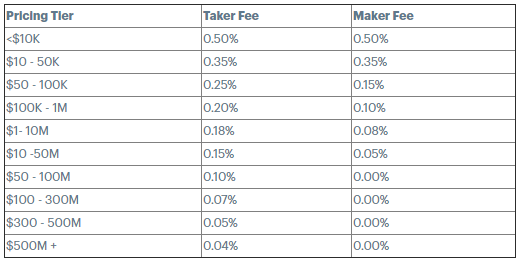 Using the typical maker-taker fee structure on every position, the maker fee ranges from 0% to 0.50%. In comparison, the 'taker' fee starts from 0.04% up to 0.50% (rates decrease incrementally according to a specific trading volume tier).
Cryptocurrency trading
Before going further, it is worthwhile to note the differences between Coinbase and Coinbase Pro. In May 2016, Coinbase renamed itself to Global Digital Asset Exchange (GDAX). Almost exactly two years later, it was rebranded to Coinbase Pro while still keeping the Coinbase name with different products.
Coinbase is more of a brokerage for trading a few prevalent coins into fiat; Coinbase Pro is the actual exchange of several other digital currencies on their exclusive trading platform. The latter has more advanced functionality, allowing for market, limit, and stop orders.
Coinbase Pro boasts a small yet carefully-selected bag of cryptocurrencies that combine into 46 different crypto-to-crypto markets. Customers can trade a wide array of several cryptocurrency prices on their web-based trading software.
Whether speculating on the current bitcoin price or ether price, Coinbase simplifies the process. Clients from non-American, non-United Kingdom, and non-European countries can only partake in crypto-to-crypto trading.
Margin trading
On the 25th of November 2020, Coinbase effectively disabled margin trading in all the countries they serve due to changes in the United States' regulatory environment. A few other exchanges in the country also followed suit. This exclusion is quite a significant disadvantage, especially for a company serving a global customer base.
Fiat trading
Only clients residing in Europe (EUR currency), America (USD currency), and the United Kingdom (GBP currency) are allowed to trade crypto-to-forex on Coinbase. The exchange has a limited range of fiat funding options, namely ACH (automated clearing house), bank wire transfers (only in USD), SEPA (only in GBP), and SWIFT (only in GBP).
| | | |
| --- | --- | --- |
| ACH | Free | Free |
| Wire (USD) | $10 USD | $25 USD |
| SEPA (EUR) | €0.15 EUR | €0.15 EUR |
| Swift (GBP | Free | £1 GBP |
Only deposits via ACH or SEPA have limits (based on weekly bank transfers), while the rest don't.
Special features
Coinbase offers the following special features: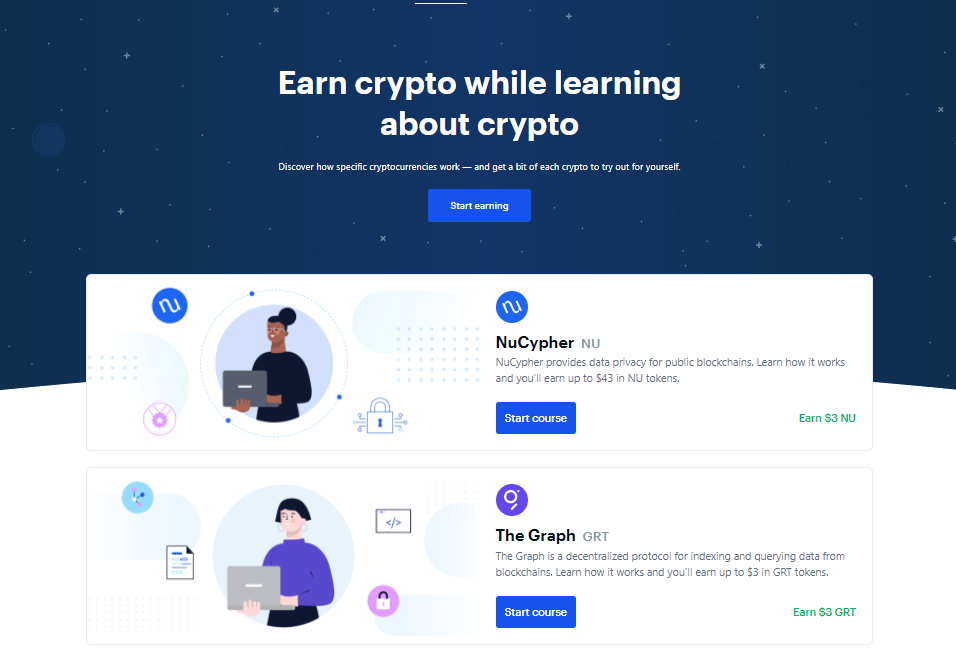 Coinbase Earn. As an incentive for new customers to 'earn while they learn,' they can receive small portions of the following tokens: NuCypher, The Graph, Celo, Compound, Stellar, Filecoin, Band Protocol, Algorand, Maker, Kyber Network, Tezos, Dai, EOS, Ox, Basic Attention Token, and Zcash.
It seems as though Coinbase has been running this promotion for at least two years, and they haven't yet said if it will continue in the future nor if all the above tokens are eligible for the rewards.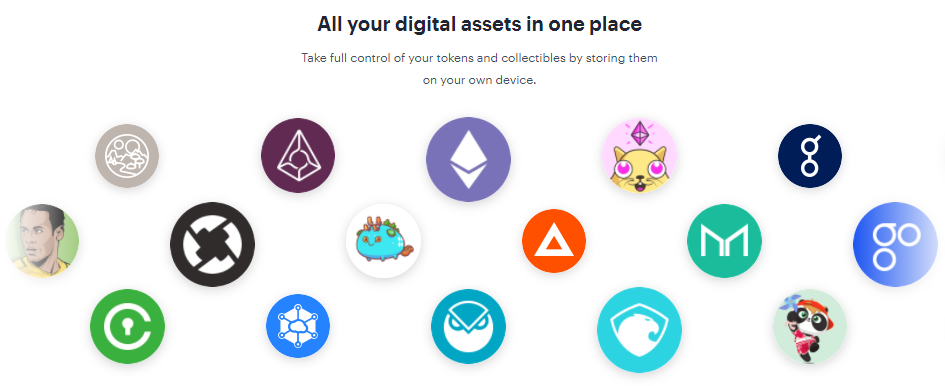 Wallet: Another useful product by Coinbase is their in-built, highly secure 'hot' wallet, an added convenience for their clients not needing to look for external providers. This wallet supports Bitcoin, Bitcoin Cash, Ethereum, Ethereum Classic, Litecoin, and all Ethereum-based or ERC-20 tokens. For Ethereum's ERC-721, users can store all the digital collectibles of these tokens.
Pros and cons of Coinbase exchange
Let us now summarize in an overview below what potential users may like and dislike about Coinbase.
Pros
Coinbase has a long history, having existed since 2012.
High liquidity means fewer chances for slippage, consistent spreads, and quick order execution.
They offer their own in-built wallet for storing crypto (it supports five prominent coins and all ERC-20 and ERC-721 tokens). It's vital to note that the exchange wallets aren't the safest option compared to cold ones.
The exchange allows for buying certain digital currencies using fiat money (not available in every country).
Coinbase provides a mobile app on the Google Play Store and Apple App Store.
Coinbase promises to keep almost 99% of deposited funds in offline cold storage (with an insurance plan), a highly secure means not susceptible to any malicious attacks.
Cons
The exchange has a narrow selection of cryptocurrencies.
Coinbase's fees are a little higher than usual (there are cheaper options).
Users may get confused over the differences between Coinbase and Coinbase Pro as both are similar yet independent from each other.
There are several country restrictions potential clients need to know.
Neither Coinbase nor Coinbase Pro offers any margin or leveraged trading.
Clients from non-American, non-United Kingdom, and non-European countries can only partake in crypto-to-crypto trading.
Conclusion
Overall, the exchange is not recommended for margin trading, having discontinued the service in November 2020. It is, however, an excellent exchange for beginners.
More experienced traders, due to the limited array of cryptocurrencies, no margin, or other kinds of trading, should consider options outside of Coinbase. Furthermore, because they provide a wallet for storage internally, users don't need to look for external services (though some may prefer cold wallets, perceived as more secure).
It's also essential to always know whether you're looking at Coinbase or Coinbase Pro. So, consider the Coinbase exchange if you just want to buy bitcoin to USD or trading certain crypto-to-forex or crypto-to-crypto markets (depending on where you live) rather than for other more versatile products like margin, futures trading, and obscure altcoins.