Ethereum is a blockchain platform designed to be used to develop other decentralized platforms. In the past few years, Ethereum's technology has been used to build other cryptocurrencies like Shiba Inu. It has also been used to build some of the leading non-fungible tokens (NFT) platforms like OpenSea.
Most importantly, developers have used it to design some of the leading decentralized finance (DeFi) platforms in the world. As a result, Ethereum's ecosystem and Ether, its native token, have done relatively well. At the time of writing, all Ethers in circulation have a market capitalization of more than $472 billion.
What are Ethereum-killers?
The success of Ethereum and its ecosystem has led to the introduction of copycats that are intended to address some of the challenges that the network faces. These third-generation products are known as Ethereum-killers.
While Ethereum is a popular and safe platform, it faces some of the biggest challenges in the industry. First, as a second-generation platform, Ethereum was built using a proof-of-work (PoW) methodology. This is simply the process where new blocks in the ecosystem are created using a process known as mining. This process is highly inefficient, slow, and power-consuming.
Second, Ethereum is known for the slow speed it takes to complete transactions. On average, it can handle less than 20 transactions per second. Third, it is a highly expensive platform. On average, it takes more than $40 to complete a transaction.
Still, Ethereum's developers are also working hard to solve these challenges through what is known as Ethereum 2.0. This is a process that started in 2020 and is expected to be fully completed in 2022. As part of the process, the developers did the London hard fork, which introduced the concept of burning. So, let us look at some of the top Ethereum-killers to watch.
Binance Smart Chain (BSC)
Binance Smart Chain is a product of a company known as Binance, which is the biggest cryptocurrency in the world. The product was launched in 2020 to help developers of all industries be able to build highly scalable decentralized applications (Dapps). The project became highly popular because of its name affiliation with its parent company.
Developers selected BSC for several reasons. First, the apps it developed were compatible with Ethereum and other chains. This made it popular among developers building products with cross-chain compatibility. In addition, unlike Ethereum, the platform introduced the concept of staking as part of its core governance. Another concept the developers introduced was to combine a proof-of-stake and proof-of-authority.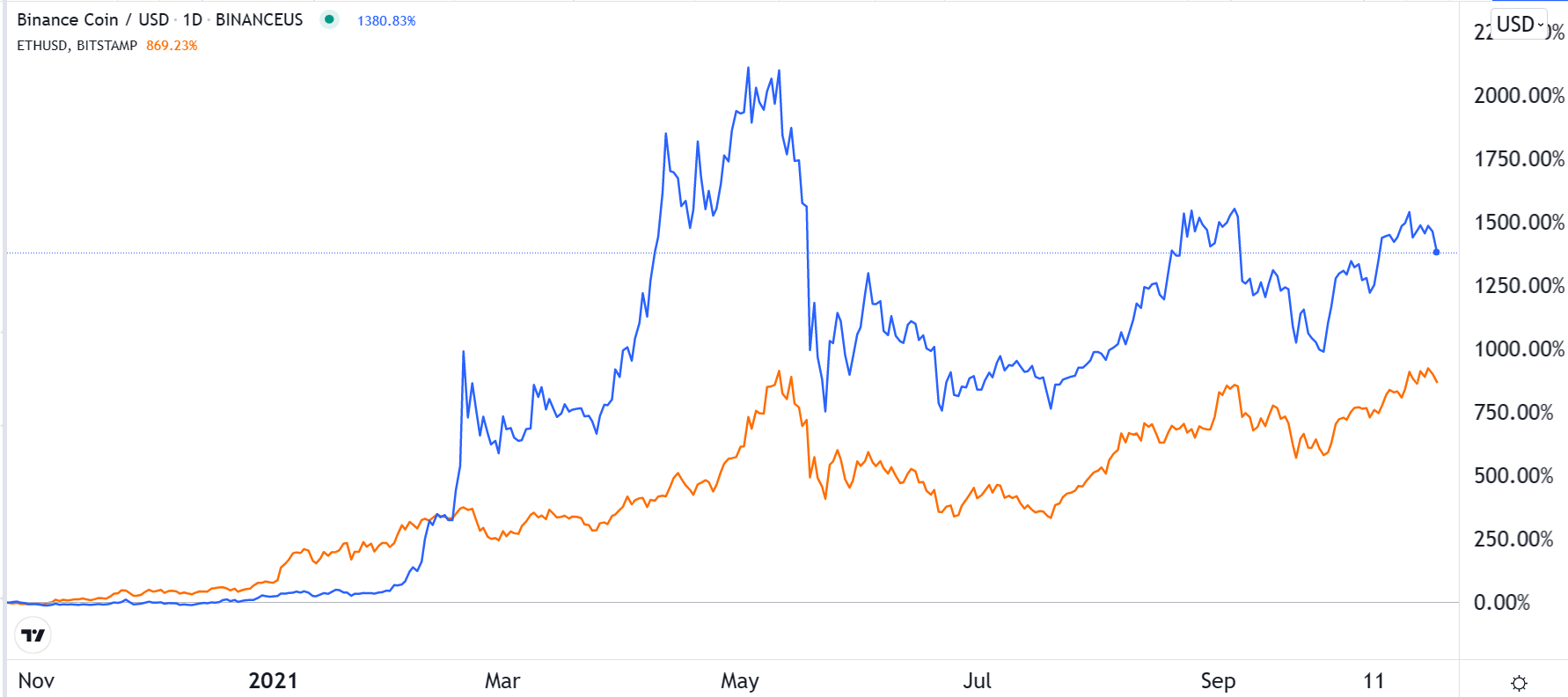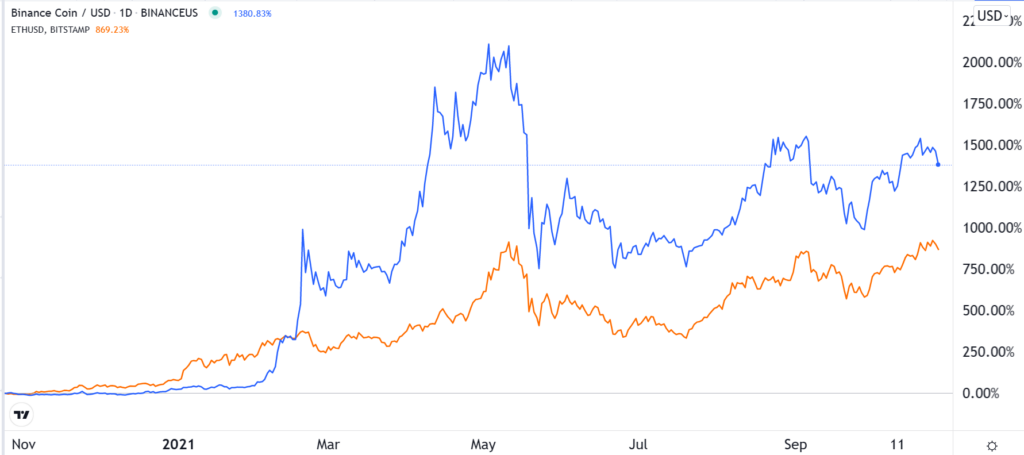 Today, BSC is used to build some of the most popular DeFi platforms like PancakeSwap. In total, according to DeFi Llama, there are 134 DeFi platforms that were built using BSC. These apps have a combined total value locked (TVL) of almost $20 billion. In contrast, Ethereum has more than 270 DeFi platforms that have a TVL of more than $142 billion. The chart above compares the performance of BNB with that of ETH.
Solana
Solana is a leading Ethereum-killer that was developed by Anatoly Yakovenko. As part of its development, Solana's developers raised more than $314 million from a group of investors. Today, SOL, its native token, has become a popular cryptocurrency. Its total market capitalization has jumped to more than $57 billion, making it the sixth-biggest cryptocurrency in the world.
Solana's goal is the same as that of Ethereum. The key difference is that while Ethereum uses a PoW consensus, SOL uses what is known as a proof-of-history to come up with new blocks. It also uses proof-of-stake technology. The proof-of-history means using a cryptographically secure function that output cannot be predicted from the input.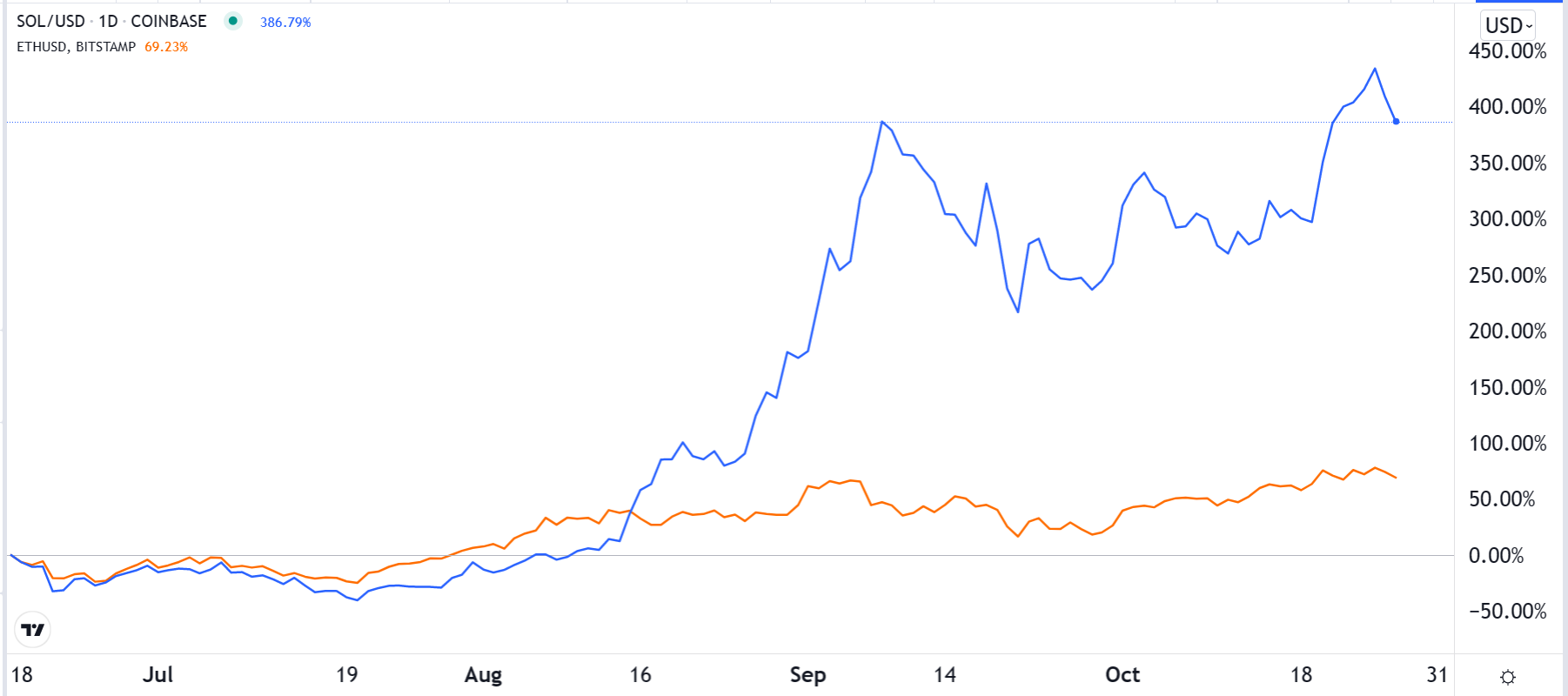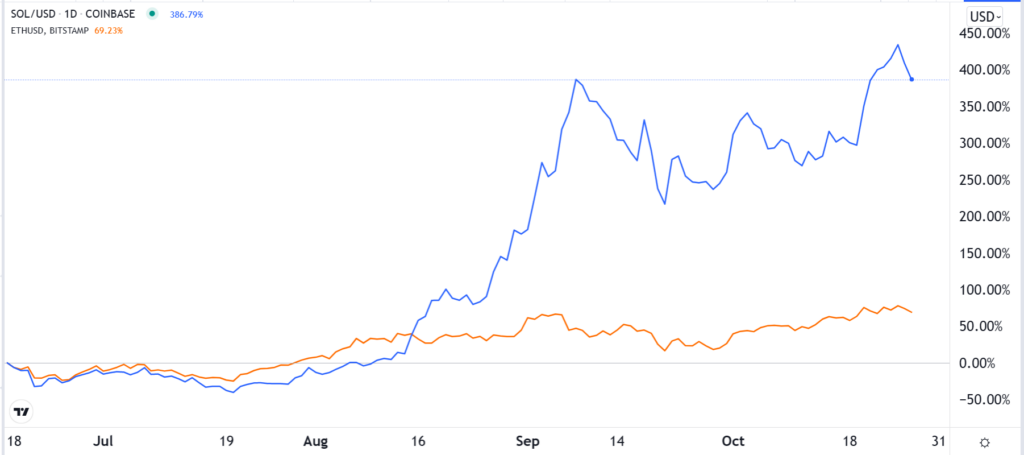 In the chart above, we can see how Solana outperformed Ether for the last several months.
Today, Solana has been used to develop many applications. For example, in DeFi alone, the platform has been used to build 26 applications that have a total value locked of more than $12 billion. Its speed is relatively faster at about 2,000 per second, while its costs are negligible. It also has thousands of validators from around the world.
Avalanche 
Avalanche is an Ethereum-killer that is known for its focus on the Decentralized Finance (DeFi) industry and its overall speed. While Ethereum handles less than 20 transactions per second, Avalanche handles more than 4,5000 transactions.
Another reason why many developers are choosing Avalanche is that transaction finality is less than 2 seconds while Ethereum has the finality of about 6 minutes. Avalanche also has more validators than other blockchain projects.
Therefore, the number of projects in Avalanche's ecosystem has been on a rising trend. These projects include DeFi platforms like those in asset issuance, automated market makers, and decentralized exchanges. It is also used by institutions, enterprises, and governments.
According to DeFi Llama, there are 53 DeFi projects built using Avalanche that have a combined total value locked of more than $8.3 billion. AVAX has a market capitalization of more than $13 billion and is the 14th biggest cryptocurrency in the world.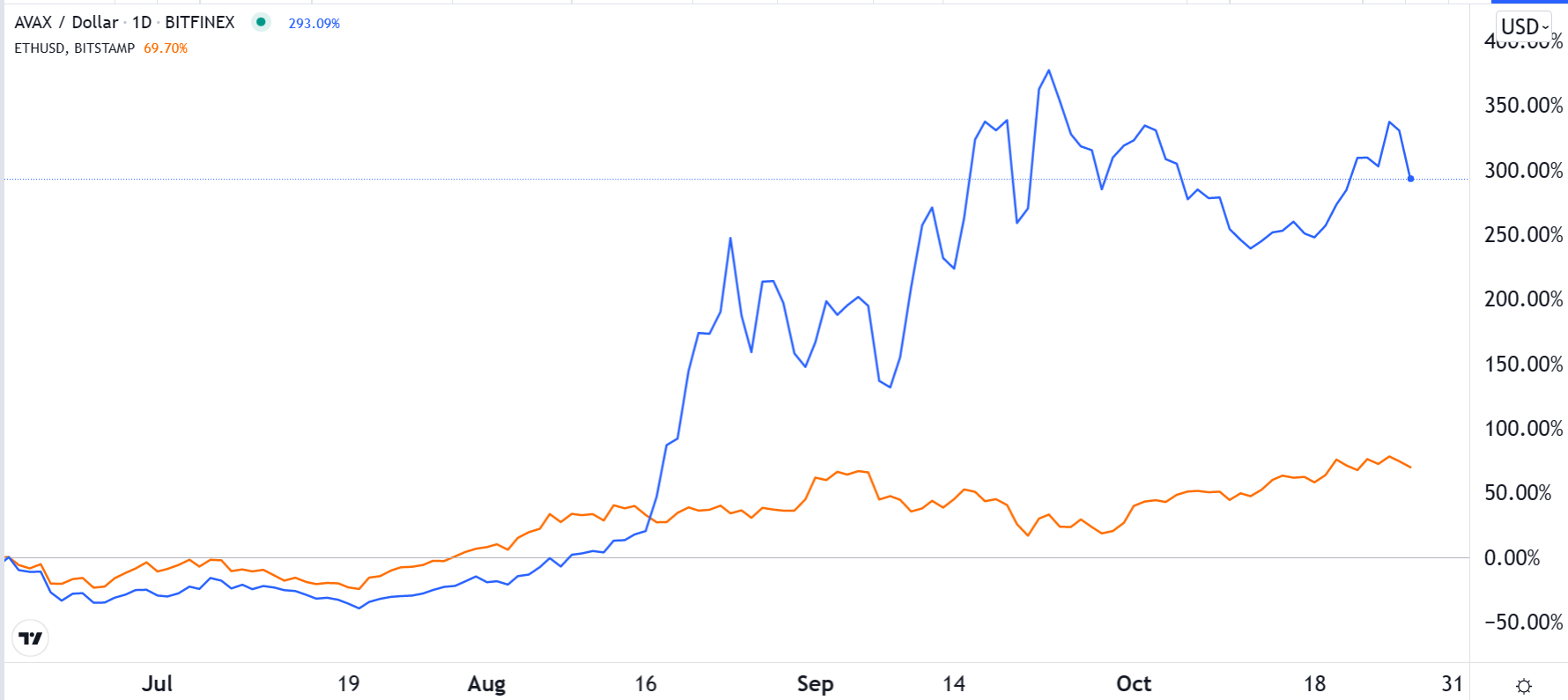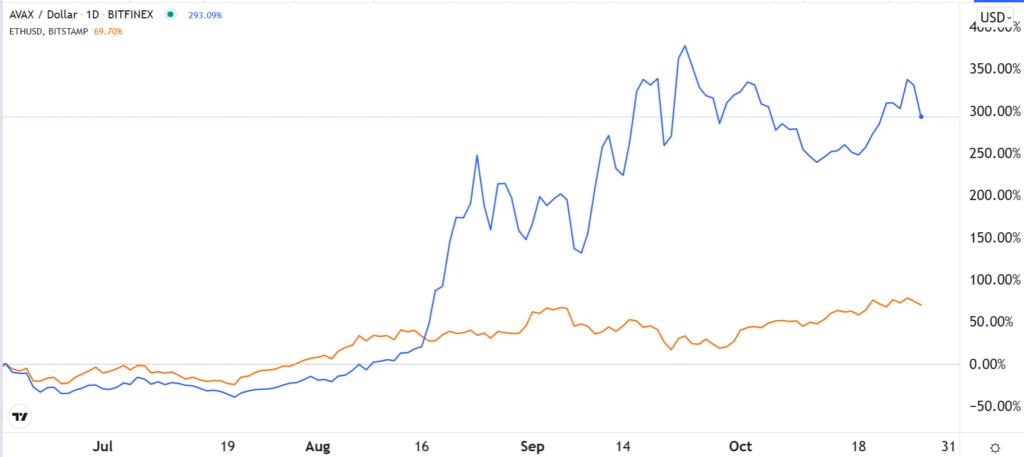 The chart above shows the spectacular performance of Avalanche versus Ethereum.
Fantom 
Fantom is a fast-growing Ethereum-killer whose native token is known as FTM. It has a market capitalization of more than $7.4 billion. The network uses a technology known as Byzantine Fault-Tolerant (BFT). Its version of BFT is known as Lachesis and enables several characteristics like leaderless and asynchronous features. All these make Fantom a relatively faster and stable network.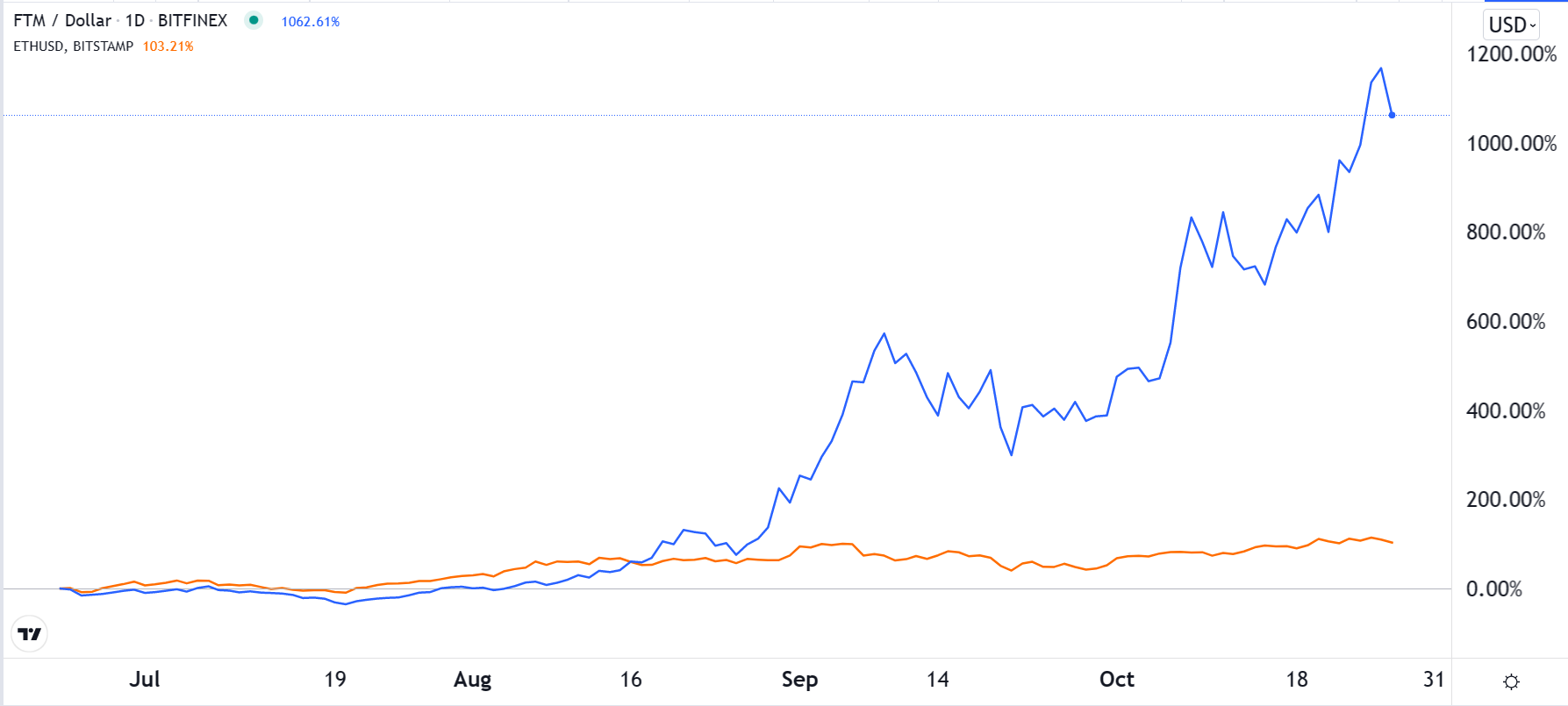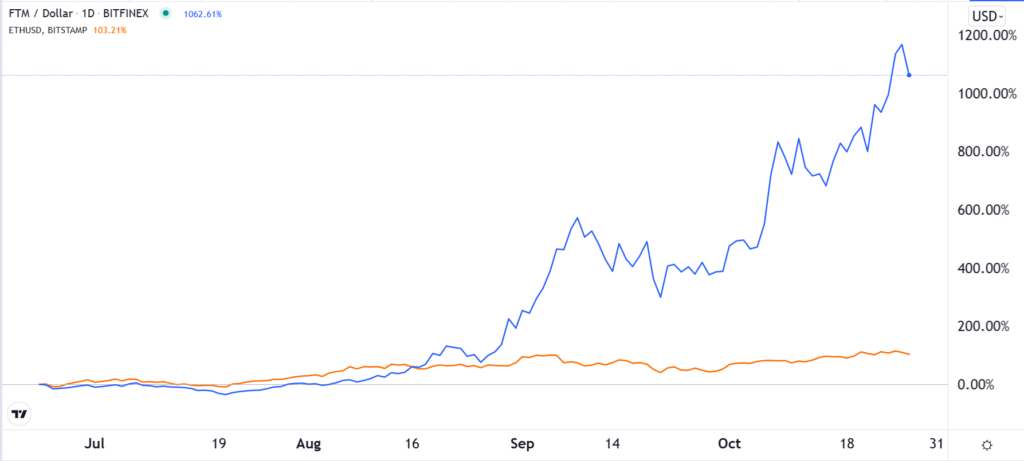 As the chart above shows, FTM has been one of the leaders in outperforming ETH.
Today, its ecosystem is relatively large. It has about 51 DeFi platforms that have a total value locked of more than $5.2 billion. Some of the popular DeFi platforms built using its technology are AnySwap, Geist Finance, and Beefy Finance. At the same time, Fantom is becoming popular in the NFT industry.
Summary
The industry of Ethereum-killers is growing at a relatively faster rate as developers embrace projects that guarantee high speed, interoperability, lower cost, and more efficient ecosystems. There are other contenders in addition to those that we have mentioned. For example, Polygon, formerly known as MATIC, has built a platform that scales Ethereum applications. Other Ethereum-killers are Terra, Crypto.org Chain, Elrond, and Hedera Hashgraph.