Nano (XNO)
Price
What is the Nano Coin?
Nano Coin is a cryptocurrency that is quite similar to Bitcoin. The currency was developed with the main goal of solving some of the top challenges that Bitcoin had. For one, Bitcoin was built using a proof-of-work (PoW) technology, which makes the process of mining relatively energy-consuming and inefficient. Bitcoin is also relatively expensive and slow to use.
Nano Coin solves most of these challenges. It uses a methodology known as Open Representative Voting (ORV), which uses voting to get confirmation on the network. This replaces the energy inefficient mining process. In this method, people who hold Nano are the ones who make the decision on who generates consensus.
Nano also uses a ledger structure known as Block Lattice. This is a data structure whereby individuals control their own transactions, making the transactions faster.
Nano transactions have relatively limited costs and often happen within seconds. The NANO Coin has a total market capitalization of more than $718 million, making it the 114th biggest cryptocurrency in the world.
Is Nano a Good investment?
Nano has been a good investment in the past few months. The coin has risen by more than 550% between November 2019 and October 2021. Between February 2020 and May 2021, the coin was up by more than 8,110%. This means that the coin has been a good investment for its investors.
Still, the coin faces significant challenges to gain market share in cryptocurrencies that seek to be alternatives to Bitcoin. Some of the top alternatives that have gained some market share in the industry are Litecoin, Monero, and Tezos.
This is important because for the currency to become a good investment, it will need to gain more users. It will also need to be offered by retailers and other businesses.
Nano technical analysis
On the daily chart, we see that the Nano price jumped to an all-time high of $21.56 on May 13th. The price then declined by more than 85% during the crypto sell-off that happened between May and July. Since then, it bottomed at $3.10 and then started moving an upward trend to $8 in August, where it formed a double-top.
The price follows the dynamics of the 25-day and 50-day moving averages and is below the lower line of Andrews Pitchfork. It has also formed an inverted head and shoulders pattern. In technical analysis, this pattern is usually a sign of bullish continuation.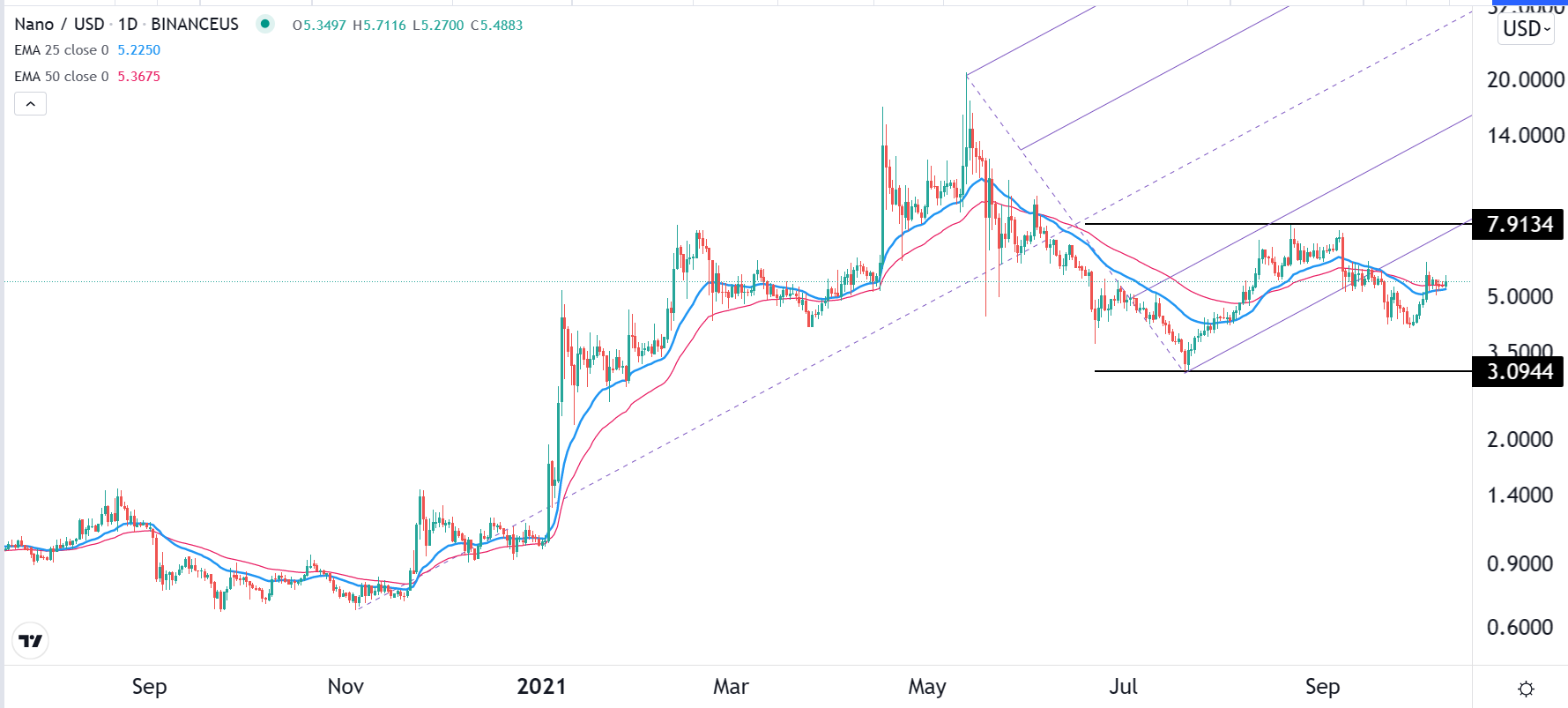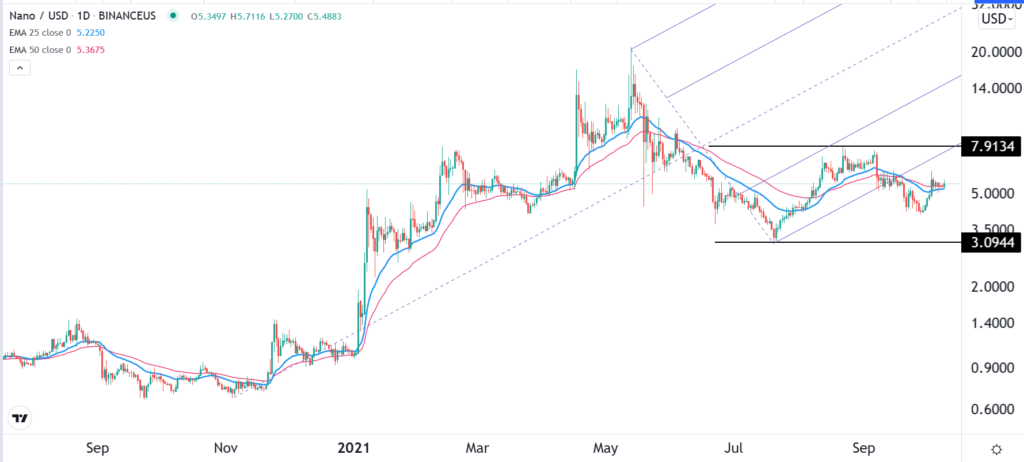 Worst case scenario
The worst case scenario is where the inverted head and shoulders pattern fails to work. If this happens, the coin will likely break below the key support at $3.0, which will send a signal that there are still more sellers in the market. As such, it will push the price to below $2.
Best case scenario
The best case scenario, in the near term, is where the price moves above the neckline of the head and shoulders pattern. If this happens, it will validate the pattern and push it to its all-time high at more than $20. This price is about 275% above its current level.
Should you buy Nano Coin today?
Fundamentally, Nano faces major scaling issues ahead. The coin is still relatively unknown, and I had a difficult time finding places where it is offered a payment choice. Still, technically, a case can be made to buy Nano. The coin has formed an inverted head and shoulders and a bullish flag pattern. The two are usually bullish signals in the market. Therefore, there is a likelihood that the price will keep rising in the near term.
Will Nano Coin hit $100 in 2021?
There are limited chances that Nano will climb to $100 in 2021. Moving to this level will mean that the price needs to rise by more than 1,700%. While cryptocurrencies tend to have parabolic moves, making a 1,700% jump in less than three months is relatively challenging.
What is the Nano Coin price prediction for 2025
It is relatively difficult to predict where Nano Coin will be in the next four years. Still, we remain relatively bullish on cryptocurrencies. This could mean that the price will keep rising, with the main level to watch being at about $20, which is about 275% from the current level. It was also its all-time high.
Where to buy Nano Coin
Some of the top cryptocurrency exchanges like Binance, Huobi Global, OKEx, and Kucoin are ideal places where you can buy Nano Coin.