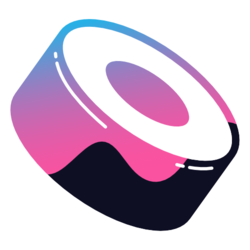 Sushi (SUSHI)
Price
What is SushiSwap (SUSHI)?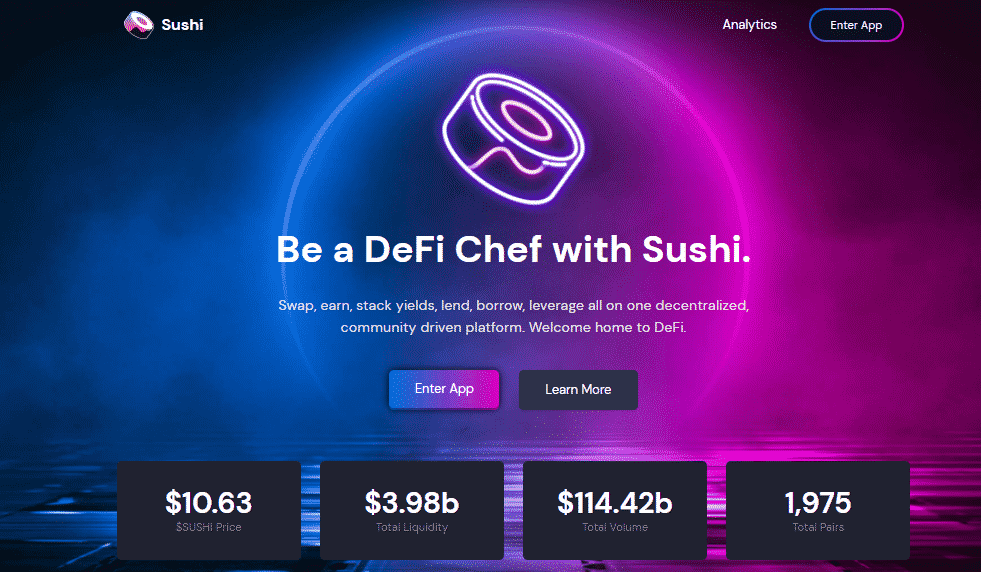 If you prefer your DeFi platforms a little 'edible,' SushiSwap is serving up 'Michelin star-worthy DeFi innovations' to millions of crypto users.' SushiSwap is a decentralized exchange (DEX) for primarily Ethereum-based tokens, with further support for 14 blockchains such as Polygon, Binance Smart Chain, and Fantom.
The platform also emphasizes borrowing, lending, and yield farming. It creates liquidity using the AMM (automated market maker) model, consisting of smart contracts and user-created, swap-driven liquidity pools for the 2558 crypto pairs available.
SushiSwap works with over 14 wallets like MetaMask, Coinbase Wallet and Fortmatic. Experts consider the exchange a clone of Uniswap, except that the former has unique additional features.
As is characteristic of crypto projects, the founding developers of SushiSwap remain anonymous but are known under the pseudonymous Chef Nomi, sushiswap, and 0xMaki.
Like most DeFi protocols, SUSHI is the native token for SushiSwap used for various utility and governance purposes. This exchange was launched in September 2020 and is presently the 12th largest in the DEX by trading volume, according to the latest CoinMarketCap data.
Moreover, one SUSHI token costs $0.600586 with the market capitalization of $115,710,814. So, let's explore whether this exchange is worth your investment attention and SushiSwap price predictions for the near future.
Is SushiSwap a good investment?
Any potential investment in SUSHI is a belief that DeFi platforms will continue to experience increased user adoption. Let's look at the benefits of a decentralized exchange like SushiSwap.
While DEXs are not as user-friendly as the likes of Binance and Coinbase, they do provide some distinct benefits.
For starters, exchanges rely primarily on peer-to-peer mechanisms with no central authority, which is the core of decentralization. Users don't go through any identity verification, and wallet custody remains with them.
These factors add a crucial layer of data privacy. Experts also agree there are lower risks of large-scale hacking events with DEXs as they don't rely on a single point of failure.
Yet, perhaps the most attractive benefit is that such exchanges incentive their users to provide liquidity, allowing you to earn real money. Overall, SushiSwap offers all these benefits, befitting its popularity in the markets.
Should I buy SUSHI today: Crypto technical analysis for SUSHI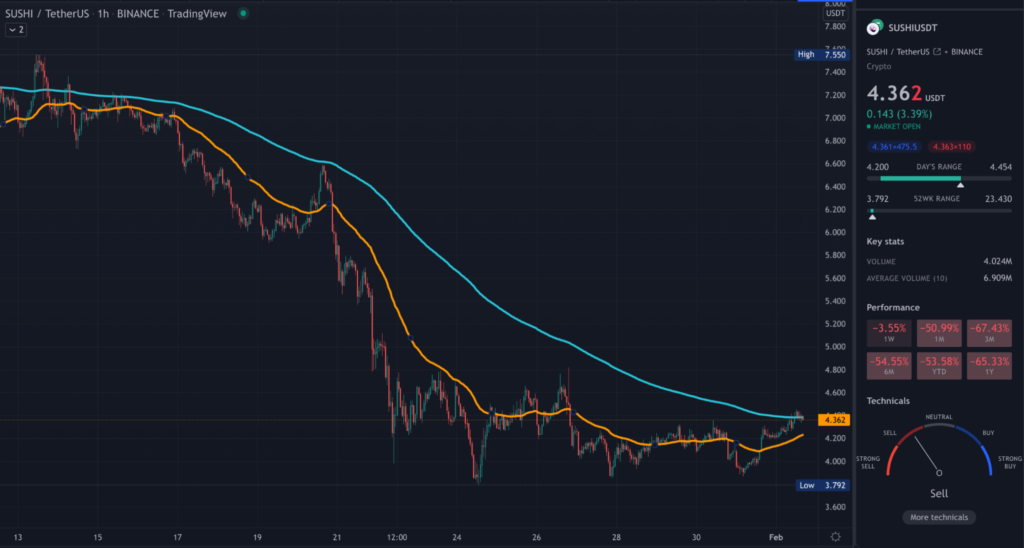 It's fair to assume crypto has been in an indefinite bear market since late 2021. Most technical analysis systems present unfavorable times to buy most coins, and ours is no exception.
We've plotted the 50 and 200-day moving averages on the chart to present a simple crossover strategy. The aim is for the 50 (orange) to cross above the 200 (blue), while the price must be trading above both.
SUSHI's price doesn't meet either criterion, meaning it's probably not the best time to buy it.
Will SUSHI coin price hit $100 in a year?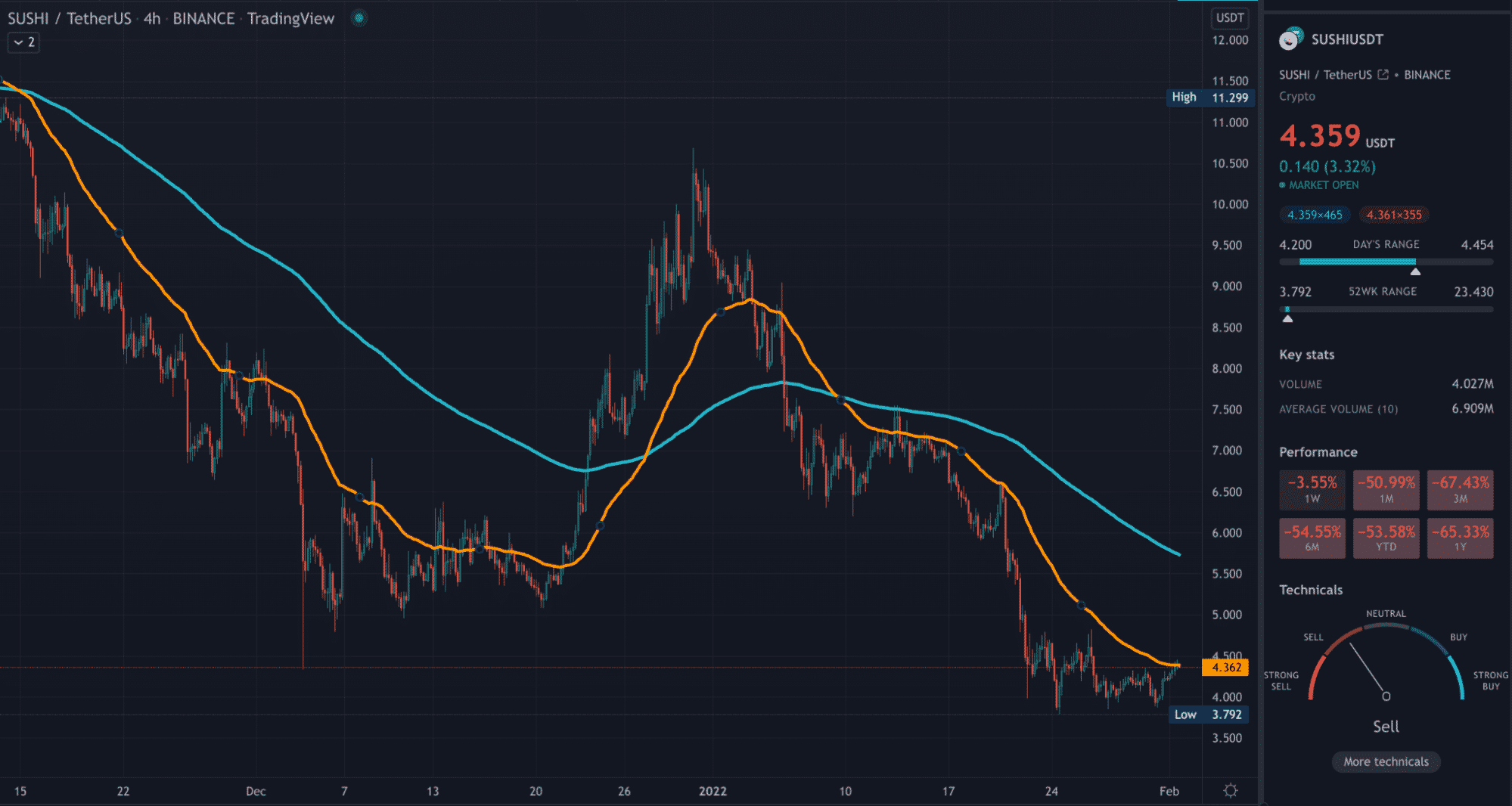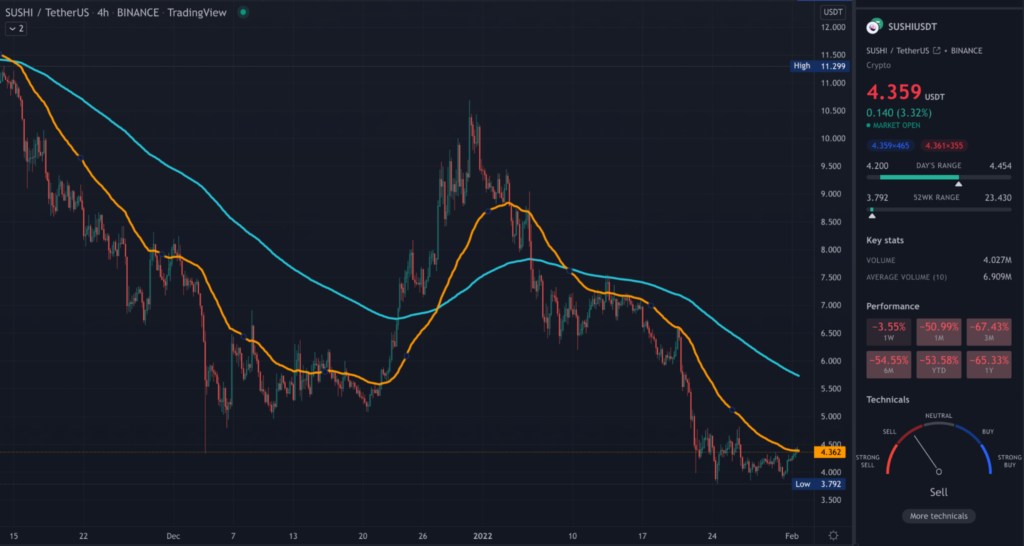 Having reached an all-time high of $23.38 in March 2021, $100 is the next anticipated target. However, it seems highly unlikely SUSHI will be worth this much in a year or even half.
Having observed forecasts from three prediction sites, $10 seems like a realistic ballpark figure for SUSHI. The lowest forecast comes from Digitalcoinprice at a maximum value of $6.99.
PricePrediction.net presents prices from $9.06 to $10.50. The most optimistic prediction comes from Wallet Investor, which estimates from about $13.56 to $14.11. However, we should never rule out the slight possibility that price could do much better or worse than these projections.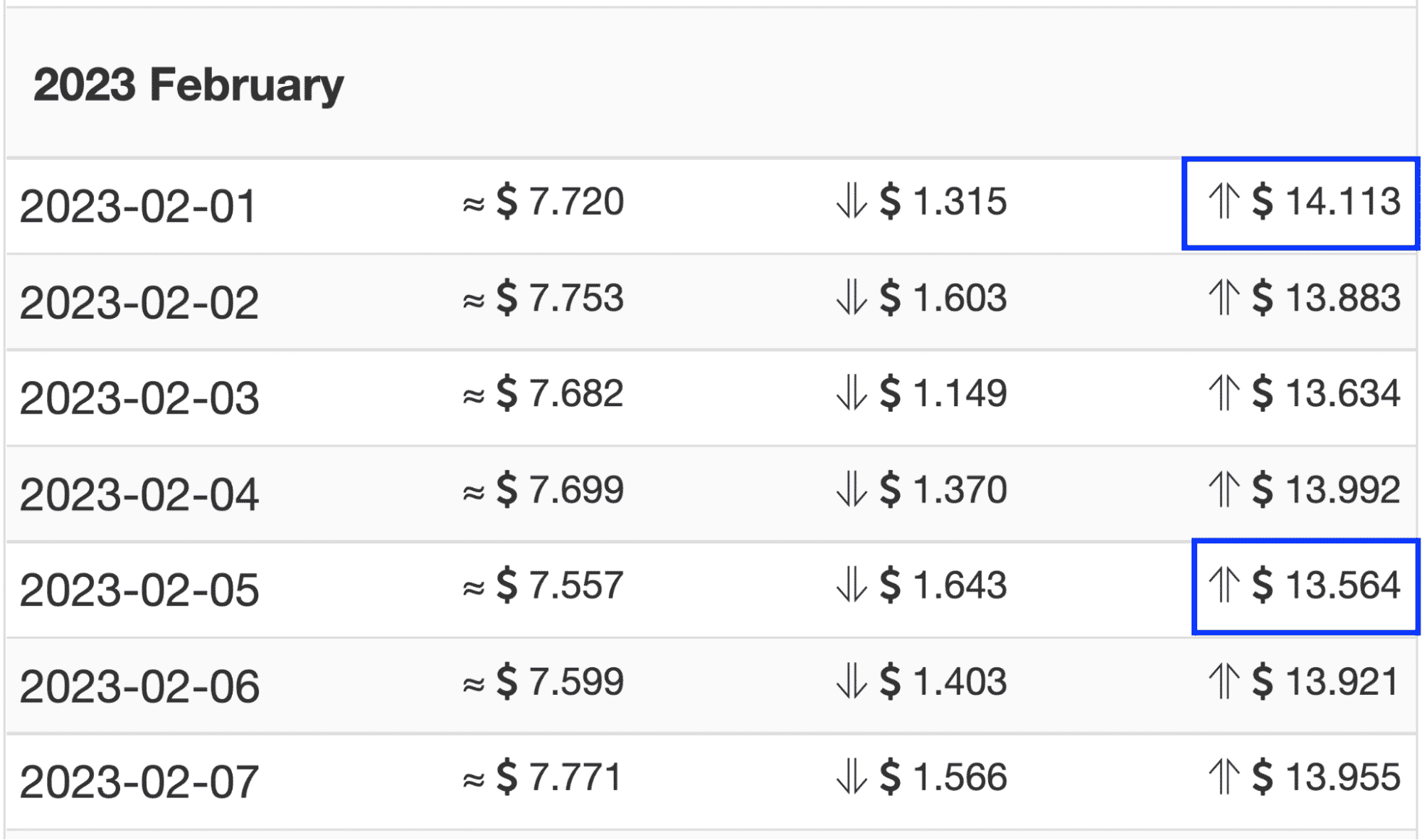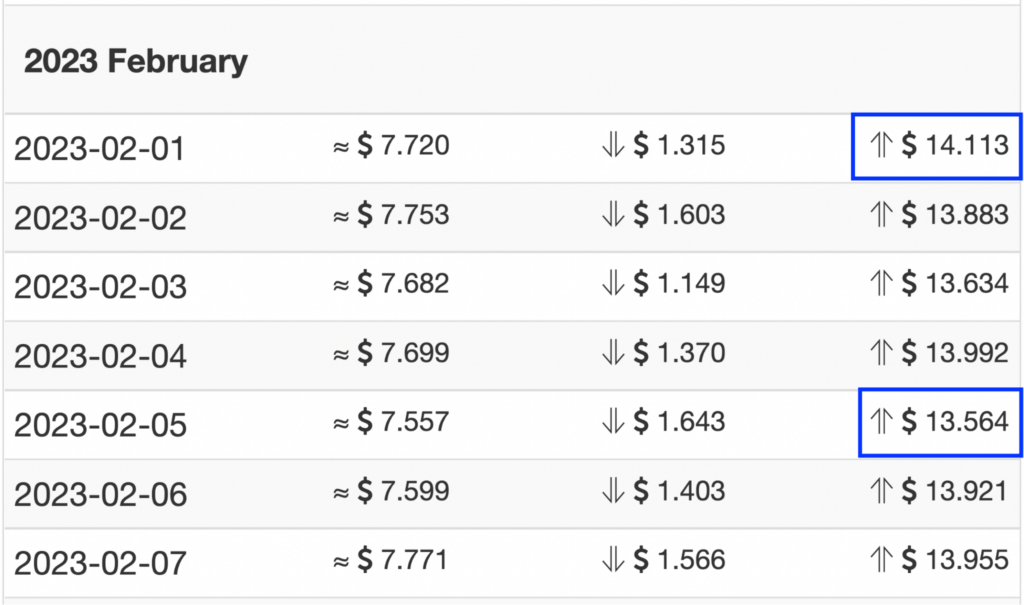 What is SUSHI's price prediction for 2025?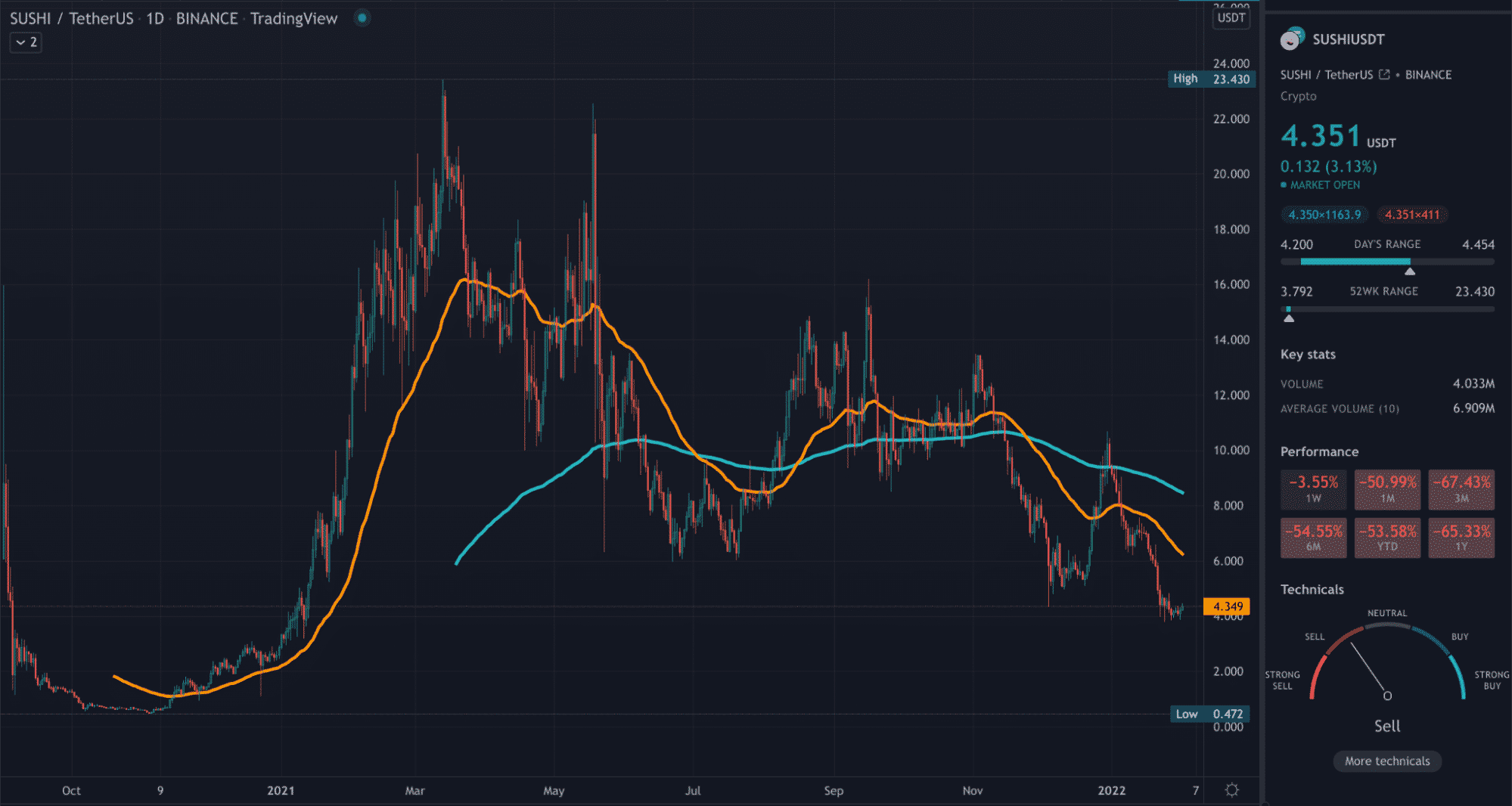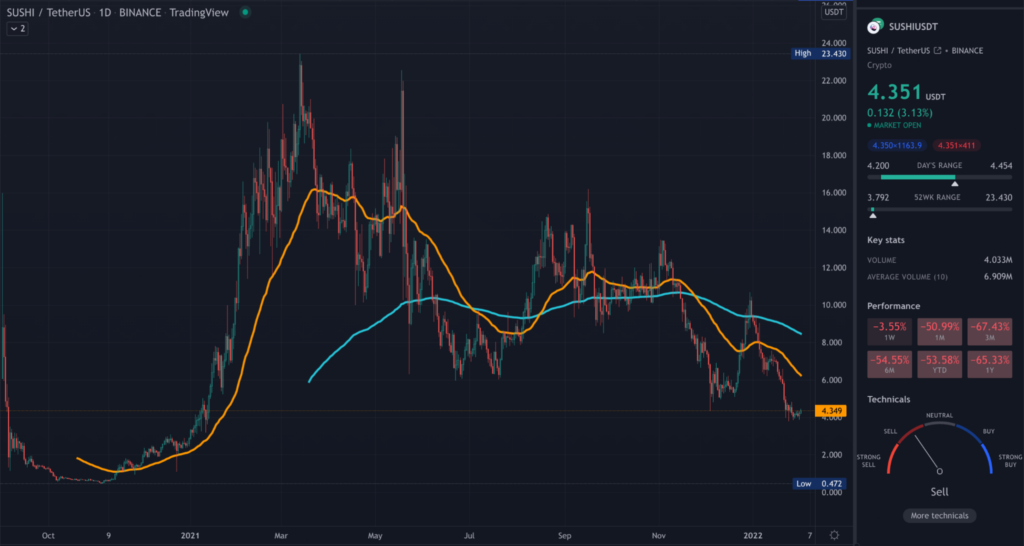 It's worth noting SushiSwap is less than two years old. While the year-to-date performance has been negative, this might be a project that proves to be a slow burner if DeFi continues to grow. Yet, as with any coin, it's never just sunshine and rainbows.
Best-case scenario
Based on the forecasts from the same sites, SUSHI may prove a profitable investment by 2025, with predictions ranging from $9.27 (from Digitalcoinprice) to $20.46 (from Wallet Investor).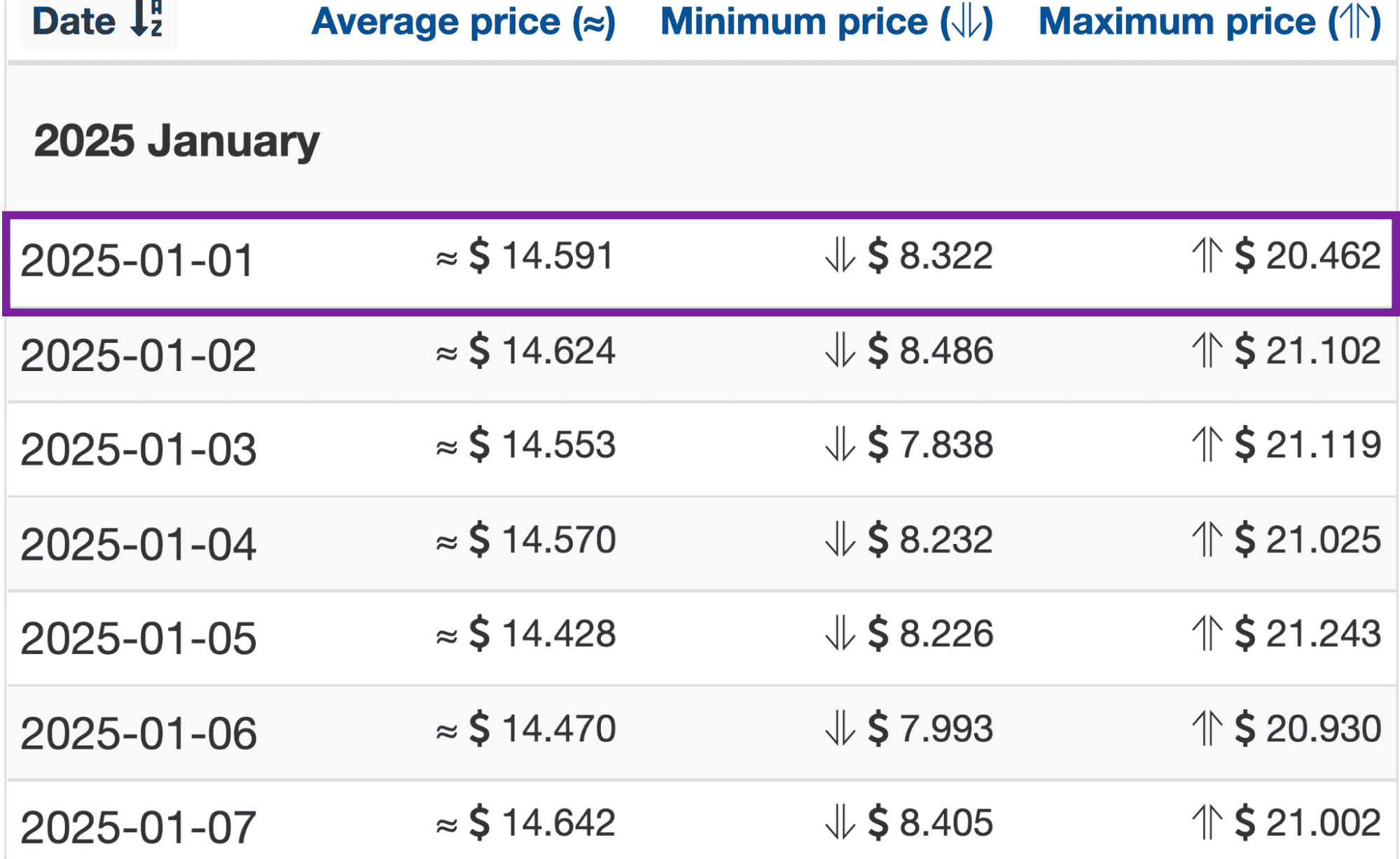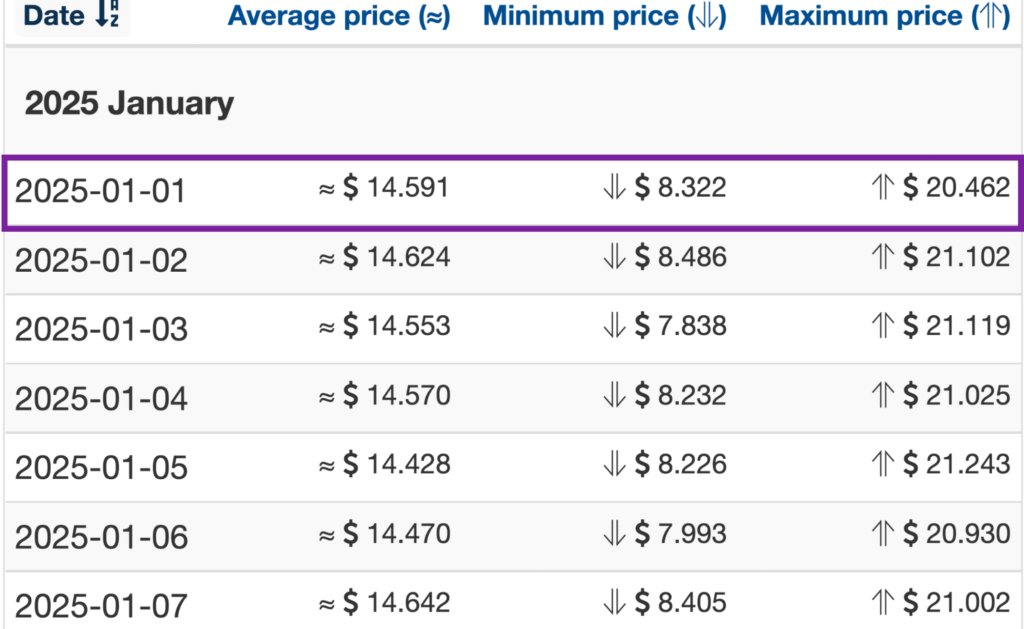 On the safe side, this means investors should expect gains in the 2-3X range or perhaps higher if something else drives the price up.
Worst-case scenario
Here are some factors that could threaten SUSHI's value in the long run:
Despite being a popular DEX, it's operating in a competitive DeFi niche.
Decentralized exchanges have been an environment for financial crimes such as rug pulls. The lack of regulation for such platforms could deter many people from using the service.
Lastly, due to the inherently volatile nature of cryptocurrencies, SUSHI could continue to fall even further if we experience an extended bear market.
The best way to buy SUSHI
Aside from, of course, SushiSwap itself, you can buy SUSHI from numerous reputable exchanges like FTX, Coinbase, Binance, Bitfinex, Bitstamp, and many others.