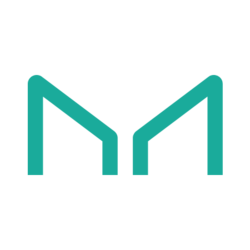 Maker (MKR)
Price
Maker is largely dependent on the performance of DAI stablecoin.
Holders of Maker can vote on changes proposed on DAI.
Maker has gained over 13,000% since its launch 4 years ago.
What is MKR Coin?
Maker (MKR) is a decentralized application (dApp) that runs on the Ethereum blockchain and is one of the largest.
The MakerDAO is built solely of Maker shares. Maker's MKR holders can use their coins to vote on proposed improvements to the protocol, as well as engaging in crypto trading with their Dai token, which they can obtain through the Maker system. MKR's integrity has been maintained because of this governance framework.
Holding Maker coin in the cryptocurrency market is, despite the obvious differences, somewhat similar to owning stock in the sense that the shareholders have some influence in how the business is run and can vote on matters such as corporate strategy.
MKR may also be used to vote on the MakerDAO and Maker Protocol. Its holders can use it to vote on changes that could have an influence on the DAI stablecoin, which is connected to the US dollar, as well as other projects. They can vote on a variety of prospective modifications, including upgrades, the addition of new assets, and risk factors, among others—the greater a person's MKR holdings, the more significant their portion of the vote.
Maker, a Danish startup founded by entrepreneur Rune Christensen, was not released until late 2017 despite being conceptualized as early as 2015.
Is MKR Coin a good investment?
At the time of writing, MKR coin has a ROI of 13,299%. This is by all measures an excellent return for an asset that has barely been in existence for 4 years. For context, if you had invested in the MKR coin in January 2017, when the price was at $22.62, your investment would have been worth $1.3 million today! In addition, Maker's stance as one of the leading dApps platforms means that it is likely to perform even better in the future.
Should I invest in MKR Coin Today?
MKR coin has had a stellar 2021, rising from $552 in January and going as high as $6400 in May. While critics may point to this as being typical of all cryptos, the fact that MKR coin is currently at $2,950 means that it has retained most of the gains made during the 9-month period. With these outstanding statistics, it would be a good decision to invest in MKR coins.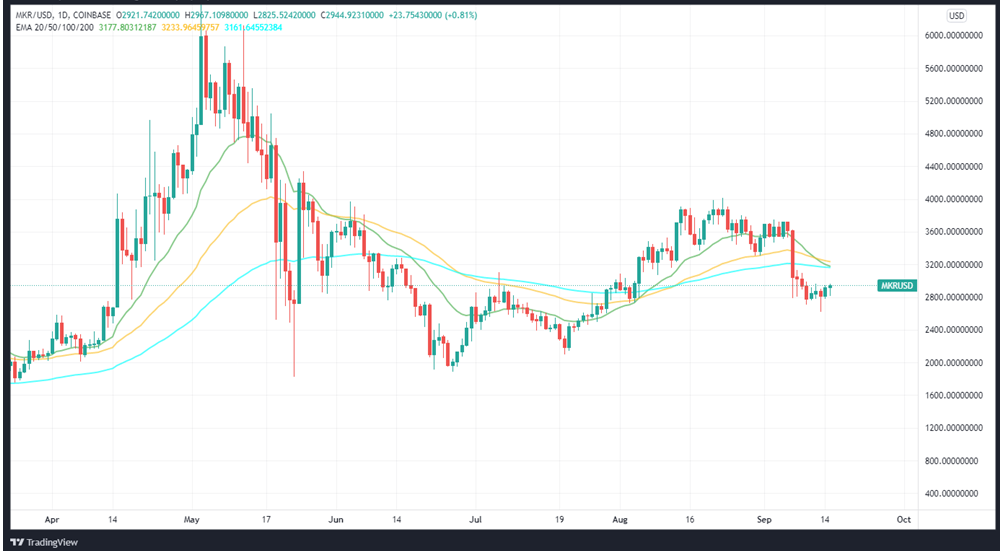 Technical analysis for CRYPTO: MKR
Best case scenario
The Relative Strength Index (RSI) for MKRUSD has been on the rise for the past 5 days and is currently at 41. This indicates a strong possibility of increased bullishness as the market momentum grows. If the bulls take control, the price could rise to as high as $3,109 in the short-term.
Worst case scenario
While the RSI indicator has been rising over the past 5 days, an RSI of 41 is still not strong enough to sustain bullish control. In addition, the 20-EMA has recently crossed both the 50-EMA, making a strong case for a weakening momentum. If the bears take control, they are likely to pull the price down to find support at $2,881 in the short-term.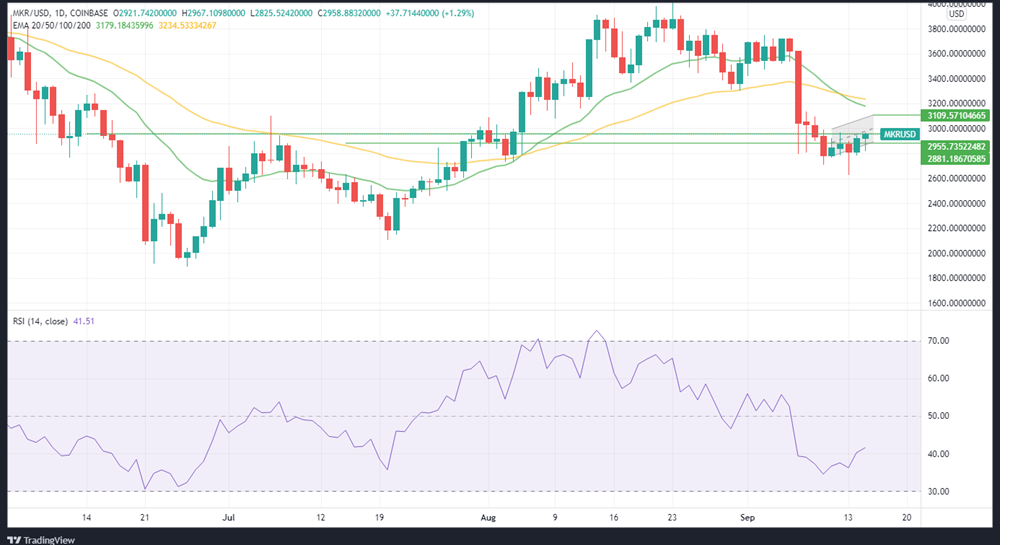 Will MKR Coin hit $10,000 in a year?
Over the past 9 months, MKR coin has registered an average monthly growth rate of 30%. During that period, the price has ranged between a high of $6,400 and a low of $552. This represents a variation of 1,059%. Working with the monthly growth rate and integrating the price variation, MKR coin could hit an average price of $3,959 and a maximum price of $41,925.
What is MKR Coin Price Prediction for 2025?
Still using 30% as our average monthly growth rate while integrating the possible price variation of 1,059% over the next 4 years, one MKR coin could be worth an average of $9,631 and a maximum price of $101,992 by September 2025.
The best way to buy MKR coin
The easiest way to buy MKR coins is to get them from Coinbase, Binance, Huobi, or Uniswap.