Flow (FLOW)
Price
What is FLOW?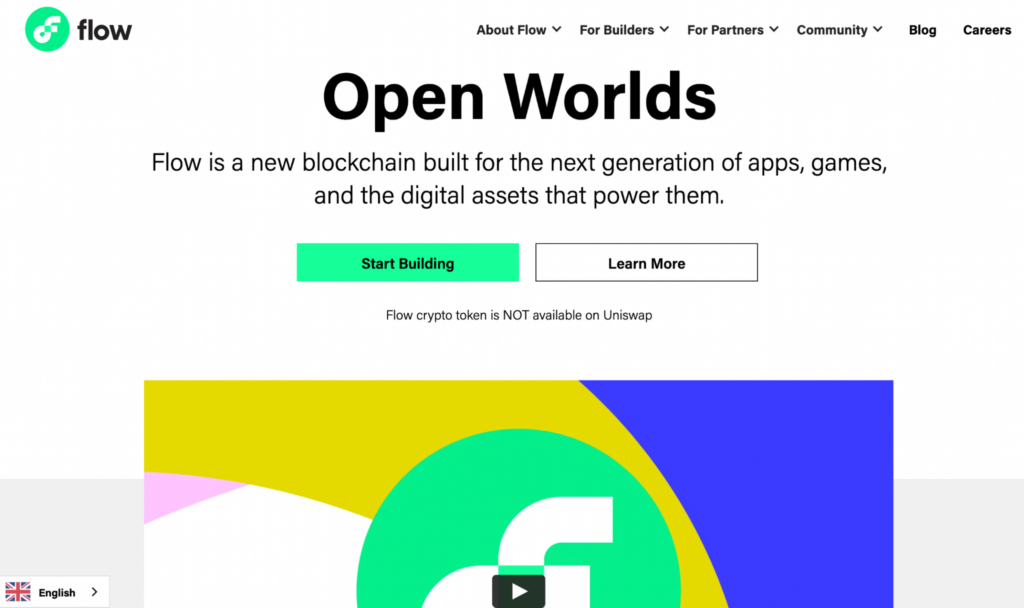 If you're an NFT enthusiast, you will have undoubtedly heard of NBA Top Shot and CryptoKitties. Well, these are creations of the Canadian-based blockchain gaming developer Dapper Labs, who also created Flow.
Flow is a blockchain for building the 'next generation of apps and games.' NBA Top Shot, Dr. Seuss, and CryptoKitties are some of the NFT platforms integrated into Flow.
Moreover, Dapper Labs has the Dapper Wallet to store the digital creations built by Flow. The first product developed by Dapper Labs was CryptoKitties in 2017, which was initially deployed using Ethereum.
While this project quickly became successful towards the end of the crypto bull run that year, it was not without severe congestion issues. Dapper Labs decided to create its own purpose-built blockchain primed specifically for massive crypto-infused video games and NFT marketplaces.
Flow is a proof-of-stock (PoS) ledger prioritizing four key areas to ensure speed and security: consensus, verification, execution, and collection. Users need to stake the FLOW token to become validators on the network and earn rewards in FLOW.
FLOW's initial coin offering occurred on CoinList in October 2020 and was subsequently listed on several exchanges after that. According to CoinMarketCap, FLOW is the 55th most traded token with a price of $0.826358.
Let's explore if FLOW is more than just fun and games and FLOW coin price predictions.
Is FLOW a good investment?
FLOW is a good investment if you believe in the broader adoption of gaming, NFT, and metaverse projects. These sub-sectors in cryptocurrencies have been highly prominent over the last few years.
Gaming has gone from a recreational activity to a play-to-earn economy where users make vast sums of money playing games. NFTs have provided a novel way to tokenize items of value to prove ownership. Lastly, the metaverse will offer a highly immersive virtual world.
Let's not forget the commercial interest in Flow from the likes of the UFC, Ubisoft, Samsung, Warner Music Group, and NFL, further adding to the prospect of Flow becoming more widely integrated into the crypto markets and bringing in larger audiences.
Should I buy FLOW today: Crypto technical analysis for FLOW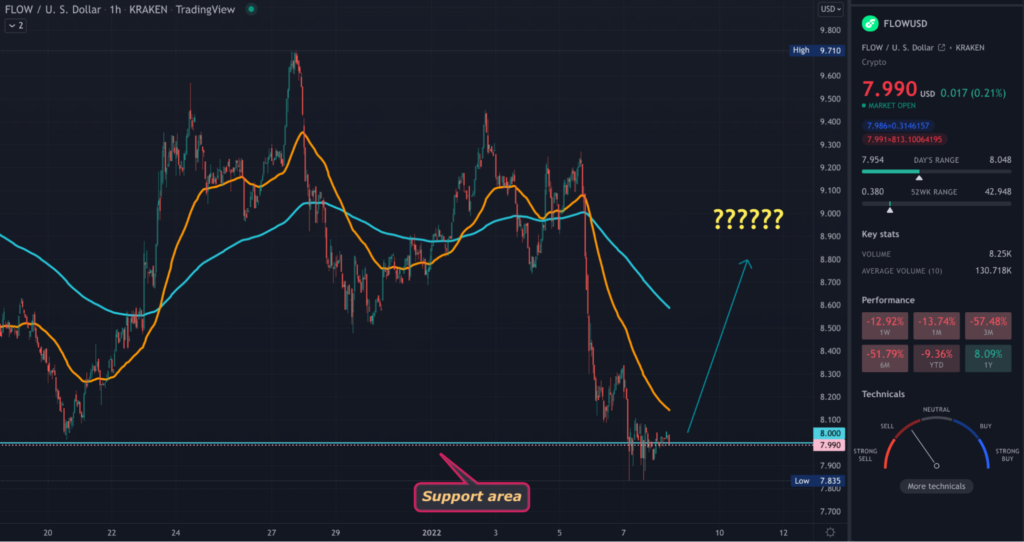 Along with several other altcoins, FLOW has been in a slump over the last few months. Our technical analysis confirms this sentiment, meaning it's not yet the best time to buy FLOW.
To exemplify a simple crossover, we've plotted two moving averages on the chart, the 50-day (orange) and 200-day (blue). Here, analysts first anticipate for the 50 to cross above the 200 and the market to be trading ahead of the two.
We can see FLOW's price is well below the moving averages, implying an indefinite market. Yet, FLOW is at a psychological support level ($8 area). So, it'll be interesting to see how the market reacts at this point; it might perhaps reverse here.
Regardless, FLOW coin price predictions for the future are relatively favorable.
Will FLOW coin price hit $100 in a year?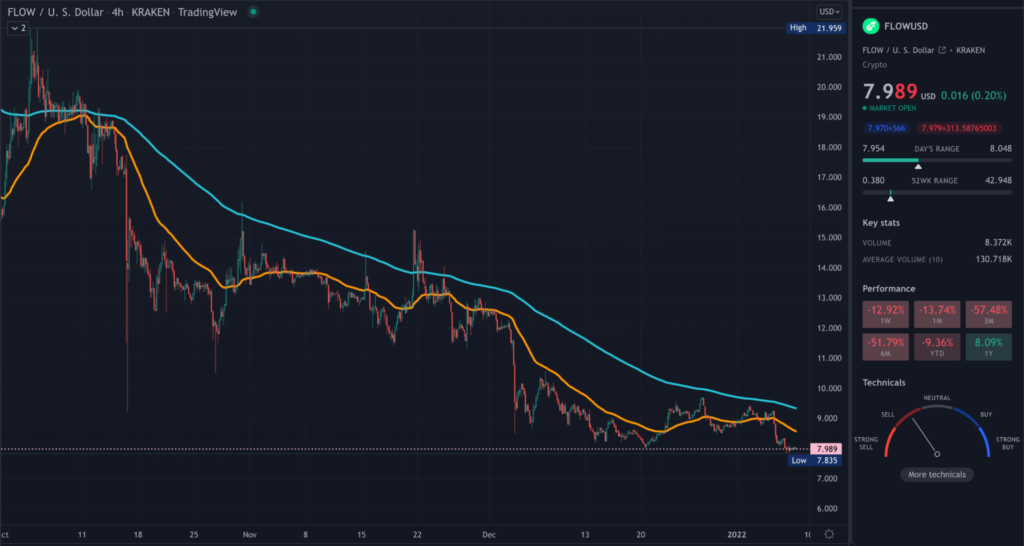 Since reaching an all-time high of $42.94 in April 2021, FLOW's price has fallen by about 80%. Therefore it would take a massive move for the market to reach $100. Of course, gains above 10X in a year for crypto are not anomalies.
Yet, for the sake of being conservative, $100 is probably unlikely, with a few forecasting sites confirming this. For instance, Digitalcoinprice presents a maximum price of $12.79.
On the other hand, PricePrediction.net sees at least $16.36, which could reach as high as $19.70.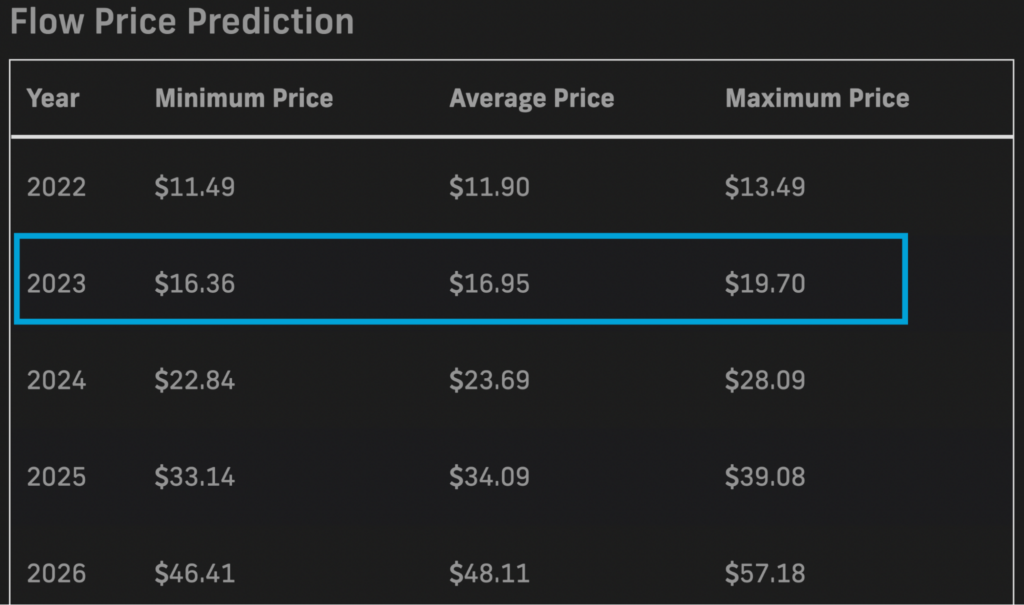 What is FLOW price prediction for 2025?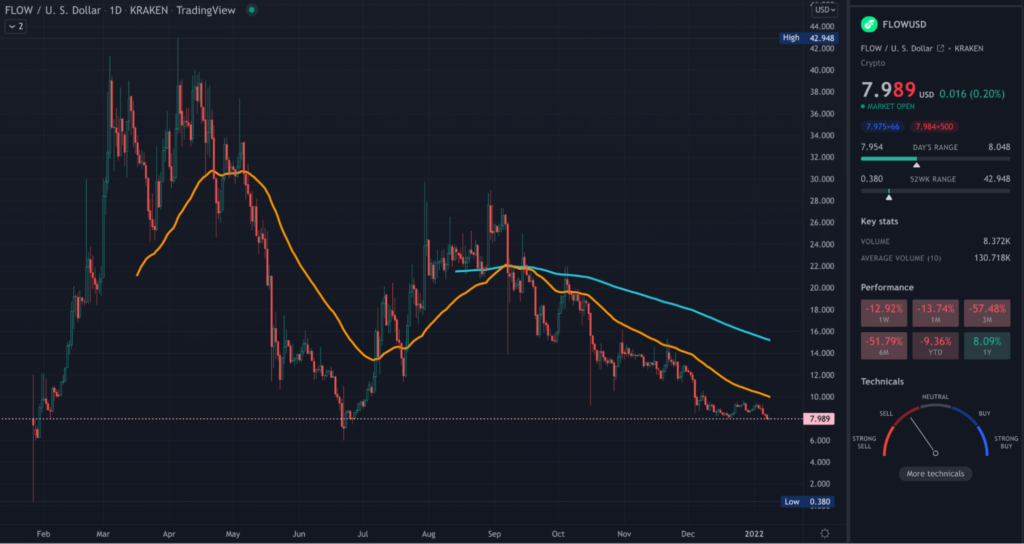 FLOW possesses several characteristics making it a bet worth taking. But what happens if things don't go so well?
Best-case scenario
For 2025, Digitalcoinprice suggests a maximum value of $16.47. PricePrediction.net sees FLOW being worth a minimum of $33.14 to a peak of $39.08.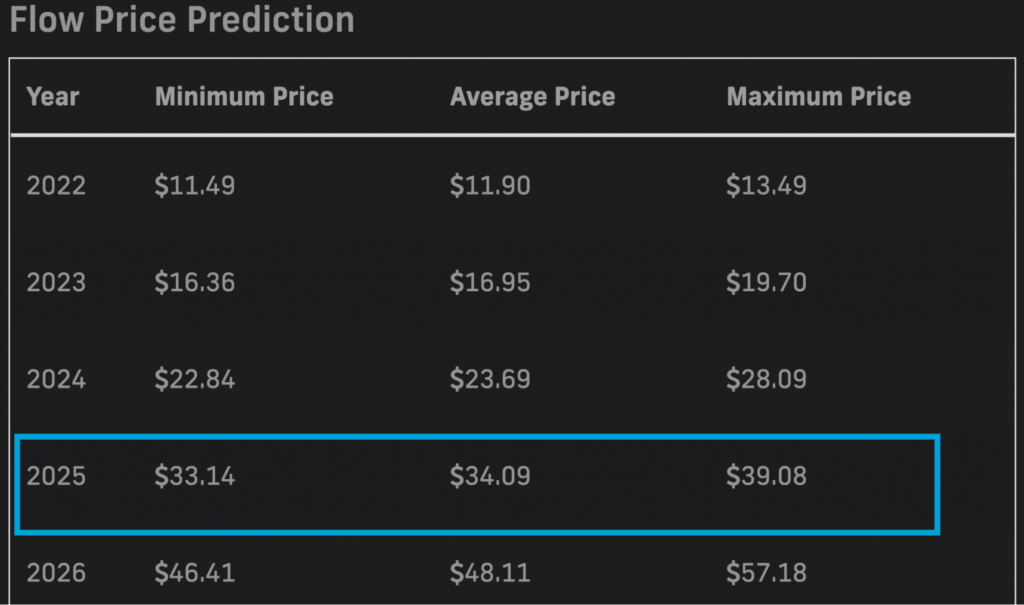 Overall, these forecasts are on the safe side. If more people buy into FLOW, the price could be well into the hundreds of dollars in a few years, as numerous experts and enthusiasts have predicted.
Worst-case scenario
While gaming will always be around, many have long expressed concerns that NFTs are a fad. If people don't pay the high prices, they used to. This would drag the price of tokens like FLOW.
Moreover, cryptocurrencies are generally quite volatile and tend to be driven by speculation rather than increasing clientele. Therefore, these are some factors worth noting on the downside, meaning you should invest cautiously.
The best way to buy FLOW
As with most tokens, you purchase FLOW through an exchange: OKEX, Huobi, Crypto.com, KuCoin, Binance, and Kraken are a few of the several options for you to do this.