The token is largely tethered to the Ethereum network
 NFTs and scalability on the Ethereum network promise to be the biggest growth fronts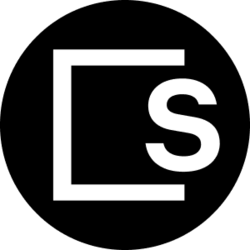 SKALE (SKL)
Price
What is the Skale coin?
Skale Coin is the native token of SKALE Network. SKALE Network is the brainchild of Jack O'Holleran and Stan Kladko, both of whom are accomplished software experts. According to them, SKALE's dynamic network significantly improves scalability in the Ethereum ecosystem. The platform seeks to increase transaction capacity and speed along with reducing the processing time to deliver affordable payments.
Skale Network delivers a suite of tools for Ethereum applications, and with these tools, developers may design and deploy apps. The platform strives to achieve two things: more decentralized and more secure Ethereum-based applications. By validating transactions on the network, token holders help to improve scalability, and in return, they earn SKL tokens.
SKALE aims to give the token a wider adoption, avoid fraud, and give investors peace of mind by issuing it according to regulatory requirements.
Is Skale coin a good investment?
The straight answer to the question above is yes. If you had bought $1,000 worth of SKL on January 1st, 2021, when the price was $0.0816, your SKL holdings would be worth $3,897 today.
However, the scenario is based on an optimistic assessment of SKL. Like any other crypto asset, SKL is susceptible to volatility, and this could send the price plummeting in the future.
In the meantime, SKL coin fundamentals look strong. Following the cryptocurrency sell-off, penny altcoins have started to surge, and the Skale coin price has emerged as one to breakout. In its short existence, the network has achieved a significant success of over 1,000,000 customers.
Crypto fundamental analysis for Skale

The process of authorizing and verifying transactions on Ethereum is usually slow. By integrating the SKALE Network, the SKL team claims that Ethereum can perform up to two thousand transactions per second on each chain. 
Because Skale coin price is largely tethered to Ethereum, it is likely to appreciate in value alongside ETH. Specifically, the rising popularity of DeFi and NFTs may catalyze the fast growth of Skale coin due to Ethereum's dominance of the two segments.
Skale resources are made available to developers for a fee in the form of SKL. Contributors to the Skale network's maintenance get SKL tokens for their efforts. The token supply is capped at 7 billion units. The other cryptocurrency with a fixed supply is Bitcoin. Limited supply means that SKL is very likely to appreciate steadily in the coming days as investors will want to lock in their coins before supply runs out.
Since Skale Network is based on the energy-efficient proof-of-stake model, it appeals more to environmentally conscious investors than competitors.
Crypto technical analysis for SKL
Worst case scenario 
The SKLUSD pair could slip under bearish pressure to find the first support at 0.3458 and possibly further down to the second support at 0.3169. A fightback by the bulls could see the bears cede ground to settle the price at 0.3650.
Best case scenario
The market momentum looks strong, with the RSI at 61. This means that a bullish control looks more likely.
In that case, the first resistance may be encountered at 0.4131, and the second one is likely to be at 0.4491.
Should you buy SKL today?
There is a strong probability that the price of SKL will rise in the near future. More corporations are likely to keep stocking up NFTs. In that case, SKL is likely to ride on the NFT wave to reach new peaks as NFTs become increasingly accepted.
Because of Ethereum's upgrade, which will reduce transaction costs and reduce processing time, SKL is likely to benefit as more investors flock to the Ethereum network.
With the development in Ethereum dApps, it's expected that gas prices will follow as users compete for the room on the network. As long as Ethereum has scalability issues, investors may go towards SKALE Network in order to minimize gas fees.
Will the Skale coin hit $10 in a year?
According to Coinmarketcap.com, about 90% of current SKL holders have had it for more than one month. This shows that many are hopeful of a price surge by cryptocurrency in the coming days. But can it hit $10 in a year? SKL is currently 71% below its all-time high of 1.4040 recorded in March 2021.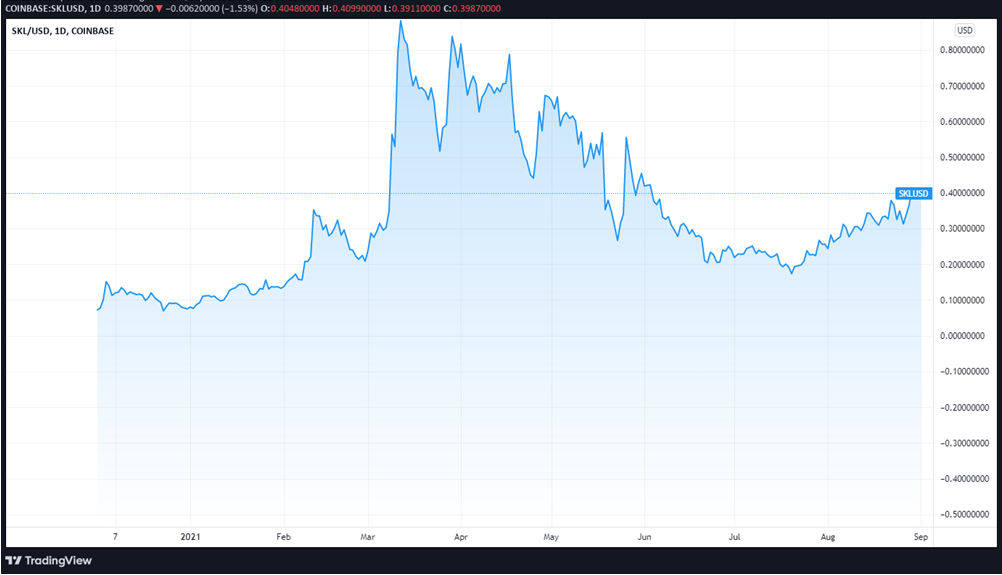 For SKL to hit $10, it would have to grow at a rate of 31% per month. That doesn't seem far-fetched, but considering that SKL is 1,517% up since December 1st, 2020. A $10 target is therefore not overly ambitious. In addition, SKL has gained 64% in the last month, making a strong case for reaching the target.
What is Skale Coin Price Prediction for 2025?
Over the past month, SKL has appreciated by 64%. Assuming that it maintains an average of 10% monthly growth rate, it could rise to $38 in the next four years. However, if there's one constant about the crypto market, it is the fact that volatility is assured. Therefore, maintaining a steady 10% for two years could be just as easy as it is difficult. According to our projection for SKLUSD in 2025, a $1,000 SKL coin purchase, today could be worth over $9 million by that time.
The best way to buy Skale coin
The easiest and most straightforward way to get SKL is by buying it on Coinbase, Huobi, Gemini, or Binance. Bitcoin can still be converted to Skale through Coinbase, but Binance and Huobi offer the best experience.