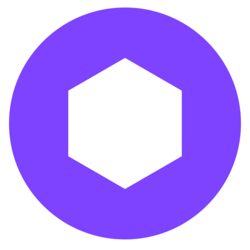 Kin (KIN)
Price
What is Kin?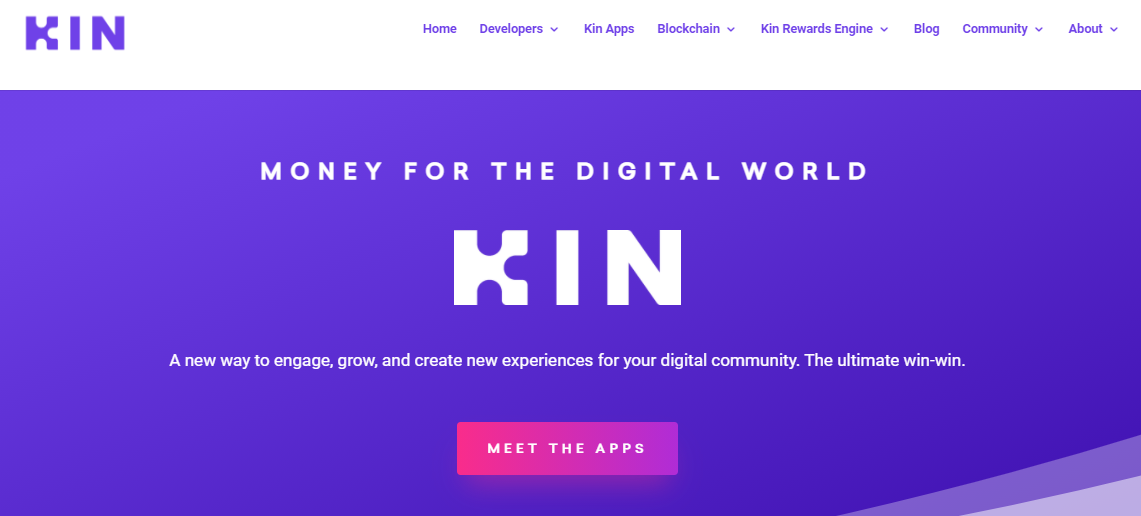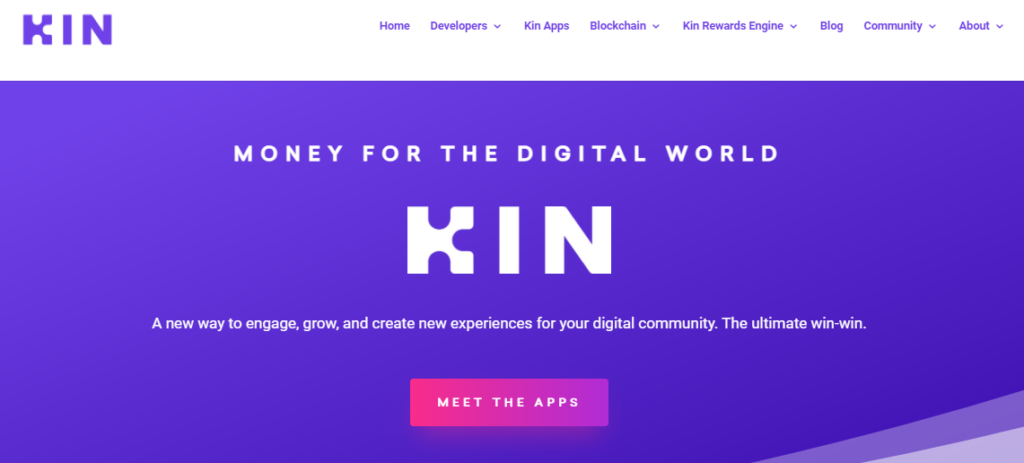 Kin is a cryptocurrency fostering community-building themes by bringing together a host of app developers, creators, and users to earn, spend, and transfer one digital currency, KIN.
The project is essentially an ecosystem where all these parties can generate value through numerous popular health, fitness, gaming, lifestyle, finance, and social media apps underpinned by engaging digital user experiences.
Some of the apps using the KIN token include Kik, MadLipz, Blockgames, etc. The Kin ecosystem consists of the developers building the apps, the creators publishing content, and the users consuming it.
If you're an app developer, you may consider Kin's SDK (software development kit) to use Kin's network in creating engaging user experiences and incentivize users and creators to spend and earn KIN.
KIN came onto the scene in May 2017 after publishing a whitepaper entitled 'Kin: a decentralized ecosystem of digital services for daily life.' The project had a successful initial coin offering in September of the same year, raising around $100 million.
CoinMarketCap ranks #326 for most traded cryptocurrencies. One KIN is presently worth $0.000090 or about a thousandth of a cent.
Is Kin a good investment?
The mission of Kin is to provide an incentive model in the world of apps. Many apps like Facebook have been known for data harvesting, relying heavily on an ad-based revenue model, and offering no or little monetization to their users.
Kin puts everyone (users, creators, developers) in the center of rewards. Everyone involved in an app is likely to engage with it more when there's an incentive to do so in a healthy, decentralized environment.
Although Kin is not well-known, the Kin Foundation has mentioned several expansion plans for the foreseeable future, like listing on large exchanges like Binance and Coinbase, a much greater marketing push, and the addition of DeFi (decentralized finance) functions like staking.
We should also consider the value of Kin is only fractions of a cent. The founding developers of KIN intentionally created an enormous maximum supply of KIN that will ever exist (10 trillion) to allow millions to make micro-transactions.
Furthermore, this would also permit cash-strapped investors to own large portions of the coin, something they wouldn't be able to do with more expensive projects like Bitcoin and Ethereum.
Should I buy Kin today: Crypto technical analysis for KIN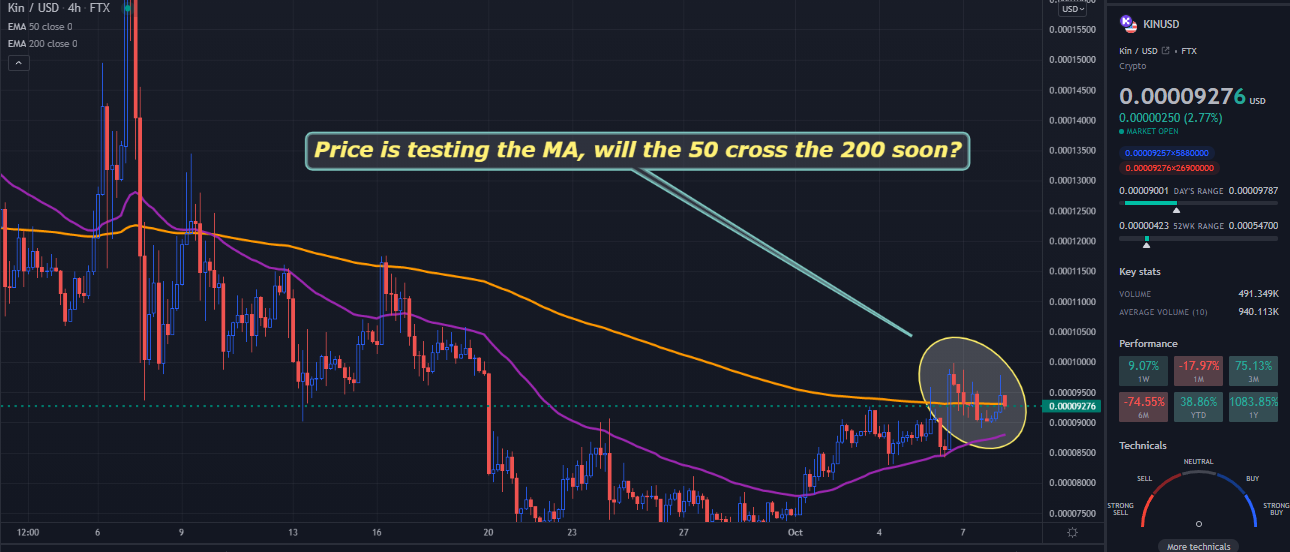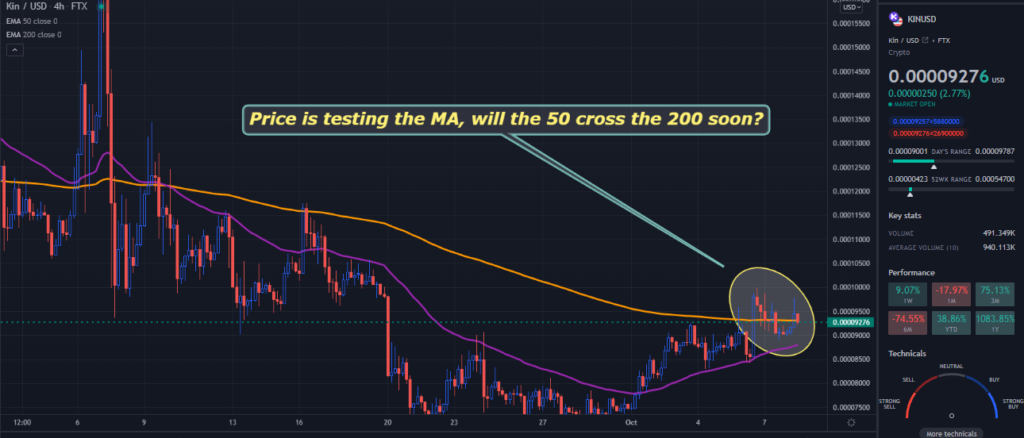 A straightforward 50-day and 200-day exponential moving average strategy can provide the answer to this question. The 50 (in purple) must be above the 200 (in orange) to confirm a buying signal. Furthermore, the market must go beyond both moving averages.
On the chart, we can see price testing the 200, and it appears that the two averages may converge soon. While it may not be a good time to buy today, investors would want to pay close attention if things change to reflect a buying opportunity.
Will Kin coin price hit 1 cent in a year?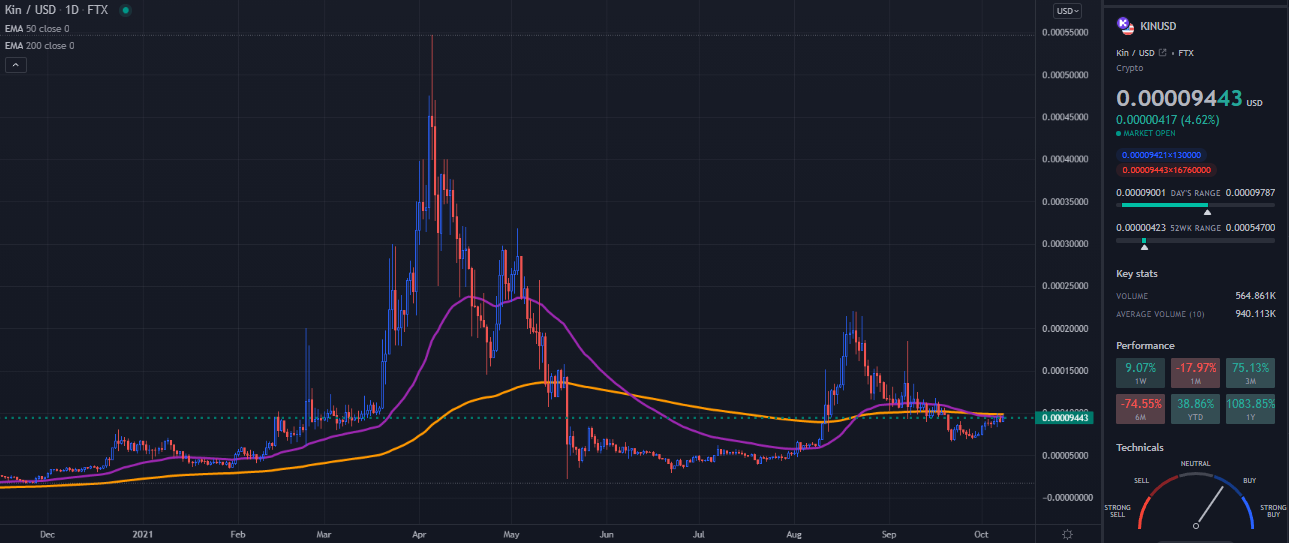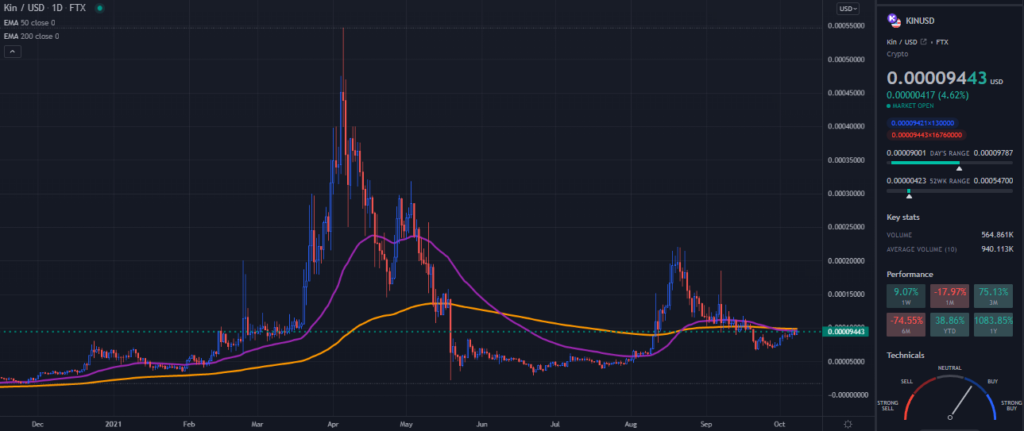 The price action of KIN on the daily chart is similar to the previous one. KIN's year-to-date performance yield is an incredible 1863%. While this performance is quite an anomaly, we've seen it numerous times over the last few years, particularly with coins valued at cent denominations like Kin.
Most investors are wondering whether this project can reach 1 cent or $0.01 in a year. The coin would need to increase about 1000% more to reach this point, which may not be realistic. Digitalcoin is a reliable forecasting site providing more pragmatic predictions.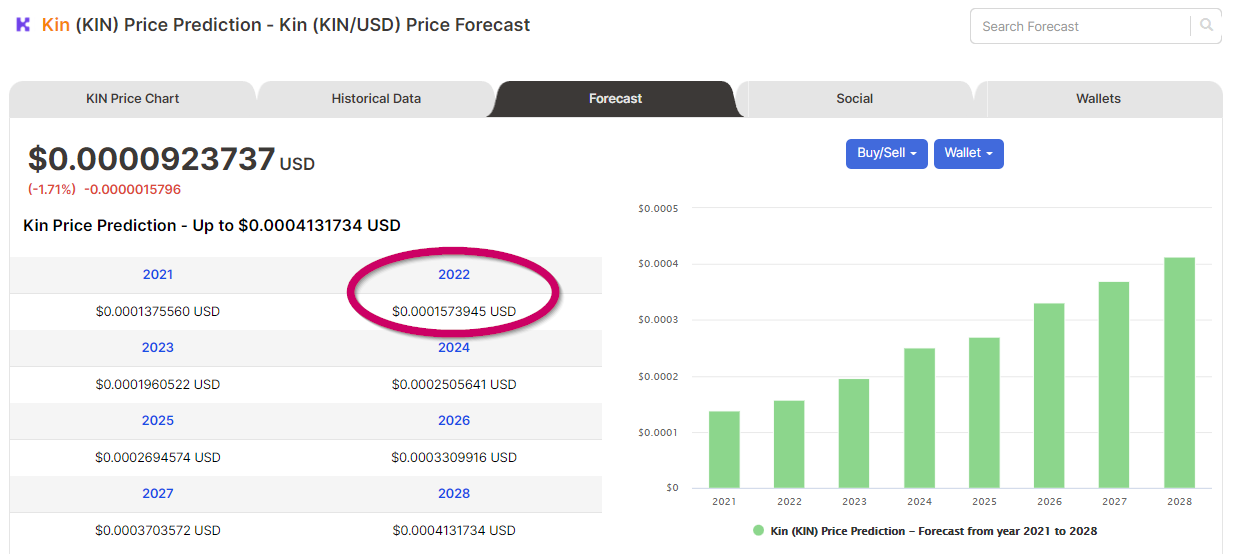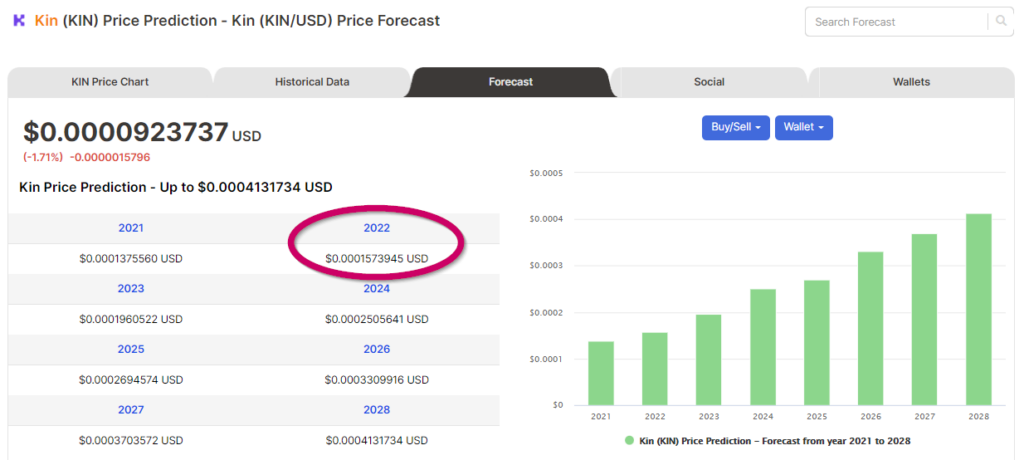 The site estimates KIN should be valued at $0.00015 or about a hundredth of a cent. Wallet Investor isn't too far off either and suggests a $0.00027 valuation. Investors should expect a similar, better, or worse outcome due to the volatility of cryptocurrencies.
What is Kin's coin price prediction for 2025?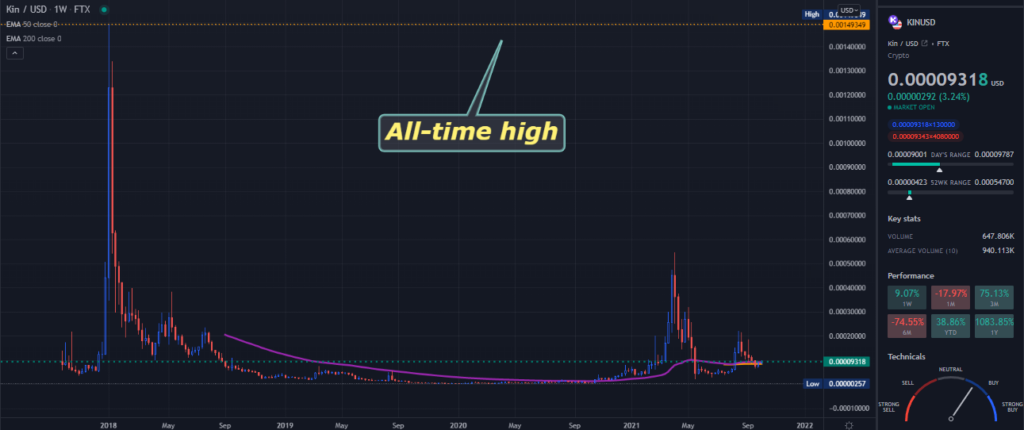 Several KIN predictors have predicted prices from 1 to 10 cents by 2025. Truthfully, any price is possible, although such predictions tend to be exaggerated without considering the current trading volume. So, we'll consult forecasts from Digitalcoin again for a better estimate.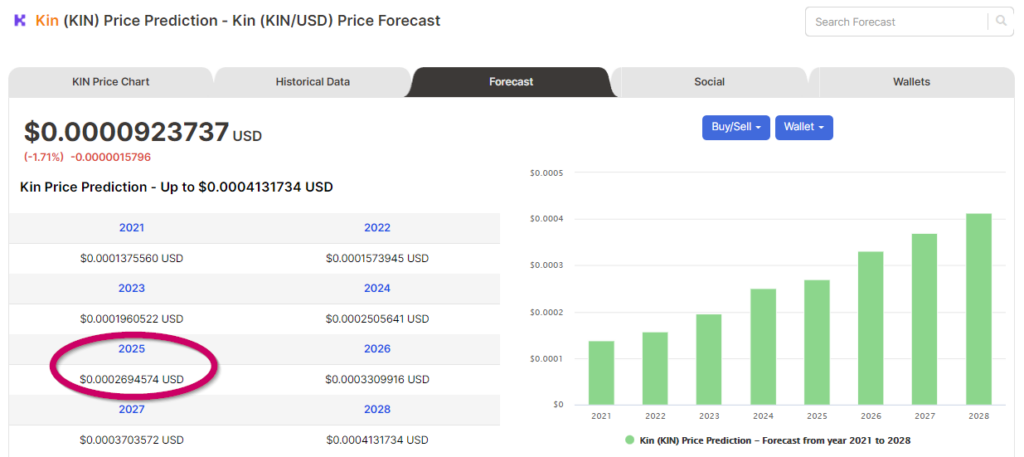 $0.00026 is the 2025 price suggested by the site, while Wallet Investor indicates $0.00049. As previously mentioned, investors should understand these are only predictions. However, there's a consensus that the crypto market will grow over time, positive news for any KIN holders.
The best way to buy Kin
CoinMarketCap lists about 15 exchanges to buy KIN, many of which are lesser-known names like Bitglobal, Bitrue, CoinEx, CoinTiger, etc. Some of these exchanges may provide a built-in wallet for storing the coin, or users can keep KIN with numerous external providers who support the token.