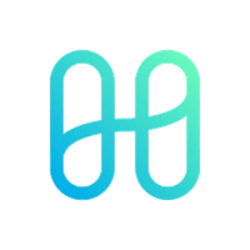 Harmony (ONE)
Price
What is Harmony?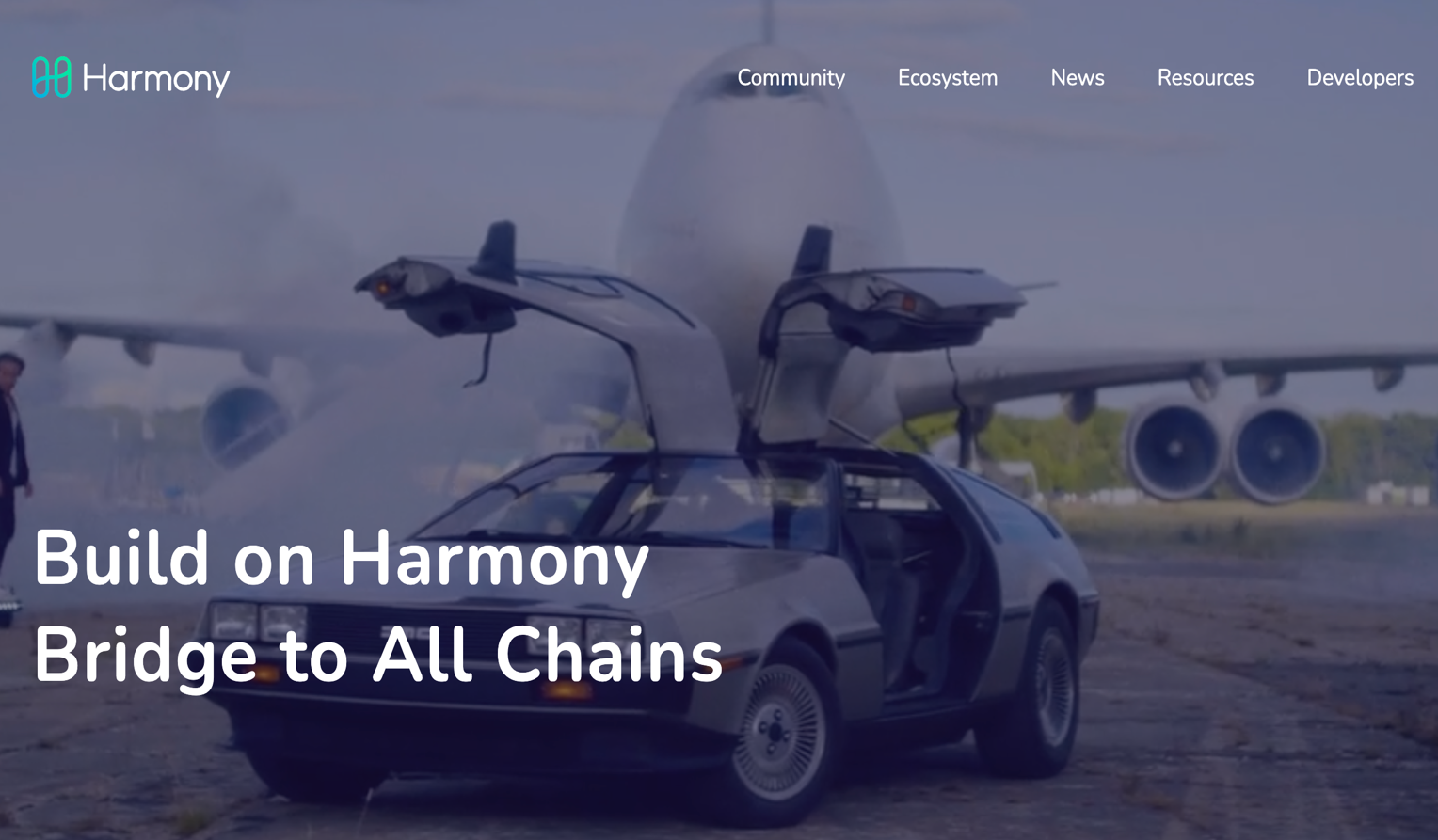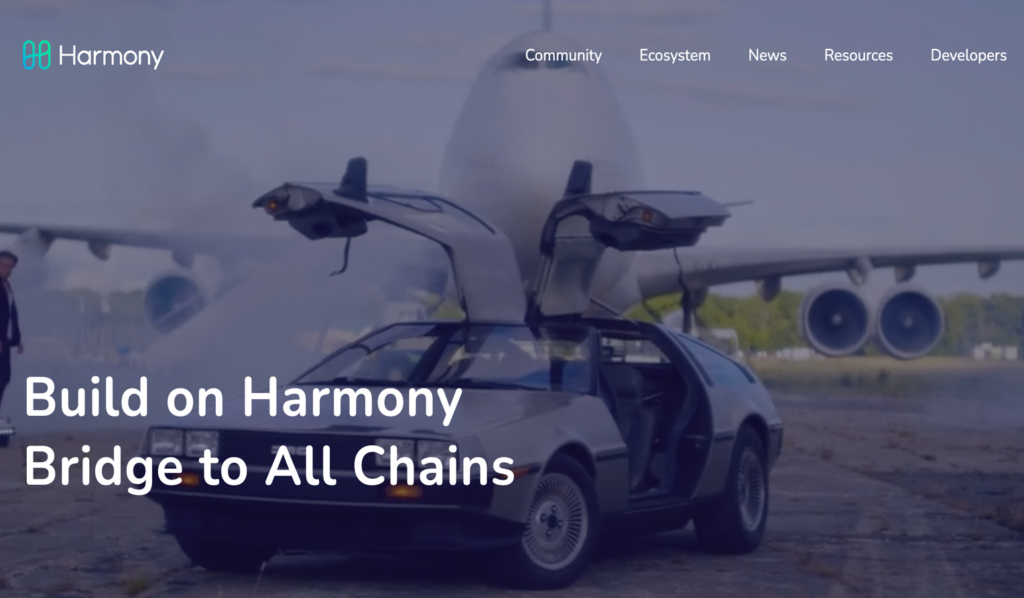 Since Ethereum burst onto the scene in 2015, many projects have come to light trying to emulate its success. Despite Ethereum being the second-largest cryptocurrency in the world, it hasn't been without its fair share of bottlenecking issues primarily related to scalability.
Harmony is among the few projects aiming to solve this substantial challenge. The Ethereum-inspired project is a blockchain like its predecessor for building dApps (decentralized applications, but with a different approach utilizing sharding and a unique consensus algorithm.
Aside from dApps, Harmony is also a blockchain for minting NFTs with its own marketplace, daVinci, processing the trading of such tokens. Additionally, Harmony supports all major NFT standards from Ethereum. The ONE coin is the utility token facilitating all this activity.
The founder and CEO of Harmony, Stephen Tse, created the project in 2017. Harmony's founding team of 13 consists of seven ex-Google, Apple, Amazon, and Microsoft employees with substantial software engineering experience.
CoinMarketCap ranks #57 for the most traded cryptocurrencies with a market cap of about $2.4 billion. Each ONE token is worth $0.22.
Is Harmony a good investment?
Harmony is a good investment for a few reasons. For starters, the project tackles some of the plaguing scalability issues with mass-adopted blockchains like Ethereum. Their goal is to foster quicker block creation through sharding, a process of splitting a blockchain into 'partitions' or separate pieces.
This technique is performed to reduce latency, allowing for faster processing times. It is one of the features expected to be on Ethereum 2.0. Moreover, Harmony uses a proof-of-stake consensus mechanism, proven to be far more scalable in faster block creation than proof of work since it doesn't rely on energy-consuming and costly computational power.
While Harmony is not a third-gen blockchain, it does have interoperability for cross-chain asset transfers with Ethereum, Binance, and three other chains. Lastly, Harmony has a scarcity factor regarding its distribution model.
The developers planned for there to be only 13 201 336.513 tokens in Harmony's lifetime. Presently, about 10.67 billion (roughly 80%) of the coins are in circulation. Investors would hope that as the supply gets maximized, it would eventually increase the value of ONE.
Should I buy Harmony today: Crypto technical analysis for ONE?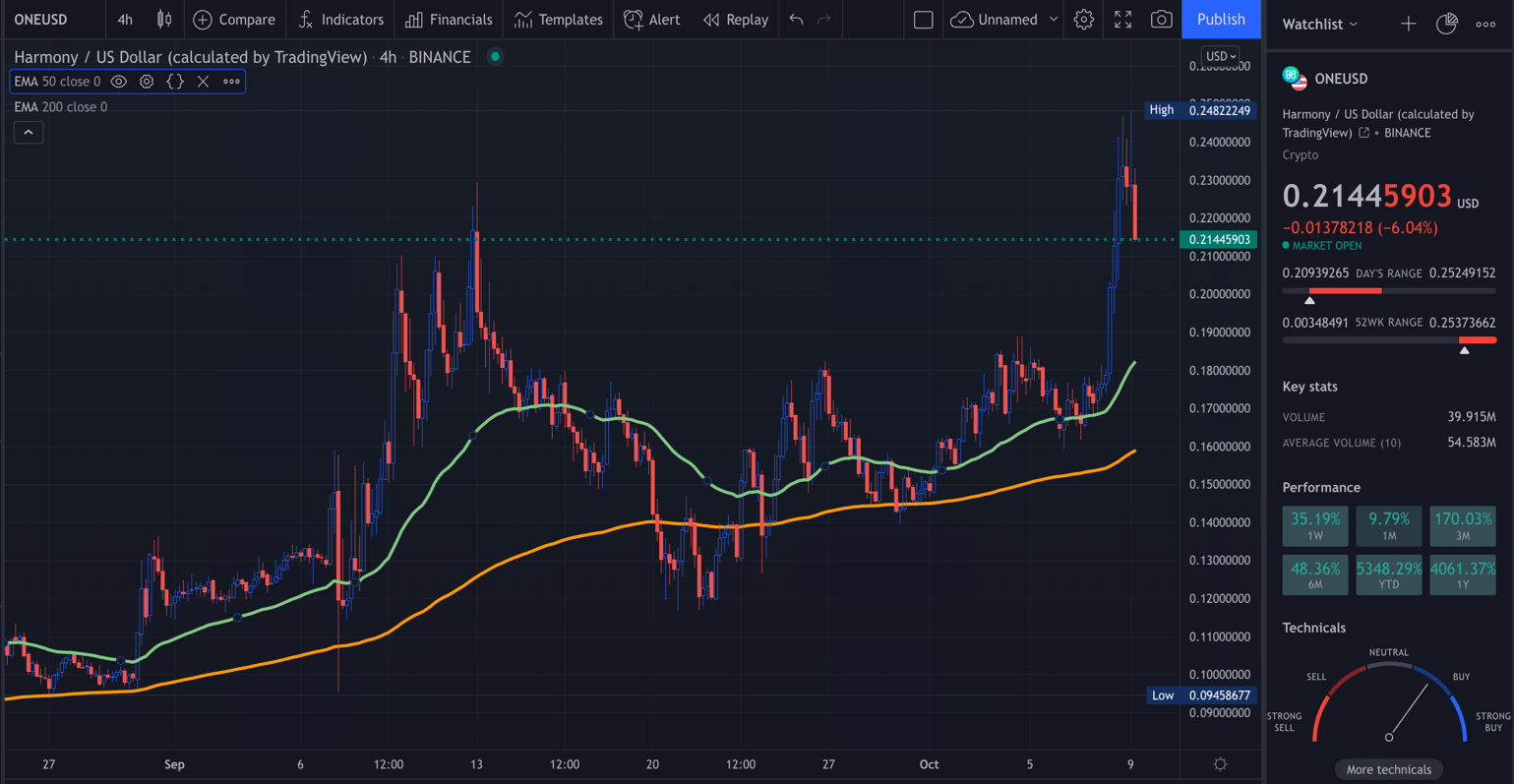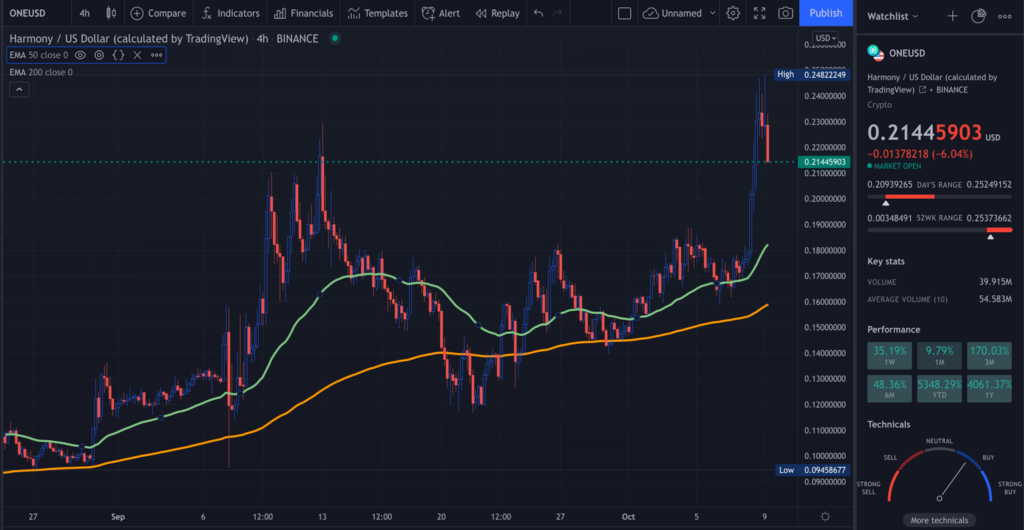 Interestingly, Harmony has recently hit its all-time high price of $0.25. Hence, the market is undoubtedly bullish. We can further confirm this sentiment using a simple 50-day and 200-day exponential moving average strategy.
Traders want to see the 50 (light green) cross above the 200 (orange), while the price must be above both moving averages. We can see that ONE meets both these points on the chart, meaning it's probably a good time to buy it today.
While the market does meet the criteria, other traders may want to wait for the price to retrace to the moving averages for a better entry, assuming the two entry points are still valid.
Will Harmony coin price hit $0.50 in a year?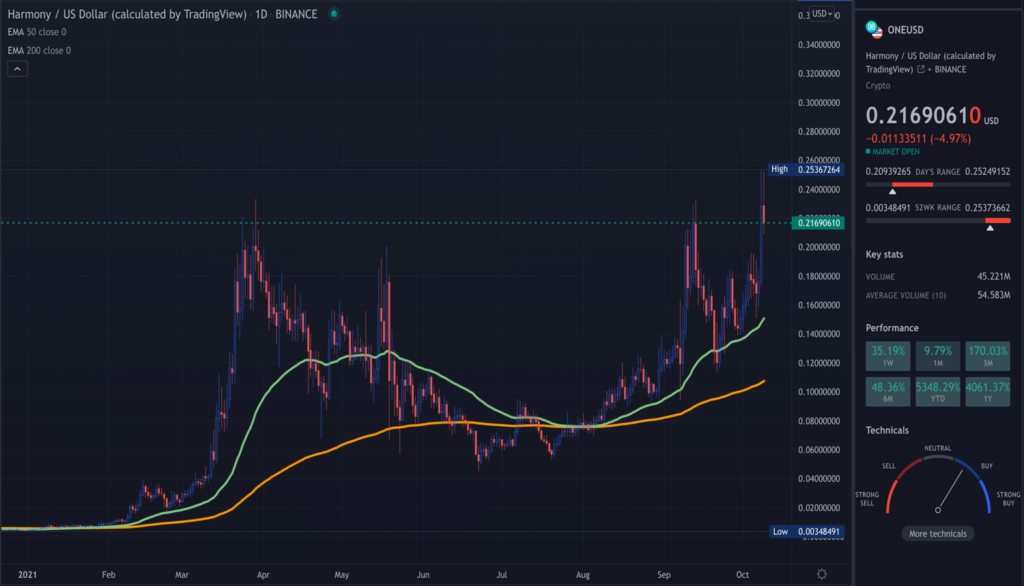 Harmony has been one of the best-performing financial assets recently. If one had bought the coin this time last year, they would have yielded about 3955% with their investment. Now that Harmony has crossed $0.20, perhaps the next anticipated target is 50 cents. So, could it reach this in a year?
It would take a 132% increase from its current price to reach $0.50. This rise wouldn't be impossible based on the recent performance. Hence, it's likely to get to this mark within a year or less. Other resources aren't too far off. For instance, Digitalcoin, a forecasting site, pegs for ONE to hit $0.37 in a year.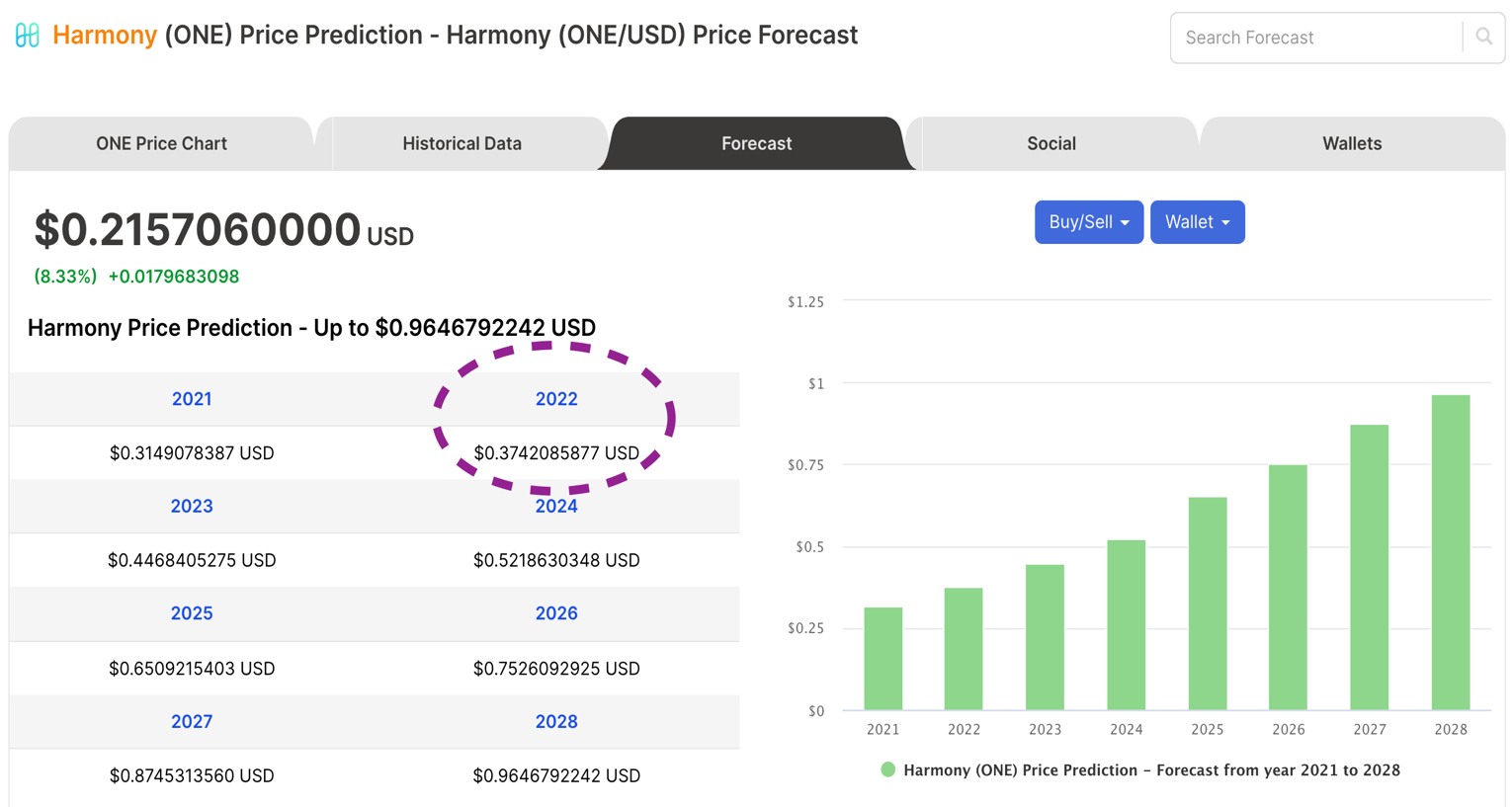 Wallet Investor is a bit more conservative and estimates $0.28 to $0.31 in the same span. Nonetheless, these are all predictions, and nothing is guaranteed in any market.
What is Harmony's coin price prediction for 2025?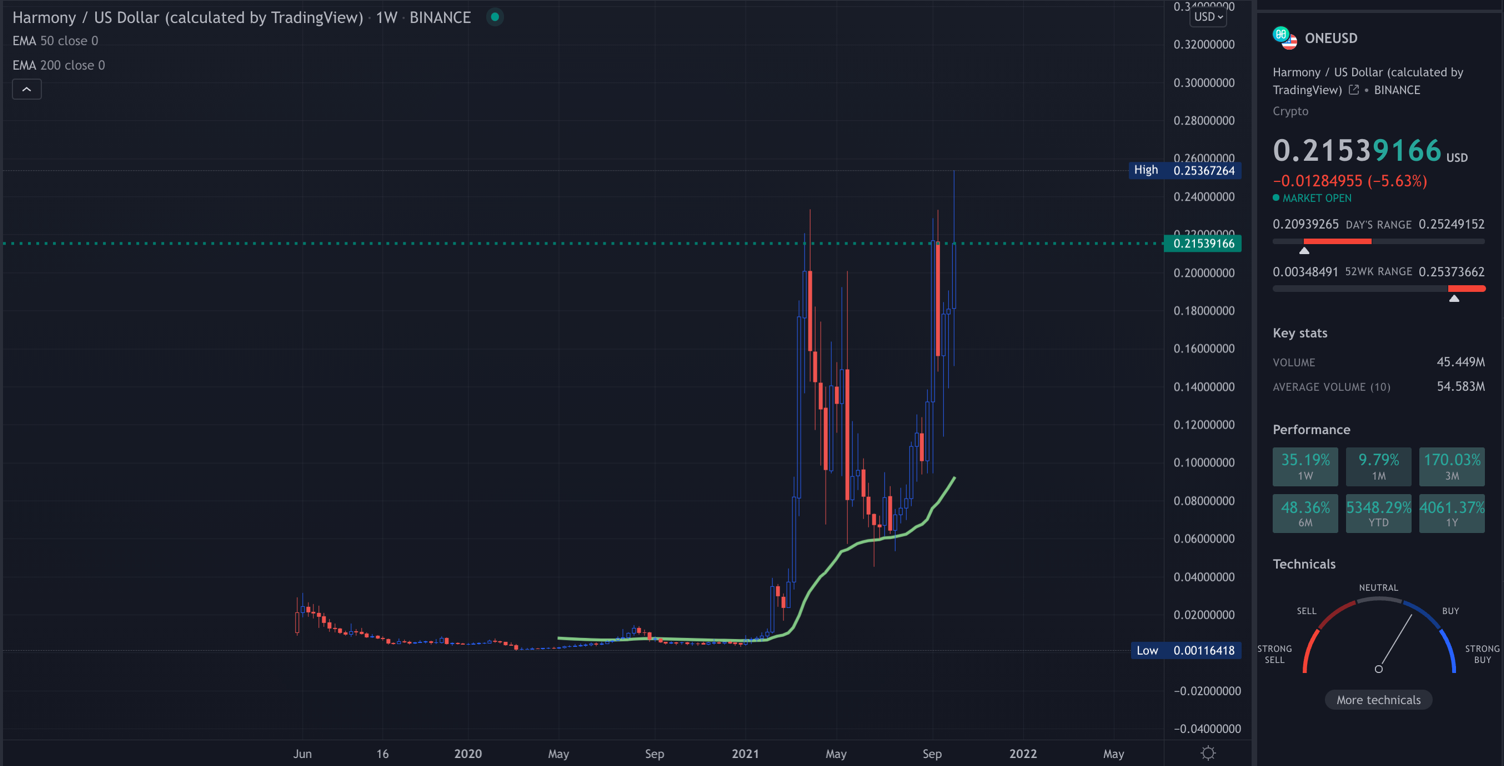 Predictably, the coin holders have high expectations of the coin's price for 2025. A $1 valuation wouldn't be an exaggeration by this time, but we'll consult forecasts from Digitalcoin again.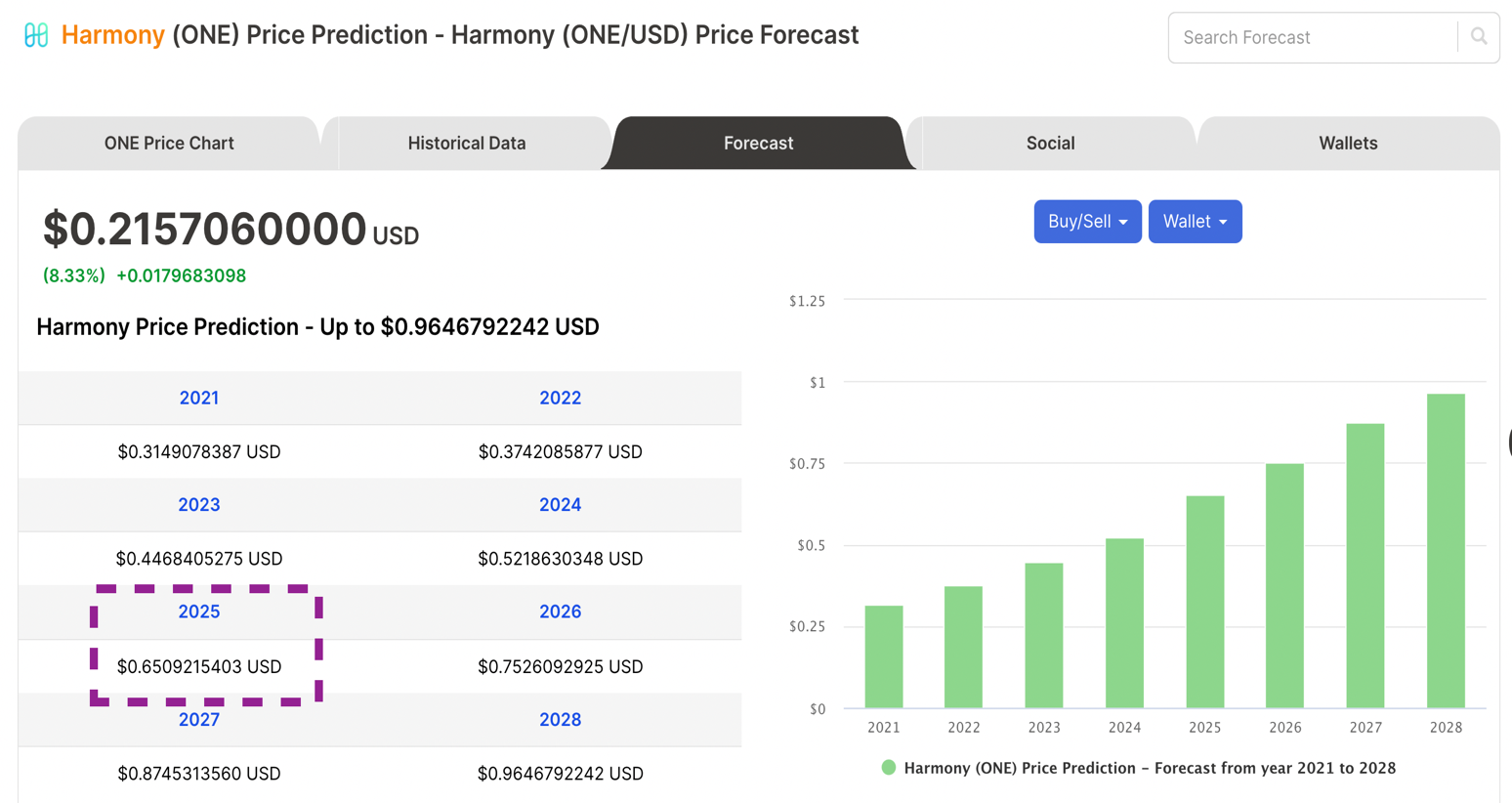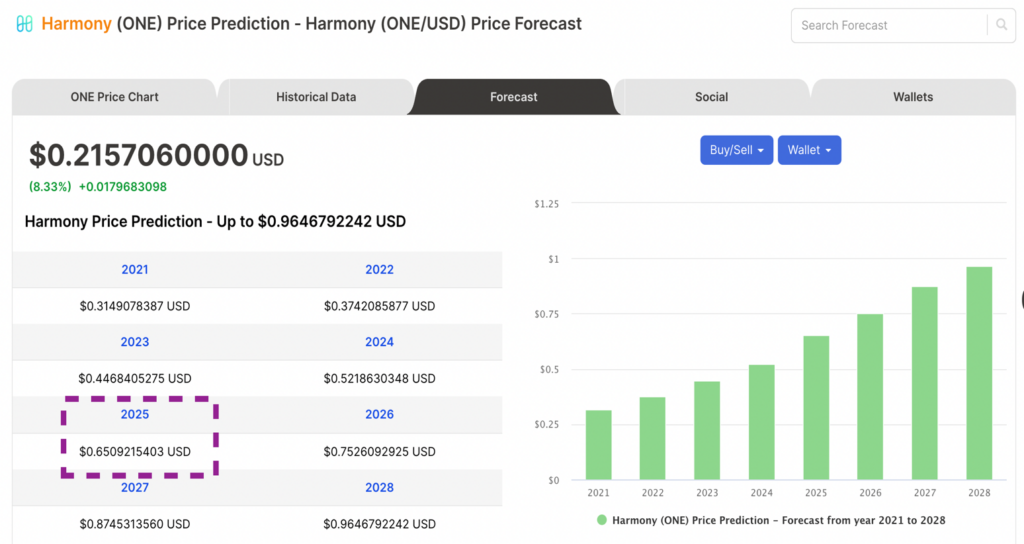 The site indicates ONE may be valued at $0.65 by 2025, while Wallet Investor's predictions range from an average of $0.54 to a maximum of $0.66 by the same year. Regardless, investors should appreciate the high volatility and uncertainty risk of cryptocurrency prices and invest what they can realistically afford to lose.
The best way to buy Harmony
CoinMarketCap lists dozens of exchanges to purchase Harmony, well-known brands like Binance, Huobi, Crypto.com, KuCoin, Gate.io, and countless more. Some of these marketplaces may have an in-built software wallet for storage purposes.
Alternatively, many other external services provide various software and hardware wallet options as well.