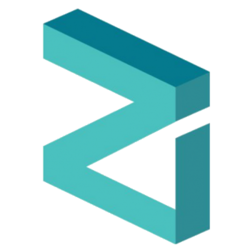 Zilliqa (ZIL)
Price
Disclaimer: The information provided here does not constitute any form of financial advice. Readers are fully responsible for conducting their due diligence before making any investment decisions.
What is Zilliqa (ZIL)?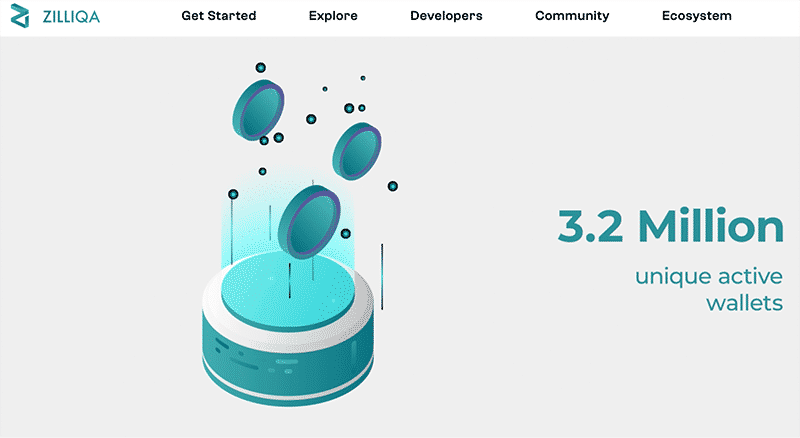 Zilliqa (pronounced zi-li-ka) describes itself as the 'portal to the blockchain world,' enabling developers of all skill levels to build user-friendly decentralized applications (dApps) and deploy smart contracts. This project is quite impressive in numbers. According to its website, Zilliqa has:
More than 3.2 million unique wallets
More than 117 000 smart contracts deployed
More than 2400 nodes
At least $930 million of TVL (total value locked)
At least 79 000 active users
59 tokens built using its blockchain (worth around $750 million in market value)
At present, 30 dApps have been built with Zilliqa across a number of fields in DeFi (decentralized finance) like exchanges, wallets, gaming, and tokens. Additionally, Zilliqa has a dedicated NFT facility where one can mint their own NFTs using the blockchain's proprietary token standard.
The founders of Zilliqa claim that the platform was the first to use sharding (when it was officially launched in June 2019), referring to the implementation of dividing a computer network into smaller groups to 'spread the load.'
In doing so, a sharded blockchain like Zilliqa achieves tremendous scalability outpacing the likes of Ethereum, despite using mining or the proof-of-work for consensus. ZIL is Zilliqa's utility token used in paying for products/services, trading NFTs, mining, smart contract execution, governance, and more.
Development for this project began as early as June 2017 and was conceived by Prateek Saxena (a professor computer scientist with a doctorate from the University of California, Berkeley) and a few students who had written a paper on sharding the year prior.
Presently, ZIL is ranked #53 for most traded tokens on CoinMarketCap, with a price of $0.21.
Is Zilliqa a good investment
In exploring Zil price predictions, we need to first understand whether this project has any investment value. One of the most attractive elements for Zilliqa is its use of sharding, which few blockchains in the top 50 rankings are presently employing.
With this component, Zilliqa can scale much higher than projects like Ethereum which have yet to incorporate sharding. Overall, Zilliqa combines various elements to be low-cost, developer-friendly, and secure. The other noteworthy feature of Zilliqa is the deflationary token supply.
Only 21 billion ZIL have been slated to exist, with about 12.59 or 60% presently in circulation. As a mid-capped coin (as its market cap is between $1-$10 billion), Zilliqa has a lot more room to grow than other cryptocurrencies ranked higher.
Should I buy ZIL today: Crypto technical analysis for ZIL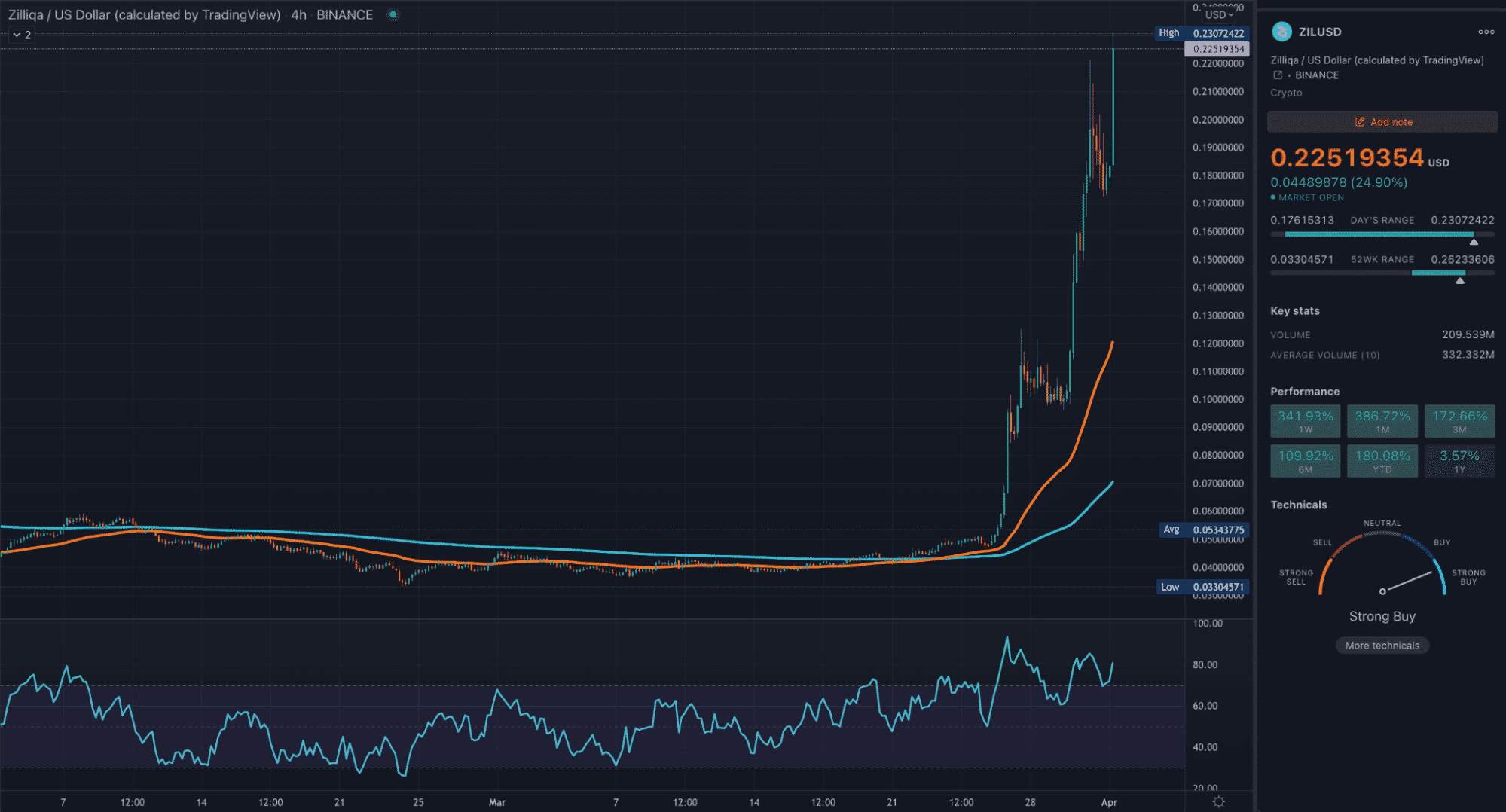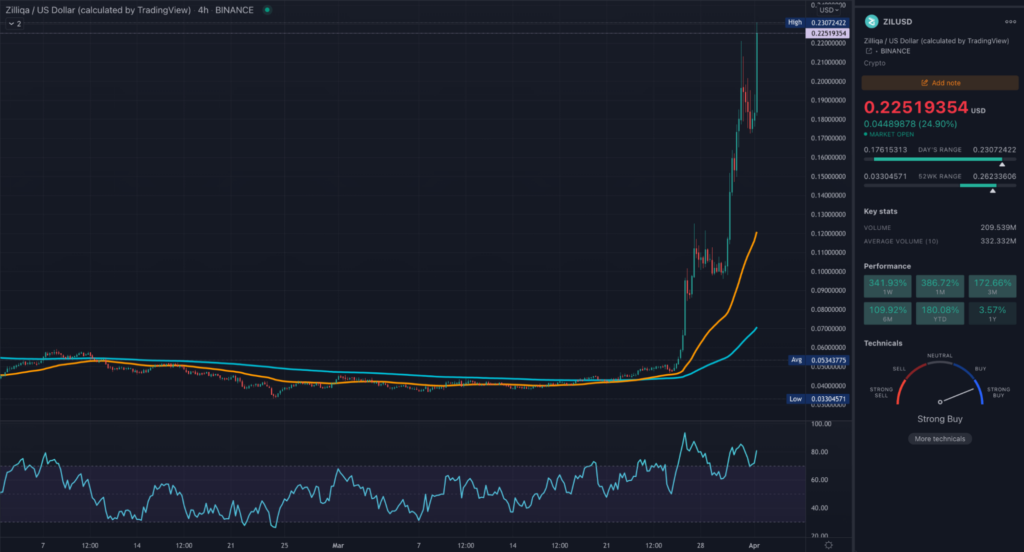 Even without any indicators, it's easy to see ZIL's price is quite bullish as it's been on a rally in the last few weeks. Regardless, we have added the 50-period (orange) and 200-period (moving averages). The 50 has long crossed above the 200, along with the price.
While momentum is strongly to the upside, it doesn't necessarily mean you should buy this coin yet. With the RSI, we can see the market is overbought. Although this condition doesn't necessarily translate to an eventual pullback, you'd want for ZIL to retrace back to the moving averages and look for the 50-200 cross again.
Will the ZIL coin price hit $1 in a year?
Based on looking at several prediction sites, $1 seems unlikely for Zilliqa. Most forecasts lean towards an average of $0.27. For instance, Gov Capital believes ZIL will be worth at least $0.23, up to $0.31; Digitalcoinprice sees prices from $0.29 to $0.35 in a year.
One of the highest forecasts came from Tech News Leader, with minimum and maximum estimates of $0.32 and $0.36, respectively.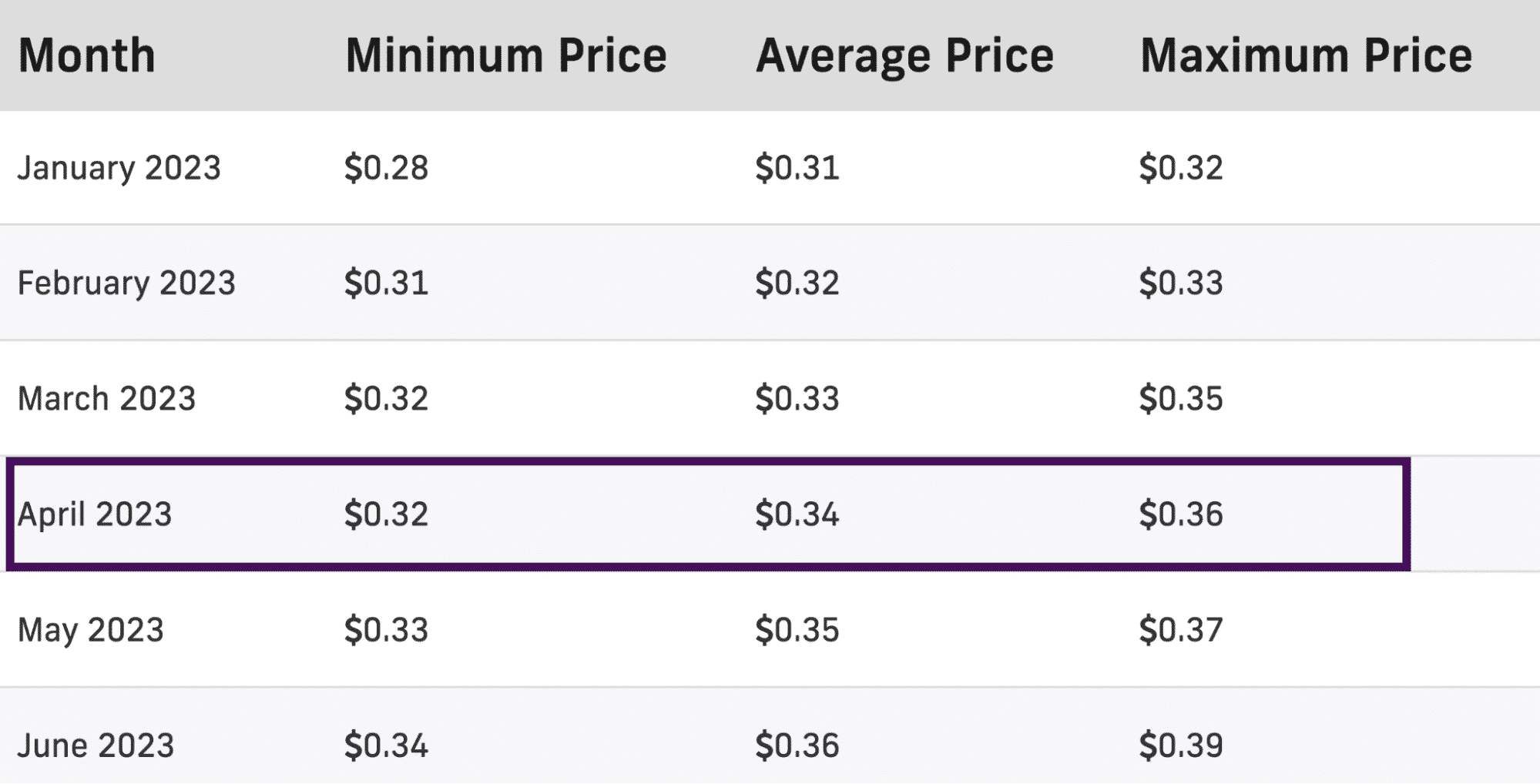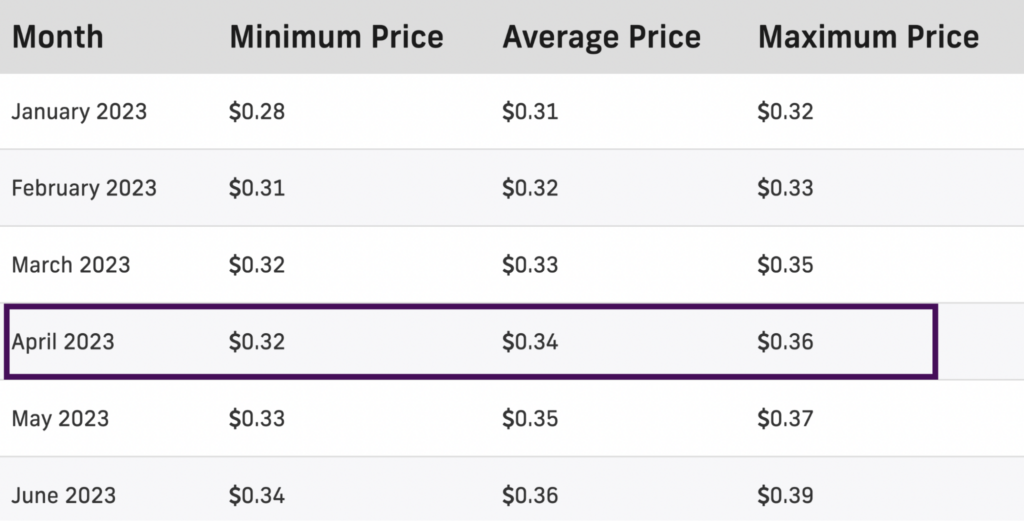 What is ZIL's price prediction for 2025?
So, what's the best and worst that could happen to ZIL for 2025?
Best-case scenario
Most prediction forecasts remain conservatively bullish on Zilliqa. Ambitious investors will hope the coin crosses the $1 mark at least, although the estimates we observed say otherwise. The average we derived this time was 45 cents. Again, Tech News Leader came out on top with potential valuations from $0.53 to $0.59.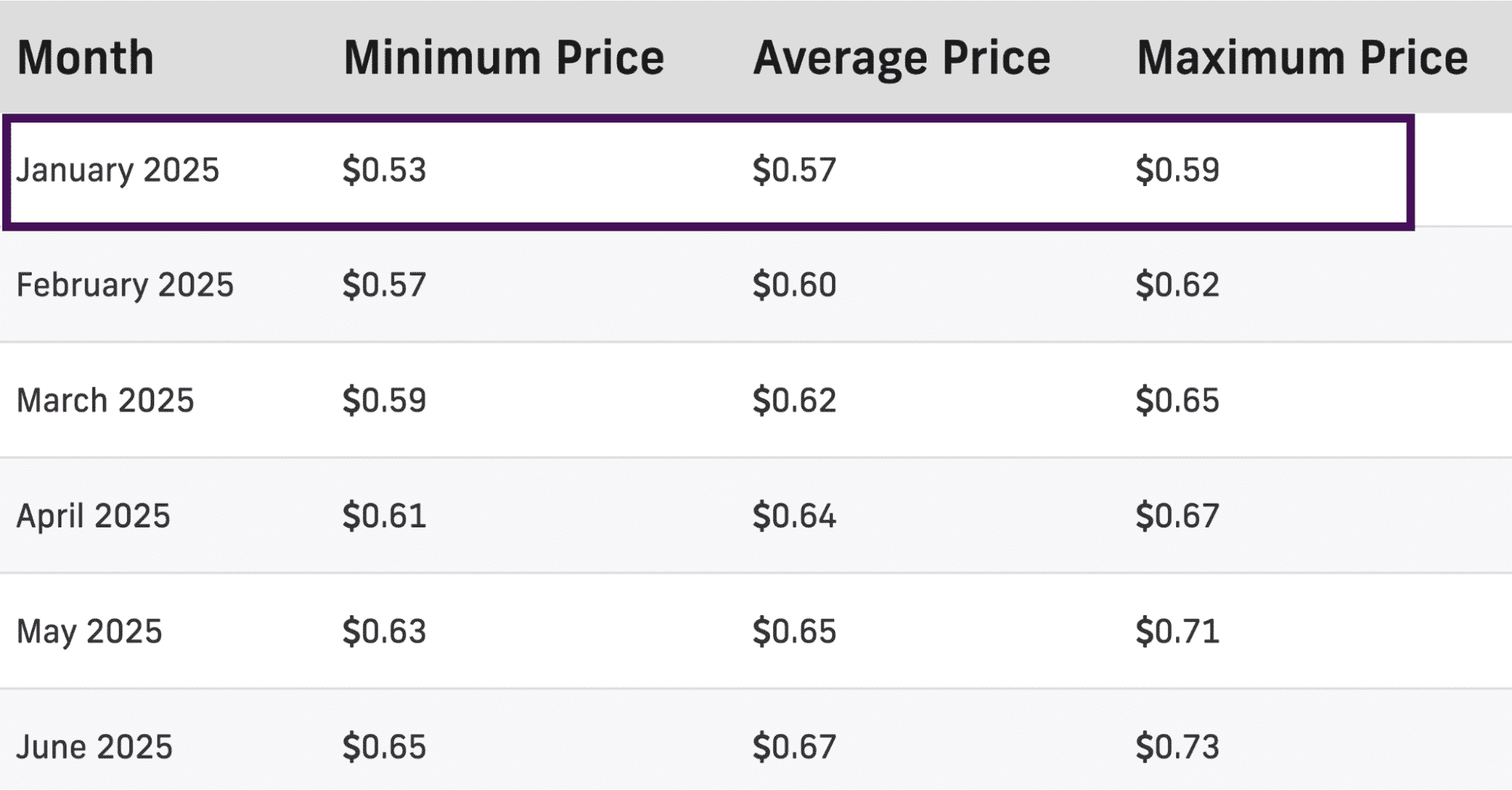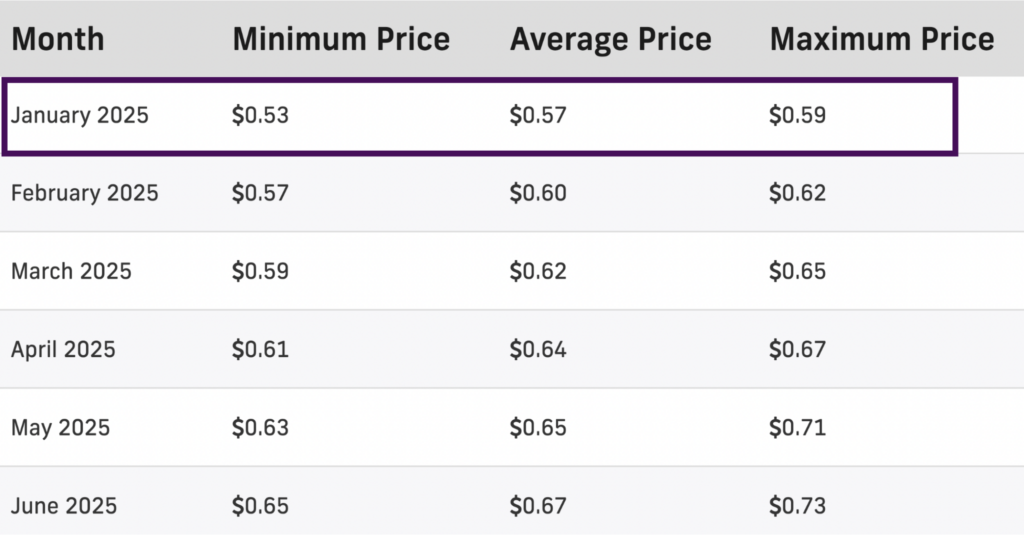 Worst-case scenario
The potential downside for Zilliqa is the same as with any altcoin. One of the main threats is, of course, competition, considering that we have a plethora of established and more prominent blockchains performing the same role.
Plus, such tokens are known for being highly volatile. Therefore, it's reasonable that ZIL's price could be lower or about the same by 2025.
The best way to buy ZIL
As with nearly all cryptocurrencies, you can buy ZIL from exchanges such as Binance, KuCoin, Gate.io, Huobi, Bybit, and many others.