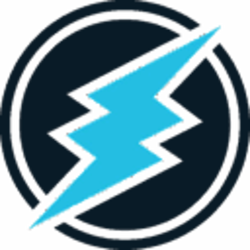 Electroneum (ETN)
Price
What is Electroneum?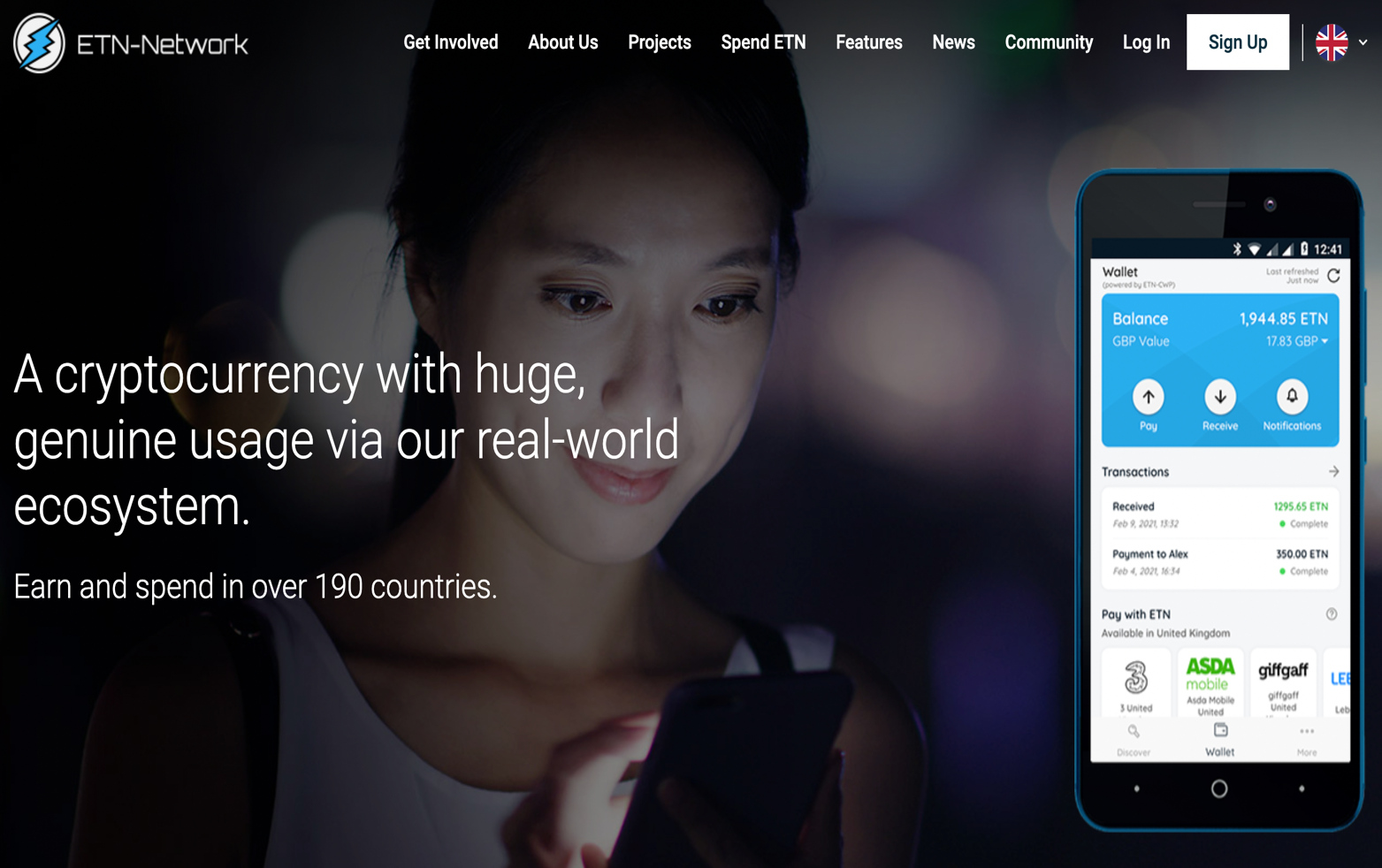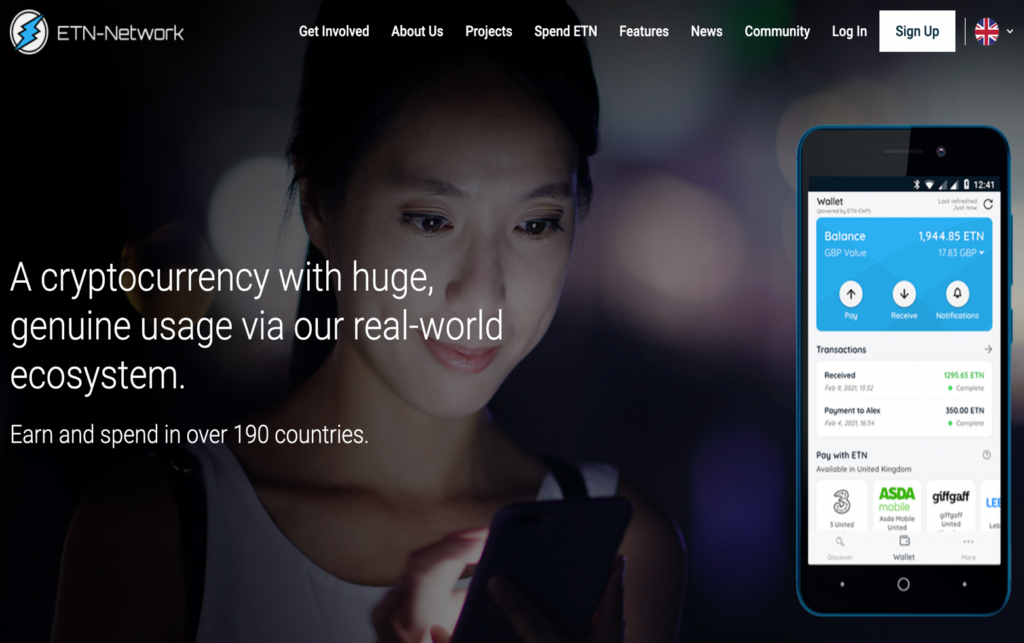 Over a billion people in the world have no access to digital payment services like VISA, PayPal, or Apple Pay. The ETN Network or Electroneum has been tackling this issue since September 2017, when it launched as the first UK-based cryptocurrency project.
Electroneum is an award-winning mobile-based application for instant and ultra-low-cost crypto payments using its digital currency, ETN. The project's target market includes individuals, corporations, and merchants, along with the rest of the globe's +1 billion unbanked population.
Among Electroneum's other projects utilizing ETN is AnyTask™, a freelancing platform where users don't need a bank account or pay seller fees, both disruptive features to the digital economy.
CoinMarketCap presently ranks ETN at #237 with an estimated market cap of $340 million. Let's observe why ETN is a good investment and what the Electroneum price prediction is for 2022 and 2025.
Is ETN a good investment?
Electroneum's vision is clear; the project provides a seamless and cheap digital payment system to emerging economies without relying on the inconvenient traditional finance infrastructure.
The crypto is available in more than 190 countries and downloadable on the Google Play Store and Apple App Store. Electroneum was one of the first cryptocurrencies to adopt KYC (Know Your Customer) measures to adhere to regulations and prevent money laundering.
It's uncommon for a cryptocurrency to heed compliance standards due to the inherently unregulated nature of the industry. Being based in the UK also adds more credibility to Electroneum as this country is generally seen positively in the financial markets.
A further aspect to the network's security is the addition of a 'moderated blockchain' to robustly prevent 51% attacks, one of the plaguing threats to cryptocurrencies.
ETN has also been lauded from a technical perspective due to the unique consensus mechanism it employs known as proof-of-responsibility, a model providing invulnerability to miner attacks and competitive scalability.
Each ETN coin is worth $0.019 or about two cents currently, according to CoinMarketCap. Considering we are about 1000% away from ETN's all-time high of $0.23 (reached in November 2017), there is still time for investors to get in early.
Should I buy ETN today: Crypto technical analysis for ETN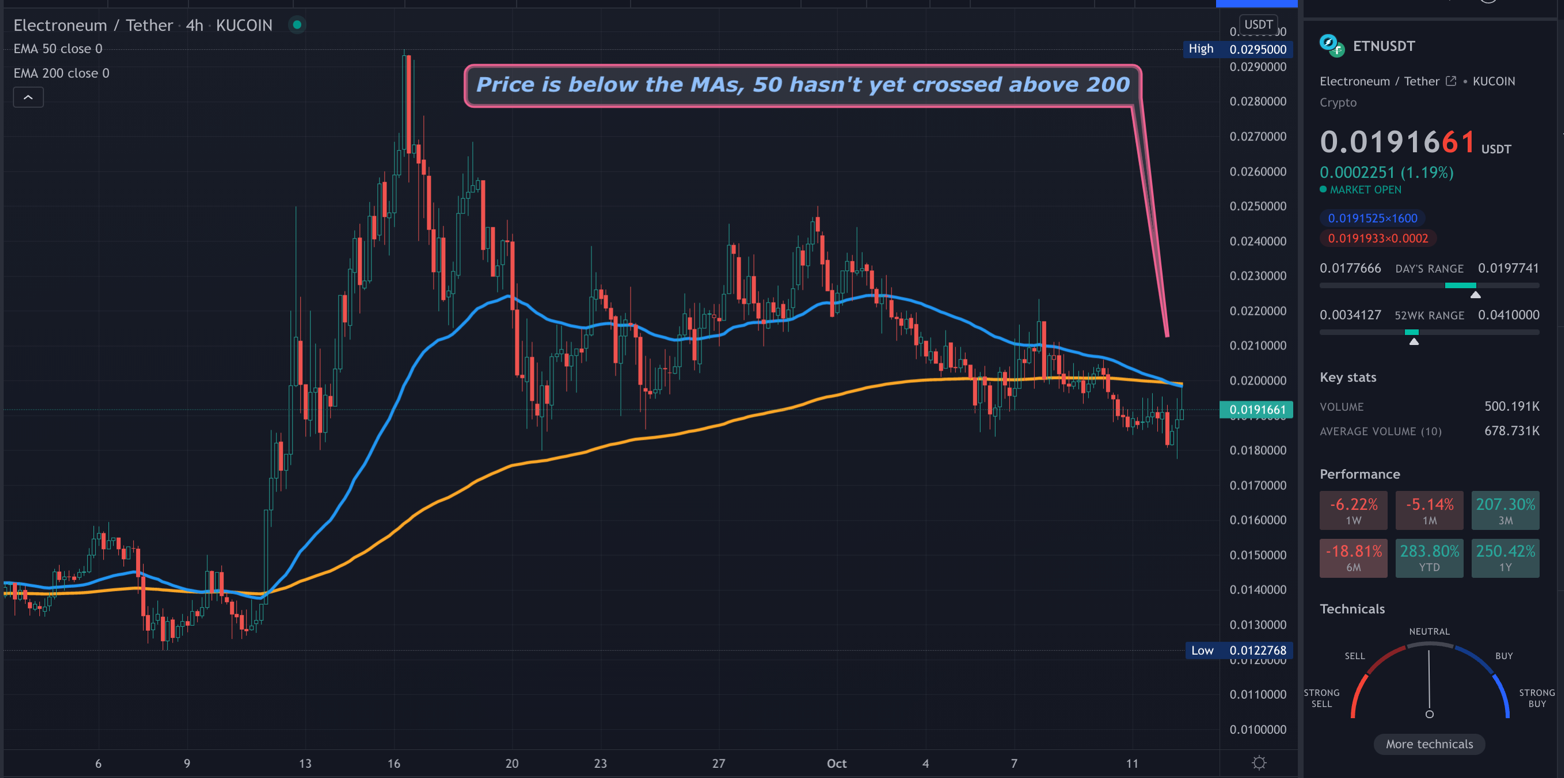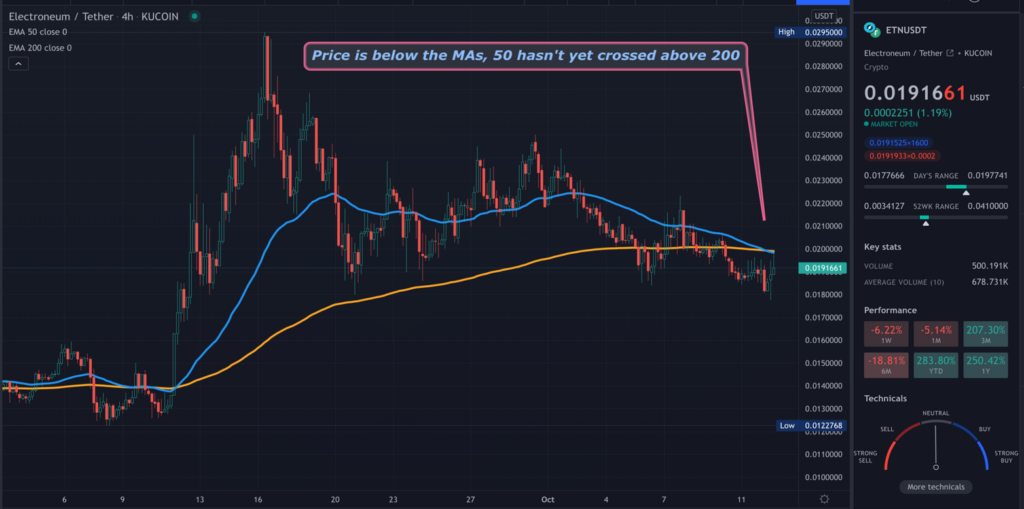 The chart above consists of two exponential moving averages, a 50-day period (light blue) and a 200-day period (in orange). We'll use this simple strategy to determine if it's a good time to buy ETN today.
The objective is for the 50 to cross above the 200, while the price must be above the two moving averages. We can see on the chart the market hasn't yet met these criteria. It appears that the 50 and 200 are converging, and price is looking to go above the two.
Yet, it's still probably not a good time to buy ETN today, though things may change for the better soon.
Will ETN coin price hit 5 cents in a year?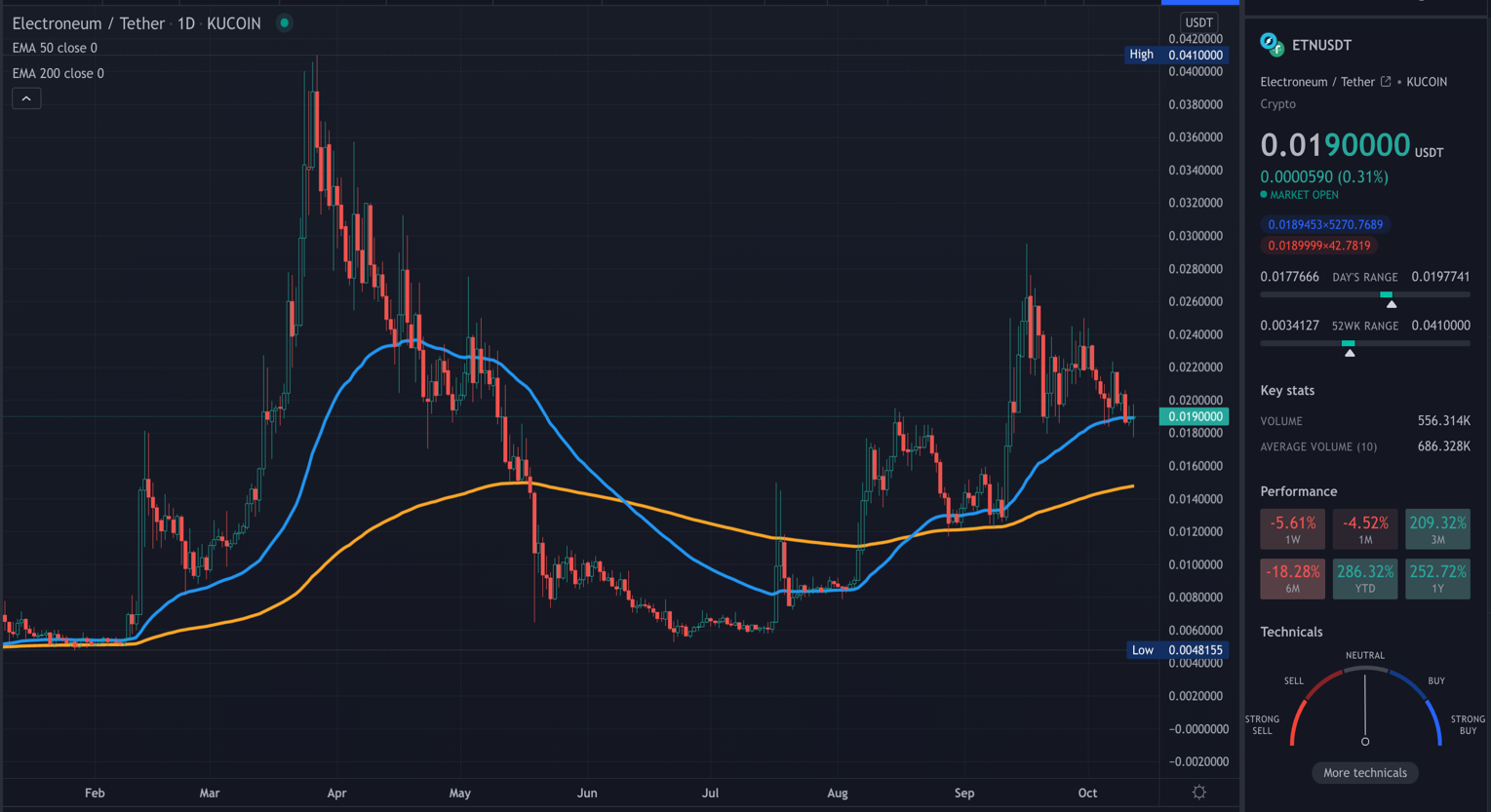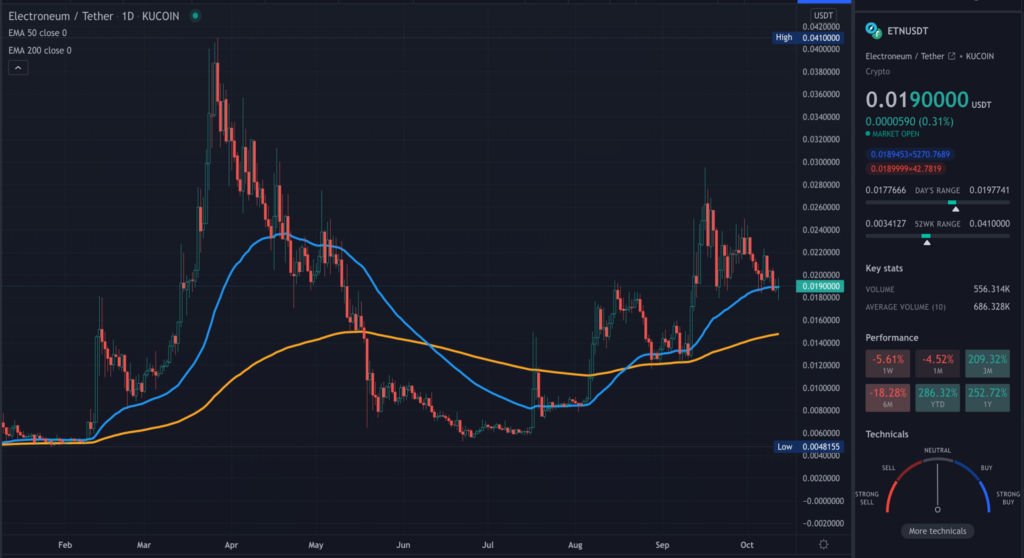 So, how realistically could the value reach $0.05 in a year?
If ETN increased 255%, which is how much it went up over the last year, it can easily meet the 50 cent mark. For a more conservative outlook, we can look at forecasting analysis from Digitalcoin.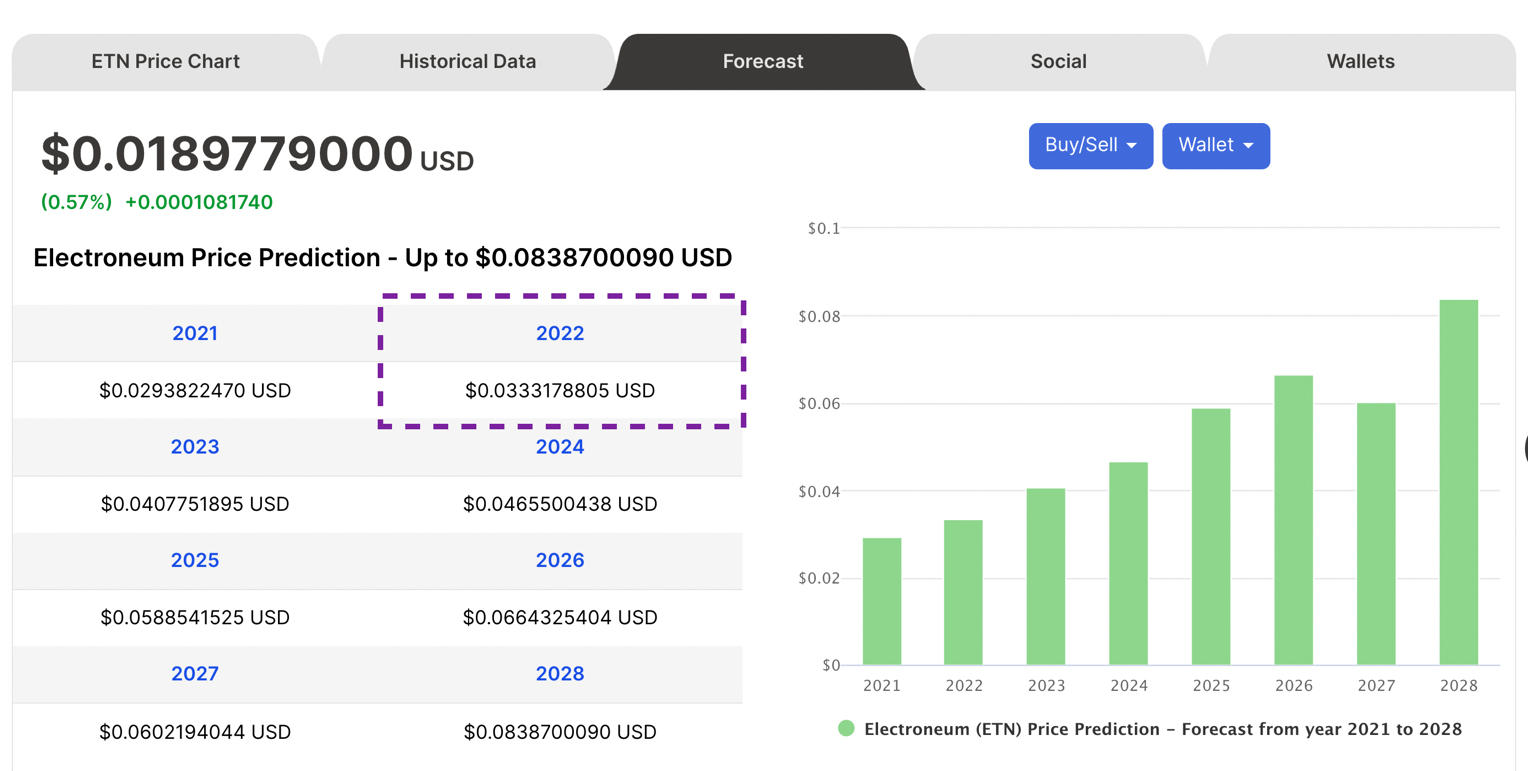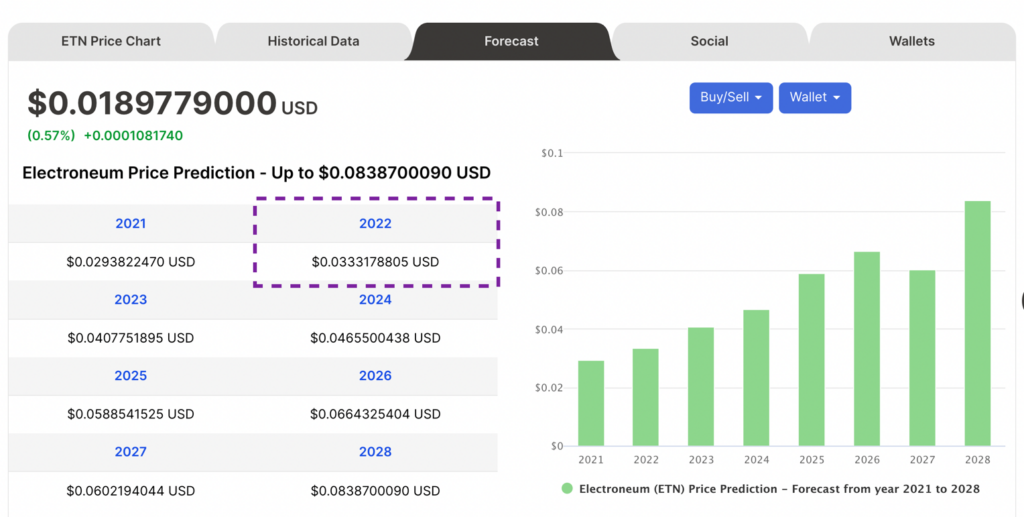 The forecasting site predicts for Electroneum to be valued at $0.033 (roughly 3.3 cents) in a year, while Wallet Investor advises a maximum valuation of $0.0441 (approximately 4.4 cents). It seems like ETN is unlikely to hit $0.05 within this span, though both predictions aren't too far off the mark.
What is ETN's coin price prediction for 2025?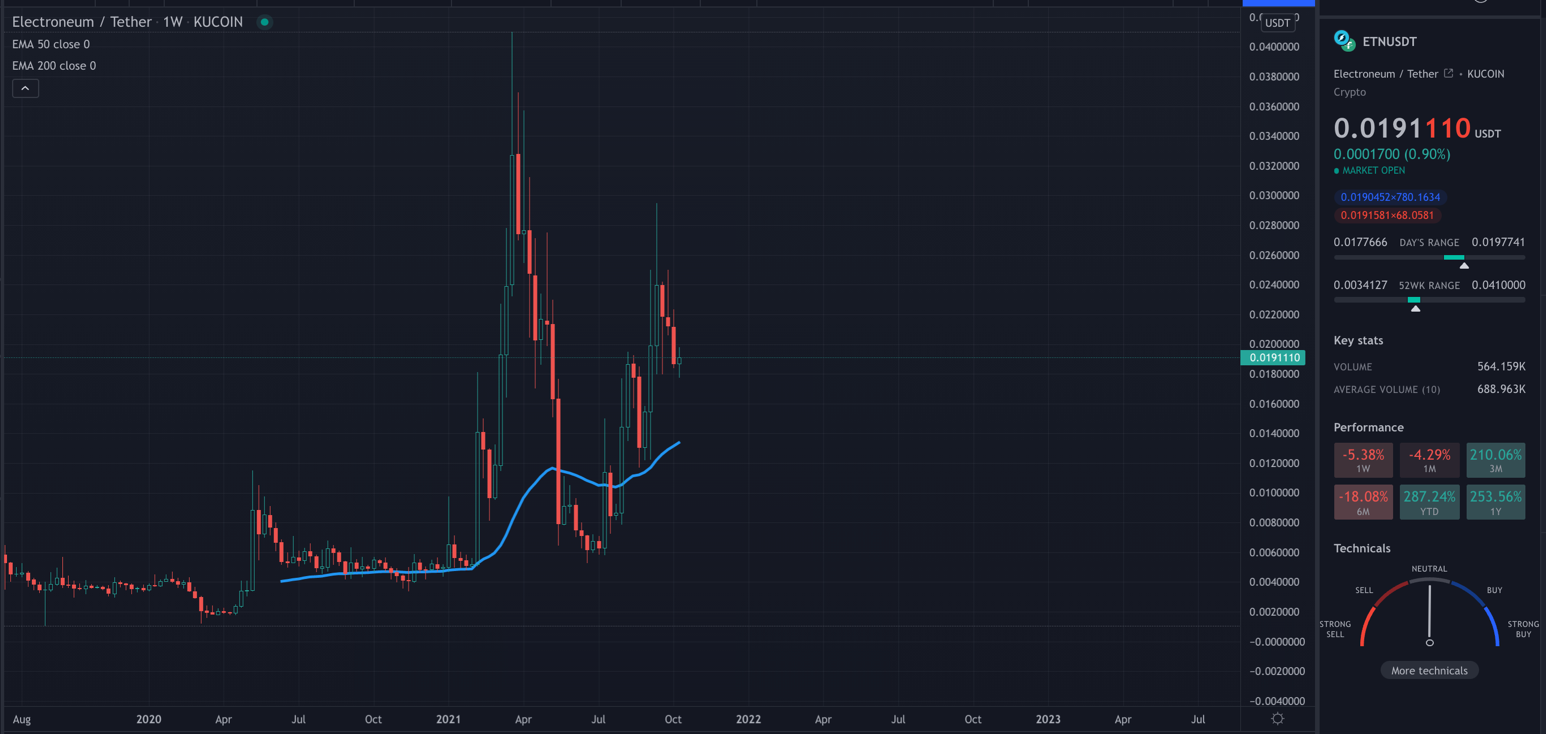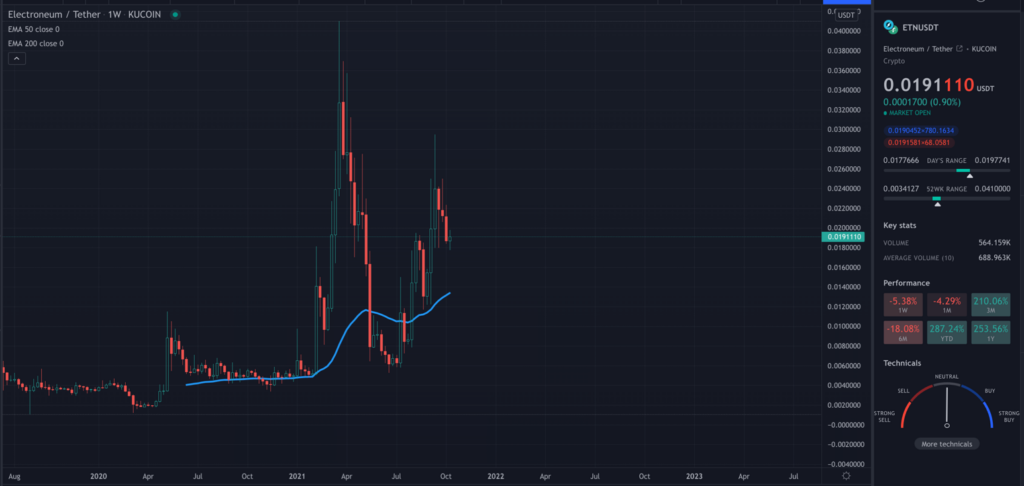 We'll look at an Electroneum price prediction for 2025. Most analysts agree ETN is probably a good long-term investment despite being somewhat of a 'slow burner' presently.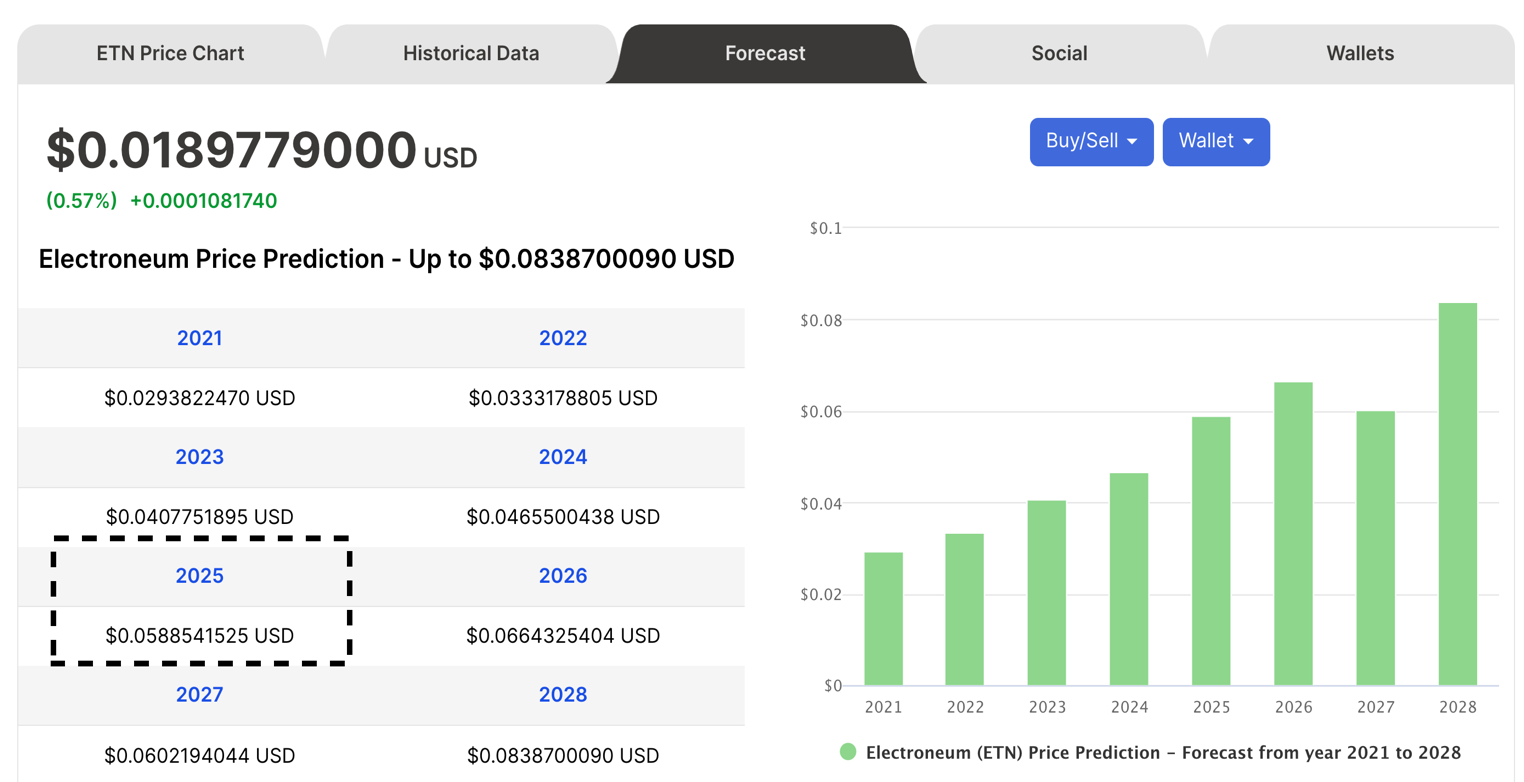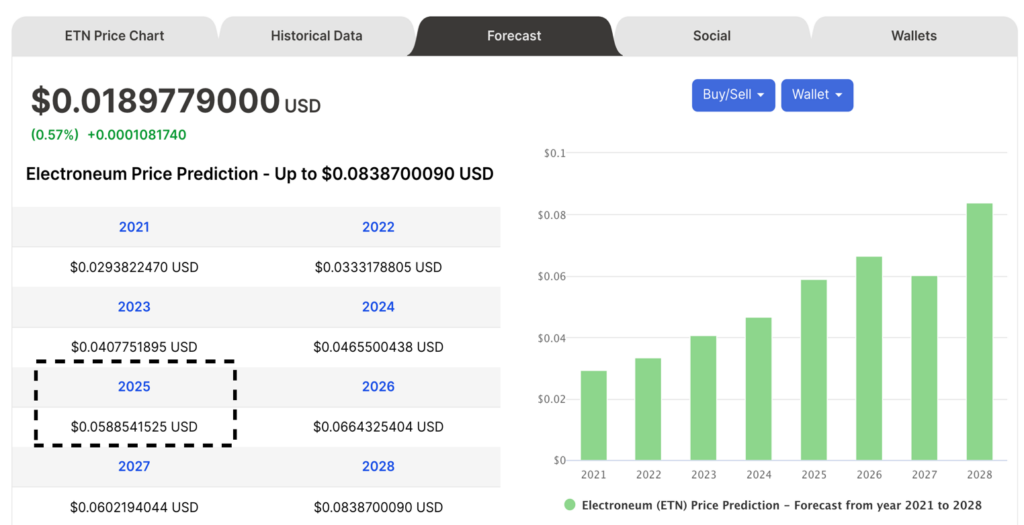 Digitalcoin speculates ETN may be worth $0.0588 or about 6 cents by 2025. Wallet investor's estimate is a little higher at $0.01075 or roughly 11 cents. Regardless, investors should understand these are only predictions. Electroneum can either perform similarly, better, or worse than anticipated.
One should always invest what they can afford to lose and appreciate the volatility risks of cryptocurrencies.
The best way to buy ETN
CoinMarketCap lists 23 spot markets from 12 exchanges for potential ETN buyers. The exchanges include KuCoin, Huobi, ProBit, Liquid, and many more. Some of these marketplaces provide an in-built wallet for storage purposes as well.
Alternatively, you can find a suitable soft/hardware wallet from numerous external providers online, including Electroneum itself.