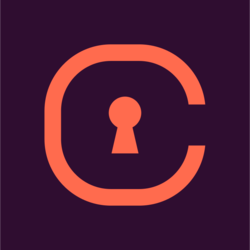 Civic (CVC)
Price
The Ethereum blockchain supports CVC coin.
It is unique in that it specializes in transaction identification security.
The network has also recently ventured into health records monitoring and security.
What is a CVC Coin?
CVC coin is a native token of the Civic Network. The Civic ecosystem was developed by Vinny Lingham and Jonathan Smith in 2015. The Civic network was launched in 2018 after an initial coin offering in 2017.
The Civic network is a decentralized identity network that enables the request to establish the identity of a user via blockchain technology. CVC coin is supported by the Ethereum network, given that it is an ERC-20 token considered to be a secure and decentralized proof-of-work (PoW) network currently being used.
The anticipated shift of Ethereum to proof-of-stake (PoS) and the launch of Ethereum 2.0 will enable CVC coin and its related transactions to be secured by a system of validator nodes.
The CVC coin is unique to the Civic network as it is used in settling identity-related transactions between Civic users, such as clients and service providers.
Additionally, users of the Civic network can receive CVC coins for finishing tasks such as introducing new members to the network or signing up for services offered on the platform. Validators can also earn the coin by authenticating documents for those providing services on the Civic ecosystem.
The Civic network offers two main products. These are the Health Key and the Civic wallet. The Civic wallet is a mobile digital currency wallet that can be used to store other digital assets such as BTC, ETH, and USDC. It is a solution for the management of digital identity and gains from the $1 million BTC insurance plan issued by Coincover.
On the other hand, the Health Key product is a new app that enables various employers to verify the health status of their employees securely to certify that they can go back to work after the Covid-19 infection. This is done without violating the privacy of the employees.
To gain more investors, the Civic network has incorporated Solana blockchain to fasten acceptance of its solution to secure digital identity through CVC coin. The incorporation also includes cost convenience that can increase investor returns.
Is the CVC coin a good investment?
An assessment of CVC's performance reveals that it is a good long-term investment. According to Coinmarketcap, CVC has had a Return on Investment of 197% since it was launched four years ago. Therefore, if you had held on to your CVC coin, you would probably be feeling quite shortchanged, considering the gains made by comparable crypto assets in recent times.
However, it might help to remember that CVC coin prices have swung by a big margin, hitting all-time highs of $1.66 and all-time lows of 0.010. This, therefore, means that going by its current price, you would have made $4,600 from a $100 investment if you had bought CVC dip at its all-time low price in March 2020.
CVC coin is unique from other digital currencies as it focuses on verification and identity security, unlike the other digital currencies that mainly focus on financial services and features. Verification is powered by Artificial Intelligence incorporated with the human assessment that enables users and businesses to minimize the risk of fraud.
Technical analysis for CVC coin
Best case scenario
CVC coin is currently on a downward spin, following the recent steep ascent that saw it rise from $0.389 to $0.984 on September 4th. Since then, its RSI has fallen from 92 to the current 53. Nonetheless, the 20-SMA for CVCUSD is above the 50-SMA, indicating that further price gains are possible. If the bulls take control, they are likely to drive the price up to $0.510 to encounter the first resistance and possibly to $0.638, where the CVCUSD pair will encounter the second resistance.
Worst case scenario
The market momentum seems to be weakening, and this could hand over control to the bears. In that case, the CVCUSD price is likely to slide to find the first support at $0.403 and the second support at $0.339.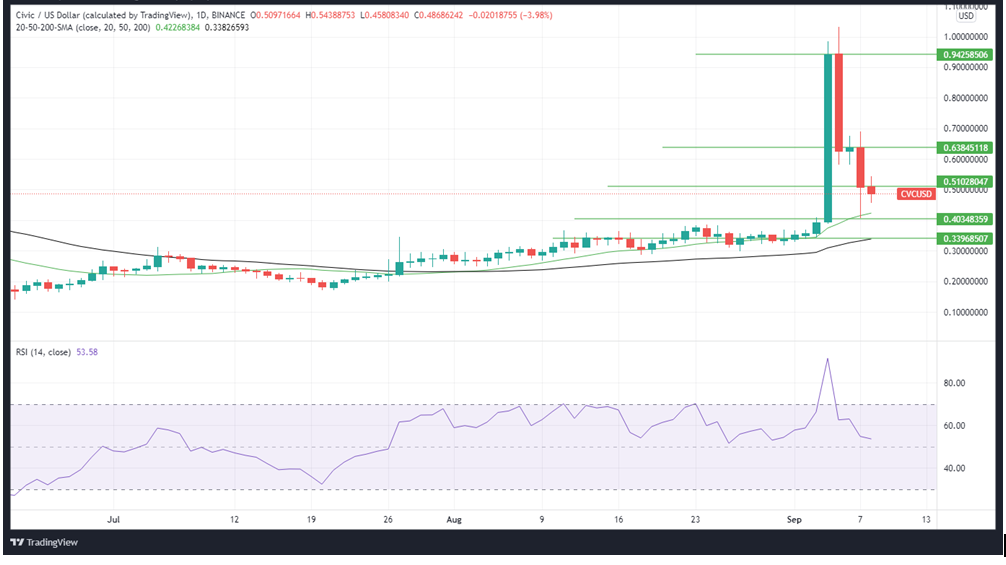 Should I buy the CVC coin today?
The CVC coin is auspicious. The future lies in blockchain technology, and CVC coin utilizes this technology uniquely to make secure our identities. The coin also has the advantage of being new and costing less.
The use of documentation and biometrics on the Civic platform makes it secure from the threat of hacking. This is because the platform does not include the use of passwords and usernames. With the increase in digital transformation, there will also be a rising demand for solutions to manage digital identity. CVC has offered this solution that many firms would want to use. Thus investors would be curious about the coin's price outlook.
With adequate patience, CVC's unique features make it a worthwhile asset to invest in.
Will the CVC coin hit $10 in a year?
For the CVC coin to hit $10 in a year, it would have to rise by 2,000%. This seems quite a daunting task, considering that it has grown by only 7.3% from its position 6 months ago. For the coin to rise to $10 in the next 12 months, it would have to grow at an average of 350% every month. Therefore, for it to hit $10 sounds rather unrealistic. A conservative growth rate of 10% per month over the next 12 months would put the price at $1.51.
What is the CVC coin price prediction for 2025?
The current price for CVC is $0.491. If the coin maintains a modest growth rate of 10% per month for the next 4 years, its price could hit $47 in September 2025. This means that a $100 investment in CVC today could earn you $9,591 at that time. However, this is based on the assumption that the asset will not experience volatility.
The best way to buy the CVC coin
The CVC coin is very liquid. It can be bought on various exchange platforms, including Coinbase Pro, Binance, and Huobi Global. CVC is often traded against BTC, USDT, and Korean Won.