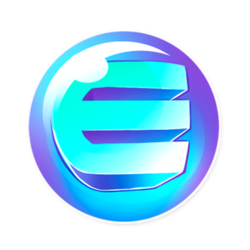 Enjin Coin (ENJ)
Price
What is Enjin?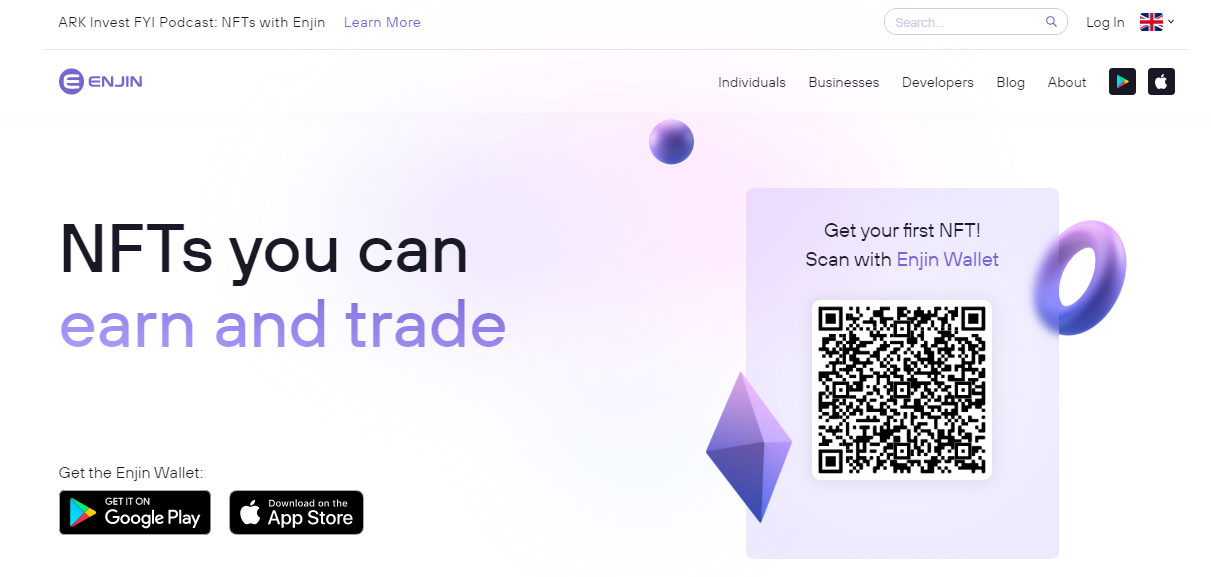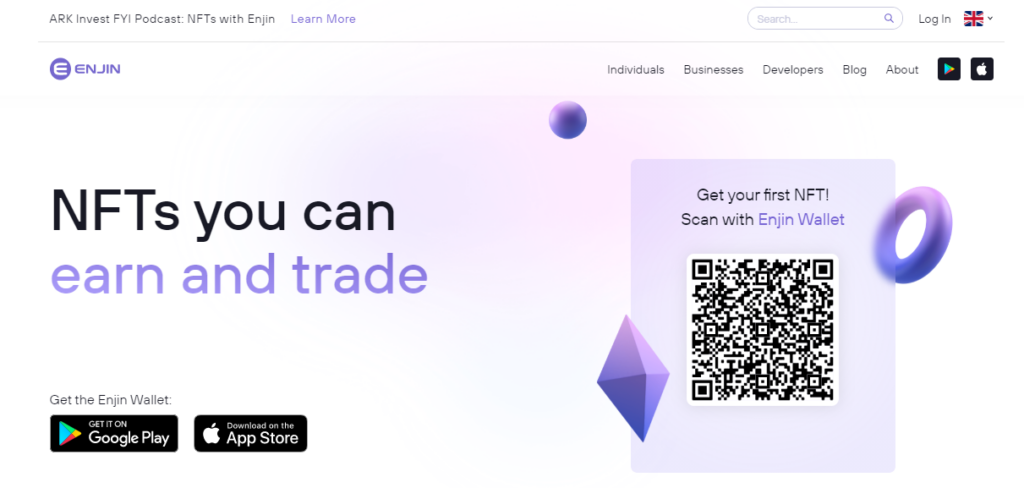 Gaming and cryptocurrencies were an inevitable match in heaven, and Enjin is one of the projects leading the race. The Enjin Coin (ENJ) is an intriguing blockchain-based, primarily gaming-focused platform where users can produce their own NFTs (along with buying and selling), chat, build websites, virtual stores, and 'clans.'
The Enjin Network is one of the largest social gaming networks globally, with more than 20 million registered users. Yet, Enjin also allows for the tokenization of art, music, collectibles, and other real-world items of value.
The brains behind Enjin is the Singaporean-based video game tech corporation of the same name established in 2009, with the Enjin Network itself launching in June 2018. The company has continued on its mission of building a host of innovative products for anyone to interact with blockchain assets without any overwhelming coding experience.
Enjin utilizes its own token, ENJ, responsible for tokenizing all the assets on the platform and giving them real-life value and liquidity. According to Cryptoslate, Enjin ranks third in most traded cryptocurrencies (83rd overall) with about $1 billion in market cap. Enjin is worth about $1.28 per coin presently.
Is Enjin a good investment?
Over the last few years, gaming has gone beyond just building skills and characters only for bragging rights. Nowadays, gamers have made lucrative and professional careers, opening up novel monetization methods that weren't present before.
Enjin and many other platforms are at the forefront of this revolution, providing dedicated marketplaces for real profits selling gaming and other related items. Developers behind games, art, music, and other collectibles can reap the rewards as well.
Lastly, there's a scarcity element with Enjin as the coin will only have a maximum supply of 1 billion in its entire lifetime. Presently, about 83% or 834 million ENJ are in circulation. Investors desire projects like these due to the concept of 'low supply and potentially high demand.'
Overall, Enjin is probably a good investment, assuming investors have done the proper due diligence and understand the risks involved.
Should I buy Enjin today: Crypto technical analysis for ENJ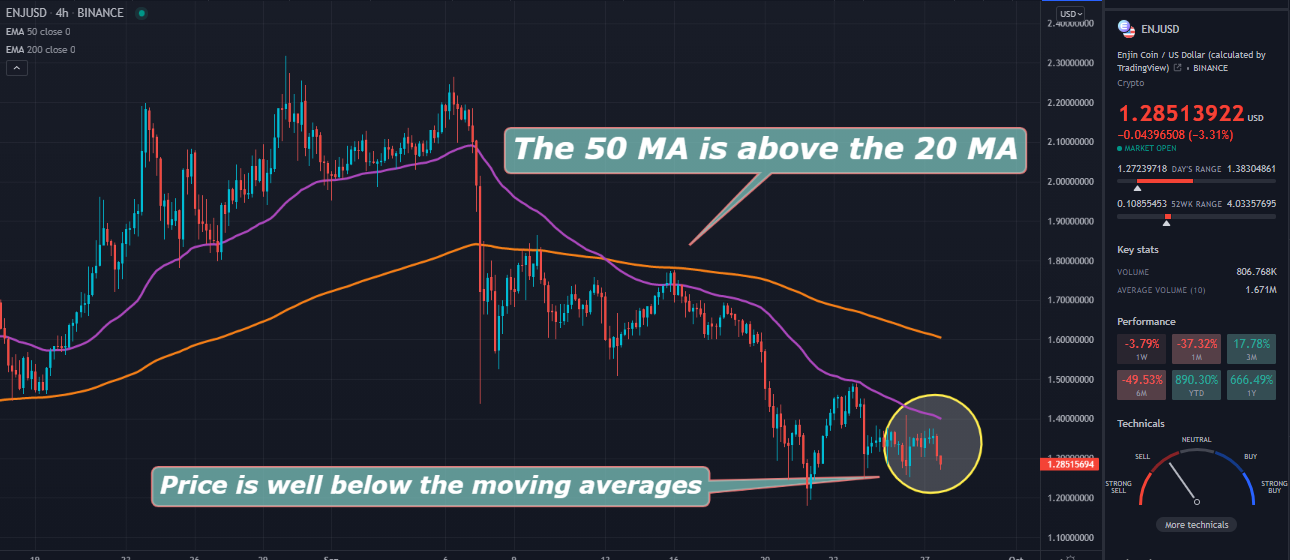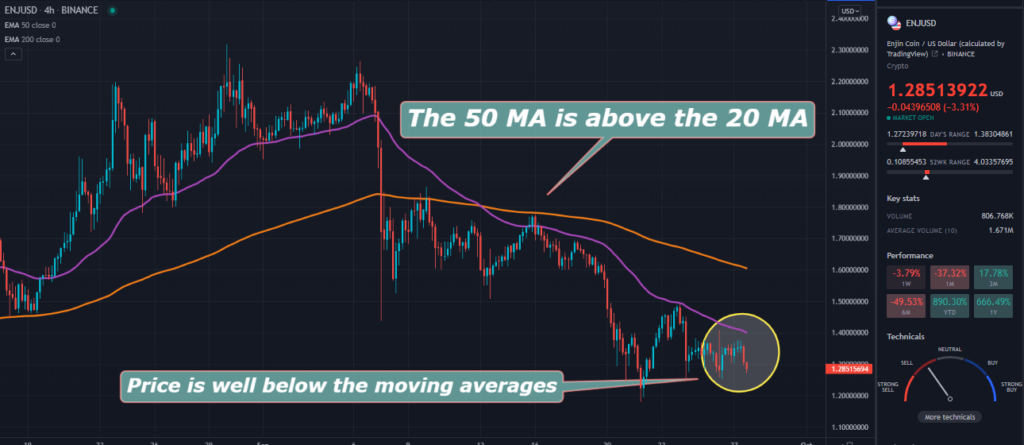 Should I buy Enjin today? That is the million-dollar question we'll answer with a simple moving average crossover strategy. The most common periods used in the MAs are 50 (purple) and 200 (orange).
The rules of thumb for generating a buy signal in this are:
The 50-day moving average must cross above the 200-day moving average
The price must be above both moving averages
Although the 50 has crossed above the 200, the price is below both moving averages, which is a bearish sign. Also, the slope of the averages is pointing down. Hence, it's unlikely the best time to buy ENJ today.
Will Enjin coin price hit 10 USD in a year?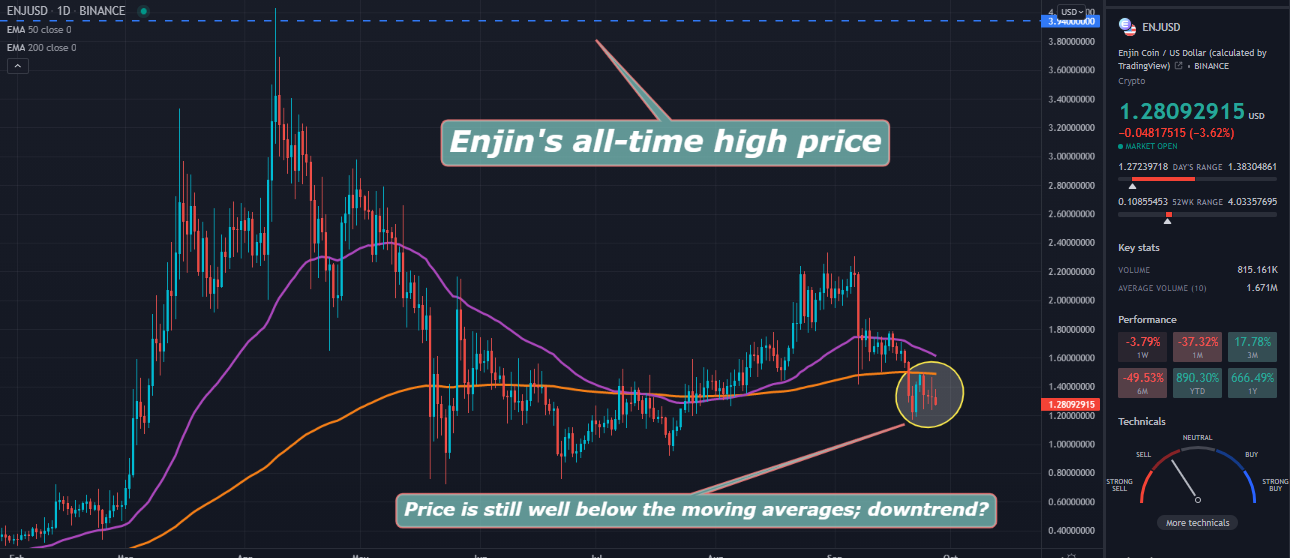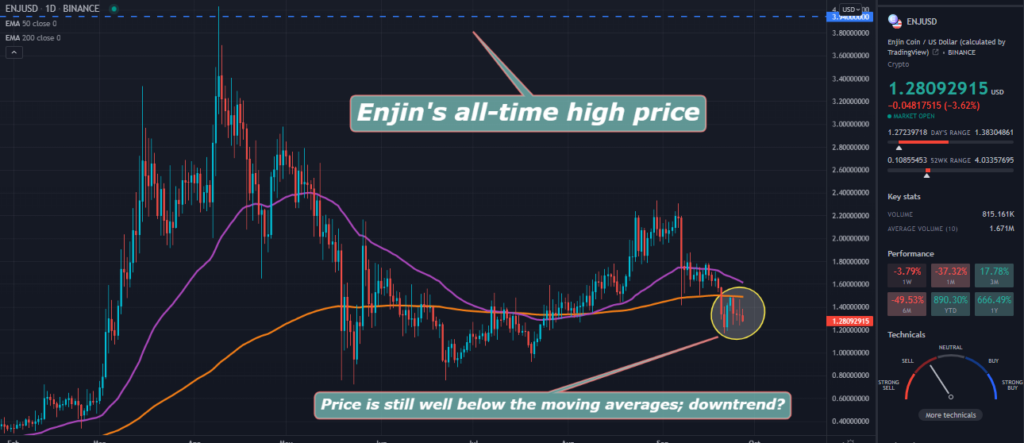 $3.94 is Enjin's all-time high value which it hit in April 2021. However, the market has dipped roughly 70% since then, and price has been trending down on most time frames, including the daily chart as above.
Yet, we should consider Enjin has risen roughly 657% within the last year. Let's hypothetically imagine the price did rise this much over the next one. ENJ's value would be about $9.60. Is this prediction too optimistic? For a more realistic and algorithmic estimate, we can consult findings from Digitalcoin.com.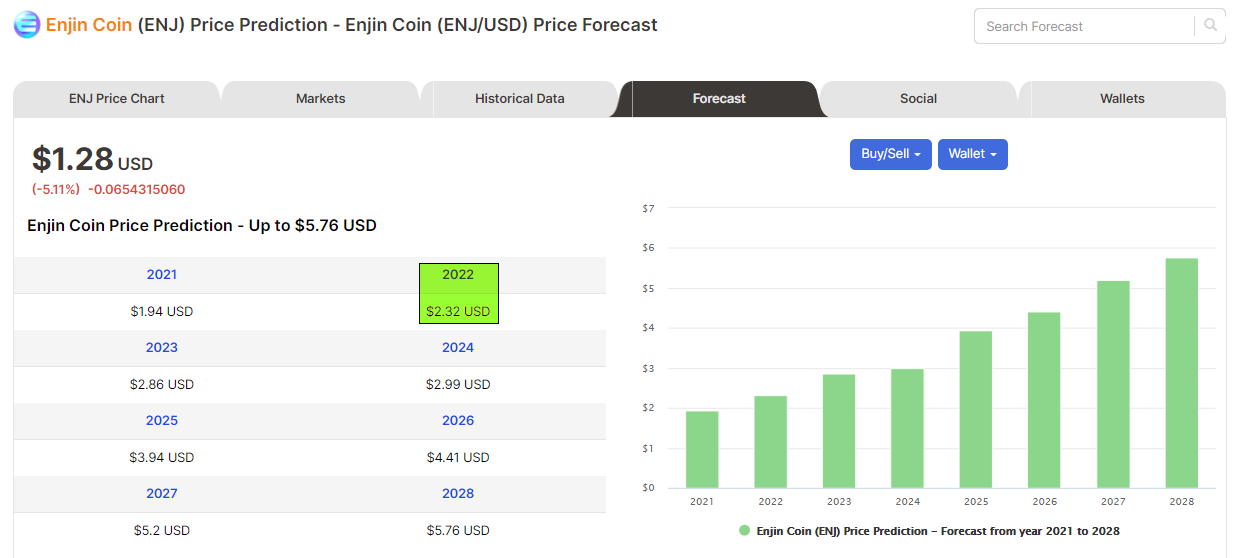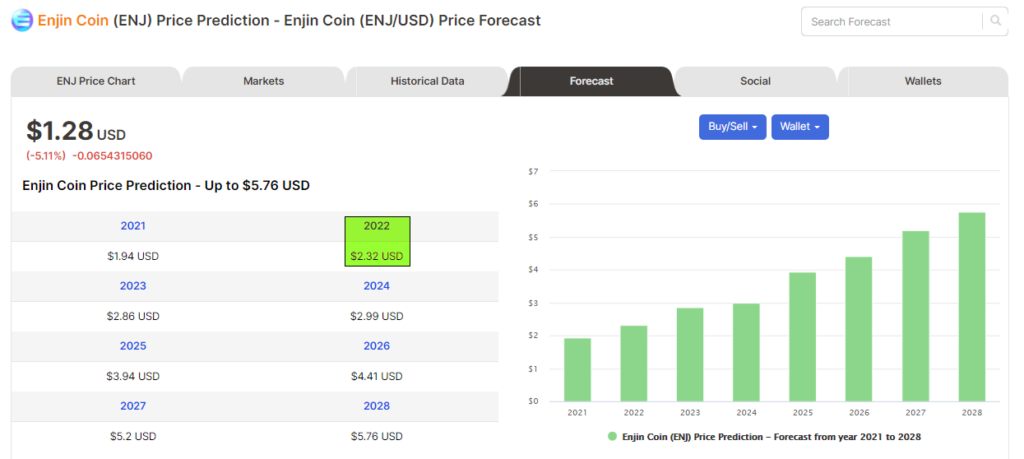 Digitalcoin estimates Enjin's value could be at $2.32. Of course, a year is a long time, and ENJ may be worth way more or less; only time will tell.
What is Enjin coin price prediction for 2025?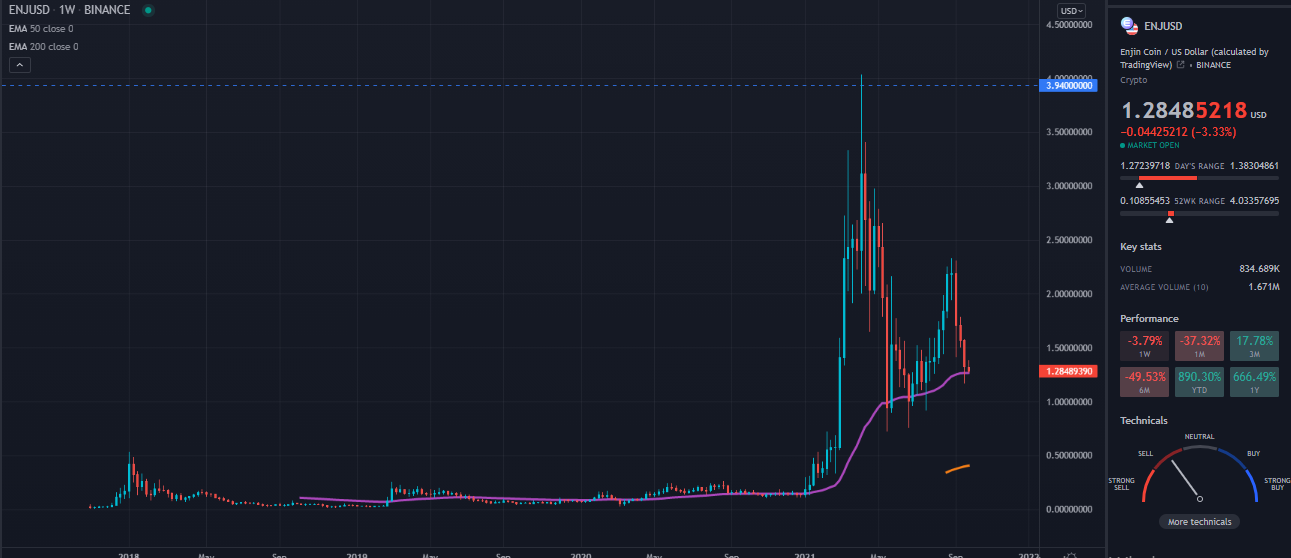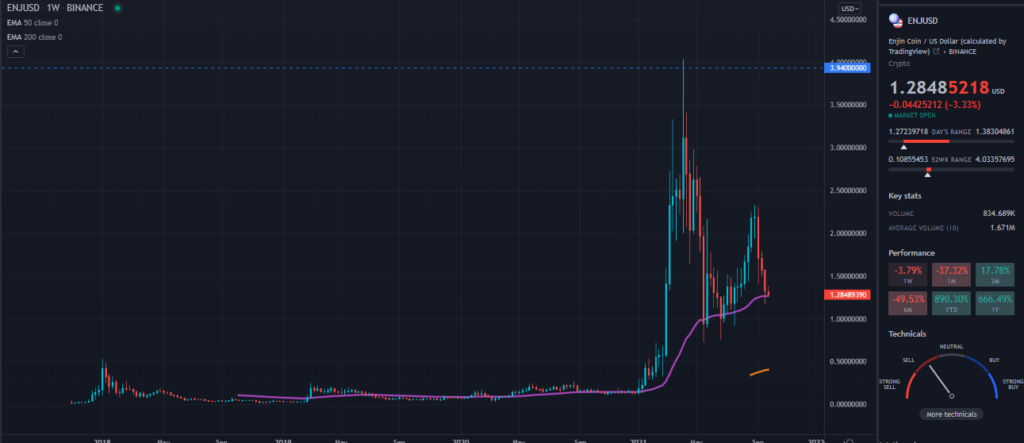 While it seems Enjin's price is in a downtrend on many of the lower time frames, the weekly chart shows an uptrend. Sadly, it's hard to predict where Enjin could be in 2025 using charts alone. Hence, let's consult Digitalcoin again, to provide a more pragmatic and technically sound estimate.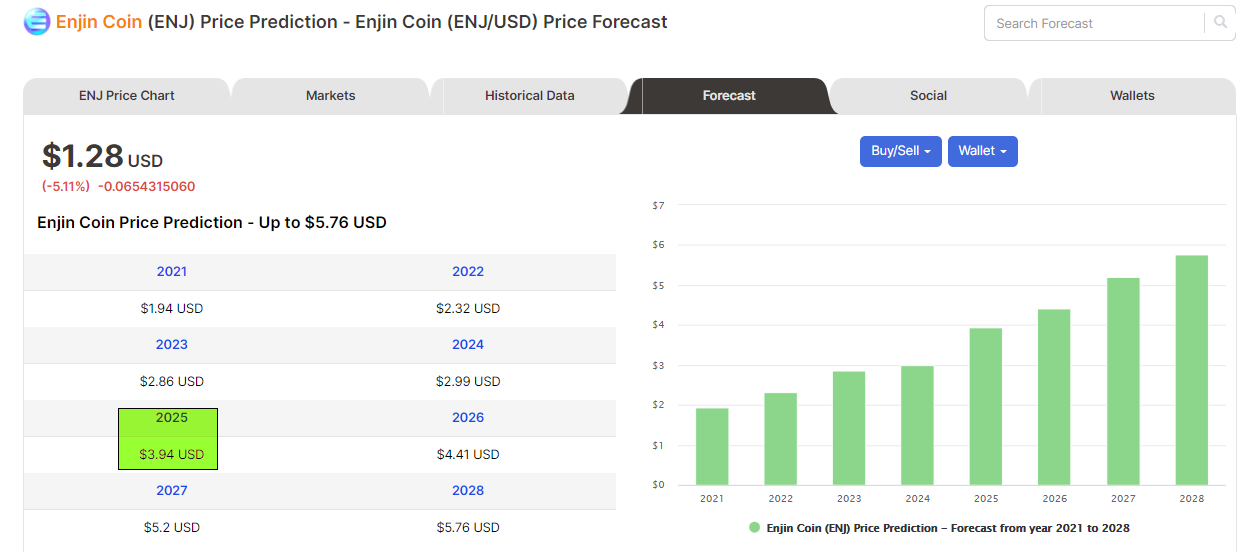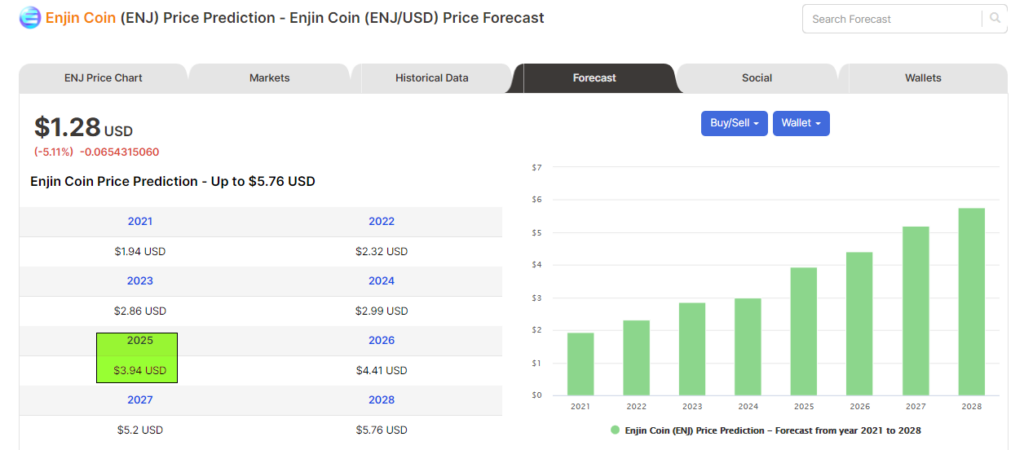 Based on Digitalcoin's forecasting models, Enjin's price may be around $3.94 by 2025.
The best way to buy Enjin
Like any cryptocurrency, the best way to buy Enjin is through a recognized exchange. Coinmarketcap suggests that the top 5 by trading volume for ENJ are Binance, Huobi, Coinbase, KuCoin, and Bithumb. Of course, this list only scratches the surfaces as there are plenty of other places to purchase this coin.
Once you've acquired ENJ, you can trade the token as a derivative on platforms available with many crypto exchanges. Alternatively, if you prefer to store and hold, several wallets can do this job for you, including the likes of MetaMask, Ledger, Trust, and Enjin's proprietary option.