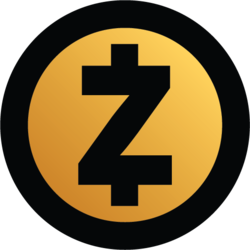 Zcash (ZEC)
Price
What is Zcash (ZEC)?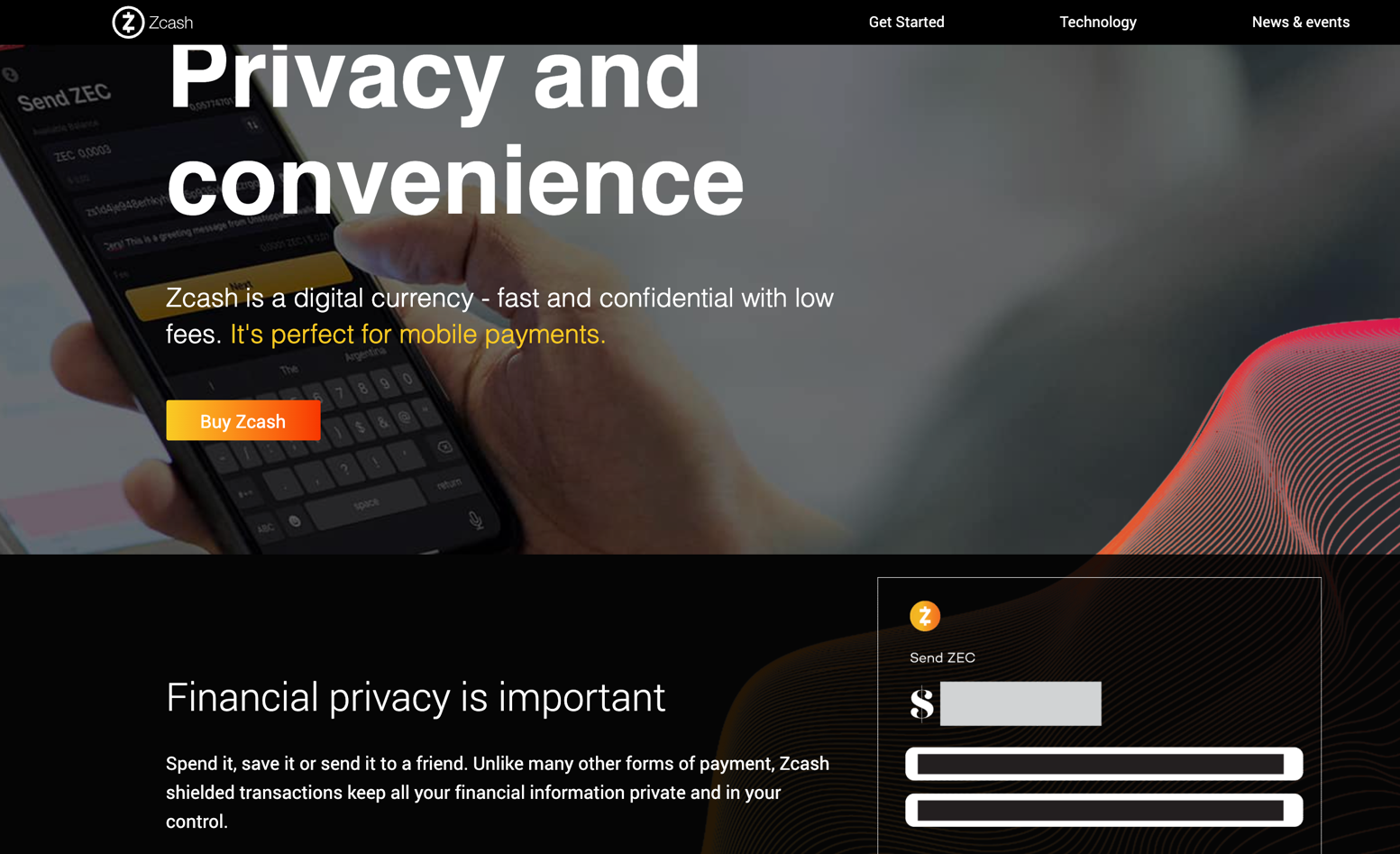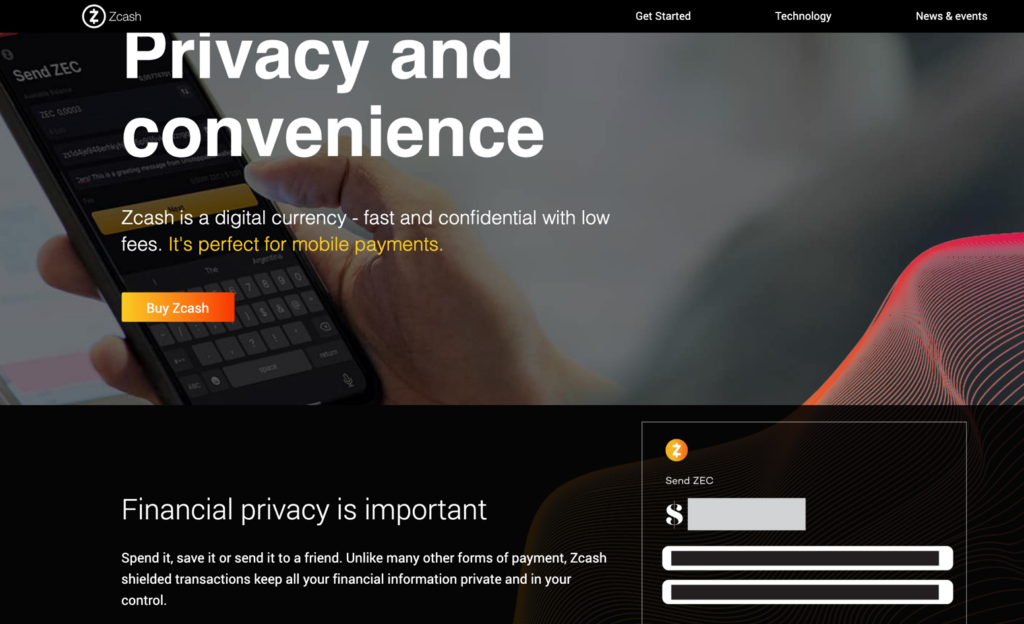 The 'crypto' in cryptocurrencies means secret. For the most part, digital currencies have allowed people worldwide to complete financial transactions without any intermediary. However, transfers aren't entirely anonymous because of publicly-verifiable blockchains.
Many may consider this a double-edged sword, which is where privacy coins bridge the gap. Most cryptocurrencies in this realm don't reveal any public addresses while showing transactions on distributed ledgers.
Zcash (initially known as Zerocash) is the second-most traded of this class (#67 overall, according to CoinMarketCap). Zcash believes financial privacy is crucial, and transactions on the network conceal the payment amount, the origin, and destination of the funds. Zooko Wilcox-O'Hearn, a computer security guru and cypherpunk, was the project's lead developer.
The American was inspired by a 2013 whitepaper titled 'Zerocoin: Anonymous Distributed E-Cash from Bitcoin' authored by numerous graduate students. Zcash is more or less a copycat of Monero (the leading privacy coin), with much of its codebase derived from Bitcoin.
Best case scenario
Both Zcash and Monero use sophisticated privacy-enhancing techniques to achieve near-total anonymity among users. Zcash got an unexpected boost in price when it officially launched on 28 October 2016, where one ZEC had been trading for over $5000.
Presently, one coin is worth $153. Let's see whether this project is a decent investment and some Zcash price prediction analysis.
Is Zcash a good investment?
Zcash shares similarities with Bitcoin; both are popular decentralized, proof-of-work, peer-to-peer digital currencies with a finite supply of 21 million. However, ZEC has faster block times (about 75 seconds) and a minimum transaction fee of 0.0001 ZEC (approximately $0.154 currently).
Moreover, Zcash provides anonymity between senders and receivers. What's unique about Zcash, unlike other privacy coins, is the ability not to encrypt all transactions. Put simply, some anonymity-focused projects are private by default, whereas Zcash is not.
Overall, Zcash may be a good investment. Yet, privacy coins have been used in illicit activities for years, and this would be a concern on the potential future value due to authoritative interventions from different countries.
Should I buy Zcash today: Crypto technical analysis for ZEC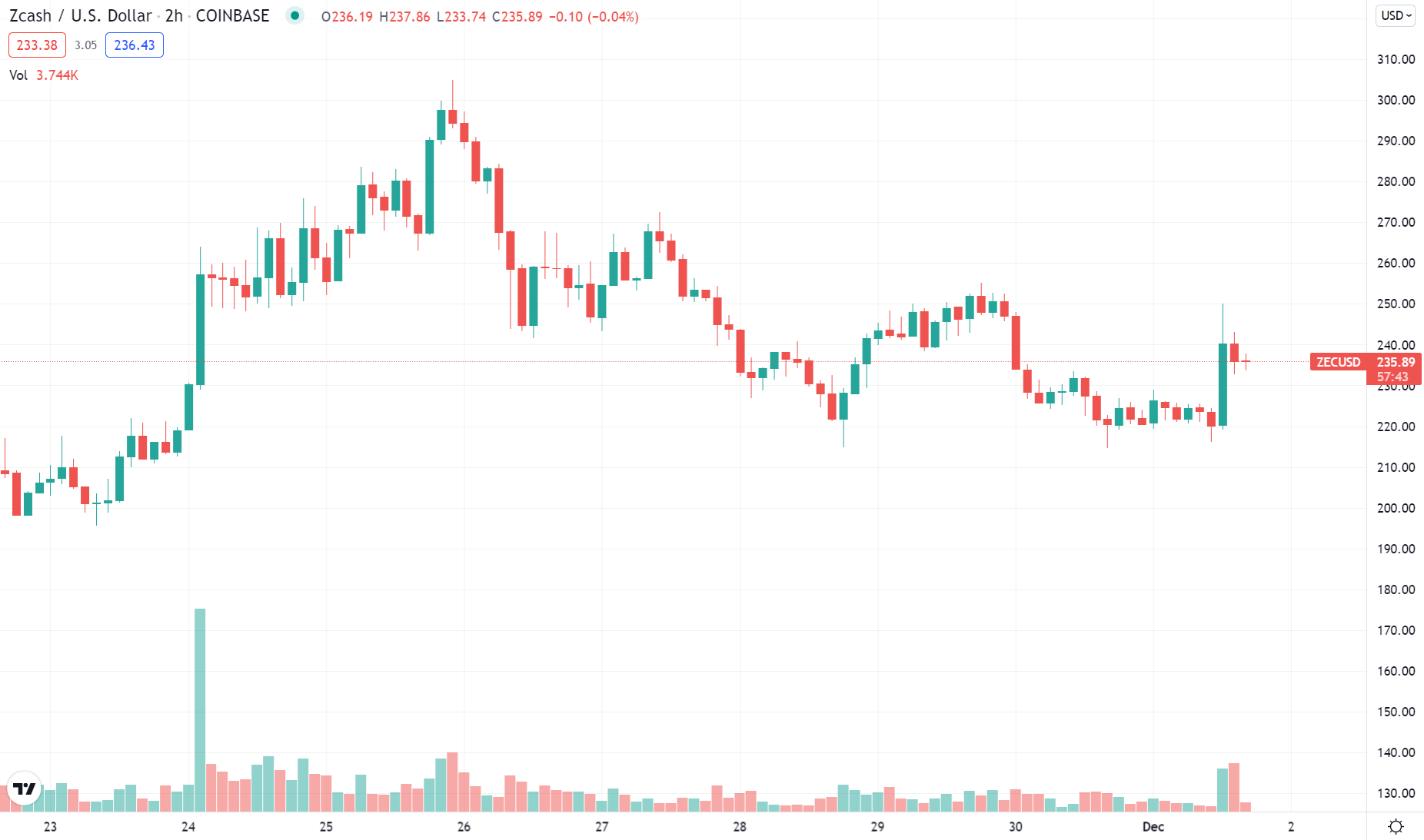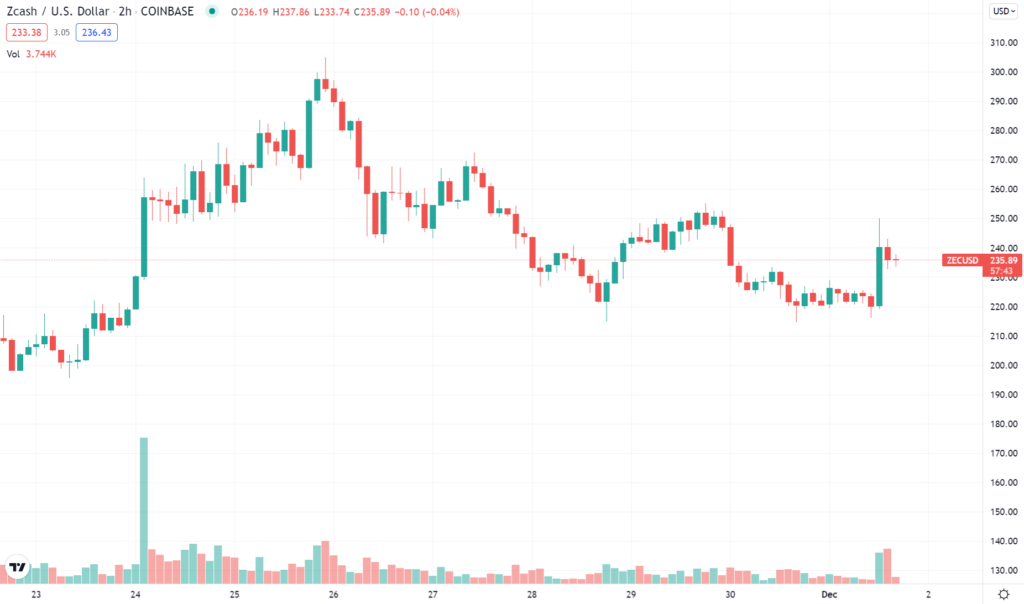 Overall, it may be a good time to buy Zcash today, for it has gained investors' attention, confirmed by the raised trading volume. Let's use a basic 50-day and 200-day exponential moving average crossover for the confirmation of the bullish trend. For a buying trigger, traders would want to see the 50 (blue line) cross over the 200 (orange line) and for the price to trade above both. While the former is yet unclear, the latter has already signaled the bullishness.
Let us now use the MACD indicator applying a shorter period EMA. Within the shorter period, we see that investors' optimism was confirmed by the signal line, or 12-day EMA, crossing the 26-day EMA.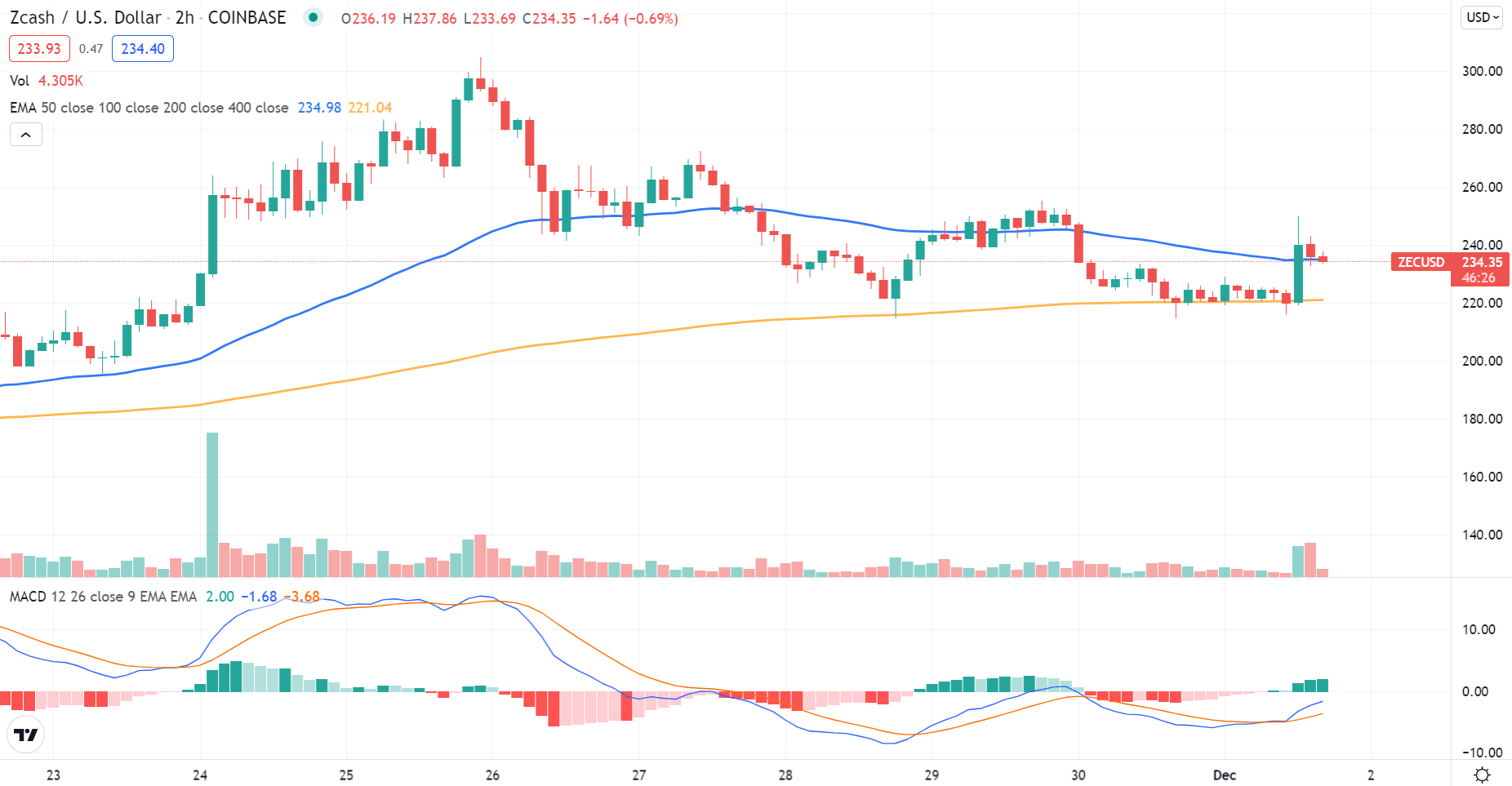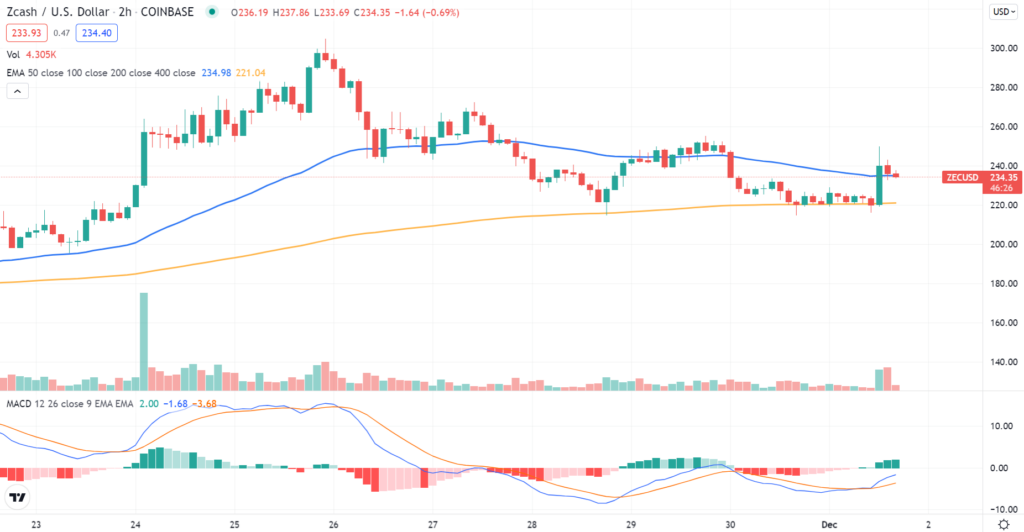 Now let's study a Zcash price prediction for the coming year and 2025.
Will ZEC coin price hit $400 in a year?
Worst case scenario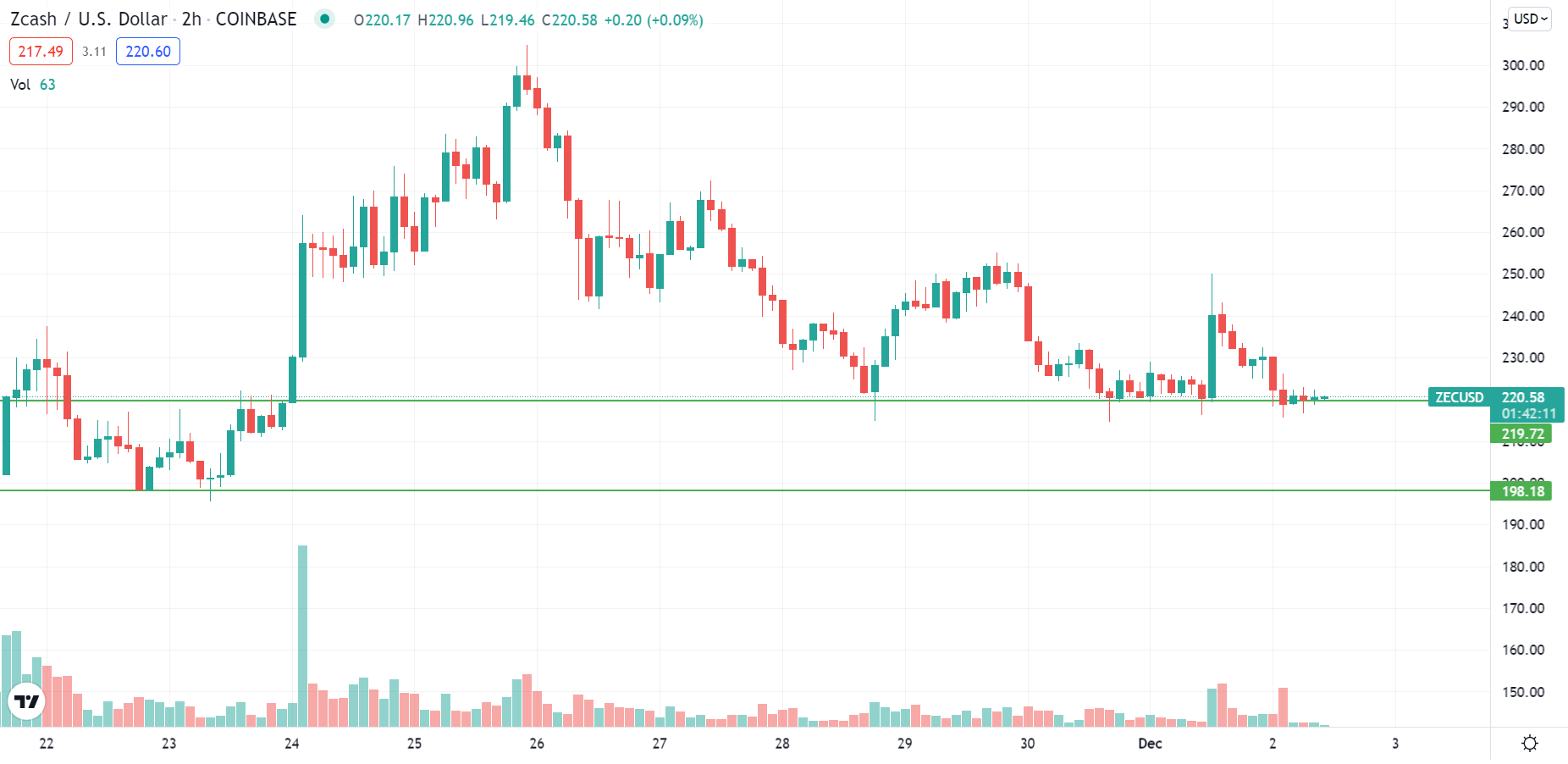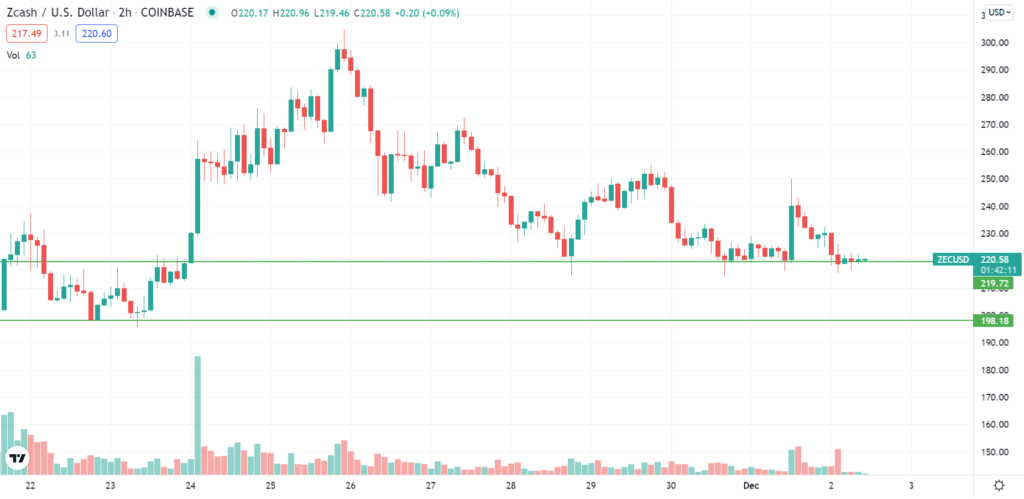 In the worst situation, the coin will stop struggling above the current $220 support and find the next support at $198. In case of a continuing downtrend in 2022, it can fall below the $100 level to hit its all-time low of $47.17 that it experienced on December 23, 2020.
Best case scenario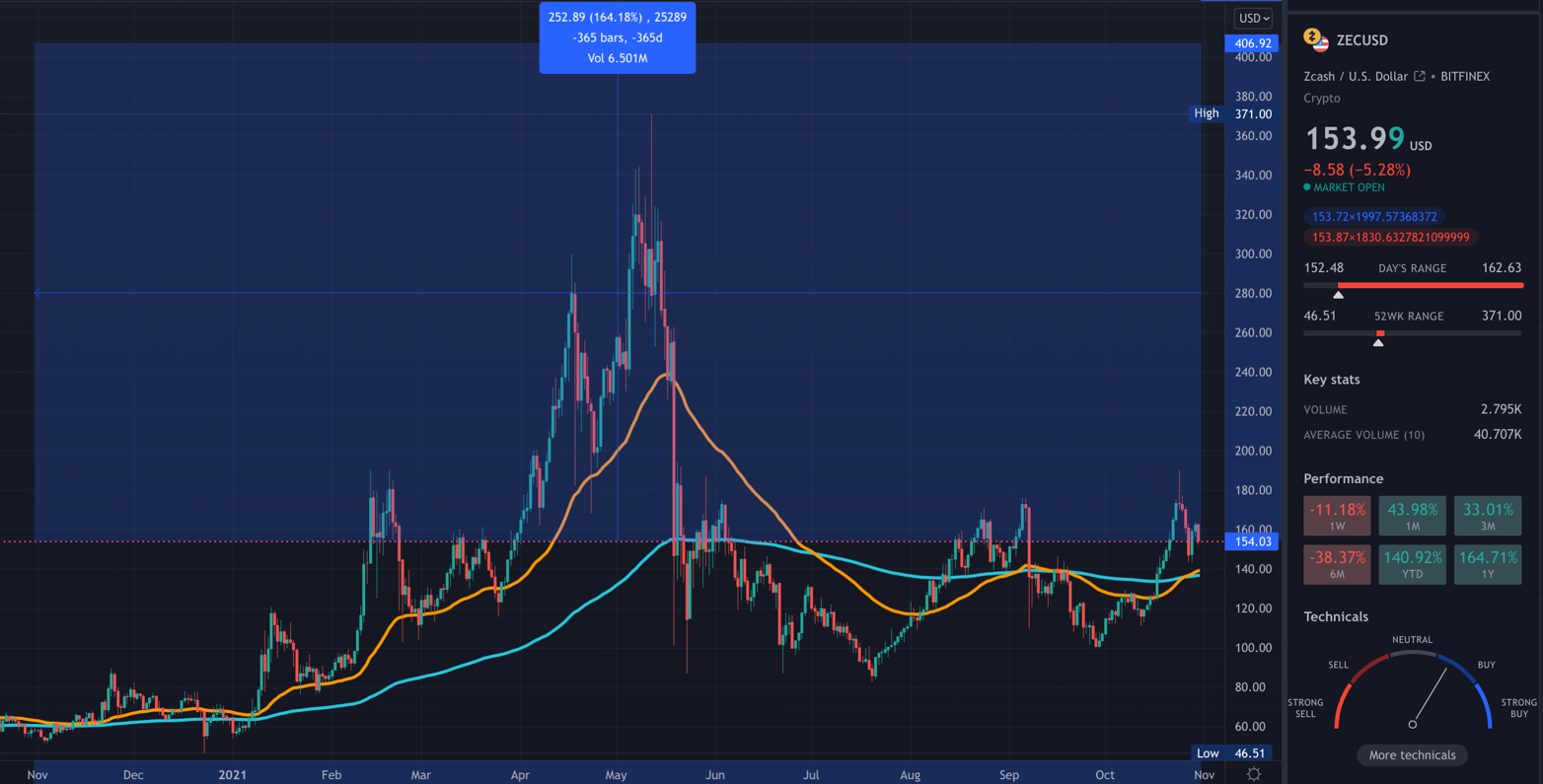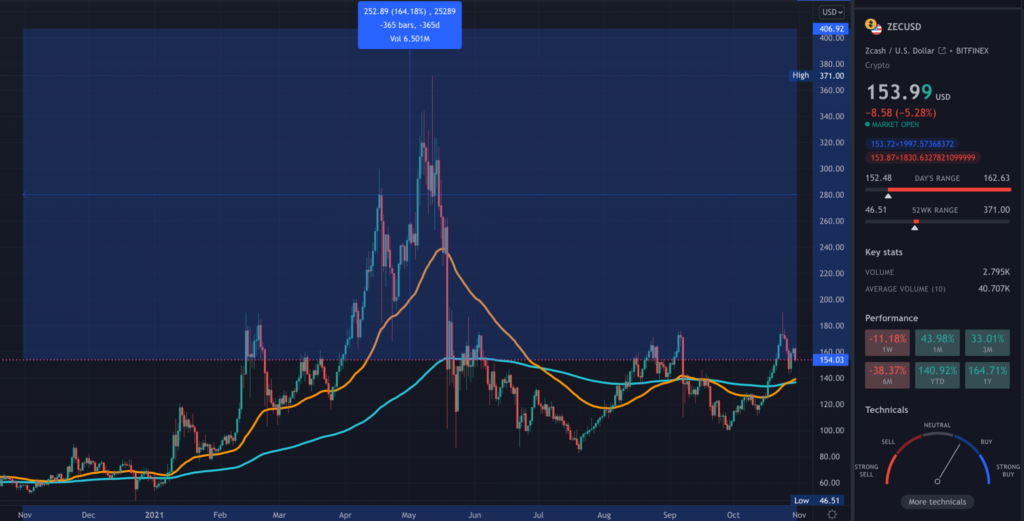 ZEC is intriguing as its price has had a few notable all-time highs; over $3000 on the launch date and $880 at the peak of the 2017 bull run. Yet, it's better to consider the all-time high it naturally achieved in May 2021 of $371. So, can ZEC reach $400 in the next 12 months?
If one had bought the coin around this time last year, their investment would have surged by 164%. Assuming ZEC increased this much again, the price could be worth $406. Let's also observe analysis from Wallet Investor, a reliable forecasting resource.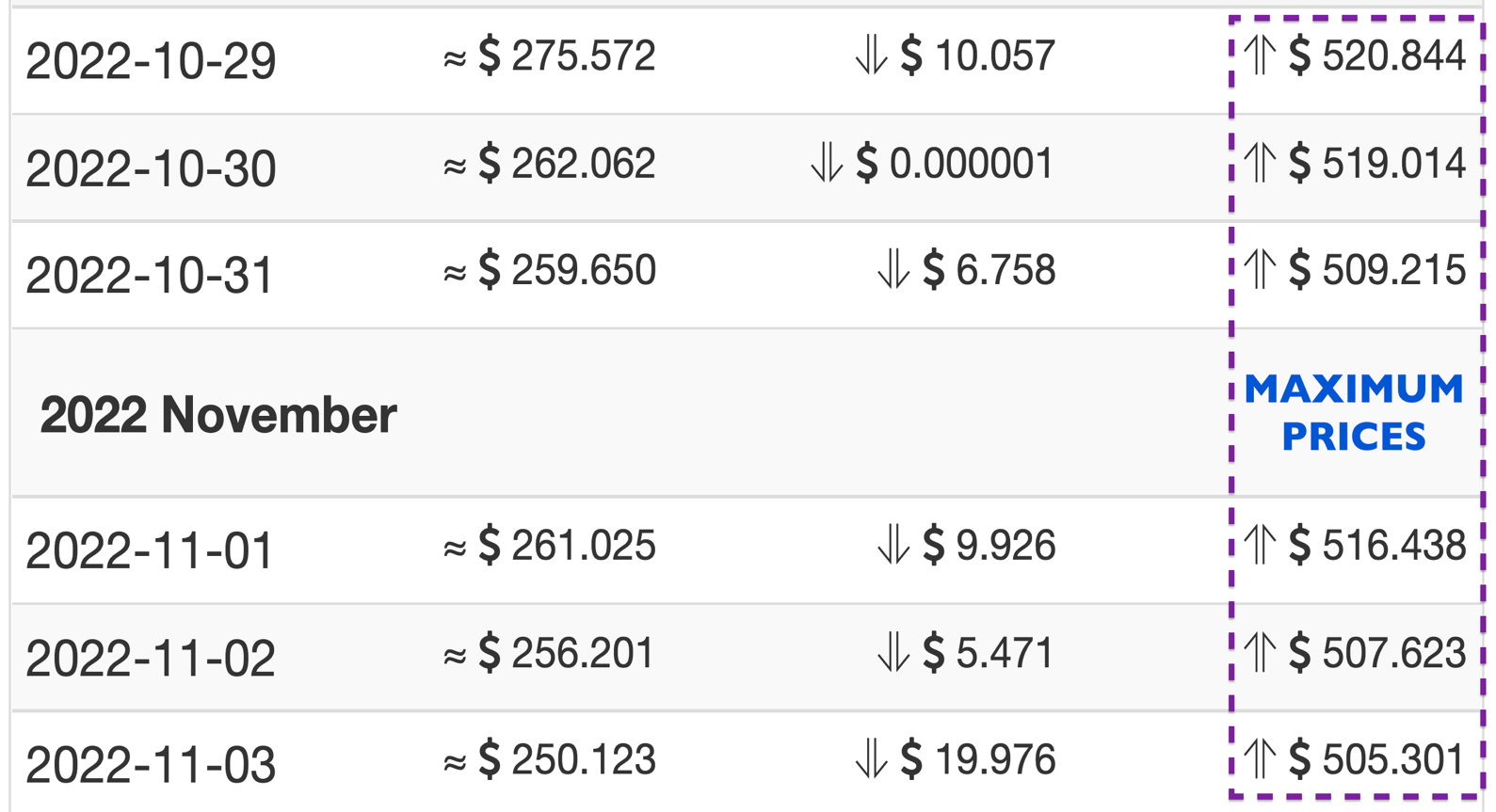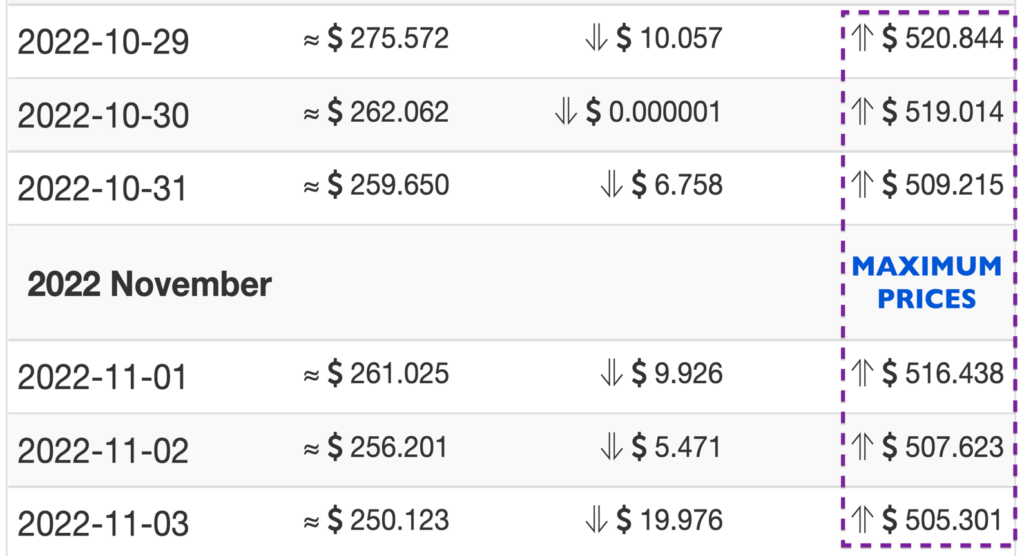 The site estimates maximum prices ranging from $505 to $520. Overall, it does seem feasible for Zcash to cross the $400 target.
What is Zcash's price prediction for 2025?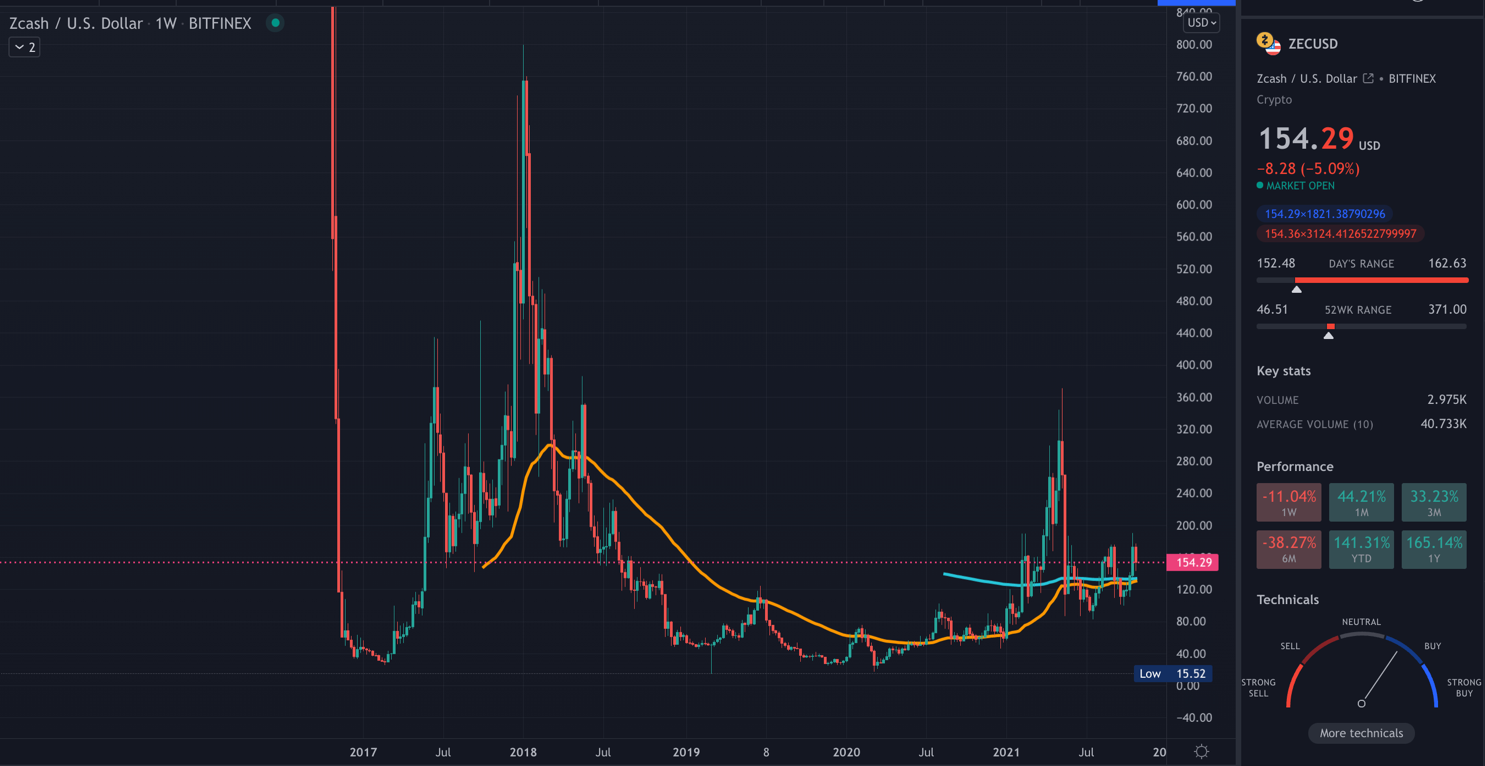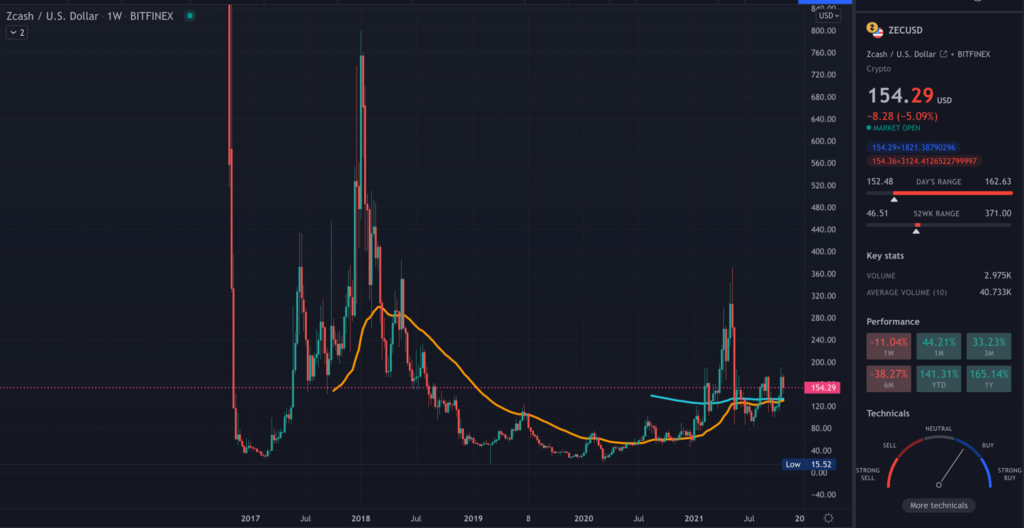 Wallet Investor indicates the coin should be worth about $924 by the start of 2025. ZEC would need to rise by roughly 540% to reach this point.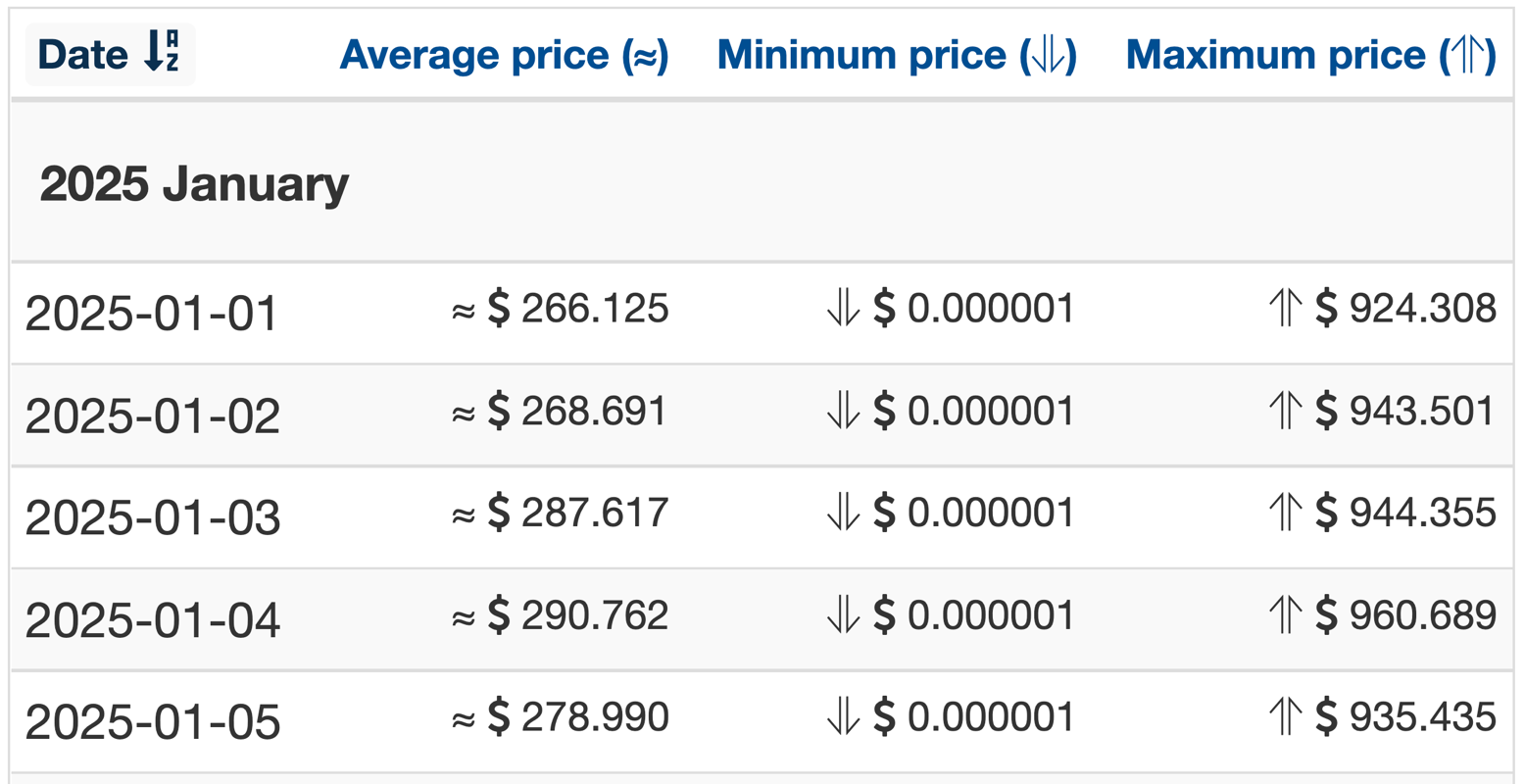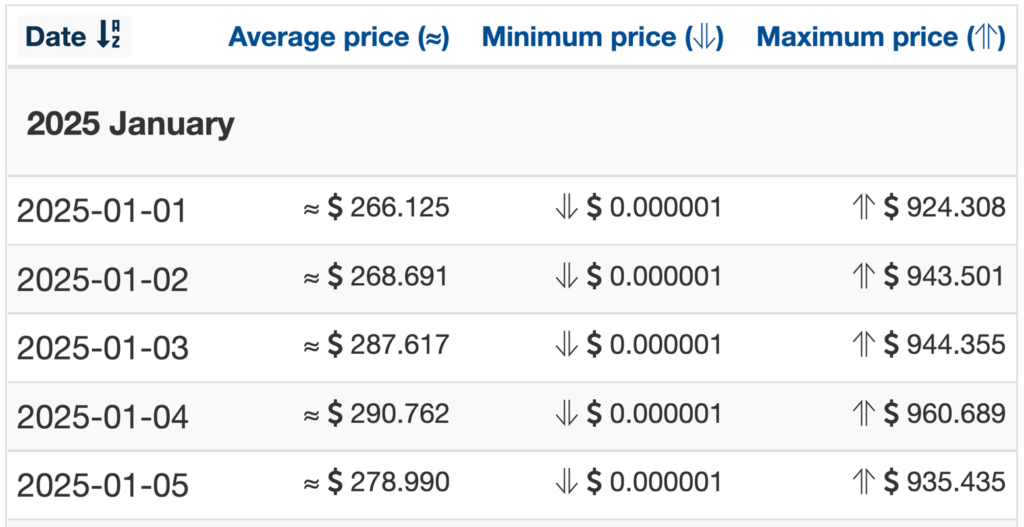 Assuming it maintained an average 164% yearly increase, $924 or more is within reason. Although many cryptocurrencies perform far better, it's worth noting we have no certainty if we will experience another extended bear market for a few years. Hence, as with any investment, one should proceed with caution.
The best way to buy ZEC
Zcash recommends using Gemini to buy the coin because of the privacy options it provides. If the exchange is unavailable in your country, you can purchase ZEC from numerous other exchanges like Coinbase, Kraken, Binance, Huobi, KuCoin, Bitfinex, etc.