What is Enigma?
Cryptocurrencies are full of 'enigmas' or coins that are difficult to understand; luckily, this is not one of them. So, what is Enigma? This Ethereum-inspired project, first publicized in 2015 at the Massachusetts Institute of Technology, aims to solve the blockchain's privacy crisis.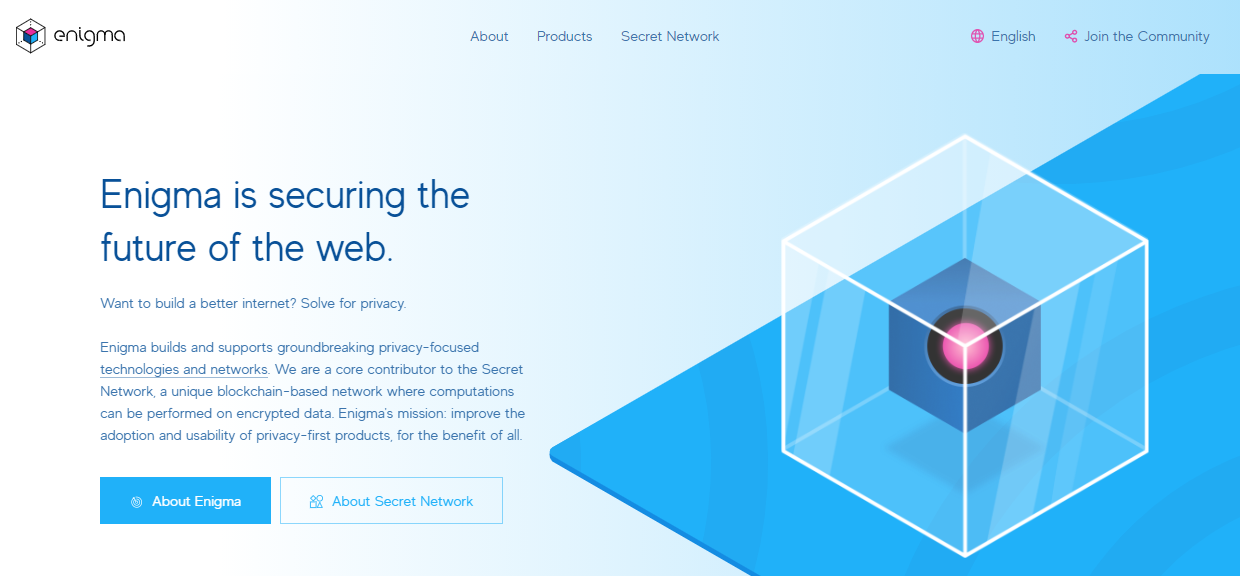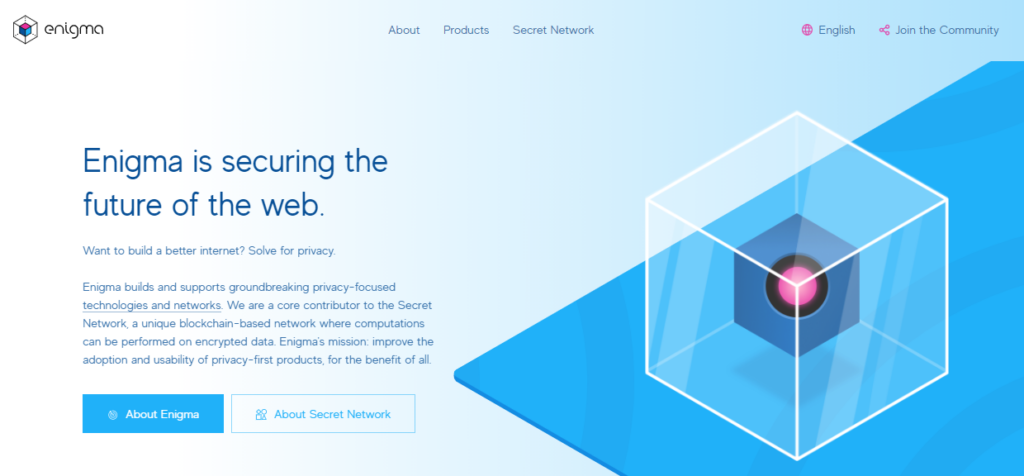 Enigma is the main contributor to a unique blockchain known as the Secret Network, empowering privacy-focused or 'secret' smart contracts. In layman's terms, Enigma allows for smart contracts to be shared privately through encryption.
A smart contract is a coded contract that automatically executes according to predefined conditions without any third party needing to verify anything. Such a contract can carry out an assortment of transactions in a decentralized and trustless manner.
Presently, although distributed ledgers are transparent, most of the data running through them aren't sensitive. In a similar vein to how Monero and other privacy-focused projects anonymize payment addresses, Enigma does the same with smart contracts on its blockchain.
The ENG token is the main coin used for facilitating transactions and governance on the network. Enigma is ranked #1645 according to CoinMarketCap, with a market cap of roughly $1.3 million at the time of writing. 1 ENG is approximately $0.10
While it sits way down the list, its qualities may see the project becoming one of crypto's dark horses in the future.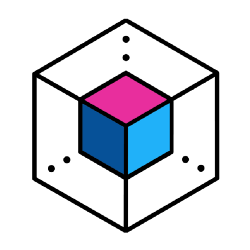 Enigma (ENG)
Price
Is Enigma a good investment?
Most investors tend to favor looking at cryptocurrencies ranked much higher on the list. While these make for understandably favorite choices, they are often too expensive, despite showing some upside potential in the future.
So, projects like Enigma could be smarter options because they are presently ranked lower than other more popular coins like Bitcoin and Ethereum. Investors want to buy a coin while the masses still overlook it.
The two other reasons why Enigma might be a good investment are the use case and supply structure. Most projects have been criticized for having little or zero utility, leading to a seemingly infinite number of 'copycat' projects.
In the case of Enigma, it's clear the developers are trying to solve the blockchain or smart contract's privacy crisis. Lastly, another plus for Enigma is having a finite supply of tokens, which is an attribute that investors desire because of the 'low supply, high demand' economic theory.
Should I buy Enigma today? Crypto technical analysis for ENG
Let's look at the technical analysis for Enigma (ENG), and whether you should buy it today. The Relative Strength Index (RSI) on Enigma coin price chart suggests no clear bearish or bullish momentum. An idea signal would be above the 70 or below the 30 lines.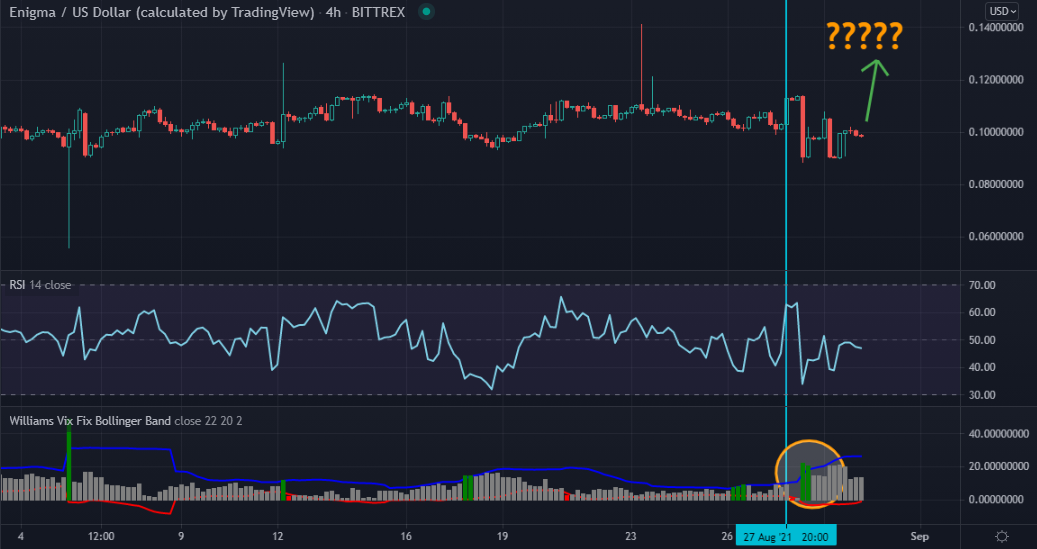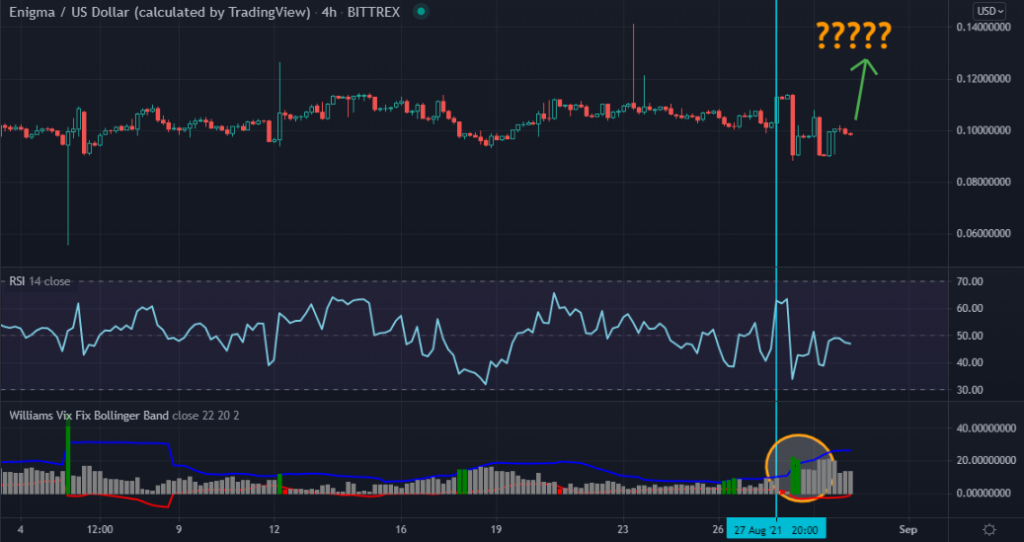 The Williams Vix Fix Bollinger Band indicator is an excellent tool for showing turning points in coin price charts like ENG. To simplify how it works, traders look for rising green bars on the histogram (circled at the bottom of the chart) as entry triggers. Hence, this could be a decent buying signal for ENG.
Projects like Enigma tend to consolidate for quite extended periods, so we cannot recommend you buy ENG today. One should never expect any real action in the short term, however, it makes the coin more suitable for the long haul.
Will the Enigma coin price hit 1 USD in a year?
Let's consider the technical and forecasting analysis to see whether Enigma can realistically reach a dollar or not.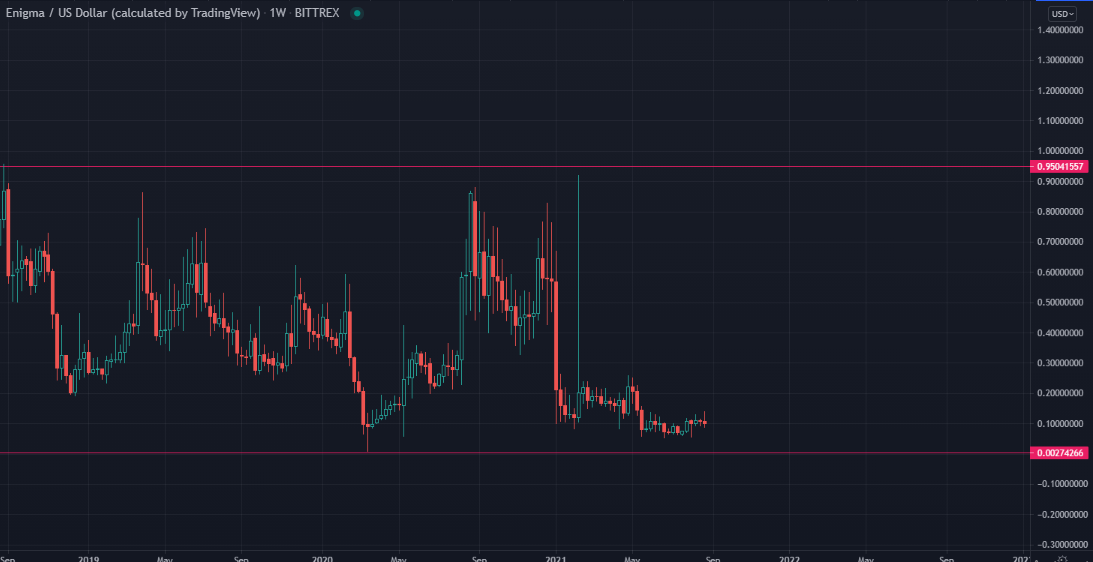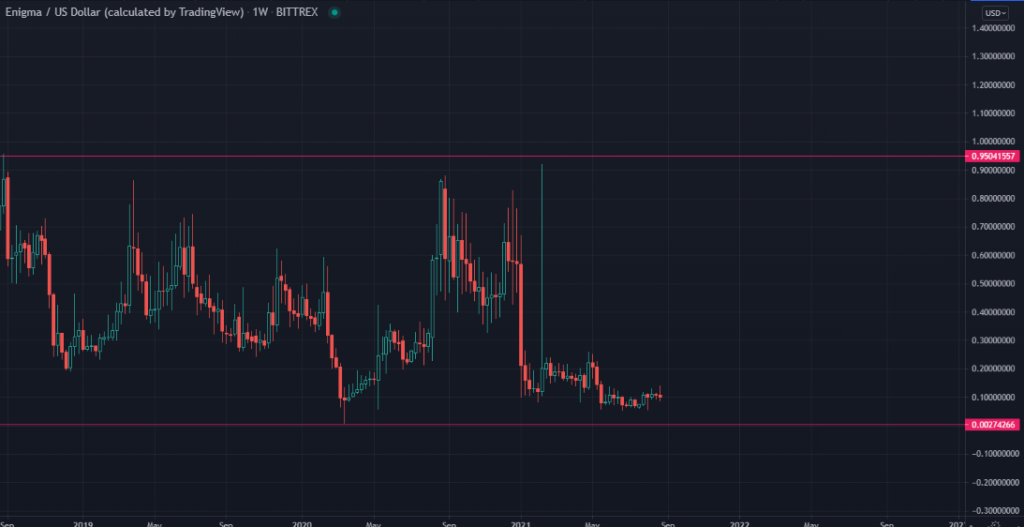 As is characteristic of smaller-capped projects, Enigma's price has been in a tight consolidation for more than three years. It wouldn't be out of the ordinary for the market to stay in this range for another year or longer since coins like ENG are thinly traded and have low trading volume, hence exhibit 'choppy' behavior.
Because there is no defined trend in place, the price is unlikely to reach $1 within a year. Some research on forecasting models reflects the same sentiment, with many suggesting ENG is likely to be around $0.16 or so.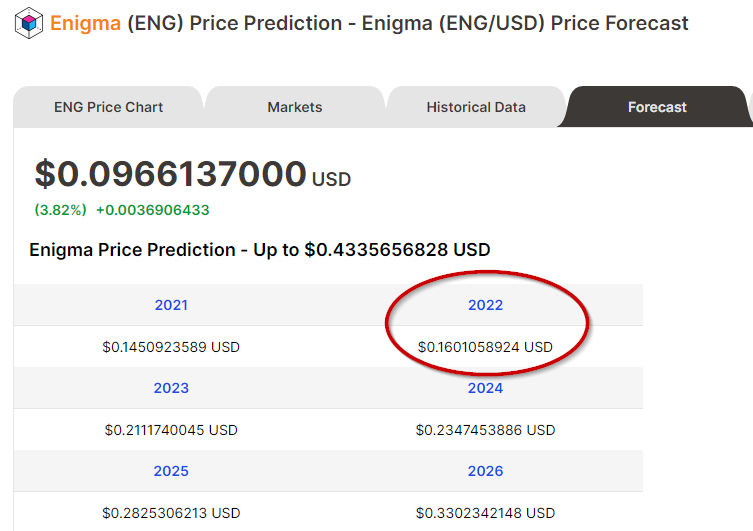 Thus, the short answer is Enigma is unlikely to hit 1 USD in a year.
What is Enigma's coin price prediction for 2025?
While Enigma is not likely to reach a dollar in a year, its more long-term potential is promising. Let's look at the monthly chart below.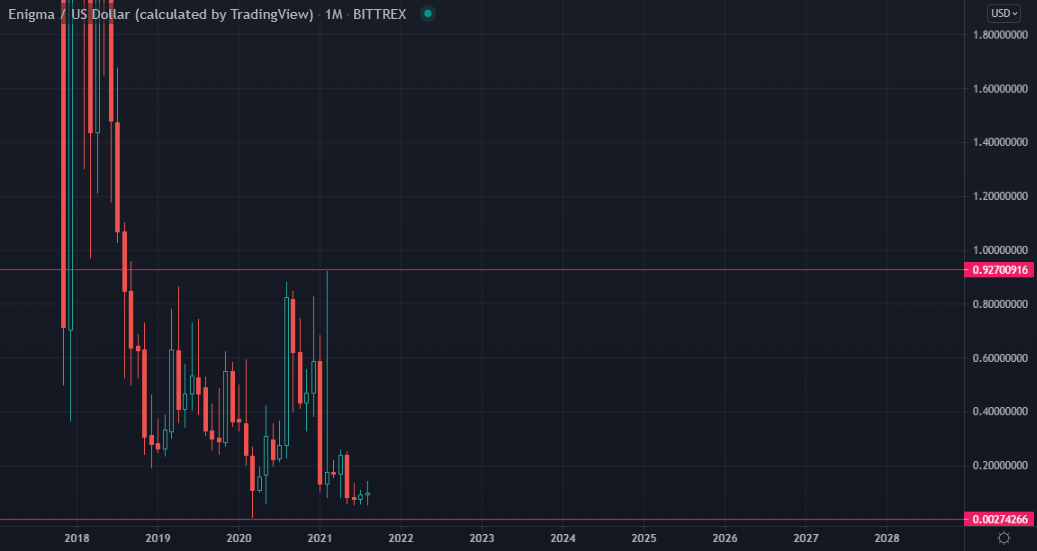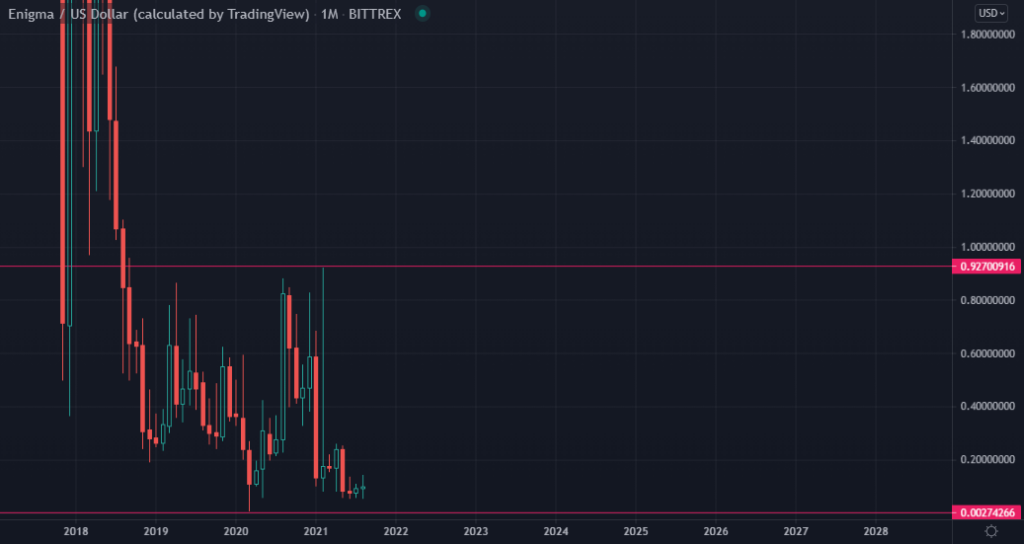 Similar to the weekly chart, the demand for ENG coins is still in the range on a larger scale.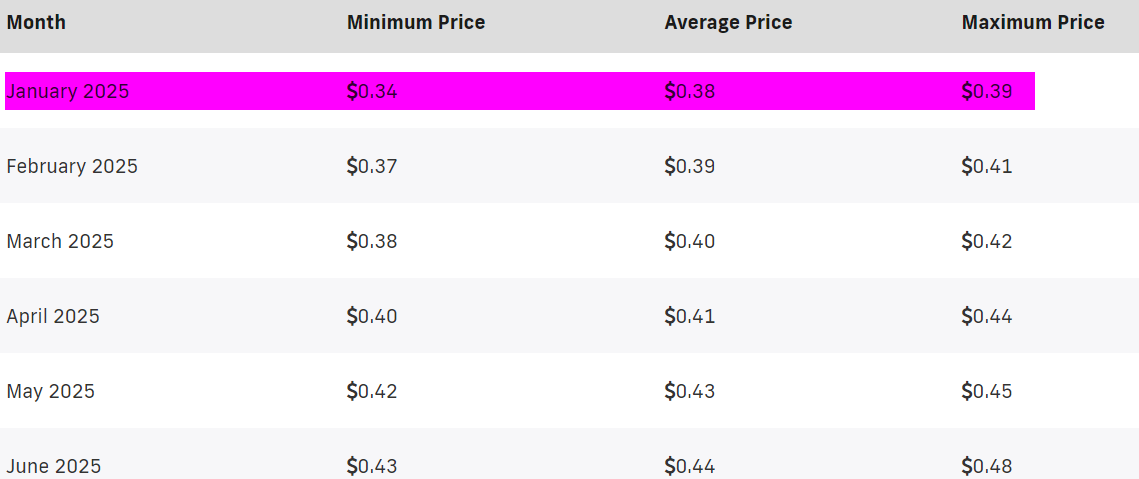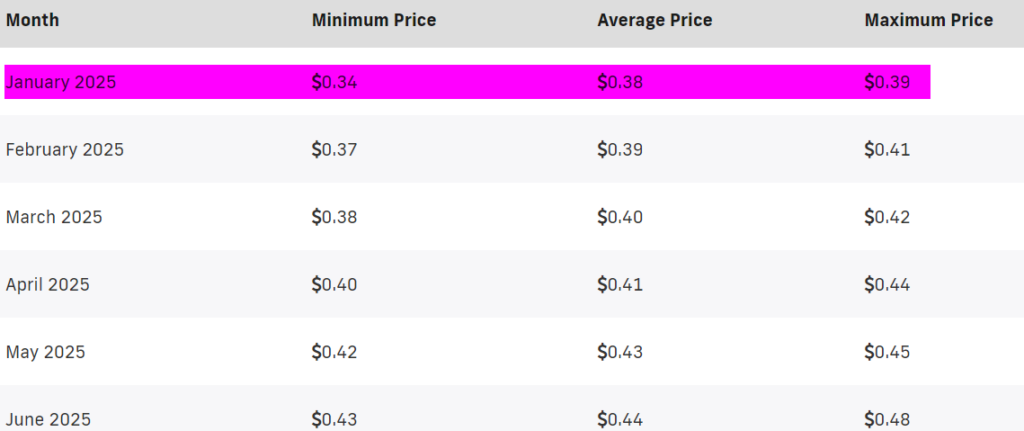 According to these coin price predictions, Enigma should be around $0.34 by the start of 2025, which would represent a price increase of roughly 200%. Of course, no forecasting model can accurately tell where Enigma's value will be over any period.
However, these findings essentially suggest to us the project's value will probably stay in the same range for an extended time unless trading volume picks up through a few large buy orders in the market.
The best way to buy Enigma
As expected, there aren't many places one can trade Enigma currently. The recognized exchanges allow ing for the buying and selling of the coin are:
Crex24
Mercatox
Bittrex
Bilaxy
Bitrue
In most cases, you will first need to purchase Bitcoin and Ethereum before trading this against ENG.
After that, traders can choose to store the ENG in the myriad of supported hardware and software wallets available. Alternatively, you can simply trade the coin on an exchange's platform without taking any ownership of ENG.