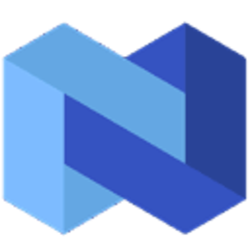 NEXO (NEXO)
Price
What is Nexo (NEXO)?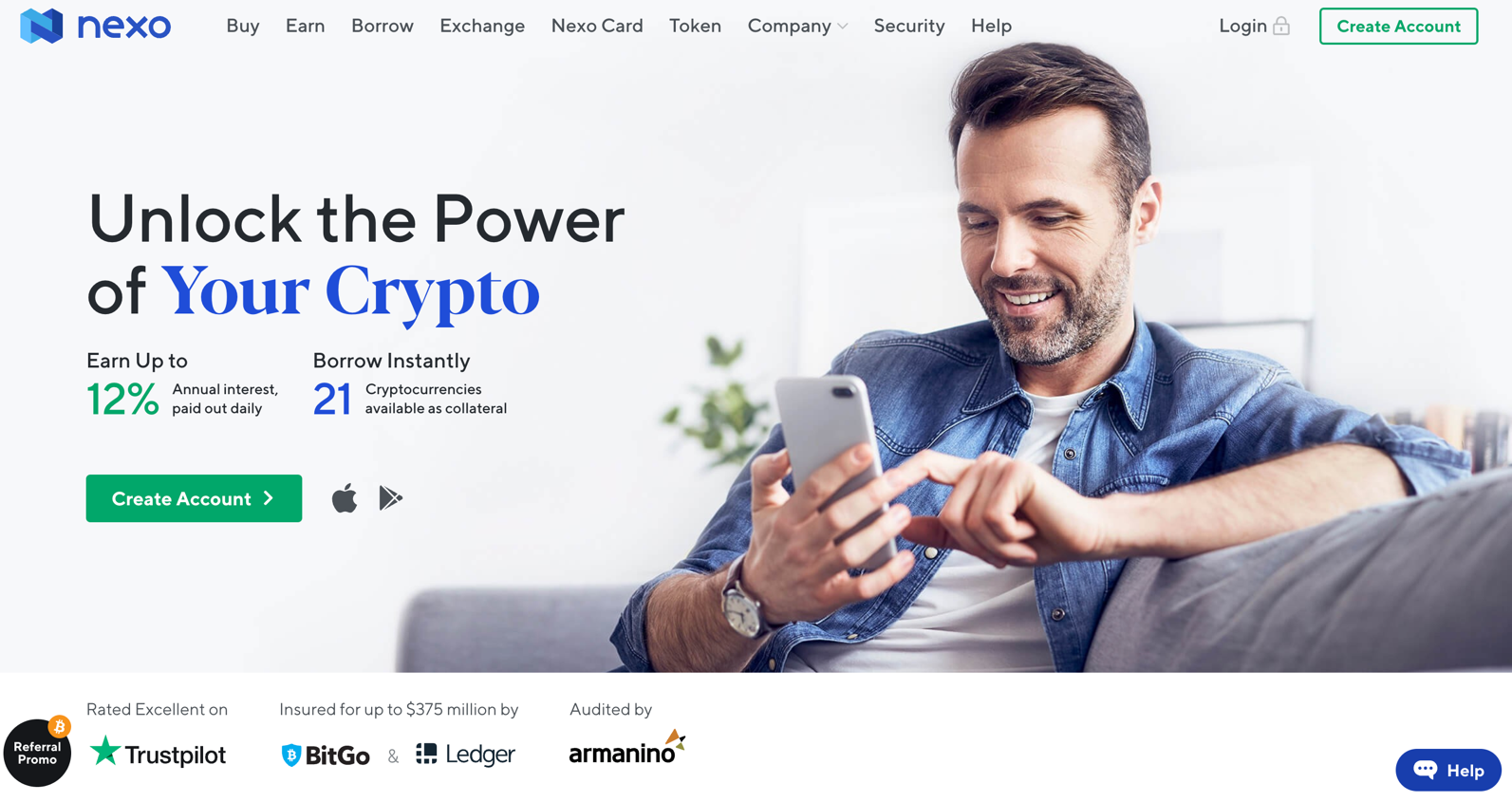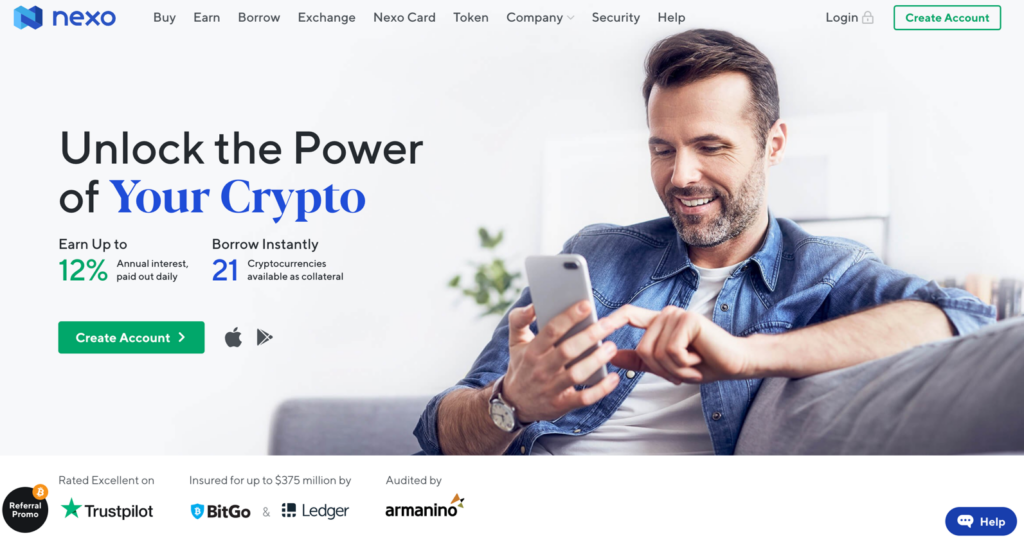 Nexo is one of the leading custodian blockchain-based lending platforms, catering to millions of clients in most parts of the globe. The company pays millions in interest yearly and has managed billions worth of assets since its 2018 inception.
Instant Crypto Credit Lines™ is one of the brand's flagship products where users can borrow several digital and fiat currencies by providing crypto collateral, with interest rates from 6.9% to 13.9% APY (annual percentage yield).
Lenders can earn up to 12% APY from lending out their cryptocurrency holdings. Like many lending platforms, Nexo has its native utility token of the same name, which was launched in 2018. The NEXO token provides unique benefits for any frequent users of the platform.
Clients receive more attractive borrowing and lending interest rates and up to 5 free withdrawals when they become Nexo loyalty program members. NEXO doubles up as a governance token where each token represents a vote in Nexo's future plans.
Moreover, Nexo distributes 30% of its profits to holders of this token as yearly dividends. According to CoinMarketCap, NEXO is the 123th cryptocurrency globally by the market capitalization, with a price of $0.754915. So, let's discover some NEXO price prediction analysis.
Is Nexo a good investment?
So, what makes NEXO unique and a worthy investment? Any investor putting their faith in Nexo is essentially betting on the crypto lending and decentralized finance landscape.
Lending using collateralized cryptocurrencies is becoming increasingly popular primarily because no credit checks and less red tape exist, unlike in traditional finance. Moreover, borrowers and lenders receive better interest rates than from places like banks.
Also, receiving a crypto loan through Nexo is faster (often instant) as a blockchain-based platform, providing a more pleasant and advanced user experience. Nexo caters to regular and institutional clients, miners, crypto-related companies, or anybody needing liquidity from their digital assets.
With this much flexibility, Nexo's user base should continue increasing, creating a correlating surge in the trading of the Nexo token. Lastly, only 1 billion NEXO are set to exist, with approximately 56% or 560 million of them presently in circulation.
Should I buy Nexo today: Crypto technical analysis for NEXO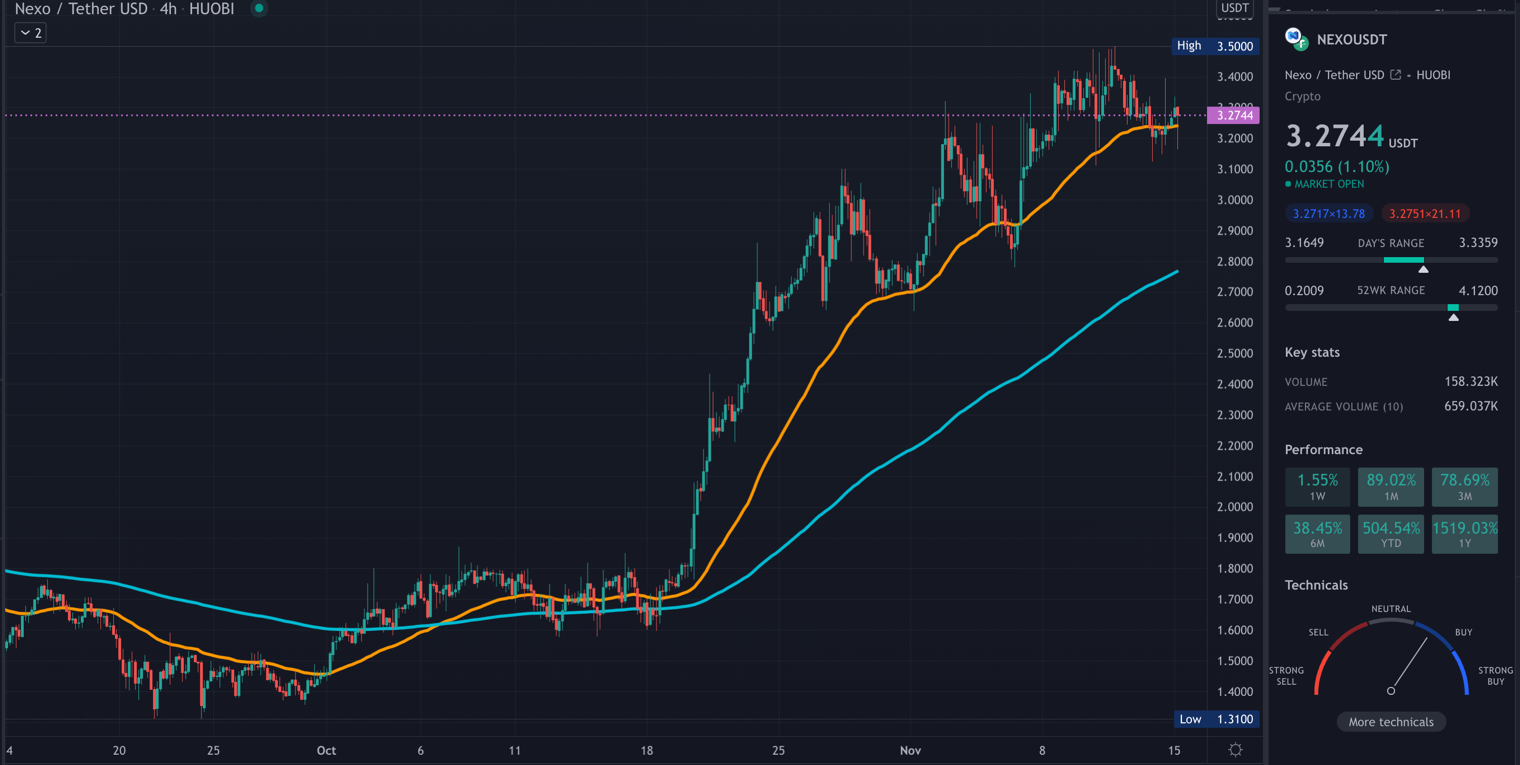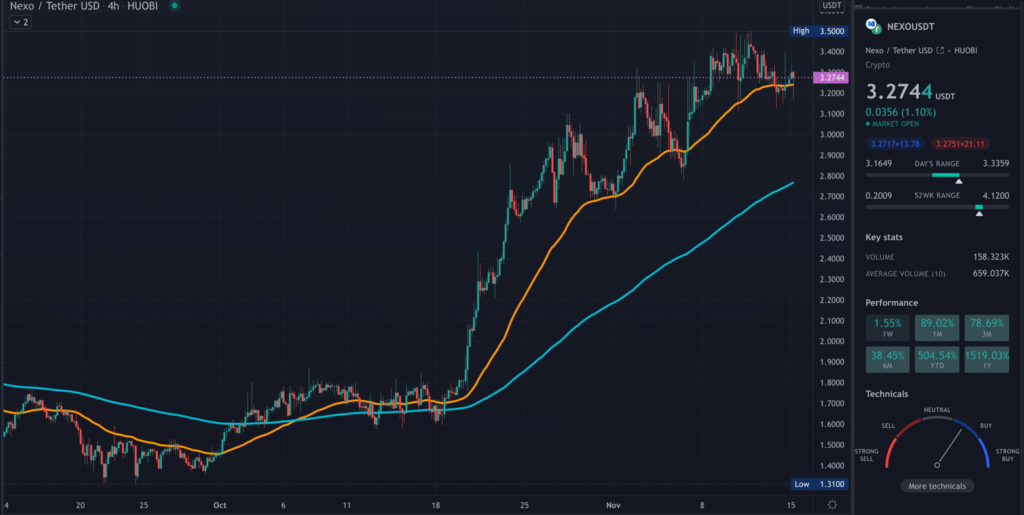 The technical analysis indicates now may be a decent time to buy NEXO today. Firstly, TradingView's technicals (see bottom right corner of the image) suggest a 'BUY.' Moreover, a simple 50-day and 200-day moving average strategy also confirms this bias on the chart.
The objective is for the 50 (orange) to cross upwards of the 200 (blue) and for the price to trade above both. As is evident on the chart, the market meets both criteria. Let's now explore NEXO price prediction ideas for next year and 2025.
Will NEXO coin price hit $5 in a year?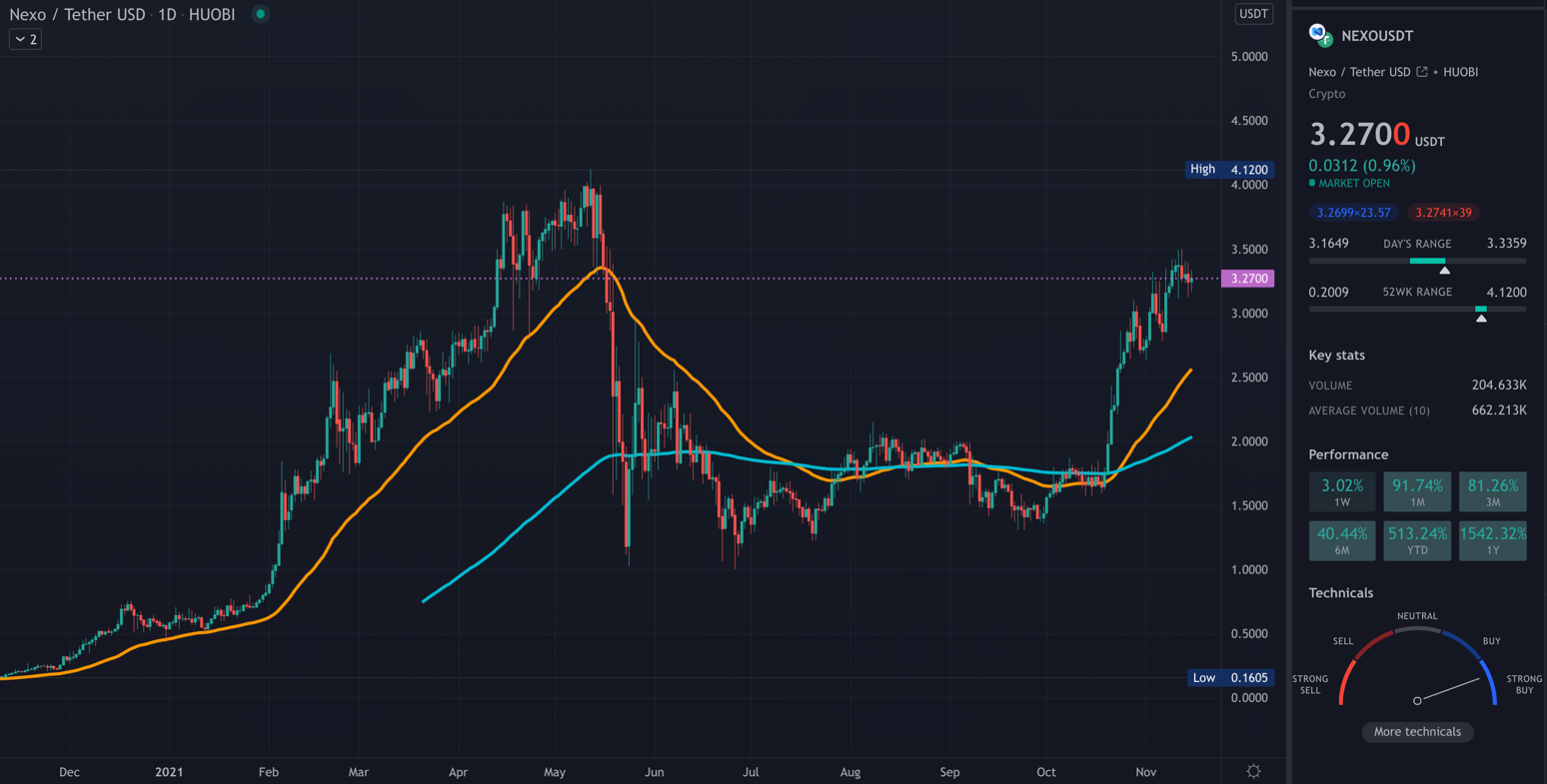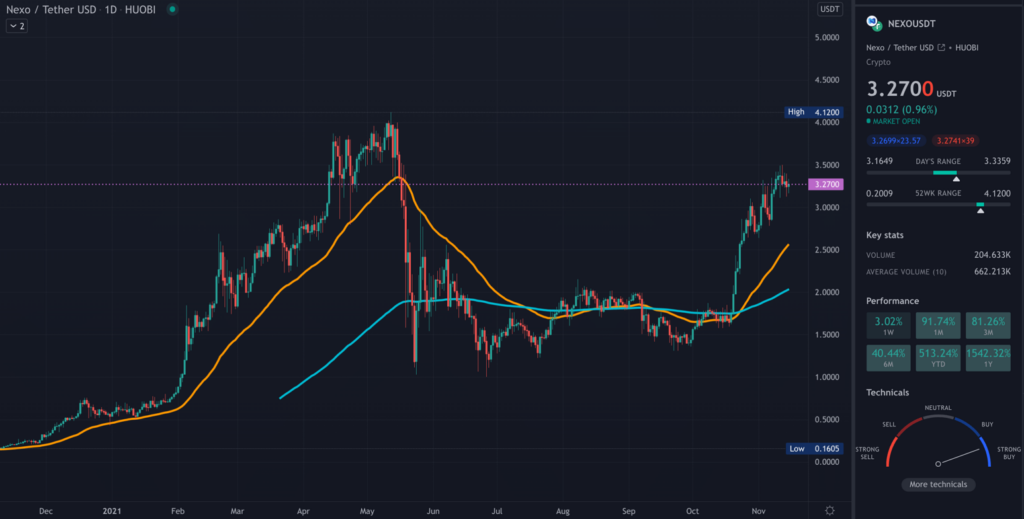 $5 is NEXO's natural next target as the price hit an all-time high of $4.12 in May 2021. A year is a reasonable time to wait for the market to potentially reach this point. From its current price of $3.24, it'd only be a 53% surge to hit $5.
Considering the price's strong bullish momentum presently, this target should easily be achievable. For a more algorithm-based prediction, we can look at forecasts from Wallet Investor.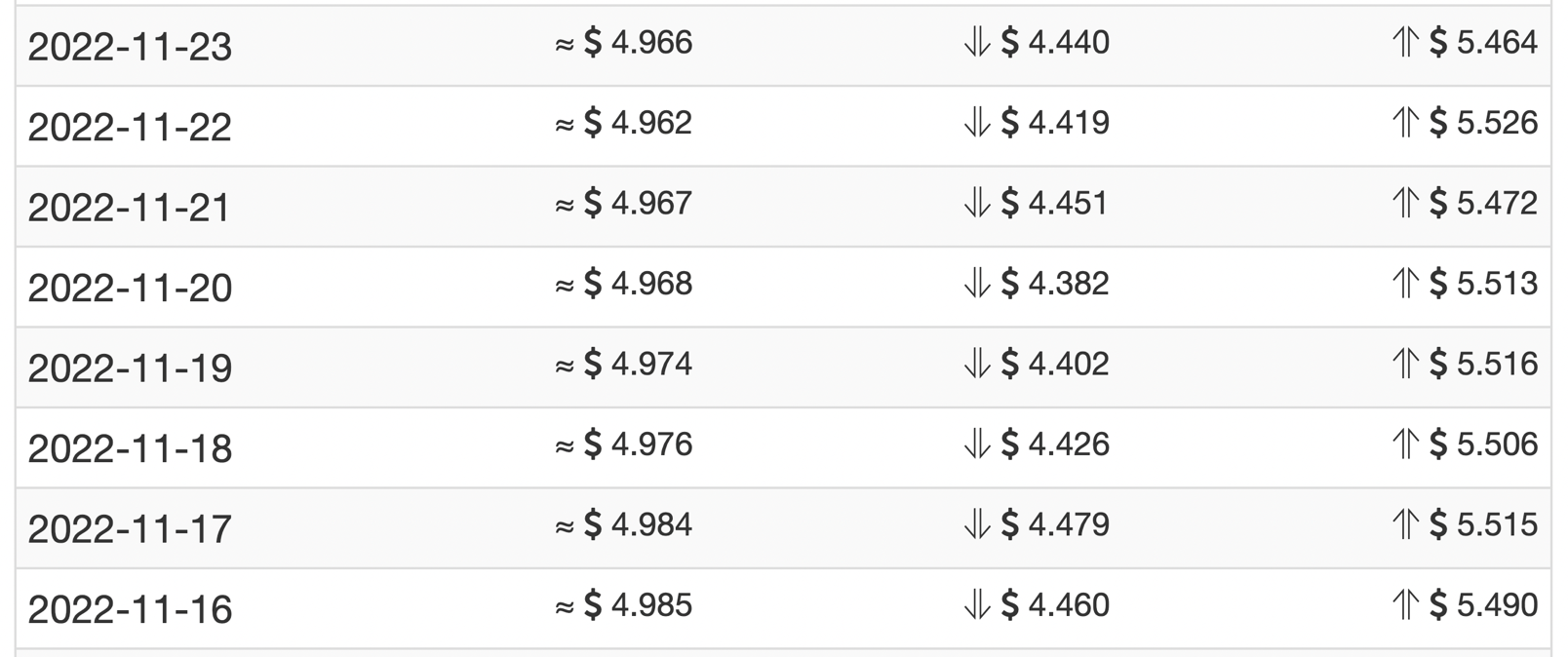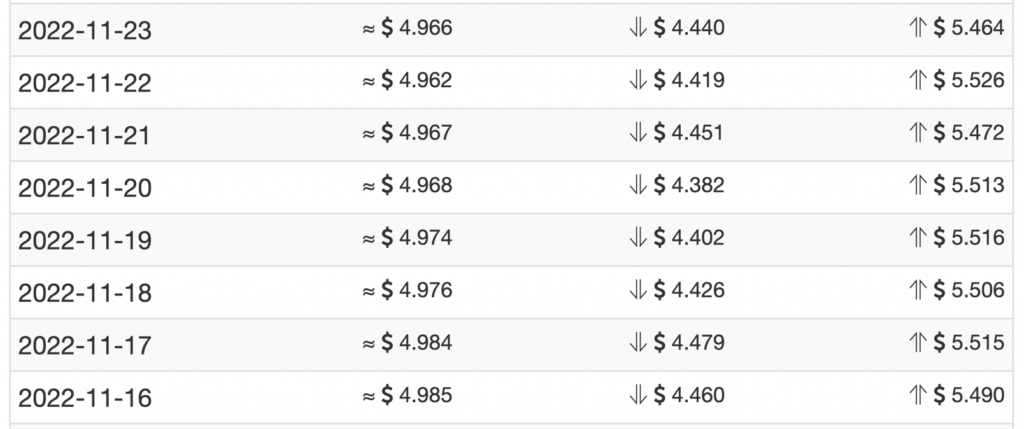 The site proposes maximum prices of between $5.49 and $5.52 within a year. This prediction may be a little pragmatic, but investors should expect some dip before another eventual rally.
What is Nexo's price prediction for 2025?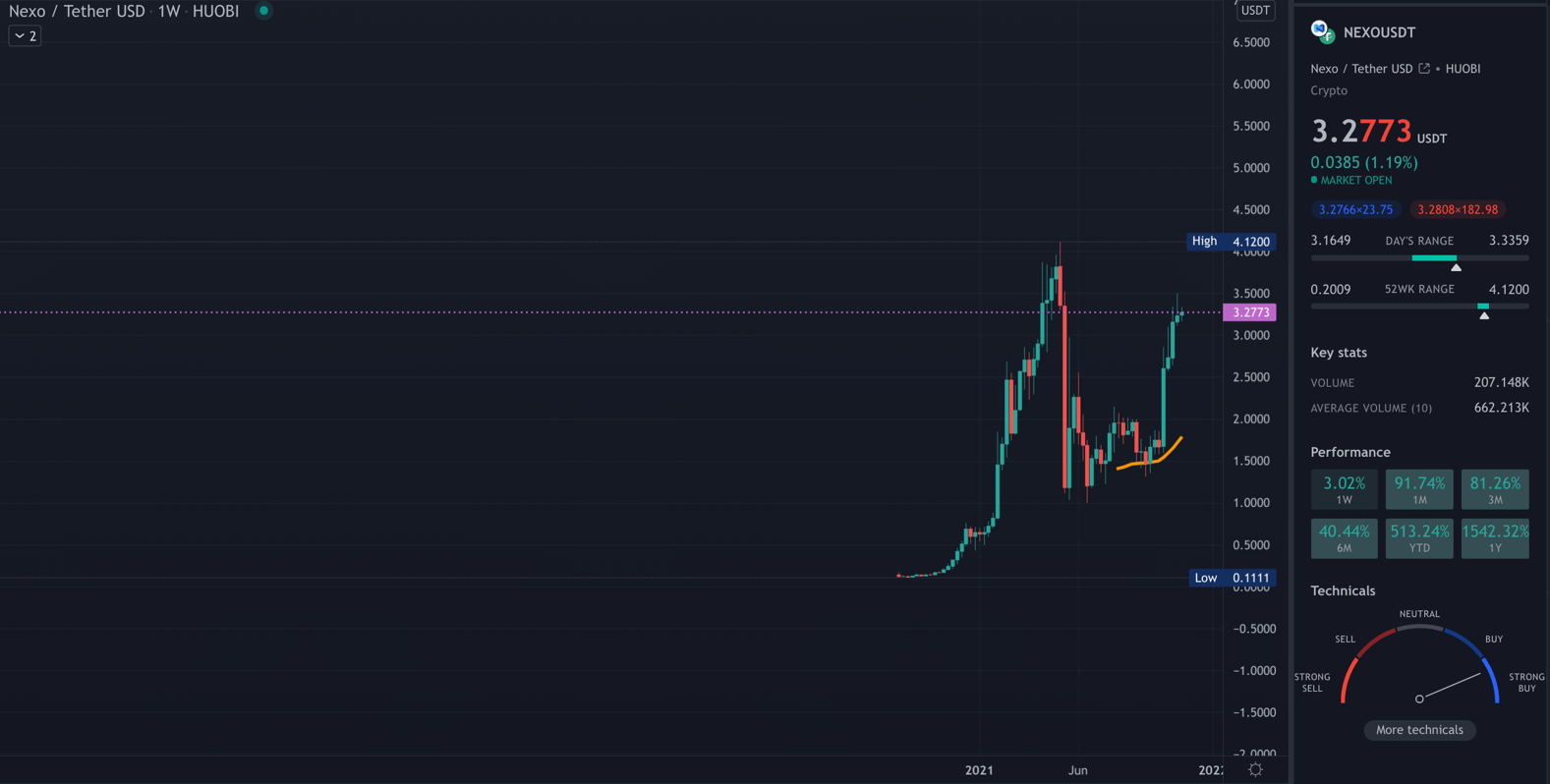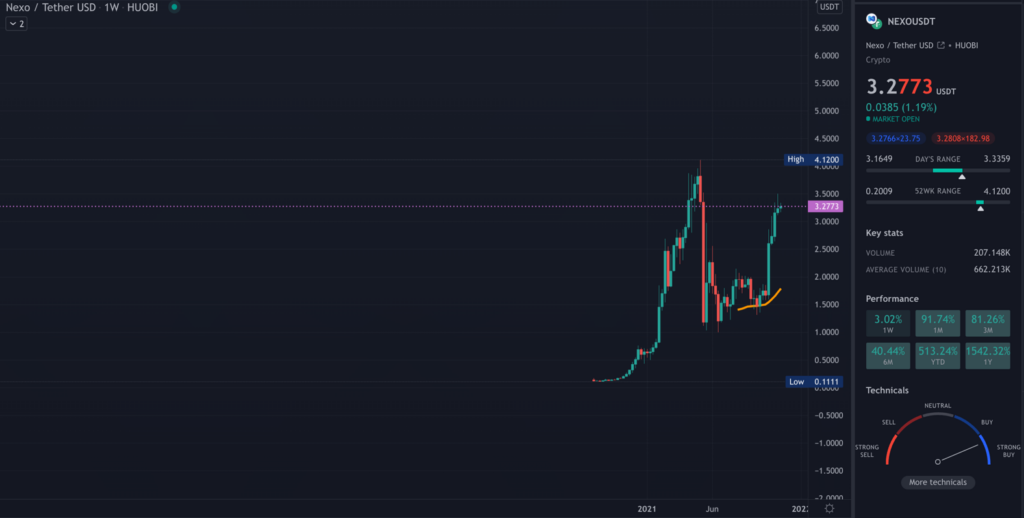 Let's consider the best and worst-case situations for NEXO in the long term.
Best-case scenario
In 2025, Wallet Investor indicates below a minimum and maximum price of $8.90 and $10.15, respectively. Based on the current price, investors would expect 200-300% returns, which is certainly not unheard of in cryptocurrencies.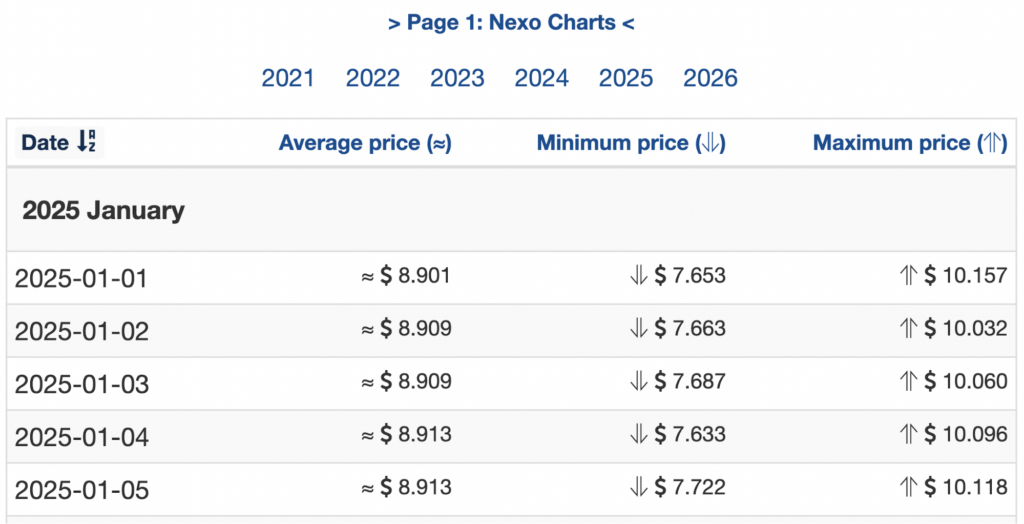 Worst-case scenario
Like any investment, there are no certainties as it's difficult to predict this future this far away. These forecasts only provide a guideline.
The best way to buy NEXO
Huobi, ProBit, Bitfinex, and Uniswap are some of the many exchanges available for anyone to buy NEXO.