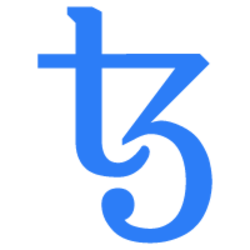 Tezos (XTZ)
Price
What is Tezos (XTZ)?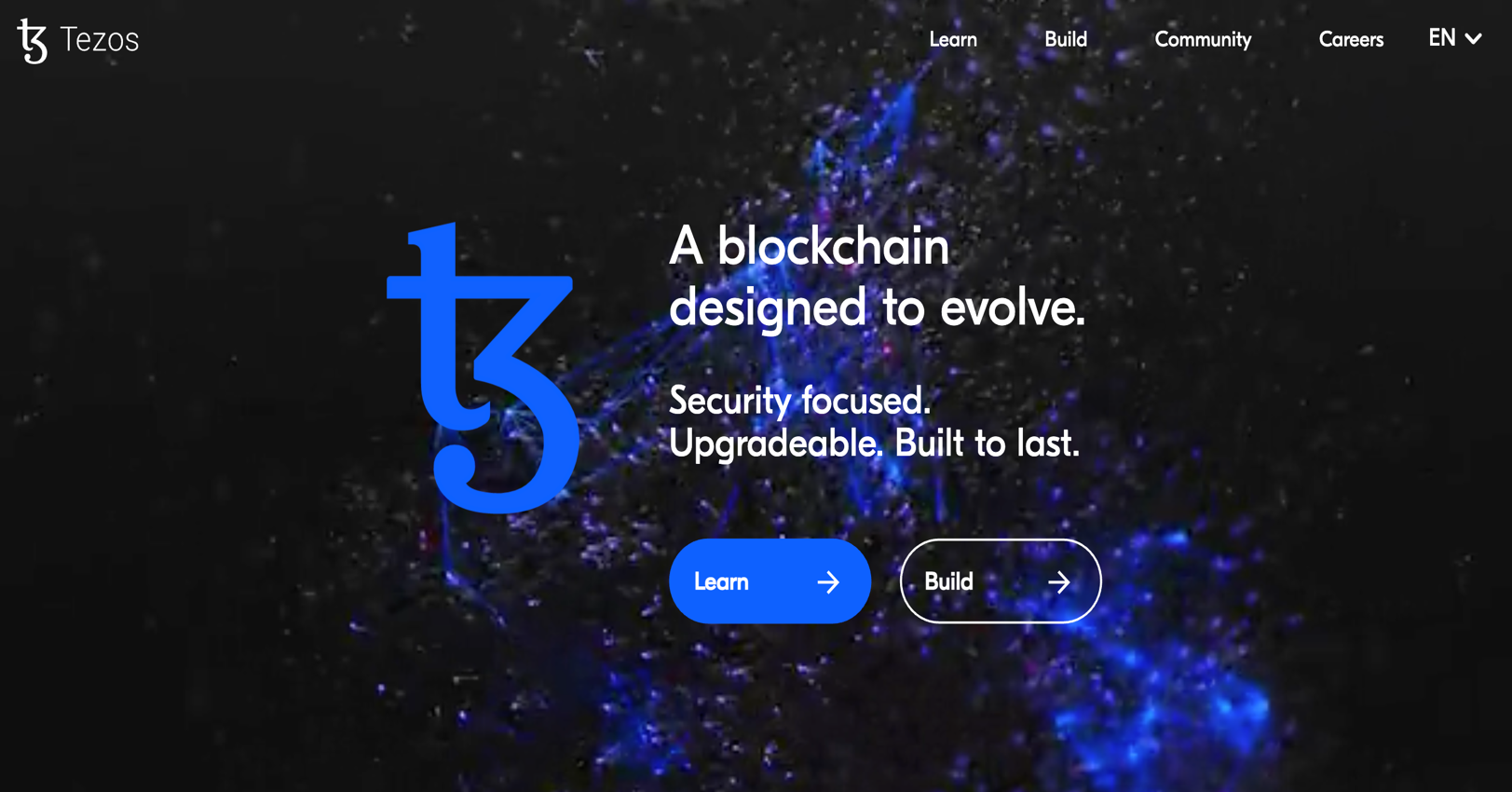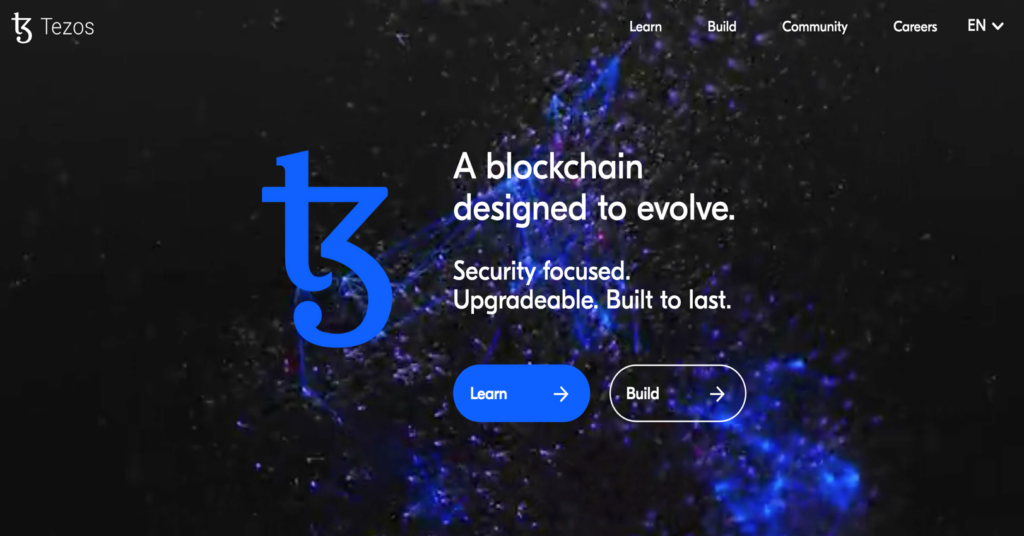 Are Pokemon tazos making a comeback? Jokes aside, the Tezos in question here is one of the leading multi-language proof-of-stake blockchains for building smart contracts and dApps (decentralized applications).
Tezos' ethos is an upgradeable, security-focused blockchain 'designed to evolve.' The project emphasizes superior scalability, institutional-grade security, and community-centric governance.
Tezos' primary utility currency is XTZ (a tez or tezzie), which costs $5.89. Presently, 866.8 million of these coins are in circulation. XTZ serves several purposes: a unit of value for confirming transactions, staking, and getting involved with network governance.
Tezos was conceptualized as far back as 2015 by Arthur & Kathleen Breitman, a husband-and-wife team. In 2017, Tezos held an ICO (initial coin offering) in 2017. This event was wildly successful, raising approximately $232 million, more than ten times the expected amount.
The mainnet version of the protocol went live in September 2018, but not without some controversies after the ICO, which caused delays, loss of investor faith, and subsequent lawsuits. Nonetheless, CoinMarketCap had, at one point, ranked Tezos in the top 20 for most traded coins at the start of 2021.
Now the project sits in the 42nd position with a $5.1 billion market cap. This article will probe into some Tezos price prediction analysis and why tez is a good investment.
Is Tezos a good investment?
Investments in prominent proof-of-stake blockchains like Tezos may turn out to be profitable over the long run. Many distributed ledgers present in the industry like Bitcoin and Ethereum still use the proof-of-work mechanism or mining.
This model has been undoubtedly proven as far less eco-friendly and expensive. Moreover, it severely lacks scalability, which is one of the critical components blockchains aim to achieve.
Scale means astronomically more transactions can be confirmed and at a cheaper cost, fostering a pleasant user experience for all. Second-generation blockchains are more advanced than those only acting as digital payment services.
The dApp and smart contract landscape is massive, and we have not yet seen everything it has to offer. From exchanges, lending services to NFTs and metaverses, these are some of the projects which the likes of Tezos can play a role in developing or supporting.
Should I buy Tezos today: Crypto technical analysis for XTZ
Technical analysis suggests some bearish sentiment, a bias present in most cryptocurrencies right now. TradingView summary provides the answer with its analysis consisting of numerous moving average and oscillator settings across multiple time frames (see the image below).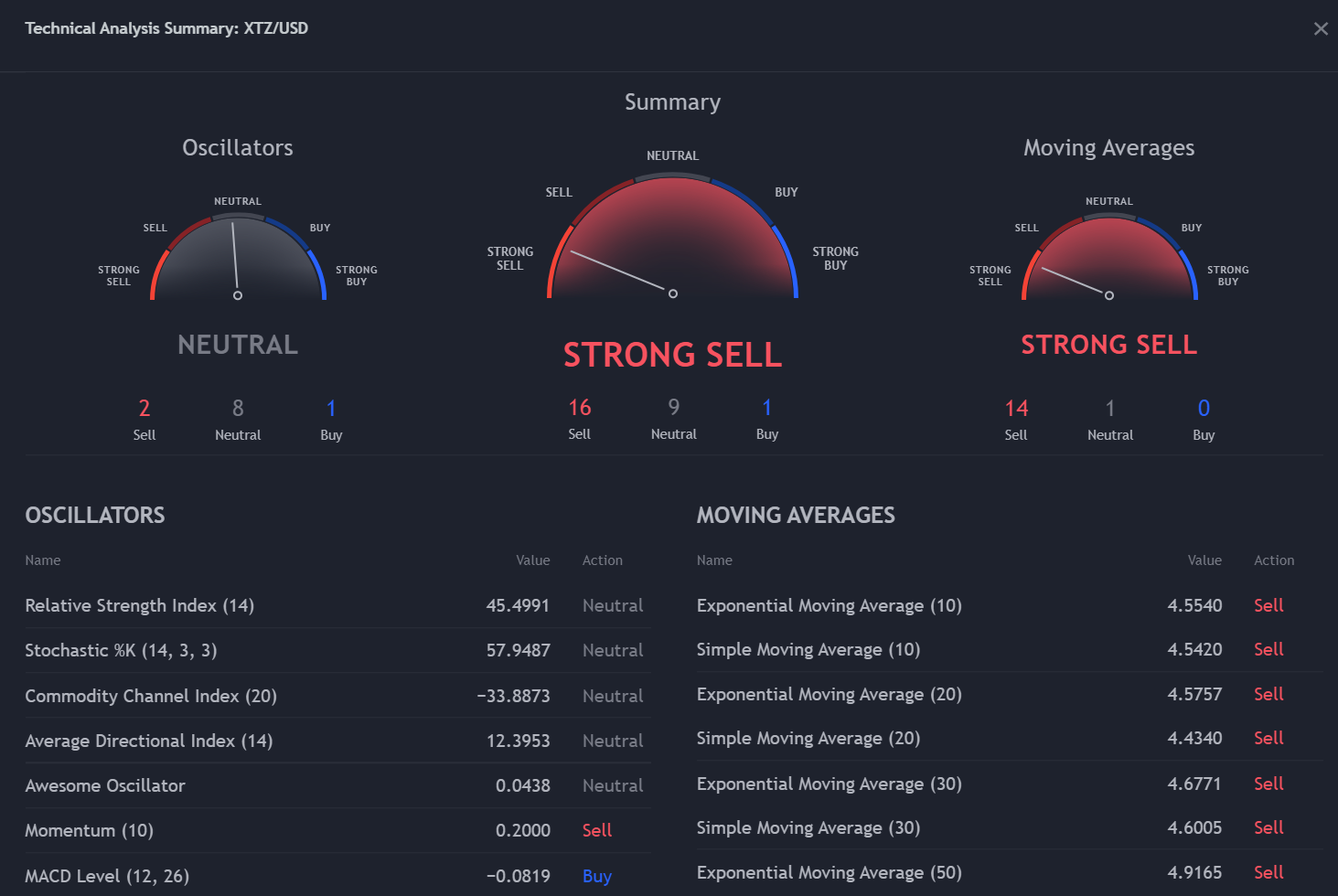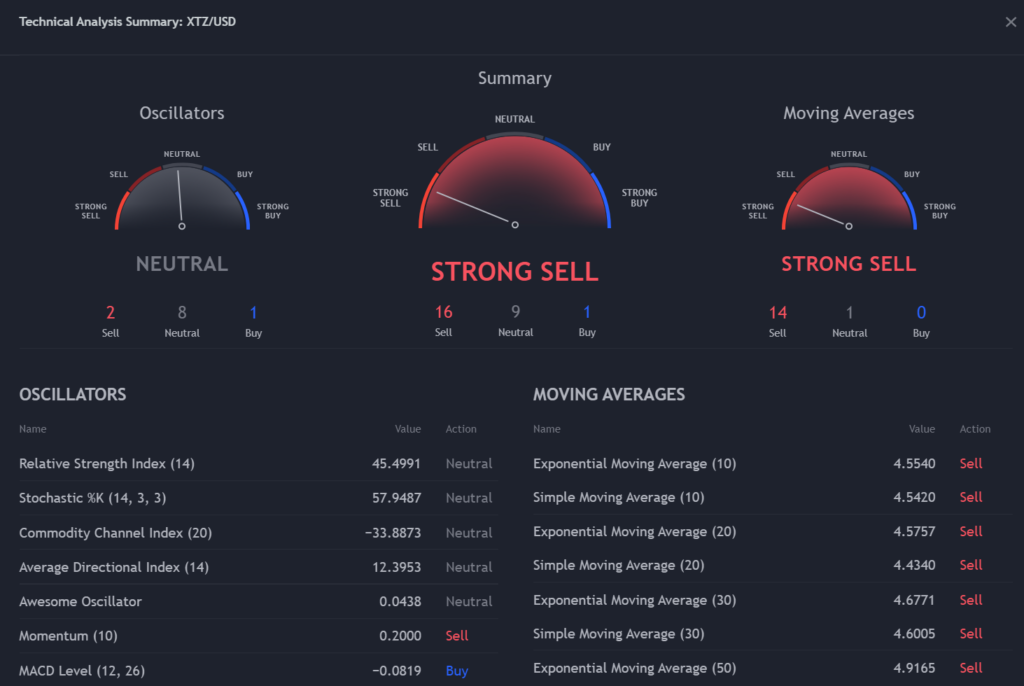 Moreover, we can utilize a straightforward 50 (green) and 200-day (orange) moving average crossover system. Like with any MA strategy for buying, we would want the price to be above the moving averages, where it currently struggles to be.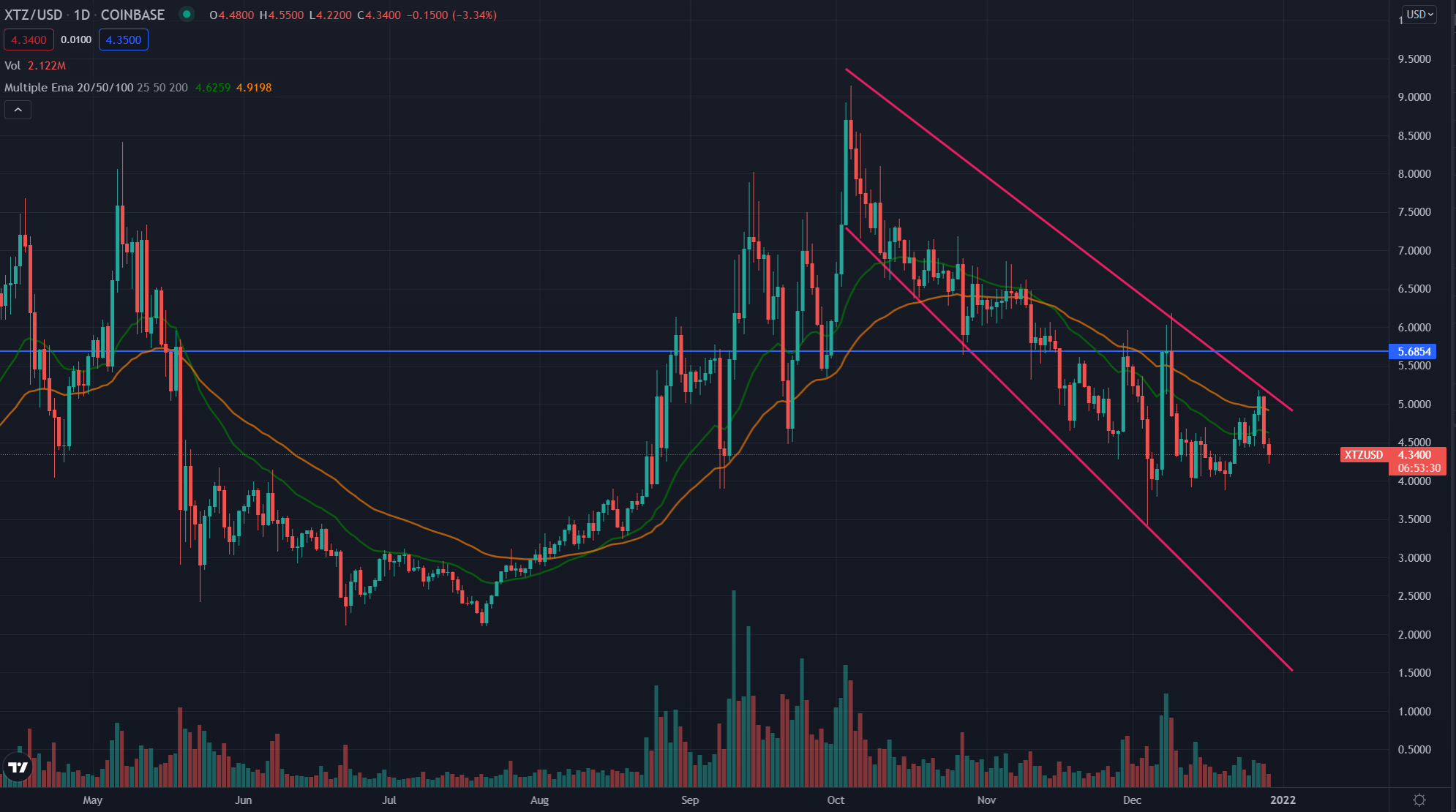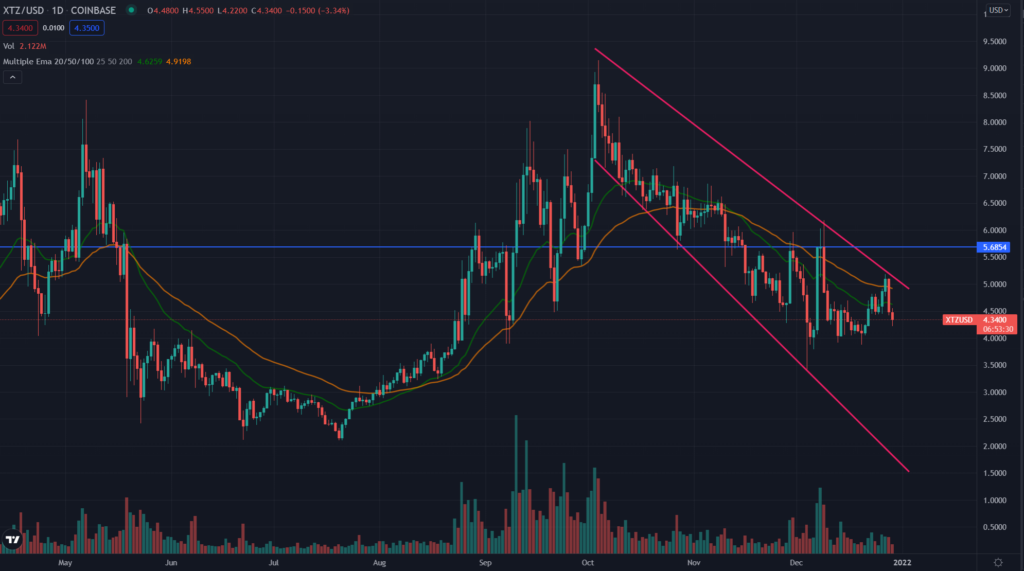 We can also see a descending broadening wedge patter formed in the last three months of the year. If the downtrend persists through the year 2022, the price may fall to as low as $2. If it breaks out of the upper range, though, it will test the first resistance at $5.68.
Will XTZ coin price hit $10 in a year?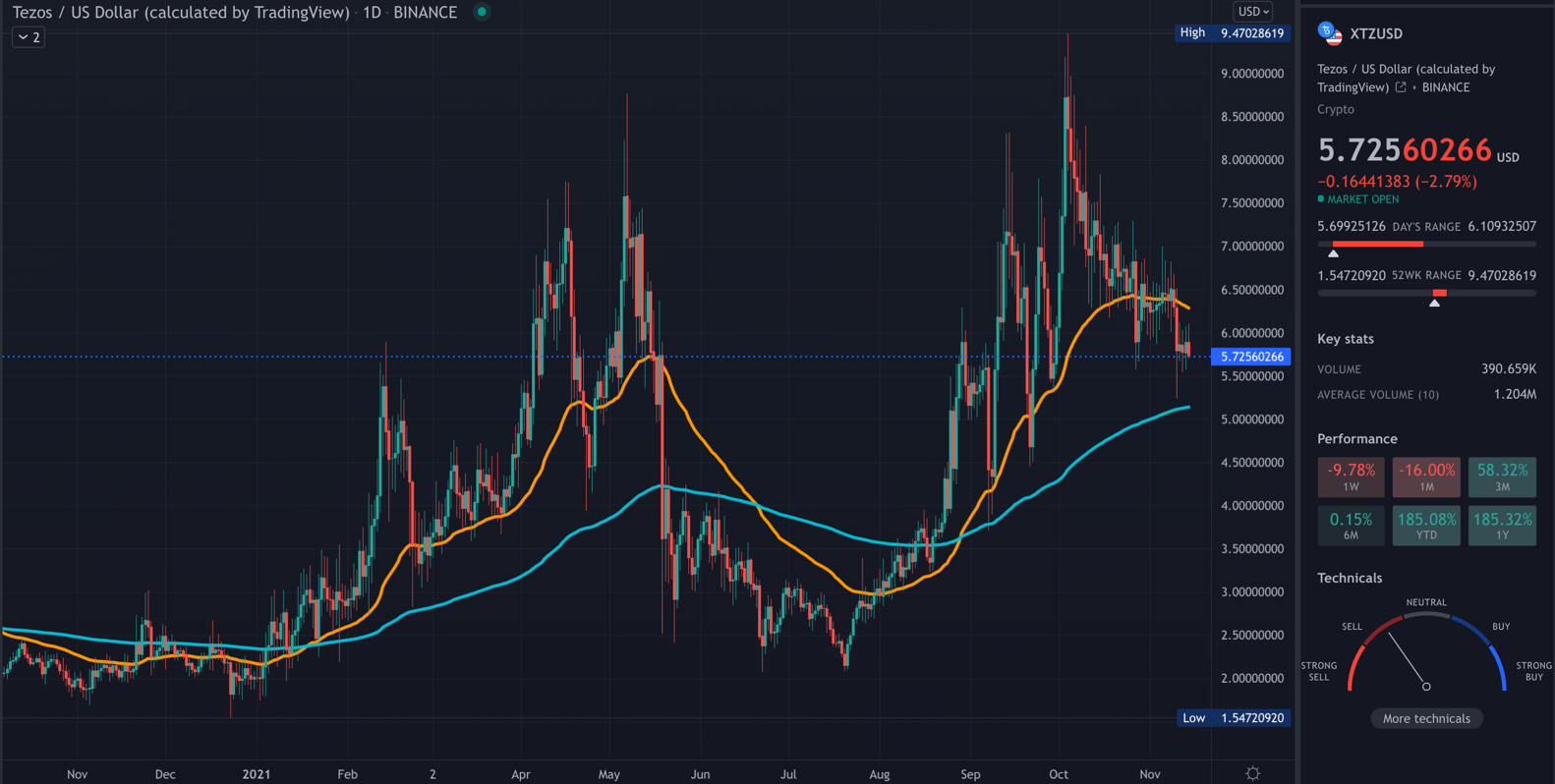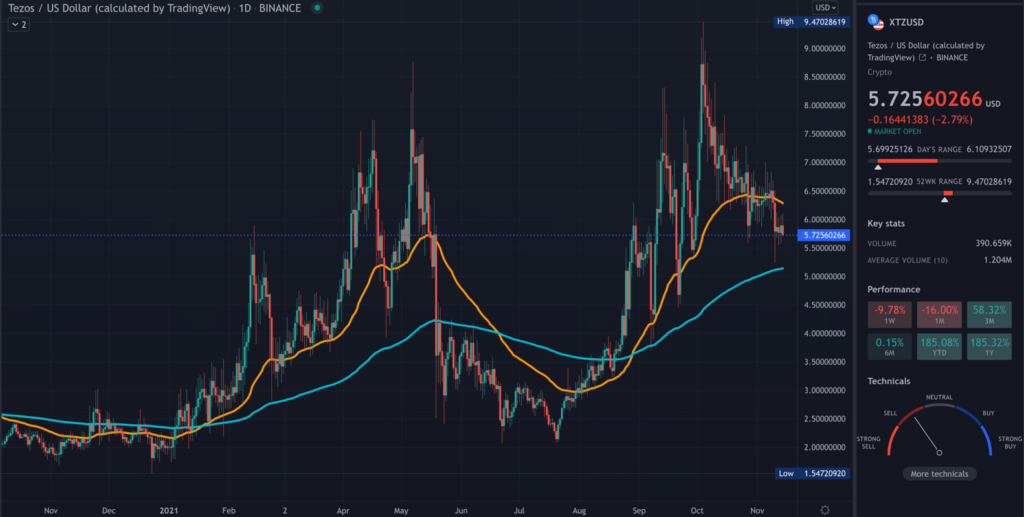 XTZ recently reached its all-time high of $9.47 in October 2021, making $10 the 'magic number.' So, how realistically could price get to this point in a year? From its current value of $5.89, it would take close to a 70% increase to arrive at this mark.
Performance-wise, you would have netted yourself 185% if you had bought this coin at the same time last year. Therefore, if the market could maintain a similar increase, $10 is a possibility.
We can rely on analysis from more reliable algorithm-based prediction resources like Wallet Investor.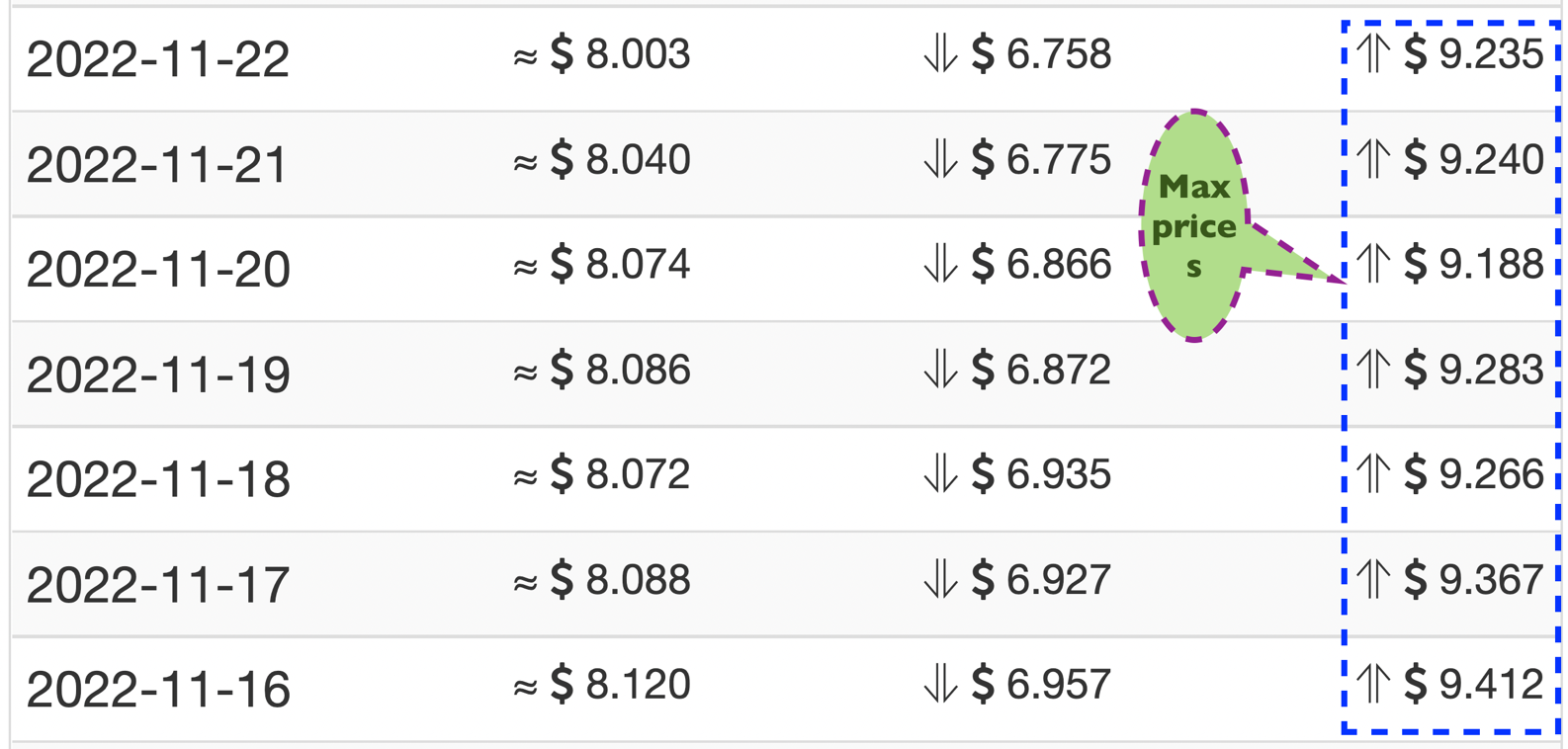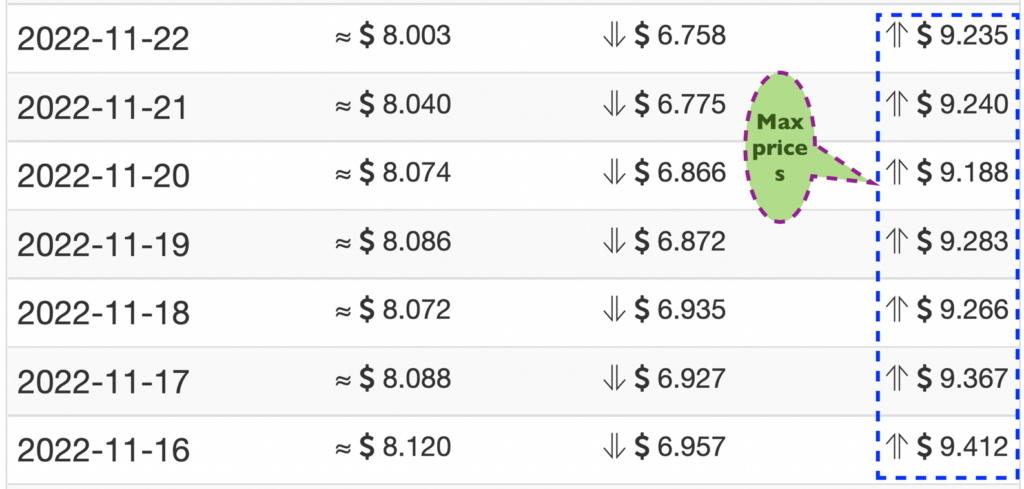 The site estimates maximum prices ranging from $9.18 to $9.41, which is conservative compared to the recent yearly performance. Digitalcoinprice suggests $9.8 within a year. So, it seems several forecasting sites don't indicate XTZ can reach $10, but then again, these are only predictions and not certainties.
What is Tezos coin price prediction for 2025?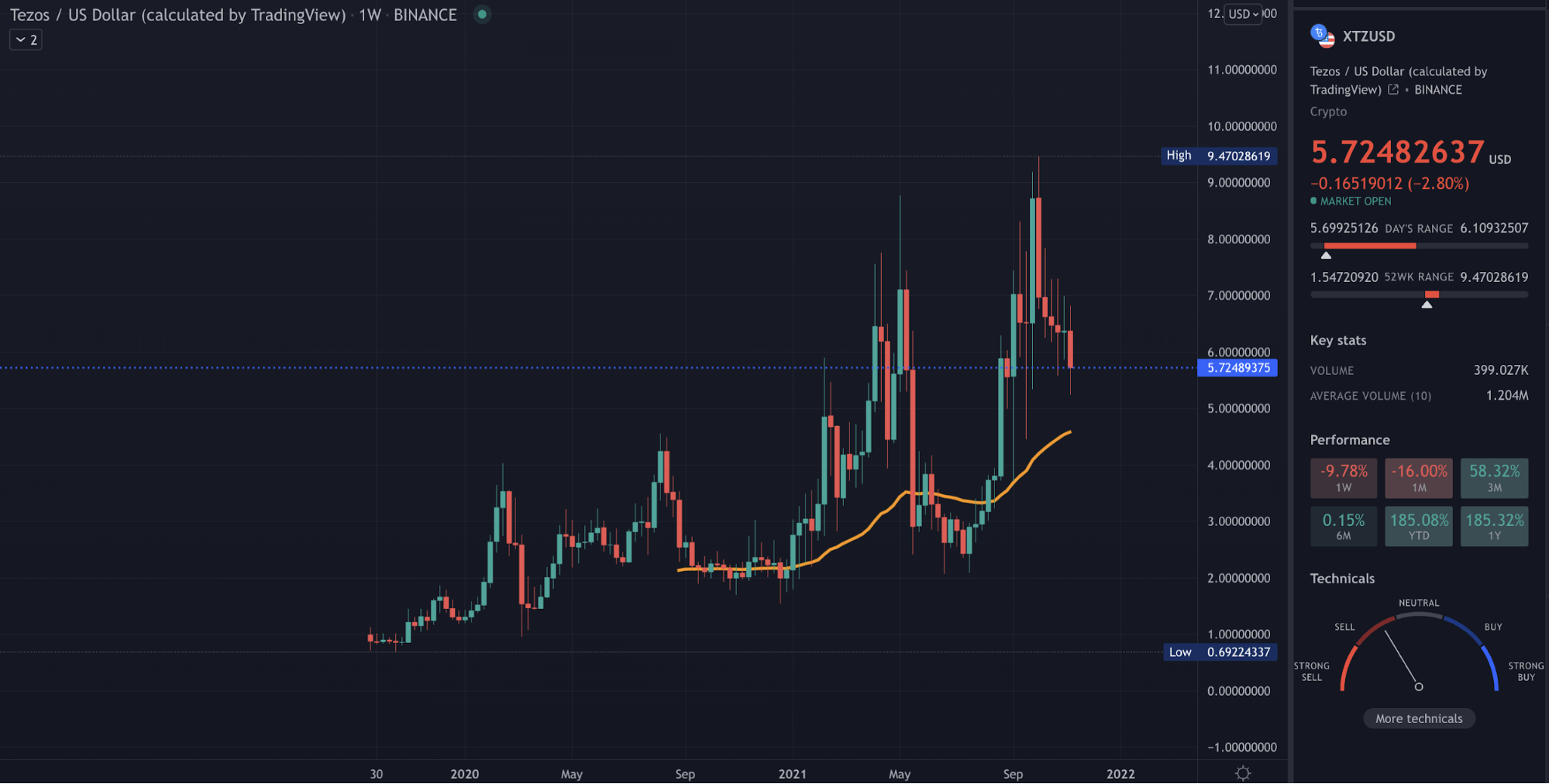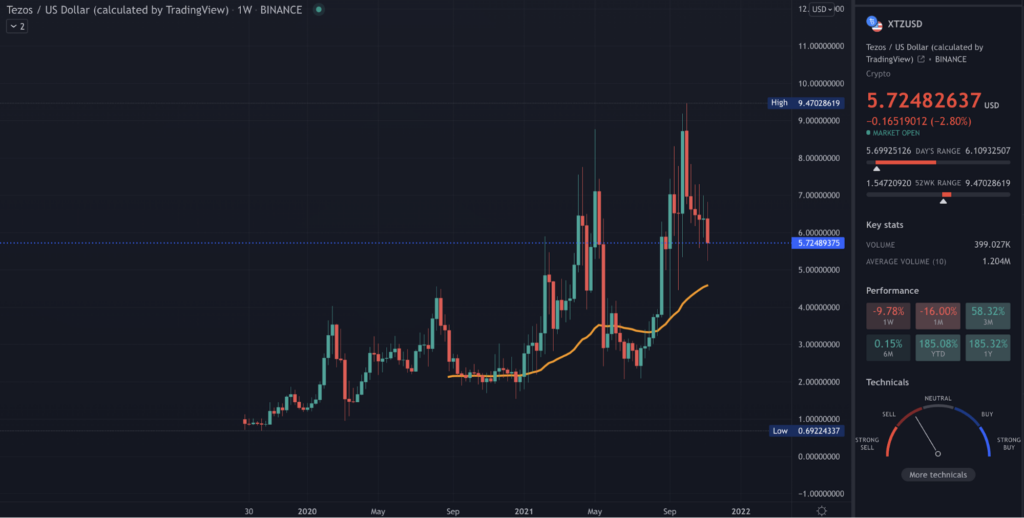 So, what's in store for Tezos in 2025? Let's look at the best and worst-case scenarios.
Best-case scenario
Wallet Investor proposes a maximum price of $16.53 by the start of that year, which would be a 2.86X return from the present price.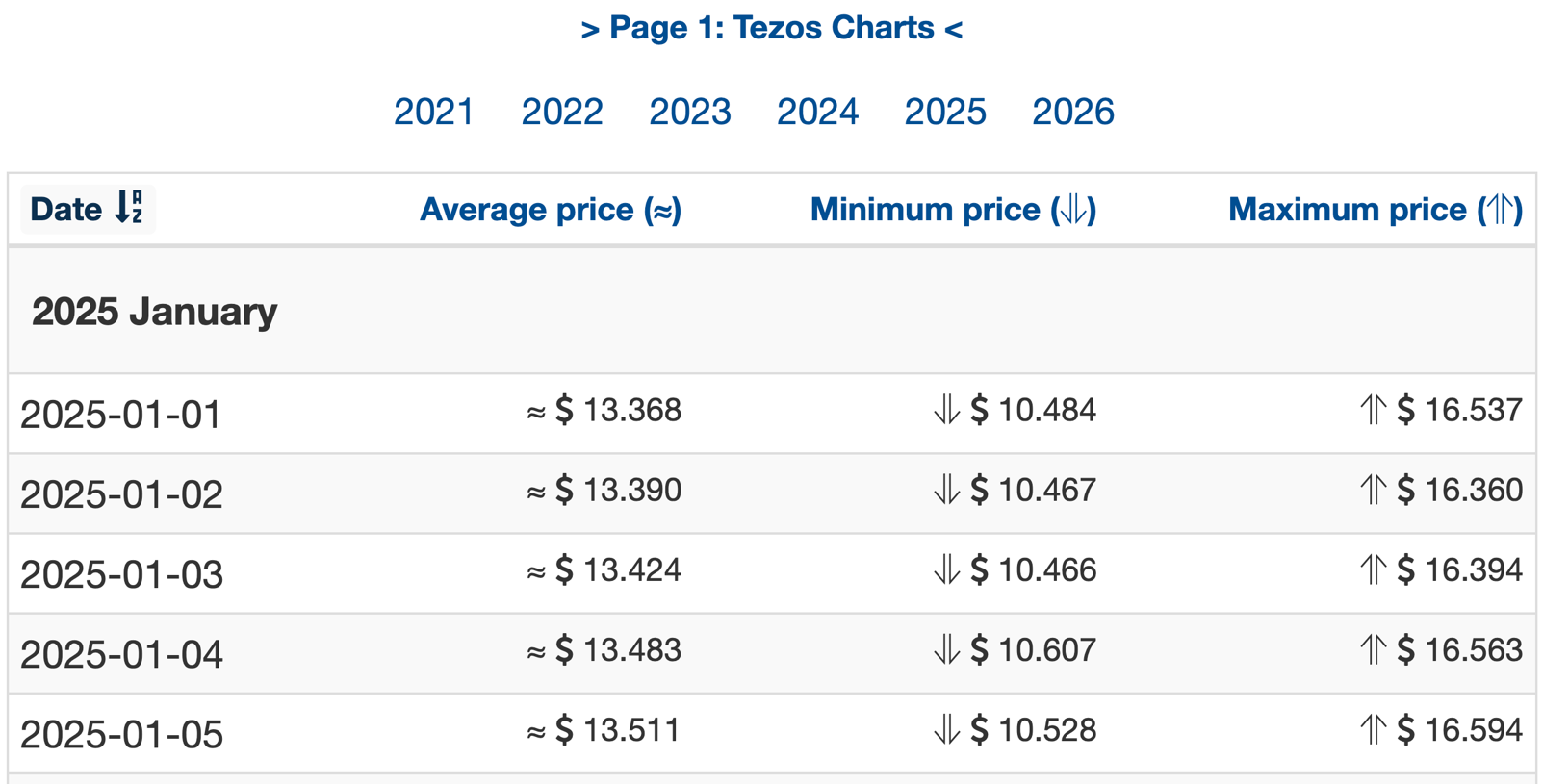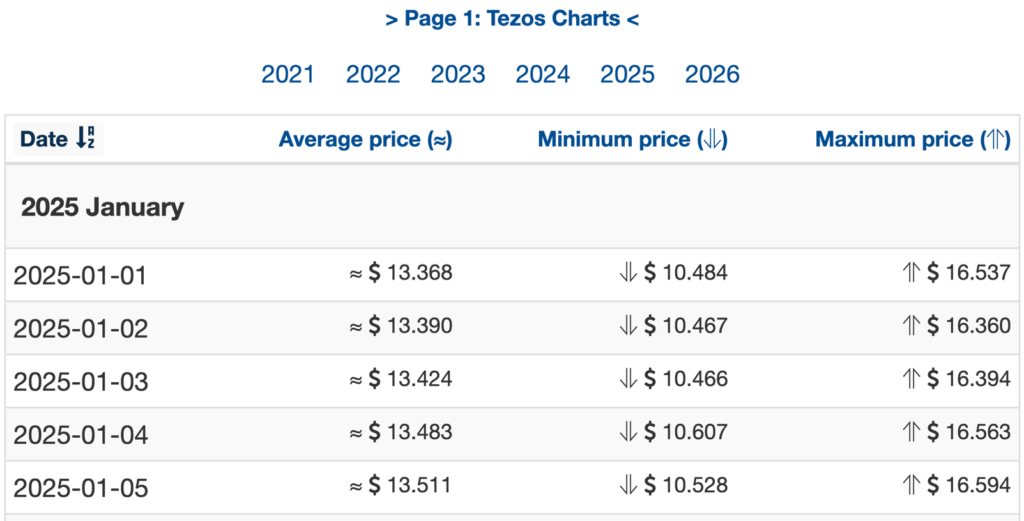 Worst-case scenario
In over a span of about three years, this increase is undoubtedly feasible and might be on the safe side. Yet, these are the uncertainties of instruments like cryptocurrencies. Although there's a consensus this market will grow, investors should never invest excessively based purely on FOMO or hype but rather on solid fundamentals.
The best way to buy XTZ
It's not challenging to acquire XTZ since traders and investors have a plethora of exchanges to select from Binance, Coinbase, Kraken, Huobi, KuCoin, and many others.