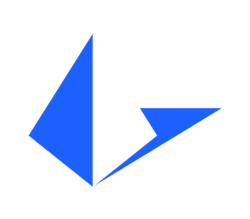 Loopring (LRC)
Price
Loopring offers a platform for developing highly efficient and superfast exchanges.
Loopring is seeking to enhance cryptocurrency transactions.
LRC coin price explodes after 1300% plus rally.
Decentralized vs. centralized exchange is a debate that refuses to go away. While both come with unique benefits, they also feature a string of deficiencies that have made it difficult for people to enjoy the full benefits of cryptocurrencies. Loopring, on the other hand, is looking to change all this in a unique way.
What is Loopring?
Loopring is the native token that powers the Loopring platform. Transaction fees on the platform are settled on the LRC token. Consequently, it acts as a store of value on the platform.
Loopring is a software running on the Ethereum blockchain that seeks to revolutionize the way virtual currencies are transacted. Its ultimate goal is to ensure all players enjoy the full benefits of the emerging asset class. Consequently, it combines all the good attributes of centralized and decentralized exchanges, making it easy for people to develop powerful crypto exchanges.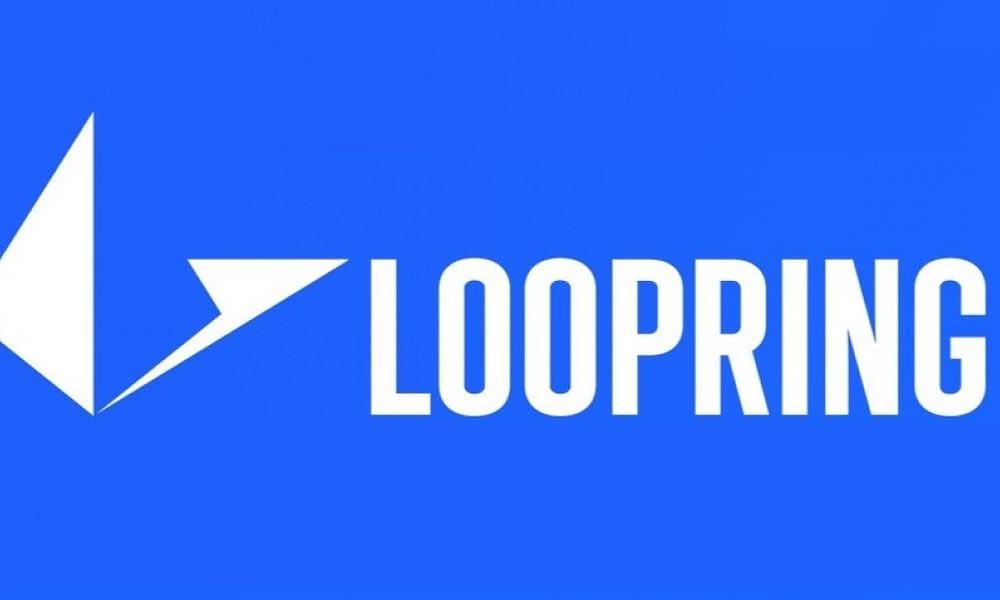 It came into being in 2017 as a brainchild of the software engineer Daniel Wang based in China. Wang has previously worked in internet giants Google and JD.com thus come with the vast experience needed to enhance the operational efficiency of the layer 2 solutions.
Since inception, two versions of the Loopring have come into being; Loopring V2 and Loopring V3. With the new versions, fee models were significantly reduced, accompanied by options designed to enhance trades execution.
How it works
Loopring claims to offer a platform whereby people can build exchanges to be able to sidestep slow speeds and high costs synonymous with centralized and decentralized exchanges. The platform leverages zero-knowledge rollups, thereby offering faster settlements for traders.
In addition, zero-knowledge rollups allow Loopring powered exchanges to complete computations elsewhere instead of relying on decentralized exchanges powered by the Ethereum blockchain, which can be a little bit slow.
The problem Loopring is solving
Centralized exchanges work by simply executing trades on behalf of traders. In most cases, they also hold tokens on behalf of holders. The lack of direct ownership, in this case, has always bypassed the true tenants of decentralization. Consequently, people who store their tokens in these exchanges are always at a high risk of losing their tokens whenever these centralized exchanges are hacked.
Concerned by centralized exchanges deficiencies, most people have resorted to trading using decentralized exchanges (DEX). These exchanges stand out partly because they allow people to enjoy full ownership of their tokens on the exchanges through the use of wallets. While DEX tends to be much safer, they come with high transaction fees and slow transaction speeds.
Loopring came into being to make it easy for people to come up with crypto exchanges capable of giving users full ownership of their coins while also according to the highest level of security. In this case, the platform allows people to store their investments in wallets while still being able to execute trades on a centralized exchange to enjoy fast transaction speeds.
Is Loopring a good investment?
There is no doubt that Loopring is a good investment given its prowess in addressing some of the deficiencies that have clobbered decentralized and centralized exchanges. Its ability to ensure secure and quick trading is an edge that affirms its competitive edge in the sector, which should attract many users going forward.
In a world where people are increasingly looking for safe and fast trading platforms to profit from cryptocurrencies, Loopring has what it takes to be a big success. In return, its underlying token should elicit strong interest resulting in a significant increase in value.
In addition, Loopring rewards users who provide liquidity in the exchange through a reliable rewards system. Liquidity providers stand to earn up to 80% of the transaction fees that are charged whenever people use the platform to process transactions. In this case, if you stake your coins on the platform, you stand a portion of the transaction fees as rewards.
Should I buy LRC today: Crypto technical analysis for LRC?
LRC coin started the year, priced at about $0.20 a coin. After a long period of consolidation, its value oscillating between $0.20 and $0.80 a coin, it has exploded in late October, powering to all-time highs above $3.7 a coin.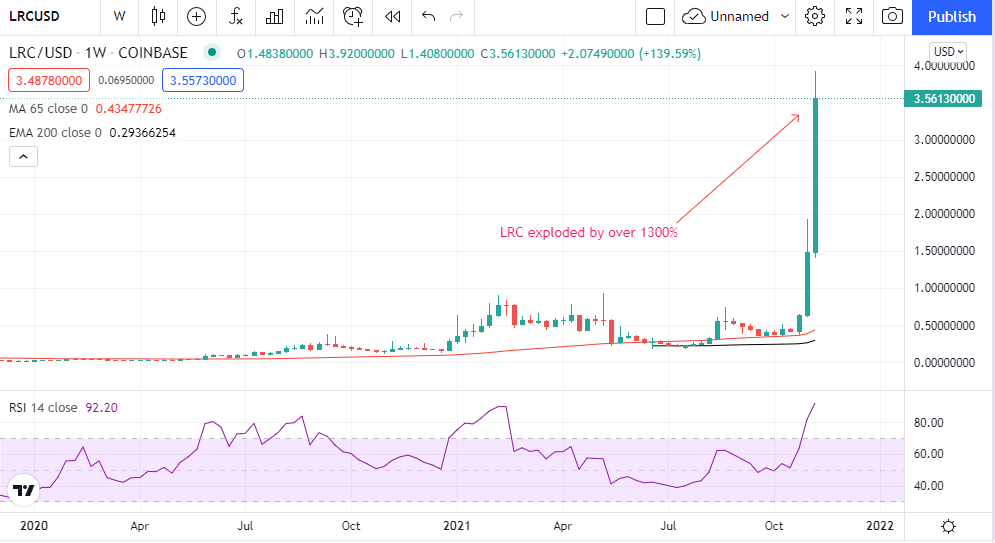 The explosion to all-time highs does not come as a surprise. Instead, it affirms Loopring's growing popularity as a dependable platform for enabling fast, secure, and decentralized transactions in the blockchain space.
RSI indicates signals that the LRC is overbought, having been in a bullish trend over the past few weeks. Consequently, it would be wise for the coin to pull back for anyone to consider buying it. At current levels, it looks overpriced.
While the coin is trading above the 65 and 200 exponential moving averages, it is highly likely to continue moving up before pulling back. Given that it is up by more than 1400% for the year, a 10% to 20% pullback from current highs would provide an ideal point to trigger a buy signal.
Will LRC hit $10 in a year
LRC blockbuster move to all-time highs in recent days means it has powered through initial price estimates of $2 and $3. Given the strength of the upward momentum and the growing adoption of cryptocurrencies, LRC has what it takes to continue powering high.
While exhaustion appears to have kicked in after powering to $3.7 a coin, a pullback could result in a high coin. Consequently, there is a high probability that the coin could power through the $4 a coin level before the end of the year.
What is LRC coin price prediction for 2025?
According to the technical analysis by WalletInvestor, the coin is unlikely to raise even above $5. The experts predict the token price to fall between $2.202 and $3.046 at the break of the year 2021 and range between $2.290 and $3.576 at the year end.
Digitalcoin experts are more optimistic estimation the token price should be $11.5 in January 2021.
The best way to buy LRC
Being a much older virtual currency, a number of exchanges have added support for LRC. Consequently, the token can be bought in popular centralized exchanges such as Coinbase, Gemini, and FTX.