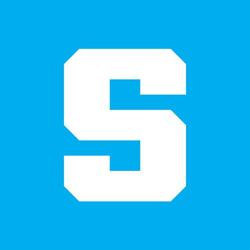 The Sandbox (SAND)
Price
What is The Sandbox (SAND)?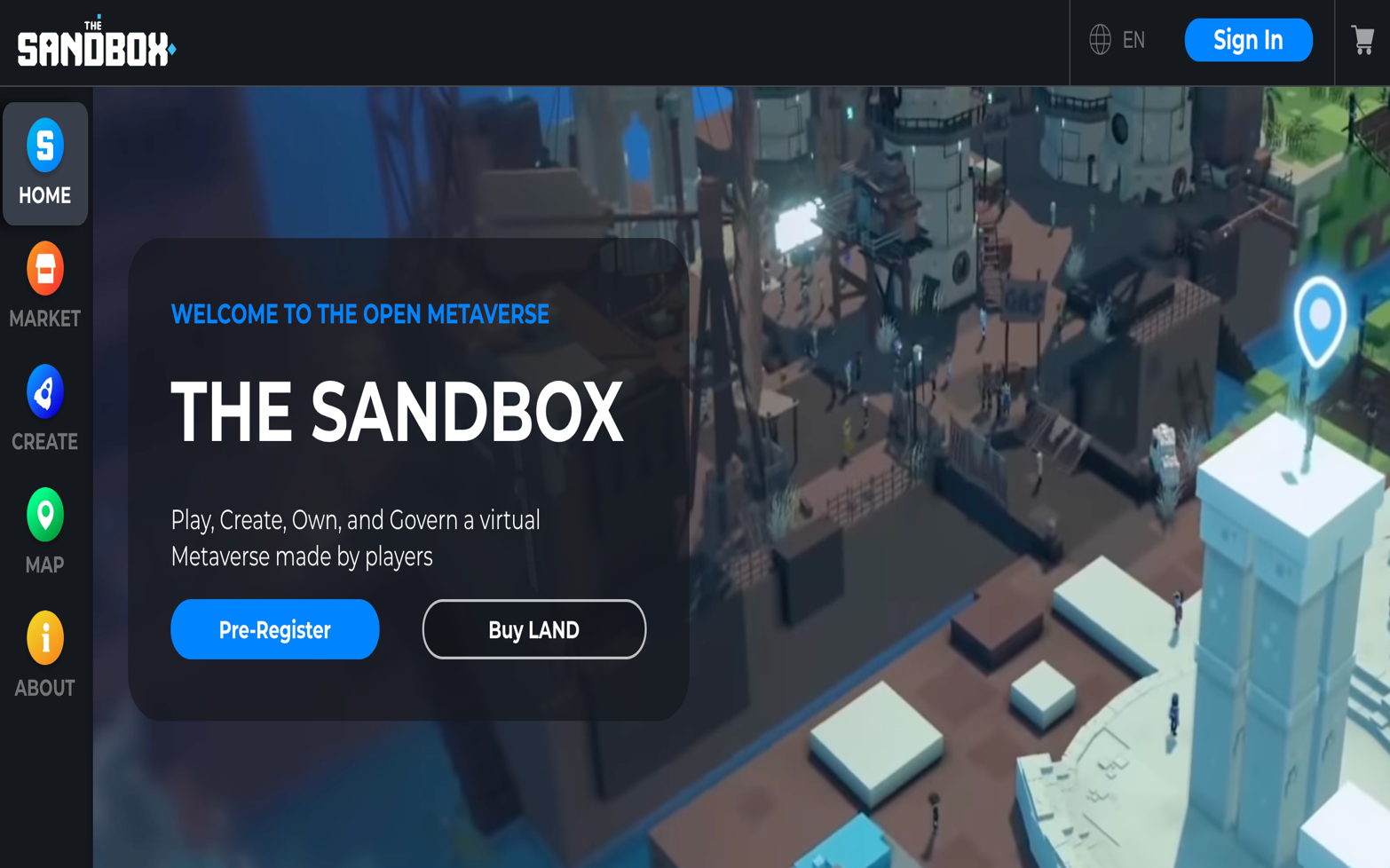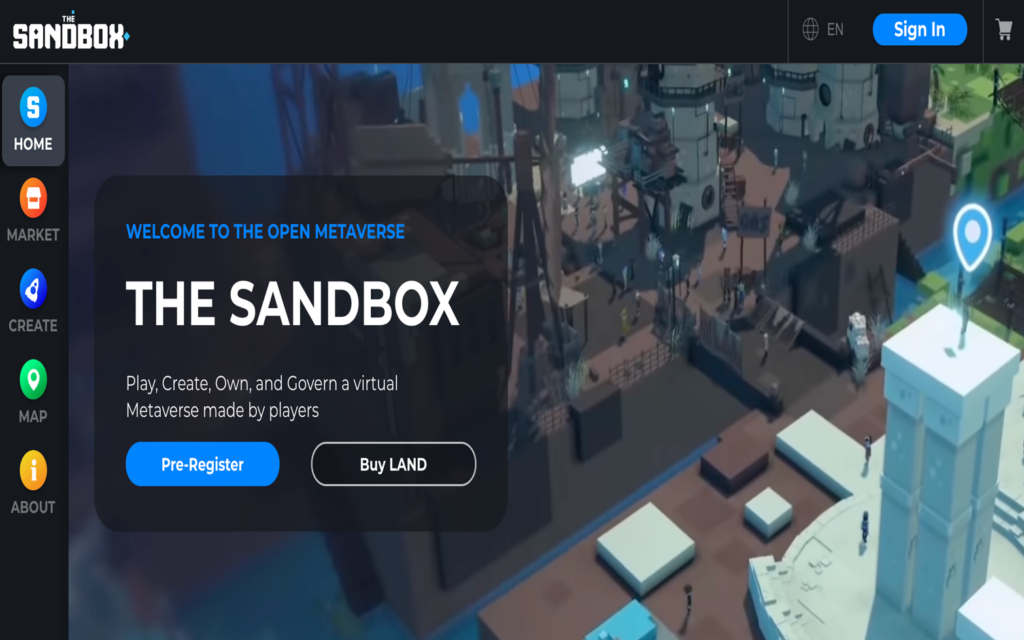 The metaverse! It seems to be the talk of the town over the past few weeks. Thanks to Mark Zuckerberg's decision, Facebook's CEO, to change the parent company name to Meta Platforms Inc., gaming-based cryptocurrencies have recently been boosted.
A project which has been dominating the metaverse niche of late is The Sandbox. The Sandbox is a blockchain-based video consisting of voxel-created virtual open worlds (referred to as LANDs), which anyone can create as NFTs (non-fungible tokens), populate with various items, share, and host several multiplayer experiences.
Only 166 464 LAND pieces are set to exist in the entire Sandbox map. Players trade such LAND and other virtual world assets (creatures, buildings, vehicles, equipment, etc.) on OpenSea.
The game's utility currency is the Ethereum-secured SAND, which helps with transactions like trading NFTs, renting LAND and other assets, staking, and more.
For metaverse-based tokens, SAND ranks third (#49 overall) after Axie Infinity and Decentraland, according to CoinMarketCap. Presently, one SAND token costs $4.15. Let's examine if The Sandbox may be a worthwhile investment and some SAND price prediction forecasts for next year and 2025.
Is The Sandbox a good investment?
Ultimately, any potential investment in SAND is a belief in the play-to-earn gaming space. The Sandbox is already contributing to several industries like NFTs, Web 3.0, DeFi (decentralized finance), and play-to-earn games.
The latter is at the heart of metaverse tokens. A few decades ago, not many could imagine playing a video game could yield real money. Nowadays, we have professional gamers and record-high sales being conducted frequently based on gaming-made inventions.
Ultimately, The Sandbox aims to decentralize the industry by delegating governance rights to users rather than acting as another corporate entity. Players can create immersive virtual experiences with massive investment and economic value attached to them.
Should I buy The Sandbox today: Crypto technical analysis for SAND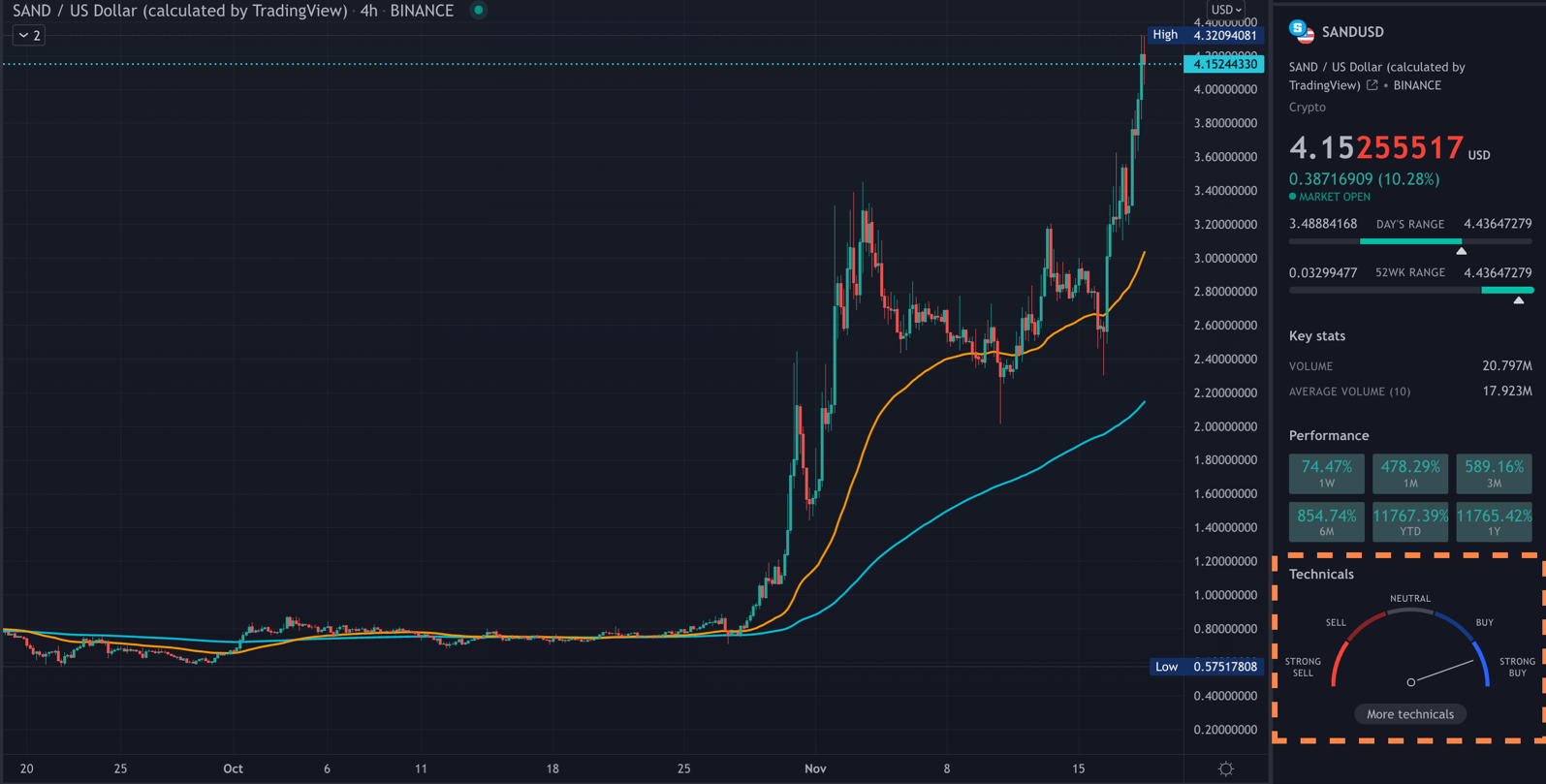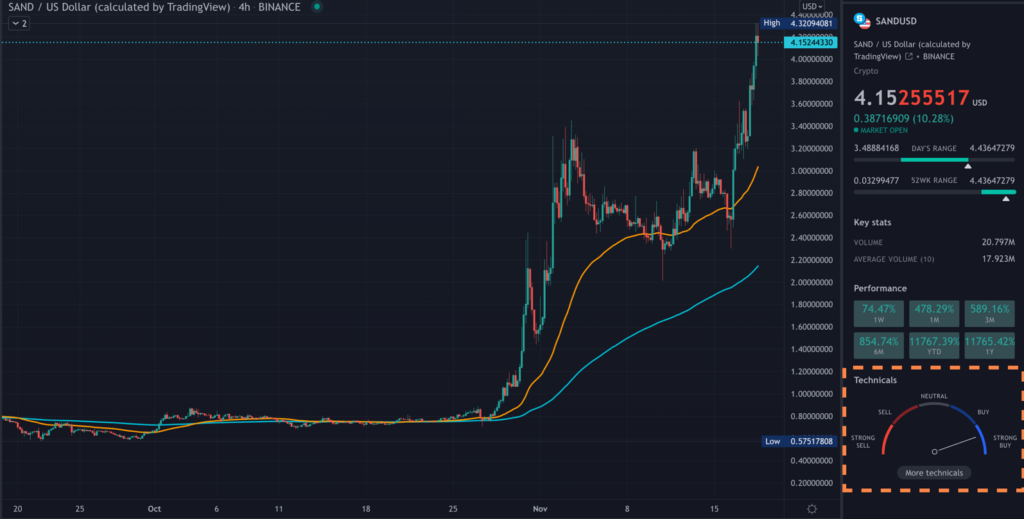 SAND's price has soared close to 500% in gains since the end of October, primarily due to the enormous renewed interest in the metaverse.
Best case scenario
Let's first explore TradingView's technical analysis. On the bottom right corner of the chart, the platform suggests a 'STRONG BUY,' indicating strong bullish momentum. We can also apply a common moving average crossover system using the 50 (orange) and 200 (periods).
Like any crossover system, the aim is for the short-term MA (50) to cross above the long-term MA (200) and for the price to be trading upwards of both. We can see price is well above the two, and the cross occurred some time ago, ultimately representing a buying opportunity.
Worst case scenario
We regard the unlikely situation of a drop in the metaverse coin market as the worst scenario. Under such circumstances, the price may hit the $1 floor. Despite the steep exponential move up, the token is unlikely to lose momentum in the nearest time. As the metaverse coins showed unprecedented growth in the recent crypto market dip, the price correction may be ensued by the bullish reversal of the Bitcoin price.
However, you can approach this market in two ways. The first is buying the coin at its current price, which is more guaranteed. Alternatively, one might wait for the market to revert slightly to the 50 for a better entry (assuming the cross is still intact).
Will the SAND coin price hit $10 in a year?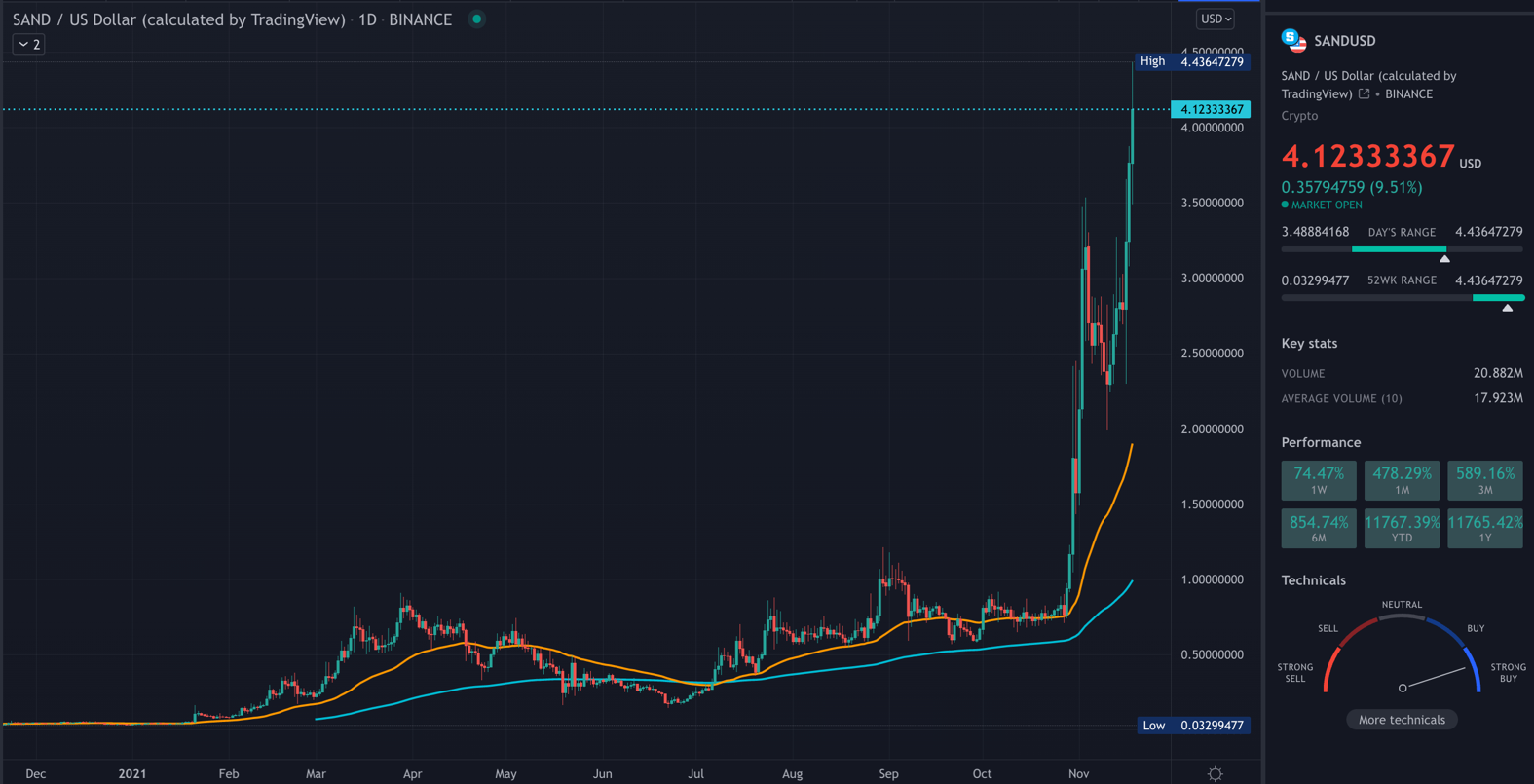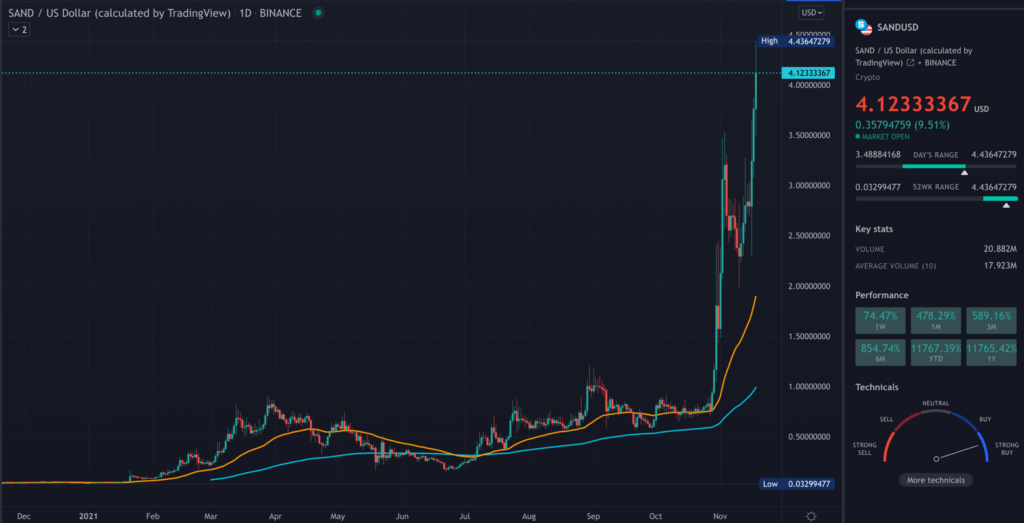 SAND is almost at the $5 mark. Assuming price maintains its current bullish momentum, there's no reason it shouldn't eclipse at least $5 before the end of 2021. So, investors would want to know if SAND could reach $10 within a year as a next target.
There are several considerations to this question. Firstly, the market is quite bullish, and no one knows when this momentum will dissipate. It wouldn't be a surprise if the price could get to $10 even in a few months.
Yet, much of what's driving SAND's value presently is the hype around the metaverse. So, on the other hand, it's not uncommon for cryptocurrencies at their all-time highs to lose 50% or more of their value for consecutive months, which is a reality to consider.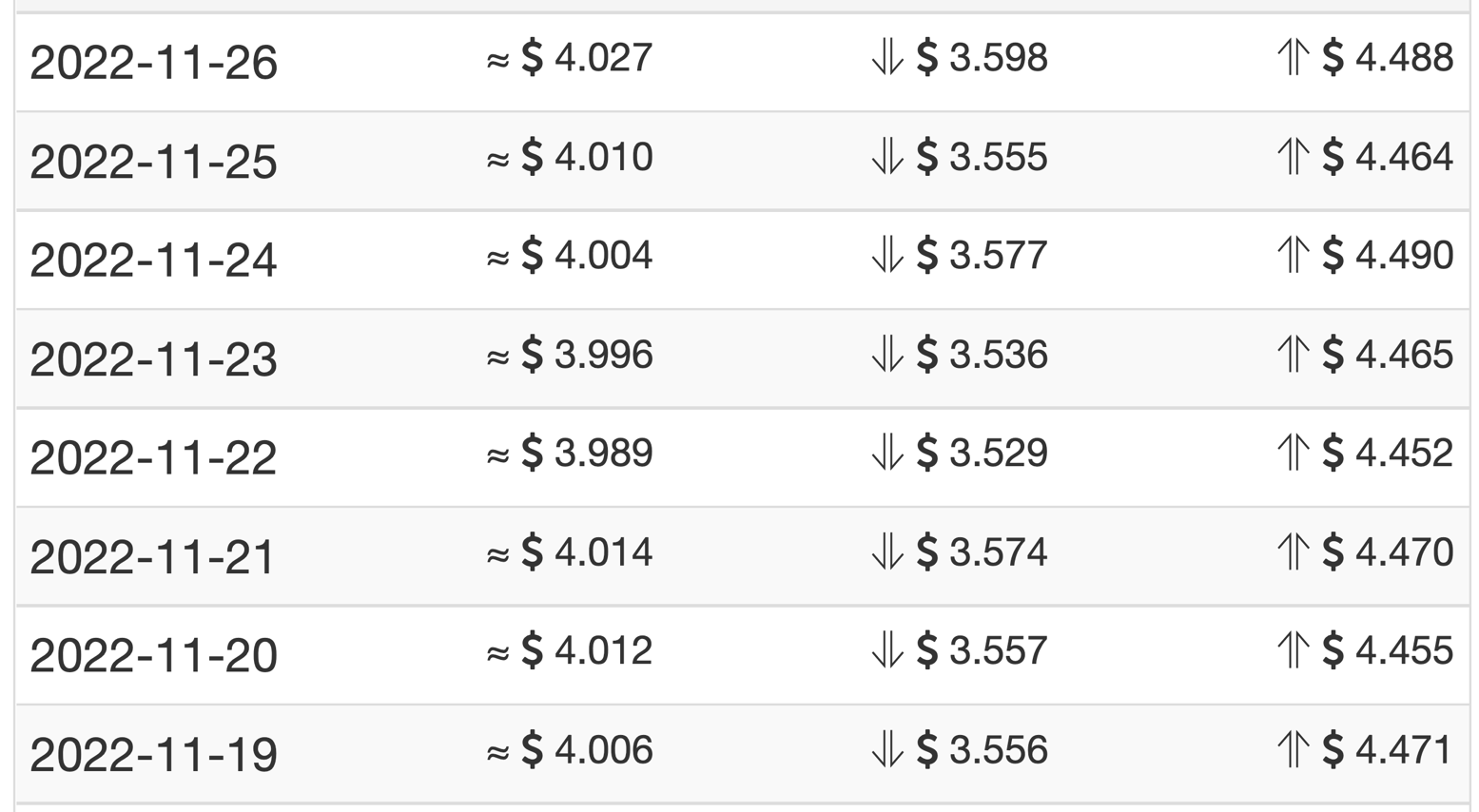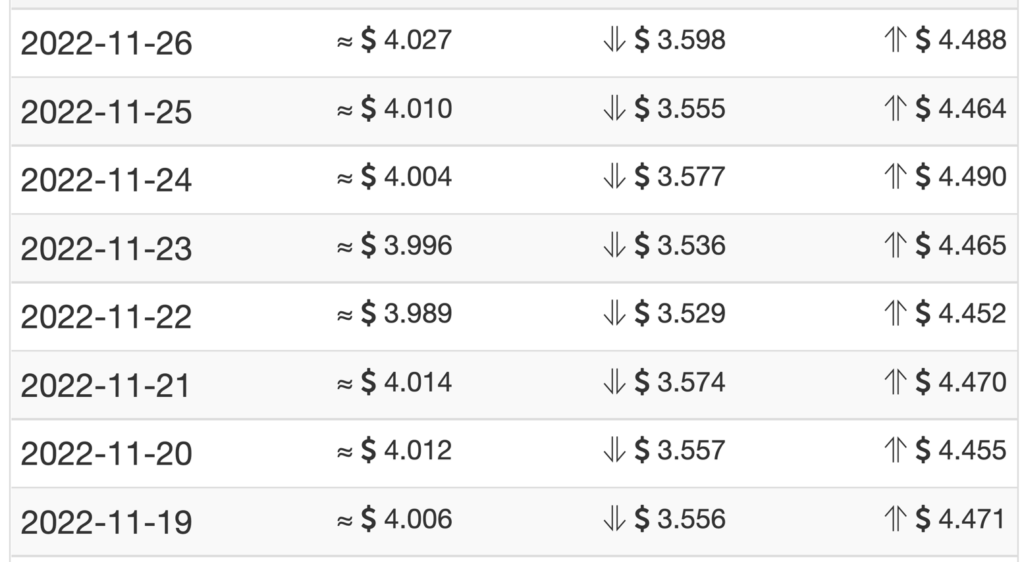 Wallet Investor, one of the most reliable algorithm-based forecasters, provides conservative estimates. The site suggests minimum and maximum prices of around $3.55 and $4.48, respectively.
Other resources like Long Forecast indicate valuations of between $4.46 and $5.25. Hence, SAND is unlikely to reach $10, but then we shouldn't rule out any surprises. Let's now observe SAND price predictions for 2025.
What is The Sandbox's price prediction for 2025?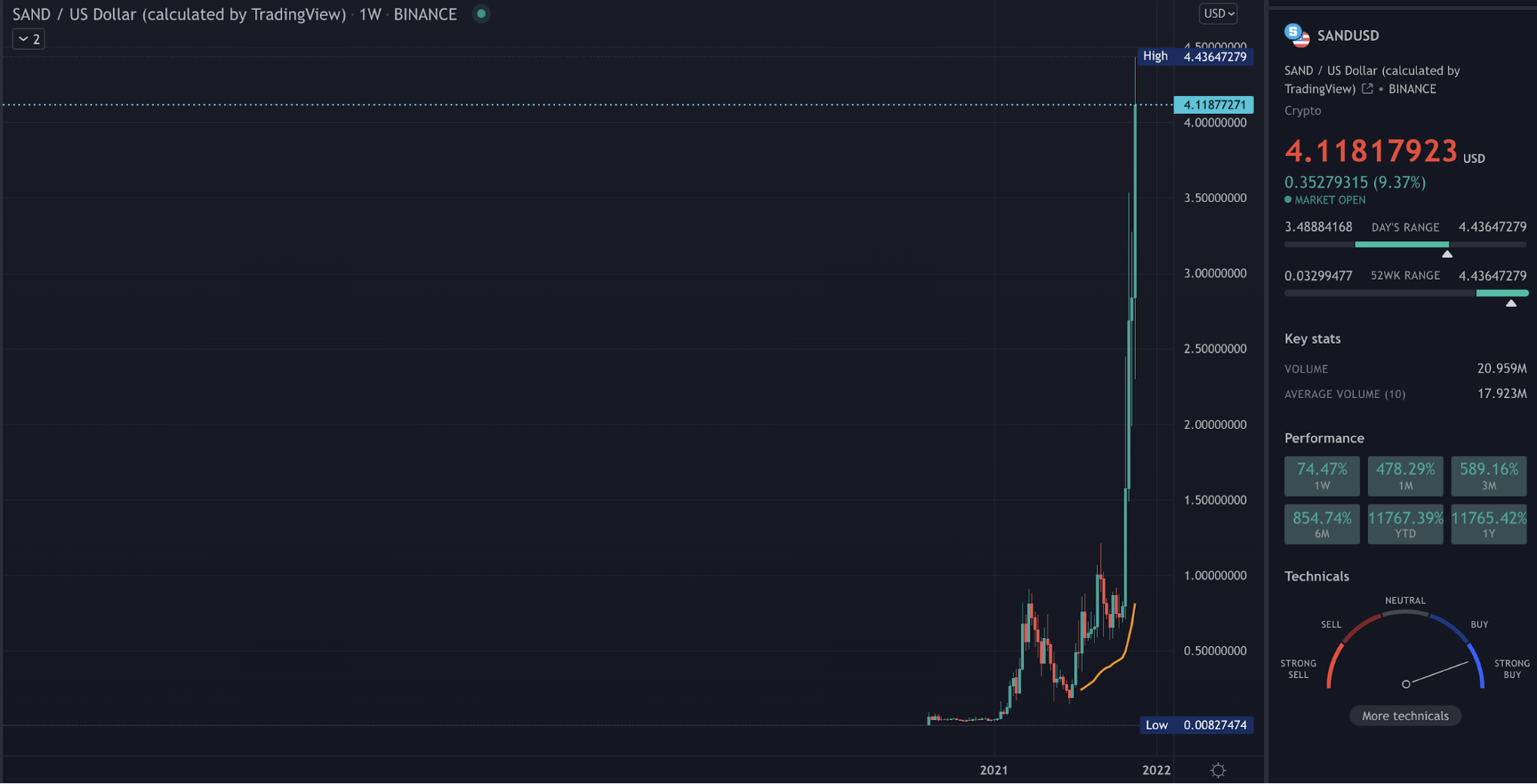 Wallet Investor suggests a maximum price of $6.76 for SAND by 2025.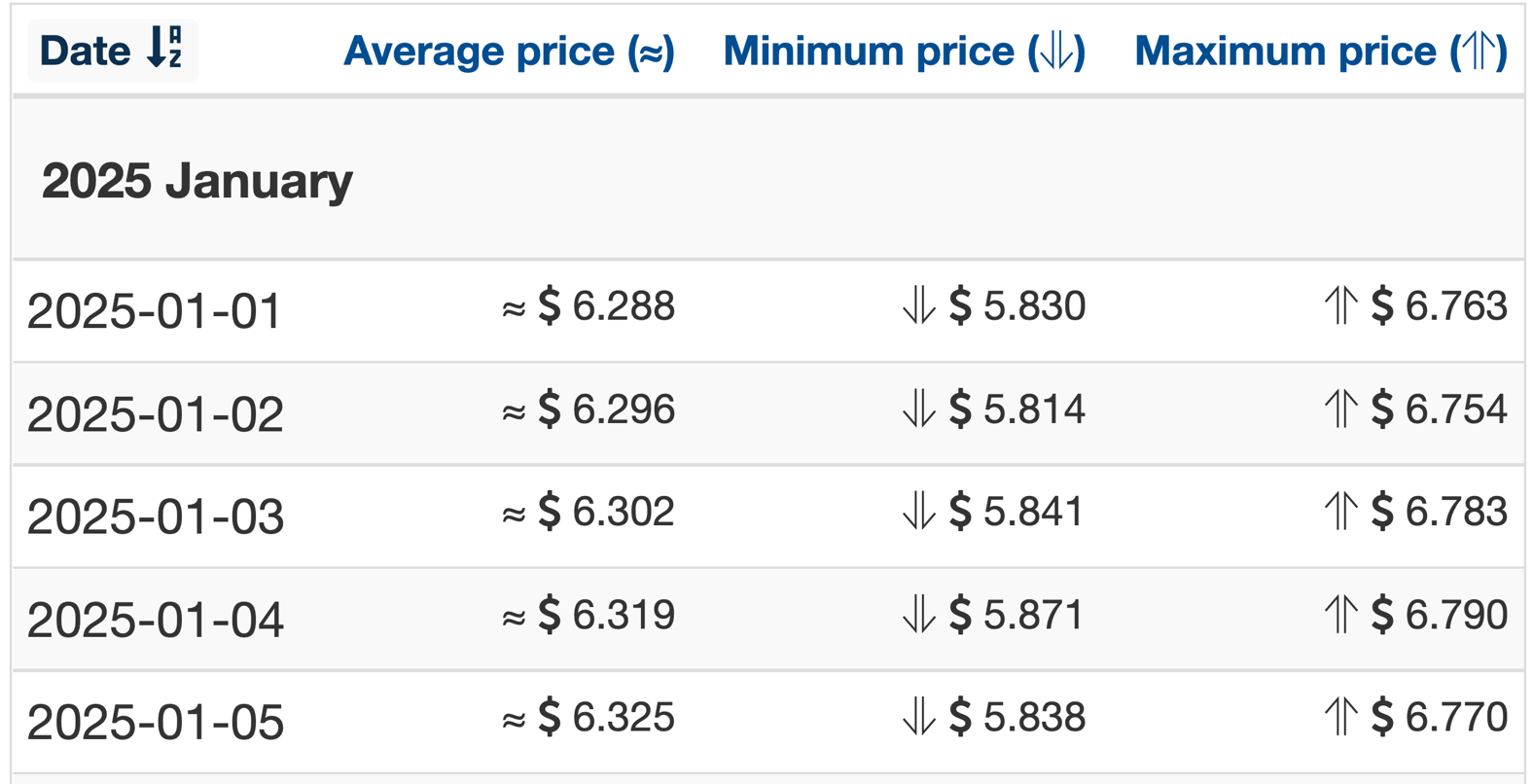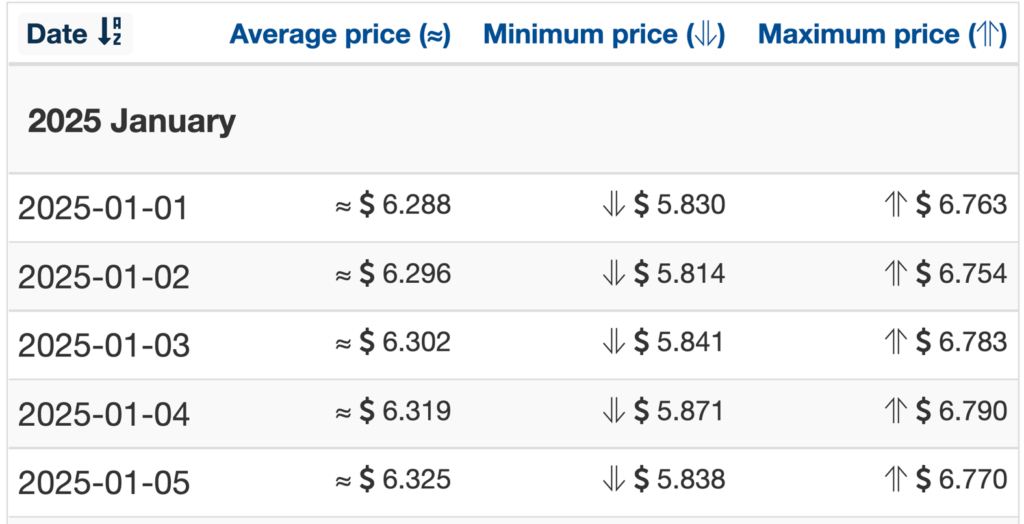 On the other hand, Digitalcoinprice is a little more ambitious and pegs SAND at $12.37. It's safe to believe investors should expect at least a 200% increase in the next few years, assuming the crypto market performs well over this period.
Like any investment, it's paramount to perform your own research as these are only predictions, and never invest more than you can afford to lose.
The best way to buy SAND
You can buy SAND from several reputable exchanges like Binance, Uniswap, KuCoin, Huobi, Bithumb, and many others.