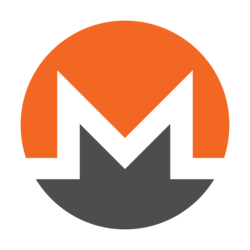 Monero (XMR)
Price
What is Monero (XMR)?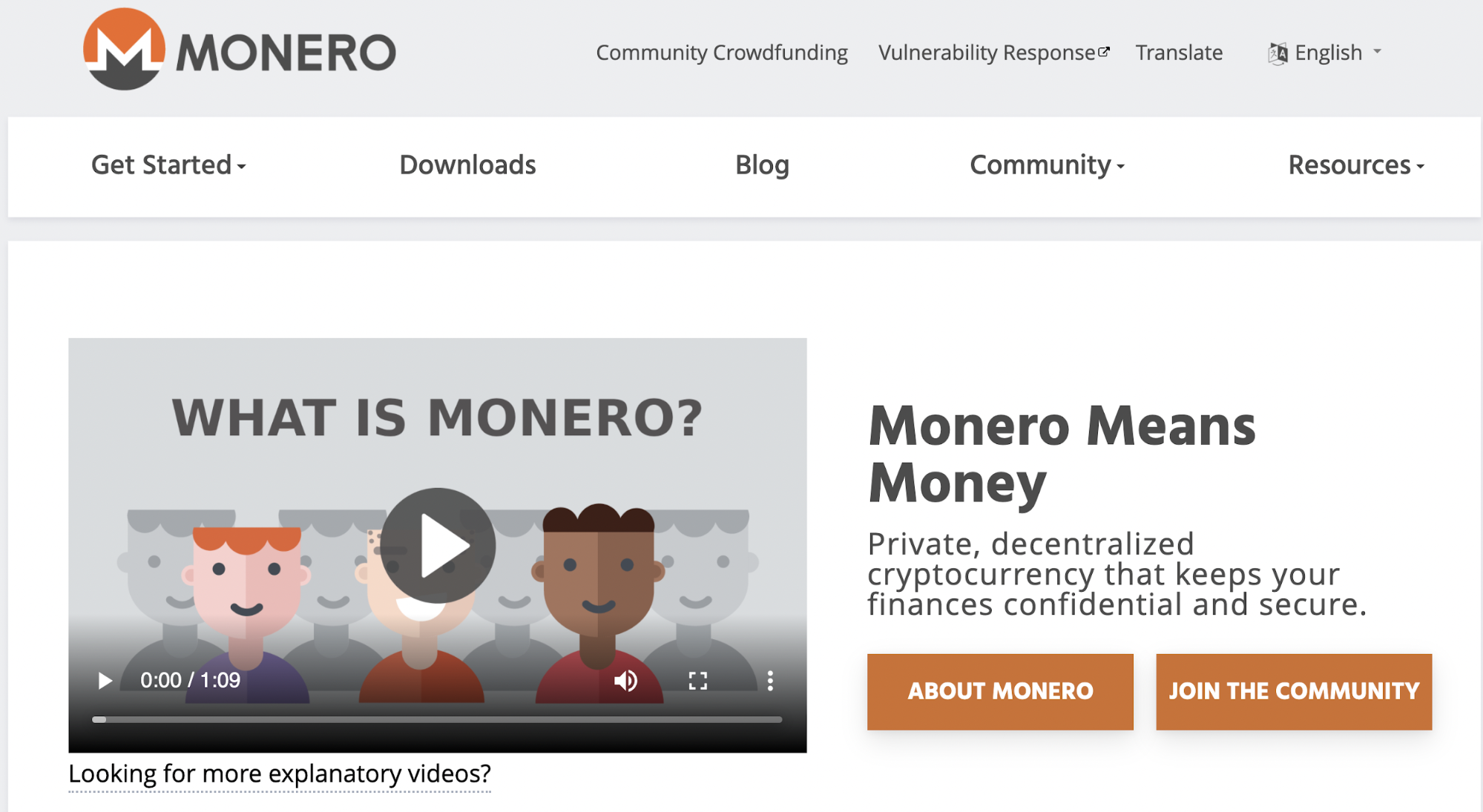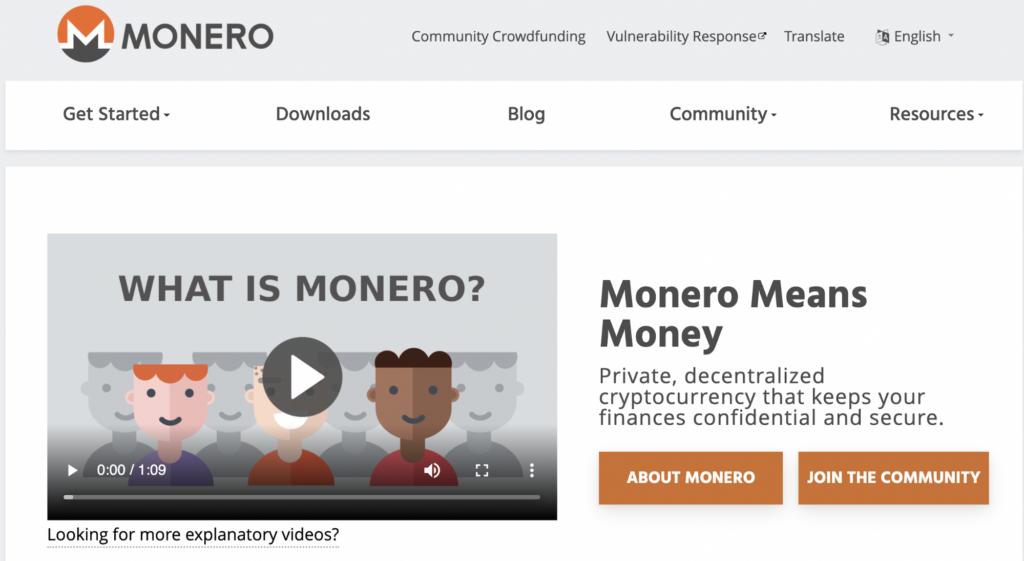 Edward Snowden, the famous whistleblower, once said, "Arguing that you don't care about the right to privacy because you have nothing to hide is no different than saying you don't care about free speech because you have nothing to say."
The American is a Monero fan, a proof-of-work cryptocurrency with relatively fast block times and strong in-built privacy for good measure. Monero was released in April 2014 and, like many projects, was heavily inspired by Bitcoin.
Such is the extent of the inspiration that Monero's primary developer, Nicolas van Saberhagen, remains mysterious to this day. The cryptographer initially created a privacy application called CryptoNote in 2012.
In October 2013, the 'CryptoNote v 2.0' whitepaper was released in which they expressed a potential Bitcoin-like coin with privacy qualities. Development for Monero comes mostly from a few anonymous users from the Bitcointalk forum.
Initially, the project was named 'Bitmonero,' a portmanteau of 'bit' (from Bitcoin) and 'Monero' (meaning 'coin' in the Esperanto language).
With an impressive present market cap of about $4.7 billion, according to CoinMarketCap, Monero is the most traded privacy coin (ranked #40 overall). At the time of writing, each XMR is worth $268.
Is Monero a good investment?
Monero is considered one of the anonymity coins with the most robust zero-knowledge proof technologies using techniques like stealth addresses and ring signatures.
The project aimed to solve the privacy issue severely lacking with cryptocurrencies in the mid-2010s. While public addresses do not reveal any identifying information about the senders and receivers, we know that all transactions are trackable on the blockchain.
Although it would be an arduous process, forming a trail and redirecting transfers to some identifiable source is possible. With Monero, users achieve near-total obfuscation.
Moreover, Monero does provide transparency by having a public block explorer, except that no person can view the public addresses as with other cryptocurrencies.
Despite being a proof-of-work coin, Monero's block time is 2 minutes (much faster than Bitcoin's 10-minute average), allowing speedier transaction confirmation and lower fees.
Should I buy Monero today: Crypto technical analysis for XMR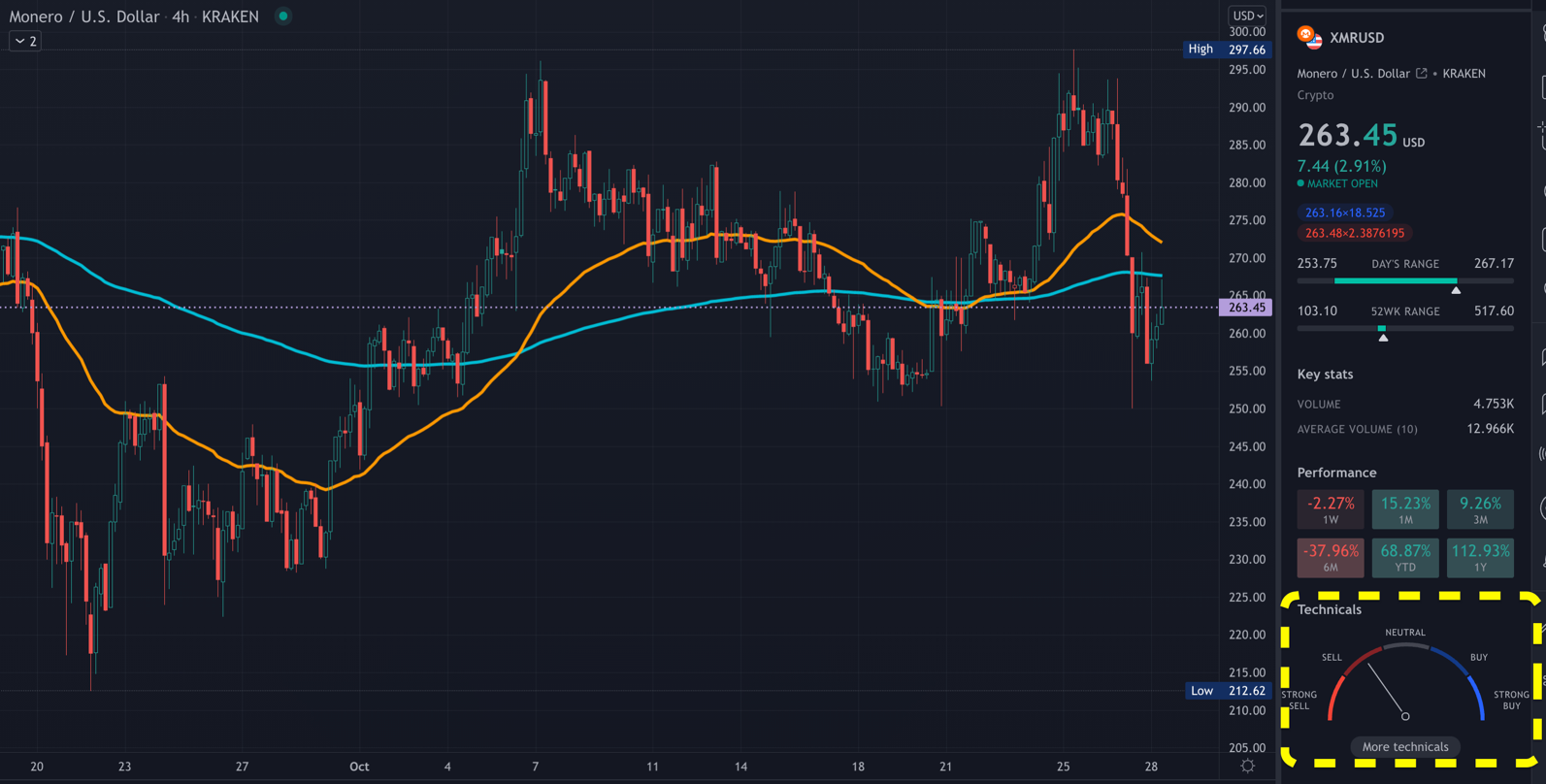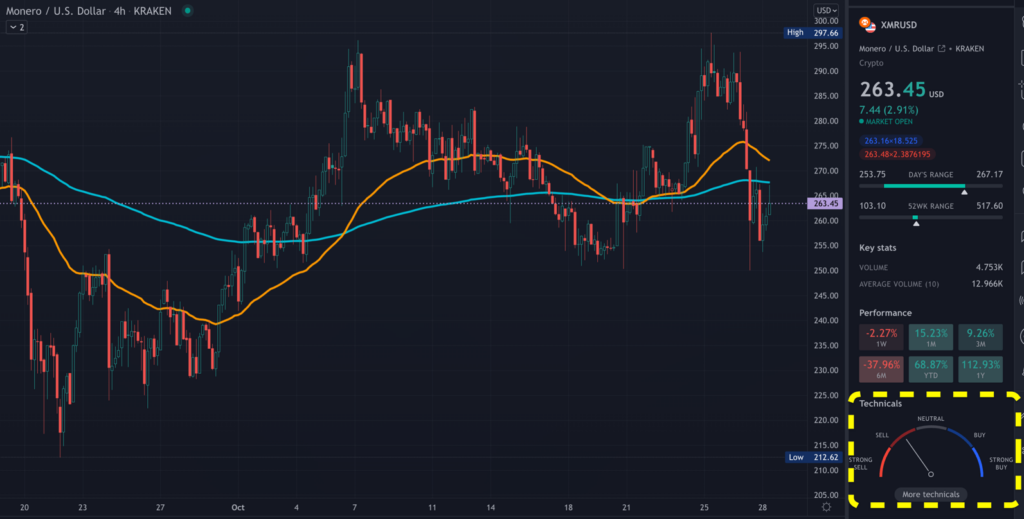 Let's observe two factors suggesting why it's probably not a good time to buy XMR today.
Best case scenario
Firstly, TradingView's technical analysis (see the bottom right corner of the chart above), which uses a combination of oscillators and moving averages across time frames, confirms a 'SELL.'
However, if the coin takes a bullish turn by the end of the year 2021 and into the year 2022, it may test the $293 ceiling it touched twice in the first and third decades of October.
Worst case scenario
We can further back up the bearish sentiment with a simple 50-day and 200-day moving average crossover system. Traders employing this strategy look for the 50 (orange) to cross above the 200 (blue) and for the price to be above both. 
Although the 50-200 cross has recently occurred, the price is still below both moving averages. While it's not yet an optimal time to buy, traders may want to keep a close eye on XMR should things change soon.
Now consider a Monero price prediction for the next coming year and 2025.
Will XMR coin price hit $600 in a year?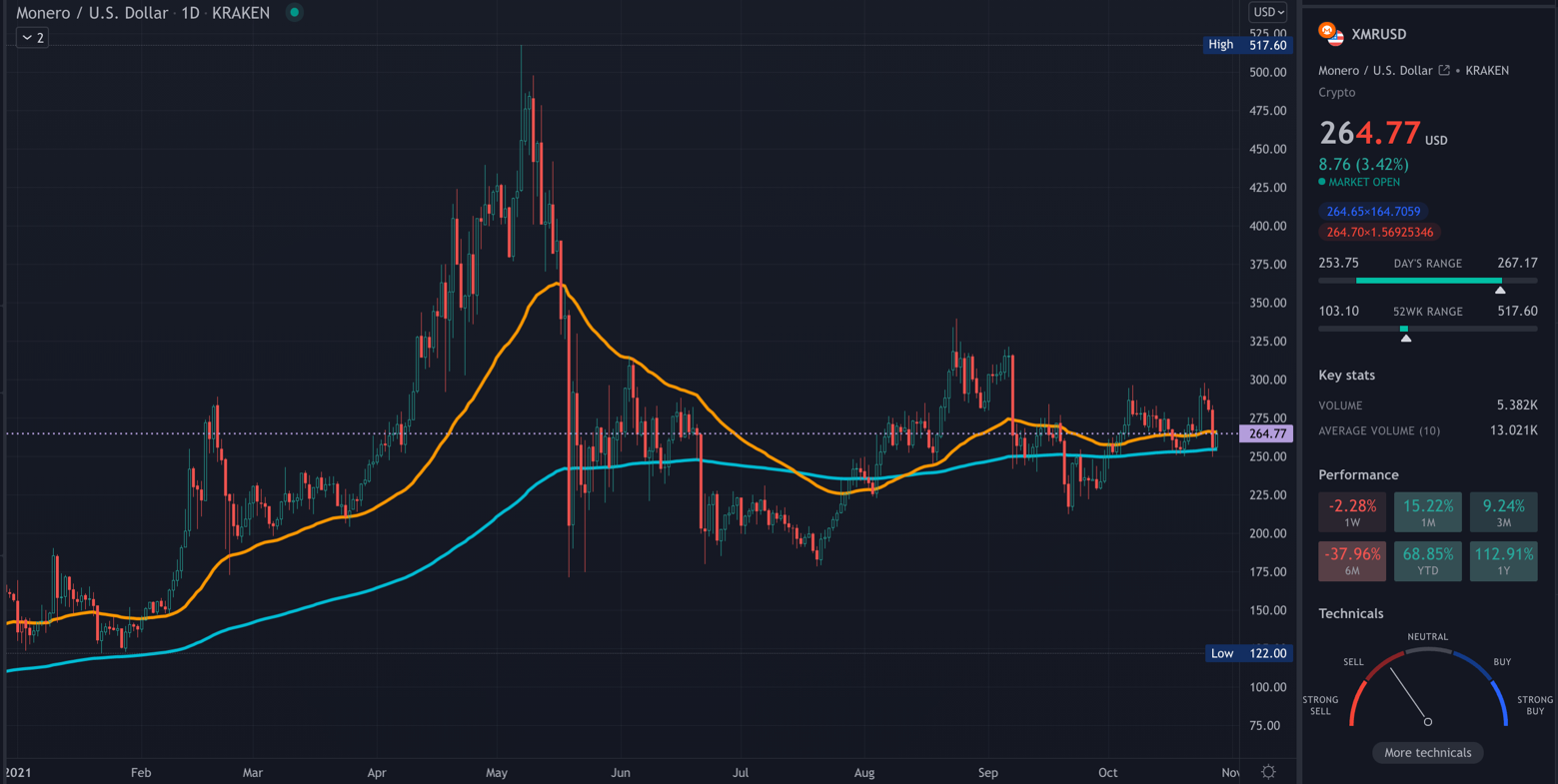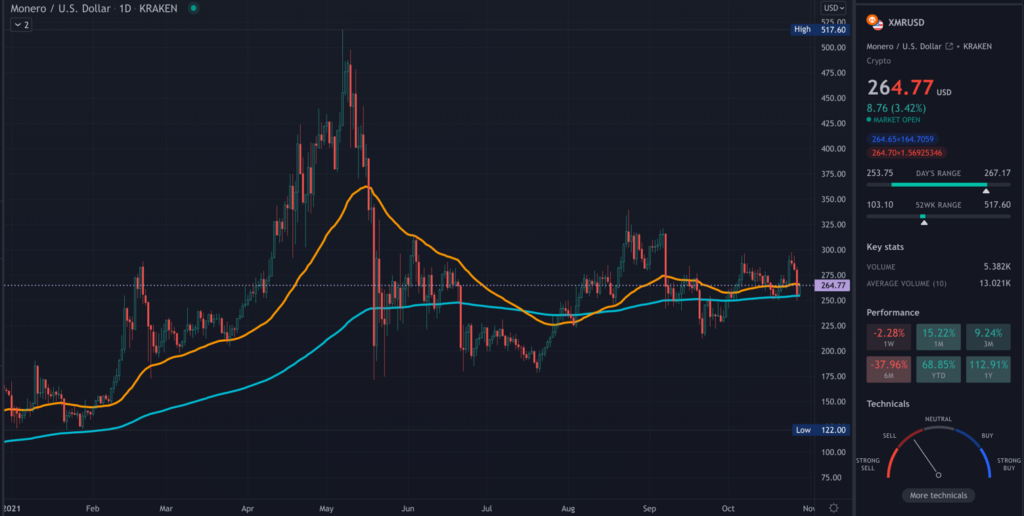 Ever since hitting an all-time high of $517 in May 2021, Monero has lost roughly 50% or half of its value. However, investors shouldn't despair. After passing the $500 mark, could it reach $600 in a year?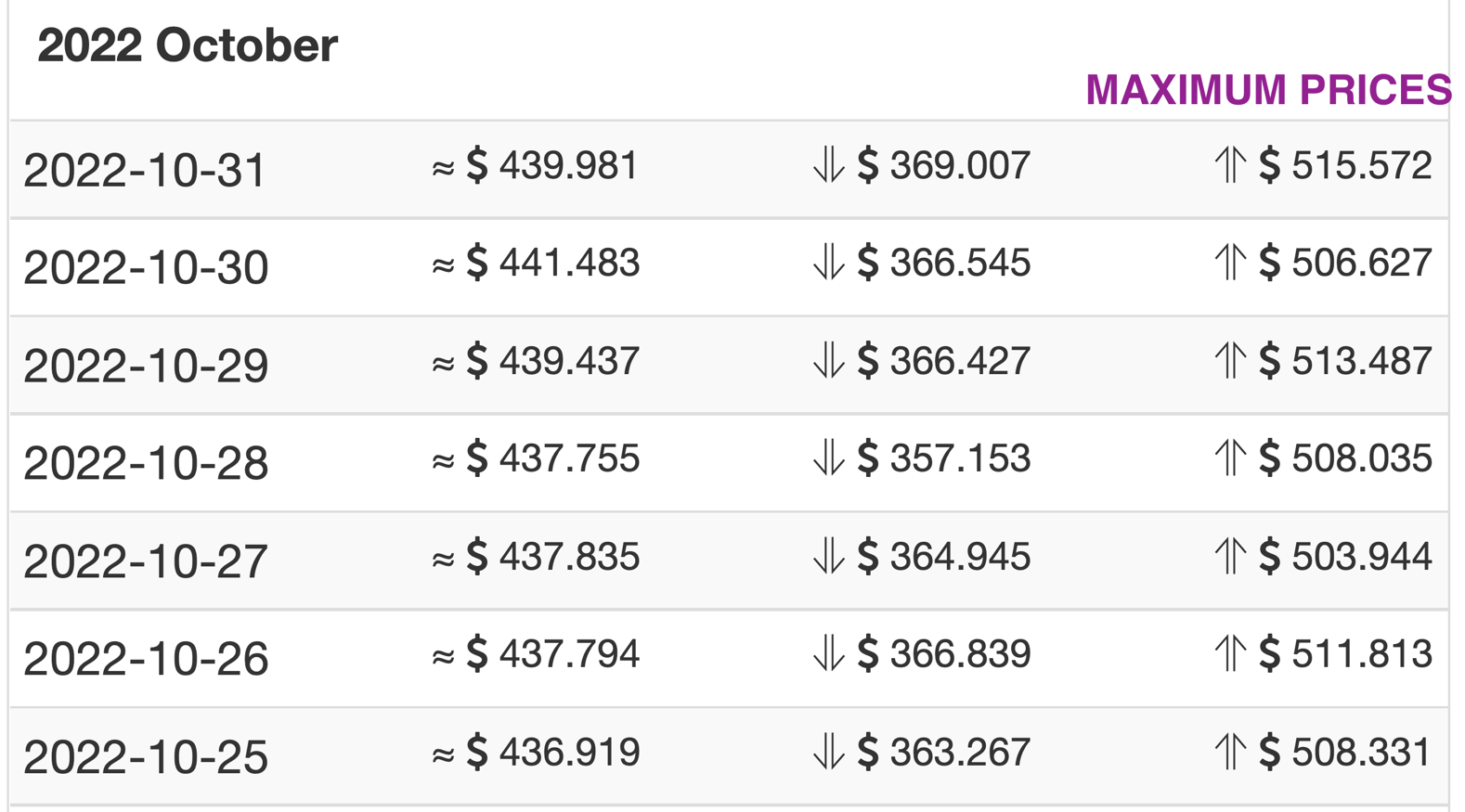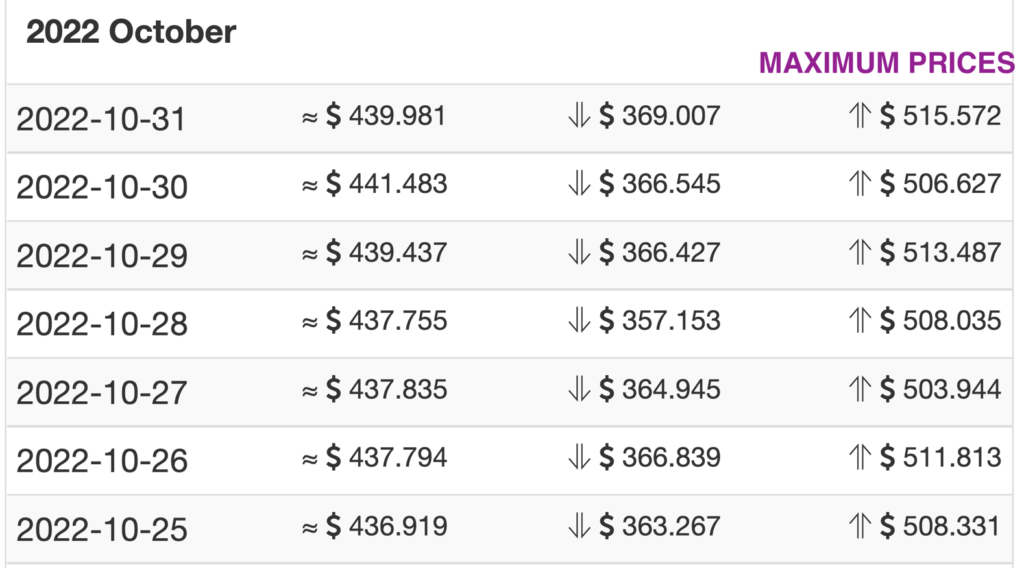 Based on Wallet Investor's analysis from the image above, it appears Monero should be valued at $515 at the max (average price of $441), more or less near its all-time high. Moreover, if Monero increased by its year-to-date performance of 113%, the price would be worth about $555.
So, $600 seems unlikely; up to approximately $555 is more probable.
What is Monero's price prediction for 2025?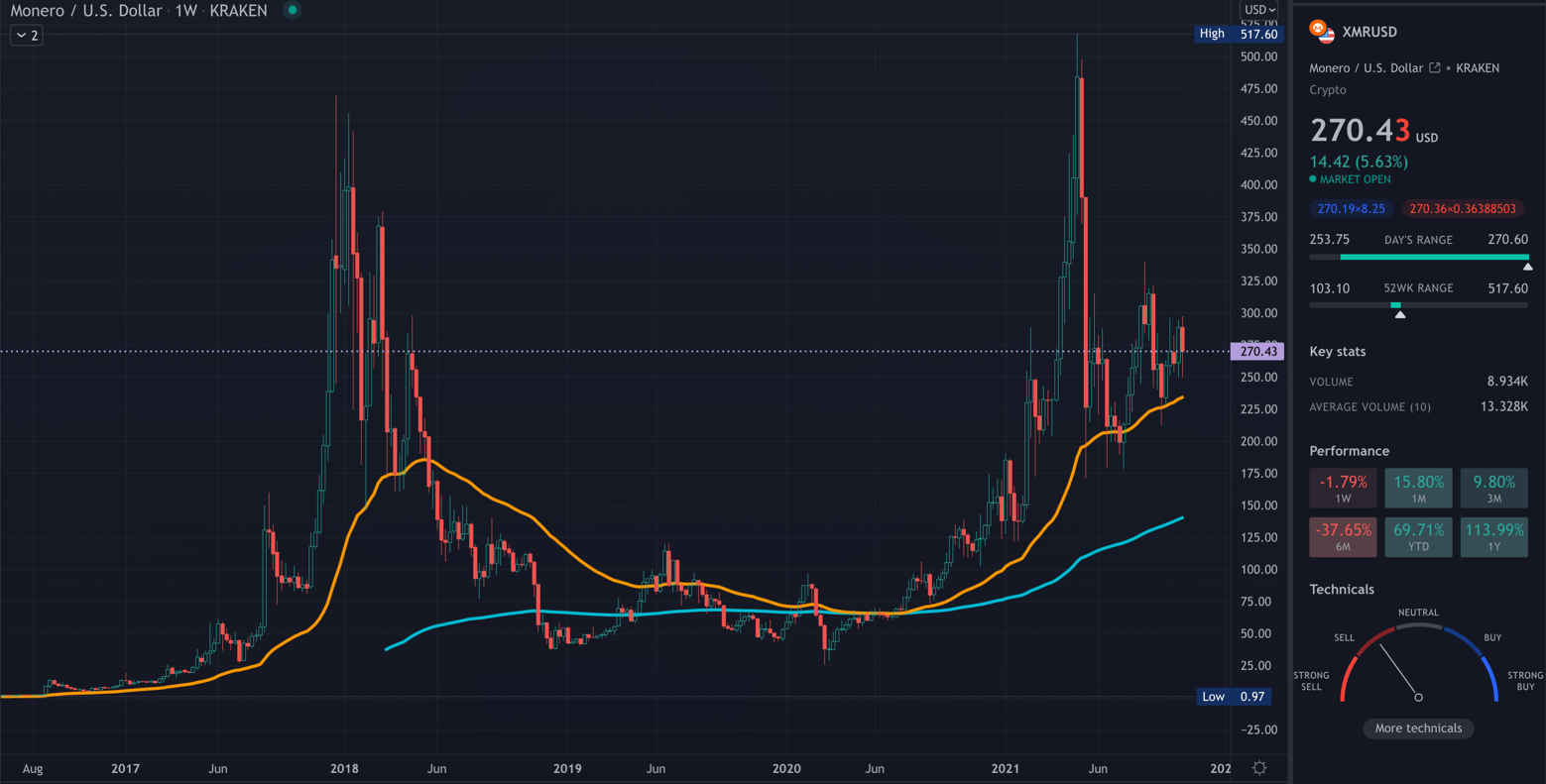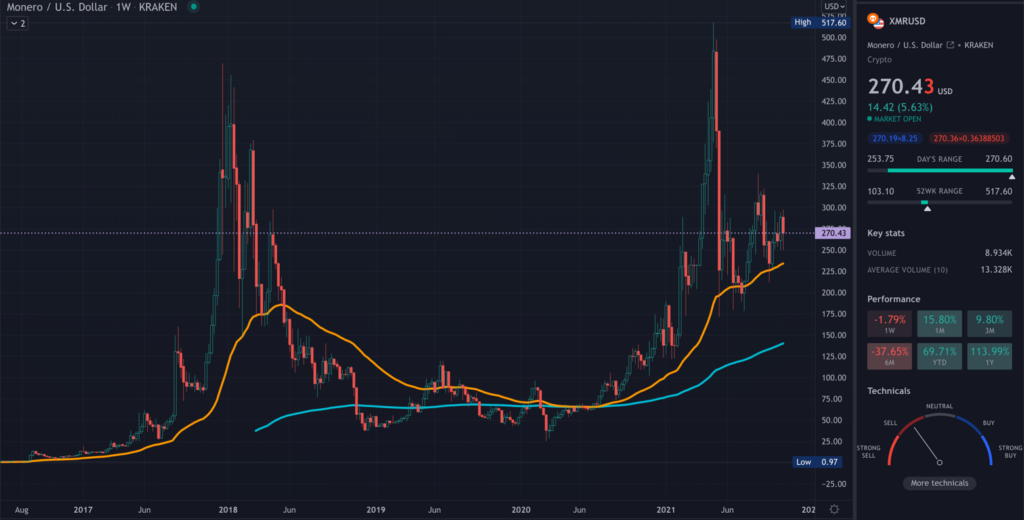 Overall, XMR seems like a worthwhile investment for the future. Wallet Investor provides 2025 Monero price prediction forecasts in the image below. The site indicates a minimum price of $636 and a maximum price of $989 in the first week of that year.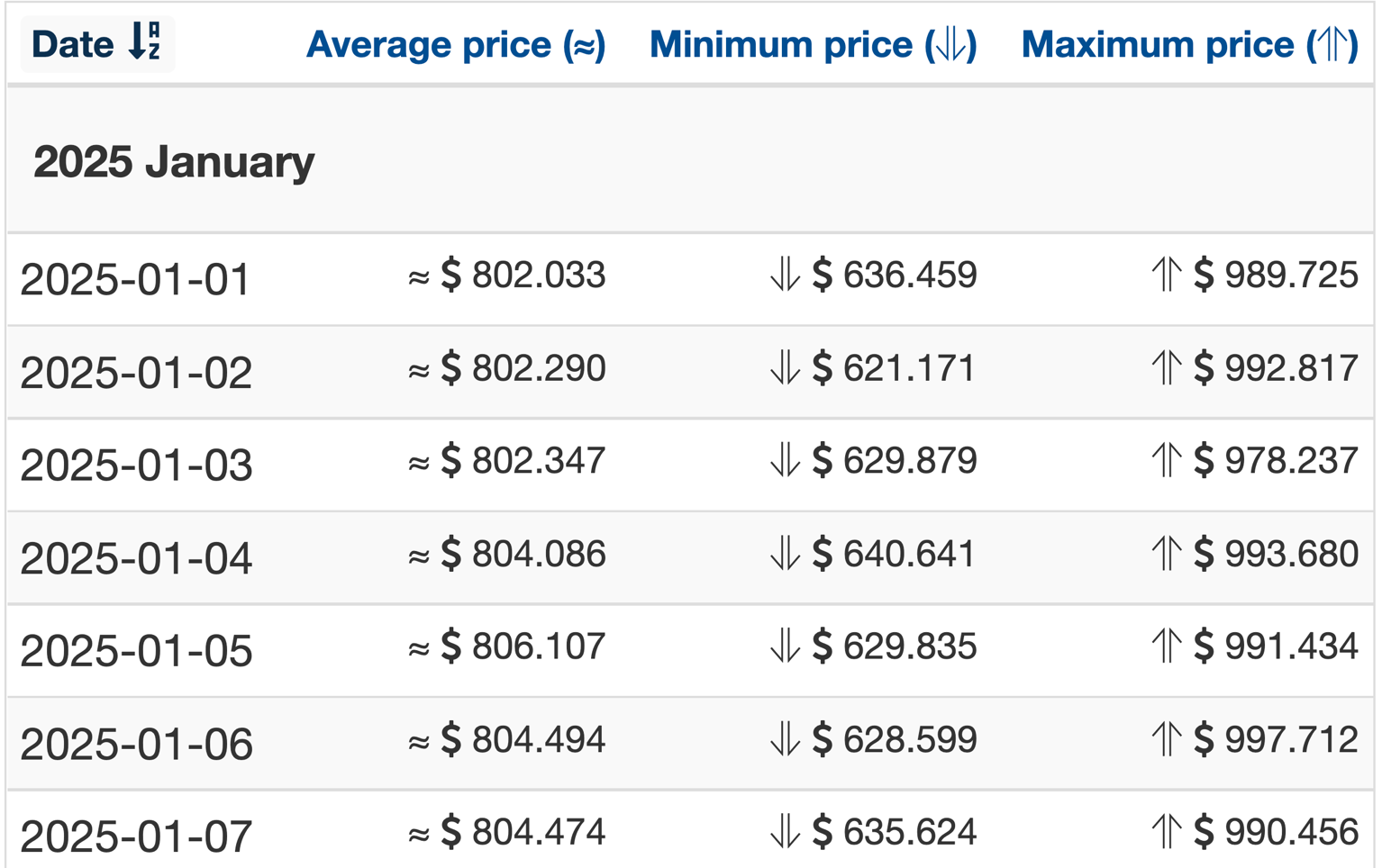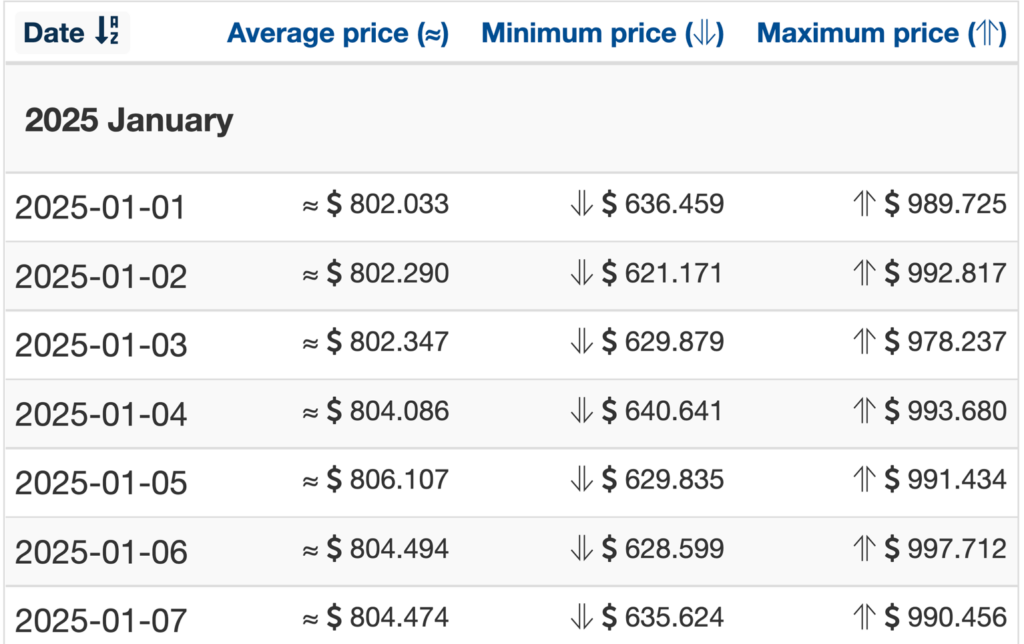 On the other hand, Digitalcoin estimates a maximum value of $805. The consensus with most forecasting sites seems to be between $800 and $1000. Considering the coin's present annualized return of 175%, these predictions are on the safe side.
However, it's better to expect a worst-case scenario since we don't know if extended bear markets will come in the following years. The best-case scenario is, of course, perhaps a value above $1500.
Regardless, investors should appreciate the unpredictability of the markets and recognize nothing is for sure.
The best way to buy XMR
At present, 142 markets offer trading XMR from the 'usual suspect' exchanges like Huobi, Binance, Kraken, KuCoin, OKEx, and many others. Using an exchange is the best way to buy Monero before trading it for other currencies or storing it in a wallet.