Disclaimer: The information provided here does not constitute any form of financial advice. Readers are fully responsible for conducting their due diligence before making any investment decisions.
What is Elongate (ELONGATE)?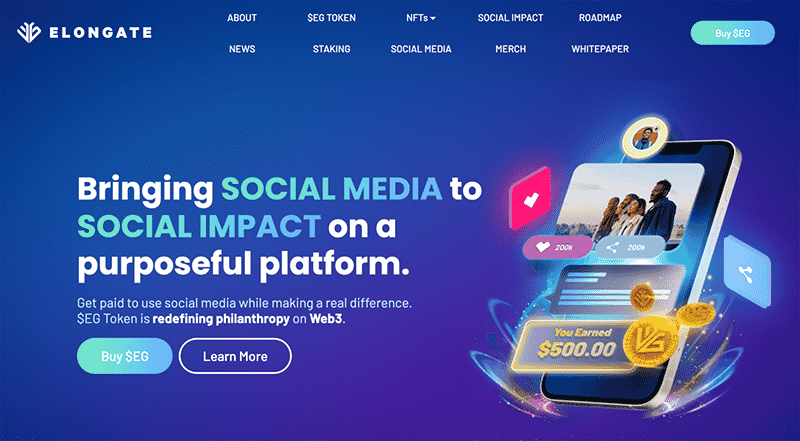 Charismatic Tesla and SpaceX leader, Elon Musk, is well-known for his large Twitter following, with many of his tweets impacting the crypto markets. In March 2021, he tweeted, "If there ever is a scandal about me, please call it Elongate."
This seemingly random musing inspired a cryptocurrency called Elongate. However, this is not a meme coin, nor is it affiliated to Musk; Elongate is a token focused on philanthropy.
Of the transaction fees collected from trading, 10% goes to holders, 40% to community-elected charity organizations, and 50% is automatically locked in a liquidity pool on PancakeSwap.
EG Association and Elongate Global are the two entities associated with this token. The former governs the social impact activities, while the latter focuses on the blockchain technology side.
Since its inception in April 2021, Elongate has raised over $3 million and donated to well-known organizations like Human Relief Foundation, Children International, and Action Against Hunger.
Aside from simply holding the coin, you can use ELONGATE for staking, NFTs, and merchandise, with a portion of everything going directly to charity-focused social impact causes. Let's examine if this project is a good investment and Elongate price predictions.
Is Elongate a good investment?
Elongate has an attractive profit-sharing model that hasn't been practiced very much in crypto. The project aims to introduce various charities to digital currencies and blockchain technology.
If you're an investor with an ESG (environmental, social, and governance) focus in mind, Elongate could be worth the shot. However, we believe this project is not a good investment for several reasons:
Lack of availability on major exchanges: Presently, this token is only available on a limited number of platforms, none of which are well-known names like Binance, Coinbase, OKX, KuCoin, etc.
While ELONGATE isn't very old, this points to a lack of popularity and perhaps trust for such organizations to list the token.
Higher volatility: ELONGATE is presently ranked #5475 for most traded coins, unsurprisingly for a new token. Projects ranked this low are low or small-capped (market cap less than $1 billion) and tend to be more volatile than better-established coins. 
Furthermore, you typically won't find them at centralized exchanges, which are more user-friendly and accessible. Plus, tokens like ELONGATE are vulnerable to price manipulation from so-called whales (since they are usually worth fractions of a cent).
A poor reputation for PancakeSwap-listed projects: PancakeSwap is one of the leading decentralized exchanges. However, this platform doesn't have the best reputation for its listed projects, many of which have been constantly labeled as 'shitcoins' or 'pump-and-dumps.'
Should I buy ELONGATE today: Crypto technical analysis for ELONGATE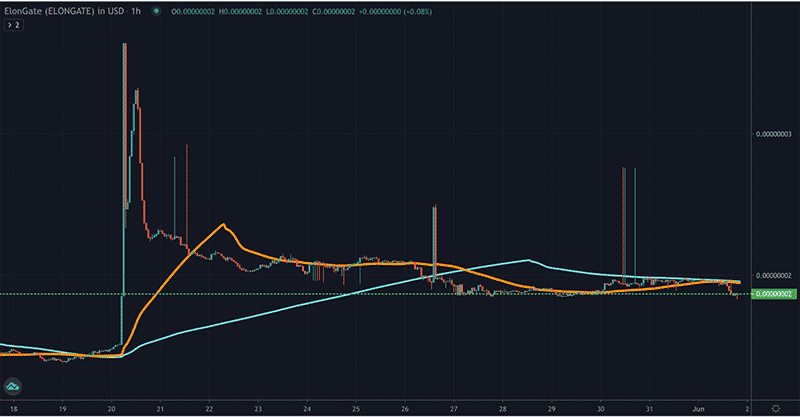 Our technical analysis, consisting of the 50-day (orange) and 200-day (blue) moving averages, suggests no buying opportunity. The price is below the two indicators, and the 50 is under the 200.
These are two classic signs of a bearish threat. As an obscure altcoin, we can also observe that the price has been erratic over the past few weeks. Therefore, the market will likely fluctuate above and below the moving averages here and there.
Will the ELONGATE coin price hit $0.0000001 in a year?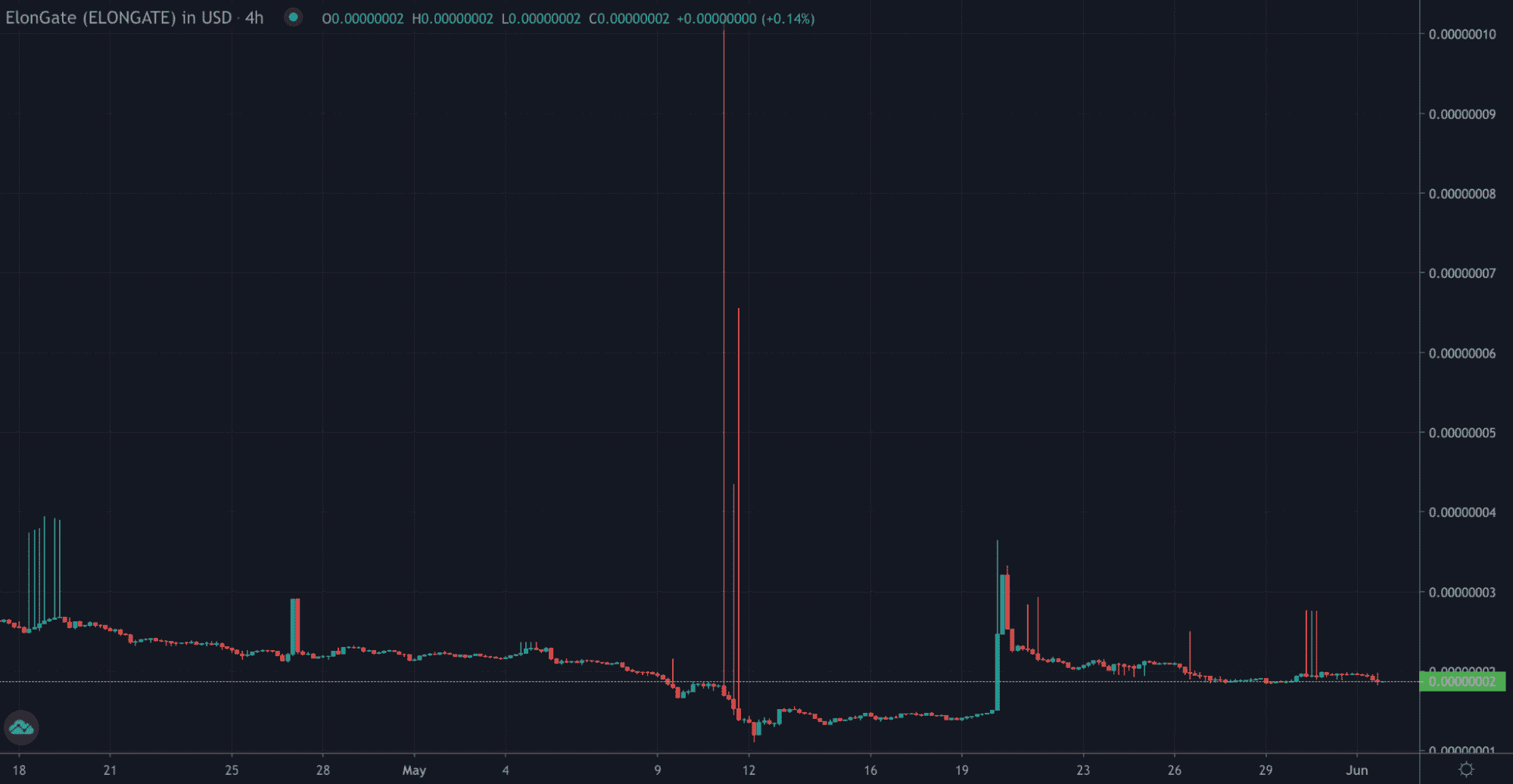 Having observed many forecasting sites, $0.0000001 seems unlikely in a year. The average estimate we saw from prediction resources like Tech News Leader, Digitalcoinprice, and PricePrediction.net was $0.000000026, which is more or less the current price of the token ($0.000000018).
Below are the most optimistic approximations from Tech News Leader that sees ELONGATE being worth around $0.00000004 (effectively double the present value).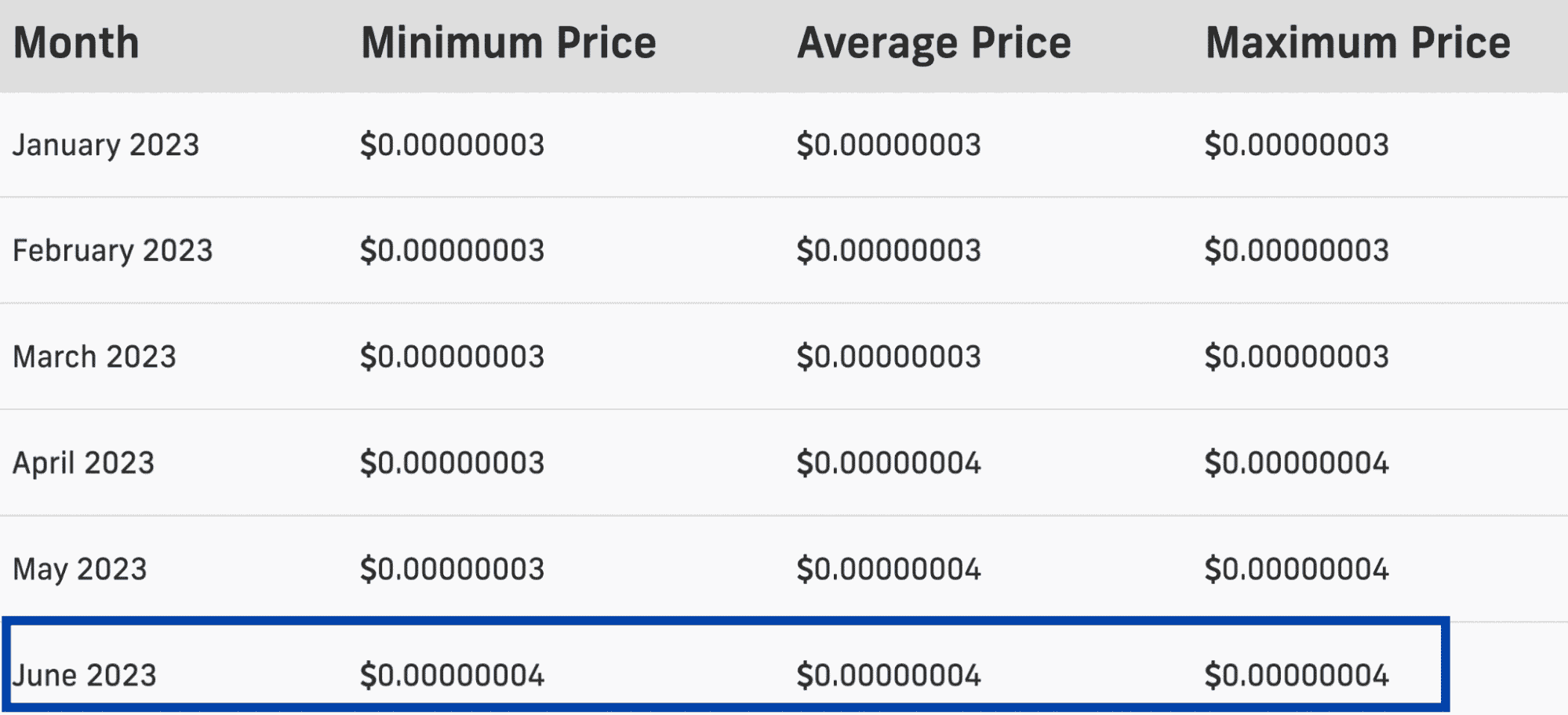 What is ELONGATE's price prediction for 2025?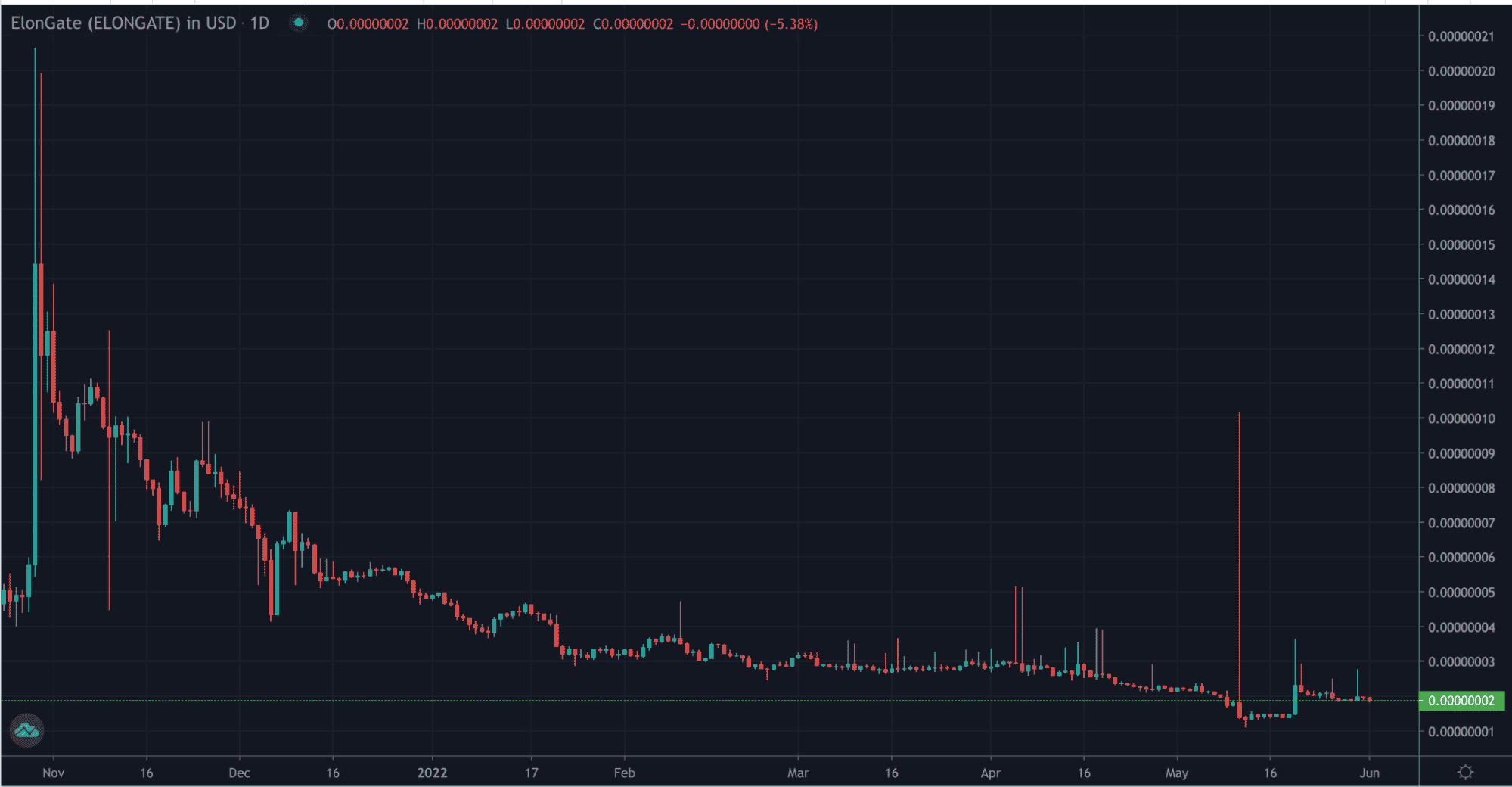 Let's now consider the best and worst-case scenarios for this charity token in 2025.
Best-case scenario
Given the relative novelty of this project, forecasts will be even less reliable for 2025. This token's price has been flat-lining for a long while with no discernible trends, suggesting that it's not a massively traded market.
The average we derived this time was $0.00000004, only marginally better than the figure for 2023. PricePrediction.net provided the highest predictions at a maximum of $0.00000006.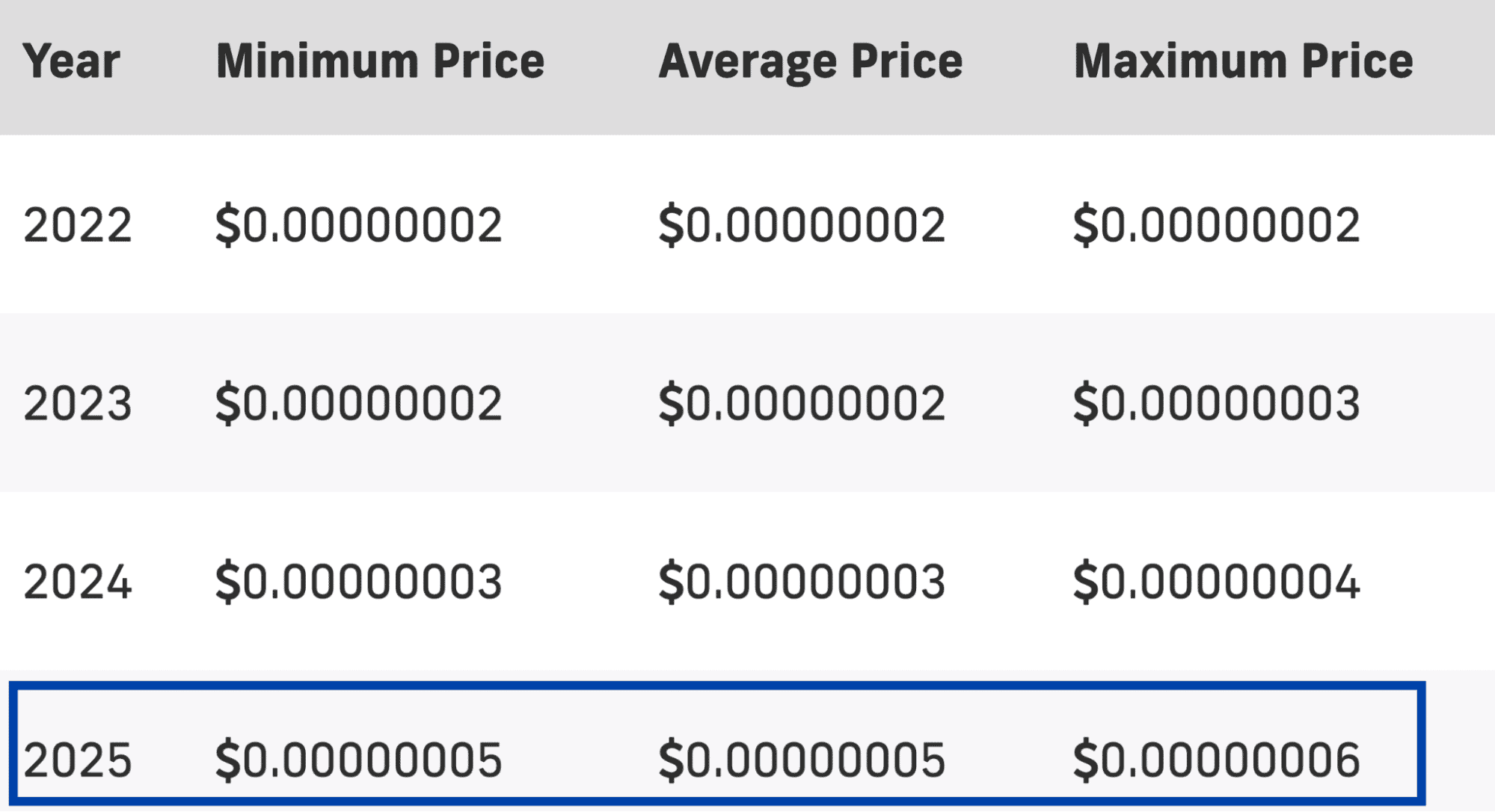 Many hope the price will reach at least $0.01 or $0.1 by 2025. However, it would take a substantial increase, which isn't appearing likely right now.
Worst-case scenario
The worst possible outcome is that price stays relatively stagnant (as it has already done) or dips lower. Based on our previous analysis, we don't believe Elongate is not a good investment and remains highly speculative.
The best way to buy ELONGATE
According to Elongate's website, you can buy this token on MEXC Global, BitMart, LBank, and PancakeSwap.