Dogelon Mars (ELON)
Price
Disclaimer: The information provided here does not constitute any form of financial advice. Readers are fully responsible for conducting their due diligence before making any investment decisions.
What is Dogelon Mars (ELON)?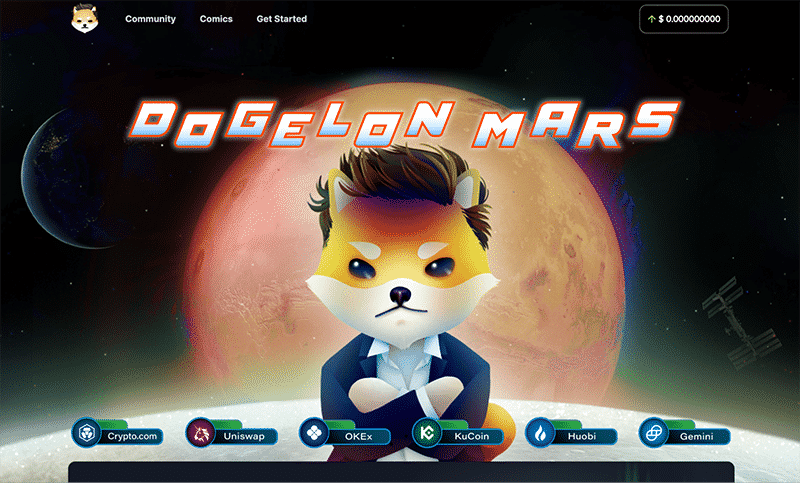 'Doge' is one of the prevalent internet fads in the last decade, giving birth to several meme coins. Presently, you can find tens of other cryptocurrencies with Doge in their names, one of them being Dogelon Mars (ELON).
Released in April 2021, Dogelon Mars is part of a long list of meme coins inspired by Dogecoin. However, the token also references Tesla's head honcho, Elon Musk, and his zealous desire to colonize Mars.
While an avid supporter of cryptocurrencies, the American has become a bit of a meme himself, especially on Twitter. Dogelon is the third-largest meme token and is presently placed #125 on CoinMarketCap rankings.
ELON has little utility outside its passionate community of holders, as with most meme coins. Dogelon Mars is also a fictional, Musk-looking, humanoid character starring in a comic series (available as a non-fungible token) chronicling their Mars adventures.
Dogelon Mars is secured by the Ethereum, Polygon, and Solana blockchains, with a massive supply of one quadrillion tokens. Half of this was apparently sent to Vitalik Buterin before launch, while the other is said to sit in a liquidity pool on Uniswap.
Let's make sense of this meme coin by exploring Dogelon Mars price predictions.
Is Dogelon Mars a good investment?
Although meme tokens can perform incredibly well in a short period (due to their volatility and extremely low prices), they are the riskiest to invest in; Dogelon Mars is no exception. Meme coins all suffer from the same problem of having little to no utility.
They are often driven by social media and community hype which, while highly influential in a coin's price, doesn't offer any real credibility to their respective projects. One of the red flags with Dogelon Mars is the project team hasn't released any whitepaper or even a roadmap of future plans.
Dogelon Mars' website offers little information on what is the outstanding utility of the token. Another disadvantage with tokens like ELON is the presence of whales. As many meme coins are very cheap (often worth several fractions of a cent), it's fairly simple to pump and dump the price by buying thousands or millions of tokens.
Of course, it's not to say ELON won't have the occasional uptick in value; virtually all meme coins exhibit the same behavior. However, fundamentally, projects like Dogelon Mars remain highly speculative bets.
Should I buy ELON today: Crypto technical analysis for ELON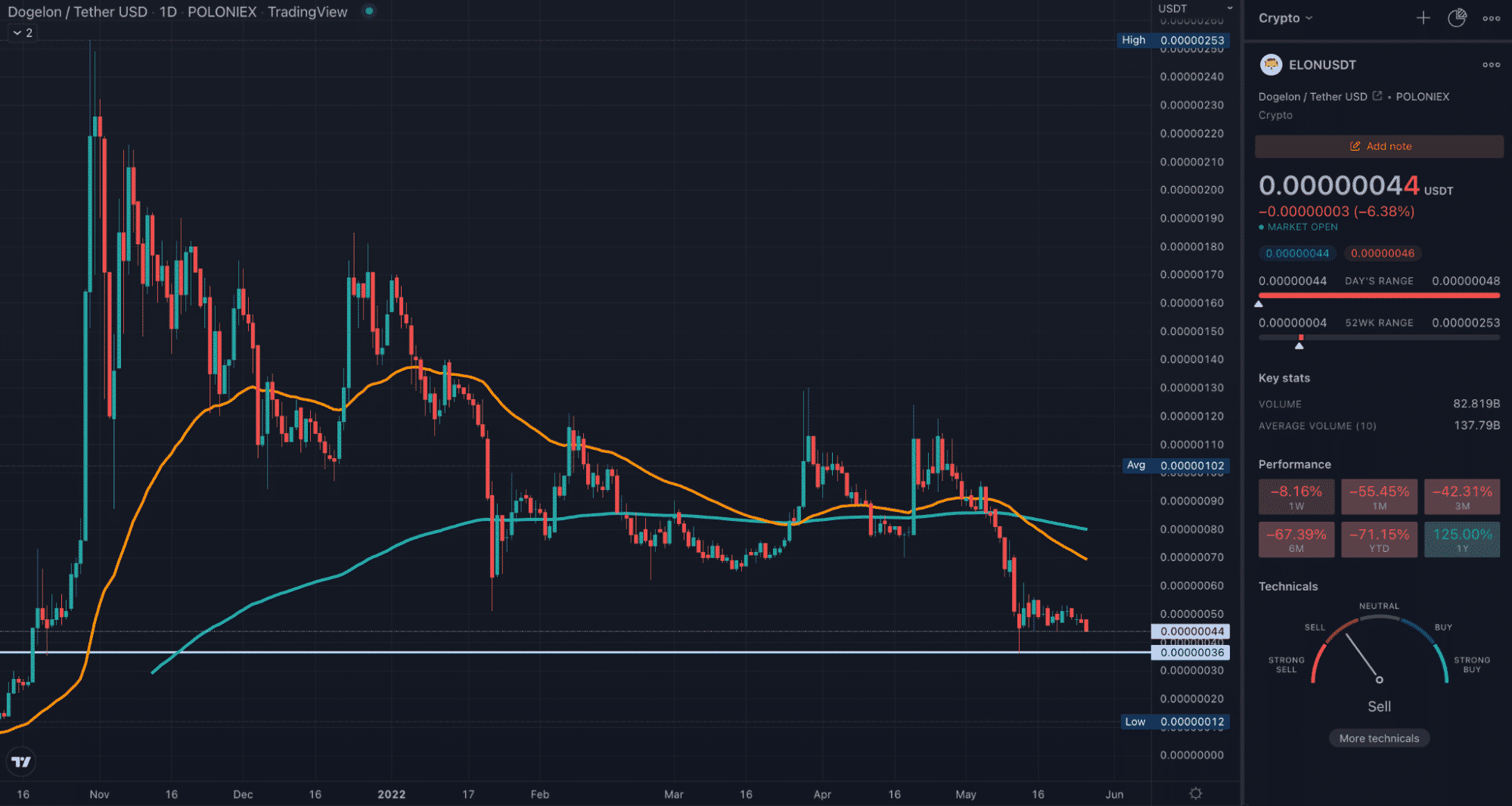 Our technical analysis shows ELON is very much in a downtrend, a market condition prevalent across a vast majority of cryptocurrencies due to an overall decline in the markets.
We've applied the 50-day (orange) and 200-day (blue) moving averages on the chart above. Here, the 50 is below the 200, and the price is well under both indicators, two tell-tale signs of a bearish market.
An area of interest for ELON is the $0.00000036 support level. It will be intriguing to see if the price violates this price or bounces off it and moves up.
Will the ELON coin price hit $0.000001 in a year?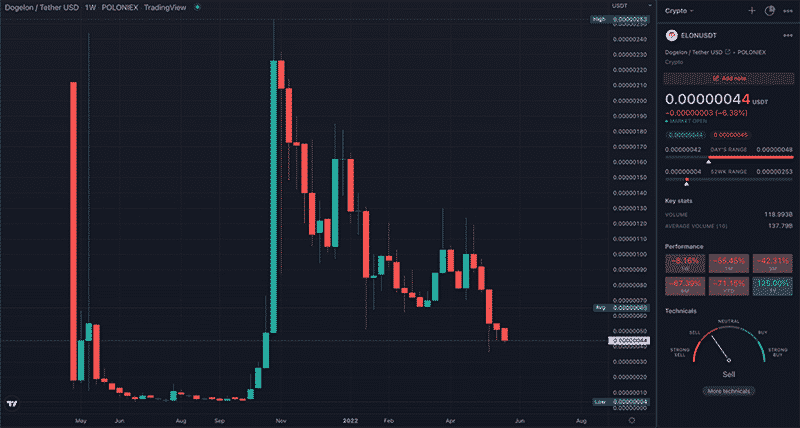 The average we derived (of $0.000014) from observing numerous forecasting sites suggests ELON is likely to reach $0.000001 (or ten thousandths of a cent). This would represent gains in the 2.15X region which is feasible in a year.
The lowest forecast came from PricePrediction.net at $0.00000086, with the highest from Wallet Investor at $0.00000193 (or about nineteen thousandths of a cent).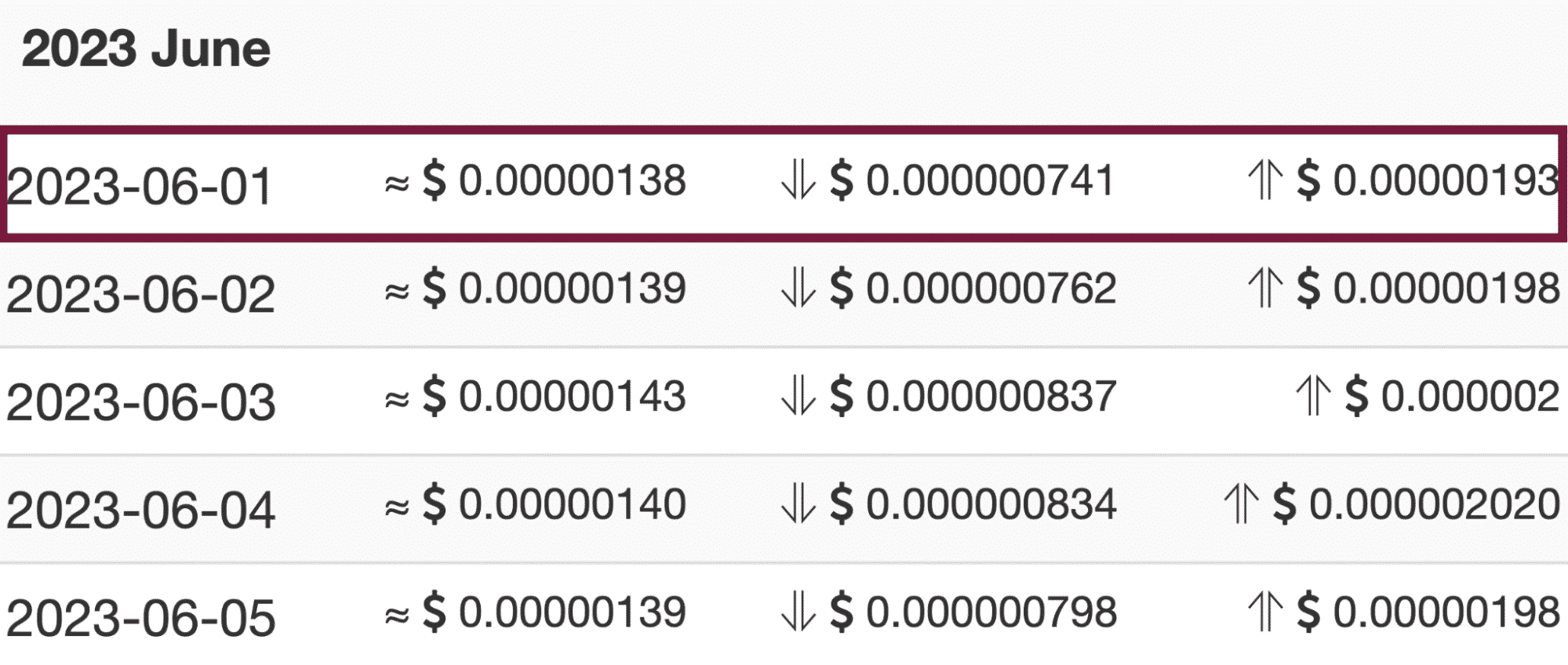 What is ELON's price prediction for 2025?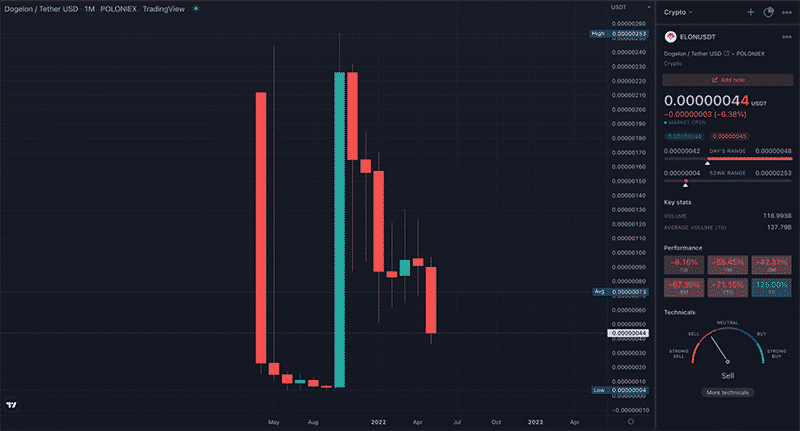 So, what's ELON looking like for 2025?
Best-case scenario
It's worth noting that since ELON is a relatively new coin, future predictions will be less reliable than more established projects. The forecasting sites we looked at earlier still see Dogelon Mars as more valuable by 2025.
However, the average we calculated was $0.0000017, almost the same as 2023. This goes back to the point about ELON being relatively fresh, meaning forecasting sites don't have enough data to make any reasonable approximations.
Wallet Investor is the most optimistic site, with minimum and maximum values of $0.00000213 and 0.00000336, respectively, both of which are conservative.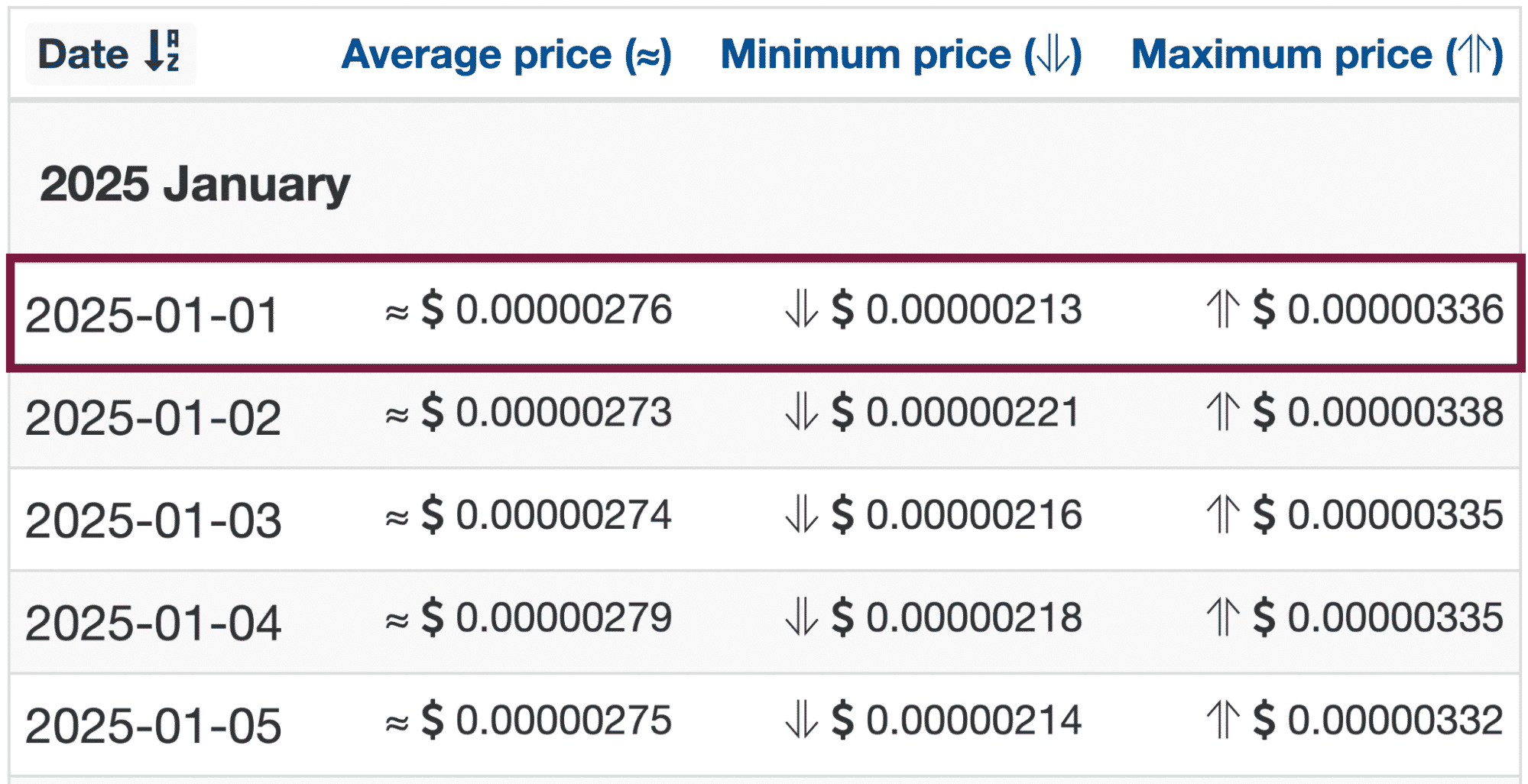 Worst-case scenario
As a meme coin with virtually no utility, Dogelon Mars may just fizzle out over time. Therefore, despite some potential for astronomical gains, you should only invest with truly disposable money.
The best way to buy ELON
You can buy ELON from several well-known exchanges such as Uniswap, OKX, Gate.io, KuCoin, Crypto.com, Gemini, etc. You can find a more accurate list of available platforms on CoinMarketCap.