Theta Network (THETA)
Price
What is Theta?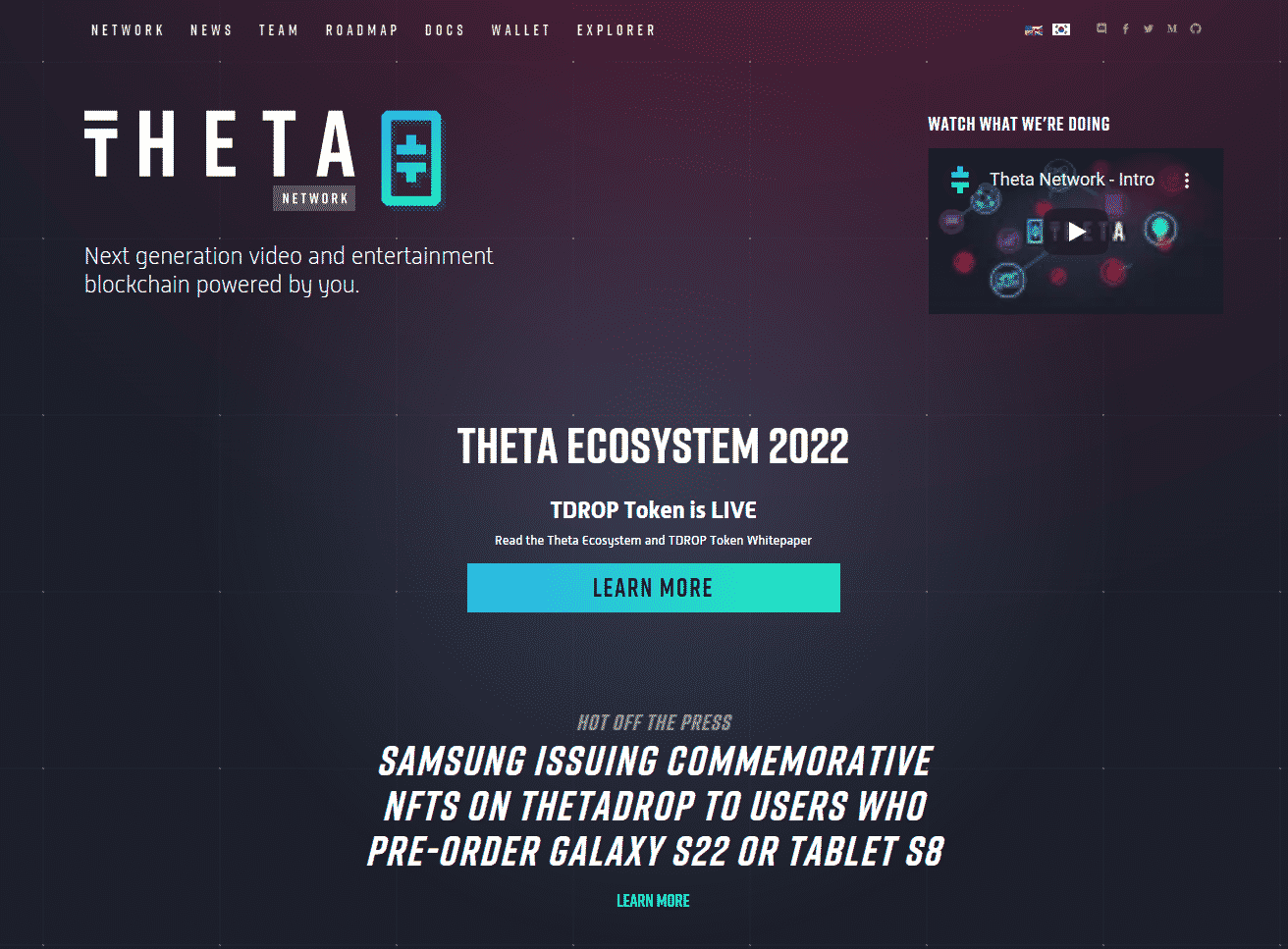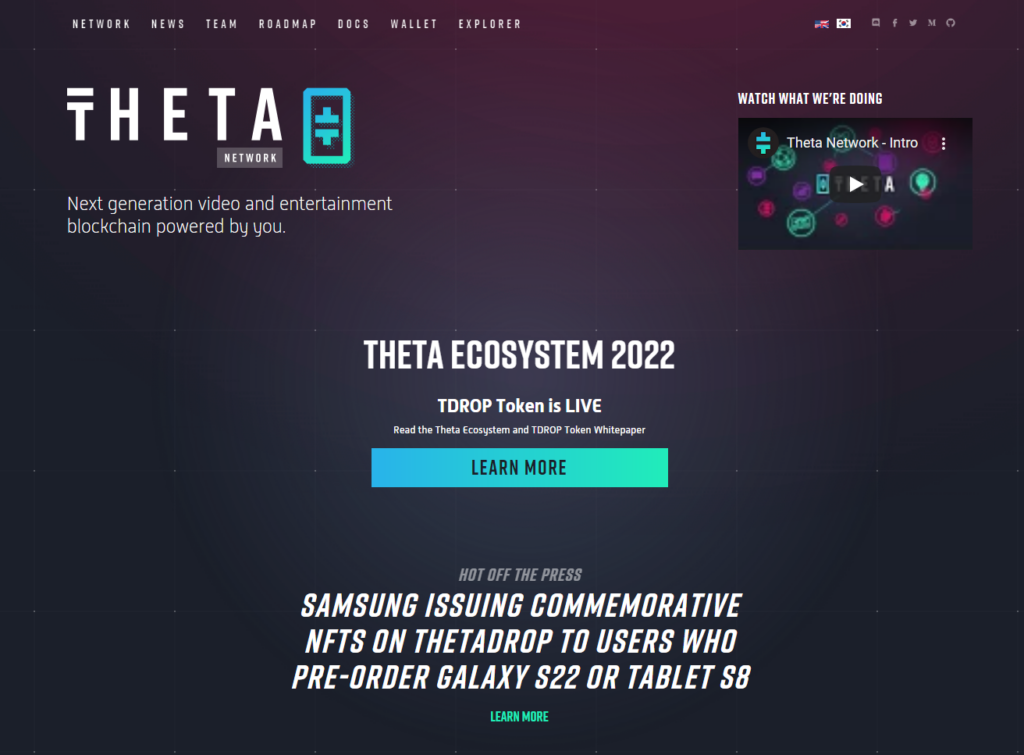 What happens when you mix distributed video streaming with cryptocurrency rewards? Enter Theta, an innovative project which has fulfilled this very objective since publicly launching in March 2019. It was originally founded by Mitch Liu and Jieyi Long in 2017 who both had prior experience in gaming and VR technologies.
The project also boasts a stellar board of advisors, including Steve Chen, YouTube's co-founder, and Justin Kana, Twitch's co-founder. Theta is an open-source, decentralized blockchain incentivizing users globally to run a decentralized video streaming service.
TFUEL is Theta's primary utility token for rewarding users on its main streaming service, theta.tv; THETA is the governance token. You can receive TFUEL from sharing your spare bandwidth, staking, creating, and watching content on the platform.
Content-wise, Theta offers a mixed bag of numerous verticals ranging from movies, TV, music to esports and live peer-to-peer. Theta reached an all-time high price of $15.90 in April 2021 but is currently worth about $6.92. The cryptocurrency has a circulating supply of 1 billion tokens.
Is Theta a good investment?
Theta is a good investment for several reasons. For starters, it is in the top 30 of most traded cryptocurrencies according to ranking sites like CoinMarketCap. As a larger-capped worth several billion, it suggests longevity, familiarity, and massive trading volume due to the substantial interest in the services users derive from the platform.
Theta has an understandable and significant business concept: decentralizing video streaming, an approach to improving the corporate structure of centralized platforms like YouTube, Facebook, etc. It aims to make streaming fairer, cheaper, efficient, and, best of all, more rewarding.
Theta is a second-generation proof-of-stake blockchain, meaning it's quite scalable and environmentally friendly compared to proof-of-work ledgers. Lastly, Theta allows for the development of dApps or decentralized applications.
Ultimately, Theta's appeal is diverse, making it a potentially lucrative investment for the near future.
Should I buy Theta today: Crypto technical analysis for THETA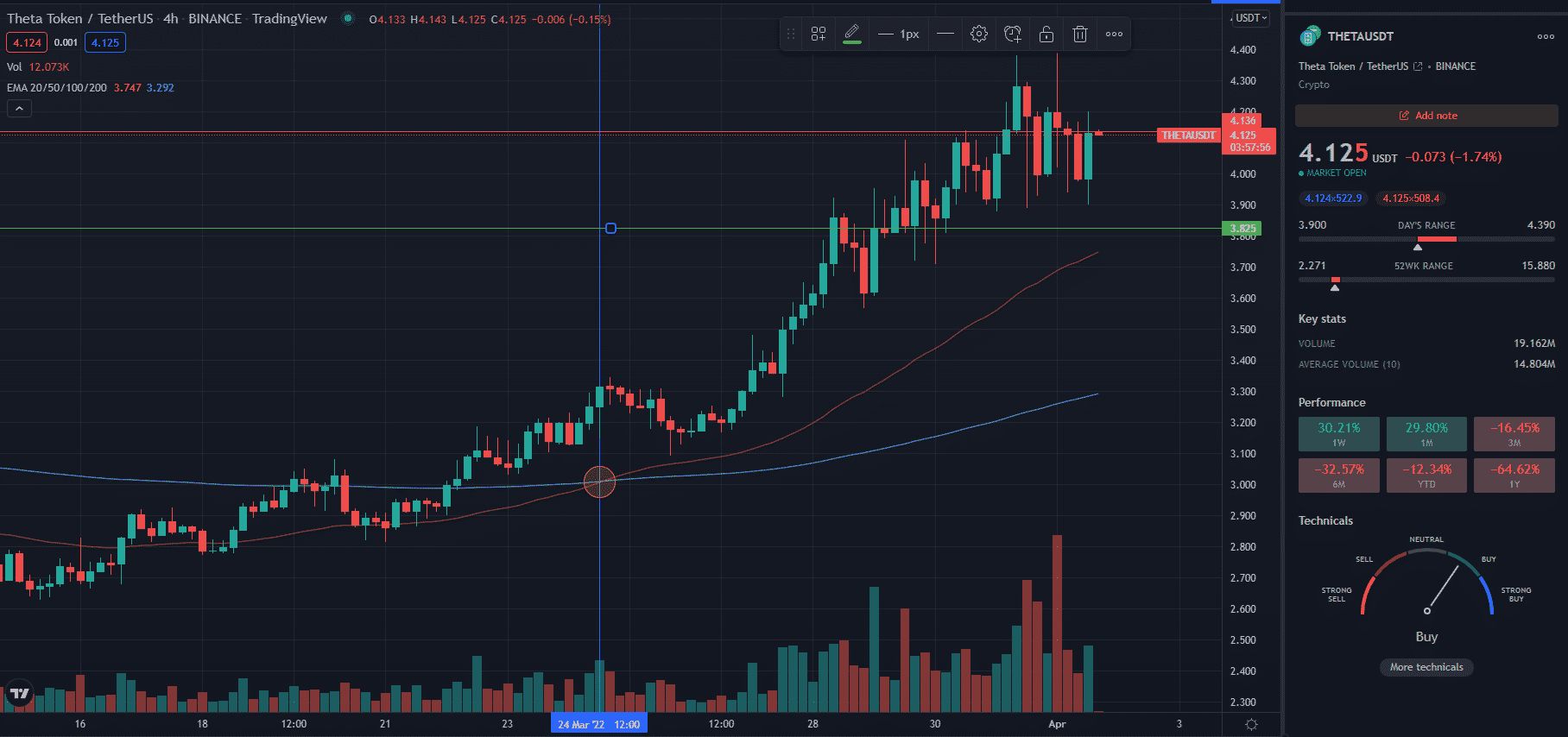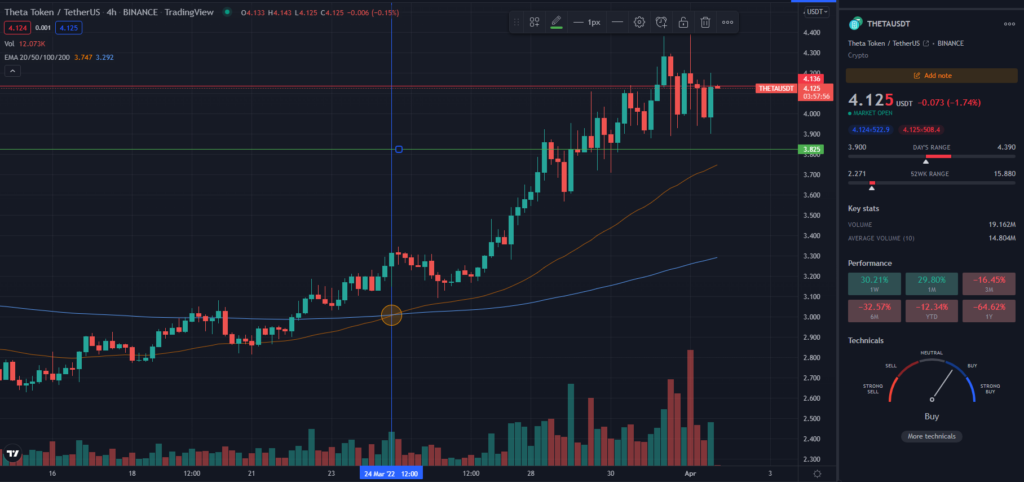 Our technical analysis suggests a buying opportunity is nearby for THETA. The chart above uses a moving average crossover system consisting of the 50-day (orange) and 200-day (blue) periods.
The market is visibly above the two moving averages, which is considered a strong bullish sign, more so within the 4-hour time frame above. The 50 has just about crossed above the 200. However, it's not a confident cross (as circled on the chart).
Fortunately, TradingView's technicals (located in the bottom right corner) suggest 'Buy.' This further confirmation is beneficial since this analysis looks at other indicators besides the moving averages.
Moreover, the market has shown a bullish reversal on March 26, 2022, with the bullish crossover visible on March 24. Overall, the technical analysis suggests that THETA is likely to trend futher upwards. The near-term resistance level (red line) is at around $4.126. Conversely, the near-term support area (green line) will be around the $3.825 area.
A break of either of these points will significantly impact the price of THETA over several days or weeks.
Will Theta coin price hit $20 in a year?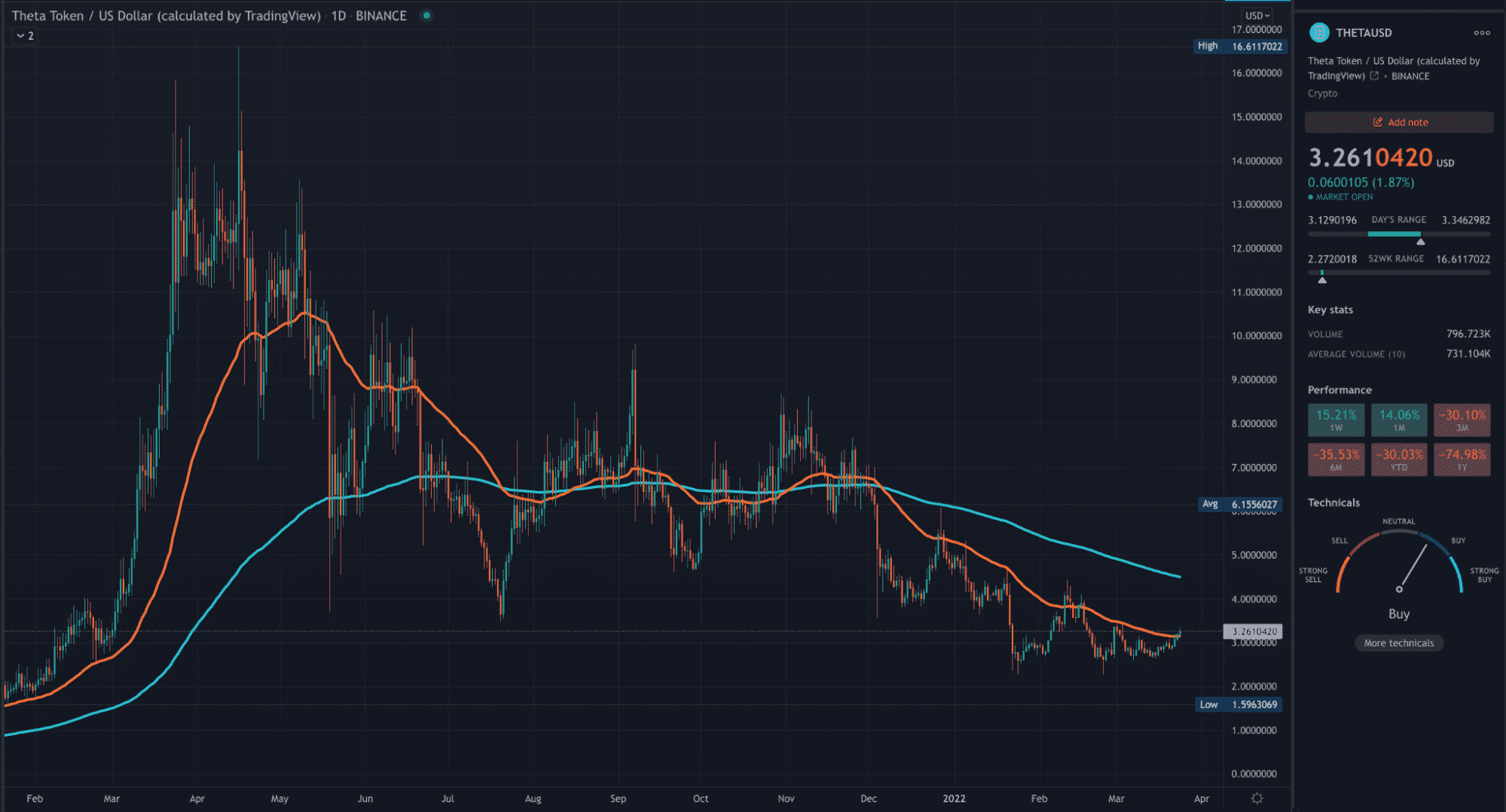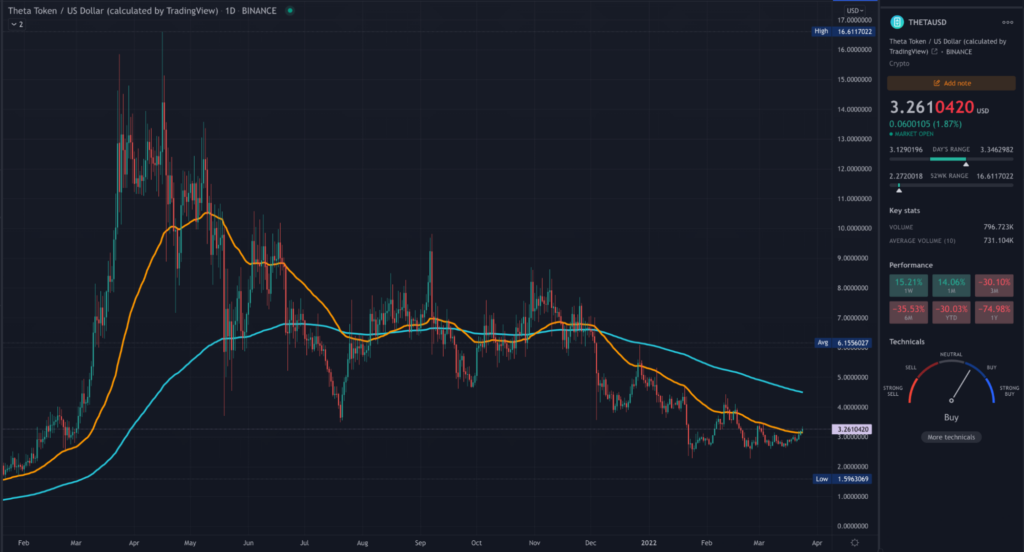 Before Theta hit its all-time high price of $15.90, the market was in a nice uptrend, judging by the slope of the moving averages. After a brief dip from April 2021, we can see price has been in a range since mid-July.
Of course, investors would want Theta to challenge the all-time high soon. Yet, the range may just prolong this event until we move into trending territory again. To have more informed knowledge on whether Theta can reach $20 in a year, we can observe forecasting analysis from Digitalcoin who can provide a better picture.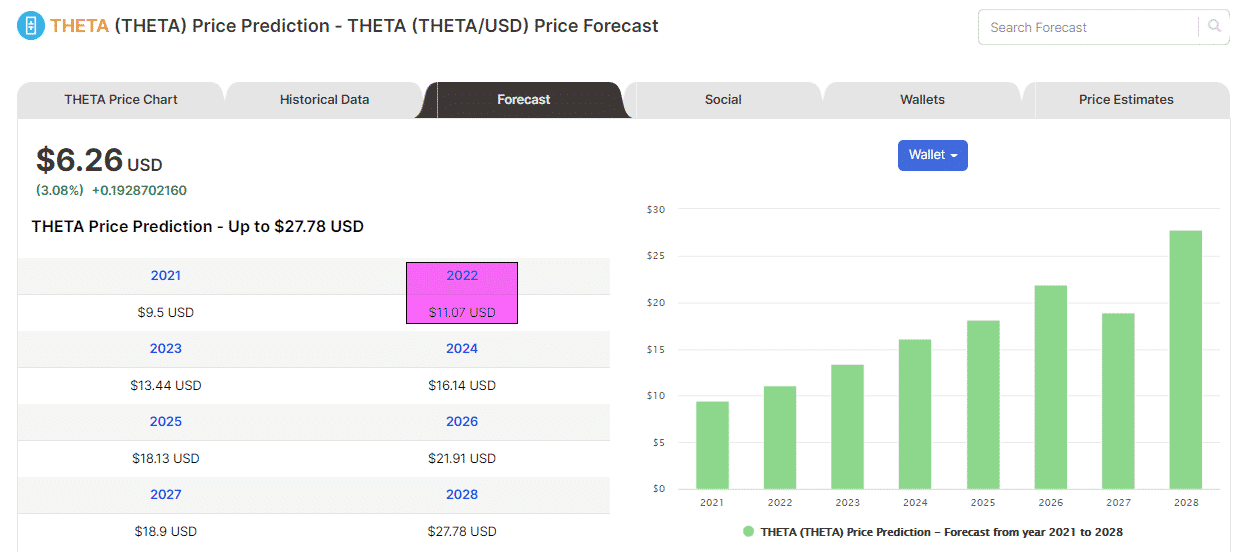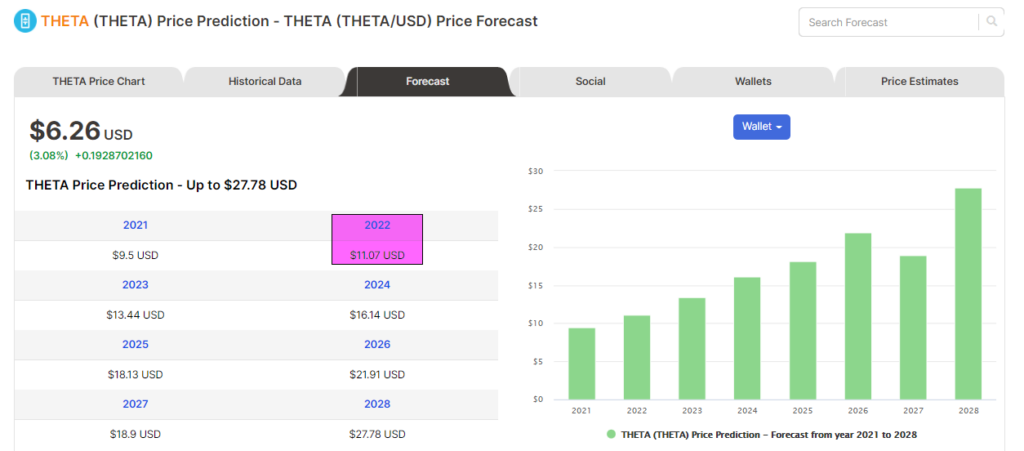 The forecast suggests an $11.07 valuation for THETA in 2022. This prediction is reasonably realistic, but nothing is impossible with cryptocurrencies.
What is Theta's coin price prediction for 2025?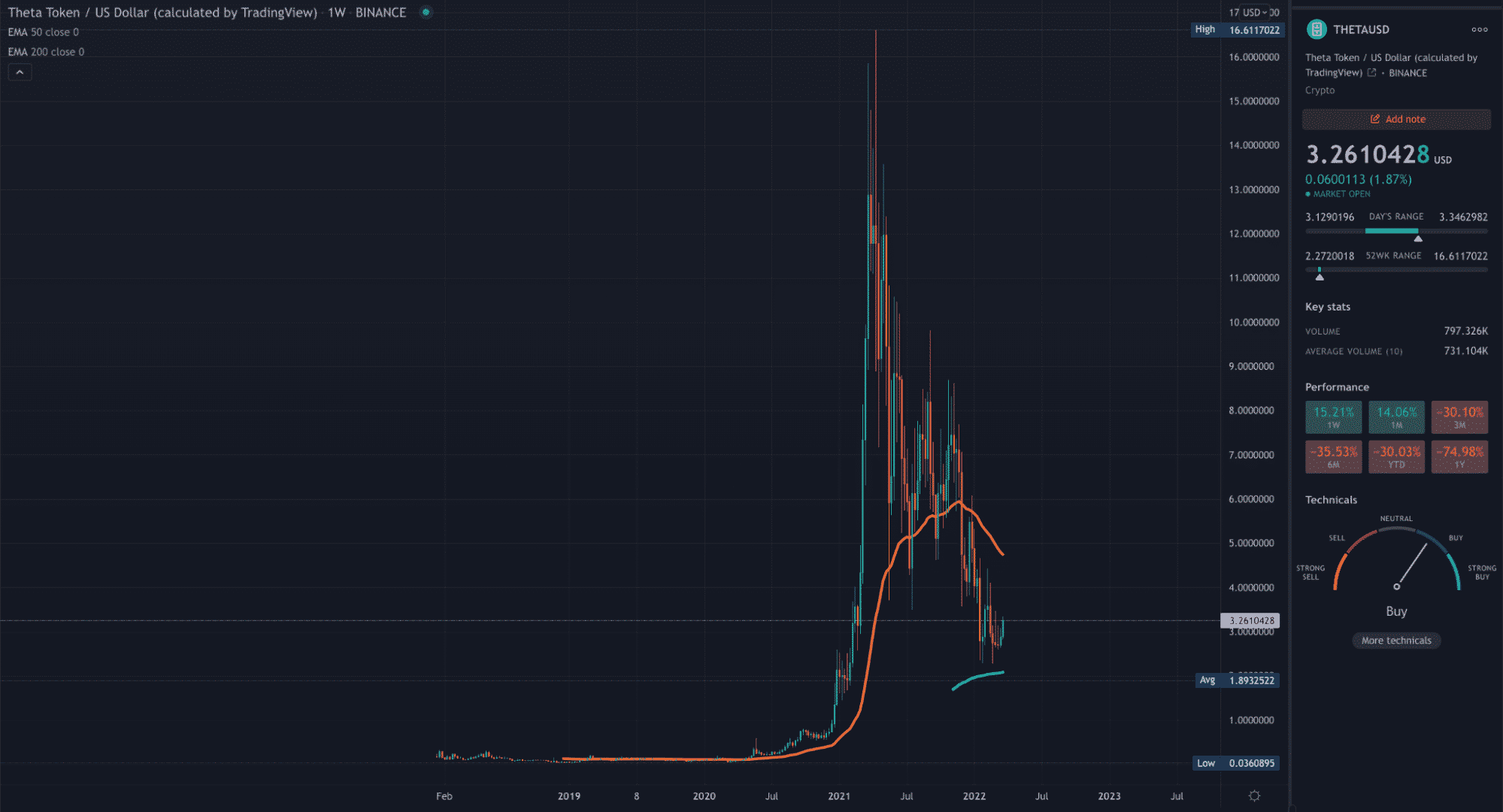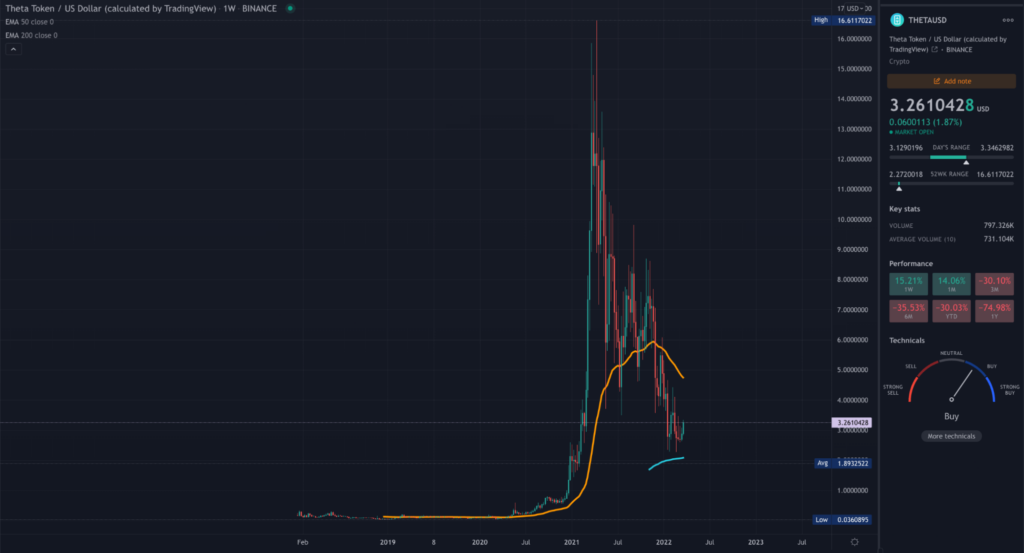 Observing Theta's movement on the weekly chart shows us price is still in a strong uptrend, despite the range observed on the daily time frame. So, where is Theta likely to be by 2025?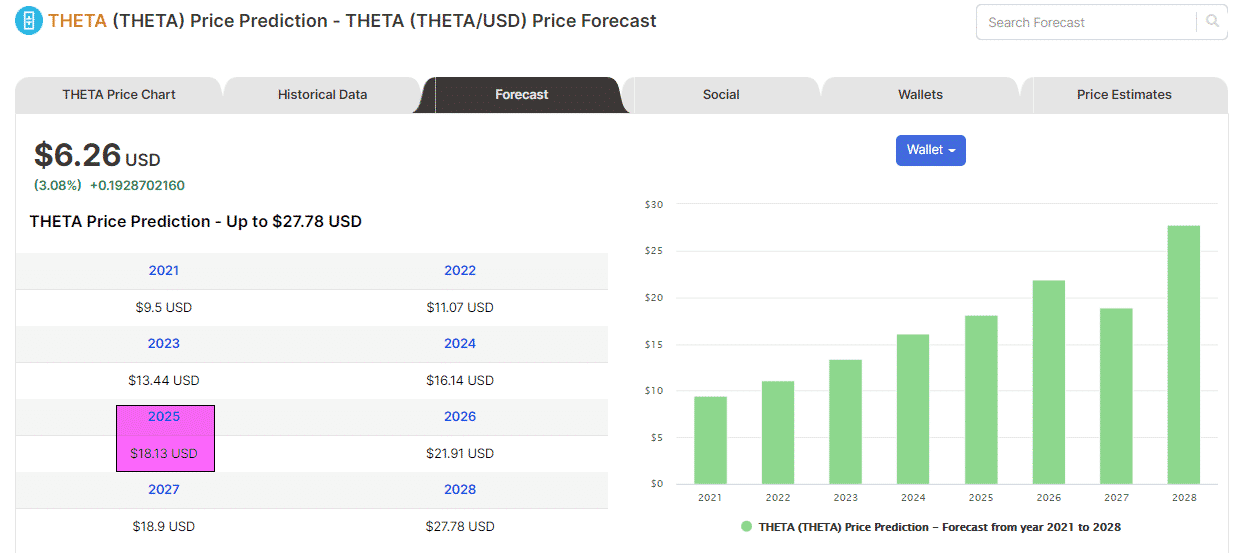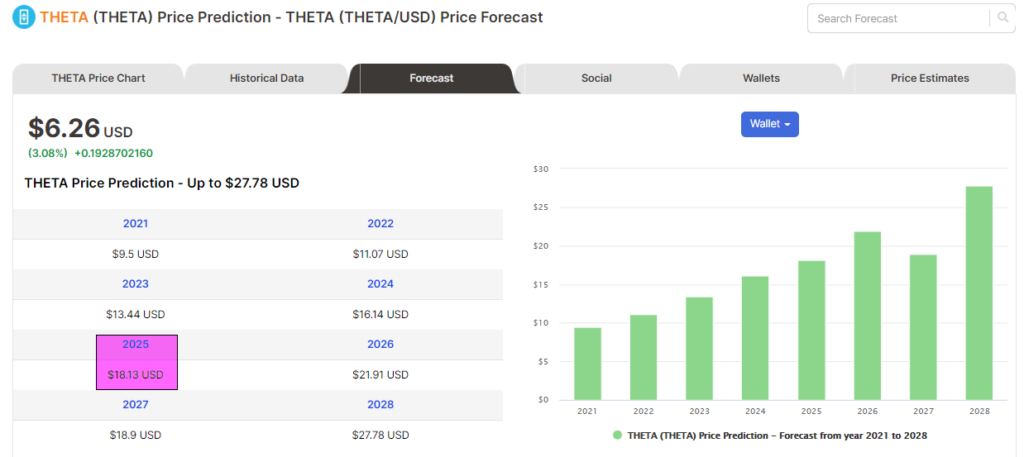 According to Digitalcoinprice, 1 THETA should be worth $18.13. Of course, it's only a prediction. Could Theta surpass this figure a lot sooner than expected? Only time will tell.
The best way to buy Theta
Like most coins, the best way of buying THETA is through the countless recognized exchanges like Binance, Huobi, KuCoin, Crypto.com, OKEx, Gate.io, Bithumb, etc. These provide numerous trading options through an online trading platform.
If you prefer to buy or store THETA/TFUEL, you can choose from numerous hardware and software wallets, including THETA's official wallet application.