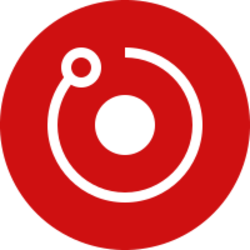 Render (RNDR)
Price
What is Render Token (RNDR)?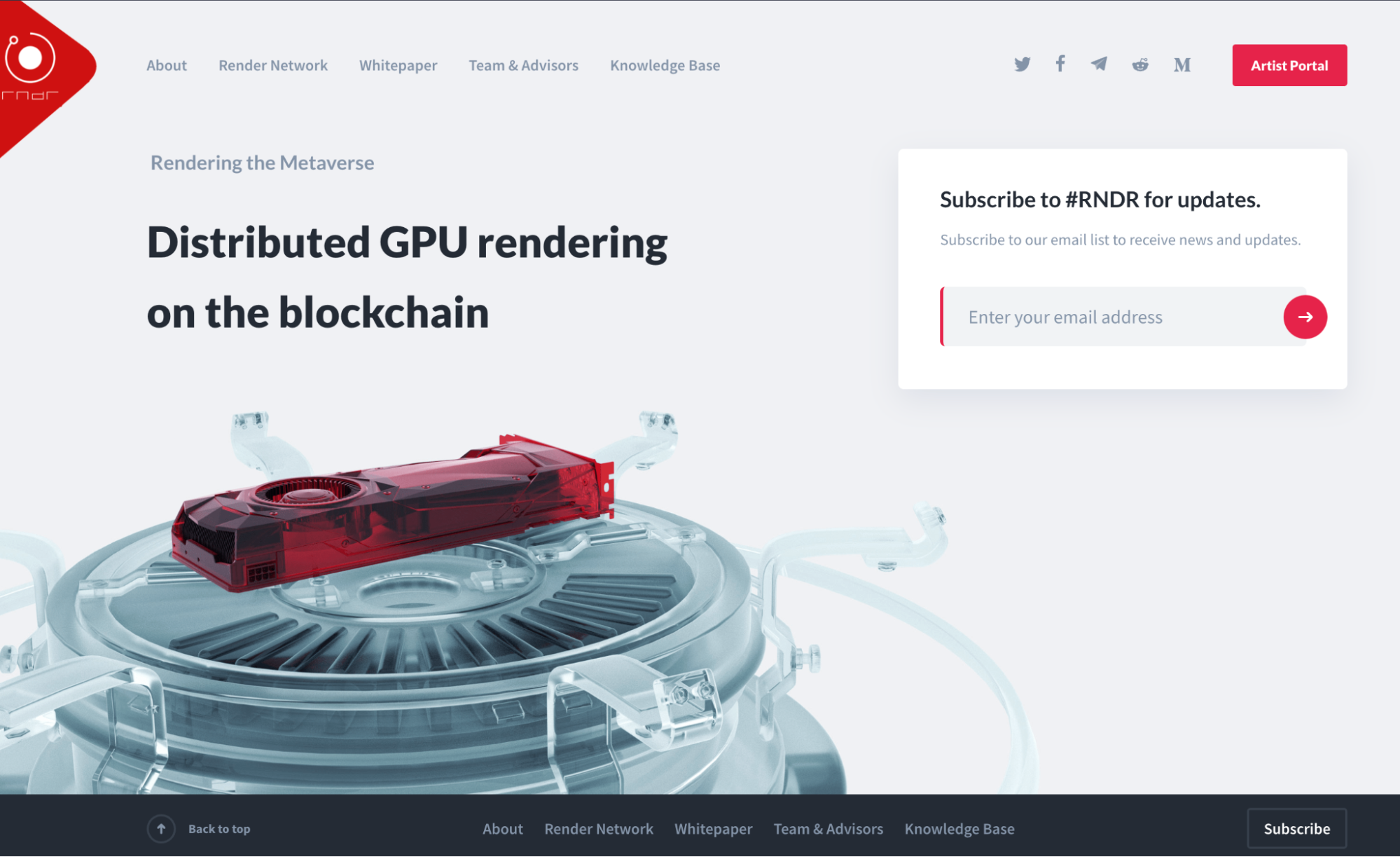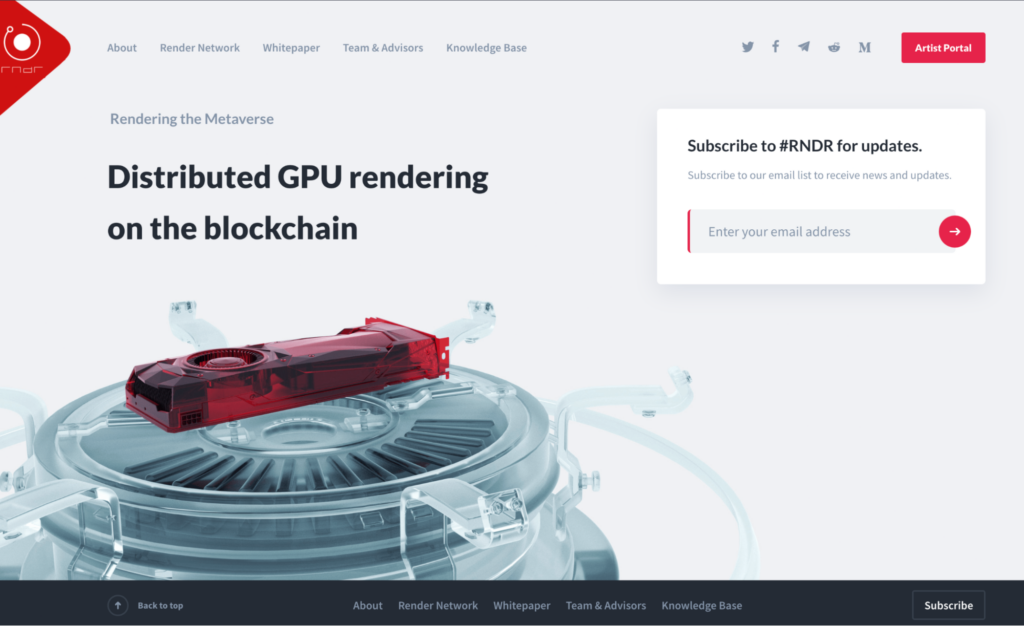 The Render Token is the utility token for the Ethereum-based Render Network, a platform for distributed GPU (graphics processing unit) rendering using the blockchain.
In computer graphics, rendering means using a computer program to produce a photorealistic or non-photorealistic image from a 2D or 3D model. If you imagine a simple black and white drawing of pottery pieces, rendering gives the pottery all of its colors and other aesthetic features.
The Render Network is a platform where anyone can rent their idle GPU power in return for rewards (in this case, the RNDR token).
Those looking for rendering pay these providers or node operators in RNDR to use their GPUs. The Render Network is a subsidiary of OTOY Inc., a California-based GPU rendering company.
This product was launched in 2017 with public and private token sales from October of that year to May 2018, where 117 843 239 RNDR were sold at $0.25 apiece.
After the testnet phase, RNDR was publicly listed on exchanges from 27 April 2020. Since this time, RNDR's price has performed incredibly well, making it the 218th most traded coin according to CoinMarketCap. Presently, one RNDR will set you back $5.05.
Let's explore if RNDR is a worthwhile investment and Render Token price predictions.
Is Render Token a good investment?
GPU rendering is an in-demand service needed by studios, designers, developers, artists, and filmmakers. More specifically, rendering benefits the media, augmented reality, virtual reality, medical and gaming industries.
The Render Network believes it solves several challenges, the first of which being digital management. Presently, renderers have no accessible storage system to control their work and prove ownership.
One of the primary purposes of any blockchain is keeping records (in this case, rendering jobs), data that cannot be modified once inputted. The Render Network also believes GPUs used in mining cryptocurrencies don't serve their true objective.
Therefore, the platform encourages users to employ GPUs for creative intentions. Also, many people have tons of GPU power sitting around. With The Render Network, they can earn tangible rewards just for renting their GPU capabilities. Overall, these are some benefits of RNDR giving it demonstrable value.
Should I buy RNDR today: Crypto technical analysis for RNDR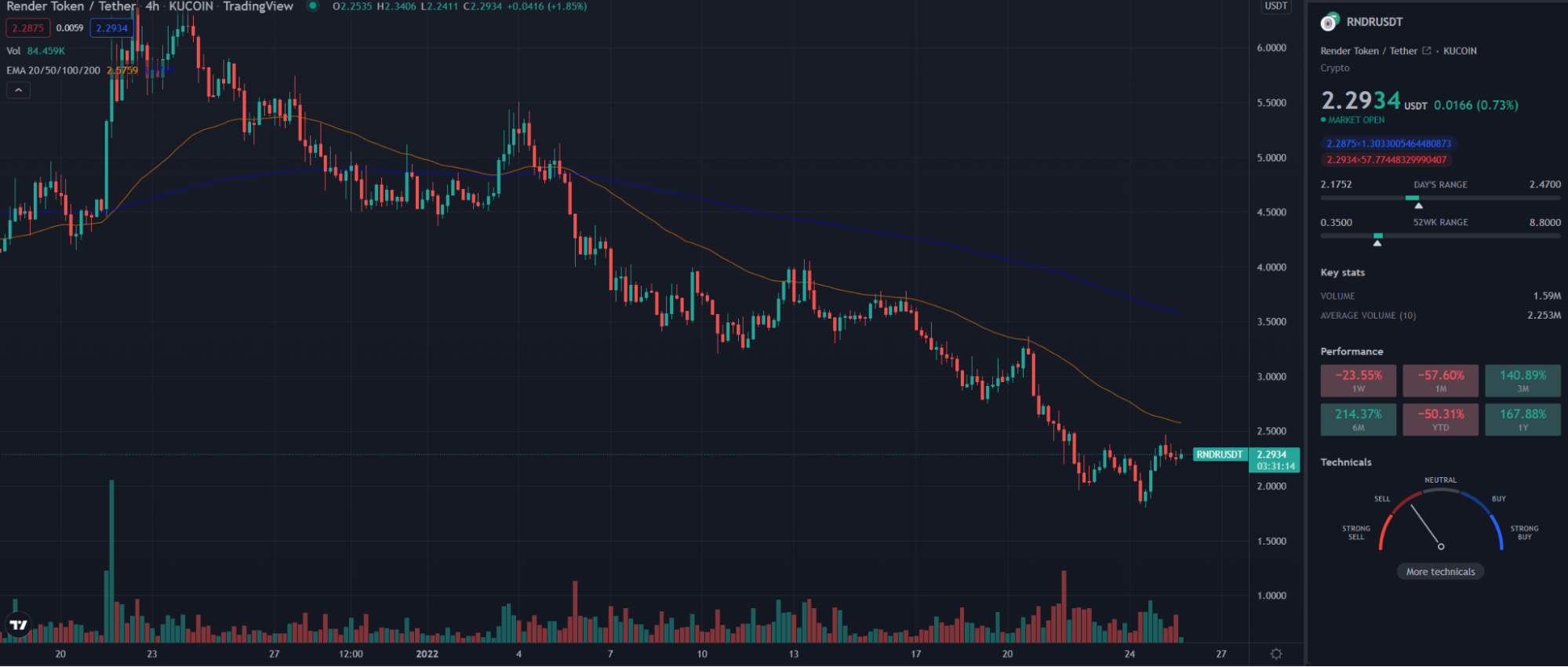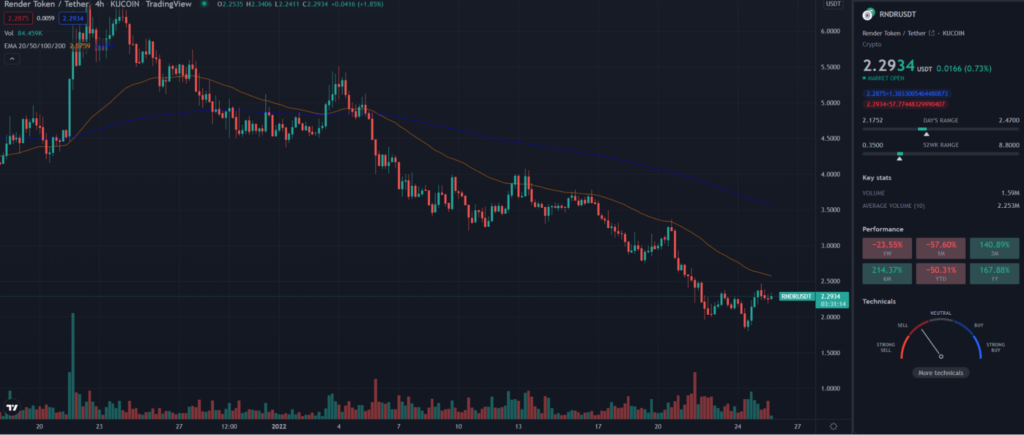 In general, with the cryptocurrency market down, it may not the best time to buy RNDR, and our technical analysis can confirm this. We've plotted a 50-day (orange) and 200-day moving average on the chart to present a simple crossover strategy.
With this simple system, traders look for the 50 to be above the 200 and the market to be trading above both moving averages. We can see on the chart that RNDR shows the opposite of these triggers, suggesting indefinite bearish momentum. Hence, the price may go further down, and it will be wise to wait to the confirmation of a bullish reversal to open a position in RNDR.
Fortunately, the following sections show future Render token price prediction analysis as promising.
Will RNDR coin price hit $10 in a year?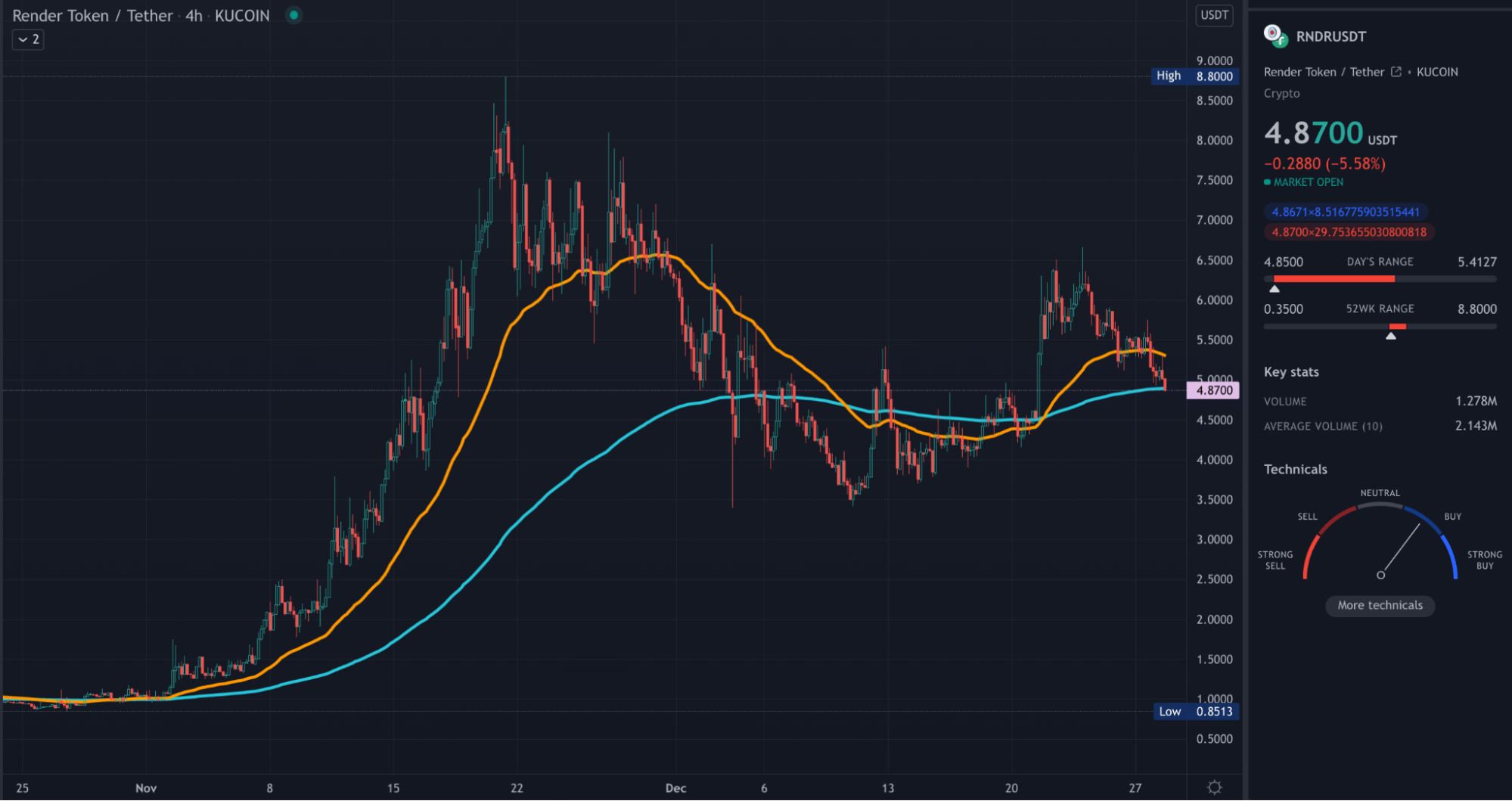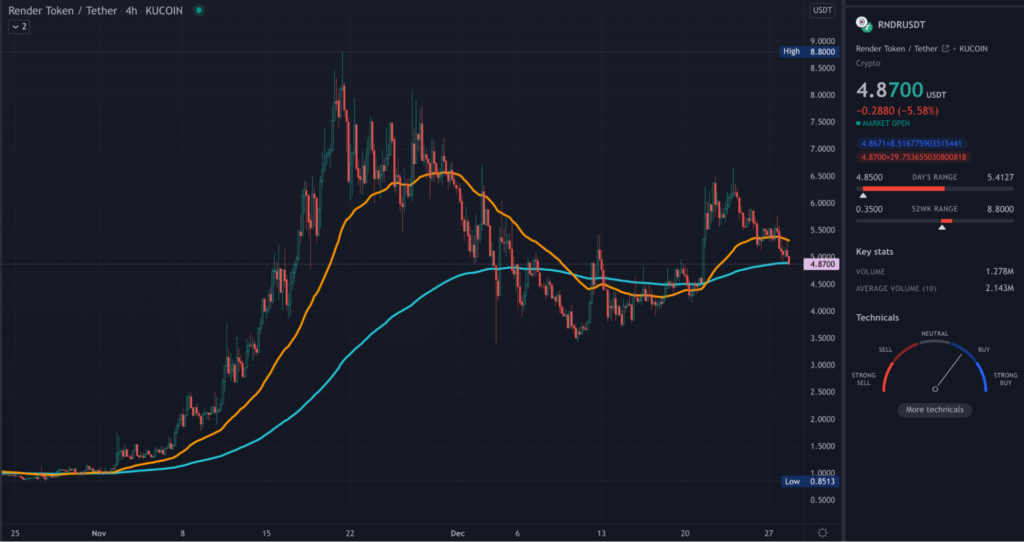 It's natural to assume $10 is the next anticipated target for the coming year, having hit an $8.80 all-time high recently. Price would only need to travel 98% higher or essentially 2X to reach $10.
In a year, an increase of this magnitude wouldn't be out of the ordinary in digital currencies. Fortunately, a few forecasting sites peg values above $10 for RNDR.
For instance, Wallet Investor estimates minimum and maximum prices of $9.42 and $12.10, respectively, when 2023 starts.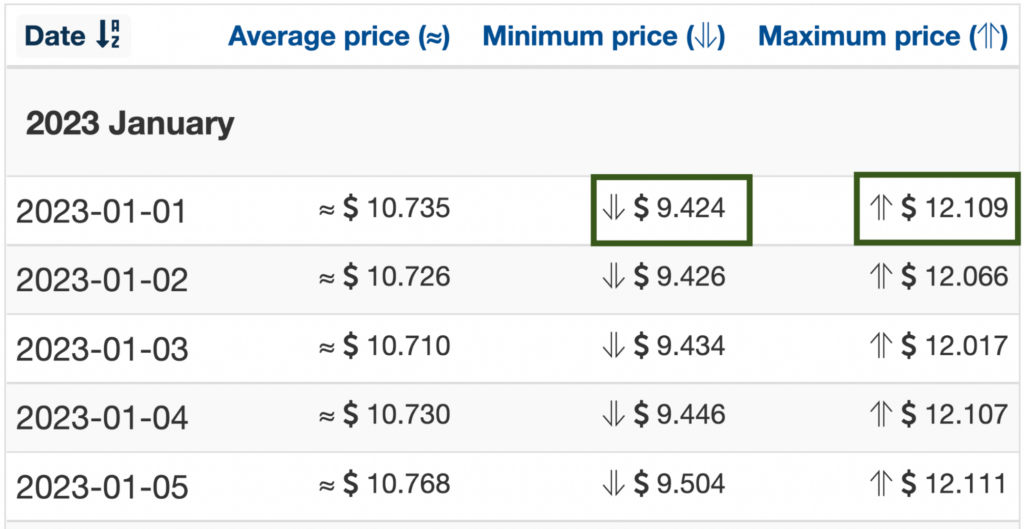 On the other hand, PricePrediction.net suggests the lowest price of $11.85 when that year begins, up to $13.81.
What is RNDR's price prediction for 2025?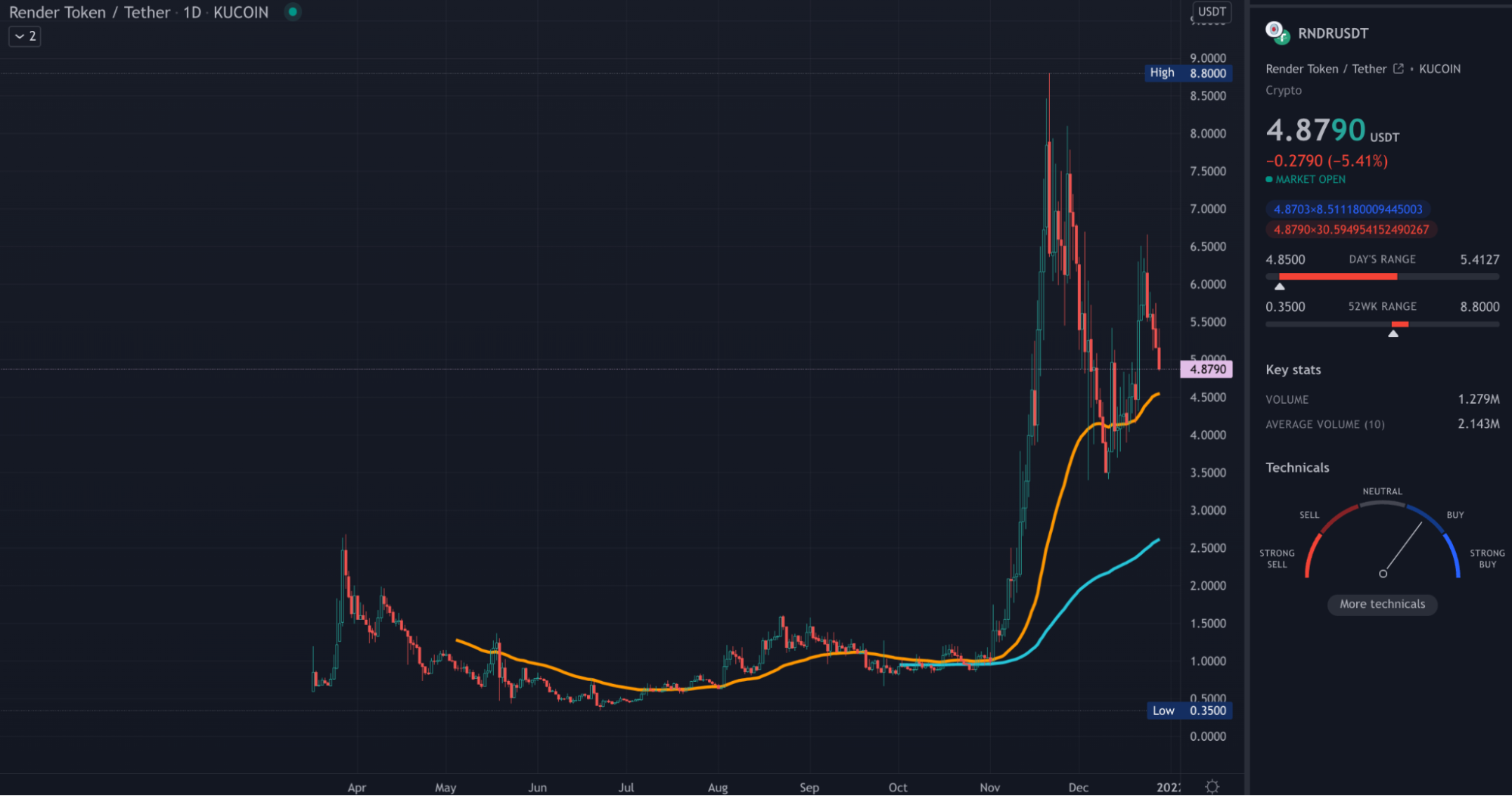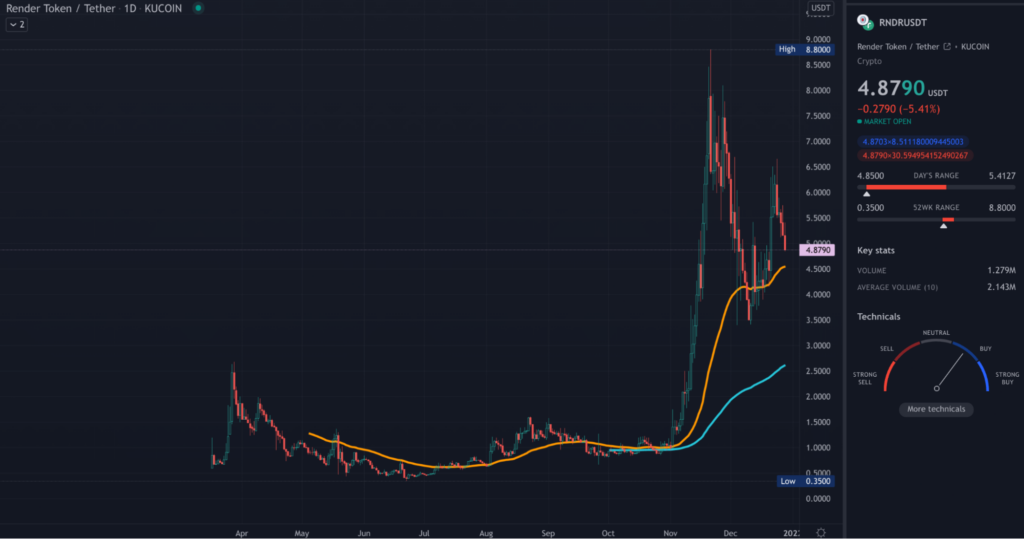 The Render Network is no run-of-the-mill service, setting it apart from your average cryptocurrency project. Investors look for unique products serving a burning desire in the markets.
Luckily, RNDR fits this description. However, there is no guarantee whether RNDR will maintain stellar performance in the next few years.
Best-case scenario
Wallet Investor anticipates RNDR to be worth at least $17.61, going all the way to $32.12 for 2025.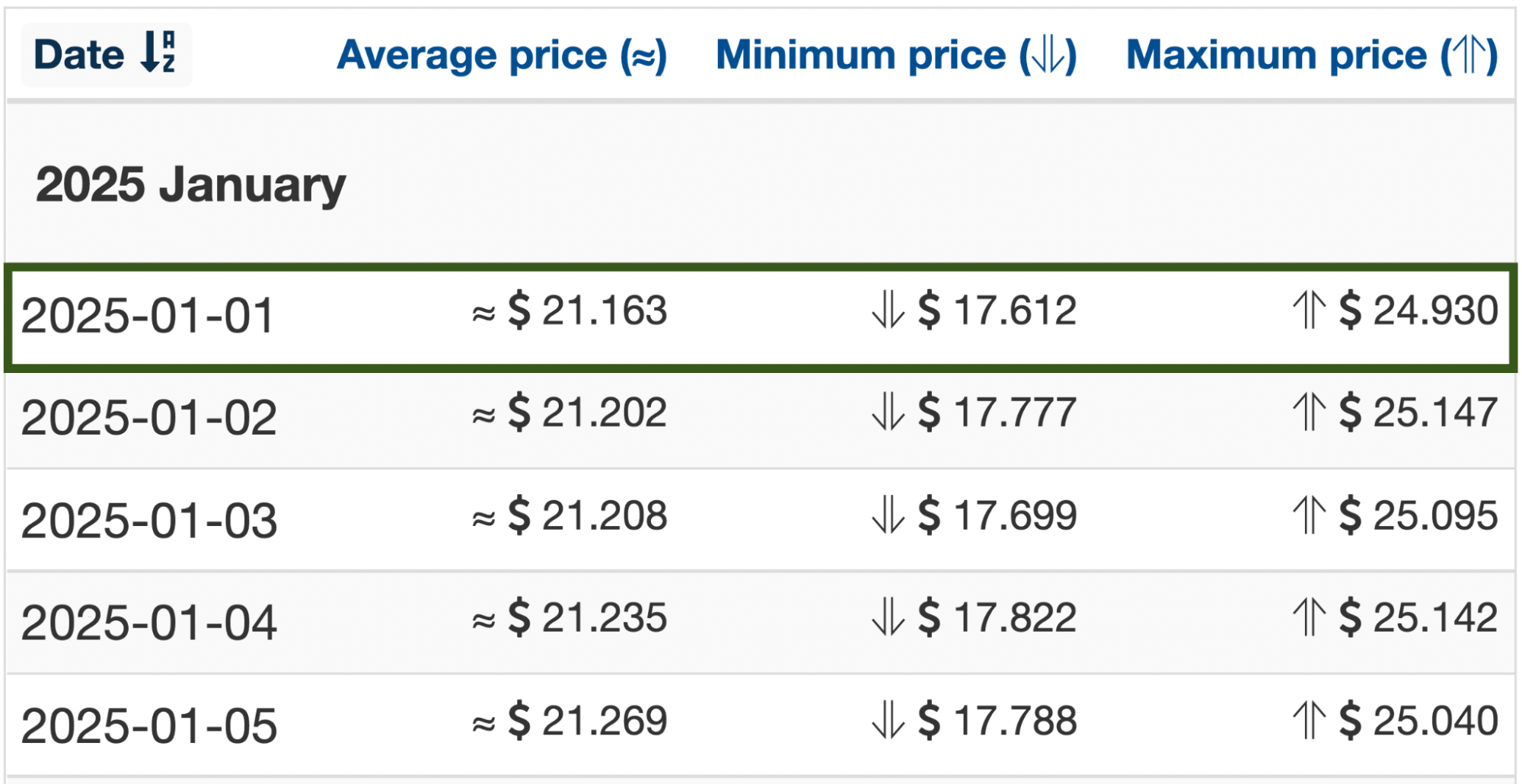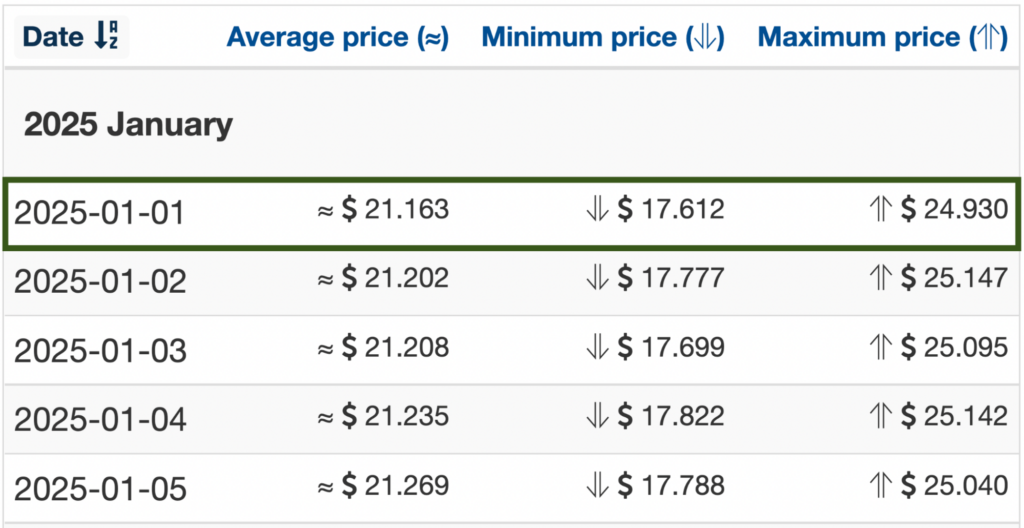 PricePrediction.net's forecasts are similar, with the lowest and highest prices of $24.04 and $28.29, respectively.
Worst-case scenario
The worst that could happen for RNRD is its value stagnates or drops lower, which may result from numerous aspects. One of these might be a decline in the need for GPU rendering if something technologically better comes to light in the future.
Also, altcoins are inherently volatile, a defining characteristic of the crypto market in general. Thus, you should invest cautiously even if this project is quite promising.
The best way to buy RNDR
RNDR is available for purchase on several top exchanges, like Binance, FTX, Huobi, Gemini, KuCoin, and countless others.