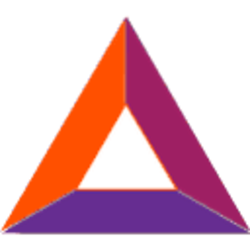 Basic Attention (BAT)
Price
What is BAT (Basic Attention Token)?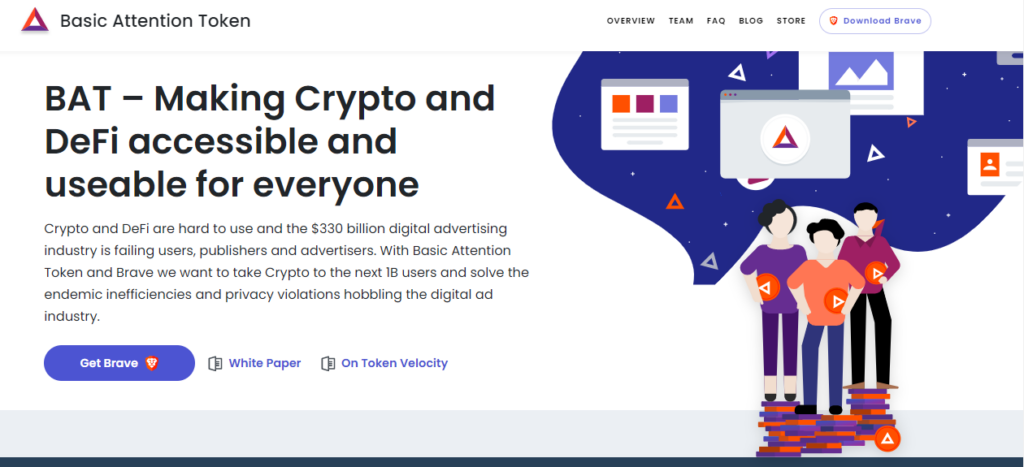 BAT (Basic Attention Token) is essentially an attention-rewarding utility token used by Brave, an ad-blocking, cleaner, data-efficient, and privacy-conscious browser; put simply, a much better Google Chrome. Although Brave is an ad-blocker by default, it does serve as a digital advertising platform for web publishers to run ad campaigns.
The only difference is that users can control whether to see these ads and how frequently they appear. Additionally, they appear as 'small boxes' at the corner of their screens, and you are rewarded BAT for viewing these without clicking or opening them. The BAT token serves as a payment currency on the browser for rewards and advertisers to run their campaigns.
Brave Software Inc developed Brave, which is a corporation co-founded by Brendan Eich (CEO) and Brian Bondy (CTO). Despite only ranking #98 in most traded cryptocurrencies and valued at about 58 cents, according to CoinMarketCap, BAT is an interesting project.
Is BAT a good investment?
BAT and Brave are valuable concepts for both browser users and web publishers. For the consumer, Brave provides much cleaner and pleasant internet surfing because of its ad-blocking functionalities.
While ads are available, these respect your web data, have no malicious intent and don't interfere with your browsing experience. Plus, the browser is proven to consume far less bandwidth, ensuring a more performant connection. Last but not least, there is an incentive to view the ads through withdrawable BAT rewards.
For web publishers, these parties can tap into Brave's +25 million user base for better ad spend, targeting, and client engagement with privacy-respecting and friendly ads. One last thing to consider is BAT's supply is near its maximum lifetime supply. Presently, 1.49 billion tokens circulate, but only 1.5 billion are scheduled to enter the market.
Unless things change, this factor presents scarcity. Investors have always preferred projects with intentionally scarce coin distribution due to the perceived notion of low supply and high demand.
Should I buy BAT today: Crypto technical analysis for BAT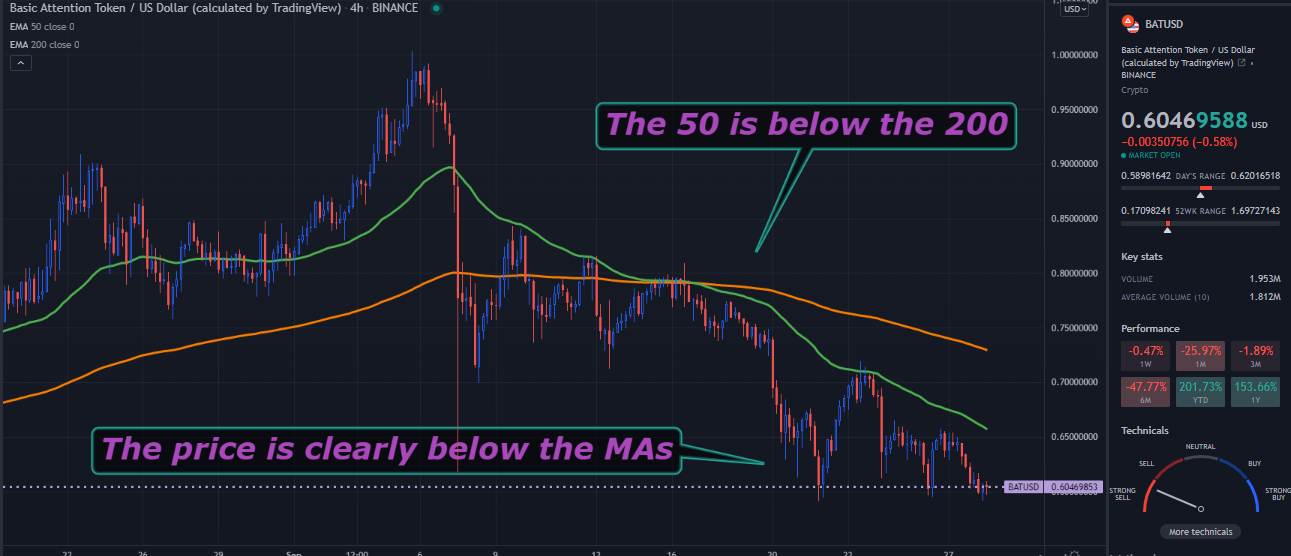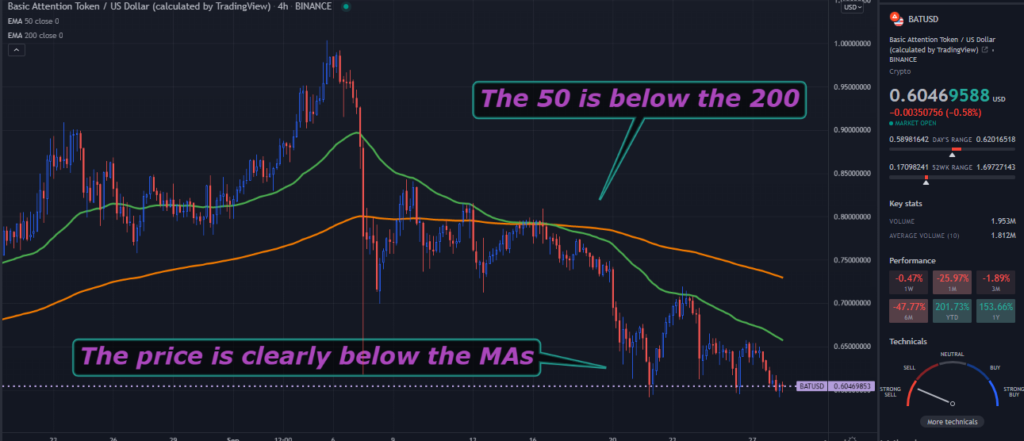 Let's use a simple 50 and 200-day moving average crossover system to answer this question. For buying purposes, traders would look for two things:
The green line (50 MA) must be above the orange line (200 MA)
The price must be above both moving averages
Judging by the chart, BAT fails on both points as the slope of the averages is pointing downwards, indicating bearishness. Moreover, TradingView's technicals (located on the bottom right of the chart) also reflect a 'STRONG SELL,' further suggesting it's probably not a good time to buy BAT today.
Will BAT coin price hit 2 USD in a year?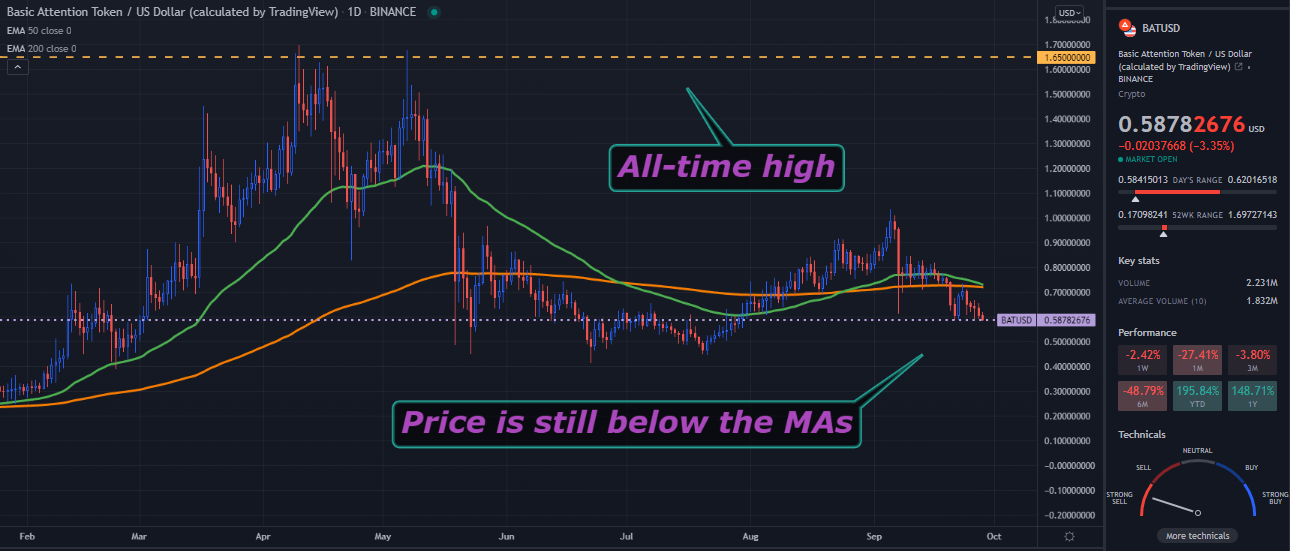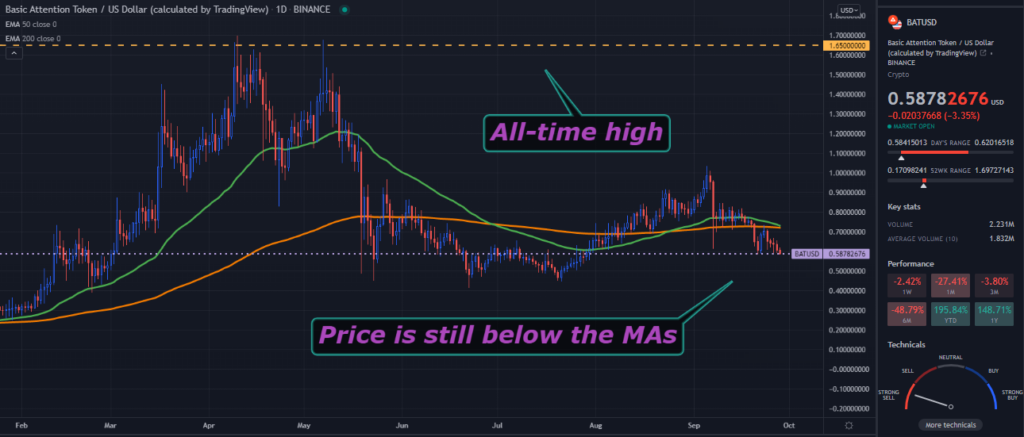 On the daily chart, it's pretty much the same as on the 4-hour; the market is in a downtrend. BAT reached its all-time high of $1.65 in April 2021. Over the last 365 days, an investment in BAT will have yielded 165%. Hypothetically, if price moved this much over the next year, the value would be around $0.97.
Such a return in cryptocurrencies within this span is not unheard of, and many perform exceedingly better. Digitalcoin's estimate of where the BAT price might be in a year isn't too far either as they predict $0.99 or just under a dollar.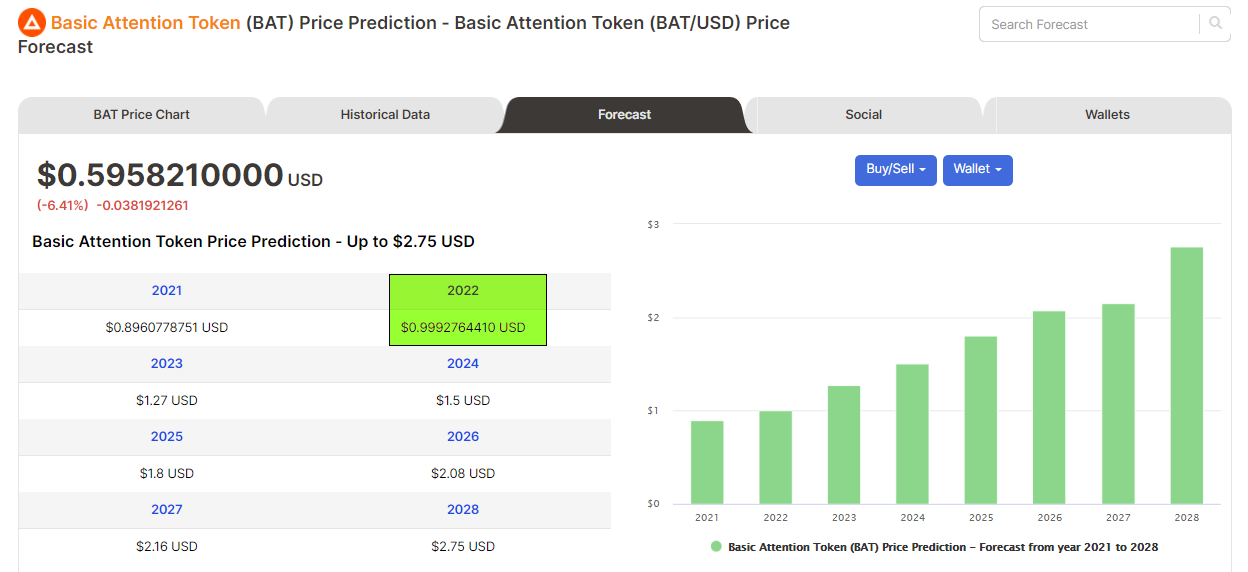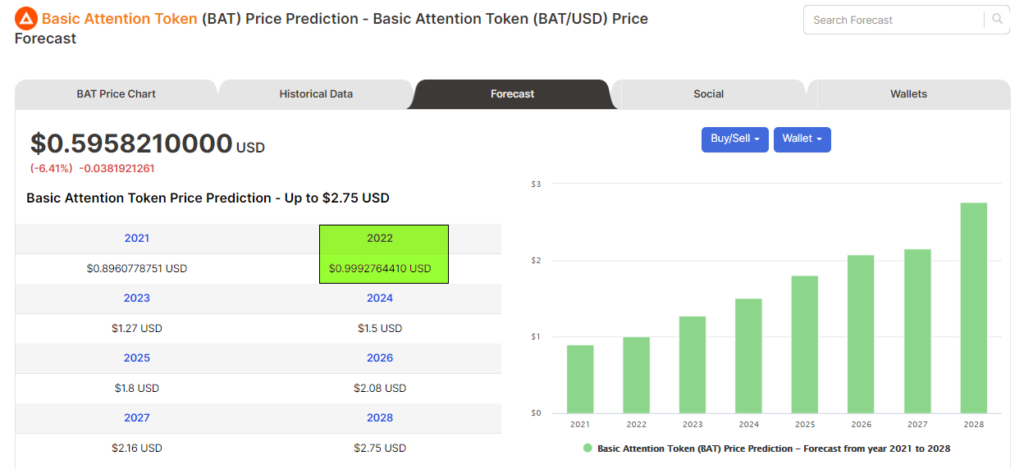 Unfortunately, it's not likely to hit $2; probably under a dollar is more realistic, but it's only a prediction, and anything is possible.
What is BAT's coin price prediction for 2025?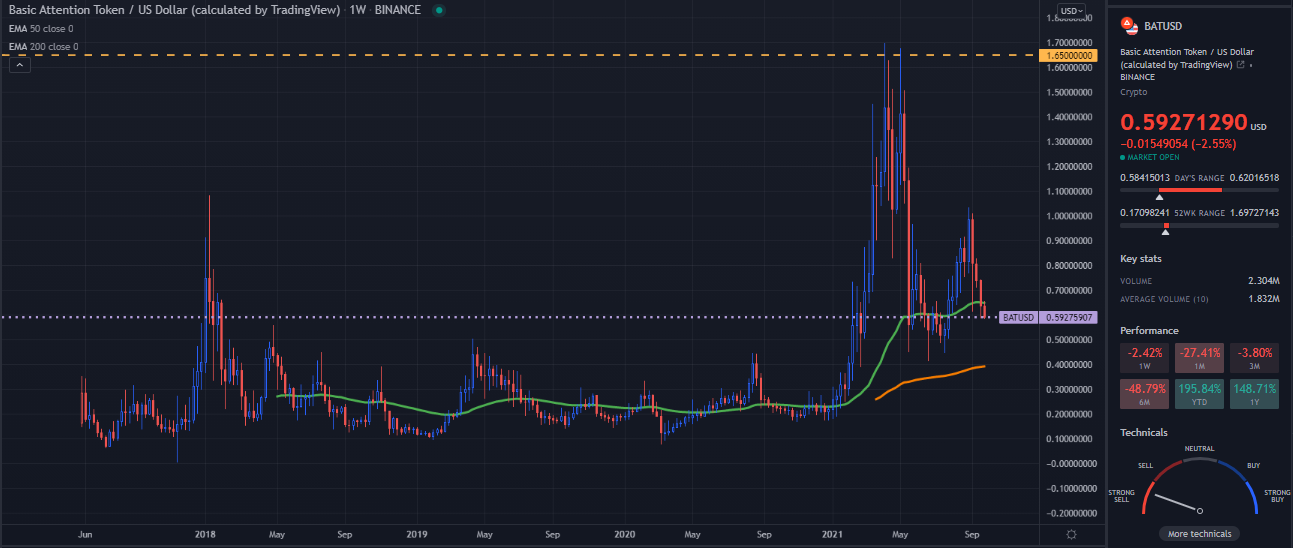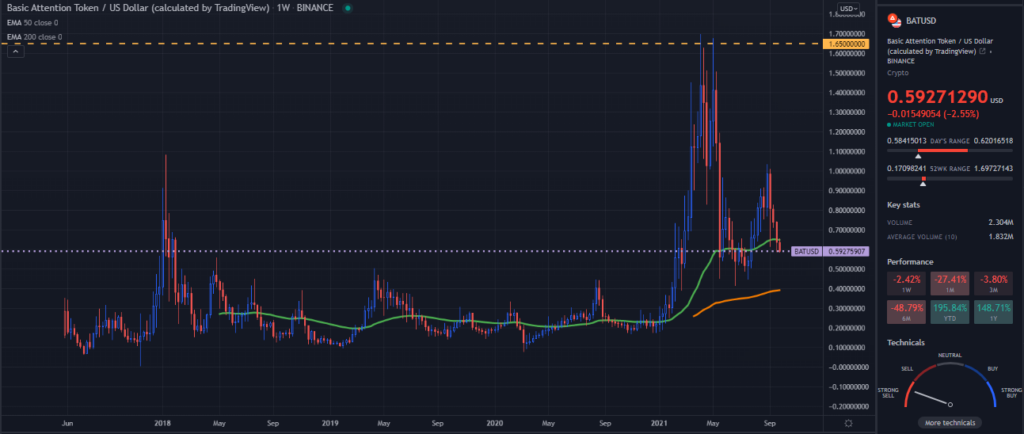 The weekly shows a slightly positive picture. While price is below the 50 MA (green), being above the longer 200-day moving average suggests some bullishness; but where to by 2025?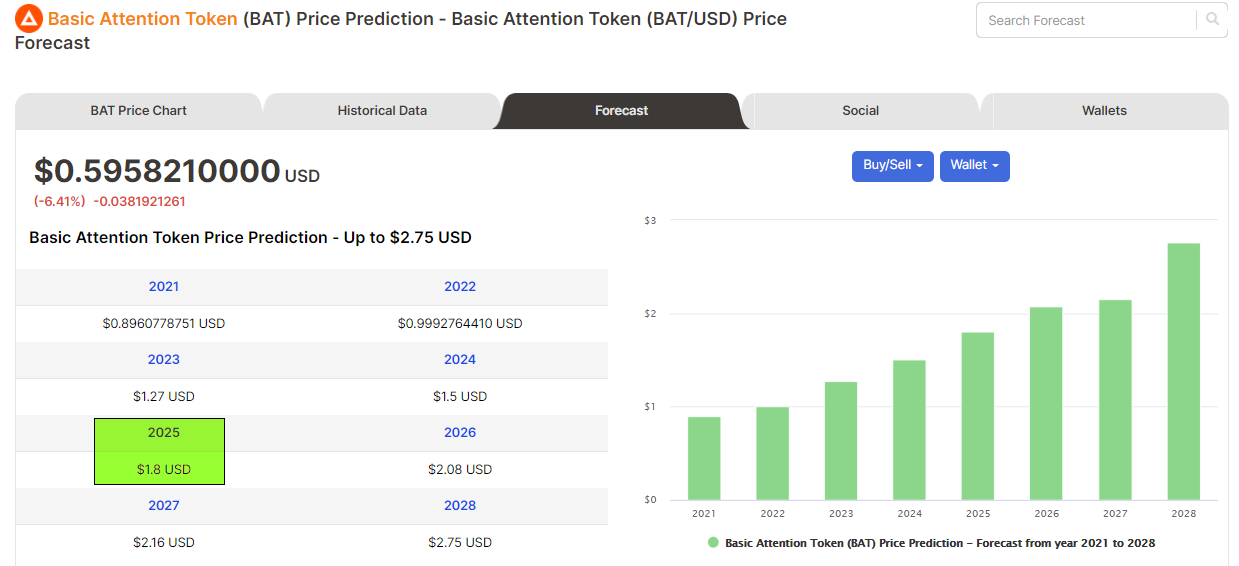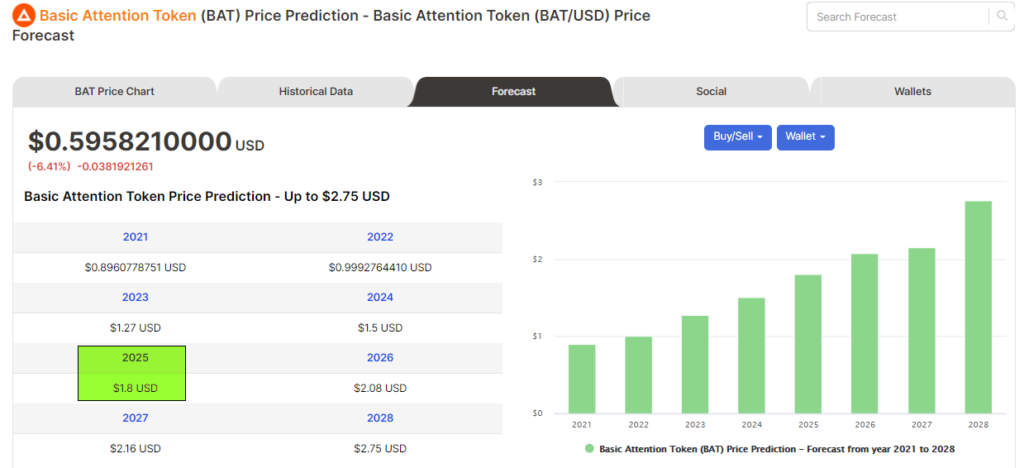 Digitalcoin predicts a $1.8 value by 2025, while another site, Wallet Investor, has implied $2, both conservative estimates. It's critical to note any substantial increase in a coin's value requires a considerable shift in its market cap in the tens of millions.
As with the previous predictions, these could be blown out of the water, which is part of the uncertainties investors should note.
The best way to buy BAT
You can purchase the Basic Attention Token at your 'usual suspect' exchanges such as Binance, Coinbase, Huobi, FTX, Kraken, KuCoin, and the list goes on. These places also provide a derivatives trading platform against other established markets like USD, USDC, USDT, BTC, EUR, etc.
If you prefer buying and holding, wallets like Brave, Coinbase Wallet, MetaMask, Trust, and Ledger can successfully perform this job.