GALA (GALA)
Price
What is Gala (GALA)?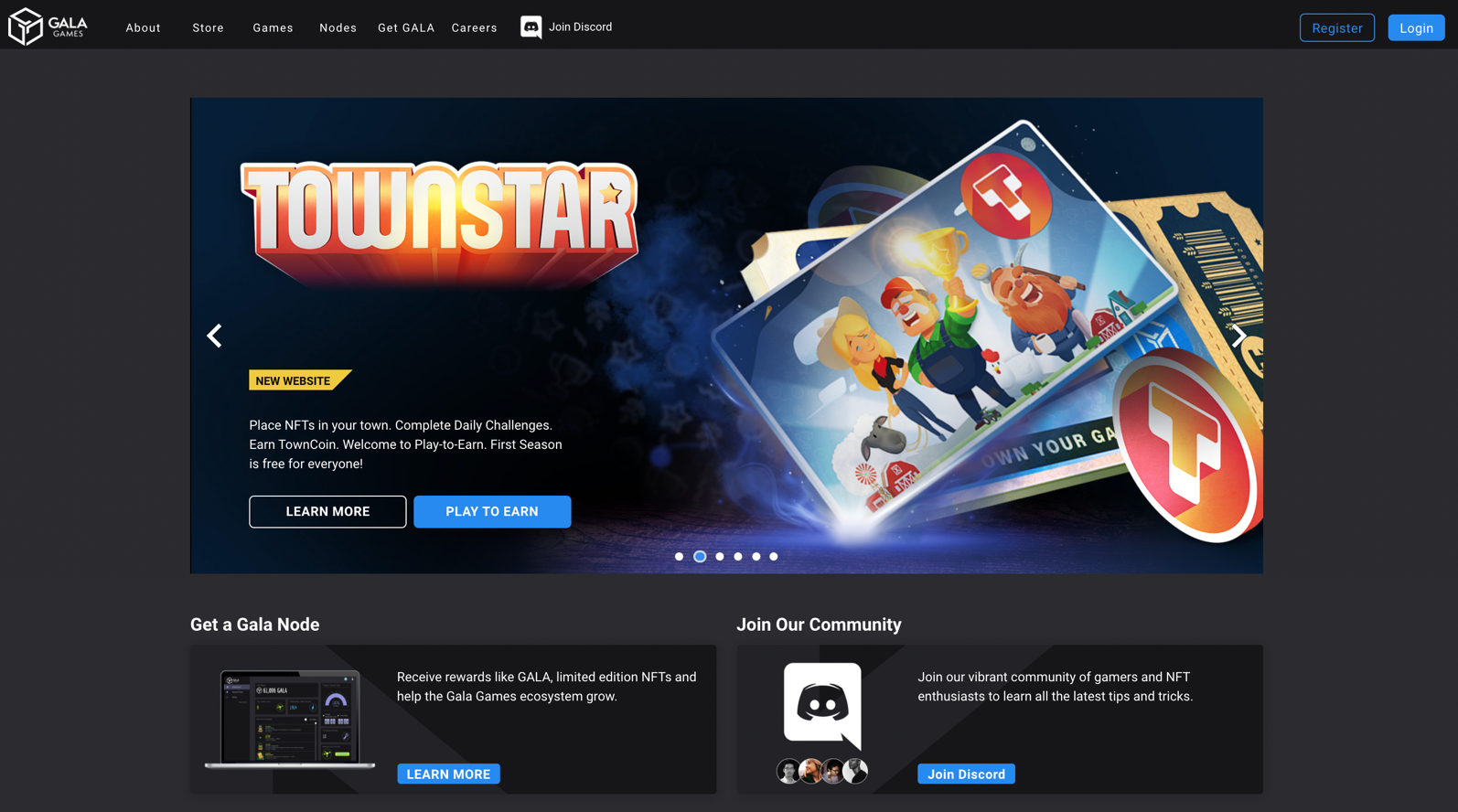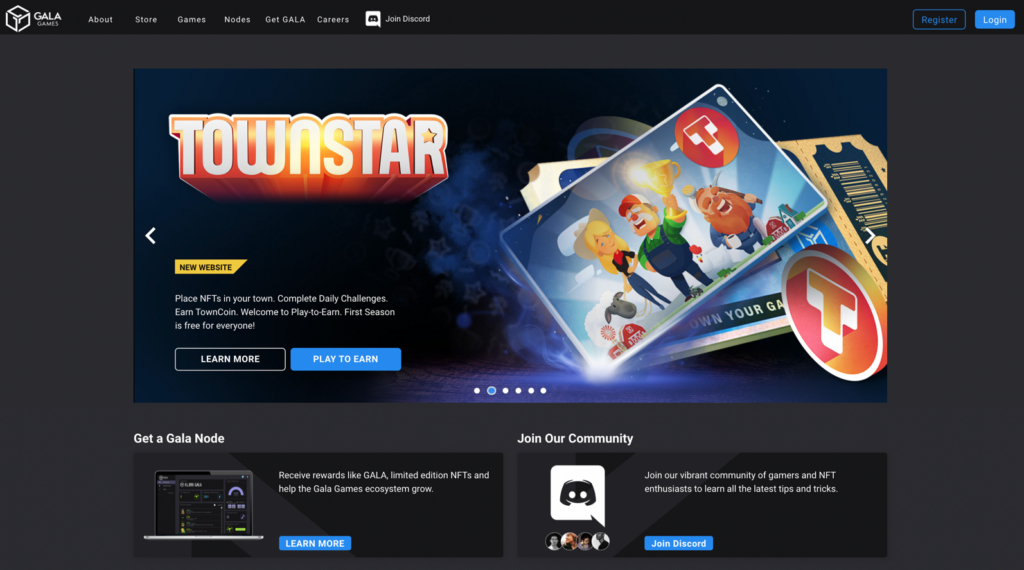 Gala Games is about 'making blockchain games you'll actually want to play.' As the name suggests, the project is a 'gala' of various blockchain-powered games allowing players to tokenize in-game items into non-fungible tokens (NFTs).
Presently, there are five games on the platform; Spider Tank, Fortified, Echoes of Empire, Town Star, and Mirandus. Each game has its own fully-fledged NFT store. This facility offers users actual ownership and monetary investment value over unique in-game items.
The most expensive NFT ever sold on Gala was worth $3 million, reinforcing the craze of the crypto gaming industry over the last few years.
Like virtually all play-to-earn games, Gala's utility currency is GALA, used for numerous purposes like buying items, rewarding nodes, P2P payments, etc.
Gala Games dominates a large chunk of the blockchain gaming industry. The project is ranked fourth by CoinMarketCap among the most-traded gaming tokens (#42 overall), with a price of $0.71.
So, is GALA a good investment? Are GALA price prediction forecasts looking positive? Let's explore more.
Is Gala Games a good investment?
Gala Games is a part of 'GameFi,' an industry combining gaming and DeFi (decentralized finance). This segment of cryptocurrencies incorporates various elements, most notably NFTs – but also other financial products like borrowing, lending, yield farming, etc.
Gala Games is one of the leading projects in the play-to-earn space, arguably the most interesting aspect of how gaming has evolved over the last years. Aside from the GameFi elements previously mentioned, play-to-earn is about affording players the chance to earn real money from gaming.
Not many could have envisioned such a future, but projects like GALA continue making it a reality for gamers worldwide.
Gala Games depend heavily on community suggestions both for current and future development. The platform now has more than 1.3 million active users. Lastly, GALA's tokenomics are pretty favorable with regards to the limited coin supply.
According to CoinMarketCap, there is a maximum distribution of roughly 35.2 billion, with 6.98 billion in circulation. Moreover, GALA has a halving mechanism to restrict the supply further. When the token distribution reaches its limit, the hope is a demand increase will make the coin more valuable.
Should I buy Gala Games today: Crypto technical analysis for GALA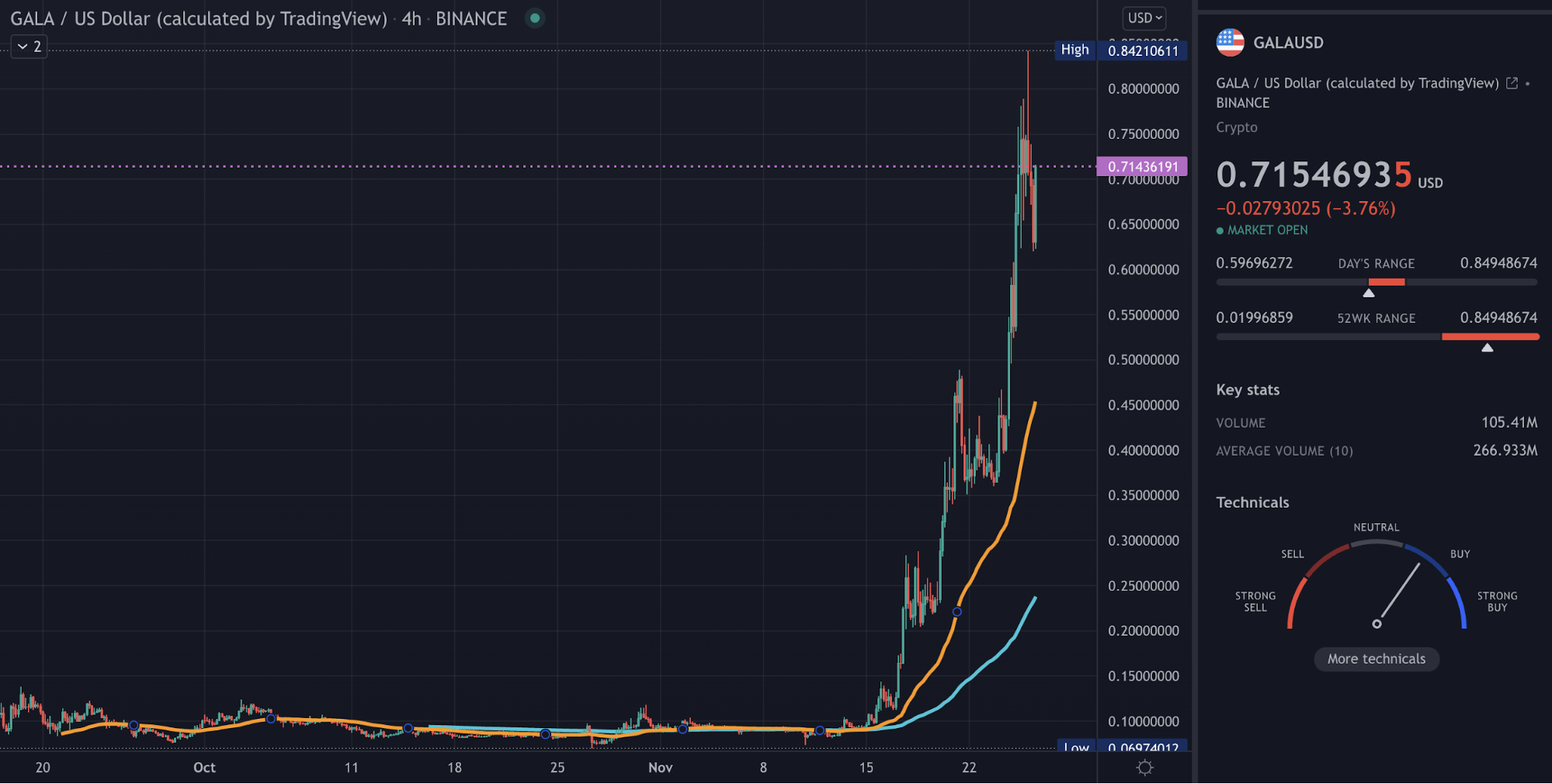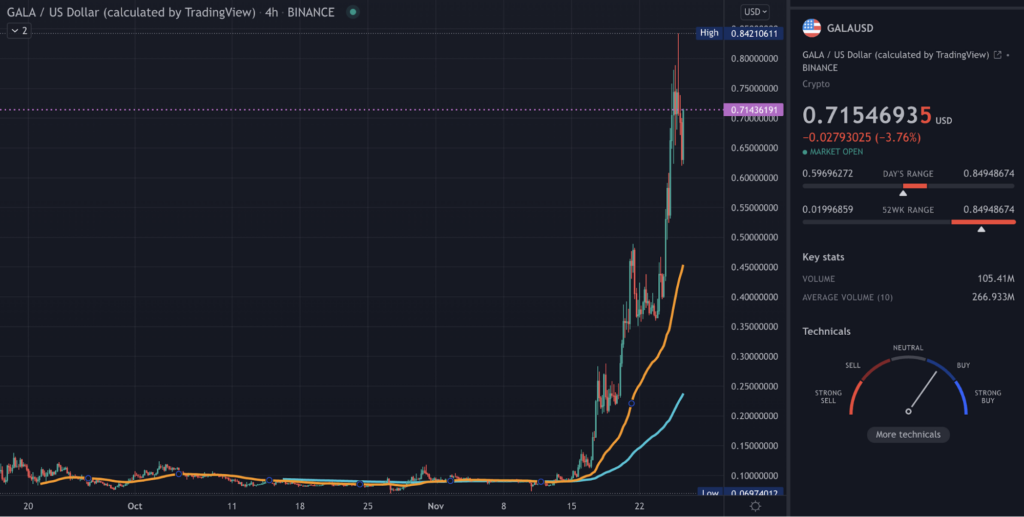 Metaverse coins have been reaching all-time highs over the past few weeks, partly boosted by Facebook's recent decision to change their parent company name to Meta.
Experts also believe it's because the token was recently listed on Binance and Bibox. GALA has risen over 800% since late October 2021, bringing it to an all-time high of $0.84. Hence, GALA is in bullish momentum, and our technical analysis can confirm this.
Using a simple 50 and 200-day moving average strategy, we see the price is well above both moving averages on the chart. A buying trigger is further confirmed with this crossover system when the 50 (orange) crosses above the 200 (blue).
Fortunately, GALA has already met both criteria, suggesting it's time to buy it. We'll now look at GALA price prediction analysis for 2022 and 2025.
Will GALA coin price hit $1 in a year?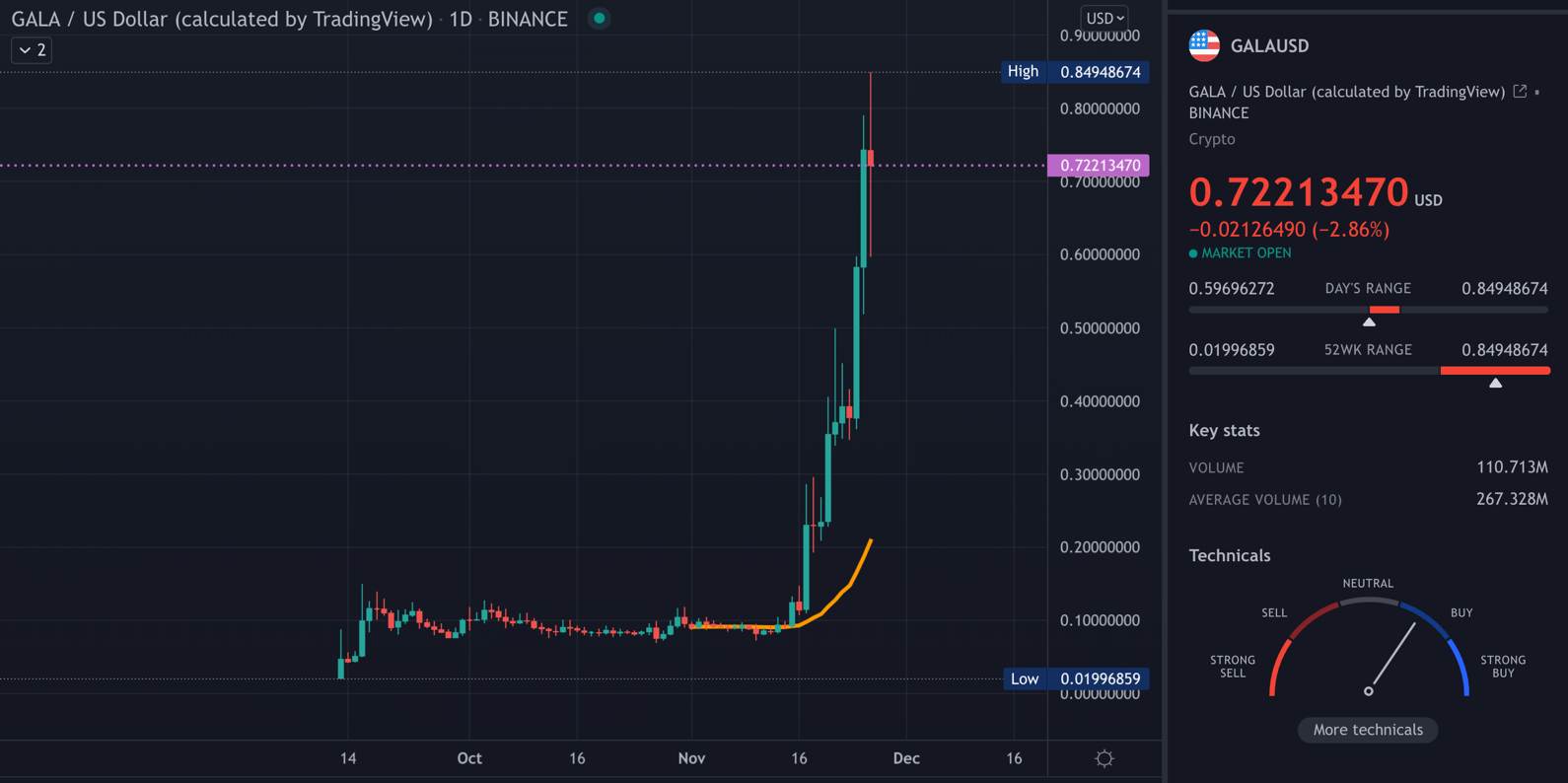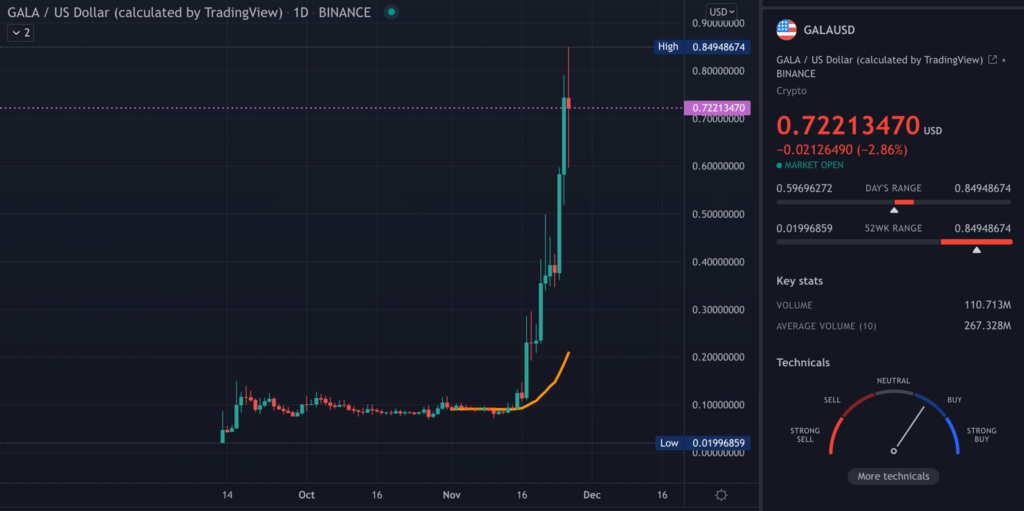 Having just touched $0.84, $1 seems like the magic number to reach in a year. Based on the solid bullish momentum, it's likely the price can hit this mark a lot sooner, even before the end of 2021. It'd only take a 35% gain, which is certainly not a long way to go.
For a more algorithm-based forecast, we can look at findings from PricePrediction.net.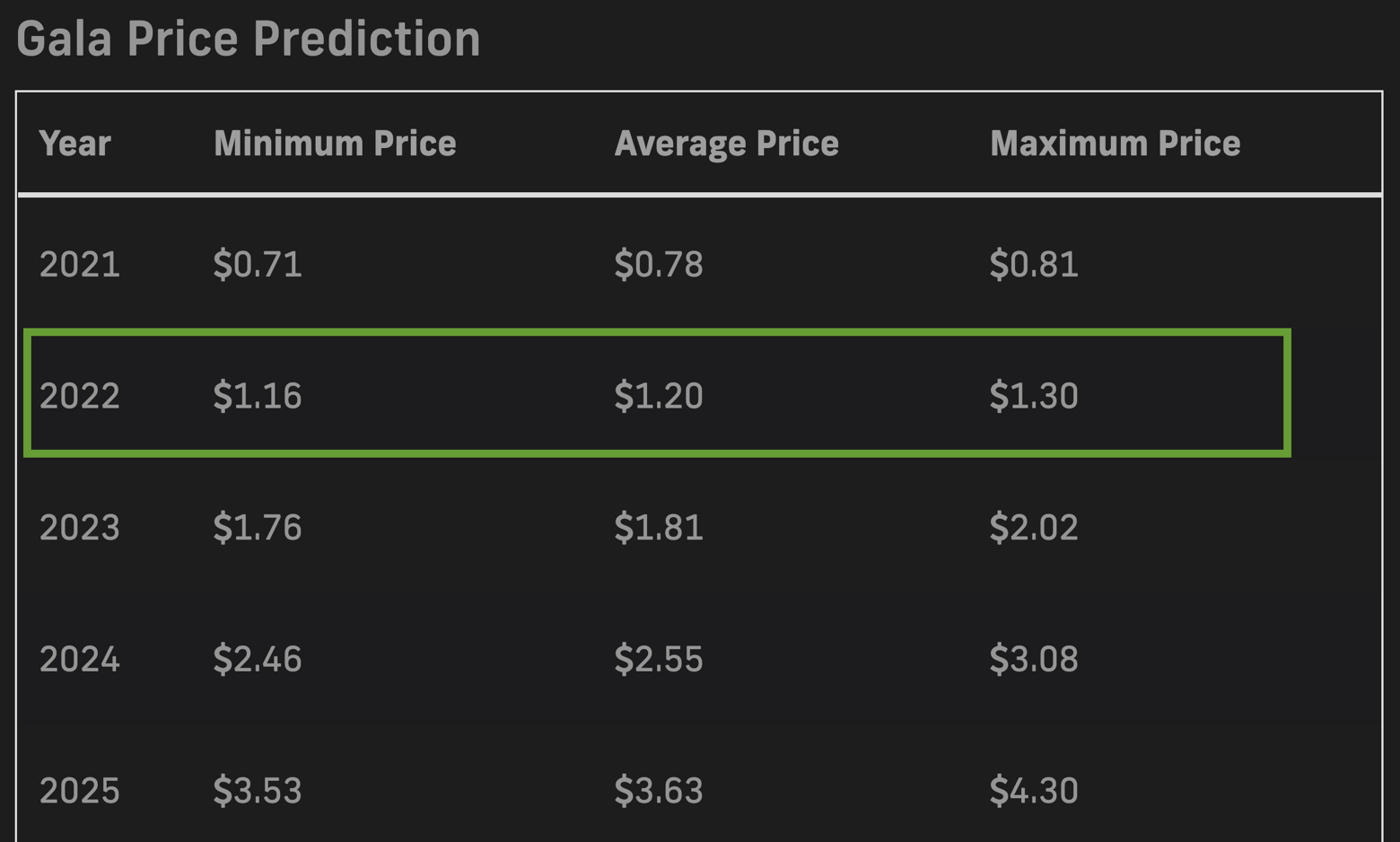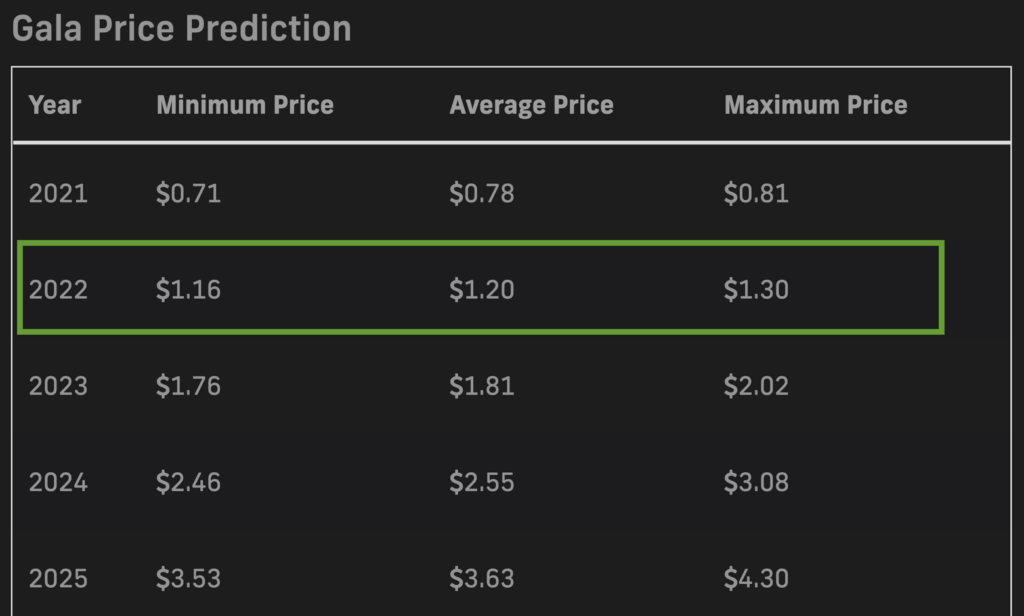 The site predicts minimum and maximum prices of $1.16 and $1.30, respectively.
What is GALA's price prediction for 2025?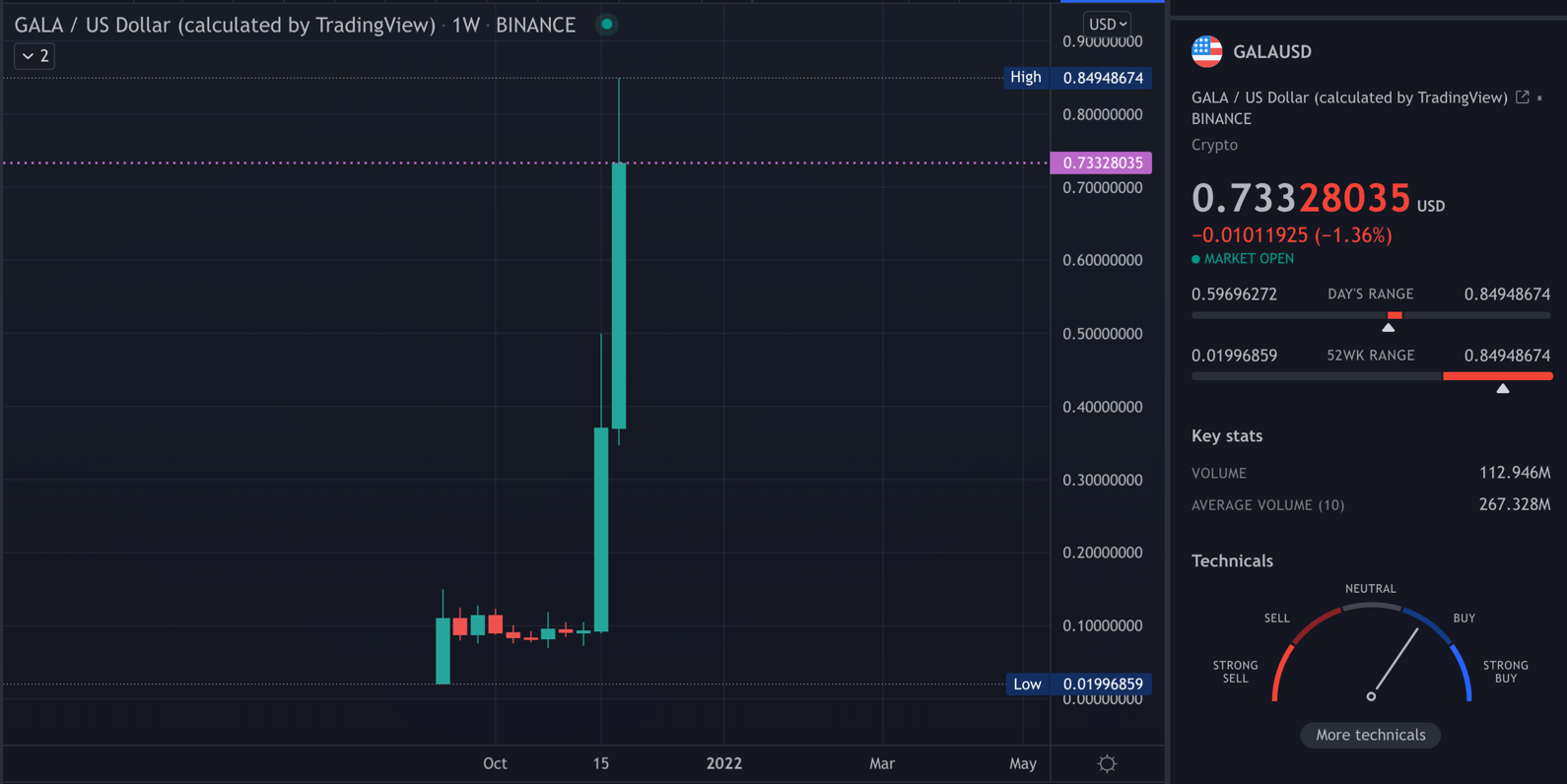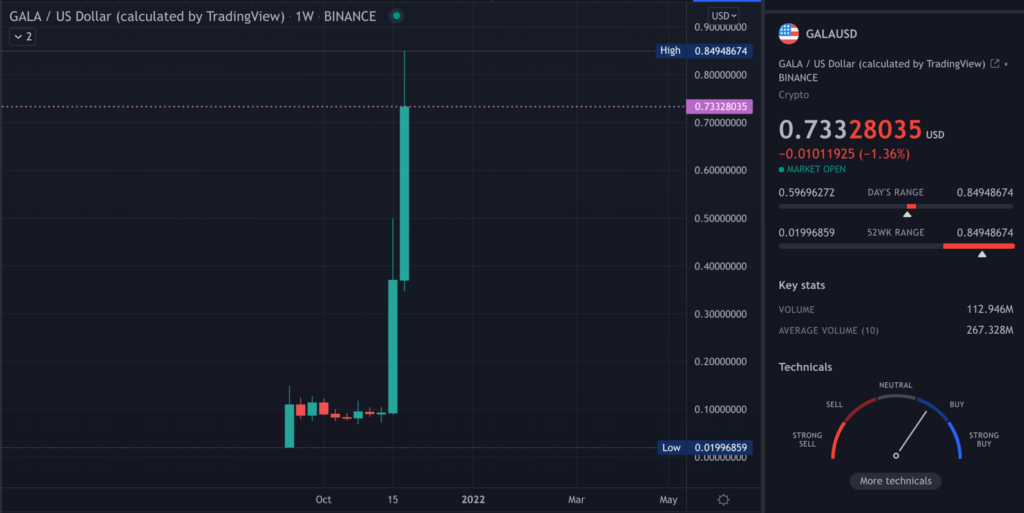 With experts believing that the gaming and cryptocurrency sectors will undoubtedly grow in the coming years, there's much to smile about for GALA users and investors. Over the long term, 2025 is a reasonable period to assess the success of an investment in this project.
Best-case scenario
PricePrediction.net estimates GALA to be worth between $3.53 and $4.30 by 2025.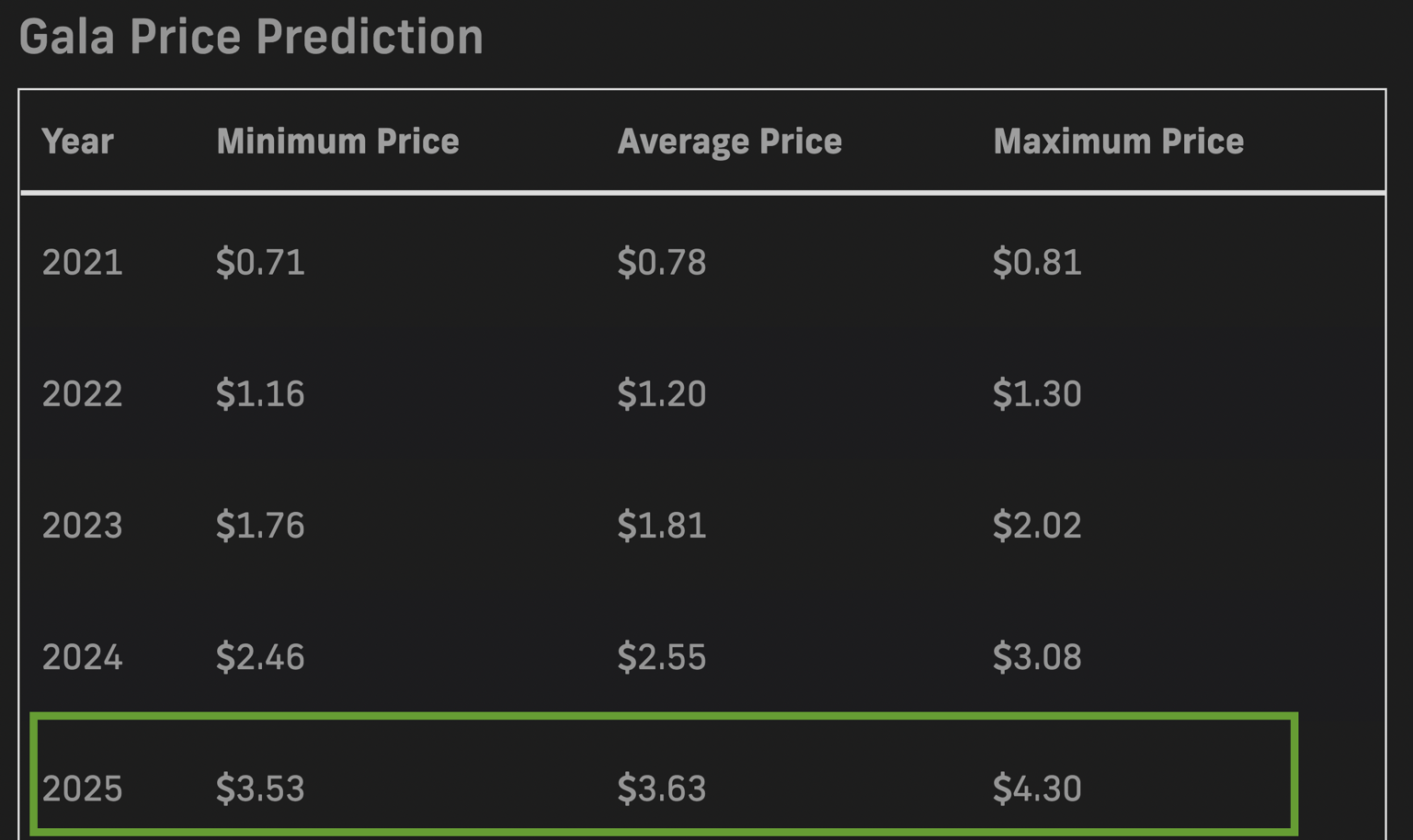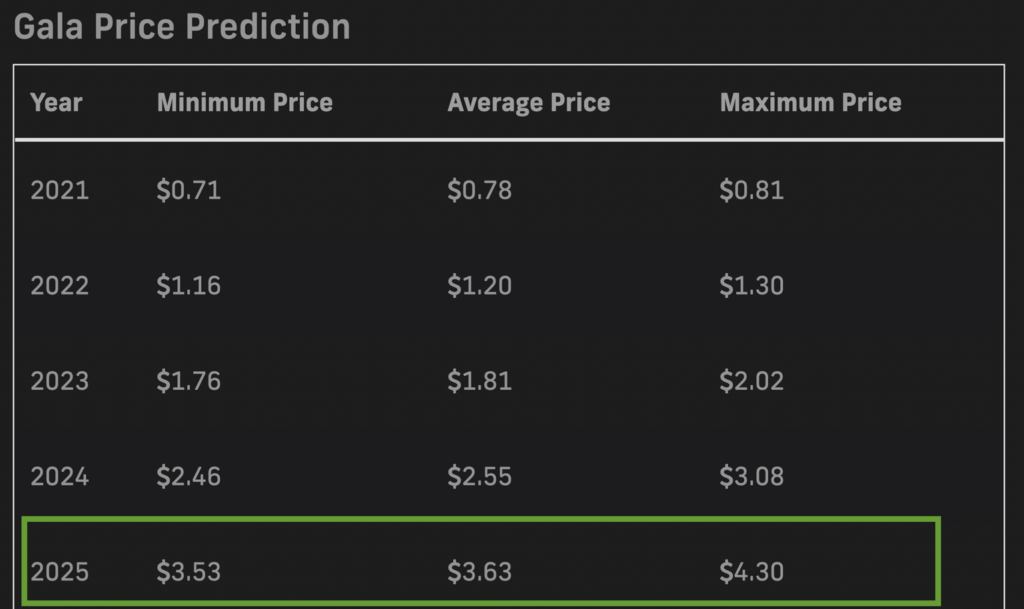 These would represent gains in the 5-6X range, which are highly probable in a three-year span if the price grows steadily over time.
Worst-case scenario
The worst that could happen is the risks you'd have with any cryptocurrency. This market is naturally highly volatile and does stir up some controversy. Despite an overall bullish sentiment about this instrument, no one can guarantee we won't experience an extended bear market as it occurred a few years ago.
The best way to buy GALA
You can buy GALA from many cryptocurrency exchanges like Binance, Coinbase, Gate.io, Poloniex, and even decentralized exchanges such as Uniswap, PancakeSwap, Sushiswap, etc.