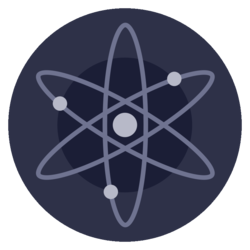 Cosmos Hub (ATOM)
Price
What is Cosmos (ATOM)?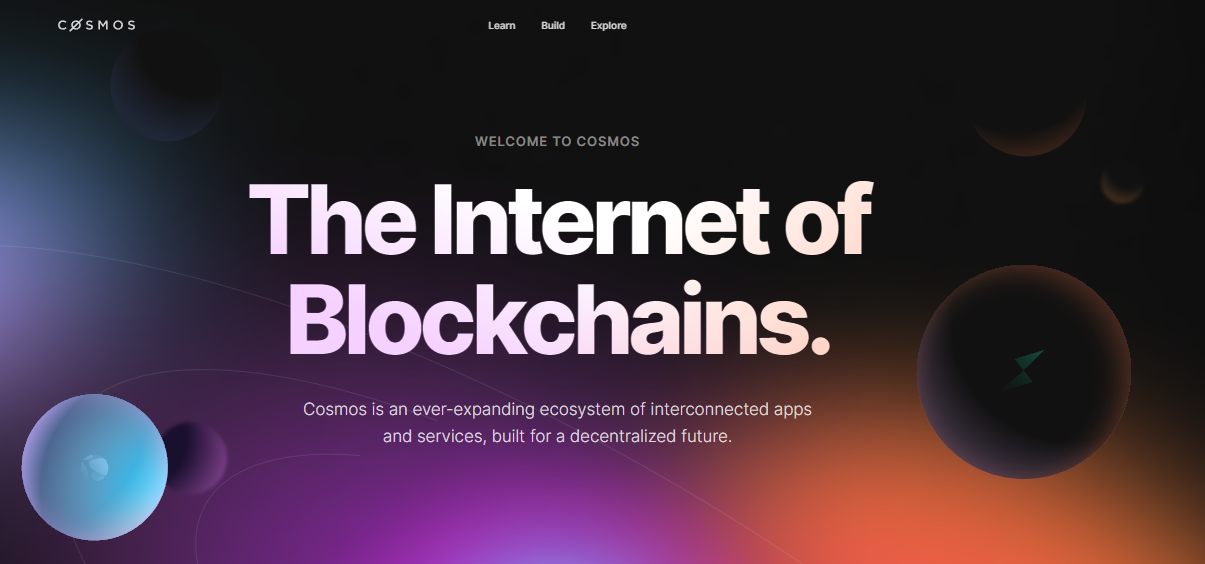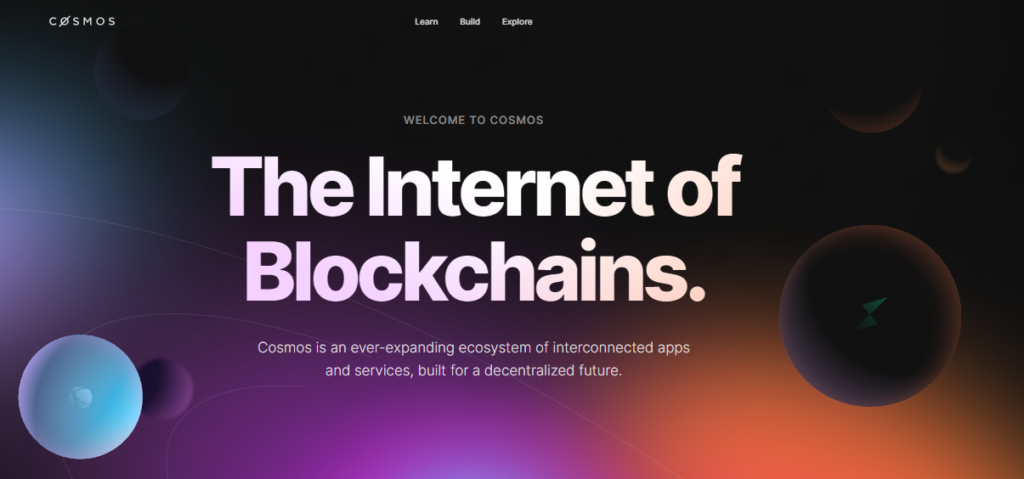 'The internet of blockchains' or 'blockchain 3.0' sound like highly ambitious and unrealistic ideas, though that's what projects like Cosmos have been accomplishing for several years. Cosmos is a unique third-generation proof-of-stake distributed ledger.
Along with other established projects in this realm like Polkadot, Cosmos has the vision of solving the interoperability problem in cryptocurrencies. This challenge refers to the fragmentation of the numerous blockchains available that cannot communicate effectively with each other.
Aside from being the 'cosmos' or 'universe' of blockchains, the project seeks to demystify building these structures by making them less complex thanks to modulation. Cosmos works with Tendermint Core and the IBC (Inter-Blockchain Communication) through independent ledgers referred to as zones any developer can create and join.
The Cosmos Hub integrates these zones and allows seamless asset, token, and data exchange across the entire network. ATOM acts as the utility token 'fueling' such transactions. Since its public release in March 2019, Cosmos has been climbing the charts on CoinMarketCap.
The project ranks an impressive #22 with a per-token value of $34, not far from its recent all-time high price of $44.80 it reached in September 2021. Let's explore more on why Cosmos might be a good investment and look at some price predictions.
Is Cosmos a good investment?
Despite many cryptos being in somewhat of a slump over the last few months, Cosmos is one of the few projects holding its ground, a testament to its staying power. In February, the project ranked 19th on CoinMarketCap and is now at 22nd.
Let's also consider a few other things, namely the proposition, how the coins are created, and the token supply. As briefly mentioned, interoperability is one of the plaguing issues in cryptocurrencies. This is essentially cross-chain functionality, though, with the sheer number of blockchains in existence, many of these networks are in silos.
Also, third-gen blockchains like Cosmos are highly scalable since they use a proof-of-stake consensus mechanism instead of proof-of-work or mining, which has been proven to be costly, energy-consuming, and less scalable.
Finally, ATOM's limited circulating supply is worth highlighting as it represents scarcity. The founding team planned for there to be only 280,227,863 coins in the entire lifetime of ATOM. Presently, about 222 million or 80% of the tokens are in circulation.
Investors like these projects because, historically, the price is more likely to rise due to amplified demand as the supply gets maximized.
Should I buy ATOM today: Crypto technical analysis for ATOM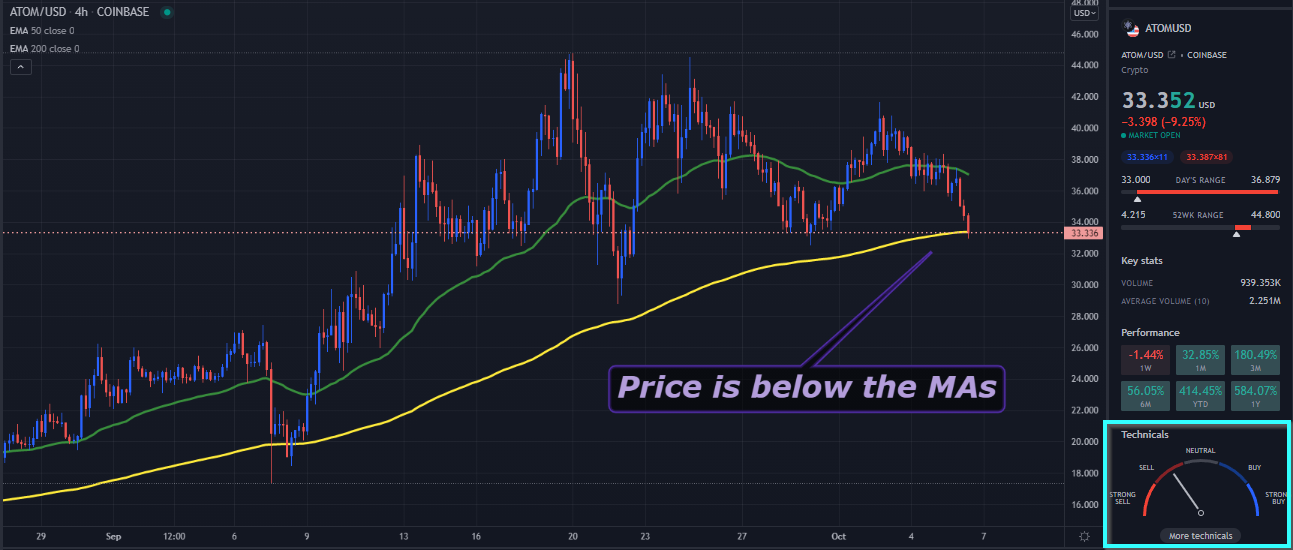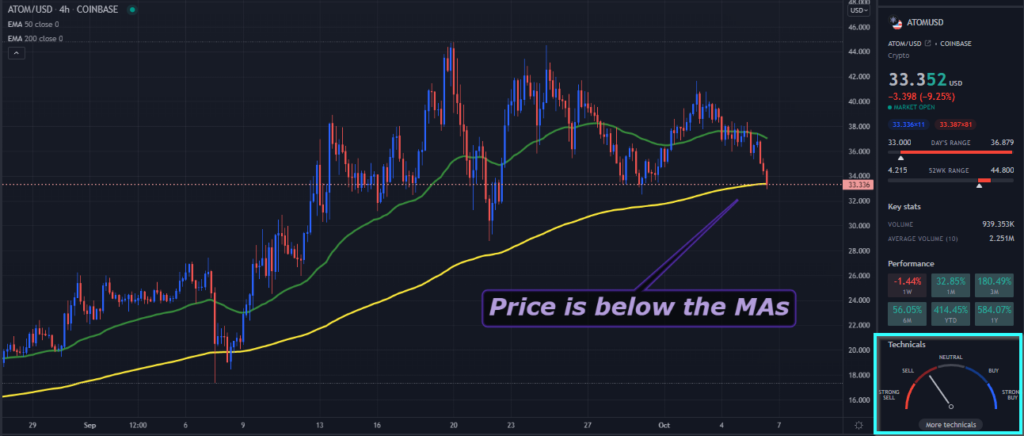 Let's utilize a simple exponential moving average strategy using the 50-day (green) and 200-day (yellow) periods. The aim is for the 50 to cross beyond the 200. Additionally, the price should be above both moving averages to confirm a buying signal.
While ATOM meets the first criteria, it does not meet the second one. Moreover, TradingView's technical analysis (located at the bottom right of the chart) isn't providing a buying signal. However, the good news is the slope of the averages points upwards. So, a buying opportunity may be on the horizon soon, assuming the trajectory remains like this.
Will ATOM coin price hit $100 in a year?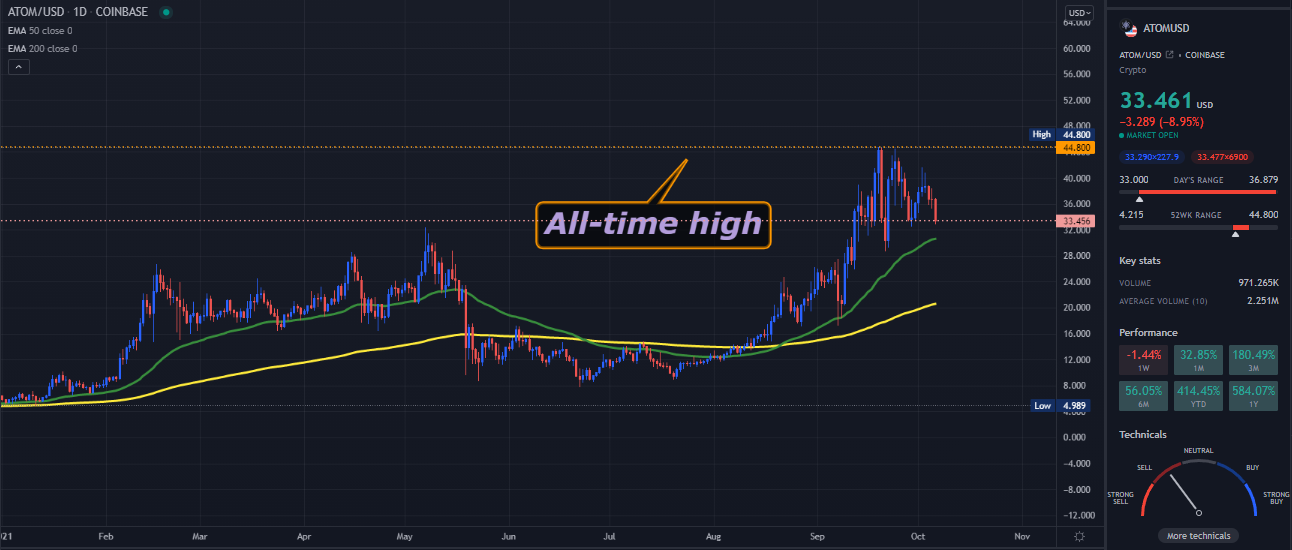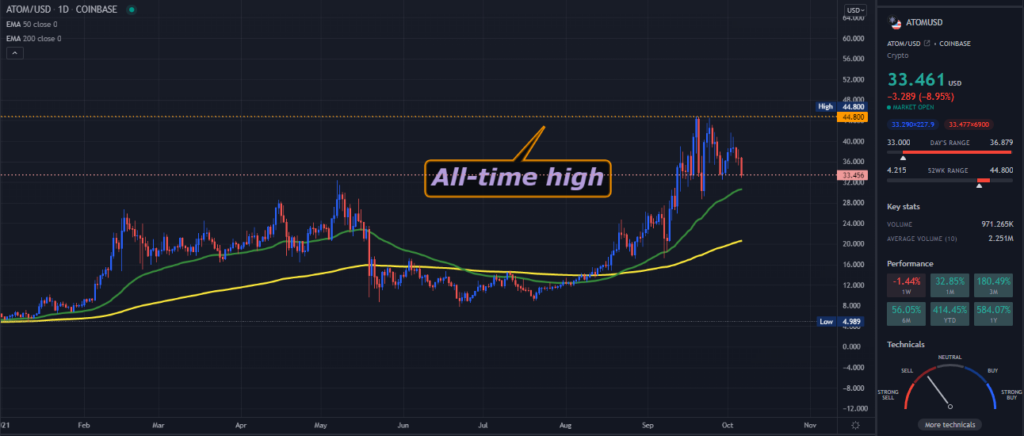 We can see ATOM is in an uptrend on the daily chart, suggesting some potential bullishness in the pipeline. But can the crypto reach $100 in a year? Let's look at ATOM price prediction forecasts from Digitalcoin.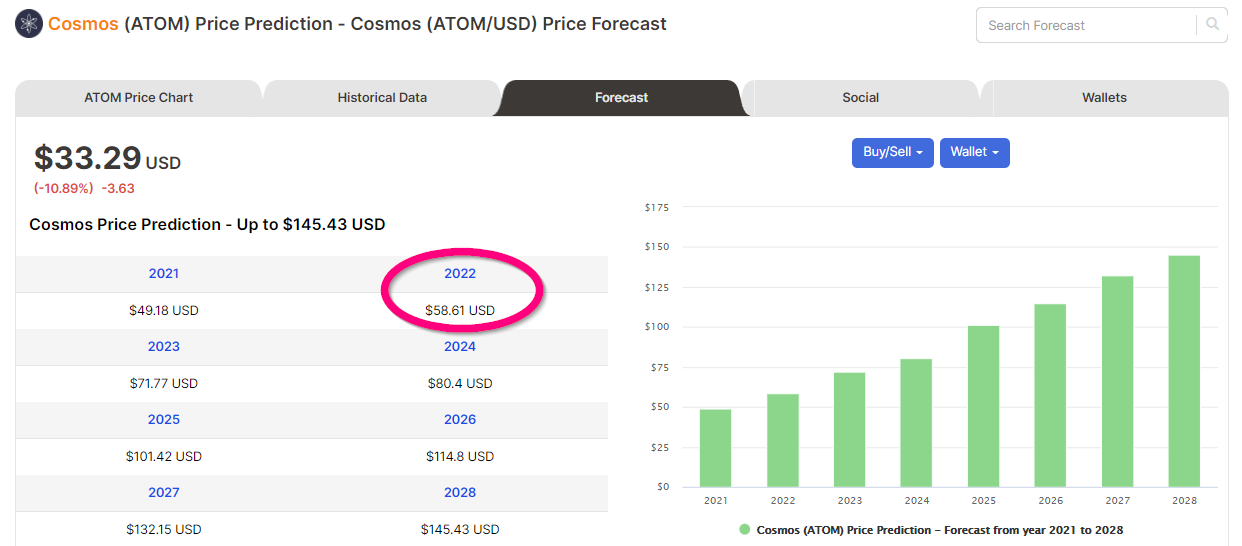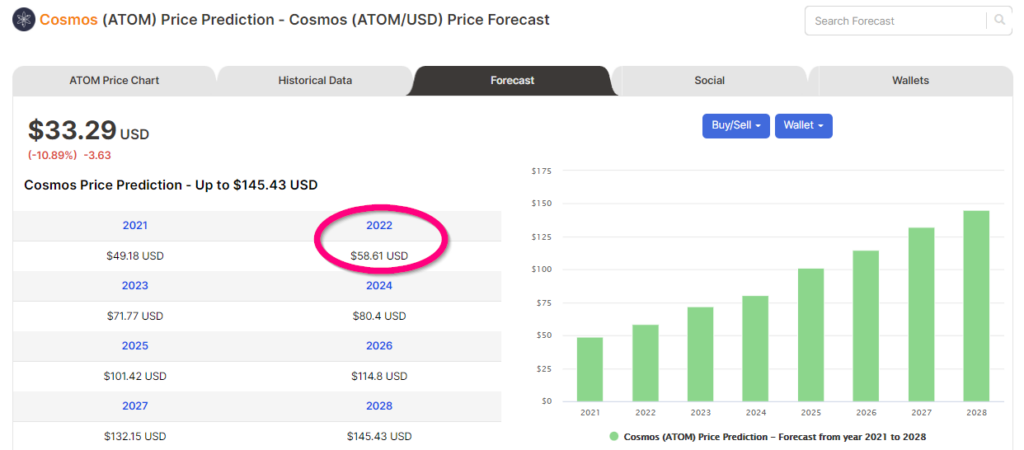 The site estimates Cosmos should be worth $58.61 in a year. Wallet Investor, another forecasting site, isn't far off and suggests a $54.55 evaluation. So, no, ATOM is unlikely to be worth $100. Conversely, we should remember ATOM has increased 452% year-to-date.
It is possible to rise this much over the next year or more, surpassing the $100 mark. So, investors should prepare themselves for any outcome.
ATOM price prediction for 2025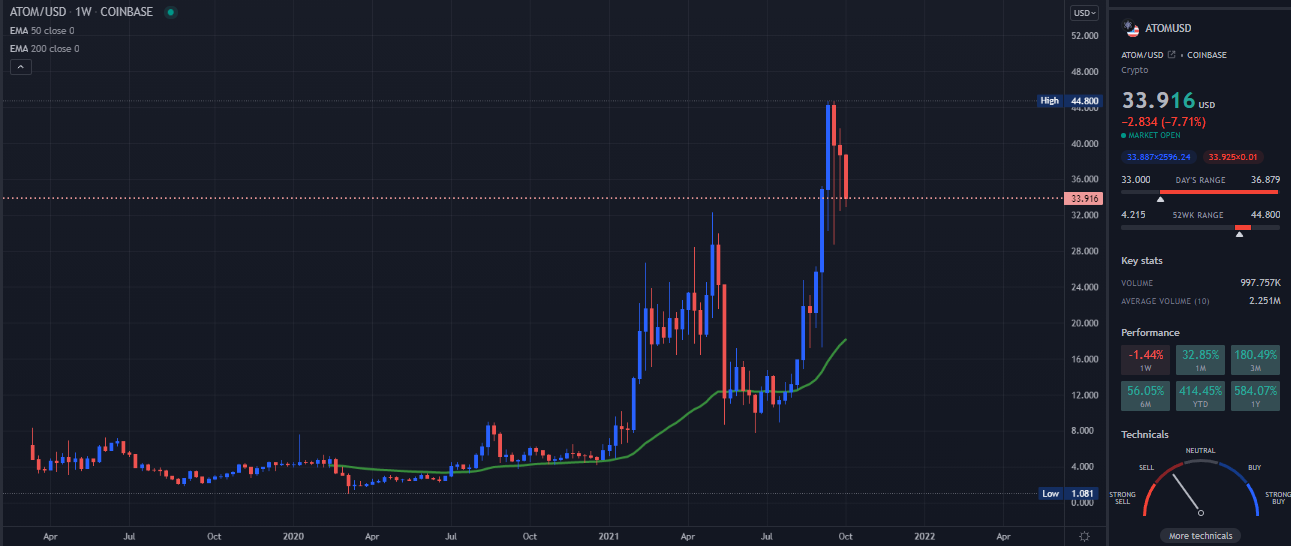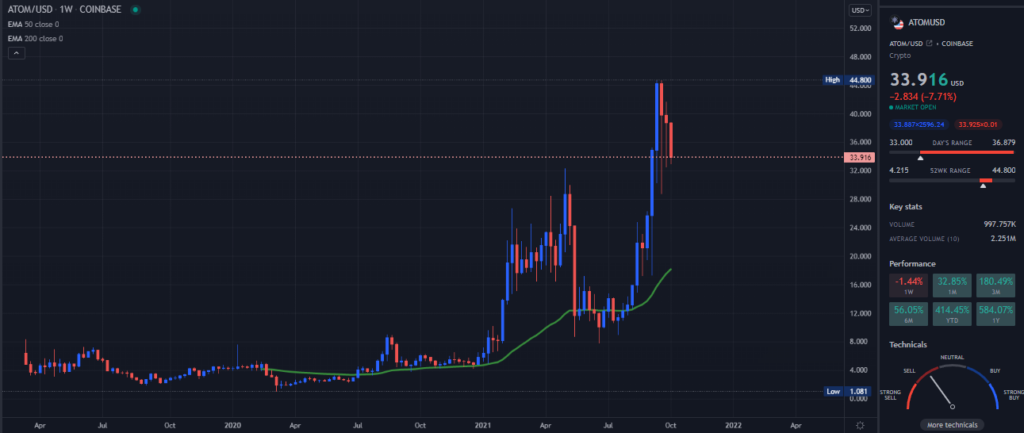 The weekly chart shows the same bullish sentiment as the daily time frame, a brilliant sign for a probable value increase for Cosmos in the future. But what about an ATOM price prediction for 2025?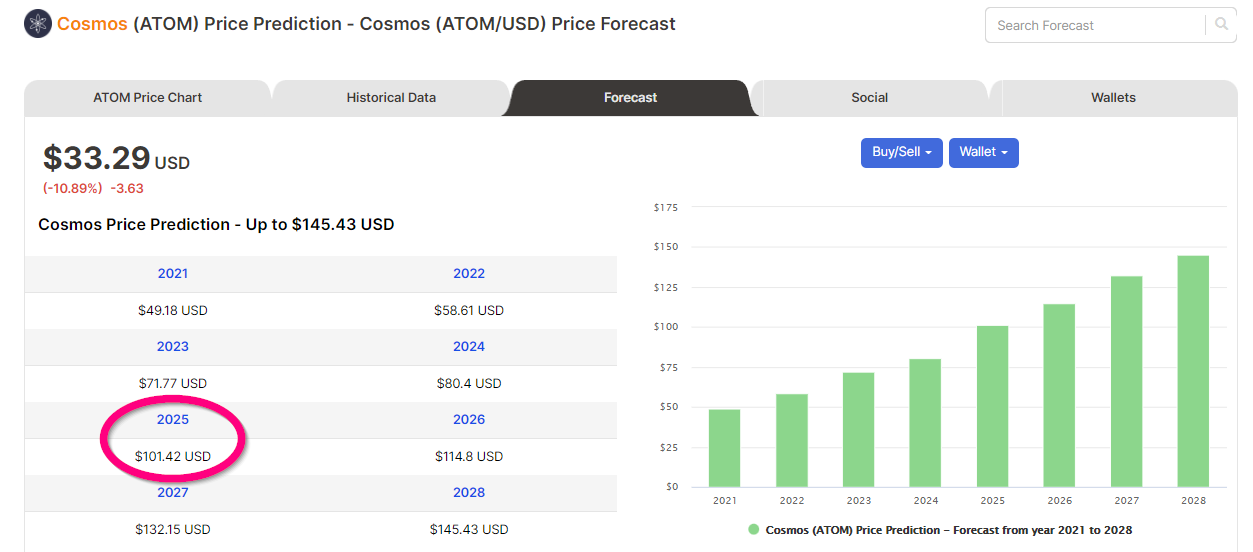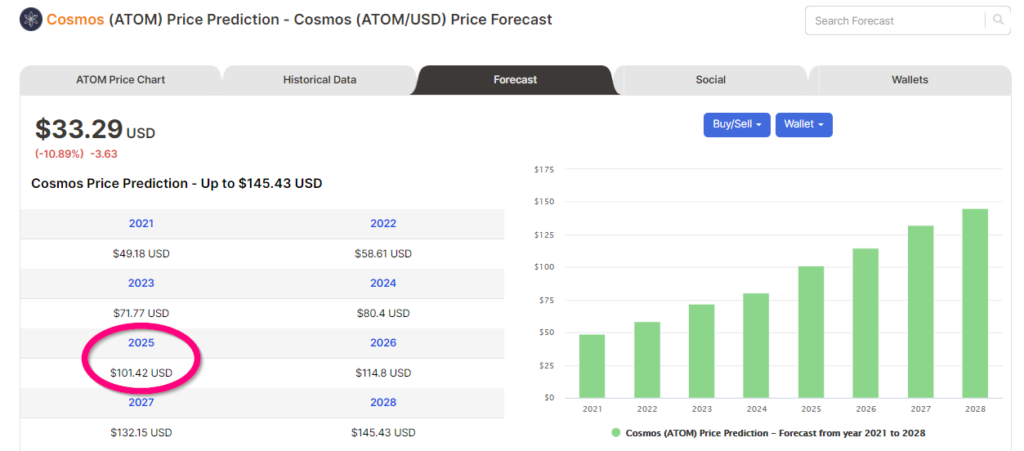 Digitalcoin approximates for ATOM to be worth $101.42 by 2025, and Wallet Investor indicates an average and maximum price of $90 and $105, respectively. These predictions are pretty conservative, though no analyst can predict the values of a volatile market like cryptocurrencies. Investors should always understand the risks and invest accordingly.
The best way to buy ATOM 
Like most cryptocurrencies, the best way to buy ATOM is from an exchange. The brands in this regard include Binance, Coinbase, Huobi, KuCoin, Gate.io, Bithumb, Kraken, and countless others.
Furthermore, plenty of hardware and software wallets are available if you prefer not to trade the coin but instead store it.