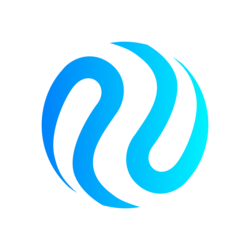 Injective (INJ)
Price
What is Injective Protocol (INJ)?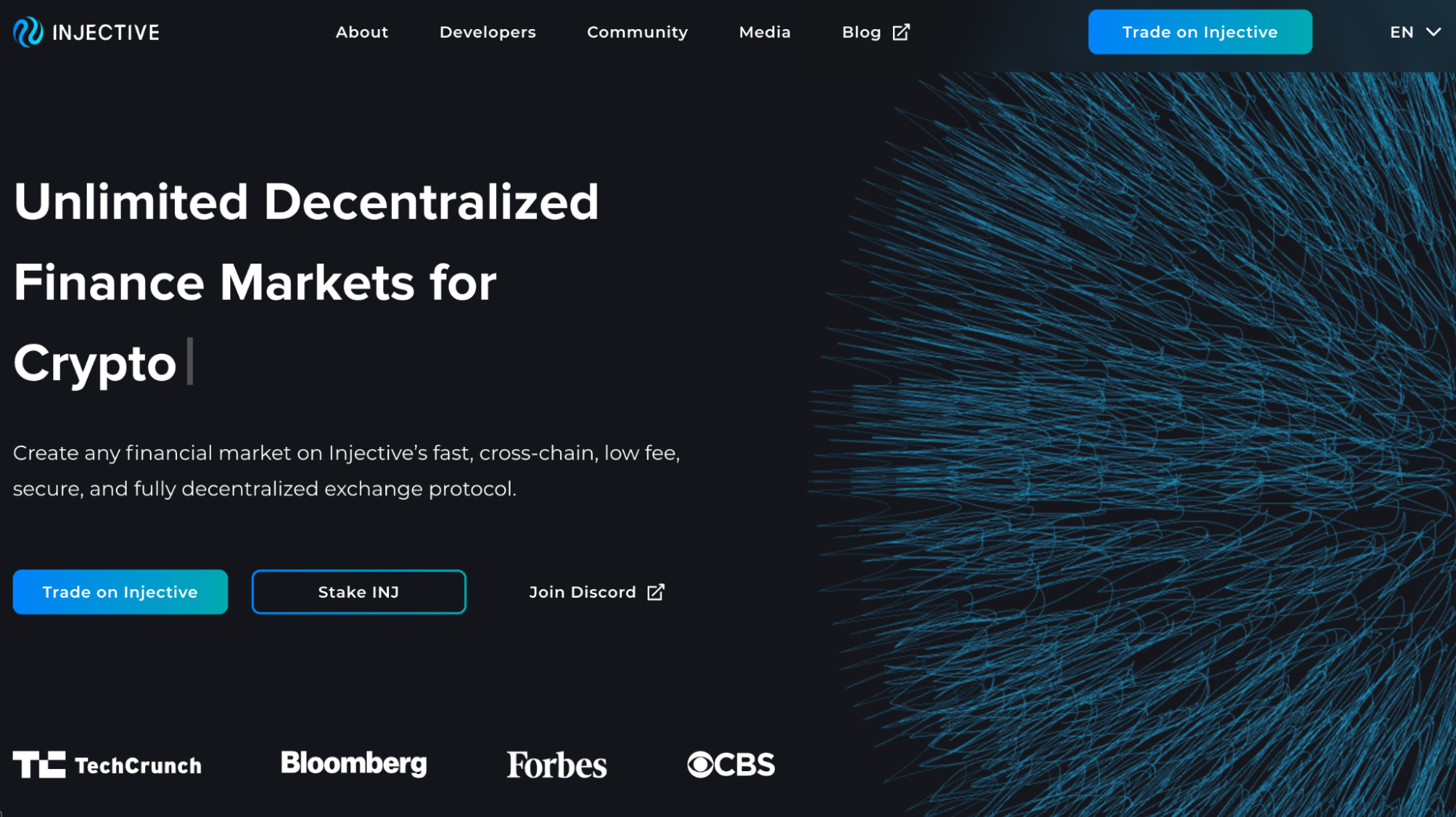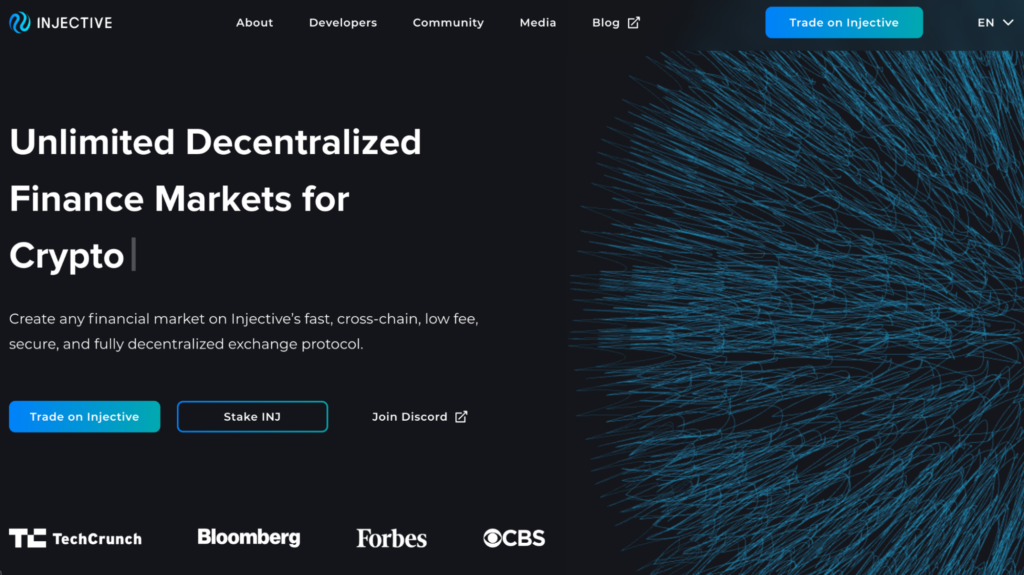 Despite only launching in late 2020, Injective Protocol is making a name for itself in the decentralized exchange space. Injective allows developers to create any financial market with leverage, around-the-clock trading hours, high throughput, near-instant finality, and zero gas fees.
The platform is technically a layer-2 sidechain to the main blockchain Cosmos. The INJ utility token is backed by Cosmos' Tendermint proof-of-stake consensus mechanism. Aside from staking, INJ serves other purposes such as governance, collateral backing for derivatives, and liquidity mining incentives.
The protocol is powered by a central limit order book and TEC (trade execution coordinator) that can support a range of derivatives like perpetuals, futures, synthetics, forex, and other lucrative types.
This unique project was founded by the New York-based Injective Labs, an R&D company focused on advanced decentralized finance solutions. Presently, CoinMarketCap ranks INJ #154 for most traded coins with a price of $7.26.
This fairly high position of the token may provide investors with a gem. Let's also explore some INJ price prediction forecasts to see where it's headed for the future.
Is Injective Protocol a good investment?
Injective is not a particularly old project, meaning it might be 'early days' for investors. The key to a successful crypto investment is getting in early where there's unrealized potential.
Although no one can tell how effectively the developers will deliver on their promises, Injective is quite unique indeed. Injective's main mission is removing the access barriers to DeFi markets.
For one, developers can build the user interfaces much more welcoming than a typical decentralized exchange. Injective upholds the benefits of these exchanges by being entirely permissionless and private but with the user-friendliness of a centralized exchange, like Coinbase.
The platform maintains super-fast transaction speeds and very low fees, two elements that are crucial within cryptocurrencies. Another exciting aspect is INJ's deflationary finite supply. Every two weeks, the token undergoes a 'burning' process decreasing the distribution over time.
Analysts value cryptocurrencies with limited supply highly for scarcity reasons. Overall, investors will hope Injective becomes more widely used in the DeFi space and stays competitive.
Should I buy INJ today: Crypto technical analysis for INJ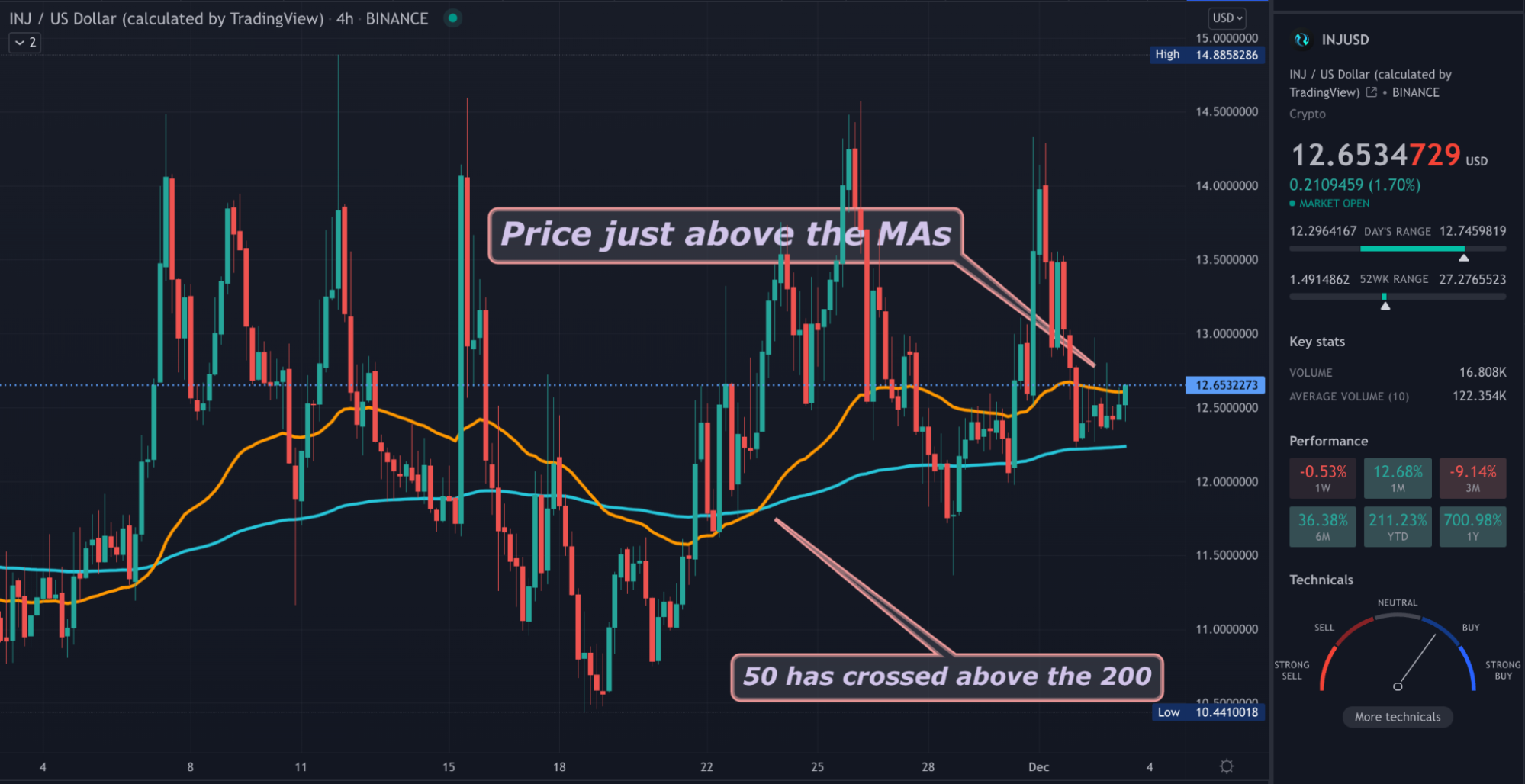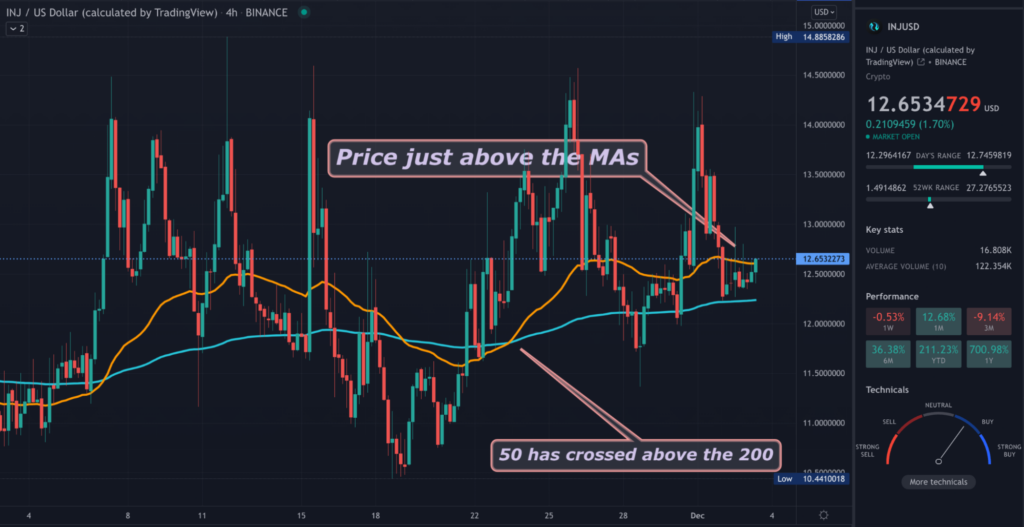 Our simple technical analysis suggests a bullish trend resumption, meaning it's a good time to buy INJ. On the chart, we've applied the 50-day (orange) and 200-day (blue) moving averages. This crossover system comes with two entry triggers. Firstly, the 50 must cross above the 200; and secondly, the market must be trading above both.
INJ's price action meets both criteria, which is good news. We'll now observe INJ price prediction analysis for next year and 2025.
Will INJ coin price hit $50 in a year?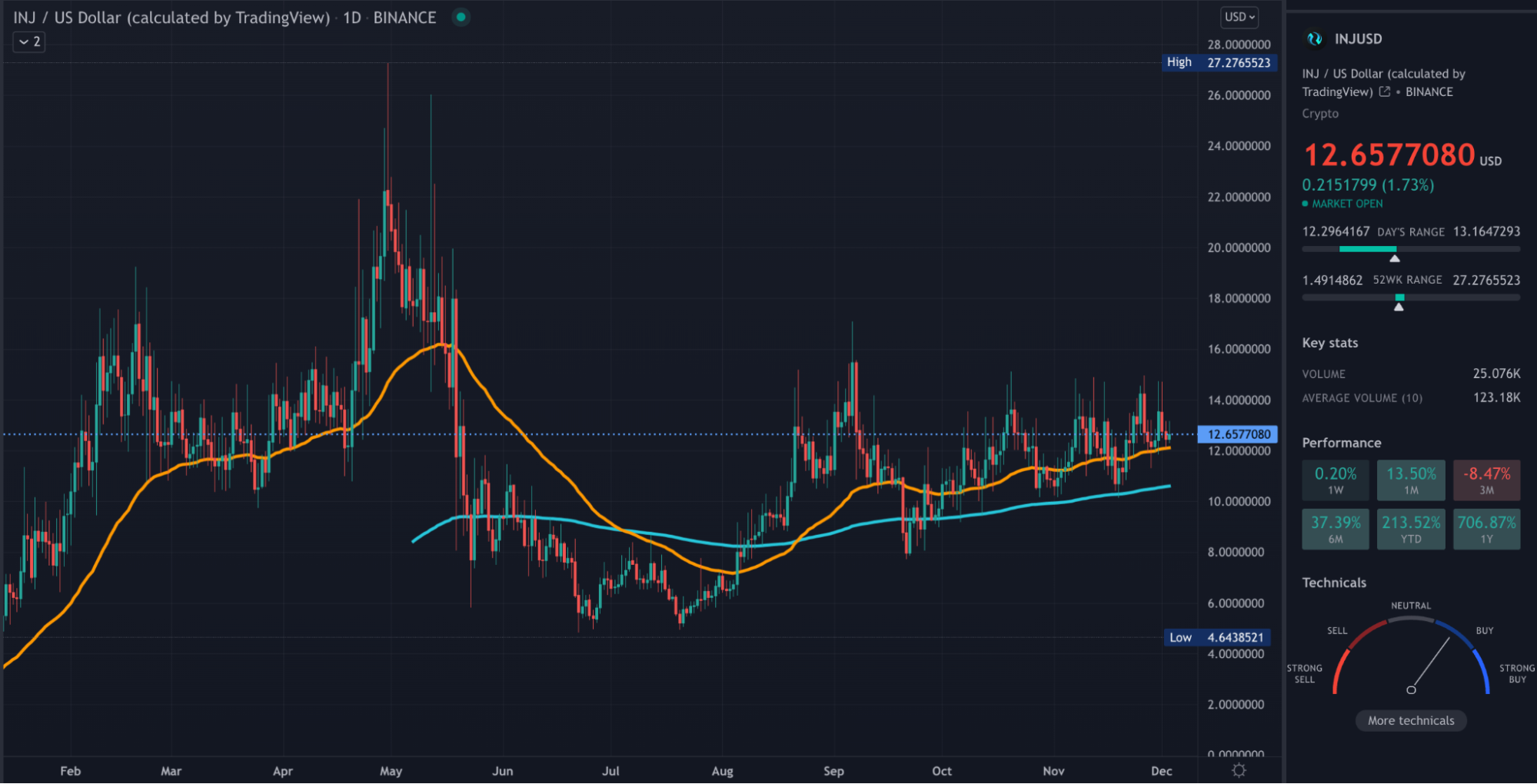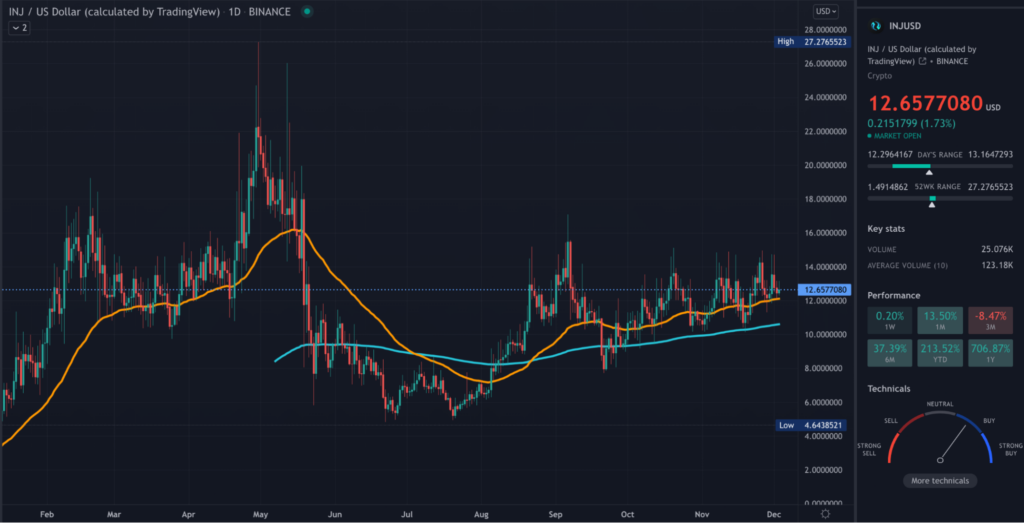 Having reached an all-time high of $27.27 in April, $50 seems like the next natural target within a year. Interestingly, most forecasting sites don't peg INJ to go above $25. For instance, Wallet Investor suggests minimum and maximum prices of $13.89 and $24.89, respectively.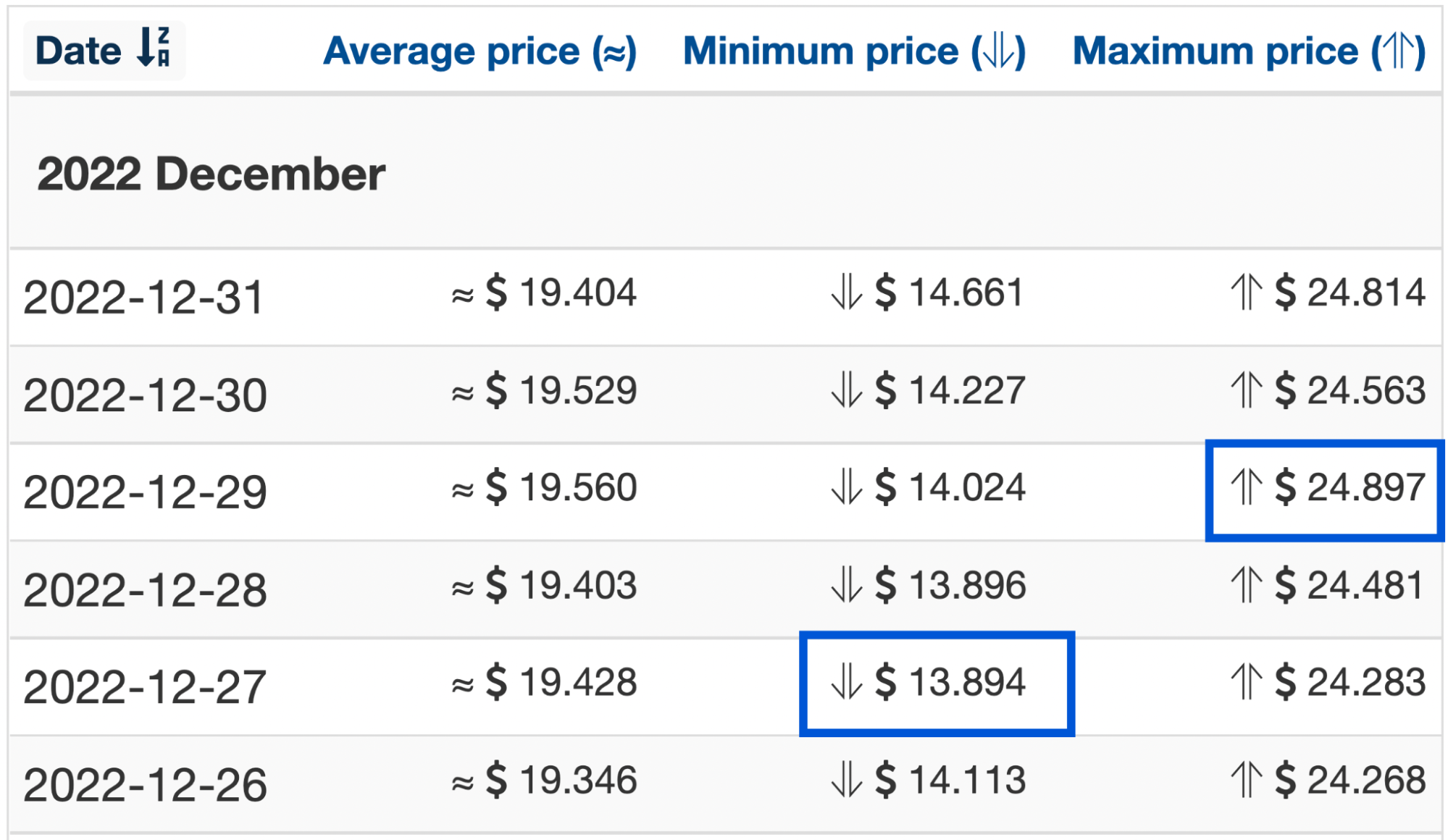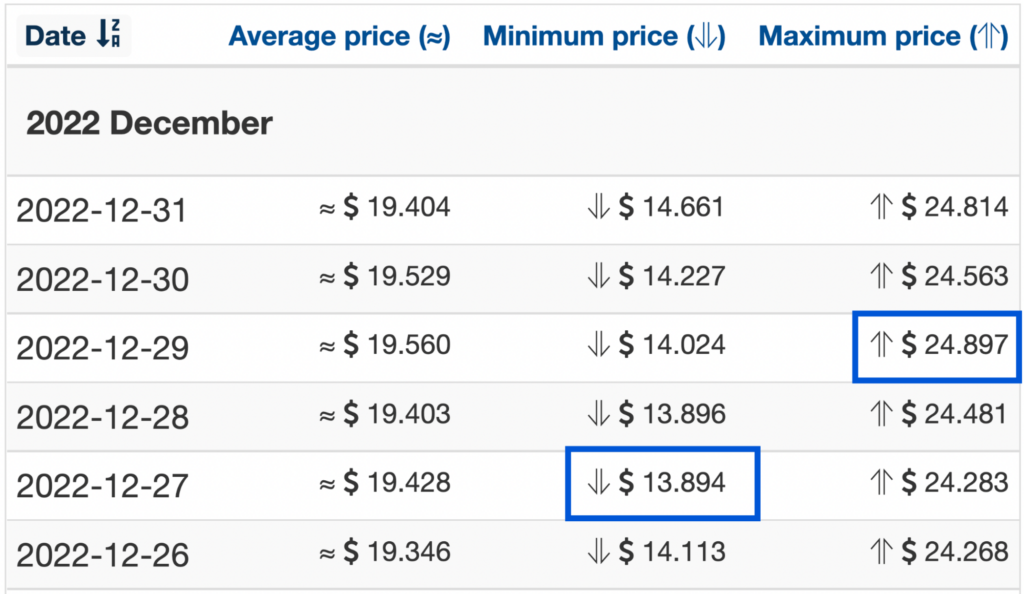 PricePrediction.net forecast for low and peak values are $18.42 and $22,32, respectively; Digitalcoinprice estimates a maximum price of $23.07. Based on this analysis, it's fair to assume gains in the 2X region or perhaps even better if other factors tremendously increase the price.
What is INJ's price prediction for 2025?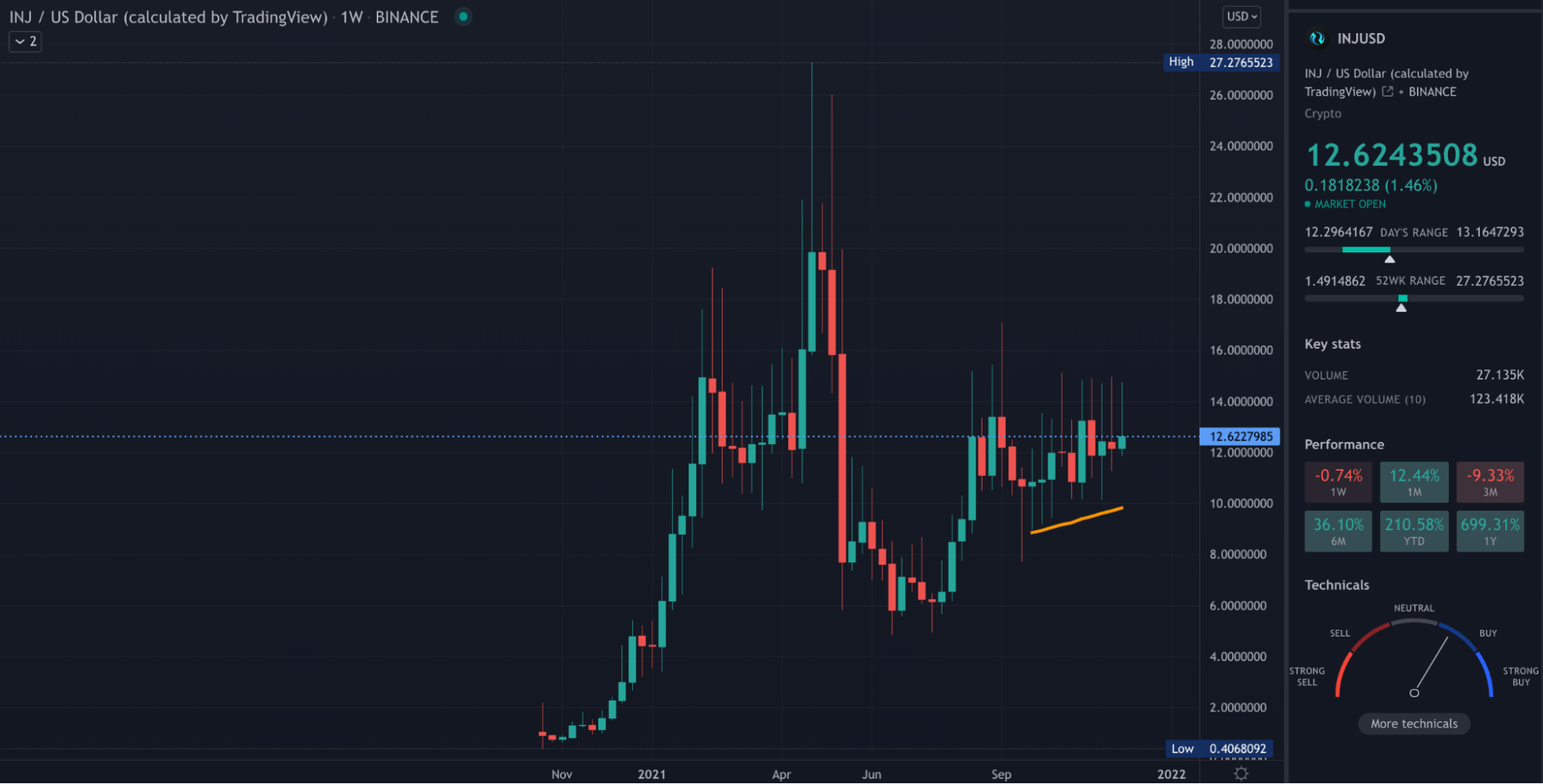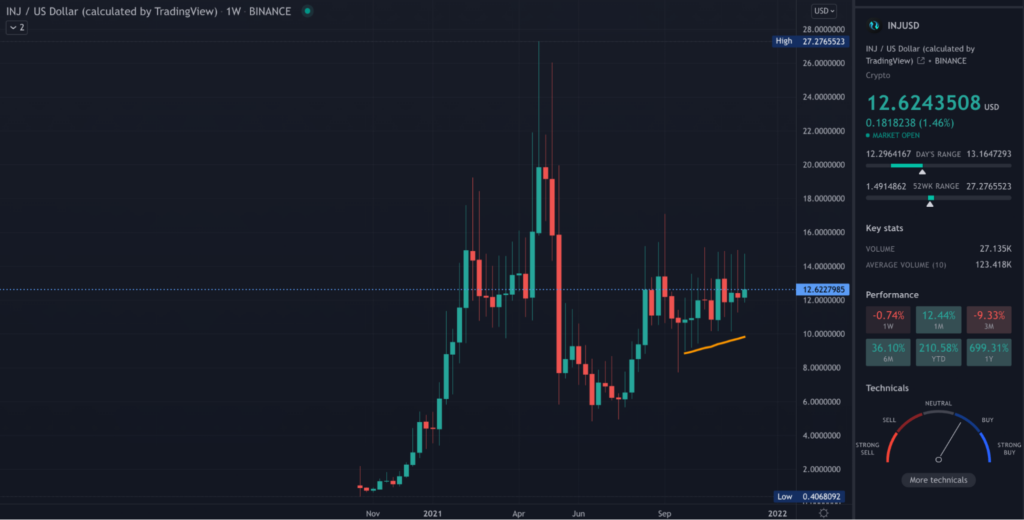 Most experts agree INJ is undervalued, a positive outlook for Injective's future. Yet, like with any investment, you should take things with a grain of salt.
Best-case scenario
When 2025 arrives, Wallet Investor believes INJ should peak at $39.36.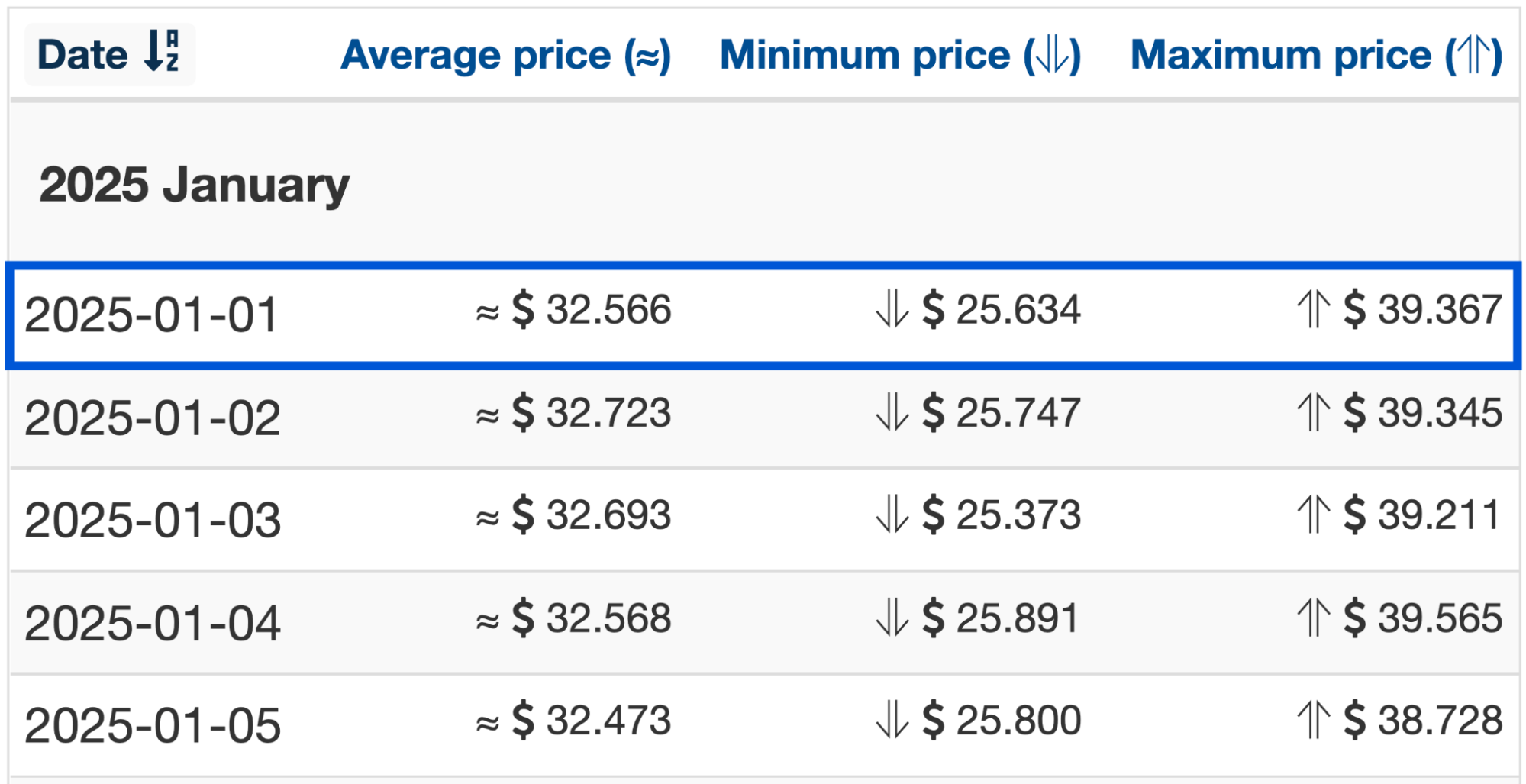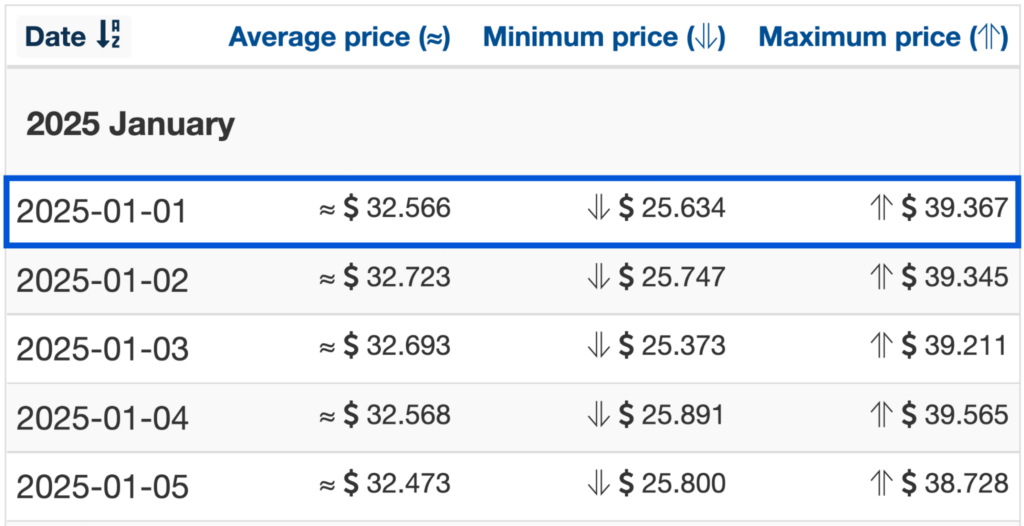 PricePrediction.net and Digitalcoinprice estimate maximum values of $58.14 and $37.57, respectively. These gains would represent increases in the 196-359% range — and based on yearly performance, this is rather conservative but realistic.
Worst-case scenario
Injective faces many of the downsides of most DeFi projects. Many developments in this space are still quite complex and often difficult to understand, meaning much ironing out needs to happen.
This might consequently result in less adoption of the token overall, stalling price performance. Also, there's the inherent volatility risk present with virtually all cryptocurrencies. Most coins are tied to the price of BTC. Therefore, if Bitcoin doesn't perform well, it would certainly affect the value of countless altcoins like INJ.
Overall, investors must perform solid due diligence, accounting for all the possible risks and investing with truly disposable income.
The best way to buy INJ
You can buy the INJ token from several exchanges like Crypto.com, Binance, Huobi, Kraken, Gate.io, KuCoin, and many others.