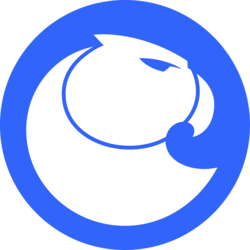 Aragon (ANT)
Price
What is Aragon (ANT)?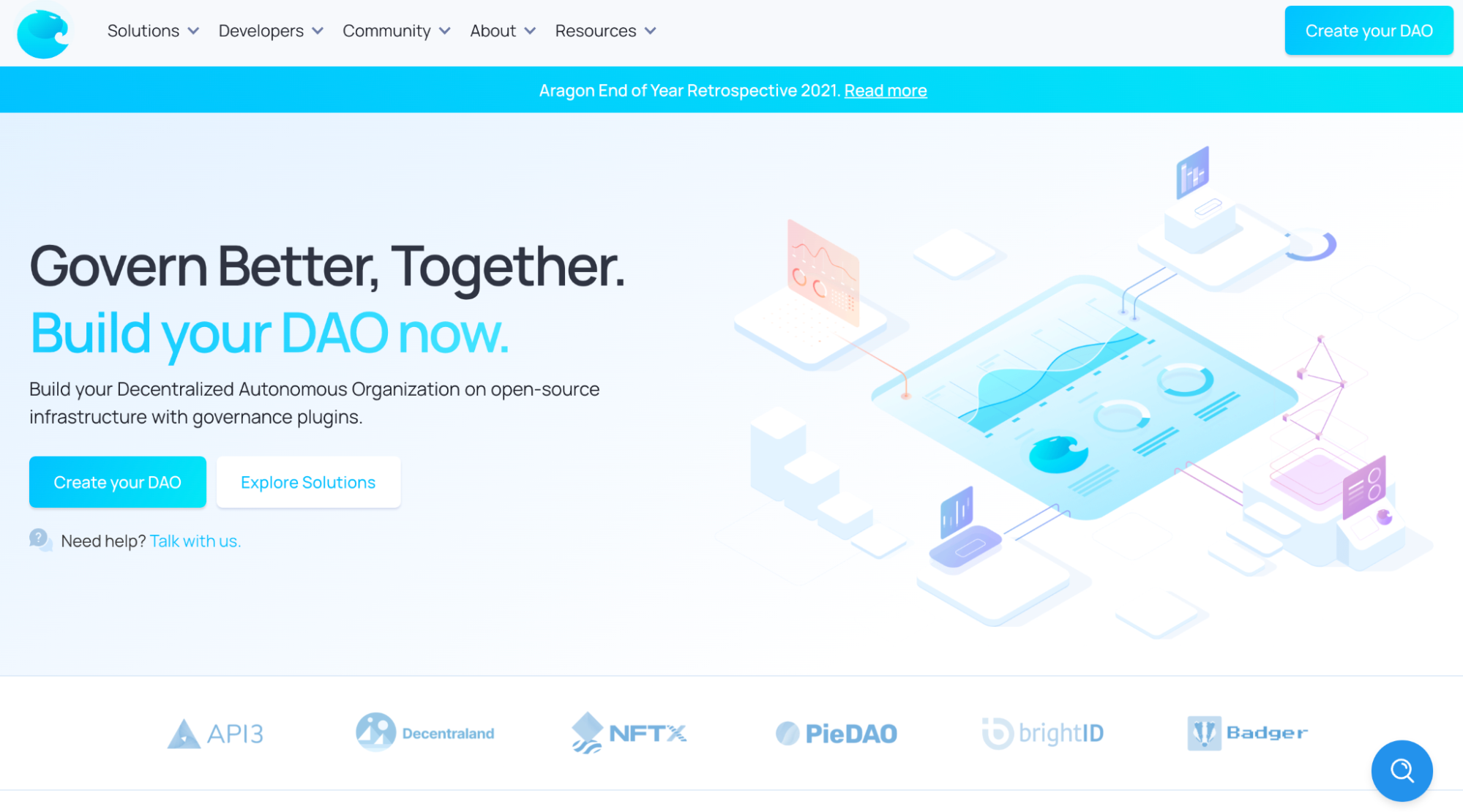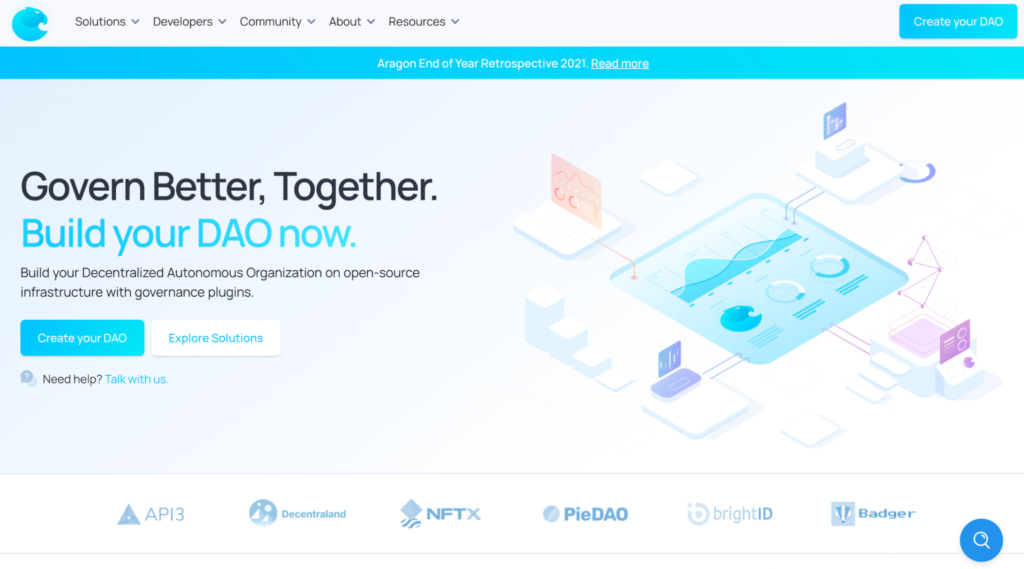 Aragon is an Ethereum-based platform offering a modularized method of creating DAOs (decentralized autonomous organizations). A DAO, which Ethereum pioneered in 2016, is a techno-democratic, blockchain-based version of an organization governed by code rather than a central authority.
A DAO can be a group of investors, companies, a subreddit, a virtual world, a fashion house, or just about any organization of people. Aragon believes DAOs 'are the future of organization and work.'
Developers can build these through open-source software on a simple-to-use framework that functions much like a website builder. The Aragon Network suggests over 1900 DAOs have been deployed with over half a billion dollars in total value locked.
One of the critical features of any Aragon-built DAO is the ANT governance token which acts like a 'digital membership card' for holders to vote on proposals, access special content, resolve disputes, etc.
Aragon was first publicly revealed in February 2017 and is the brainchild of Jorge Izquierdo and Luis Cuende. Both blockchain developers hail from Aragon (where the platform got its name), an autonomous community in Spain.
The initial coin offering for ANT was held three months later and produced a reported $24 million. Presently, CoinMarketCap ranks ANT #198 by the market capitalization among the other cryptocurrencies with a value of $5.99.
Let's find out if this project could be a worthwhile investment and Aragon price predictions for 2023 and 2025.
Is Aragon a good investment?
DAOs are still an untapped technology, meaning great potential. A blockchain-based governance platform offers several benefits, one of them being time-saving and cutting overhead costs.
For instance, establishing a charity may take months in getting trustees, deciding on organization structure, writing documents, etc. In contrast, potential corporations can drastically reduce this process in time and save money while they're at it with Aragon.
Another crucial factor with DAOs is fostering transparency and efficiency, one of the core purposes of any distributed ledger.
Some industries that Aragon sees as needing DAOs include politics, entertainment, media, trust funds, insurance, venture capital, social media, virtual worlds, and many others.
Should I buy ANT today: Crypto technical analysis for CRV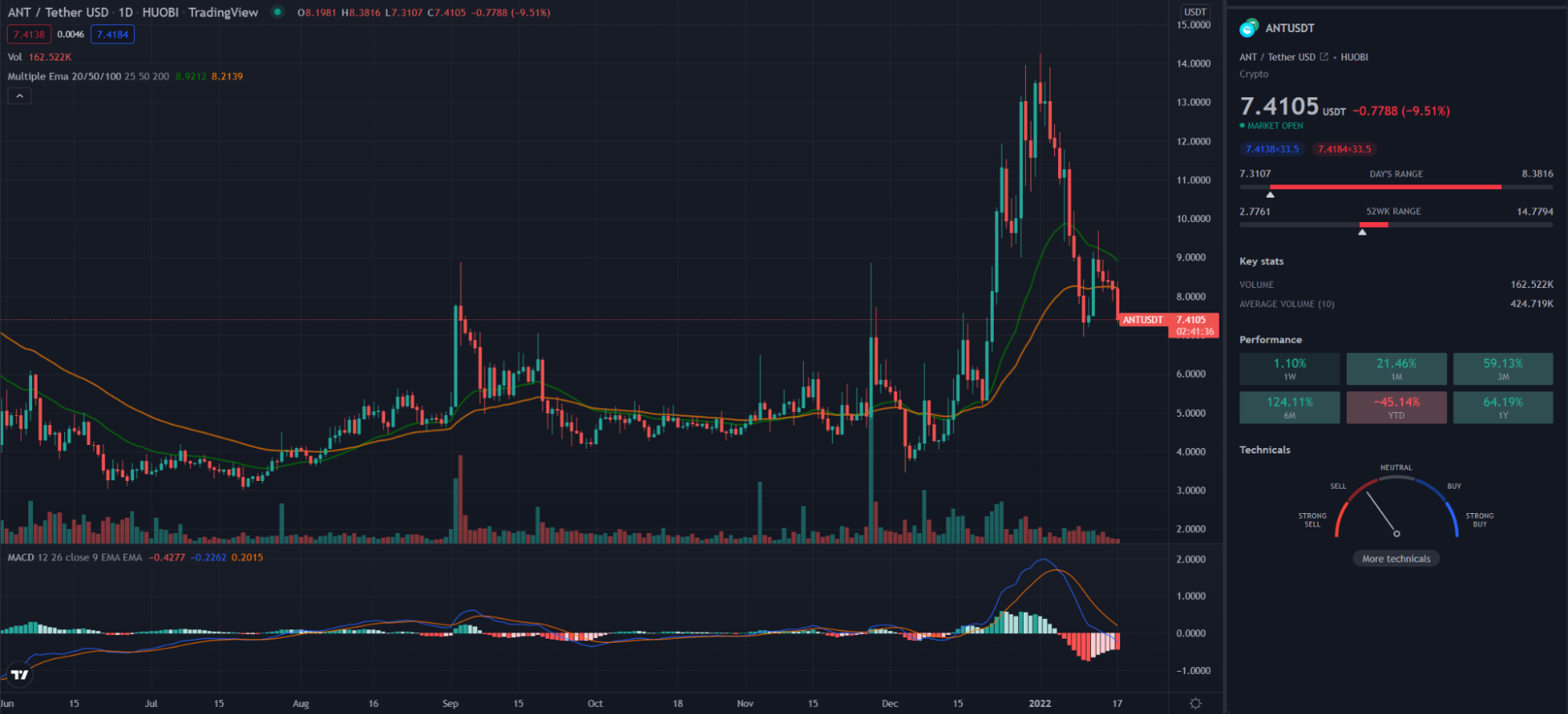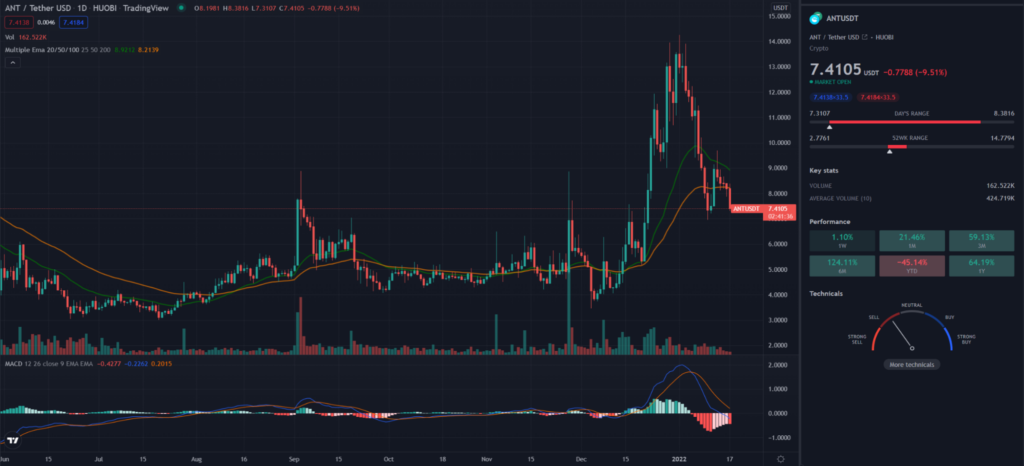 According to our technical analysis, ANT is in a bullish trend today. We've added the 50-day (green) and 200-day (orange) moving averages on the chart.
With this crossover strategy, traders wait for the 50 to go on top of the 200 and for the price to trade above the two. While the 50-200 cross has occurred, the price is trading between the two. Let's now examine Aragon price predictions for the coming years.
Will ANT coin price hit $100 in a year?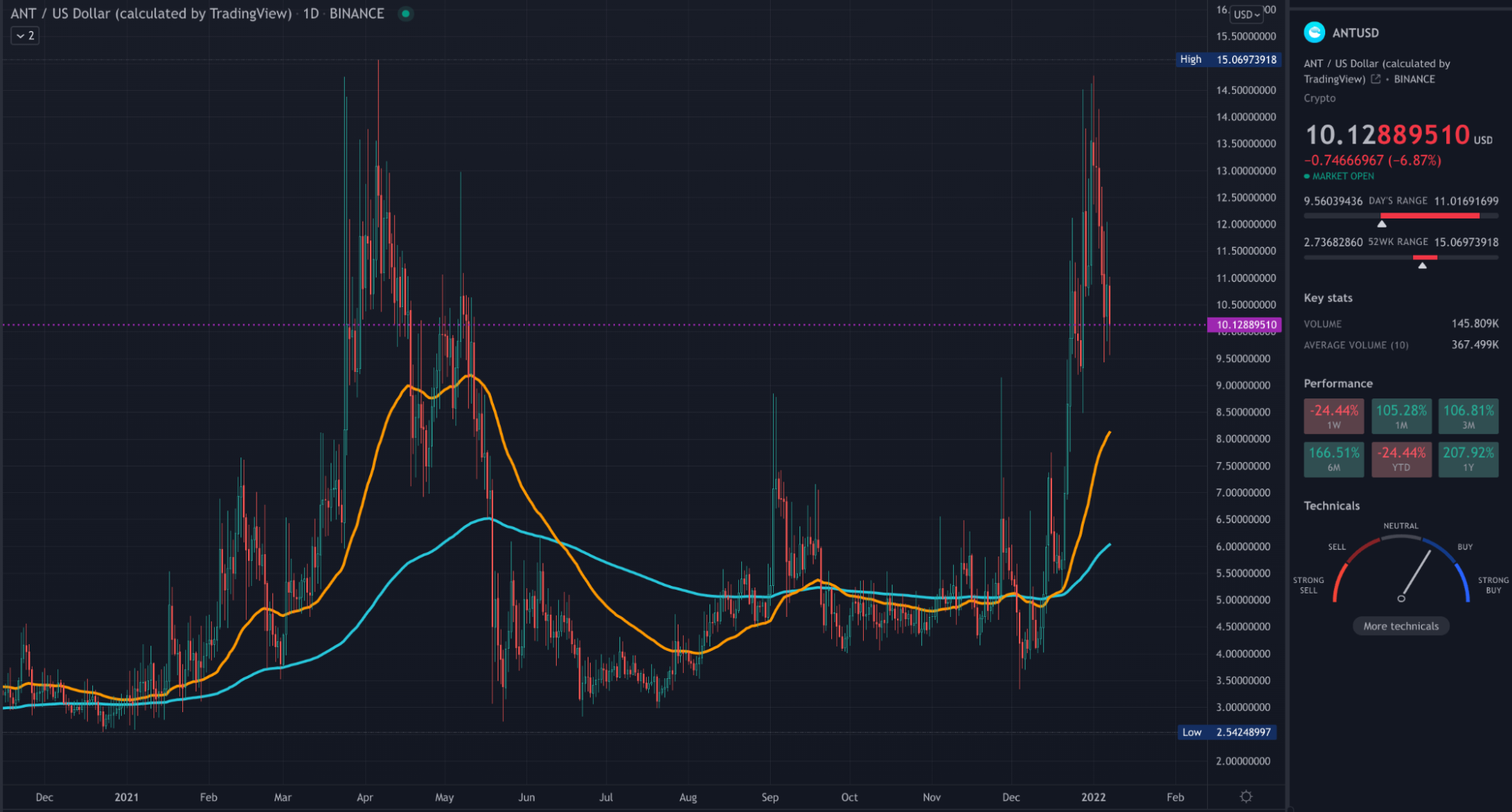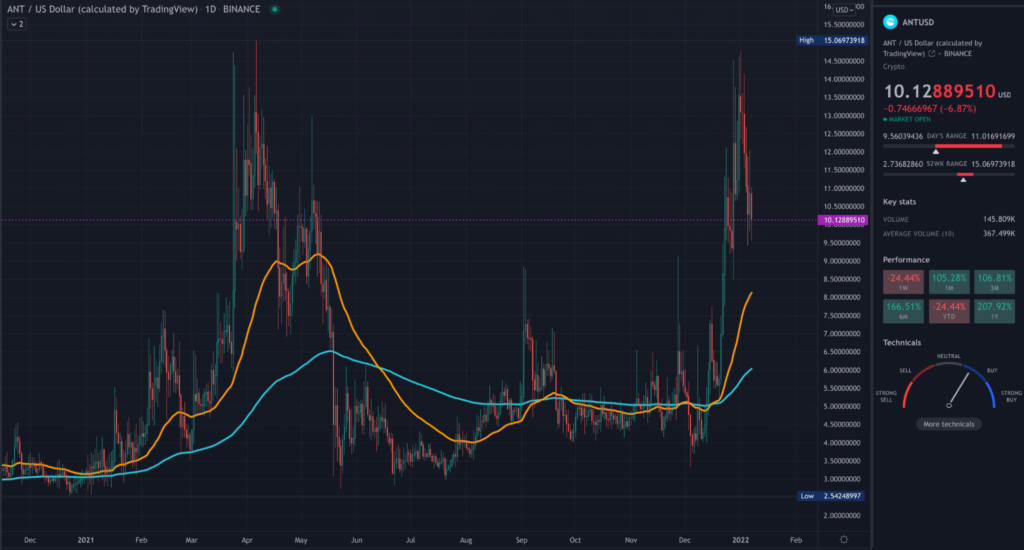 Sadly, it's unlikely for ANT to hit $100 in a year based on our research of a few forecasting sites. The predictions here range from $15.66 to $26.35. Digitalcoinprice presents the lowest of the three we looked at, suggesting a maximum of $15.66.
Wallet Investor is more optimistic, approximating anywhere from around $14.67 up to $21.60. PricePrediction.net is the most favorable of the three, with minimum and maximum prices of $21.18 and $26.35, respectively.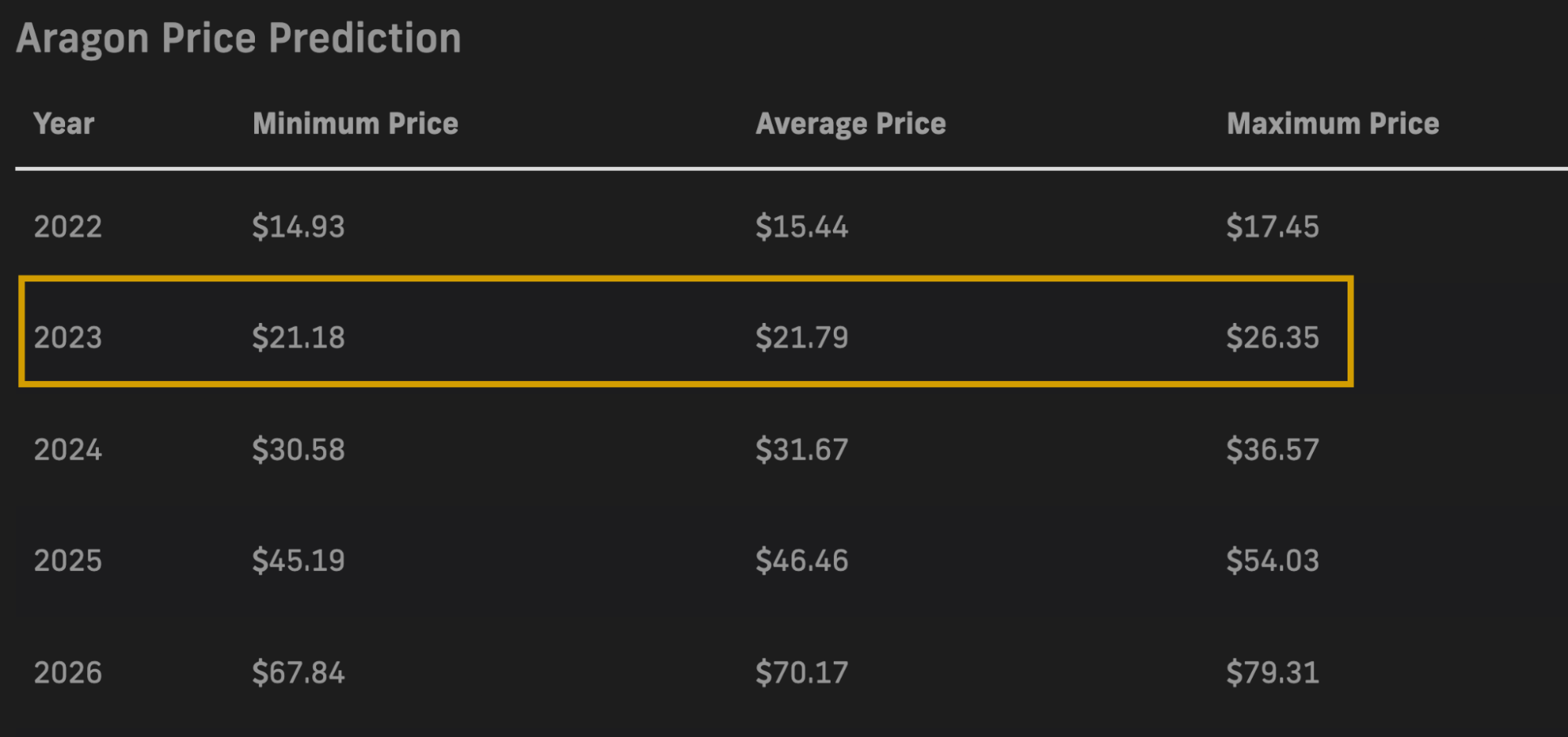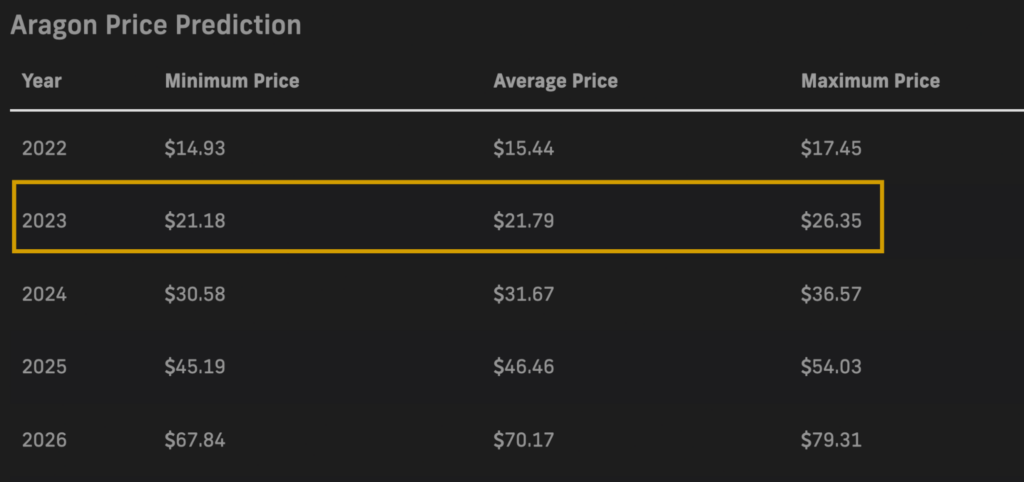 Let's consider that if ANT increased by 207% (its performance within the last year), this would make it worth around $31. Therefore, PricePrediction.net's maximum estimate of $26.35 isn't too far off.
What is ANT's price prediction for 2025?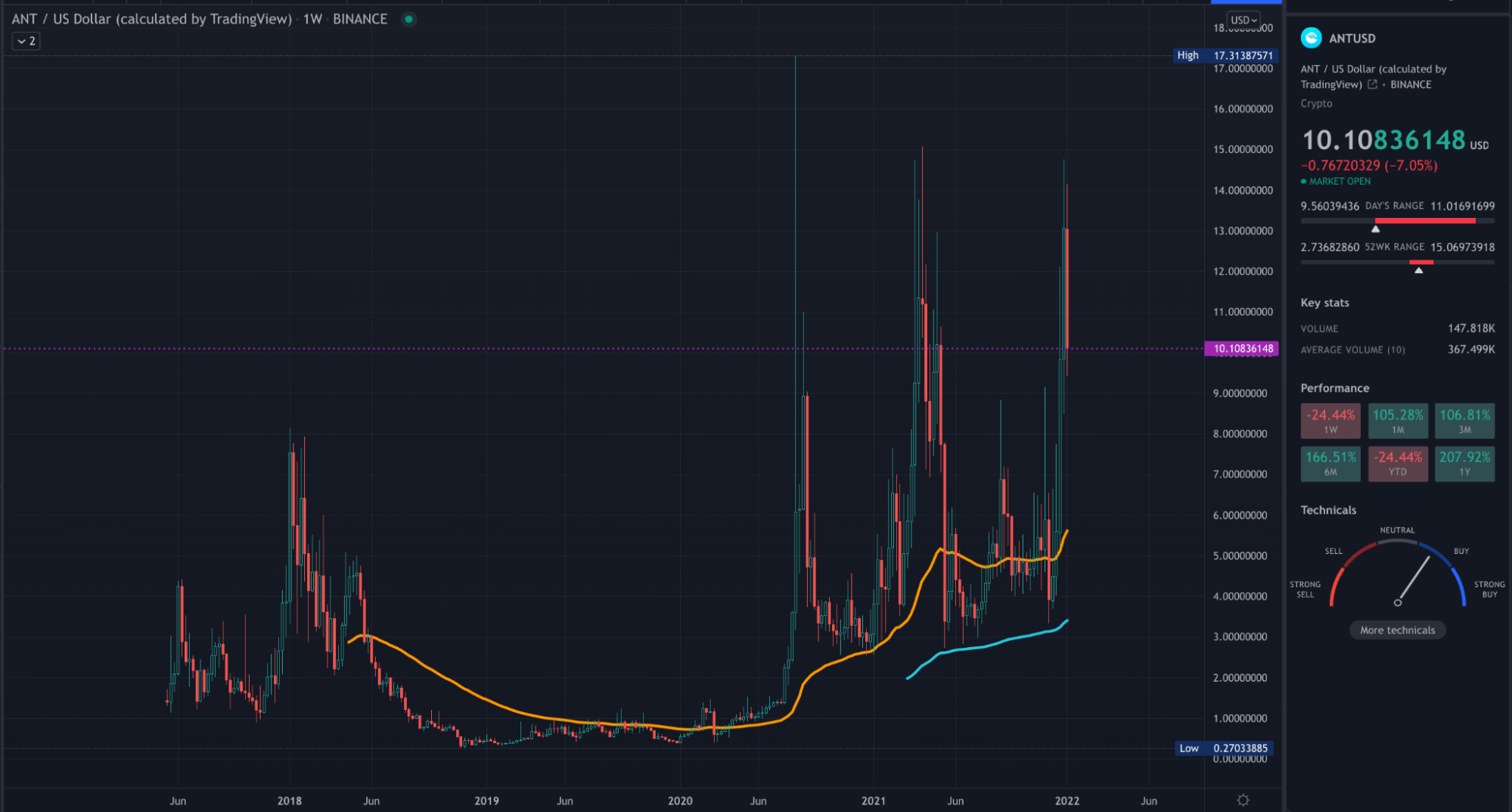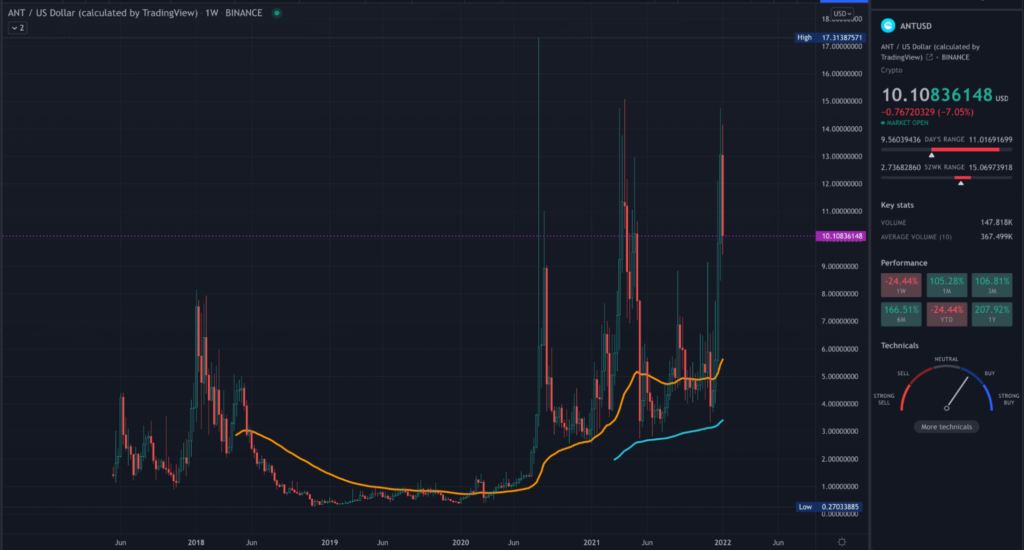 Ultimately, Aragon desires to increase decentralized governance over time, meaning potential explosive growth. Yes, as with any token, you should always be cautious about the downsides.
Best-case scenario
The 2025 forecasts for ANT from the sites we explored earlier range from $21.84 to $54.03. On the low end, Wallet Investor believes ANT should be worth at least $19.45.
Digitcalcoinprice presents a maximum of $21.84. The most bullish forecast of the lot is from, again, PricePrediction.net.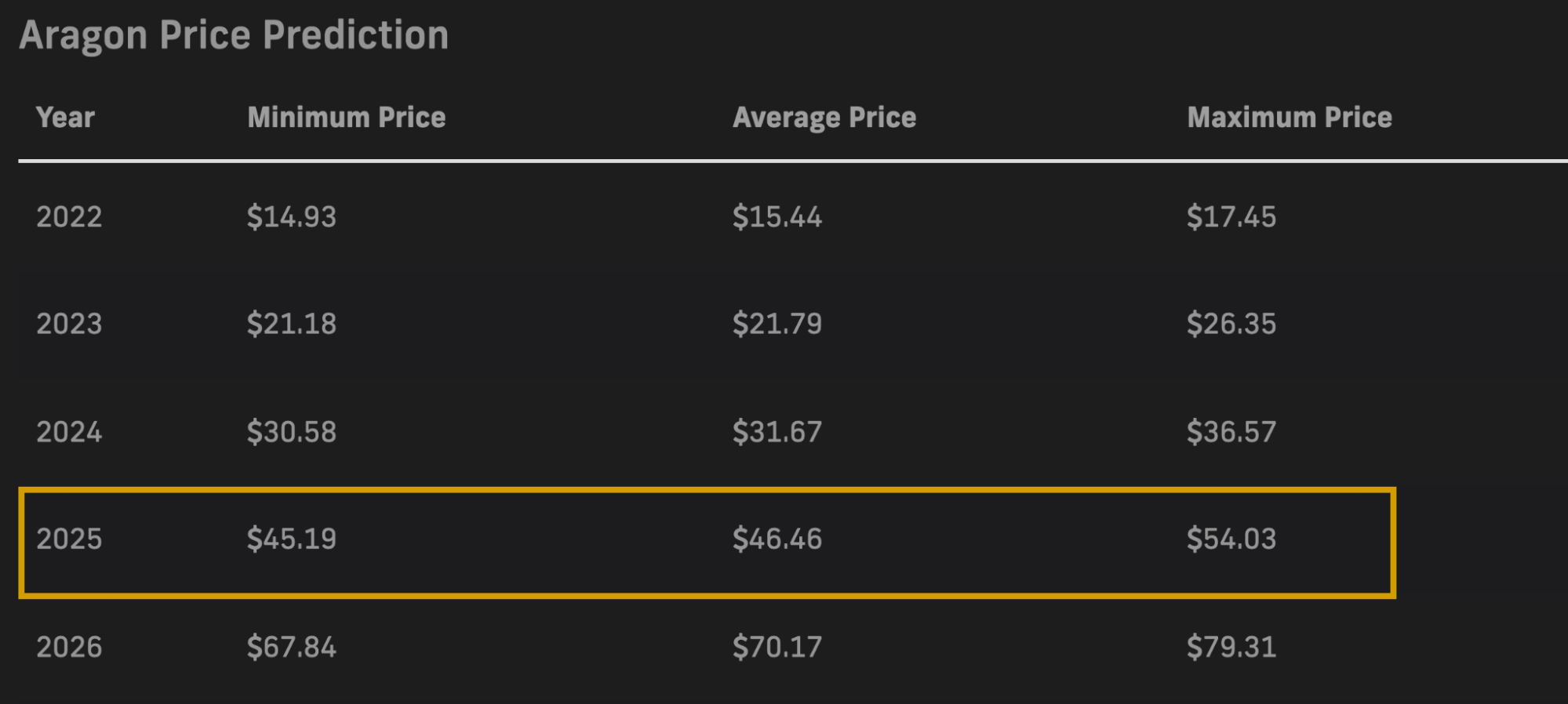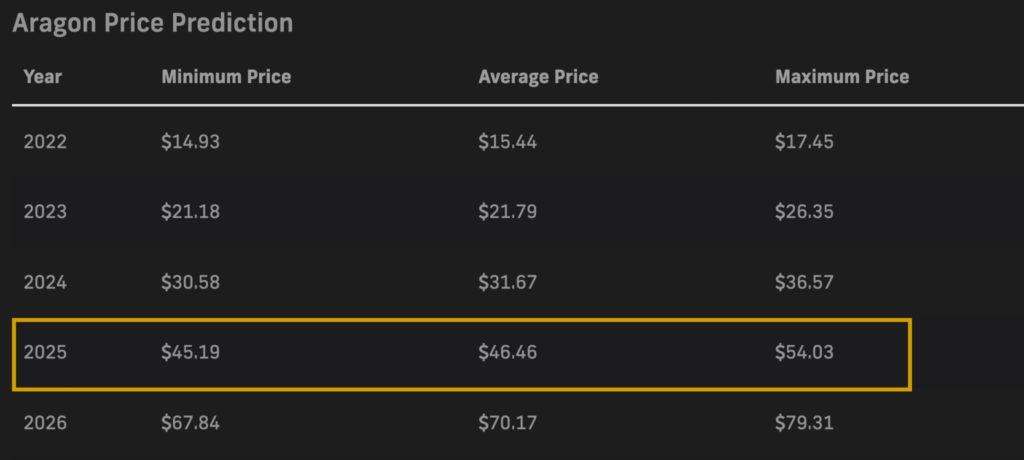 The site suggests ANT should be worth a minimum of $45.19 which could go up to $54.03.
Worst-case scenario
It's worth noting that in most cases, speculation is what drives the value of cryptocurrencies and not necessarily increasing adoption. While Aragon's application fulfills an apparent demand, hype can always subside, resulting in lower prices.
Therefore, as with any altcoin, you should consider ANT as largely speculative and high-risk, and only invest with money you can afford to lose.
The best way to buy ANT
Kraken, Binance, Huobi, Uniswap, Gate.io, and KuCoin are some of the many exchanges to purchase ANT.