What is the BitTorrent Token?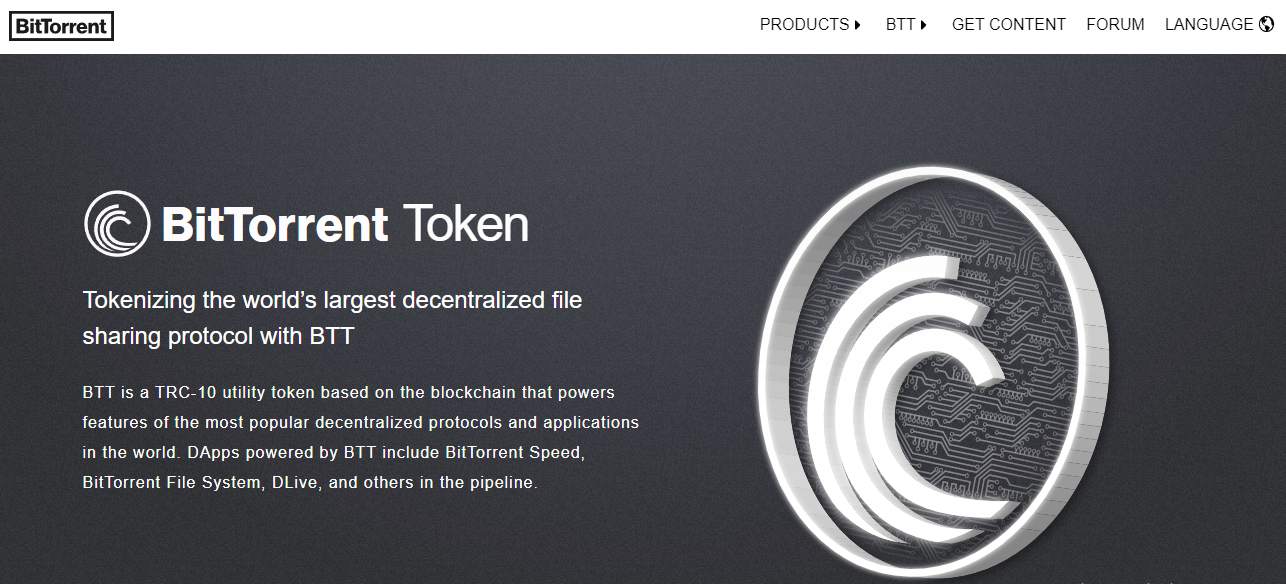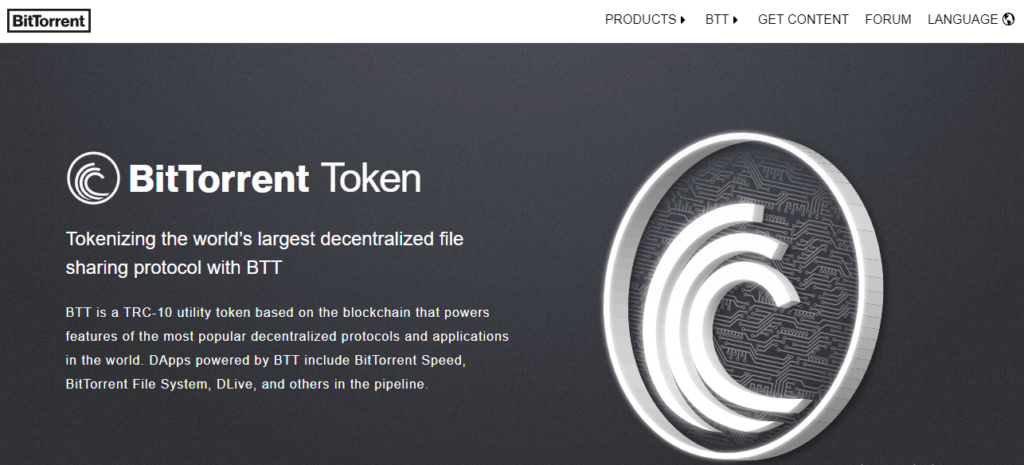 Sharing files has gotten better over the last few years on one of the world's most popular P2P file-sharing protocols, BitTorrent, with the BitTorrent Token. BitTorrent has been the go-to place for torrenting facilities amongst a massive, distributed network of users since 2001.
BitTorrent controls a significant portion of internet traffic, something which Justin Son, founder of TRON, knew when he bought the company behind the service for a reported $140 million in July 2018.
In February 2019, the BitTorrent Token went onto the market after a successful multi-million dollar ICO (initial coin offering), which sold out in minutes. TRON desired to improve BitTorrent's overall system by adding a rewarding mechanism to incentivize the millions of people sharing their immense bandwidth.
BTT is a TRC-10 token, meaning it uses TRON's technical standards and blockchain. According to CoinMarketCap, BTT ranks #57 for most traded cryptocurrencies by market cap and is worth $0.0034 per coin. Let's dive deeper into the project's price predictions and why it may be a good investment.
Is the BitTorrent coin a good investment?
Despite the numerous technological advancements since its inception, BitTorrent remains one of the largest torrenting sites in the world, with well over 150 million users. Decentralized platforms like BitTorrent have been well-received by many over traditional centralized services.
Considering that TRON is also non-centralized, it's a perfect combination. The token's purpose was to reward even faster downloads through the upgraded version of BitTorrent, BitTorrent Speed. Bidding occurs amongst BTT holders who reward their tokens to 'seeders,' the parties who upload the files on the network.
So, BTT adds a layer of tokenization to BitTorrent, making the whole system even better. Lastly, we need to consider the tokenomics of BTT. Before launch, 990 billion coins were made, of which no more will exist after. Presently, about 650 billion are in circulation, presenting a scarcity factor.
Cryptocurrencies with limited distribution have historically risen in value as the supply dwindles over time due to increasing demand.
Should I buy the BitTorrent Token today: Crypto technical analysis for BTT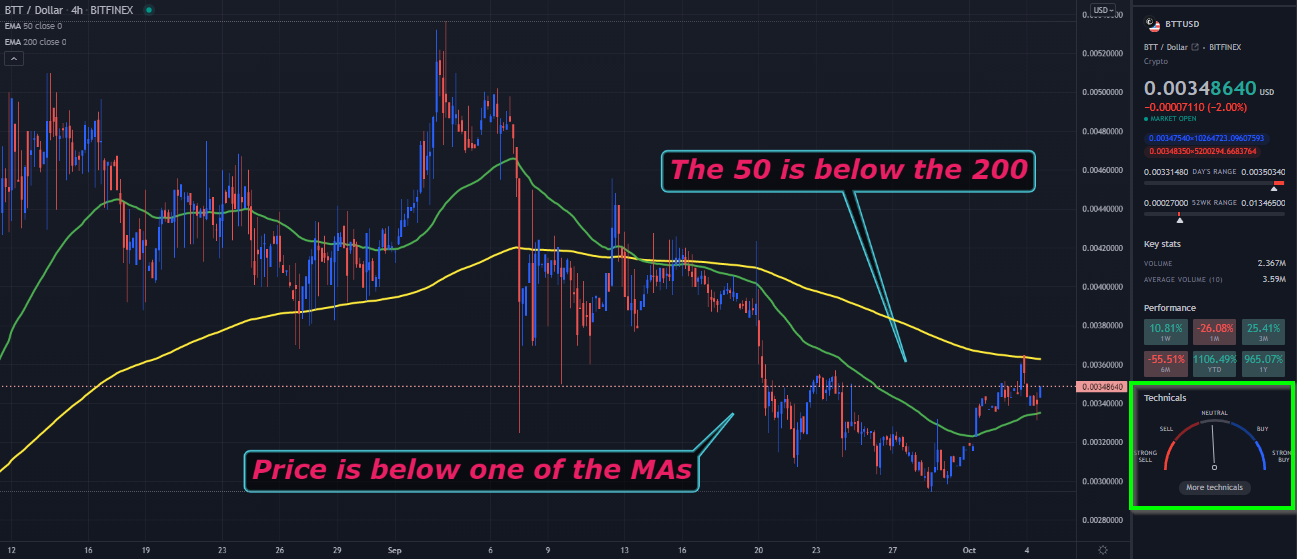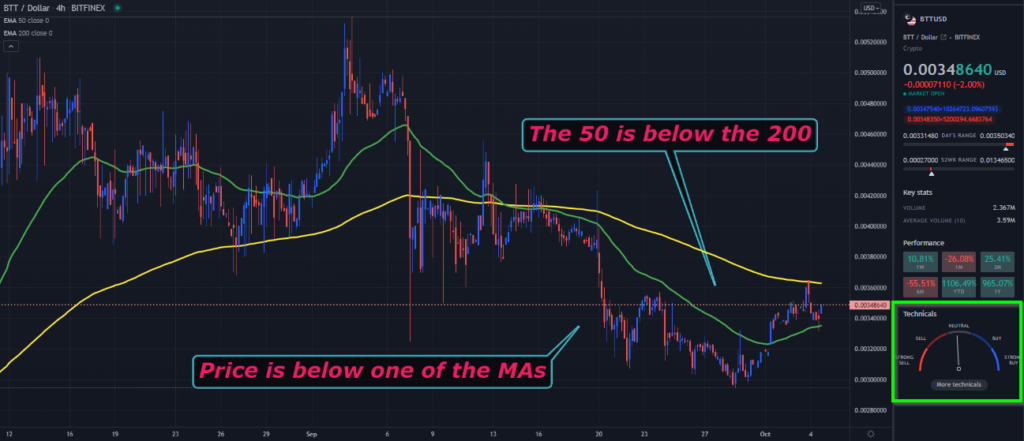 We'll use a simple moving average crossover system with the 50 (green) and 200-day (yellow) periods. The 50 must cross above the 200, and secondly, the price must be above both moving averages.
Judging from the price action on the chart, we can see the market doesn't tick either box. This bearishness is reflective of the crypto market overall presently. Moreover, TradingView's technical analysis (located on the bottom right corner) suggests 'NEUTRAL.'
Hence, both of these factors are sufficient enough to conclude it's probably not a good time to buy BTT today.
Will the BitTorrent Token coin price hit 1 cent in a year?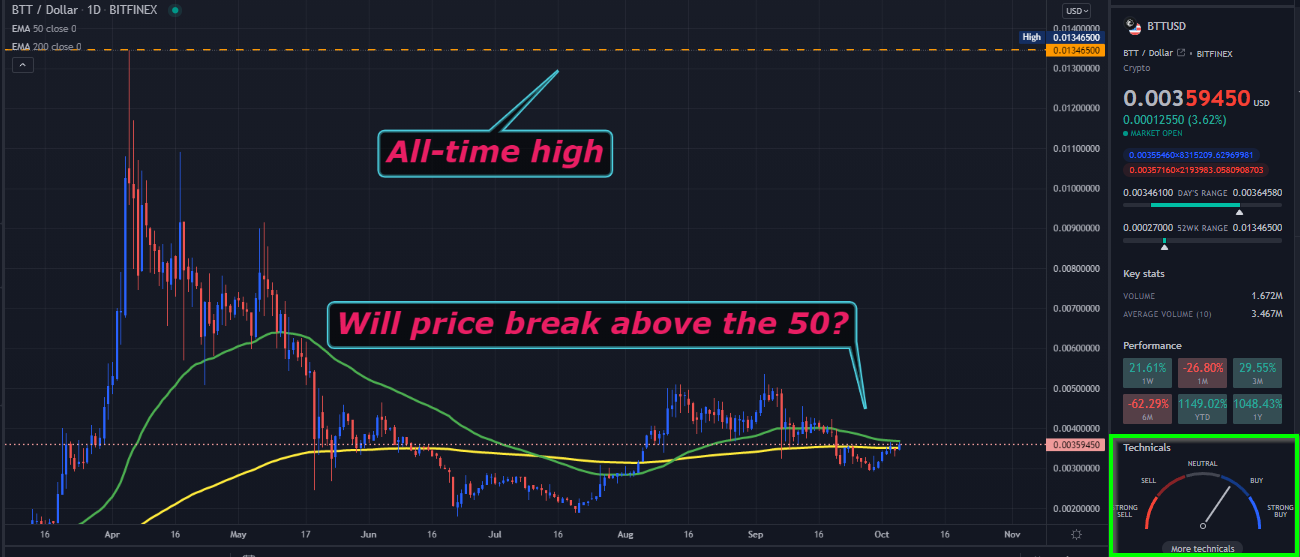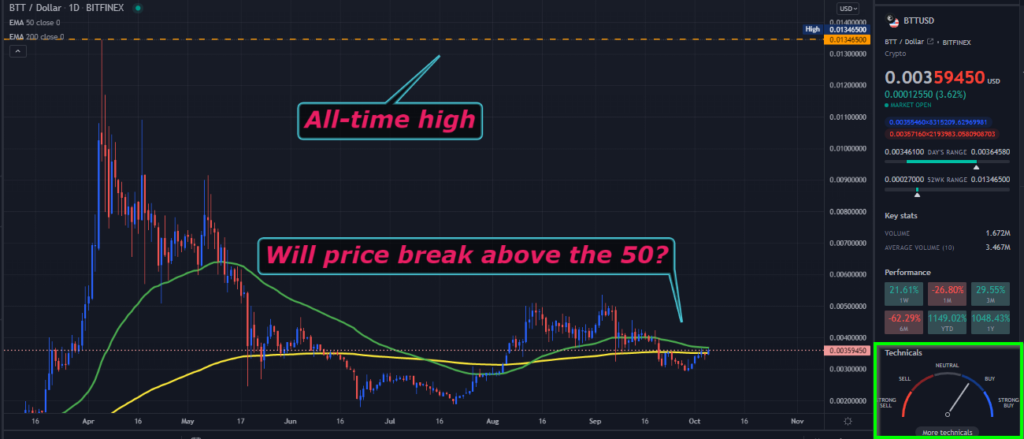 We see the slopes looking sideways on the daily chart, suggesting a bit of a range. Moreover, price looks to be testing the 50, which may signal some possible bullishness. Also, TradingView's technical analysis suggests 'BUY.' This evidence does point to a potential new uptrend, but can this take BTT to 1 cent in a year?
We'll use analysis from Digitalcoin, a forecasting site that can provide a more mathematical prediction based on past price action history.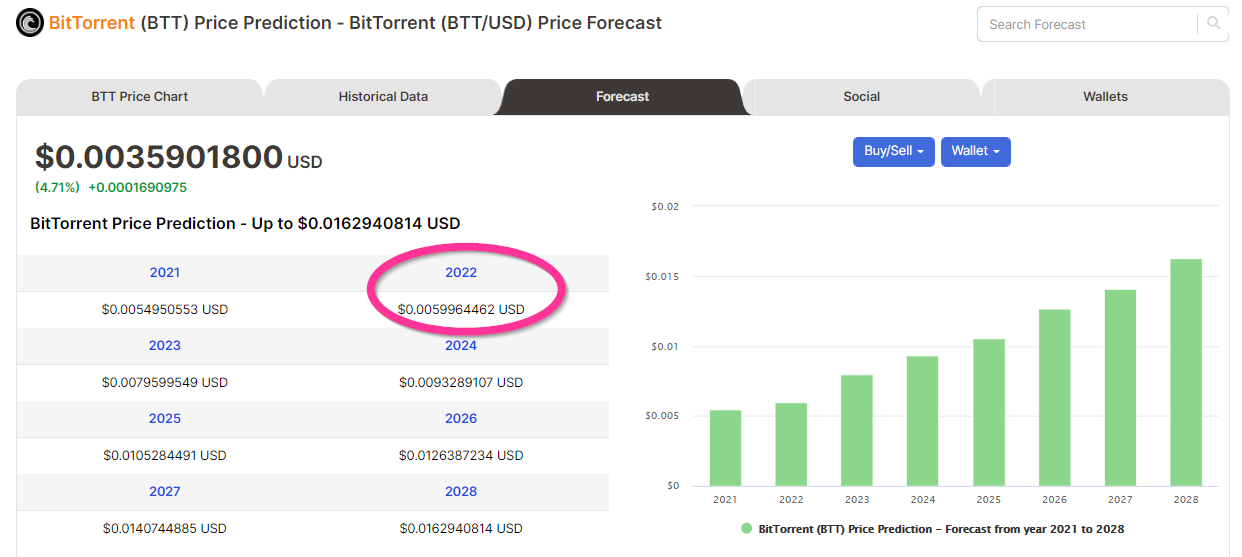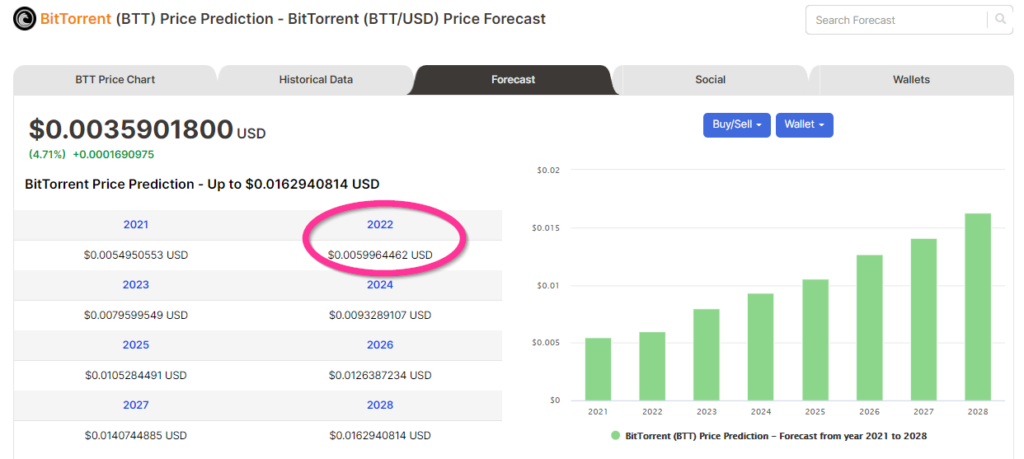 The site pegs BTT to hit $0.0059 in a year, while Wallet Investor suggests $0.0052 and $0.0070. So, no, the coin is unlikely to be worth a cent but probably would be somewhere under $0.10. Of course, these are only estimates, and BTT may perform much better or worse than expected.
What is the BitTorrent Token's coin price prediction for 2025?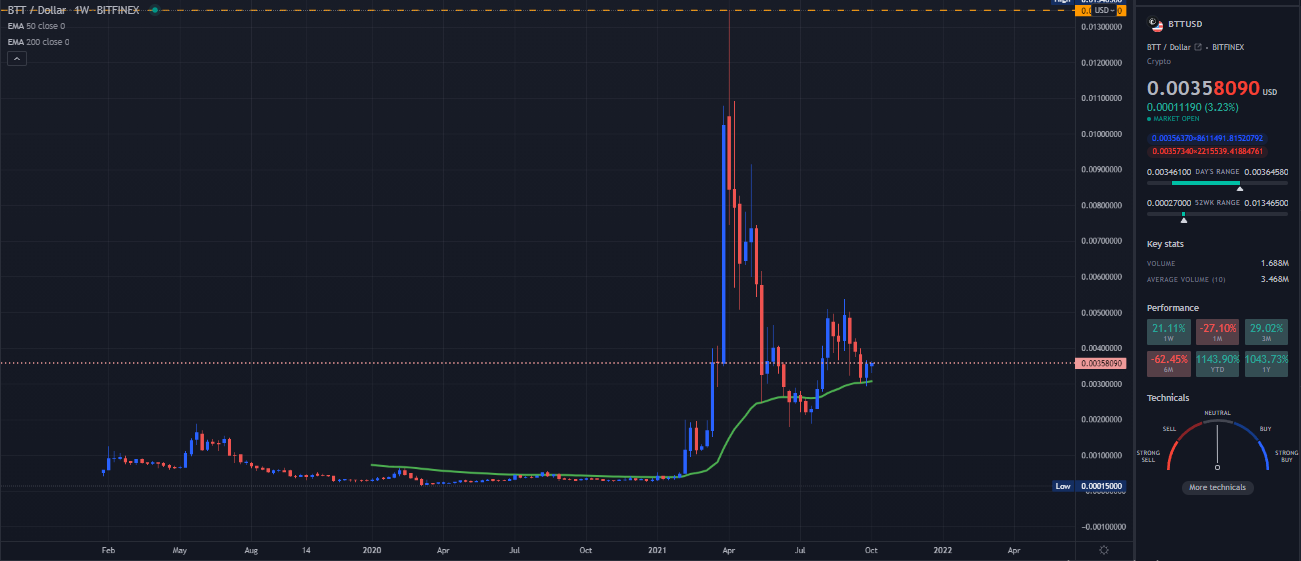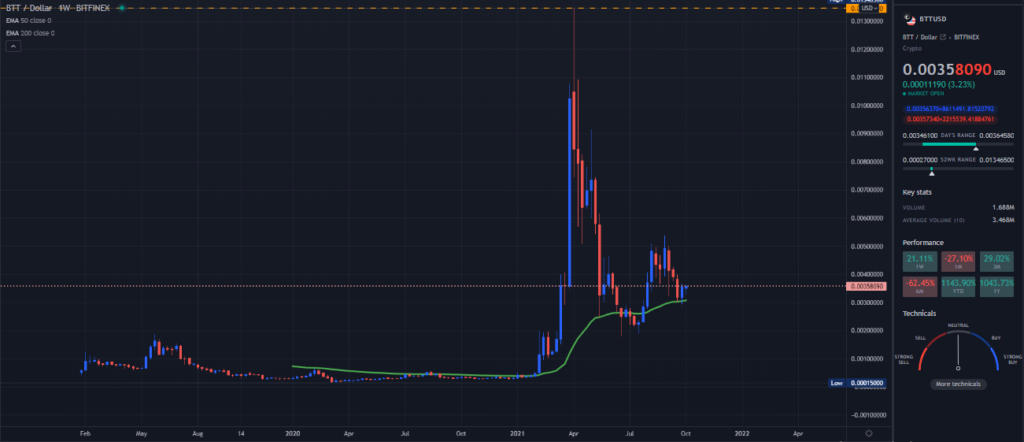 The weekly chart shows the price above one of the moving averages, suggesting a long-term uptrend and presenting a positive outlook for BTT's future. But what about 2025?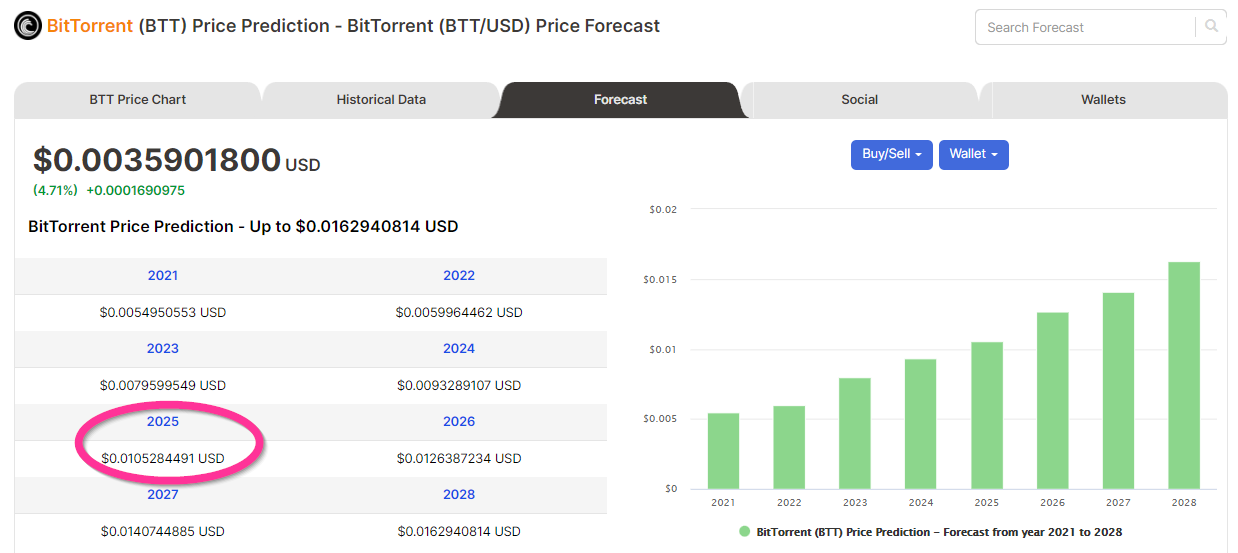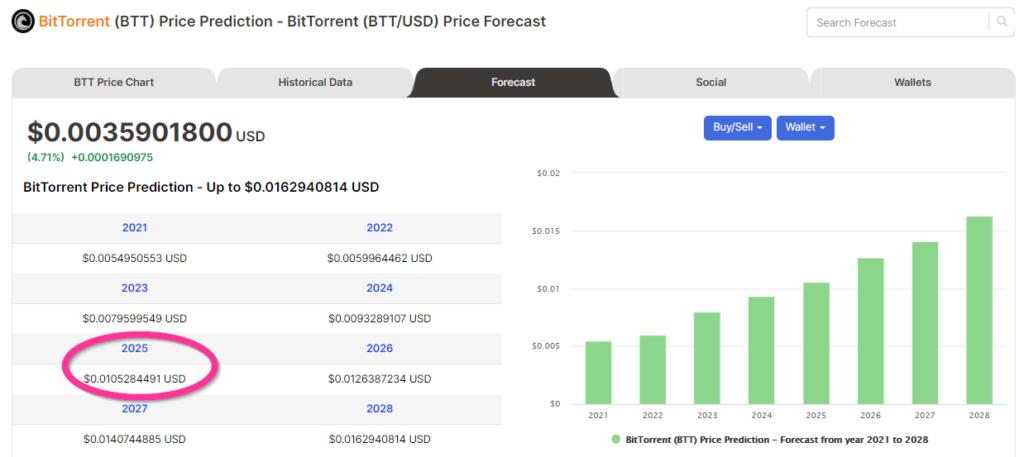 Digitalcoin pegs BTT to hit 1 cent by 2025. Wallet Investor isn't too far either and estimates a $0.15 evaluation. If one had bought BTT this time last year, their investment would have increased about 933%. So, if the price rose only a fraction of this percentage yearly, then $0.01 is highly possible and could even be a conservative estimate.
The best way to buy the BitTorrent Token
The best method for buying any digital currency is through an exchange. The brands with the highest trading volume for BTT include Huobi, Upbit, Binance, OKEx, Bithumb, and the list goes on.
Once you've acquired some BTT, your first option is trading it as a speculative instrument on platforms provided by some of the previously mentioned names. If you're more of a buy-and-hold investor, you can store the coin on numerous hot and cold wallets.
You generally want to opt for the former if you move the token around, while the latter is best for long-term storage.