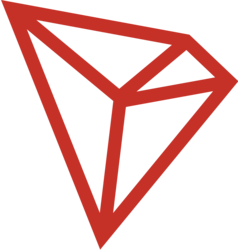 TRON (TRX)
Price
What is TRON?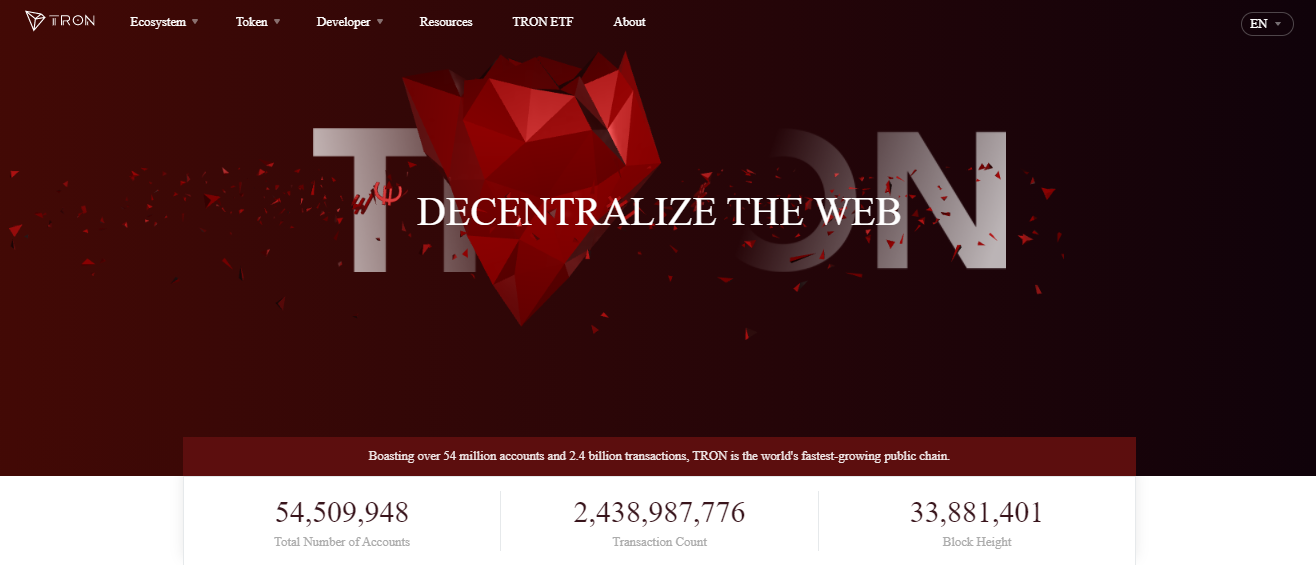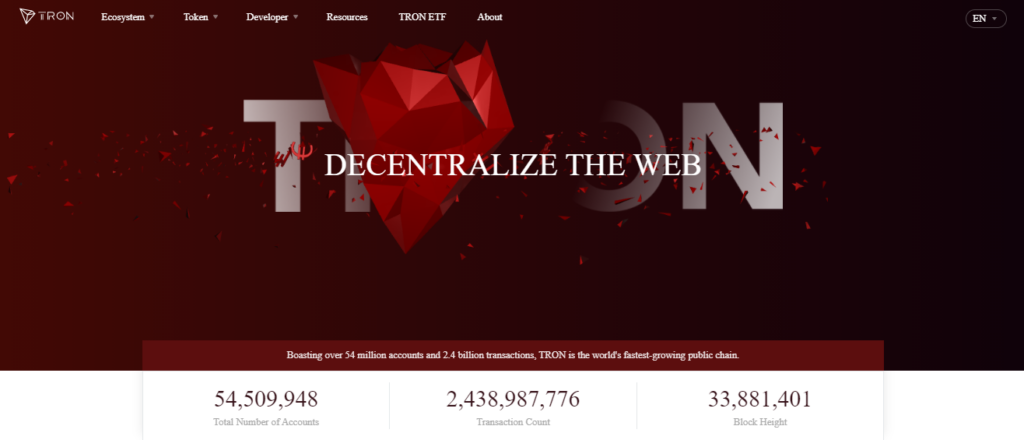 TRON is an advanced, proof-of-stake, and smart contract-enabled blockchain democratizing the content distribution industry and allowing developers to create decentralized applications within this very niche.
Users who consume content from gaming applications, social media networks, streaming sites, and the like on the network can reward creators with TRX (Tronix), TRON's primary utility token. TRON is one of the world's fastest blockchains, with more than 2.4 billion transactions and 54 million accounts opened (and counting).
TRON was initially an Ethereum-based token during its early days before migrating to its own blockchain in 2018. The man behind TRON is the enigmatic Chinese serial entrepreneur and Jack Ma protégé, Justin Sun. TRON falls under the non-profit organization, the TRON Foundation, which Sun also founded.
The foundation raised about $70 million in 2017 when it sold 55 billion TRX in an initial coin offering. TRON is among the top 30 traded cryptocurrencies worldwide and is presently valued at $0.09 or about 10 cents per coin.
Is TRON a good investment?
TRON has been structurally designed for high throughput, availability, and scalability, three essential elements needed for any prosperous blockchain. One of the ingredients enabling TRON to achieve this quality is the proof-of-stake consensus mechanism it employs.
Compared to other more prominent cryptocurrencies requiring expensive and energy-consuming computational mining, proof-of-stake continues to be more capable of confirming thousands of transactions per second.
Another interesting factor with TRON is there are no transaction fees. Lastly, decentralization remains at the heart of blockchains, and TRON is no exception. At its core, the project continues fulfilling the vision of an improved rewards distribution mechanism different from more centralized content-sharing platforms like YouTube, Facebook, etc.
These internet giants have been criticized for content restriction, low monetization, and exploiting private data. TRON does away with these negatives by cutting out the middleman and allowing users to pay creators directly more quickly, fairly, and privately.
Should I buy TRON today: Crypto technical analysis for TRX


We'll conduct some simple technical analysis using a moving average crossover system to answer this question. The periods will be 50 (representing the short-term trend) and 200 (reflecting the long-term trend).
As a rule of thumb, traders look for two things with this strategy:
The 50-day moving average (orange) must have recently clearly crossed above the 200-day moving average (green).
The price must be above both moving averages to confirm the buying signal.
While the chart meets the first point, the market is well below the moving average, suggesting some bearishness for this time frame. As circled on the bottom right corner of the image, TradingView's technical analysis also echoes the same sentiment. Hence, it is not a good time to buy TRON today.
Will TRON coin price hit $1 in a year?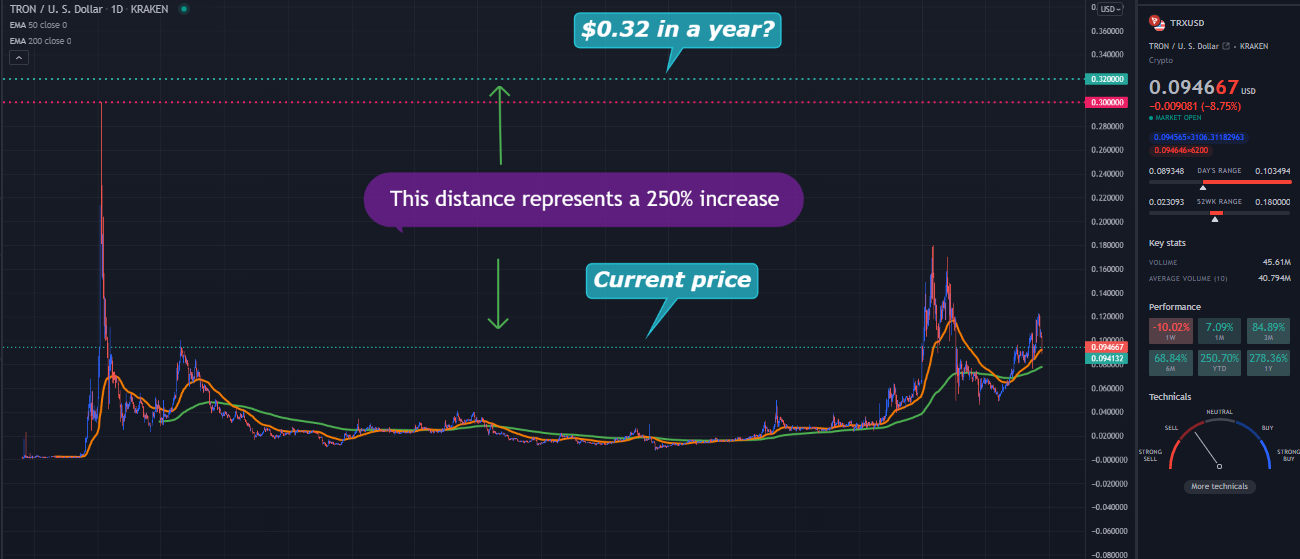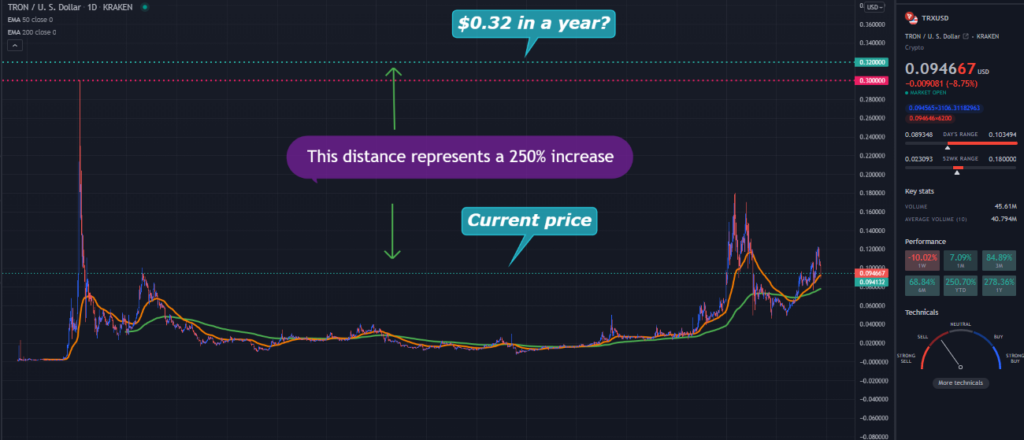 According to CoinMarketCap, TRON's all-time high of $0.30 occurred in January 2018. Sadly, the market hasn't quite come close to this figure ever since. Yet, the moving averages on the daily chart suggest some bullishness, positive news for any investor seeking for the price to re-challenge these highs.
So, does TRON have a realistic chance of reaching $1 in a year? According to Nomics.com, the price of TRX has increased about 250% over the last year. If we assume the price increased this much again in another year, TRX's value would be roughly $0.32.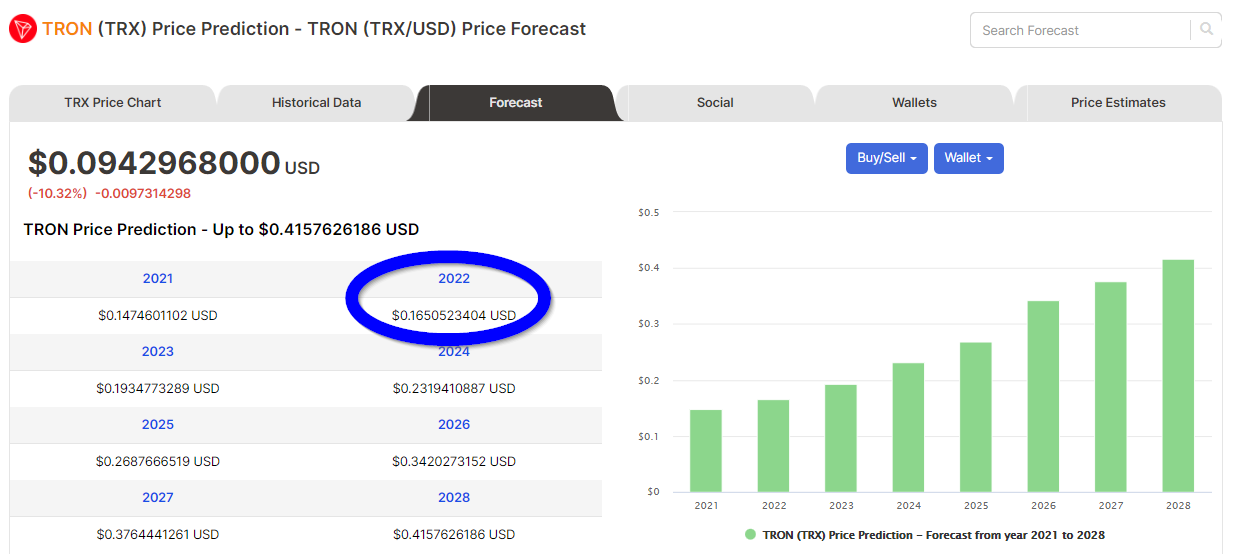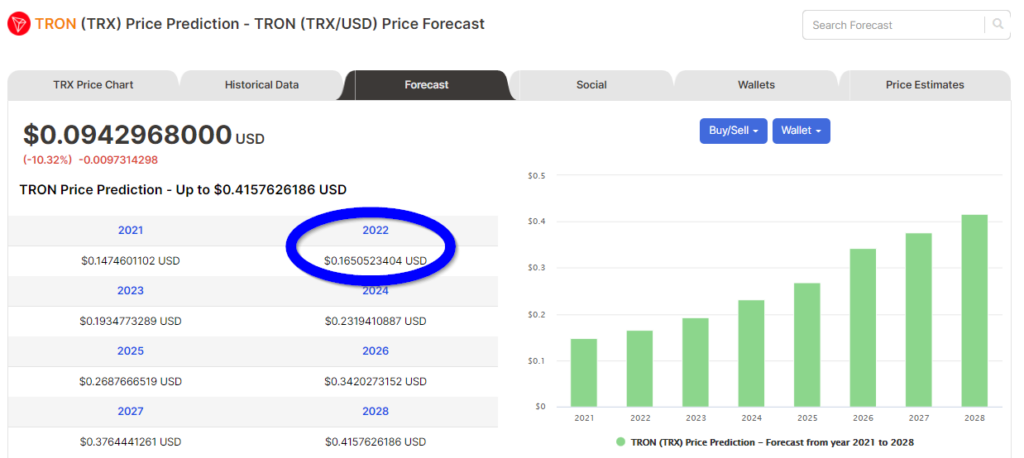 As far as investors' sentiment is concerned, Digitalcoin predicts for the price to hit $0.16 in a year. Hence, TRON is unlikely to be worth a dollar within this period and might probably be between $0.16 and $0.30. Of course, the market could blow these predictions out of the water because of the unpredictable nature of cryptocurrencies.
What is TRON's coin price prediction for 2025?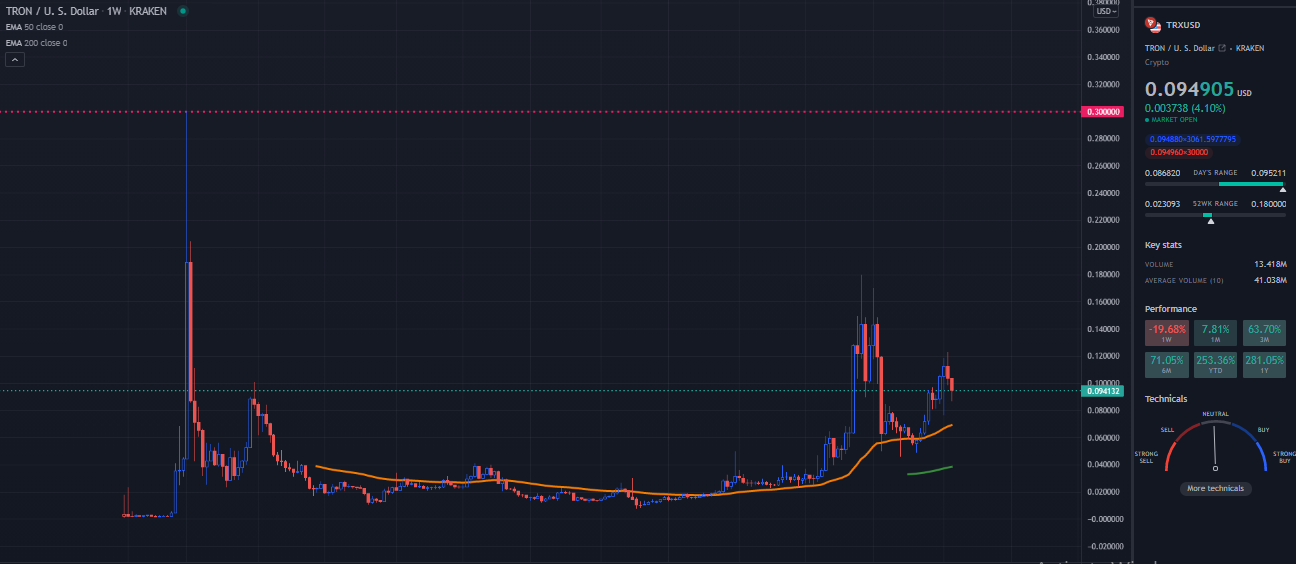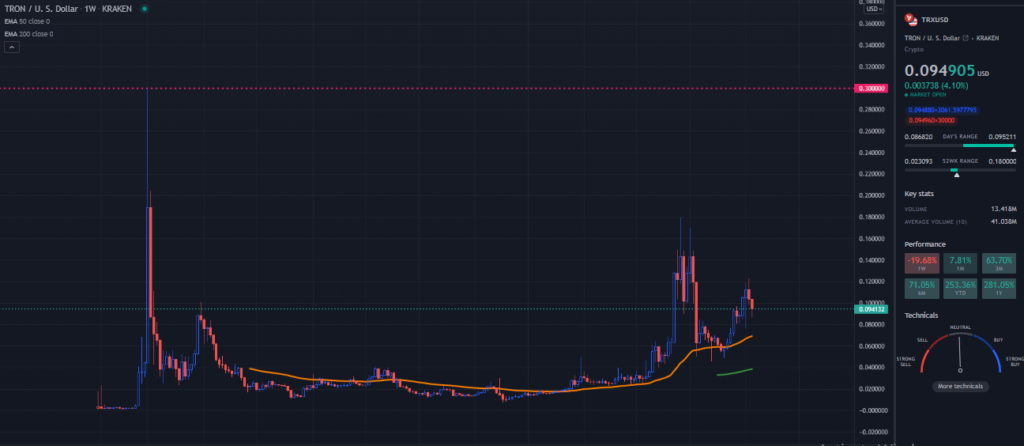 For a long-term outlook, the weekly chart also shows an uptrend based on the moving averages, signifying some upside potential for the near future. We should also note TRON has a limited supply of coins.
Investors particularly favor this scarcity due to the theory of diminishing supply and increasing demand. To gain a ballpark price prediction, we can observe Digitalcoin's forecasts.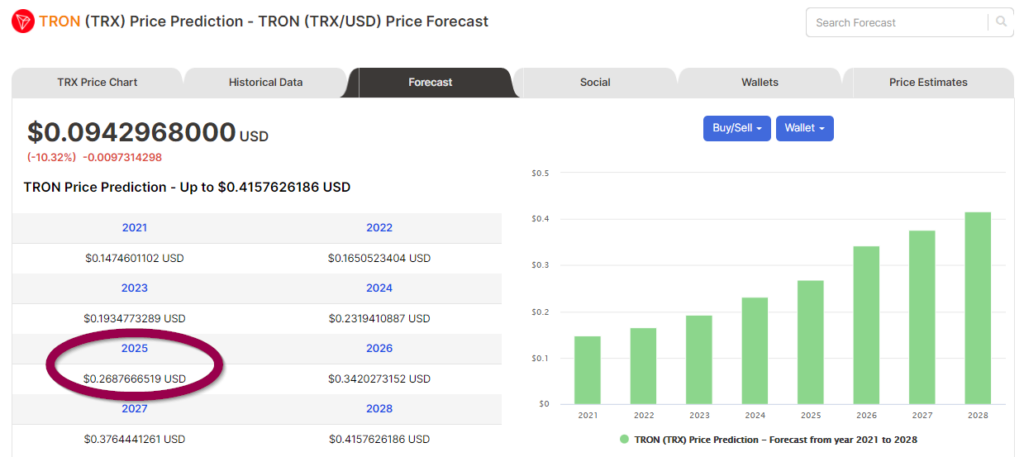 The site predicts TRX's value to be at $0.26 by 2025.
The best way to buy TRON
As a hugely popular cryptocurrency, TRON is available on several exchanges like Binance, Huobi, Binance JEX, Poloniex, OKEx, Gate.io, and many more. This avenue represents the best and most straightforward way to buy TRON.
Investors who prefer to store the coin without trading it on a platform can choose from various software and hardware wallets, including TRON's very own.