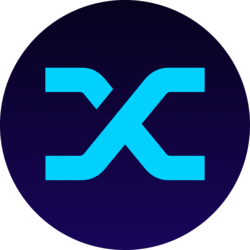 Synthetix Network (SNX)
Price
Synthetix operates on the Ethereum blockchain.
SNX is the governance token on the Synthetix platform and is used as collateral.
Synthetix allows exposure to both crypto and non-crypto assets.
What is SNX Coin?
Synthetix is a decentralized finance system which allows access to a broad spectrum of crypto- and non-crypto-assets on the blockchain. The Ethereum blockchain-based system provides users with access to extremely liquid synthetic assets (synths). When using a Synthetix asset, one does not have to hold the underlying asset directly in order to track and earn returns on it.
Trading, staking, and borrowing a wide range of different cryptocurrencies, stocks, and commodities are all possible through the platform. This is accomplished by establishing synthetic assets that are linked to the price of the real-world asset.
Given that Synths are produced on the Ethereum blockchain, they can be deposited on other DeFi platforms, such as Uniswap, and used to offer liquidity while also earning interest.
The Havven network, founded by Kain Warwick in September 2017, was the first network to go live under the name HAV. After a year, the company changed its name to Synthetix.
Synthetix is powered by the Synthetix Network Token (SNX). As of September 2021, there are 114 SNX in circulation out of a total quantity of 212 million coins. Synthetix provides customers with a seamless trading environment free of liquidity and slippage concerns. There is also no requirement for intermediaries on the platform.
For one to trade with the synthetic assets, they have to provide SNX coins as collateral, resulting in the locking up of the SNXs in smart contracts.
Is SNX coin a good investment?
The year 2021 has been a good year for SNX, considering that it hit its all-time high of $28.77 in February. However, since May 14th when it hit a price of $16.41, SNX has largely been trading sideways. It also seems to be an outlier among its crypto peers because it hardly reacted to the recent crypto market spike.
For the past three months, stretching back to June 15, the coin has traded within a narrow range of $6.42-$9.72. This means that the profit margin for small volume traders is relatively small. However, it also shows that investors in the asset got a better cushion from the crypto volatility experienced during that period. Therefore, if you are looking for a relatively stable cryptocurrency, then SNX would be a good choice.
Should I invest in SNX coin today?
SNX's return on investment, four years after its launch, stands at 2,866%. This is certainly an attractive return over a relatively short period. However, it has also depicted price movements typical of cryptocurrencies, with incidents of extreme volatility. For instance the current price is 41,401% higher than its all-time low of $0.032 recorded in January 2019. It is also 53% off its all-time high.
For the past one month, SNX's 20-EMA has been trending above the 50-EMA, showing an increasingly favorable market for the asset. Therefore, you should consider investing in it based on this strong consistency.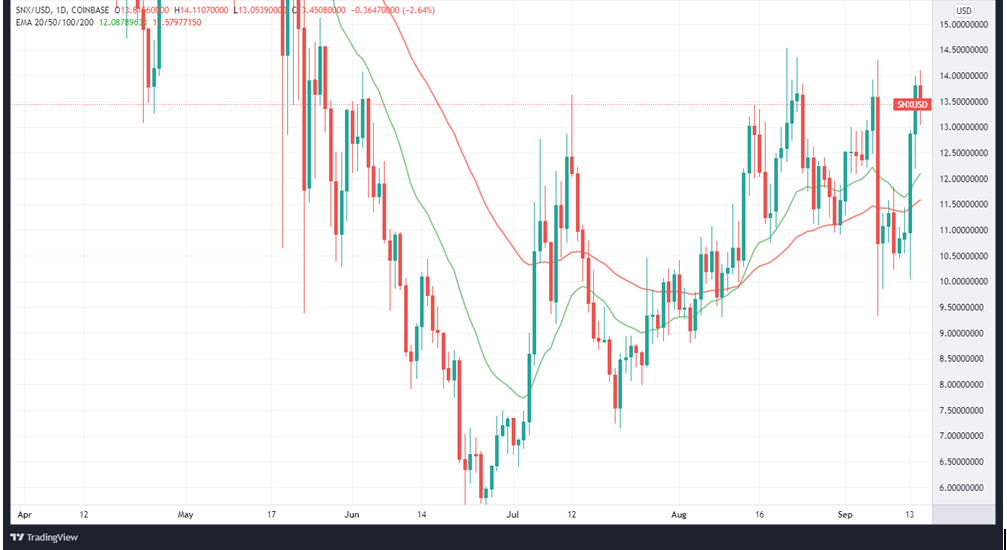 Technical analysis for CRYPTO: SNX
Best case scenario
As highlighted above, the 20-EMA is currently above the 50-EMA, depicting strong market growth. In addition, the RSI is at 58, which signals a relatively strong momentum. The three indicators are therefore a reliable signal of a likely bullish control of the market. In that case, the price could rise as high as $15.65, where it could meet resistance.
Worst case scenario
The RSI momentum indicator is currently pointing downwards, signaling the possibility of a weakening momentum. In that case, the bears could have some wins, which could pull down the price to the first support at $12.53. Further bearish wins could see the price going as low as $10.64.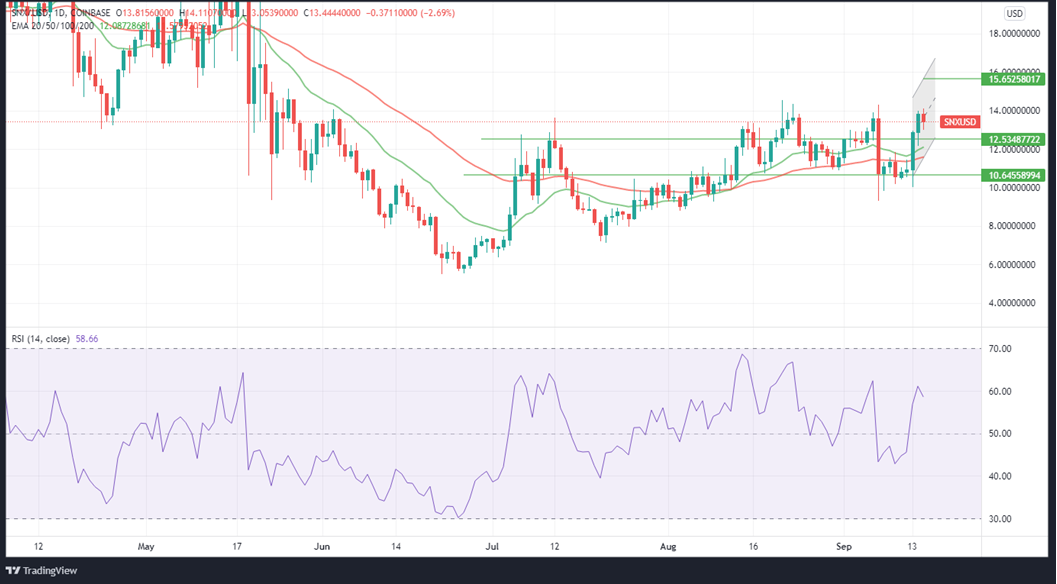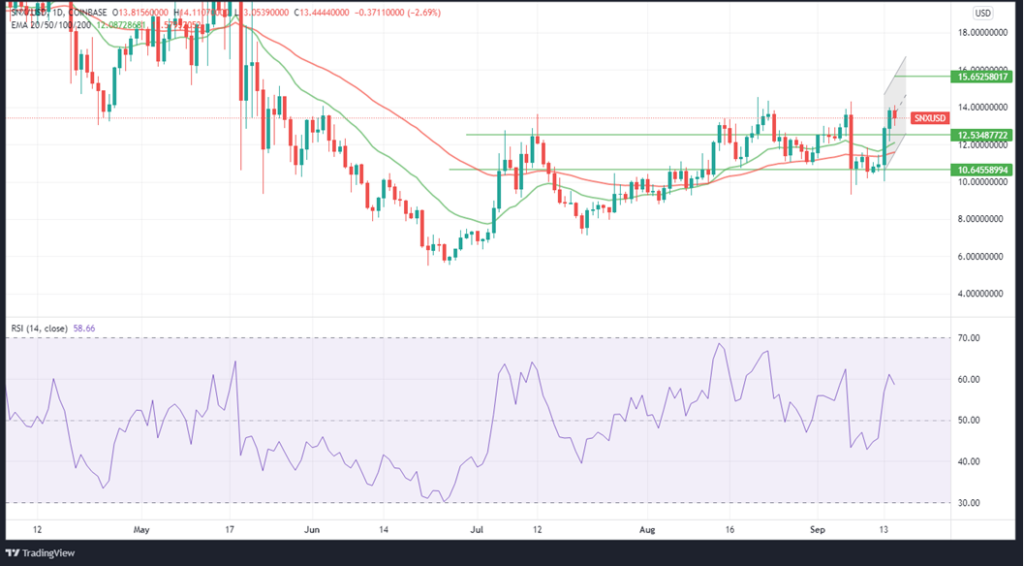 Will SNX Coin hit $100 in a year?
In the past 9 months, SNX coin has grown by an average of 15.48% per month. In addition, there has been a margin of 418% between the highest and lowest prices recorded during that period. Taking 15.8% as the average rate of growth and integrating the price variation between the highs and the lows, SNX is likely to hit a median price of $15.69 maximum price of $64.76 in the next year.
What is SNX Coin Price Prediction for 2025?
Working with the monthly growth rate of 15.48% and still incorporating the variation between the 9-month high price and low price, SNX is likely to hit a median price of $24.22 and a maximum price of $270.94.
The best way to buy SNX coin
You can purchase SNX coins from any of the following exchanges: FTX, Binance, Huobi and OKEx, which are the leading exchanges for the asset.