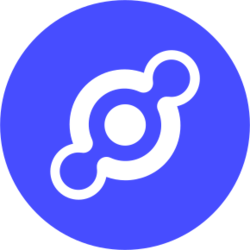 Helium (HNT)
Price
What is Helium (HNT)?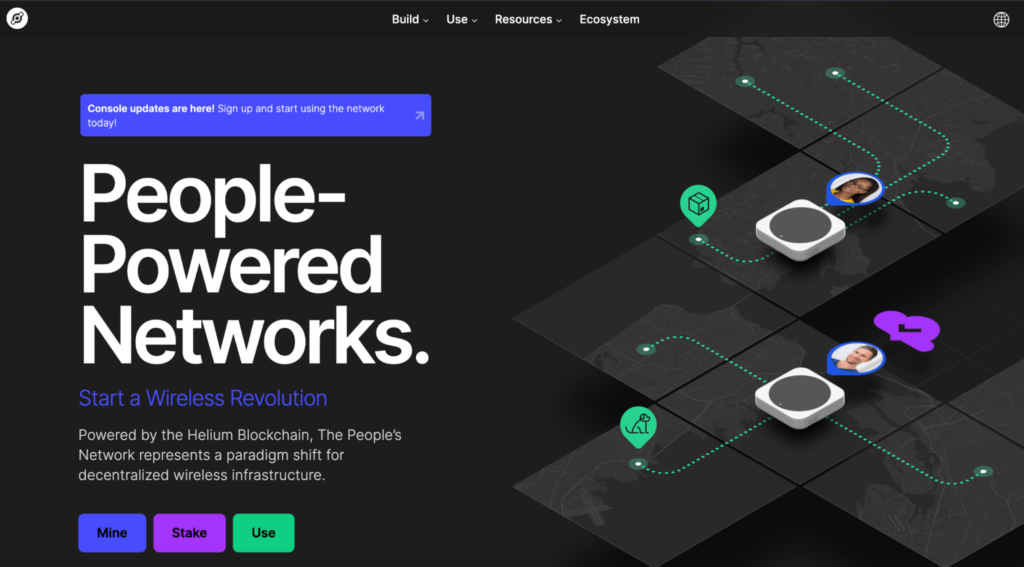 According to CoinMarketCap, Helium is presently the third-most traded IOT-related coin (#44 overall) and is worth $2.93. The Internet of Things (IoT) refers to the interconnectivity of billions of computing devices globally like phones and desktops, enabling these to relay data amongst each other.
Helium is a decentralized blockchain supporting IoT applications through custom-built, peer-operated 'hotspots' facilitating long-range connectivity. In this way, Helium's mission is to have a global, decentralized wireless network, referring to itself as the 'People's Network.'
Unlike mining-based ledgers, Helium uses a novel consensus mechanism referred to as proof-of-coverage to eradicate the need for expensive and wasteful GPUs. Like helium gas, this is 'light' on the environment.
Any individual can deploy radio-powered hotspots or devices with connectivity to earn HNT tokens for their efforts. While the platform was launched in July 2019, the development of Helium began as far back as 2013, led by Sean Carey, Shawn Fanning, and Amir Haleem.
If one had bought HNT this time last year and held the position, their investment would have paid serious dividends; a roughly 3470% or 34.7X gain, to be exact. So, let's see why Helium is an excellent investment and HNT price predictions for the near future.
Is Helium a good investment?
So, what are some of the problems Helium is solving? The common methods of connecting IoT devices like cellular and Bluetooth tend to be too power-consuming and limited in range.
Helium combines a number of technologies, including the novel LoRaWan protocol and blockchain, to solve these issues. Having decentralized IoT coverage also means more hotspots to cover entire cities at a fraction of the cost, making wireless connectivity more scalable.
Traditionally, when a single entity manages coverage, you lose independence because you'd always need permission to connect with certain networks.
However, perhaps the most attractive part of Helium is having any individual who can install the necessary equipment to earn real rewards, something that wouldn't be possible in a centralized structure.
There have been various reports of ordinary folk earning decent side income from having their own hotspots connected to Helium. Overall, Helium is one of the easier-to-understand IoT projects with considerable potential.
Should I buy HNT today: Crypto technical analysis for HNT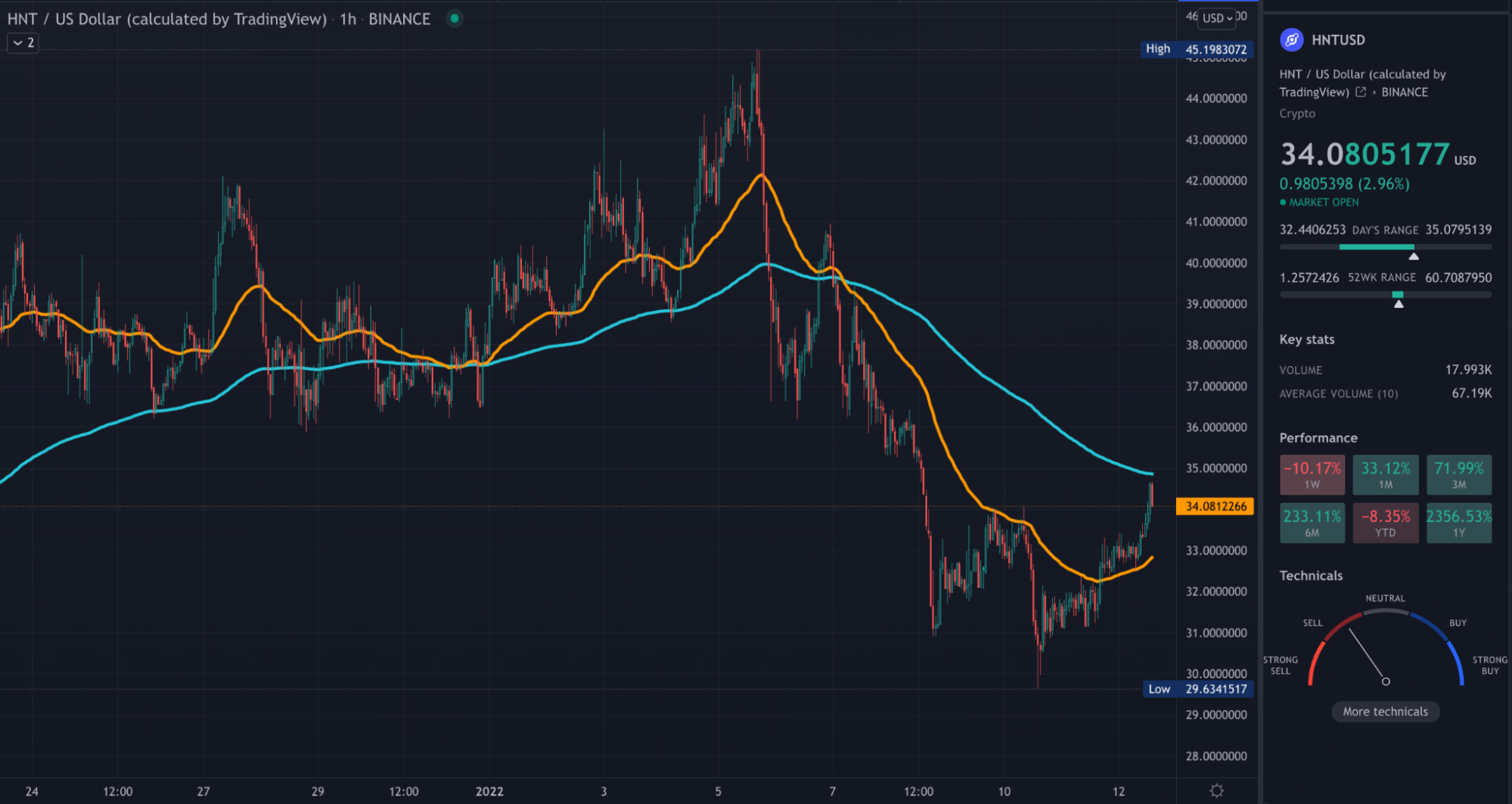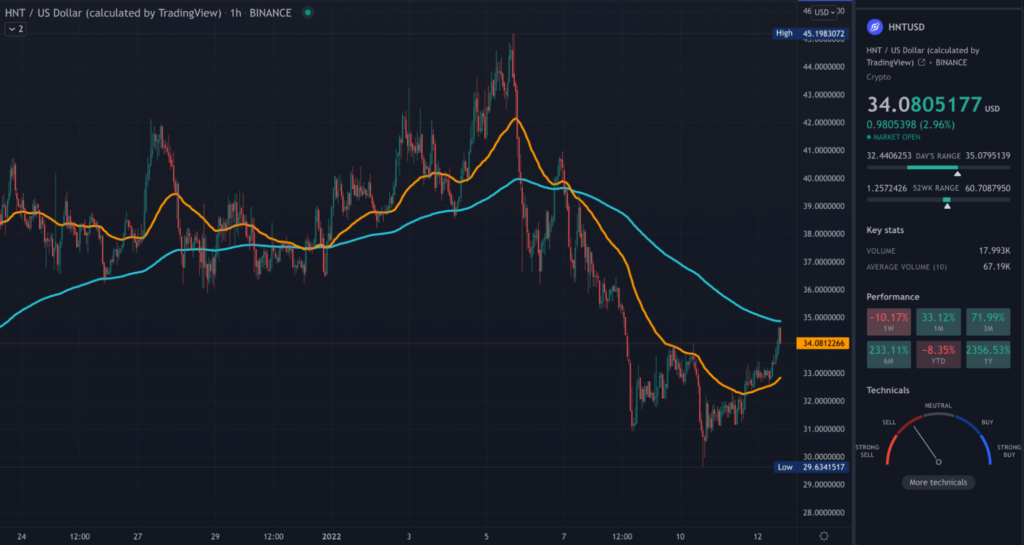 Overall, it doesn't look like a good time to buy HNT presently, and here's why. We've added the 50-period (orange) and 200-period (blue) moving averages on the TradingView chart above to represent a classic crossover method.
With this strategy, one waits for the 50 to cross above the 200 and the market to be trading above both. As is evident on the chart, HNT doesn't meet either description. The next sections will cover HNT price prediction forecasts for 2023 and 2025.
Will HNT coin price hit $100 in a year?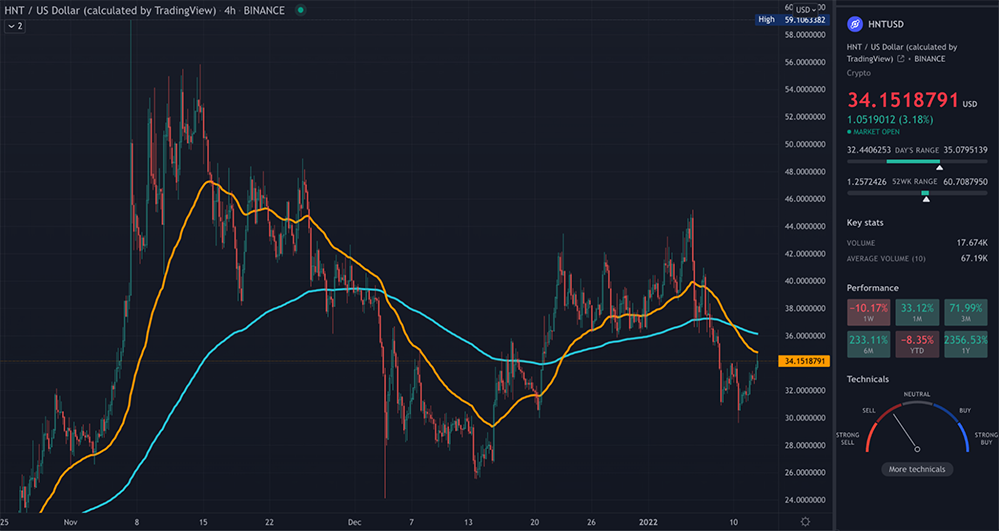 We observed three forecasting sites, and none predicted HNT will be worth $100 in a year. The most optimistic of the lot, Wallet Investor, estimates prices between $74.61 to 90.60.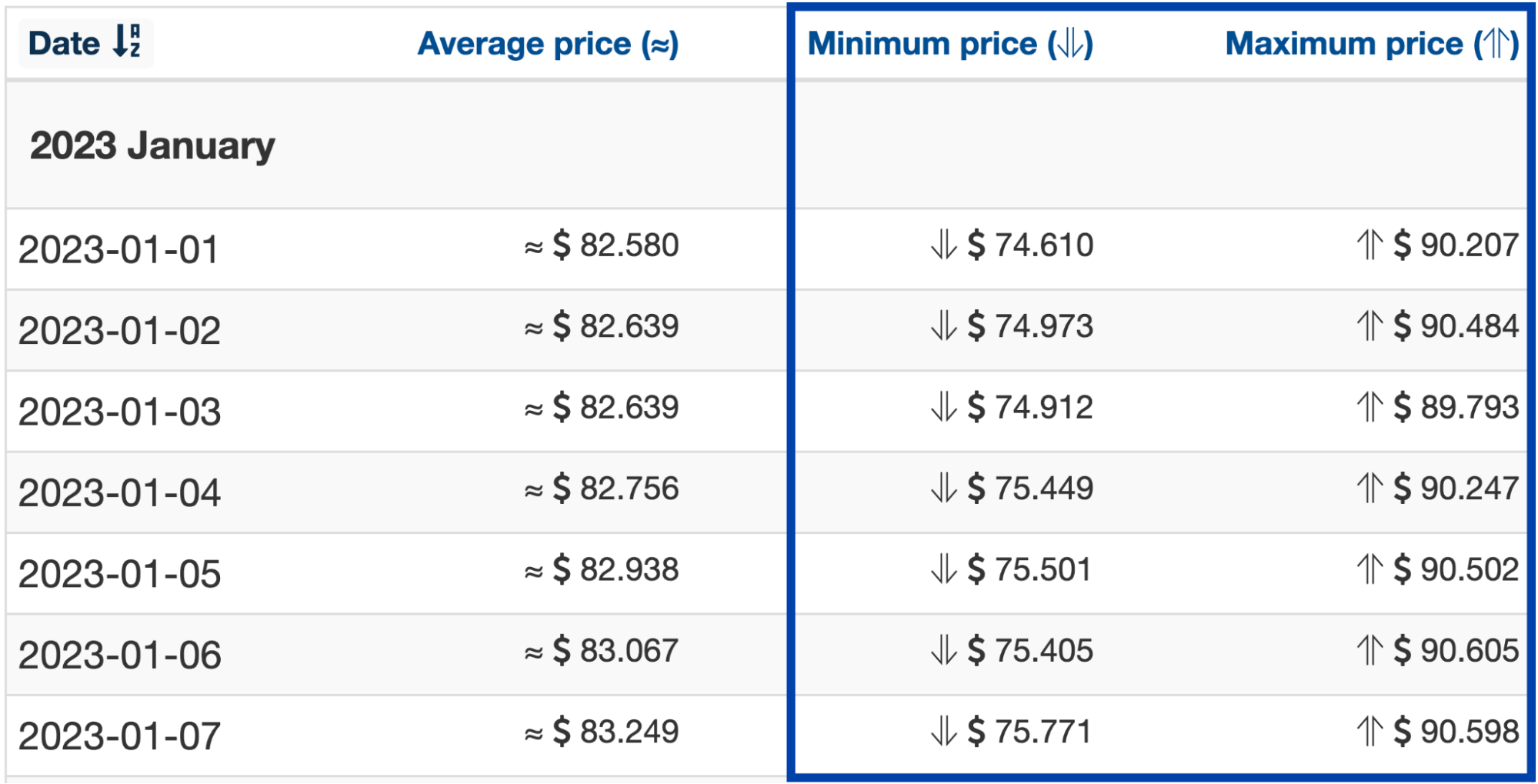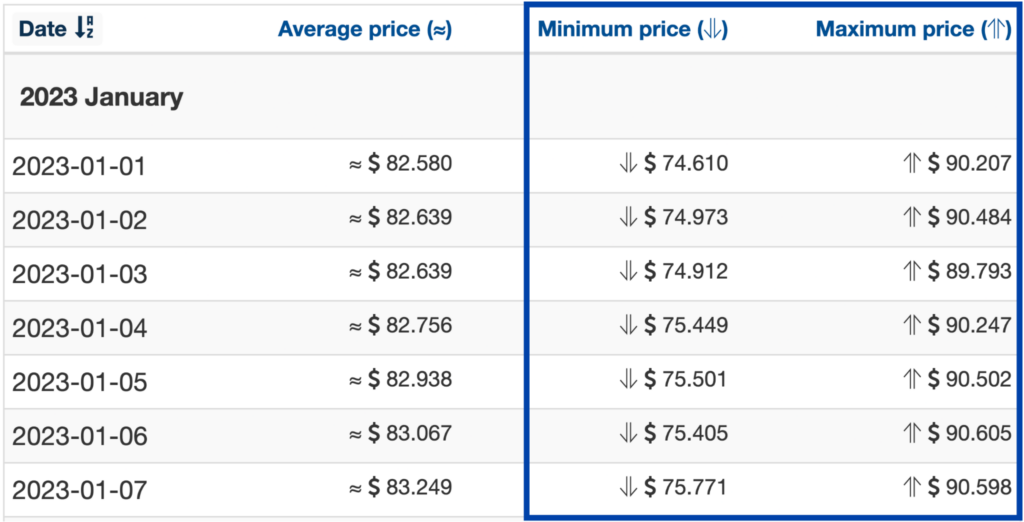 PricePrediction.net presents similar approximations of $81.97 as the minimum value and $84.31 as the average value. Digitalcoinprice is slightly less favorable, with an average price of $64.28.
What is HNT's price prediction for 2025?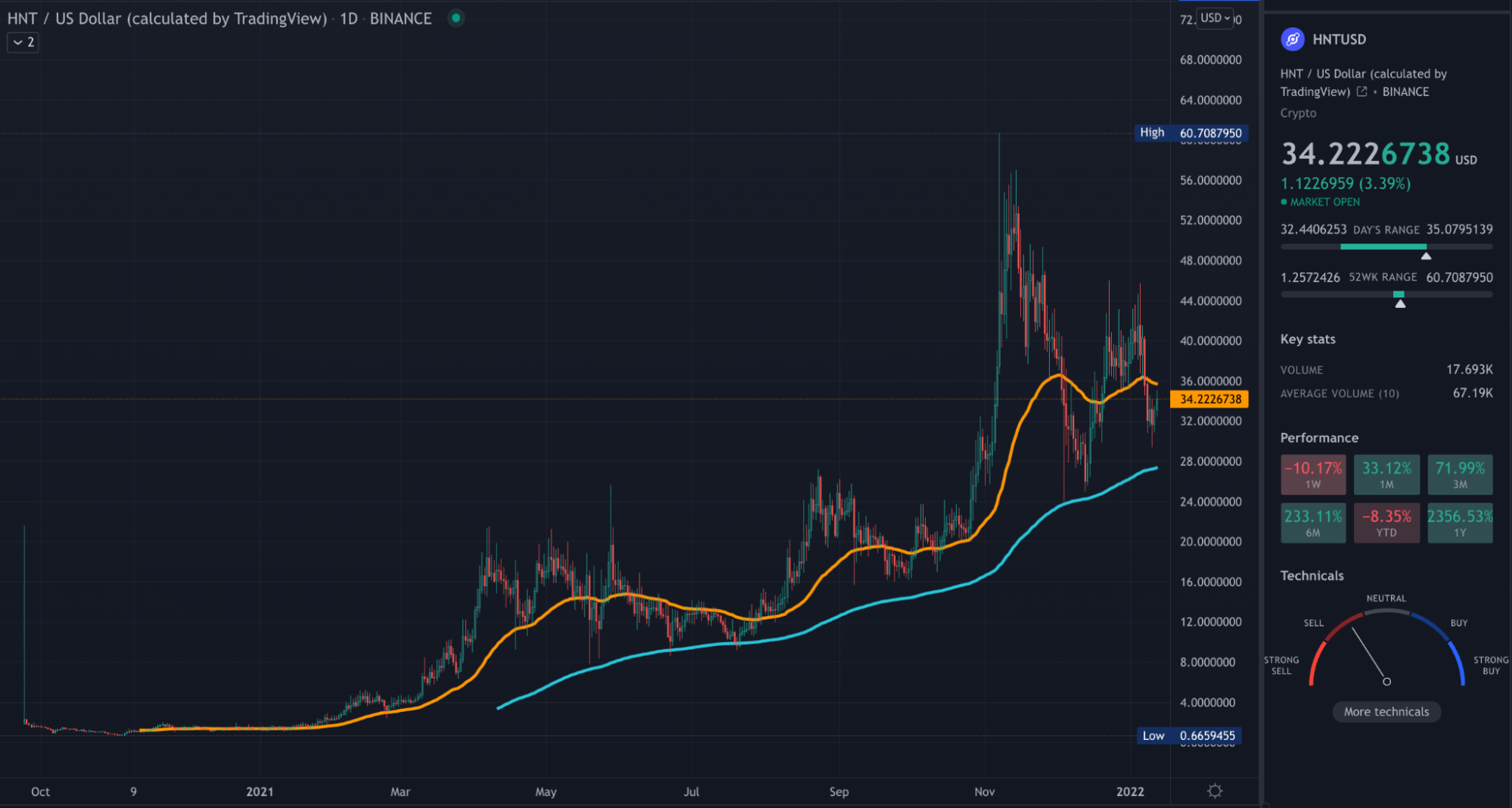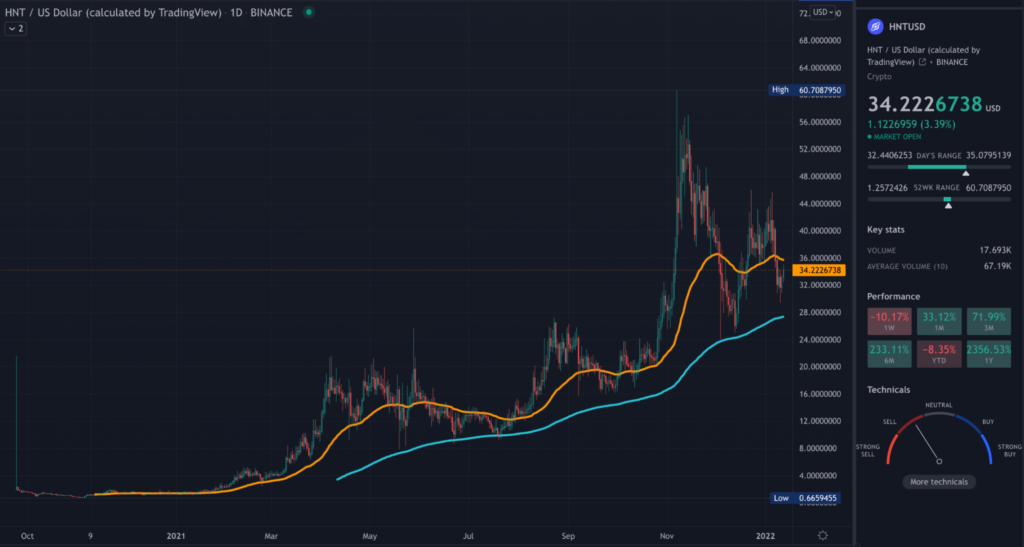 Ultimately, Helium is on a mission of fostering the next-generation wireless network connecting billions of devices worldwide. Yet, as with any project, we cannot ignore the downsides.
Best-case scenario
As with the previous forecasts, Wallet Investor is the most bullish, with the lowest and highest estimates of $139 and $189 when 2025 begins.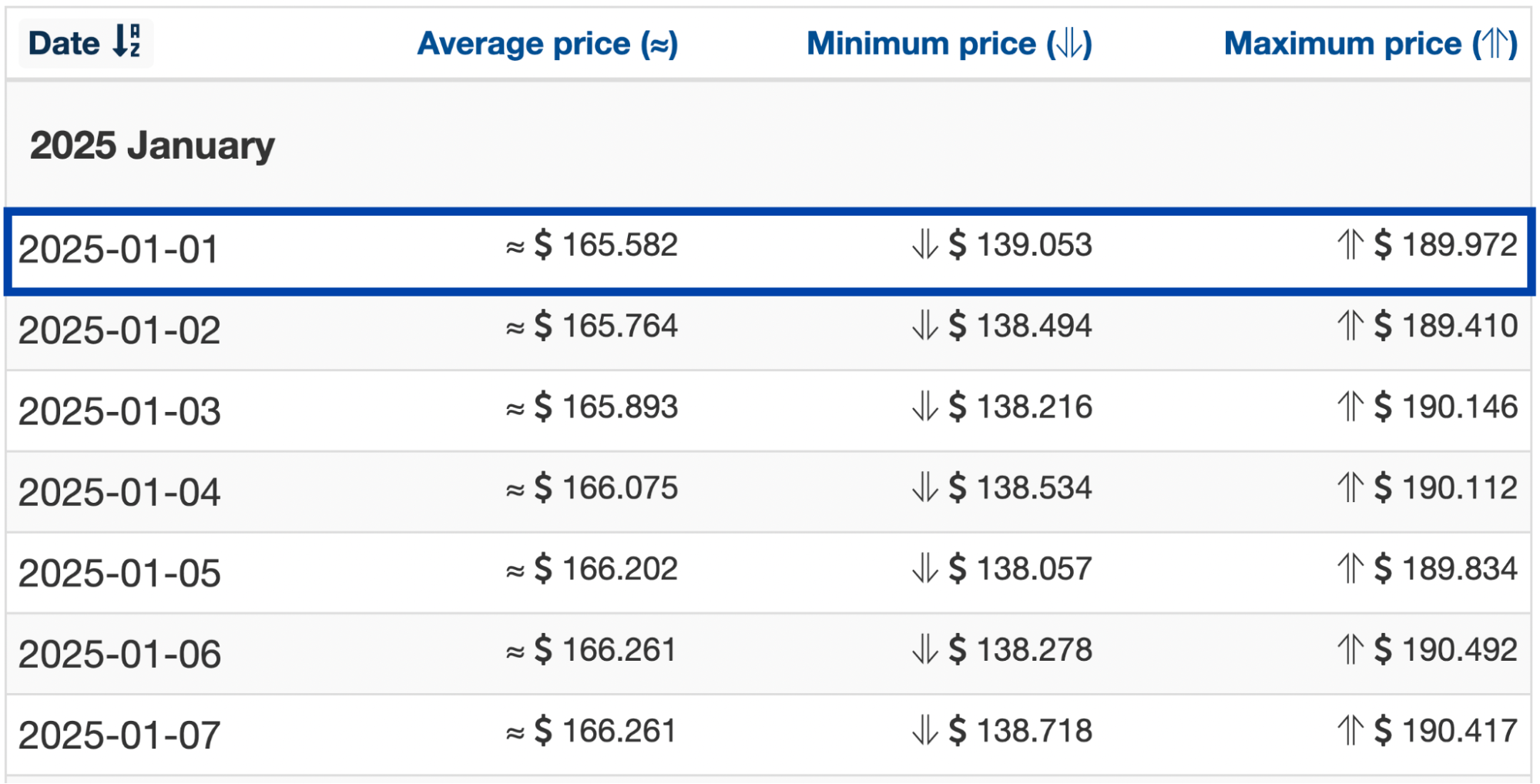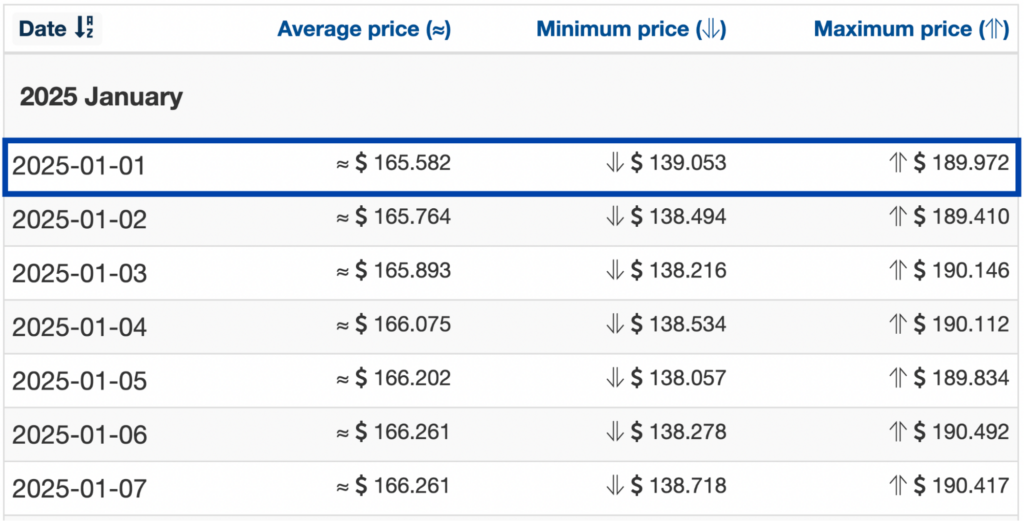 Again, PricePrediction isn't too far off, with a minimum price of $160. On the other hand, Digitalcoinprice simply presents an average of $85.36. It's fair to expect gains starting from the 2X range or even higher for this token if the overall market performs well.
Worst-case scenario
As with any cryptocurrency, the forecasts presented anywhere for HNT are speculative. Moreover, Helium has a few technical flaws that may deter participants from joining their network.
Generally, crypto has always been a highly volatile instrument with substantial dips when least expected. As an investor, you need to ask yourself if you can weather any potential storm if the price doesn't perform tremendously.
The best way to buy HNT
Binance, Crypto.com, FTX, and Gate.io are some of the many exchanges where you can purchase HNT.