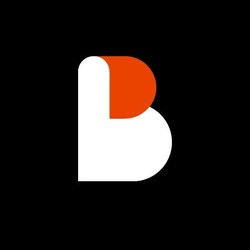 Biconomy (BICO)
Price
Disclaimer: The information provided here does not constitute any form of financial advice. Readers are fully responsible for conducting their due diligence before making any investment decisions.
What is Biconomy (BICO)?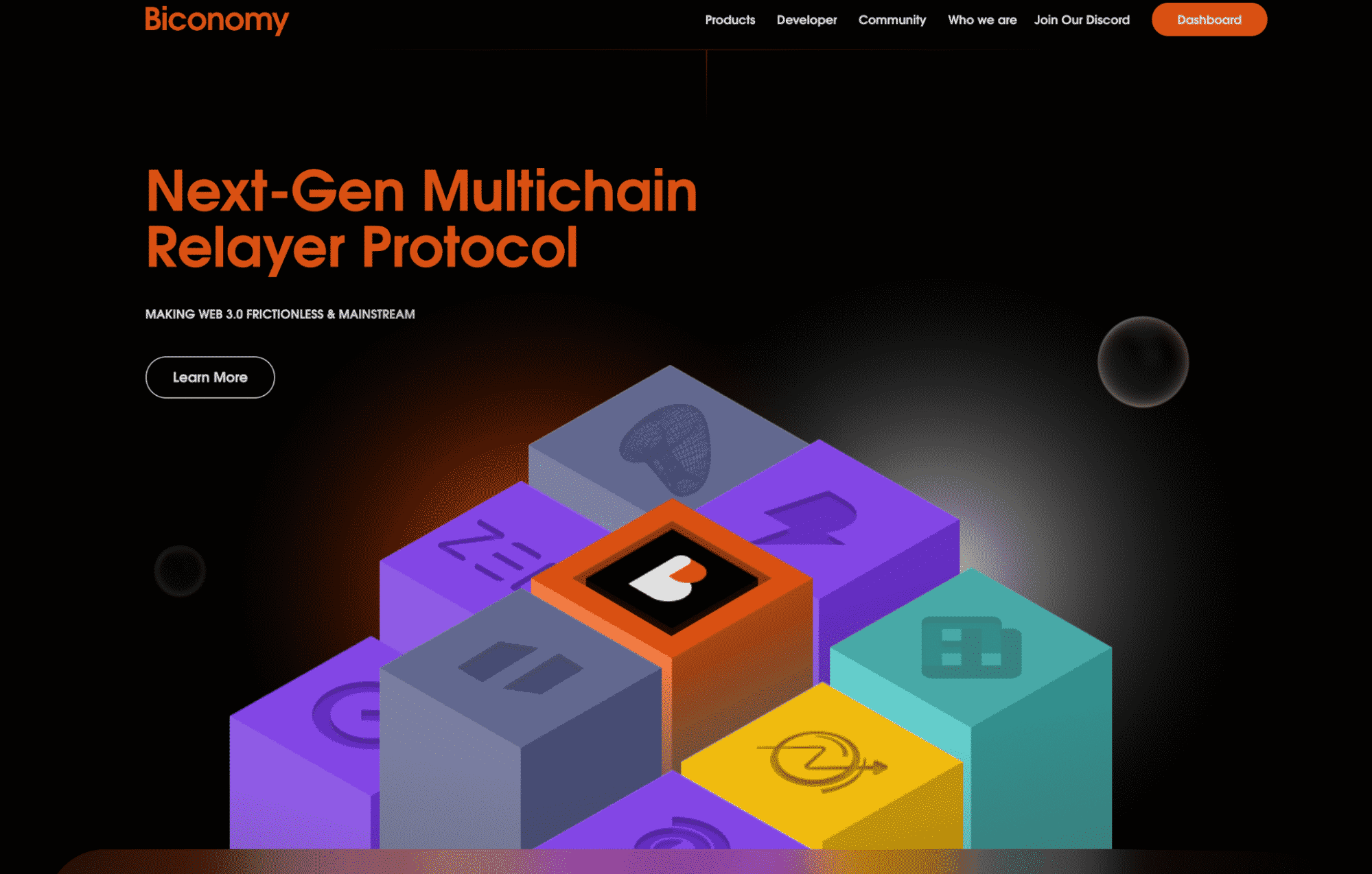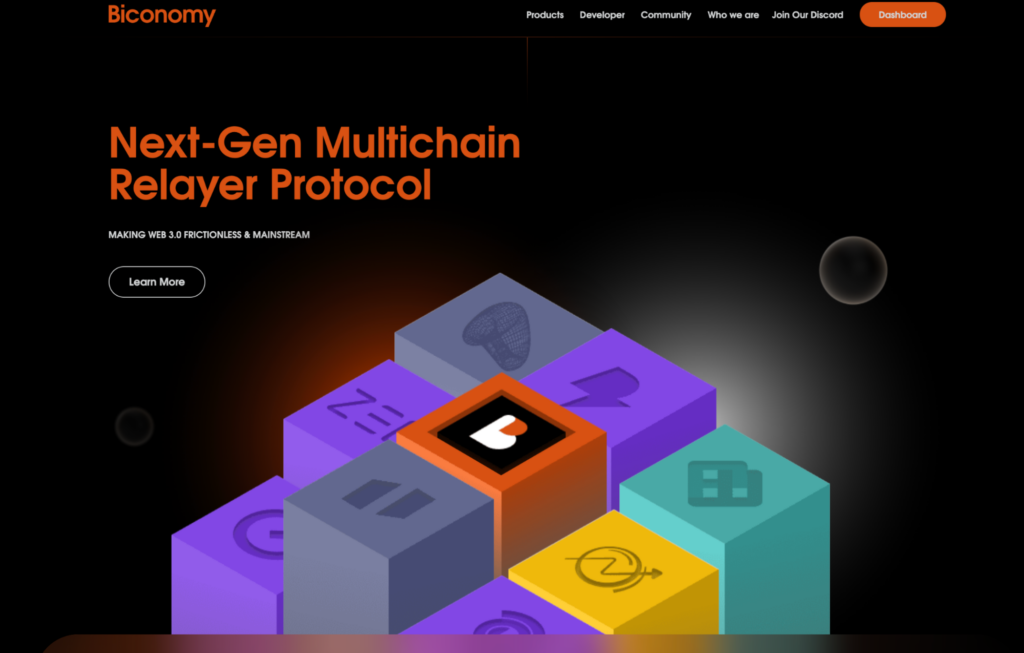 Biconomy is a relayer blockchain that's been around since 2019, founded by Ahmed Al-Balaghi, Sachin Tomar, and Aniket Jindal, all of whom are blockchain entrepreneurs.
Biconomy describes itself as the 'next-gen multichain relayer protocol' and comprises two products: Hyphen and Gasless.
Hyphen is essentially a cross-chain bridge facilitating the instantaneous transfer of numerous digital assets between various Ethereum Virtual Machine-compatible and non-EVM layer 2 networks.
As the term suggests, Gasless is an innovative feature using meta-transactions (the ability to pass on the gas fees to another party in a transaction) where users experience no gas fees.
Therefore, with both of these components, Biconomy provides less complex interoperability, faster transactions, and cost-effectiveness for users of decentralized applications (dApps).
Biconomy is currently compatible with seven blockchains, including Ethereum, Binance Smart Chain, and Polygon. Biconomy's token, BICO, began trading on Binance and other major exchanges in December 2021.
It is responsible for settling network fees, staking and governance. Despite the token being less than four months old, CoinMarketCap presently ranks the token #281 in the rankings, with a market cap of about $151 million and a value of $1.30.
Before going into any BICO coin price predictions, let's explore whether this project is a good investment.
Is Biconomy a good investment?
The first immediate problem Biconomy solves are the gas fees. Running any dApp on a blockchain like Ethereum is notoriously expensive, where users often incur high transaction costs.
Thanks to Gasless, this problem is now a thing of the past. The second challenge Biconomy addresses is interoperability between different blockchains, particularly compatibility and transaction speed.
Onboarding to any layer 2 network or moving between them is slow, expensive, and tedious presently. Biconomy ensures that these integrations are as seamless as possible. The end goal is to make the blockchain less complex to navigate, even for unfamiliar issues.
In the words of Biconomy's developers, 'web 3.0 benefits with web 2.0 familiarity.' Despite these ambitions, Biconomy is relatively young compared to the other established blockchains with similar goals.
By market cap standards, we refer to BICO as a small-capped coin, tokens that are characterized by greater volatility and lower trading volumes. Therefore, they are riskier investments.
However, the advantage of BICO is its price is relatively low, leaving a lot of room for potentially explosive growth.
Should I buy BICO today: Crypto technical analysis for BICO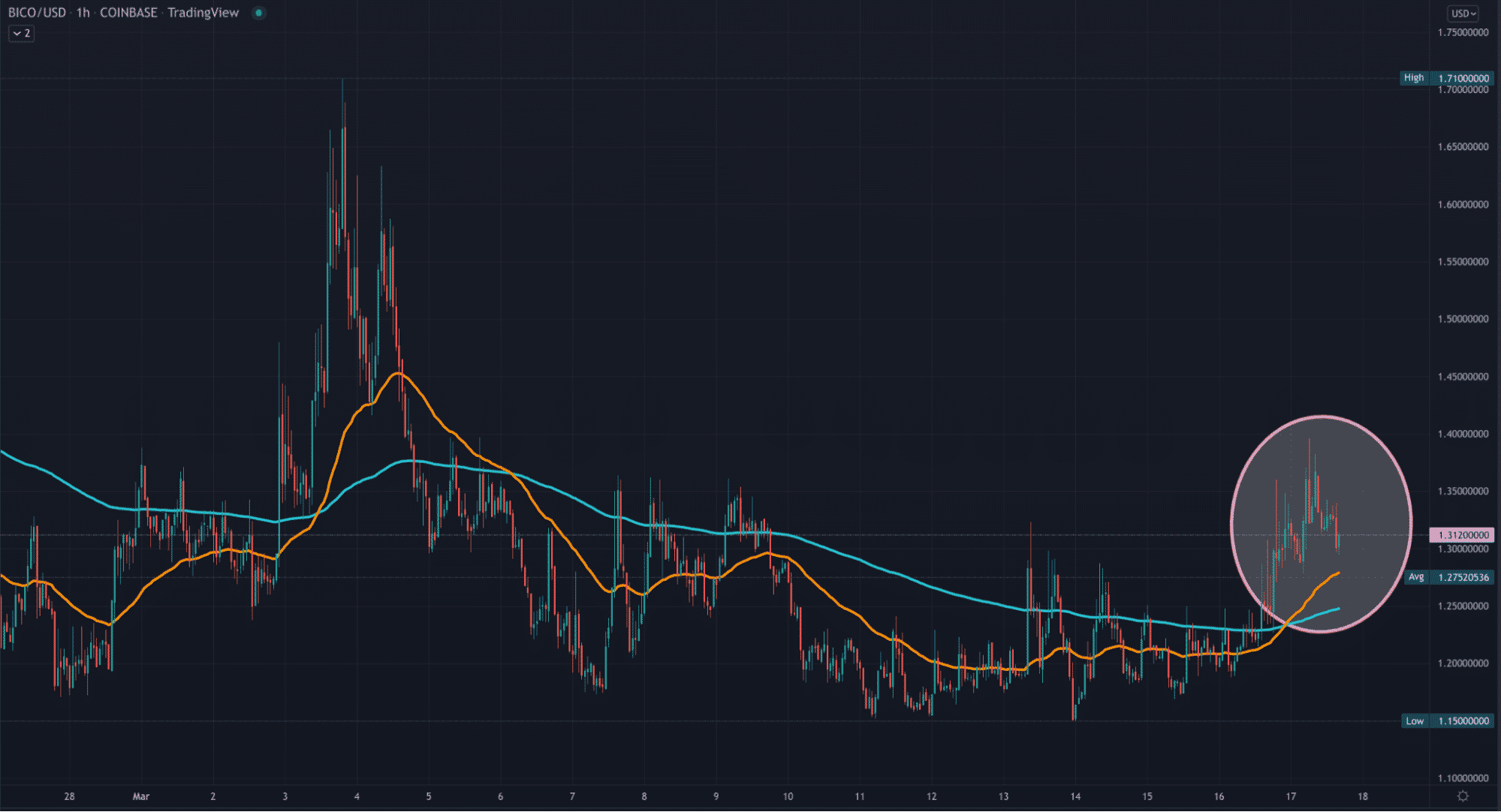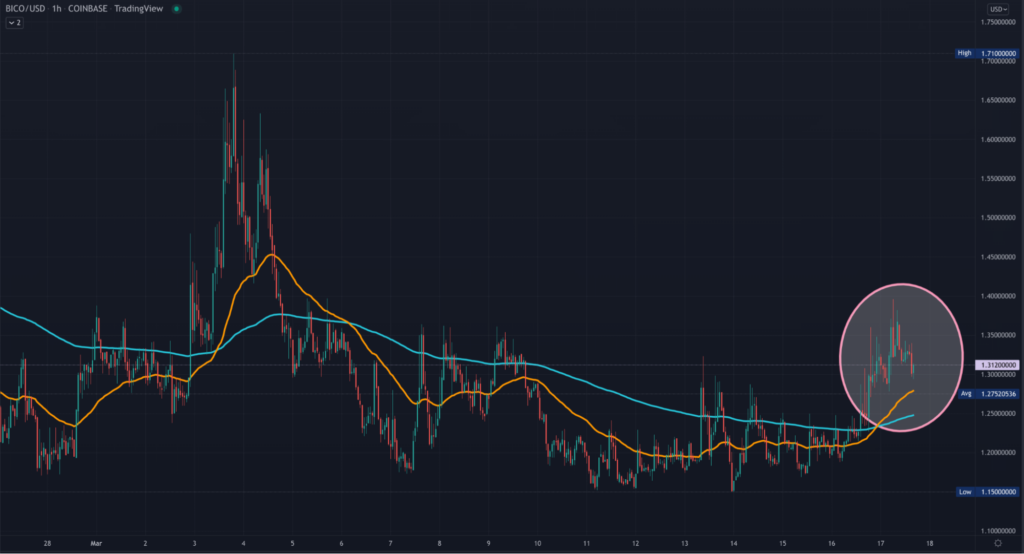 Our technical analysis suggests a buying opportunity for this token. We've applied the 50-day (orange) and 200-day (blue) moving averages to show a simple crossover system.
As highlighted, the price is above the moving averages, while the 50 has crossed above the 200, which are good signs for a potential bull market.
Will the BICO coin price hit $10 in a year?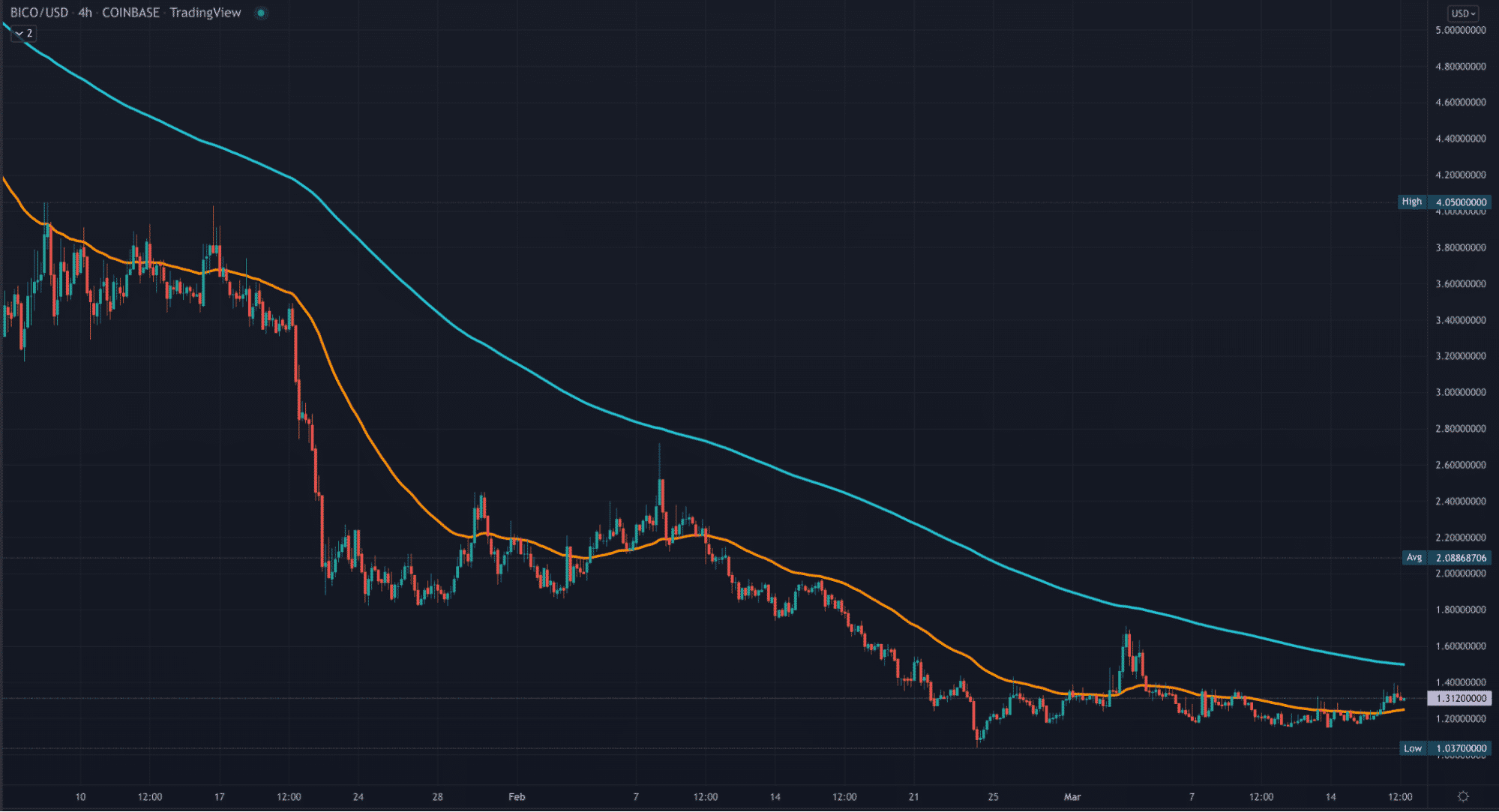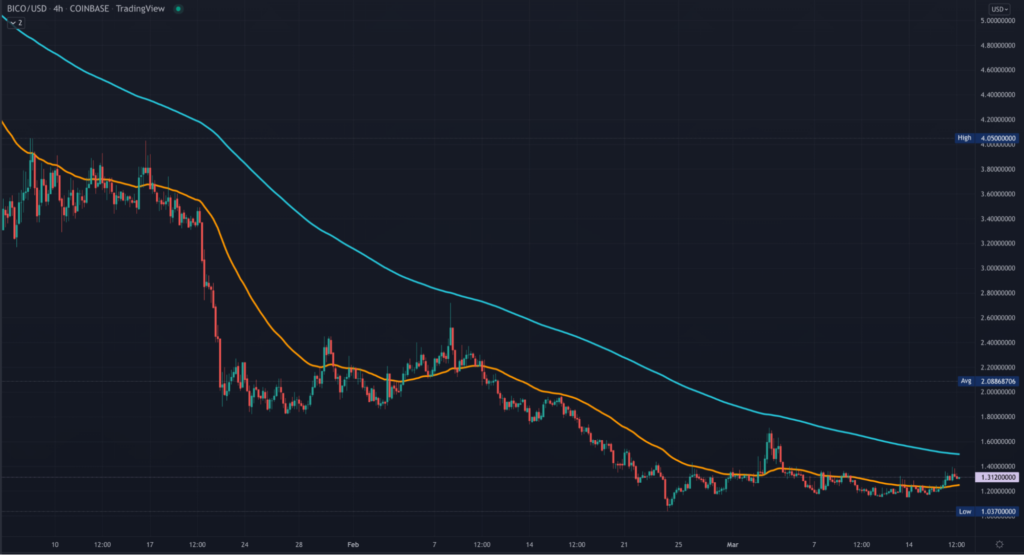 It's worth noting that BICO coin price predictions will be a lot more speculative given the newness of this token. Based on the forecasting sites we observed, $10 seems unlikely. This might be mainly because not much price action data exists to make a reasonable prediction.
Nonetheless, the average estimate we derived was $2, which is a fair approximation. On the low end, Digitalcoin prices sees a minimum of $1.74 and an average of $1.91 for BICO; Tech News Leader pegs BICO to be worth at least $1.98, with an average of 2.06.
One of the slightly more confident forecasts comes from PricePrediction.net, which sees at least $2.38 with a minimum of $2.45.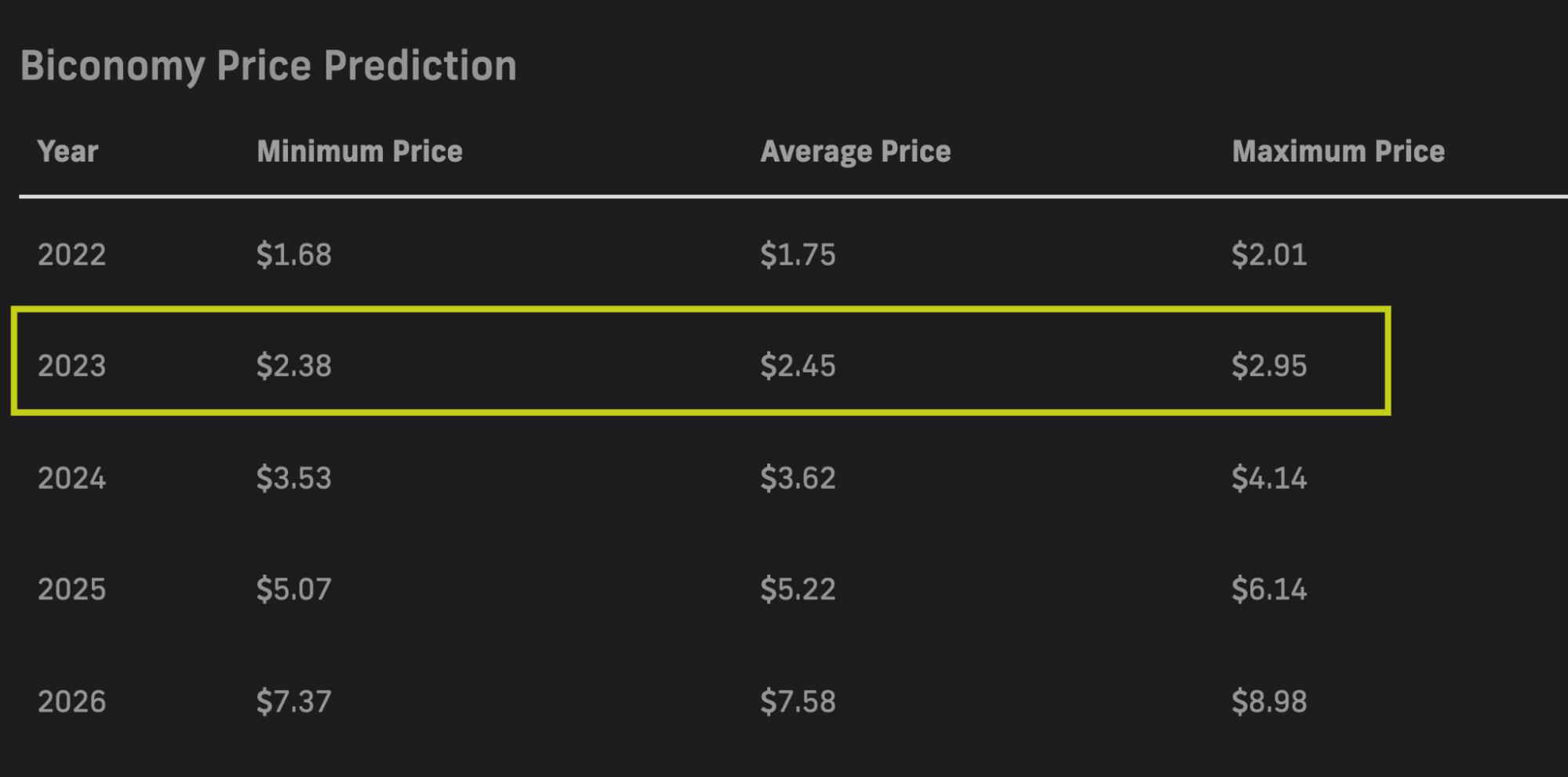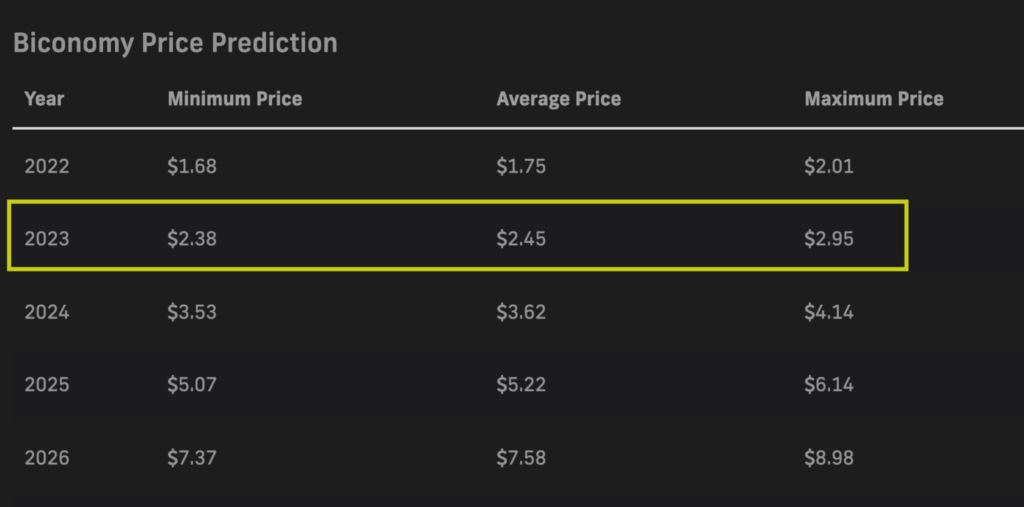 What is BICO's price prediction for 2025?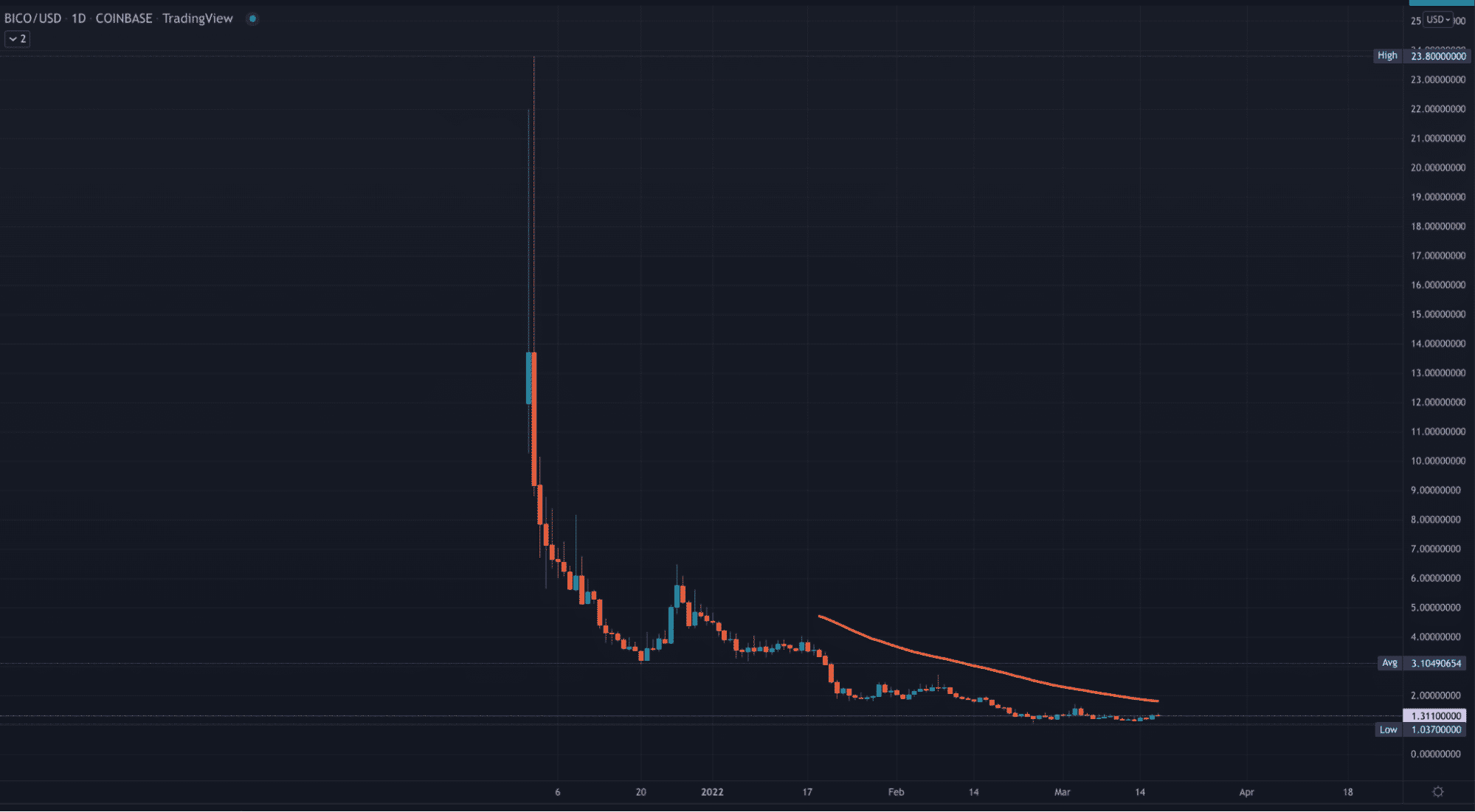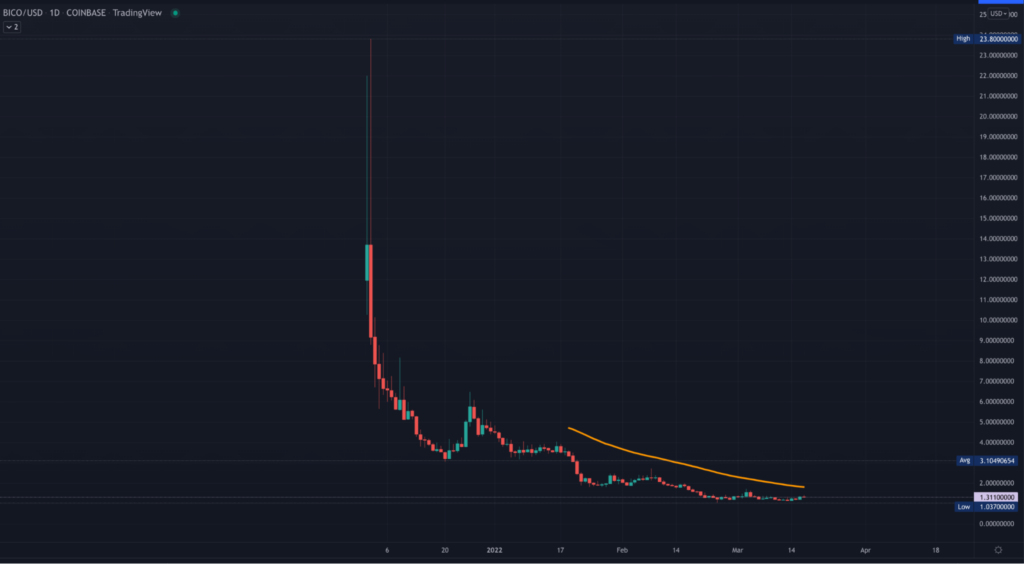 Biconomy will hope to be at the forefront in the introduction of web 3.0 applications along with other more established projects such as Ethereum, Polygon, and Polkadot. However, things may not be so smooth sailing in the long run.
Best-case scenario
Most investors expect BICO to hit double figures or cross the $10 mark. However, the average forecast we deduced was around $3.78. This suggests that most prediction resources are relatively conservative, which is unsurprising given the token's newness.
PricePrediction.net was, again, the most optimistic lot with a minimum price of $5.07 and an average price of $5.22.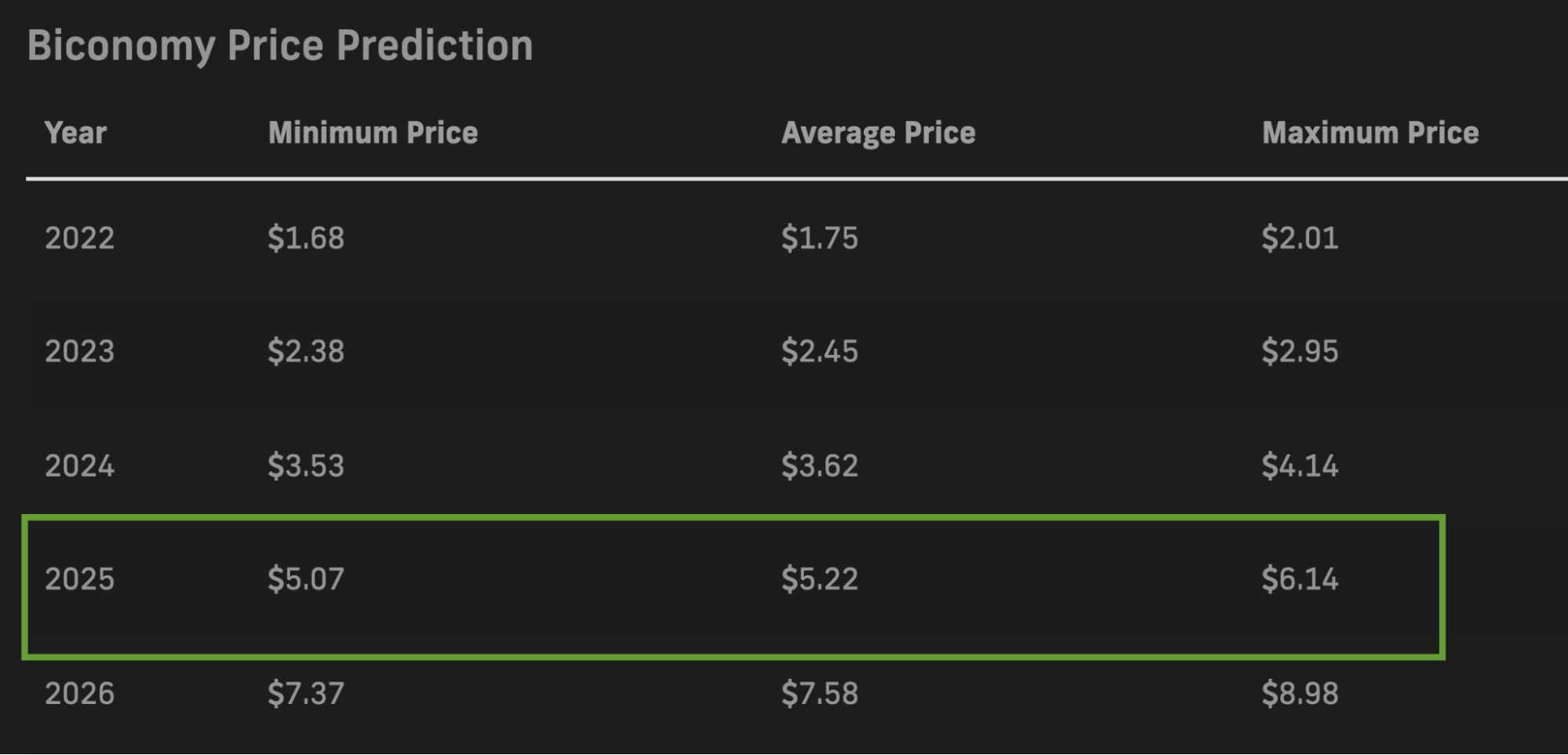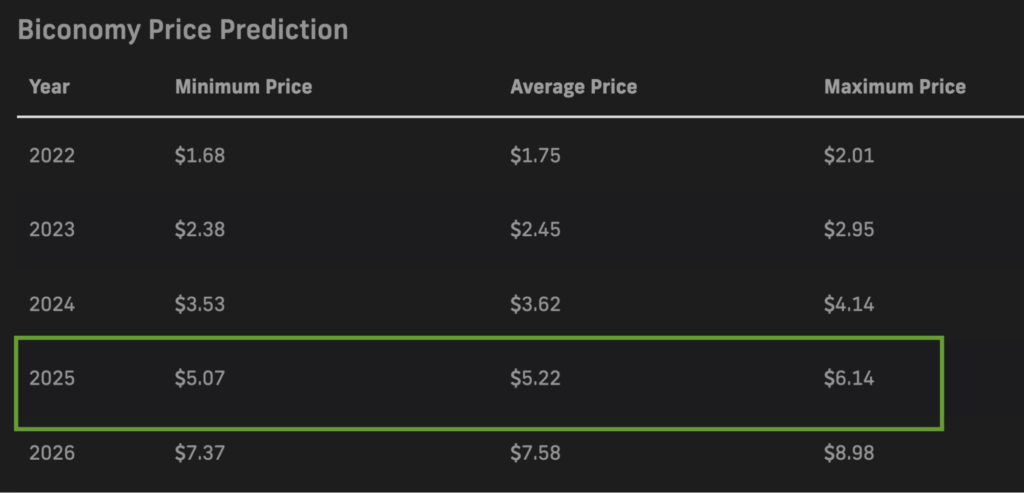 Worst-case scenario
Competitiveness is BICO's main threat in the long run since there are already hundreds of projects with the same objectives as Biconomy. Truthfully, the market is oversaturated where only the very few blockchains with first-mover advantage stand the best chance of longevity.
Moreover, as a small-capped coin, it wouldn't be uncommon to experience wild and unexpected price swings.
The best way to buy BICO
You can buy BICO from many popular crypto exchanges such as Binance, Coinbase, Kraken, Bybit, OKX, Crypto.com, etc.