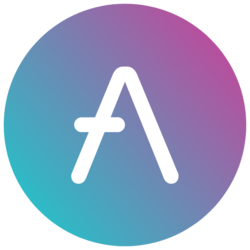 Aave (AAVE)
Price
What is Aave (AAVE)?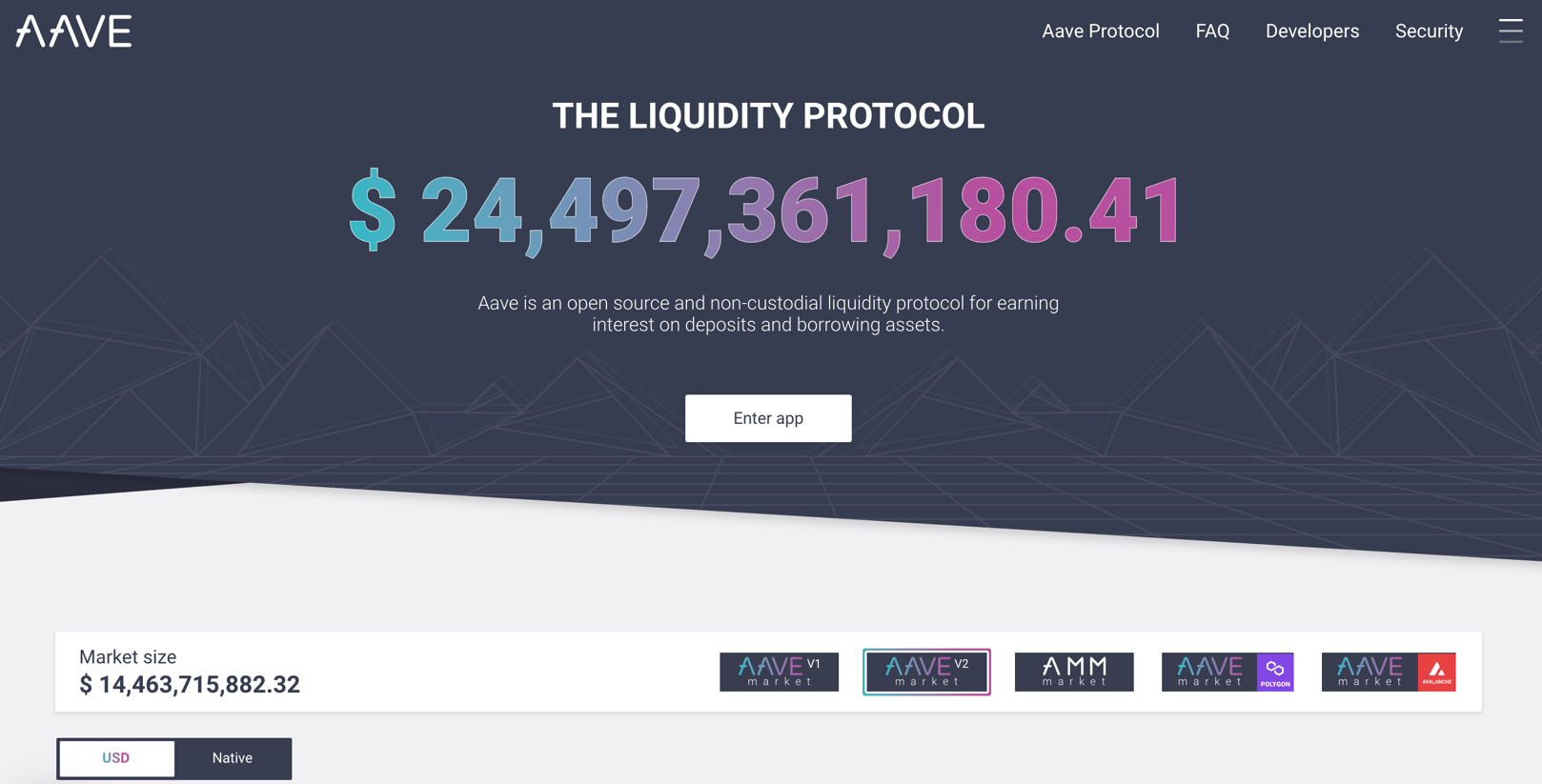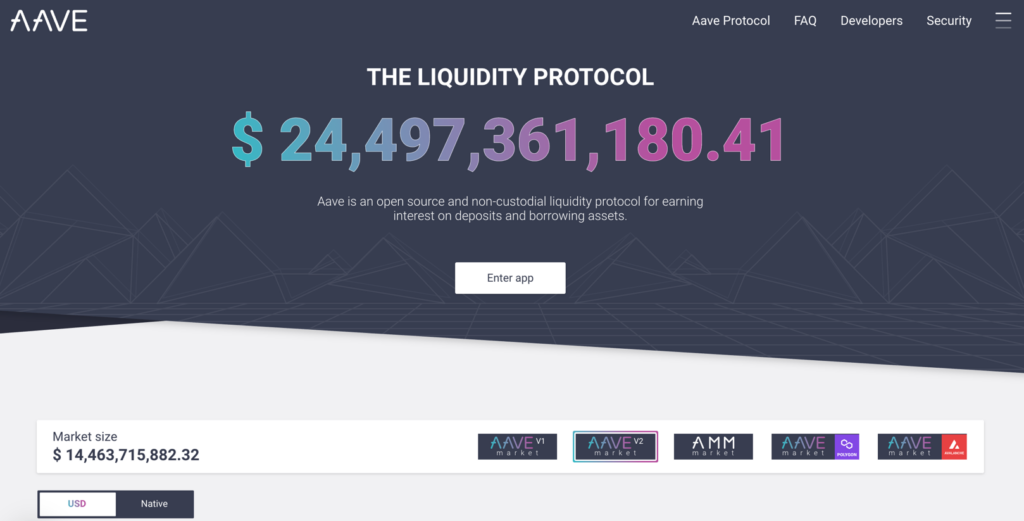 About a decade ago, few could envision a world where finance dealings wouldn't have any middlemen facilitating transactions.
Lending, borrowing, exchanges, and savings are the things DeFi (decentralized finance) has achieved, all without involving banks, brokers, and other financial institutions.
One of the projects that popularized DeFi is Aave (previously known as ETHLend from November 2017 to September 2018). Aave is simply an Ethereum-based platform for crypto lending and borrowing.
Lenders can earn above-average interest from their holdings, while borrowers receive such loans at decent fixed or variable rates with reasonable fees without the red tape you'd experience with a conventional financial establishment.
Aave currently offers different cryptocurrencies (31) like USDT, LINK, ETH, and UNI for lending and borrowing purposes. AAVE itself is also a utility token on the platform, serving as governance and staking coin and allowing for discounted fees.
Aave was created by the Swiss serial entrepreneur Stani Kulechov and launched in November 2017. Aave is among the best-performing digital currencies of 2021, increasing from $83 at the year's start to an all-time high of $707 in May 2021.
At the time of writing, AAVE is valued at $321. With all of the backstory out of the way, let's consider some Aave price prediction analysis and what should be in store for investors.
Is Aave a good investment?
Ultimately, you may consider investing in Aave if you're bullish on DeFi or crypto lending/borrowing overall. Aave remains one of the most popular platforms in this niche, with tens of millions worth of cryptocurrencies locked in its protocol.
Aave provides a sizable range of tokens users can lend and borrow with the flexibility of alternating between fixed and variable rates. Aave was one of the first DeFi services introducing 'flash loans,' a unique uncollateralized instant loan.
This credit must be payable immediately and is used for arbitrage, refinancing, collateral swaps, and other unconventional purposes. Overall, Aave is a prime example of how DeFi works, priding itself on cost-effectiveness, decentralization, quickness, and trustless technologies.
Should I buy Aave today: Crypto technical analysis for AAVE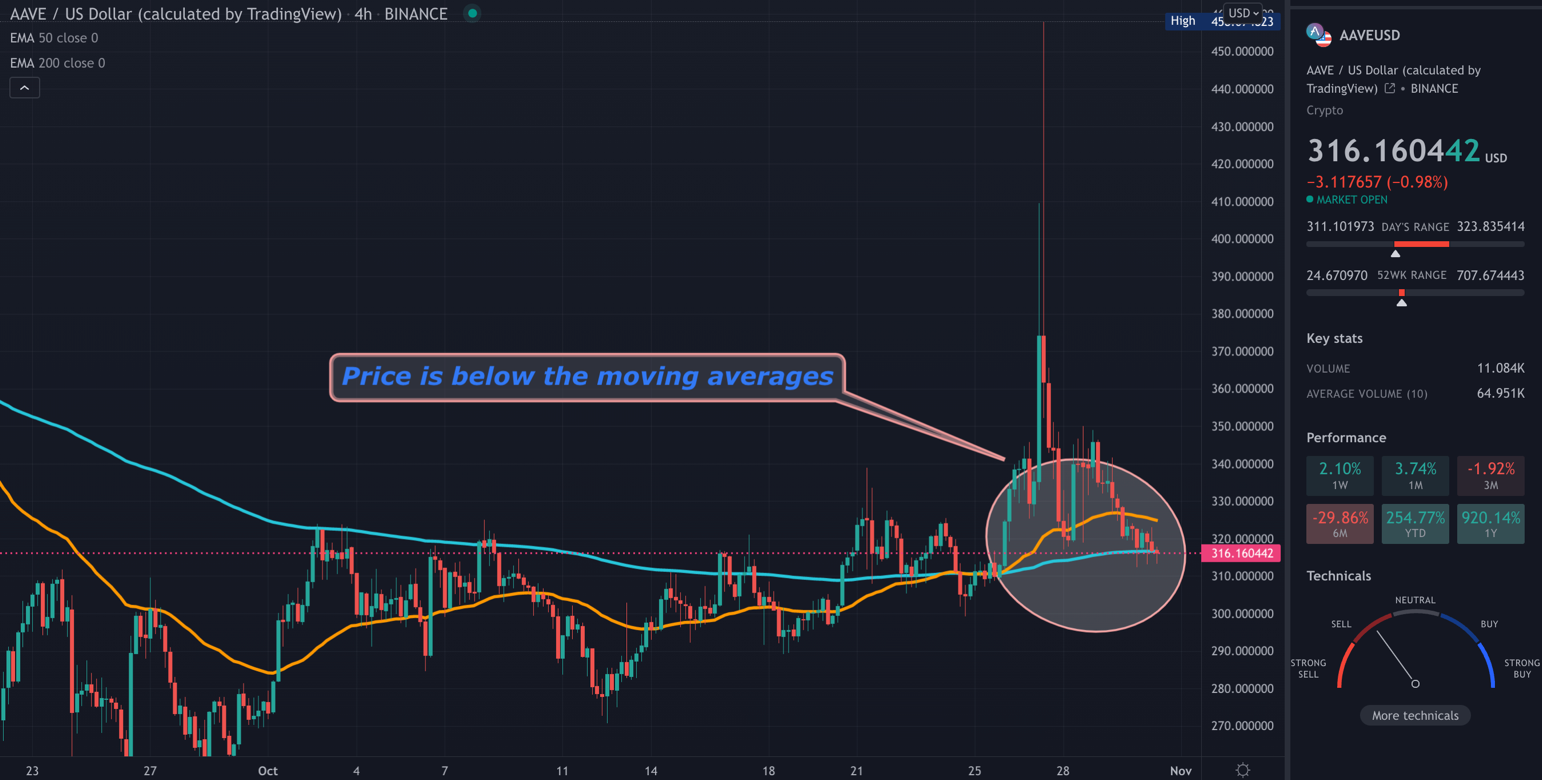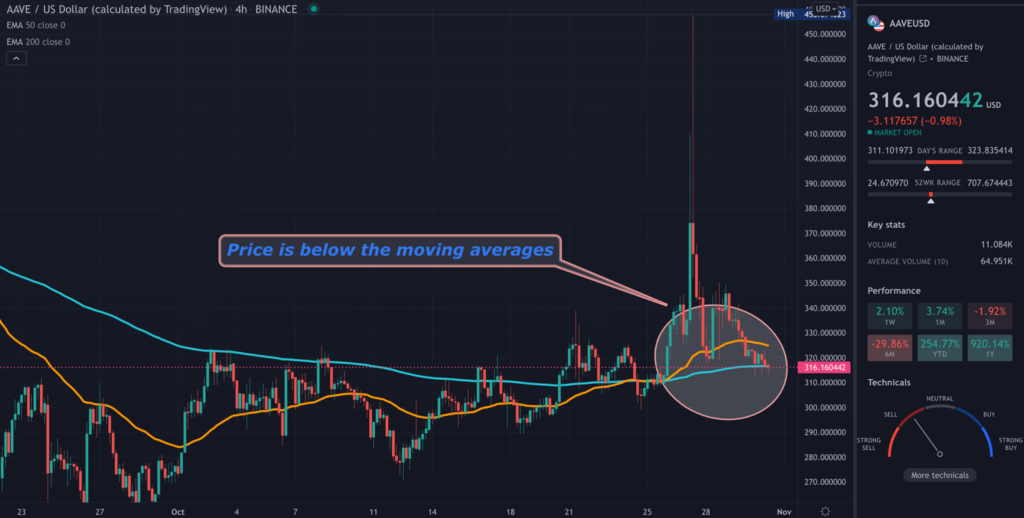 Two confirmation factors are indicating it's not an optimal time to buy Aave right now. On the bottom right corner of the chart, TradingView's technicals suggest a 'SELL.' We can additionally use a simple moving average crossover system consisting of the 50-day (orange) and 200-day (blue) periods.
To generate an entry signal, the 50 needs to converge upwards of 200, and the price needs to be trading above both. Although the 50-200 cross has materialized, the market is still below the moving averages.
Now let's look at an Aave price prediction for next year and 2025.
Will Aave coin price hit $800 in a year?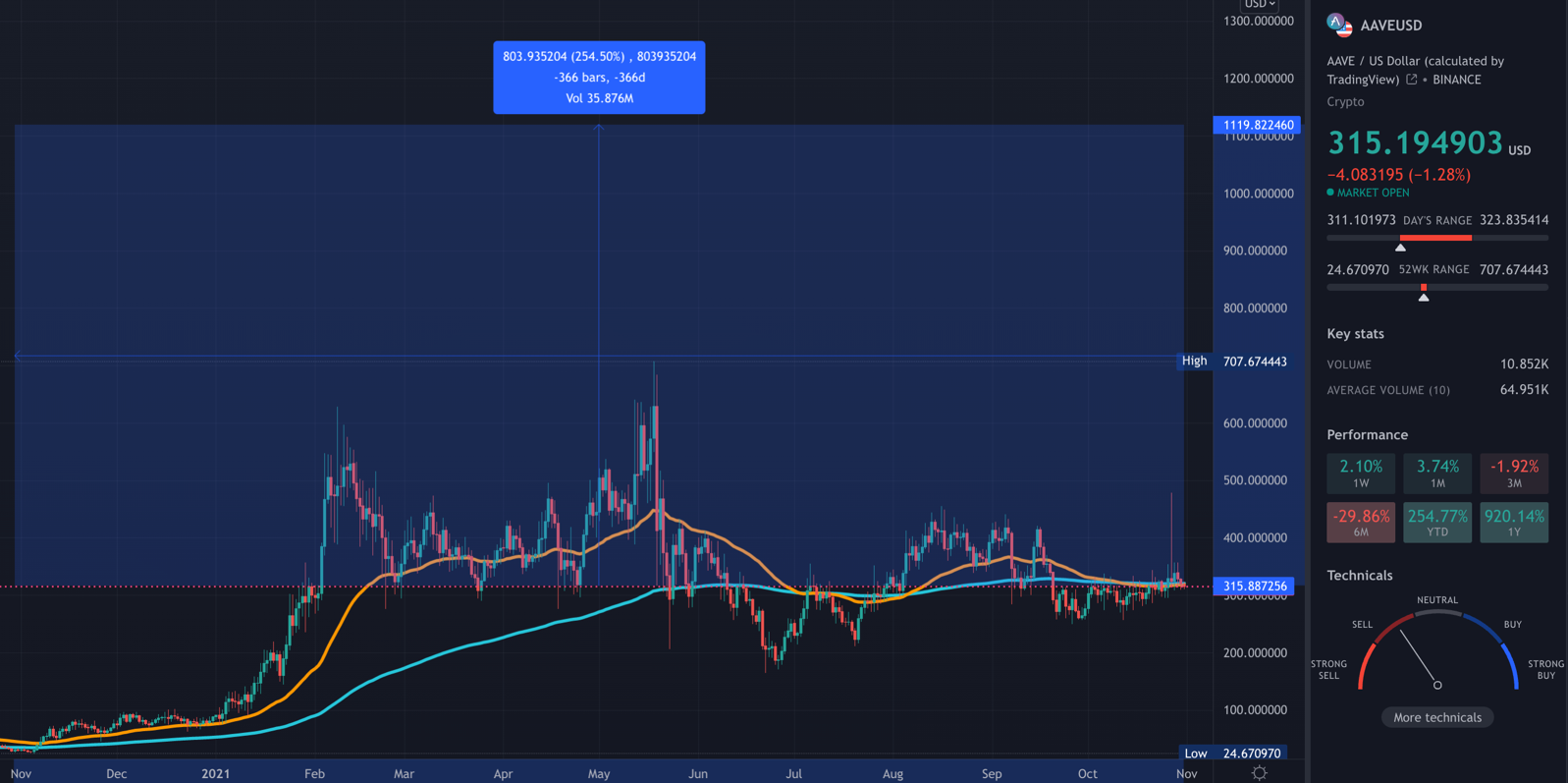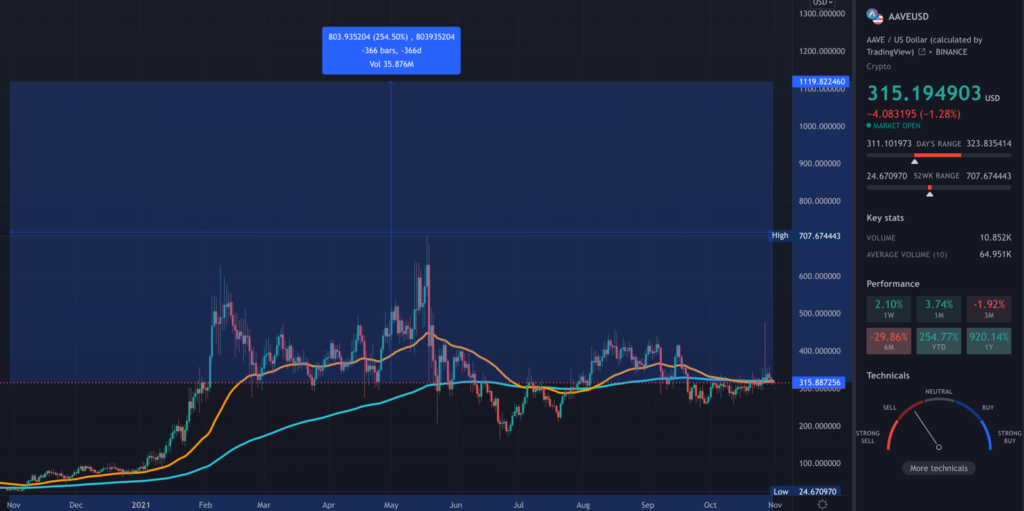 Aave has impressively surged 919% in the last 12 months, taking the price to a record high of $707. There are two things to consider if we want to know whether Aave can cross $800 in a year. Firstly, it's unlikely for Aave to perform this much for long.
So, we'd have to consider how much the value has increased on average yearly since inception (254%). The chart shows a 254% gain which would take Aave to $1119. For a second opinion, an excellent forecasting site like Wallet Investor is much more conservative in its estimates.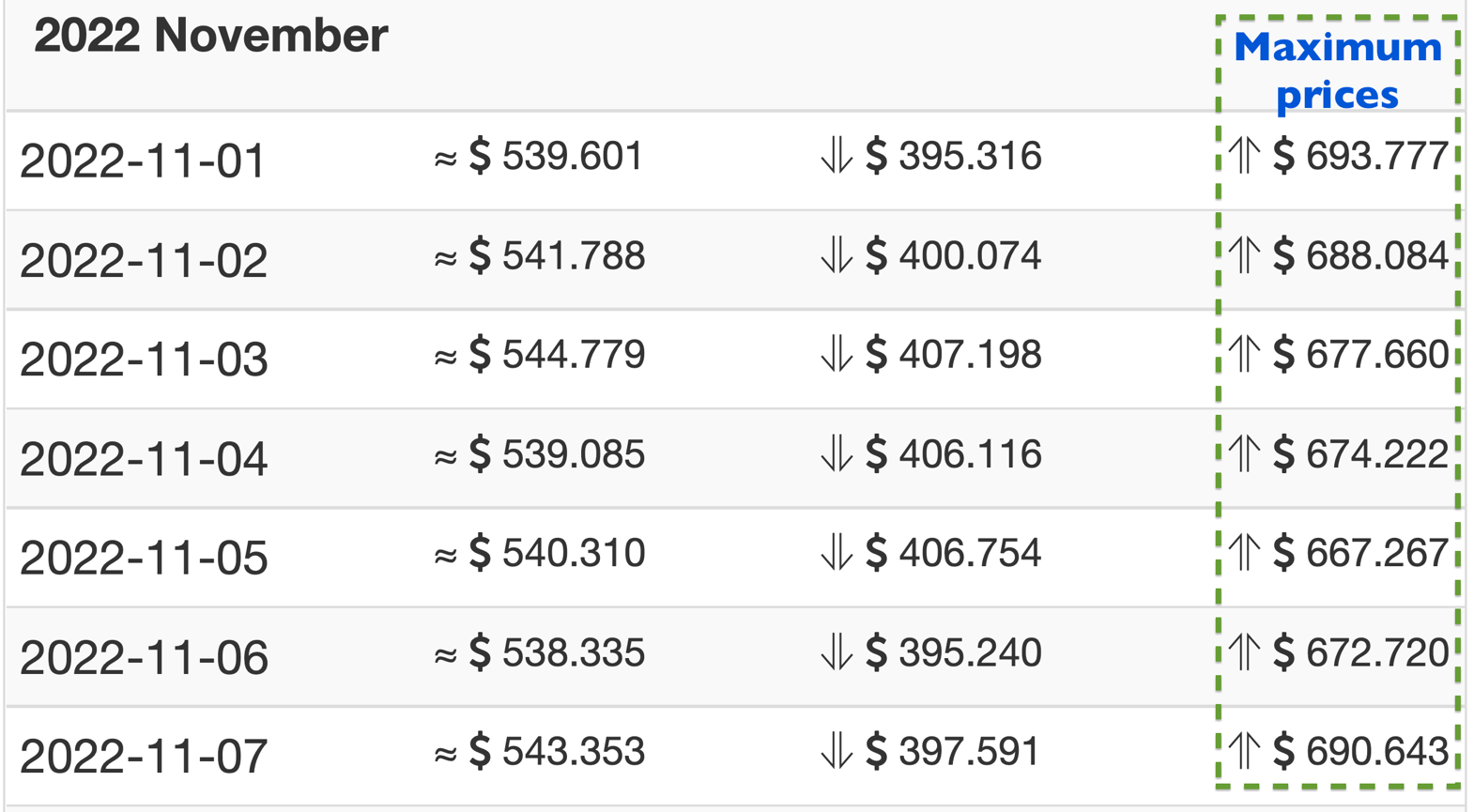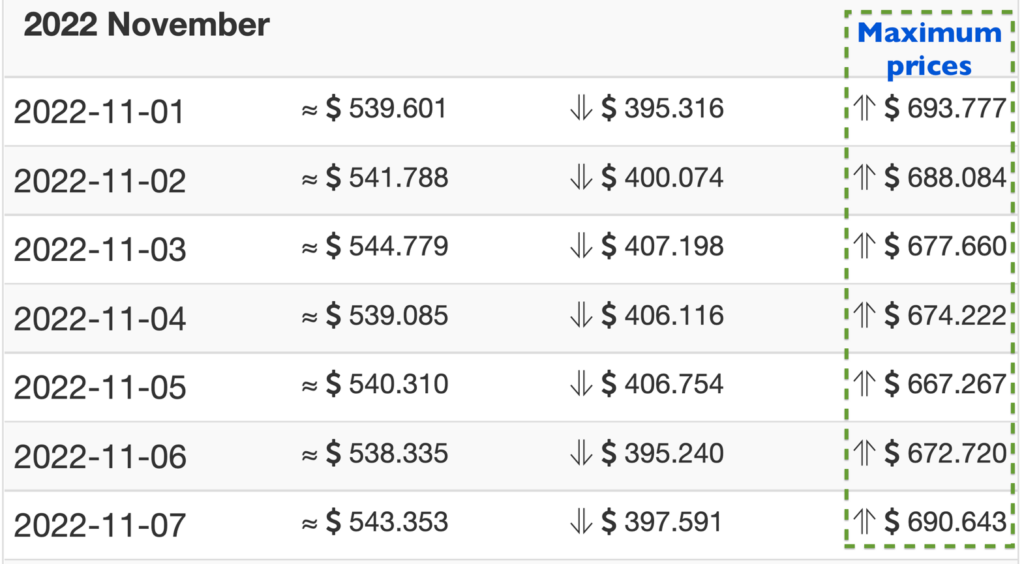 The resource indicates maximum prices of $690-$693 in a year. Most other prediction sites haven't pegged Aave above $700 within the same span. So, the consensus suggests Aave is unlikely to hit $800, but a slight possibility always exists for the price to beat expectations.
What is Aave's price prediction for 2025?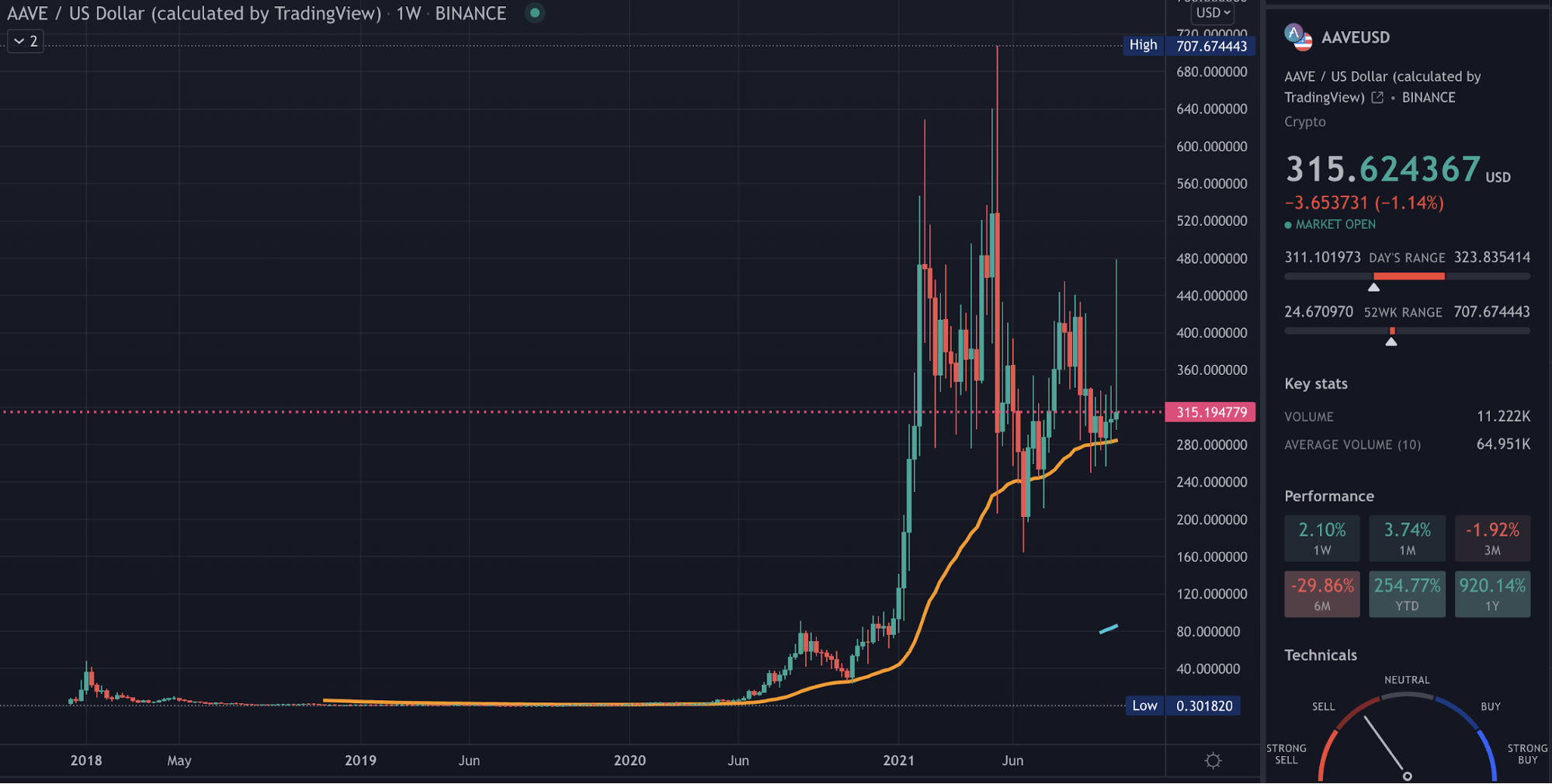 Wallet Investor suggests minimum and maximum prices of $839 and $1214, respectively.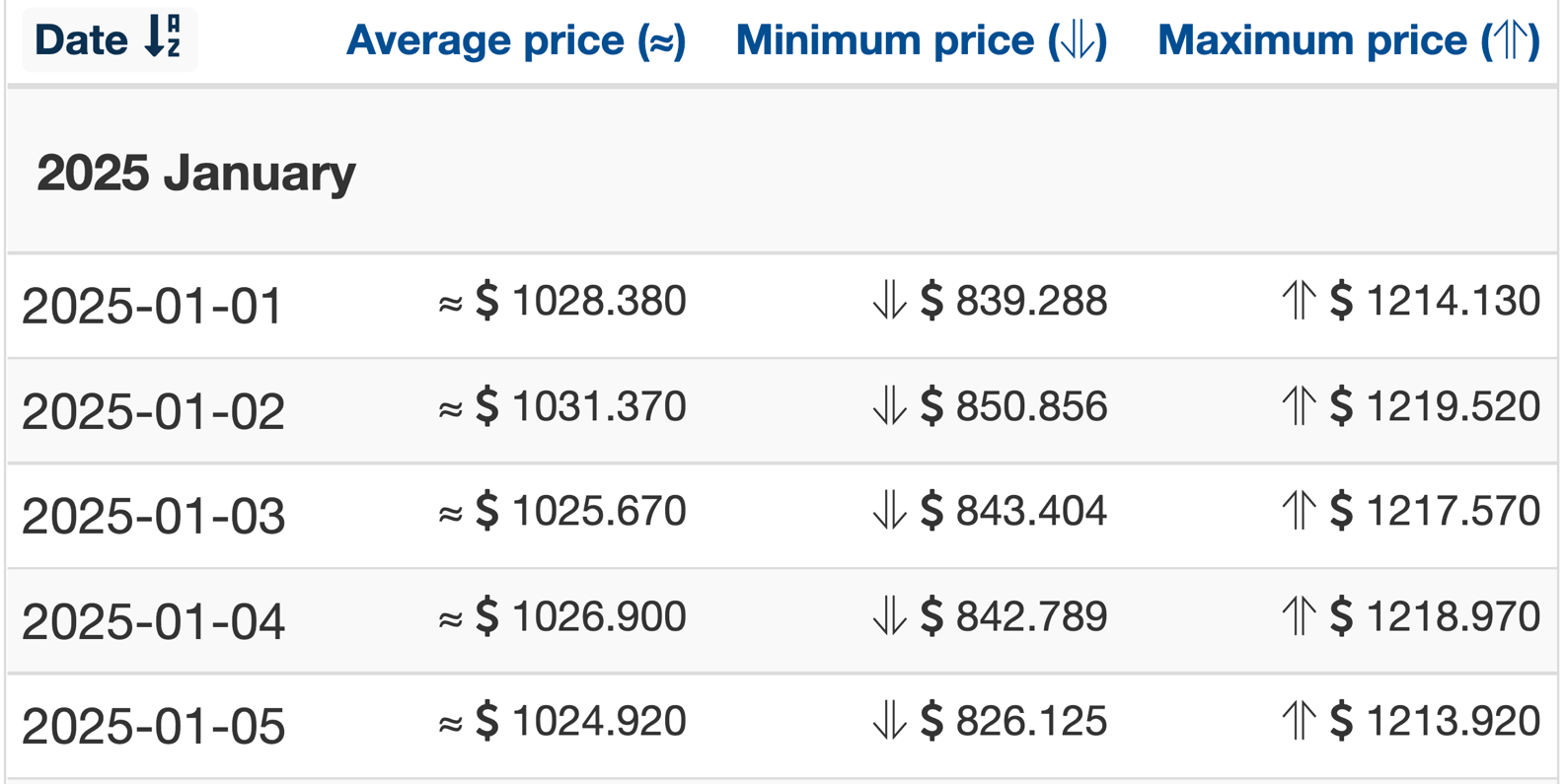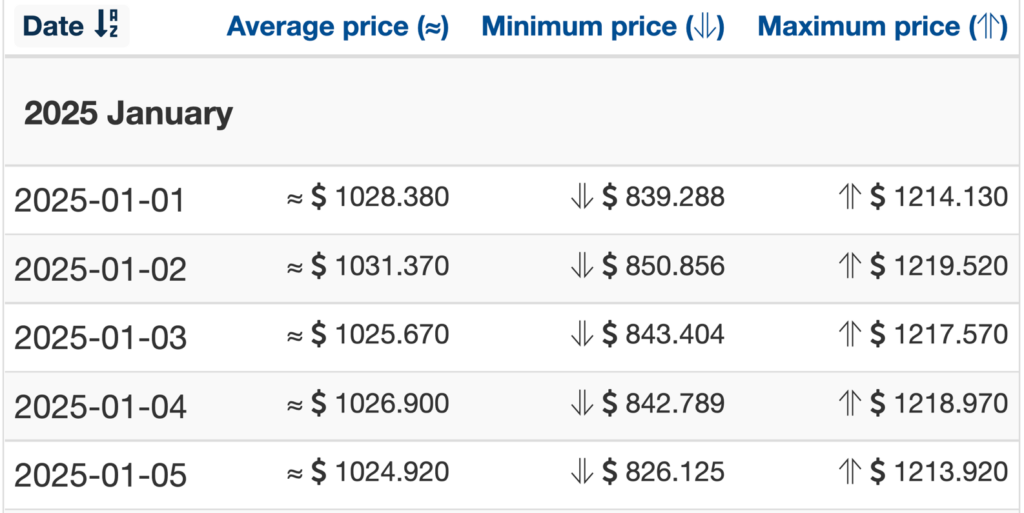 Several experts and forecasting sites peg for Aave to be worth well over four figures, all fair estimates based on Aave's above-average yearly performance. There's unanimity that cryptocurrencies should grow in the next few years for numerous reasons.
Investors wouldn't want a repeat of 2018-2019, although a bear market can occur at any time. One should keep these realities in mind and appreciate the uncertainty risk of investing in this market.
The best way to buy AAVE
While there are several ways to acquire AAVE, the best method is purchasing through a trusted exchange like Kraken, Coinbase, Binance, KuCoin, Bithumb, and numerous others.