Crypto is gradually becoming a fan favorite among investors, thanks to the huge profit potential contained within its markets. Before you can trade crypto, though, you will need a variety of tools. One of the most instrumental tools you can arm yourself with is a proper charting platform. This will enable you to get live price updates and perform technical analysis using the various indicators and tools on offer. That being said, let's dive into the best charting platforms in the market today.
TradingView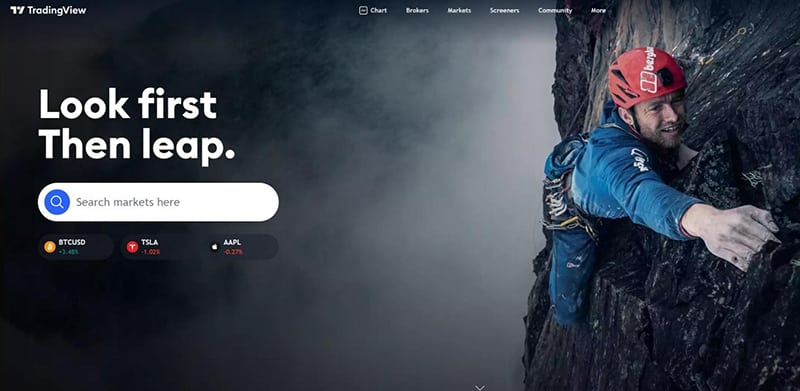 If you've been trading crypto or any other financial asset, you've probably heard of TradingView. This is a cloud-based charting and networking platform with various attractive features. You can access it using a web-based browser, or on their mobile app.
Originally, it started as a platform for stock screening and charting. With the advent of cryptocurrencies, it evolved to include charts of these digital assets. These charts are obtained from various crypto exchanges such as Binance, Bittrex, FTX, Bybit, Bitfinex, and several other renowned names. This way, if you intend to check the live price of any coin, you don't have to log in to multiple exchanges. All that information can be accessed at the click of a button right from the TradingView app.
Another notable feature of this platform is its community. Here, traders and investors share ideas, custom indicators, and trading strategies. The platform also integrates with social media to let you post your custom ideas and techniques, and share them with other traders.
All these features can be accessed for free on their basic package. For more advanced features, you're better off subscribing to the Pro tier at $12.95 per month, the Pro + at $24.95 monthly or the Premium package for $49.95 each month.
Shrimpy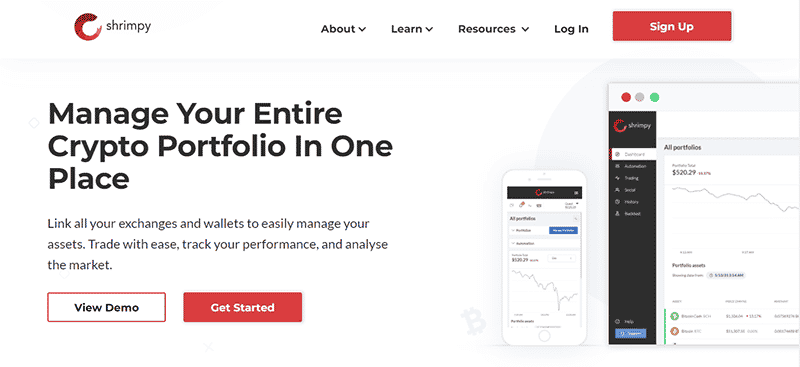 This is a charting platform that doubles as a portfolio management site. With it, you can track all the assets you hold across different exchanges. Other than tracking them, you can also place trades to rebalance your portfolio right from Shrimpy.
This platform uses a friendly interface to display your allocation of coins across the different exchanges. It uses charts, graphs, and percentages to make these allocations easier to visualize. What's more, if market conditions change and for some reason you feel like changing your allocation, you can do so by simply adjusting these percentages on the platform. Shrimpy will automatically place the necessary trades to match your investments accordingly.
The perks of Shrimpy include:
Accessing multiple exchanges on one platform.
Managing your entire portfolio on one easy-to-use platform.
Tracking the performance of your various assets and adjusting them automatically with the touch of a button.
Accessing social and copy trading features.
Earning commissions from social traders that follow you.
All these features you can access for free with Shrimpy's HODLer package. For advanced features, you will need to subscribe to their Professional package at $19 per month or their Enterprise package, which is priced to suit your individual needs.
Coinigy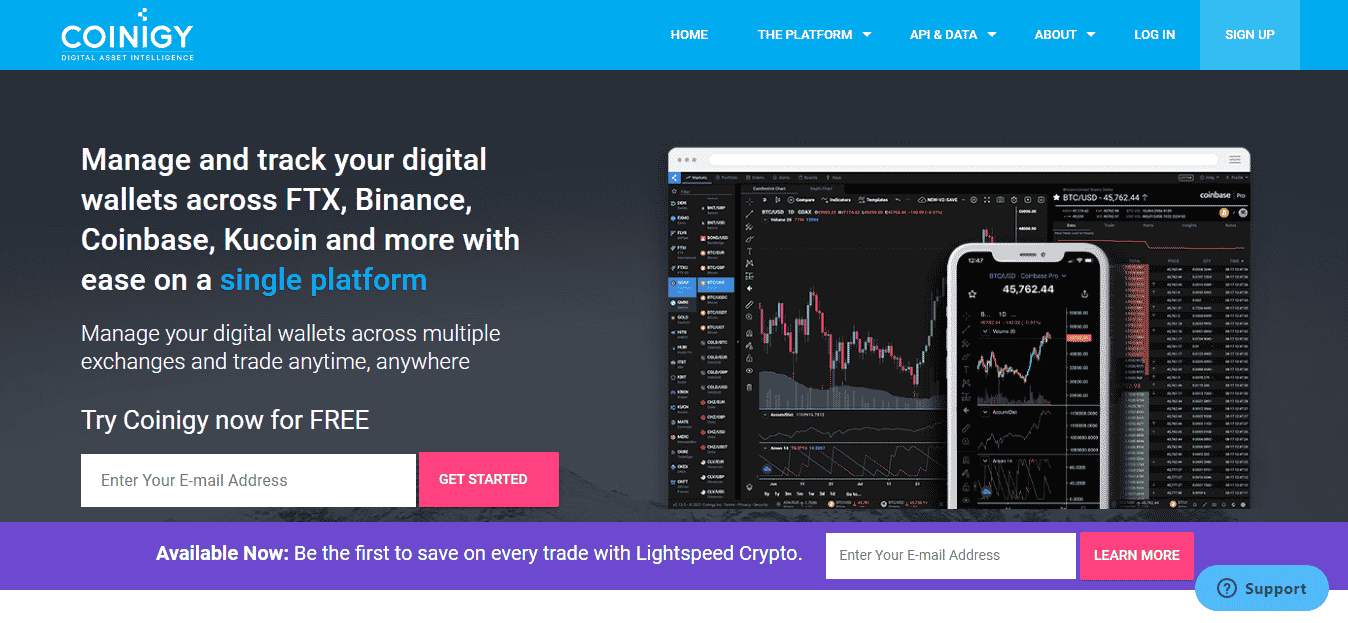 This is another charting platform that doubles as a portfolio manager. On it, one can access crypto charts from as many as 40 leading exchanges. It also features more than 75 indicators to help with your technical analysis. What's more, it allows you to trade directly from the chart on all your favorite exchanges. This is done by linking your trading account to the Coinigy account using APIs. This way, you can also monitor the performance of your portfolio in real-time, even if you hold assets on different exchanges. What's more, you can even get email and text alerts to alert you on developments in your coins of interest while you're away from the charts.
To access the most basic features, you can create a free account. For advanced features, Coinigy's paid tiers start from $15 per month, paid annually. The platform will take no commission on your trades, so there are no hidden costs other than your subscription.
Quadency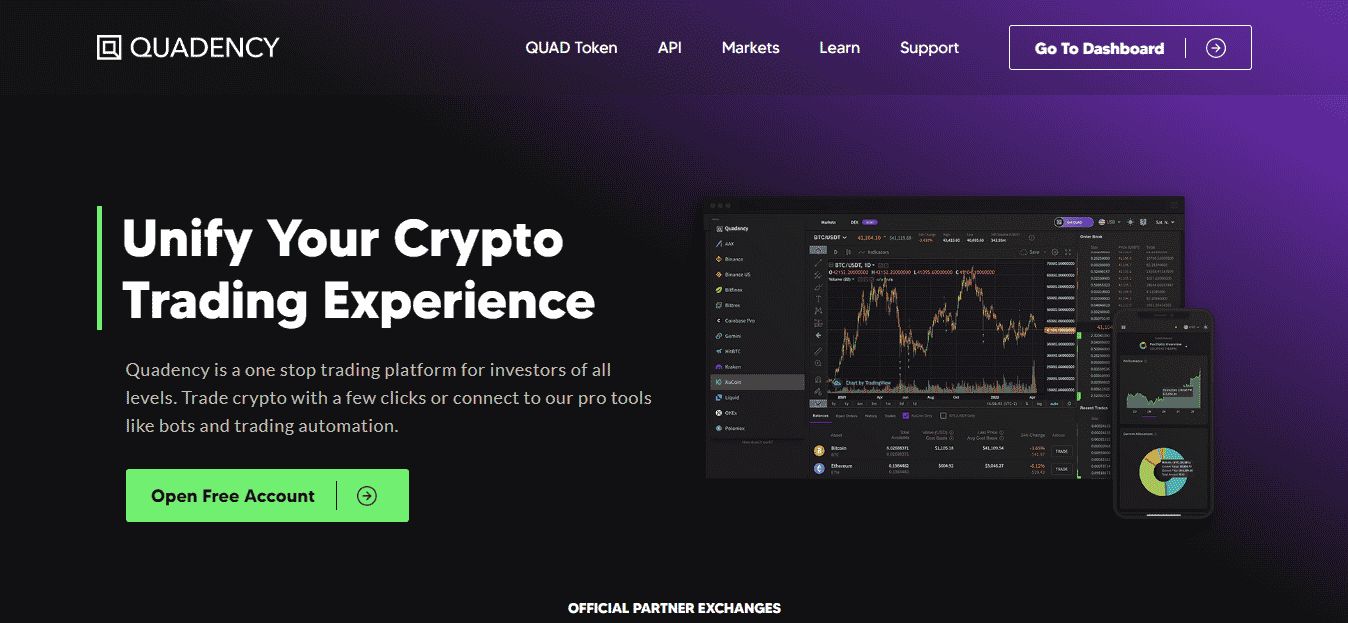 This is a charting platform that allows one to connect multiple exchanges and trade from one platform. It incorporates TradingView charts, which are famed for their intuitiveness. Users can connect their accounts from different exchanges, which would allow them to view their account balance, transaction history, and pending orders, all on one platform. This allows them to better and easier manage their crypto portfolios in just a few clicks. In this way, one could argue that Quadency merges the best features of TradingView and Coinigy.
For its pricing, beginner traders can benefit from its free tier. However, this has limited functionality. To get the best of what Quadency has to offer, you're better off subscribing to their Pro plan for $49 per month.
CryptoView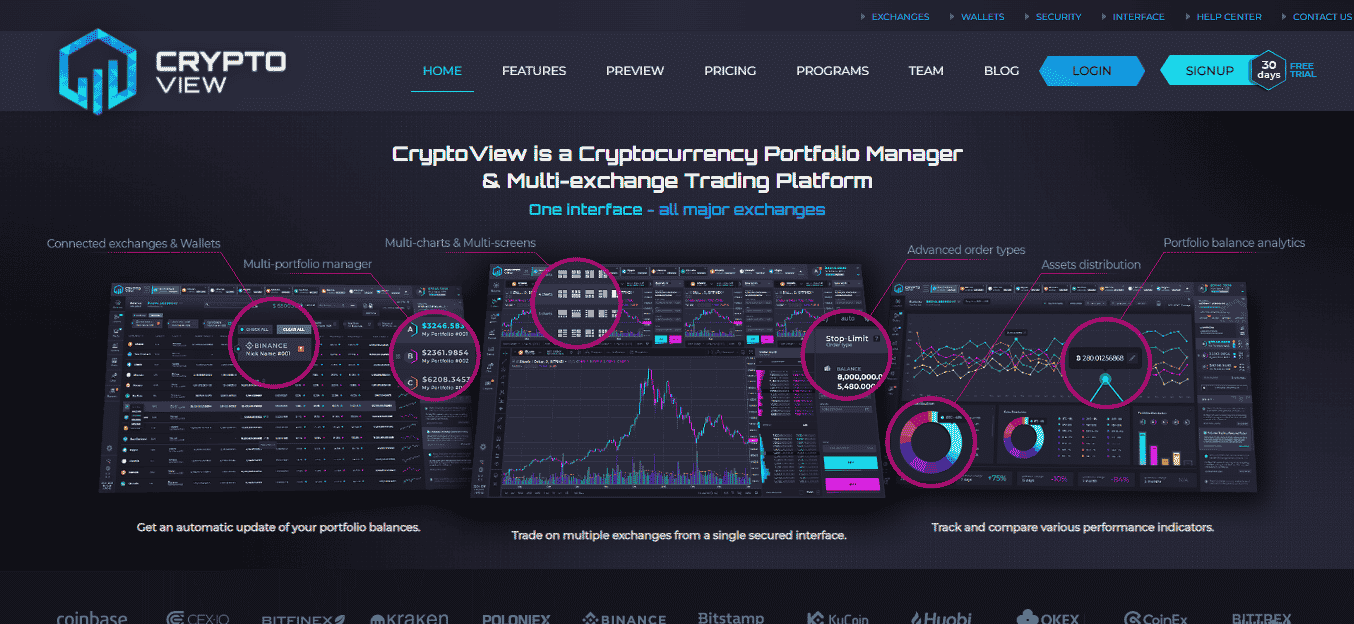 This is a platform that allows users to keep track of their holdings across various exchanges, hot and cold wallets. This is done by syncing their exchange accounts, which enables them to manage their trades on one simple interface. By combining portfolio management with a fully functional trading platform, CryptoView positions itself perfectly for use by beginners and experts alike.
CryptoView features TradingView charts, coupled with more than 85 indicators and 75 drawing tools. It also allows users to easily change between different screen configurations, and save whichever layouts they wish to keep. Additionally, it features a news aggregator and an economic calendar to help with fundamental analysis. Users can also set price alerts to notify them of changes with their favorite coins.
This platform offers a 30-day free trial for new users, after which one can choose to subscribe to the $19 month-on-month model or $13 monthly paid on a yearly basis.
Conclusion
A charting platform is a vital tool for any crypto investor worth their salt. There are several tools in the market, but the best features can be obtained in any of the tools discussed herein. Before paying any monthly subscriptions, take advantage of the free trials to see if the platform you choose is a good fit for you.