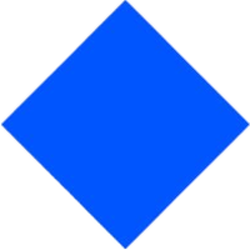 Waves (WAVES)
Price
Disclaimer: The information provided here does not constitute any form of financial advice. Readers are fully responsible for conducting their due diligence before making any investment decisions.
What is Waves (WAVES)?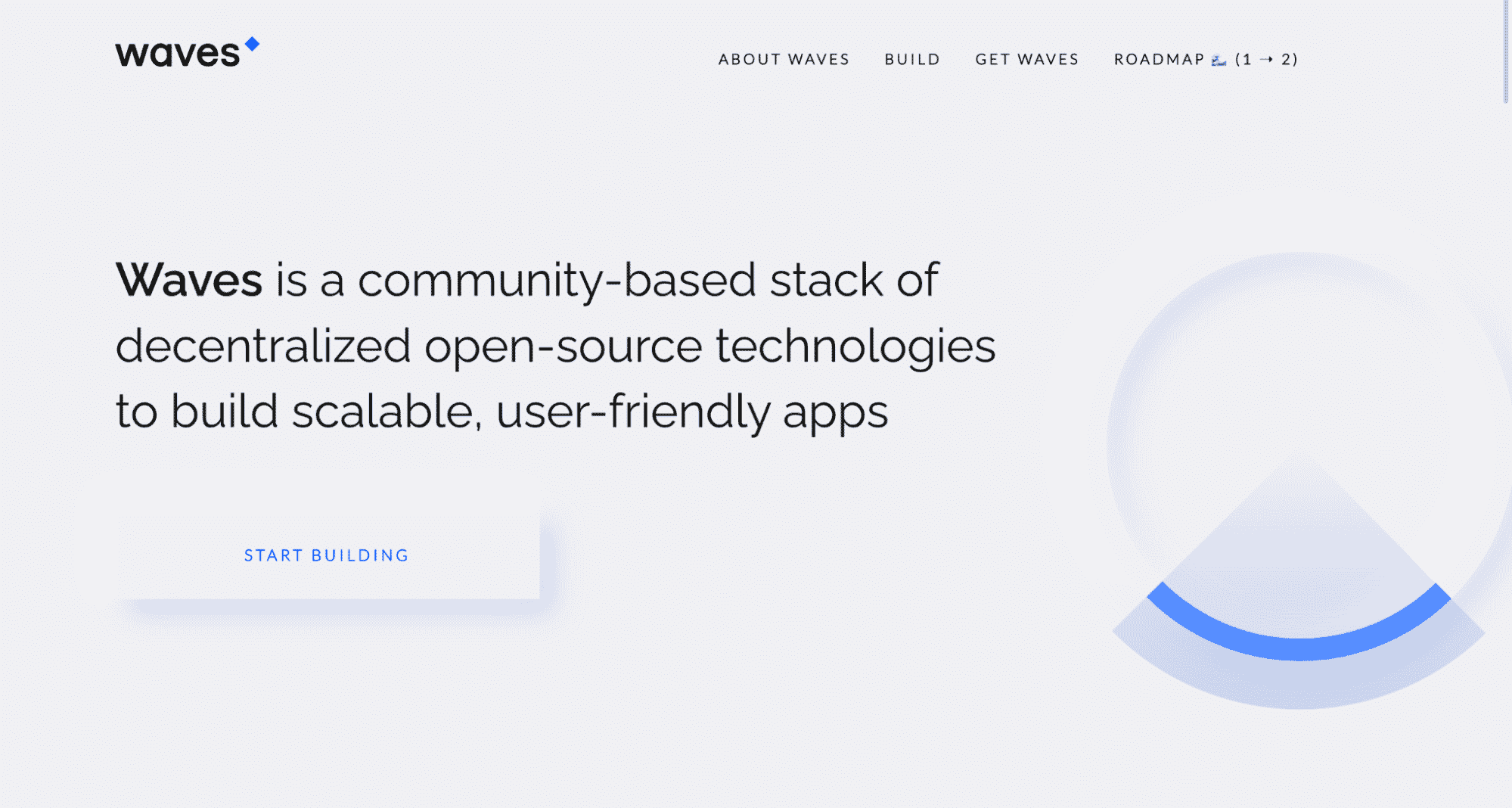 Waves is a blockchain platform launched in June 2016 in one of the industry's earliest initial coin offerings (ICOs). Ukraine-born Alexander Ivanov, a technology entrepreneur, founded the project.
Waves is a network for building decentralized applications (dApps) and smart contracts focusing on several improvement areas.
It focuses on simplicity (no programming experience required to launch assets), scalability (through fast experiences and ultra-low costs), interoperability (being connectable to other ecosystems), and a minimal carbon footprint.
Waves uses a modified version of proof-of-stake (PoS) called leased proof-of-stake. Here, token holders lease their WAVES tokens to help facilitate the block validation process. If their node is selected as the next validator, these individuals earn a percentage of the block reward.
There are presently seven decentralized applications leveraging Waves' technology stack in one way or another:
Neutrino (a platform for creating stablecoins)
Waves Exchange (a decentralized exchange)
Swop.fi (an automated market maker)
Vires Finance (a lending protocol)
Waves Ducks (an NFT game for collectible 'digital ducks')
Sign (an NFT marketplace)
Puzzle Swap (a decentralized exchange)
By numbers, Waves is quite impressive:
WAVES is the 59th most traded coin presently
$0.008 average cost per transaction
Over 260 million transactions have been performed
$1.7 billion in total value locked presently
Let's explore whether this project is an excellent investment and Waves price predictions.
Is Waves a good investment?
The main disadvantage for Waves presently is competition. This project is often compared to Ethereum (even being dubbed by some as the 'Russian Ethereum'). Therefore, the primary challenge for Waves is achieving greater recognition.
Nonetheless, it may still be a good investment for several reasons. Firstly, as a proof-of-stake platform, you can earn interest on your holdings (at least 1000 WAVES) at rates better than putting your money in a savings account.
Waves already has examples of existing applications using its blockchain, all of which have identifiable use cases and some market share in their respective niches. The platform makes it relatively simple to launch applications and build several digital assets.
Another point worth mentioning is Waves' market cap of roughly $889 million. Projects below the $1 billion mark are generally classed as small-cap projects. Although coins in this category are relatively volatile, there is more room for explosive growth compared to the likes of Bitcoin and Ethereum.
Should I buy WAVES today: Crypto technical analysis for WAVES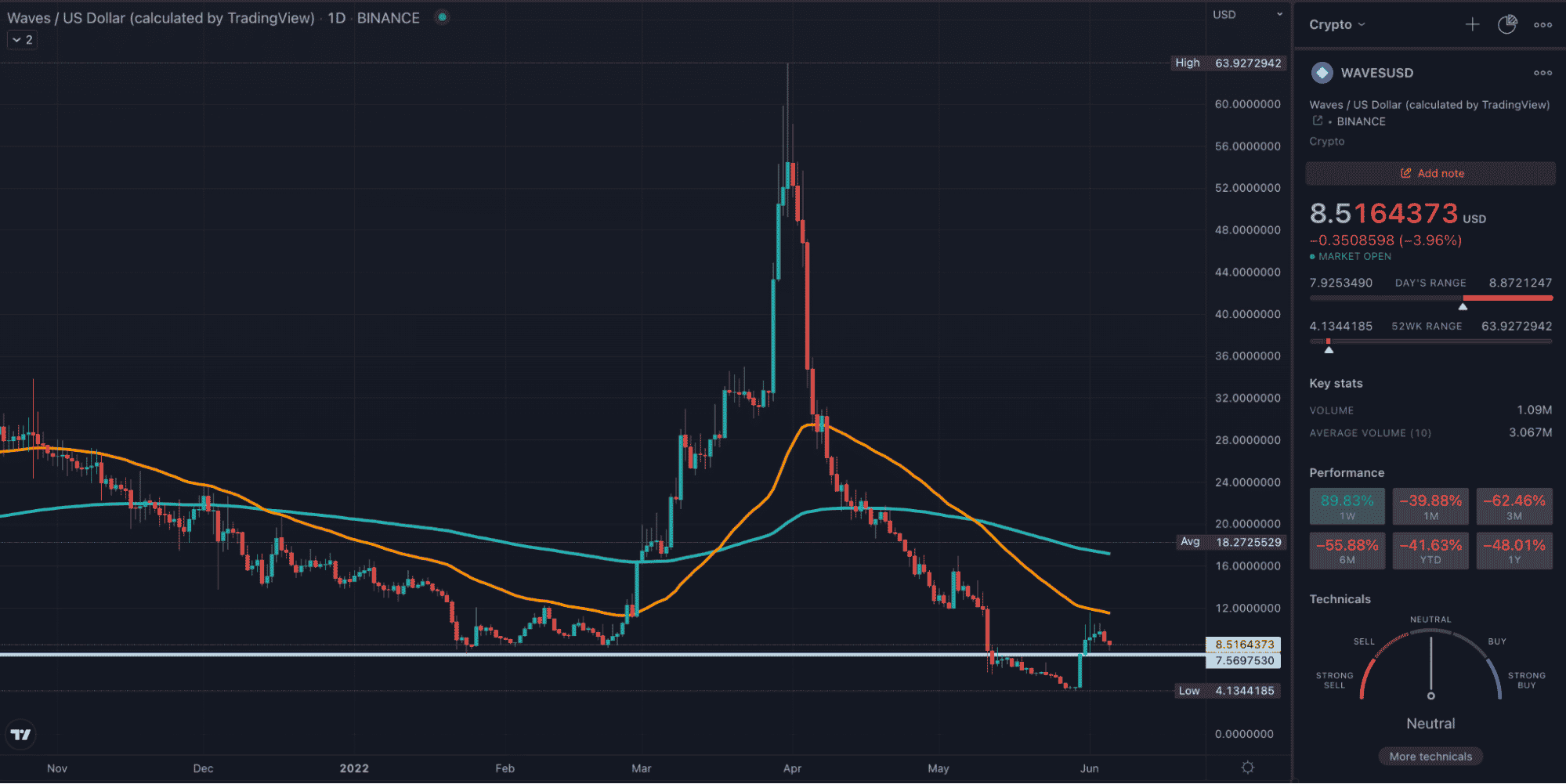 Our tech analysis suggests WAVES is clearly in a sustained downtrend. Therefore, it's certainly not the best time to buy the token. We've applied the 50-day (orange) and 200-day (blue) moving averages on the chart above to show a simple crossover strategy.
Evidently, the price is well below the two indicators, plus the 50 is under the 200. The market recently broke the daily support zone at $7.56, followed by a strong bullish candle. This movement could perhaps begin a new bullish wave in the coming few weeks; let's see what happens.
Despite the current bearishness, Waves price predictions for the near future remain positive.
Will the WAVES coin price hit $100 in a year?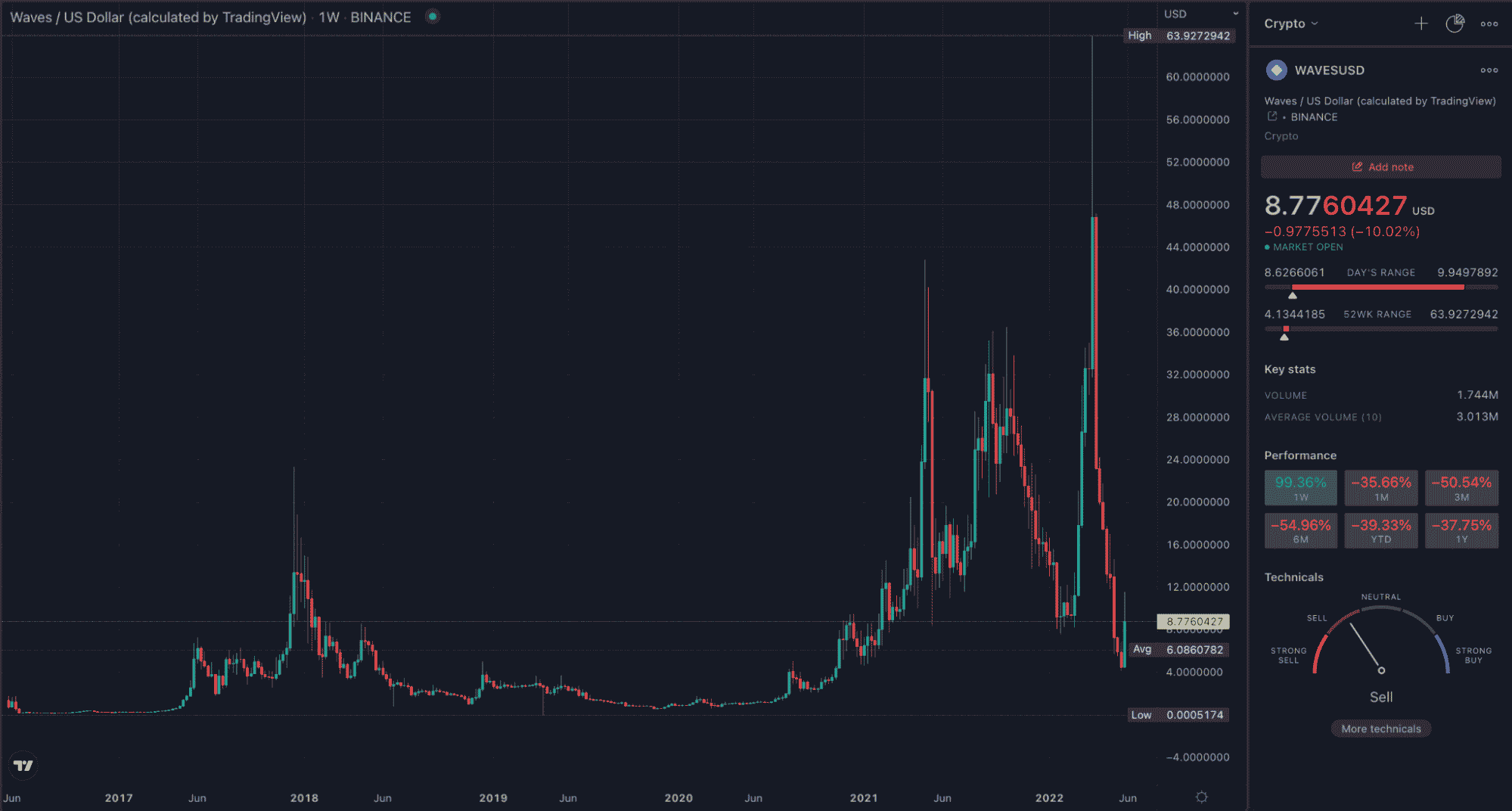 $100 seems implausible in a year for WAVES as price would need to go up by about 11X or 1000%. Having observed forecasting sites like Tech News Leader, Gov.Capital, and Digitalcoinprice, the average estimate we calculated was $15.47, close to double the token's present value.
This is a fair assessment given the overall bearish crypto climate. Wallet Investor provided the most optimistic approximations for WAVES, forecasting between $9.25 and $23.61.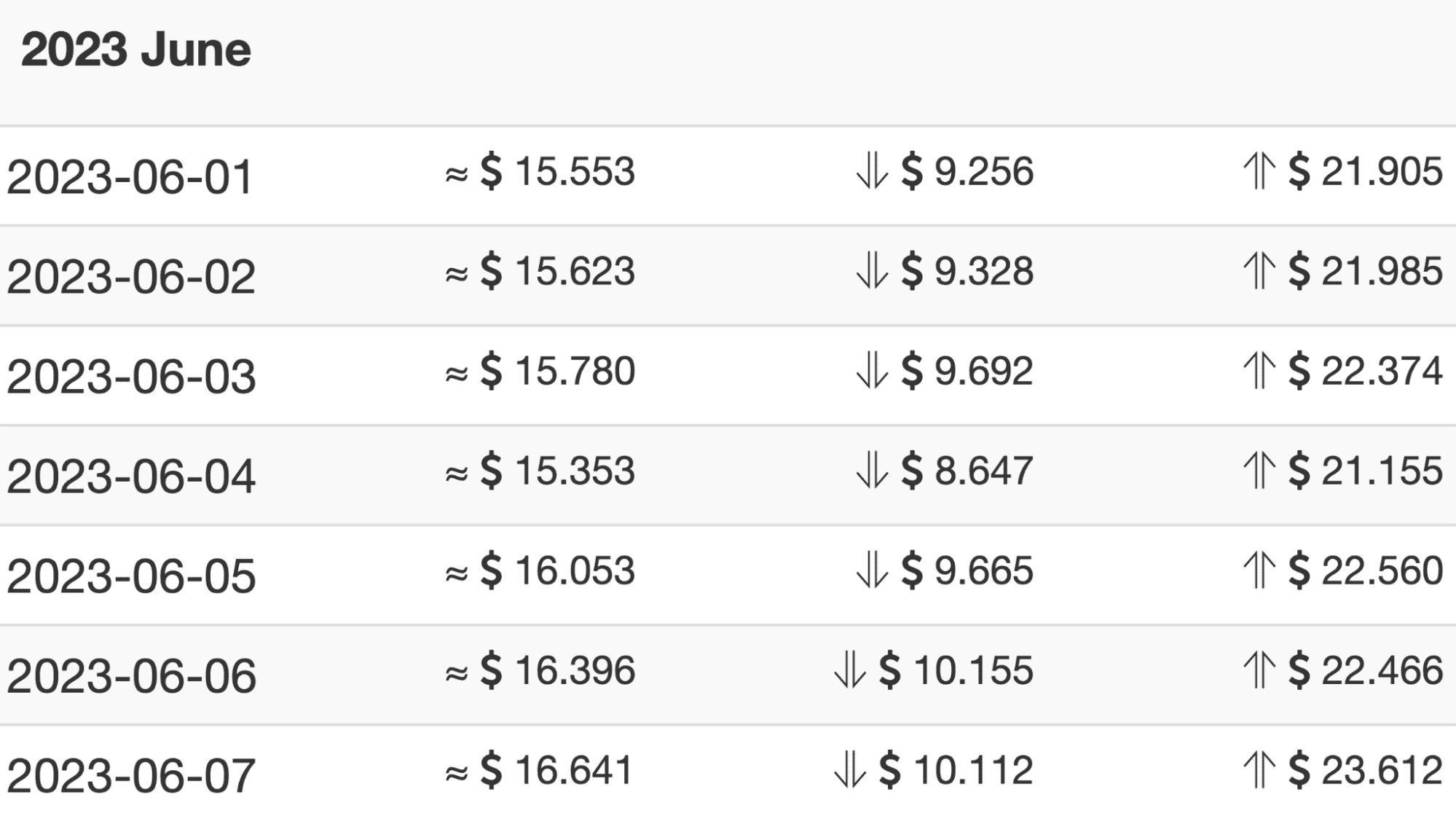 What is WAVES' price prediction for 2025?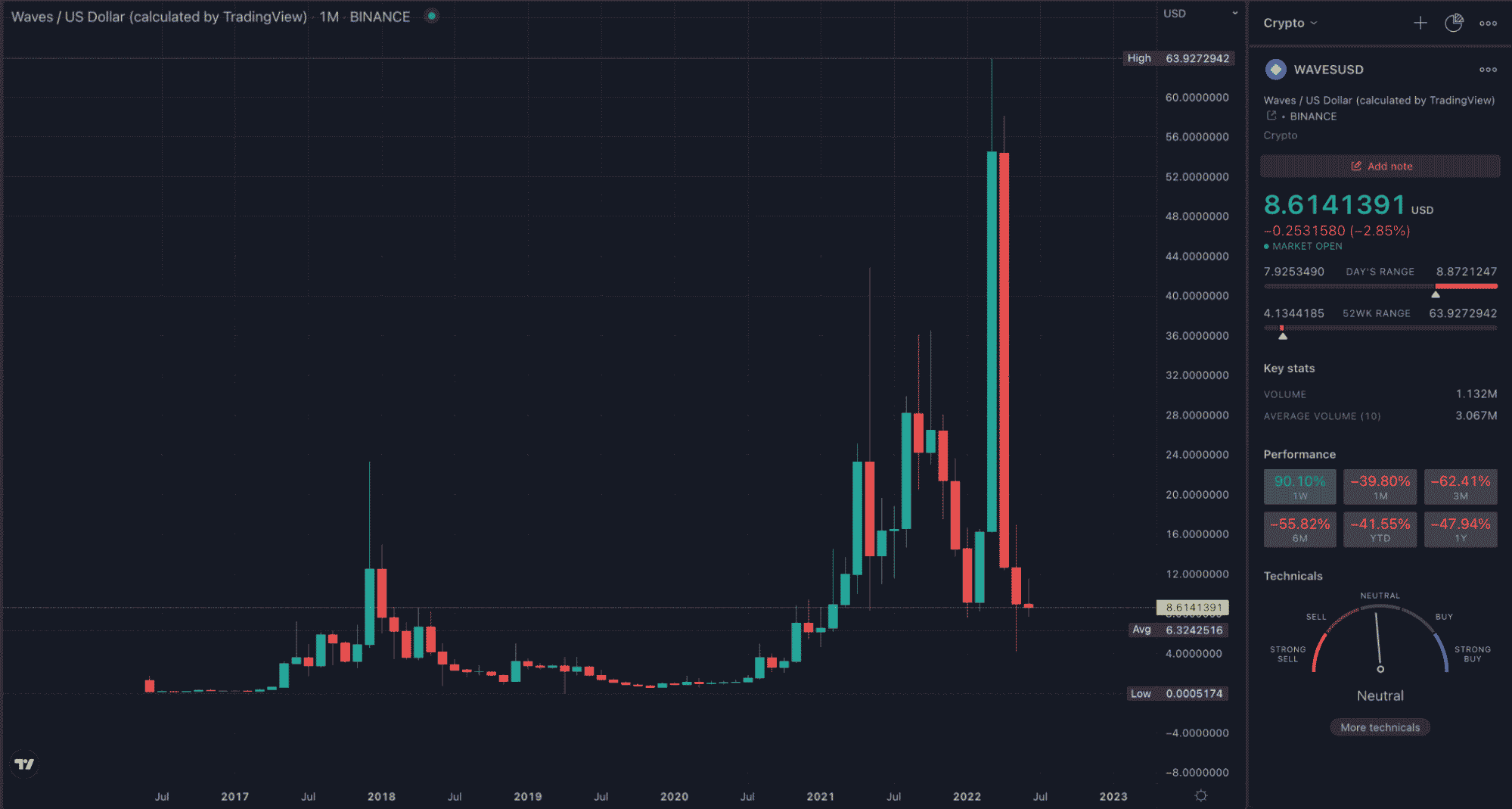 Let's consider the best and worst-case scenarios for Waves in 2025.
Best-case scenario
The average we derived for 2025 was $33.71, with Wallet Investor predicting between $26.82 and $42.17 for 2025.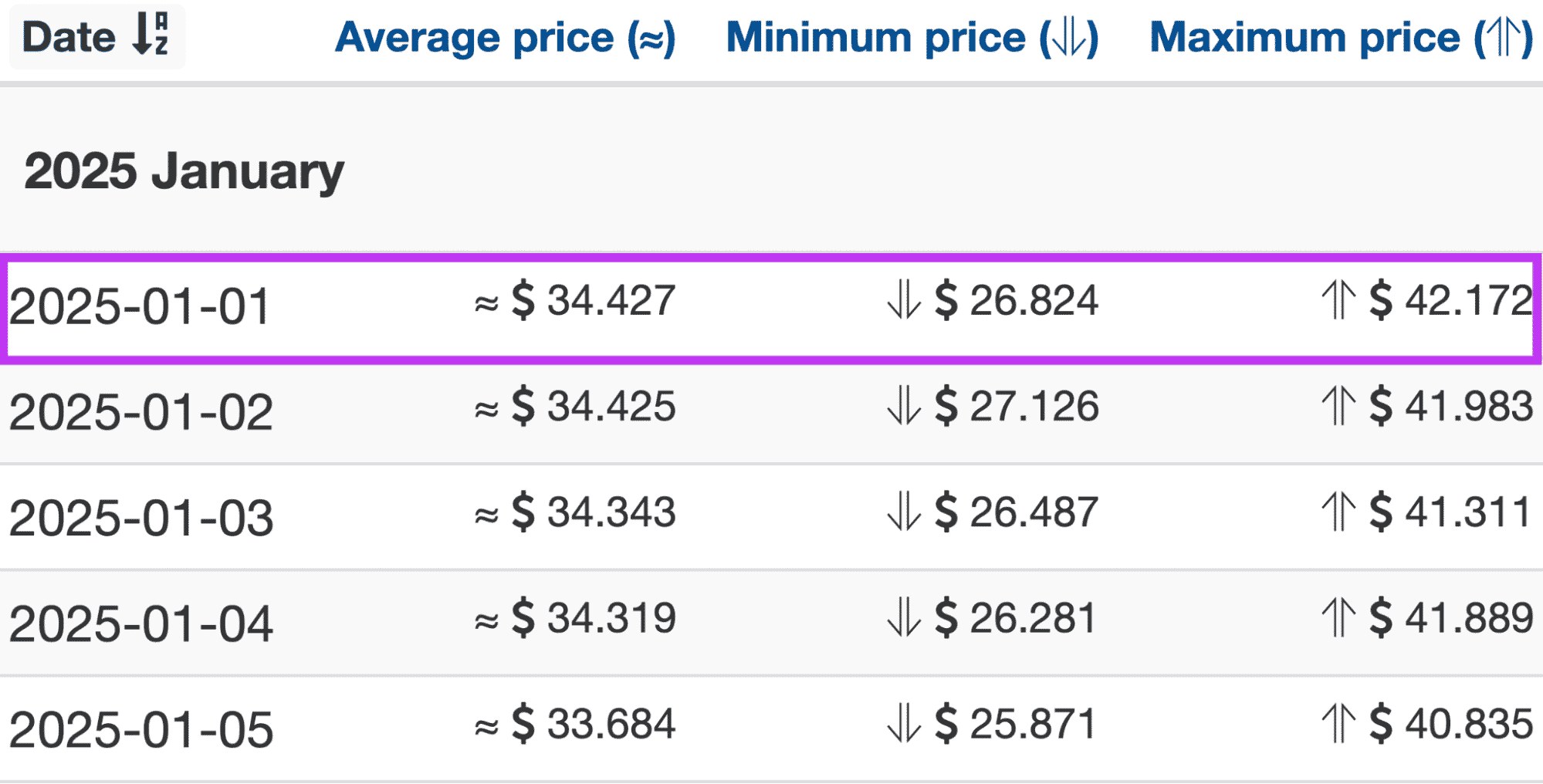 Yet, if the crypto market as a whole picks up between now and 2025, these estimates may prove conservative. It won't be surprising if WAVES goes above $50 or more.
Worst-case scenario
Although Waves has been around for six years, it ranks farther down in market cap rankings. Most enthusiasts point to a lack of marketing as one reason for the platform not being as well-known. Additionally, Waves is in a highly competitive niche with the likes of Ethereum and Solana.
Thus, these are some factors that can derail the price. Therefore, while a promising project, Waves is still a relatively speculative bet.
The best way to buy WAVES
On CoinMarketCap, you can find a broad list of the top exchanges to purchase WAVES, including Kraken, Huobi, Binance, Bybit, OKX, Crypto.com, FTX, Gate.io, and many others.