Two parallel blockchains are running on Binance, which are not only interoperable but also co-existing with one another. Additionally, BSC runs smart contracts that are compatible with Ethereum Virtual Machine (EVM), further enhancing interoperability between BSC and Ethereum. BSC is dominated by DeFi protocols like PancakeSwap, Venus, Spartan Protocol, and Autofarm. However, this does not rule out the use of BSC beyond the DeFi space. Notably, BSC has also become a haven for DApps that are based on GameFi.
What is the Binance Smart Chain?
The Binance Smart Chain (BSC) is the blockchain ecosystem native to Binance, one of the world's largest cryptocurrency exchanges. Fast transaction speeds and cheap gas prices, as well as additional benefits like the rapid growth of Dapps, are propelling BSC's rapid expansion. To store and transfer tokens or money in any Сhain, a wallet is necessary- and BSC is not any different.
Most of the best crypto wallets that support BSC are also compatible with Ethereum-native assets. In principle, this makes it simple for developers to migrate their Ethereum-based projects to the blockchain. For instance, with BSC, MetaMask can be quickly and easily set up to interact with BSC-enabled applications. It's really as simple as adjusting a few parameters.
In comparison to Ethereum, BSC offers a low-cost, high-speed option that is backed by one of the major crypto companies in the world.
What is BSC wallet?
The BSC wallet was designed specifically for use in the Binance ecosystem, both for storing assets and facilitating transactions. A wide variety of cryptocurrencies are supported by the Binance ecosystem, which is well-integrated with the EVM. In comparison to Ethereum, BSC isn't prone to congestion or high gas fees, making it preferable to a growing number of projects and retail users. Consequently, there are several new BSC-based DApps that were created on other blockchain ecosystems but have since migrated to BSC and realized increased user numbers.
What wallets does Binance Smart Chain accept?
In terms of design and functionality, the BEP20 token standard on BSC is quite close to Ethereum's ERC20 token standard. Consequently, this blockchain is compatible with both BSC tokens and Ethereum tokens. Also, using the BEP20 standard, anyone can deploy fungible cryptos or tokens on BSC.
Parallel to Binance Chain (BC), BSC provides the large transaction throughput of BSC and the smart contract features that customers have come to expect from Binance. In addition, BSC is able to onboard and support Ethereum-based applications on its blockchain because Binance implemented EVM in the design of BSC.
How to set up a Binance Smart Chain wallet?
Go to the Binance Chain homepage and download their Binance Smart Chain wallet app for free. Select the browser you wish to add the extension to from the drop-down menu.
Sign up with one of the provided methods, such as email.
Remember to create a backup password in the event that you misplace your private key.
Next, you will get an auto-generated seed phrase. Using the seed phrase, you may now retrieve your Binance Chain Wallet in case you lose your password. Make a copy of it and keep it somewhere secure. Keep it to yourself.
Once you are confident that the seed phrase is safe, click the next button.
You can now store and transact using Binance Chain and Ethereum tokens in your BSC wallet now that it is operational.
Top Binance Smart Chain wallets
Trust Wallet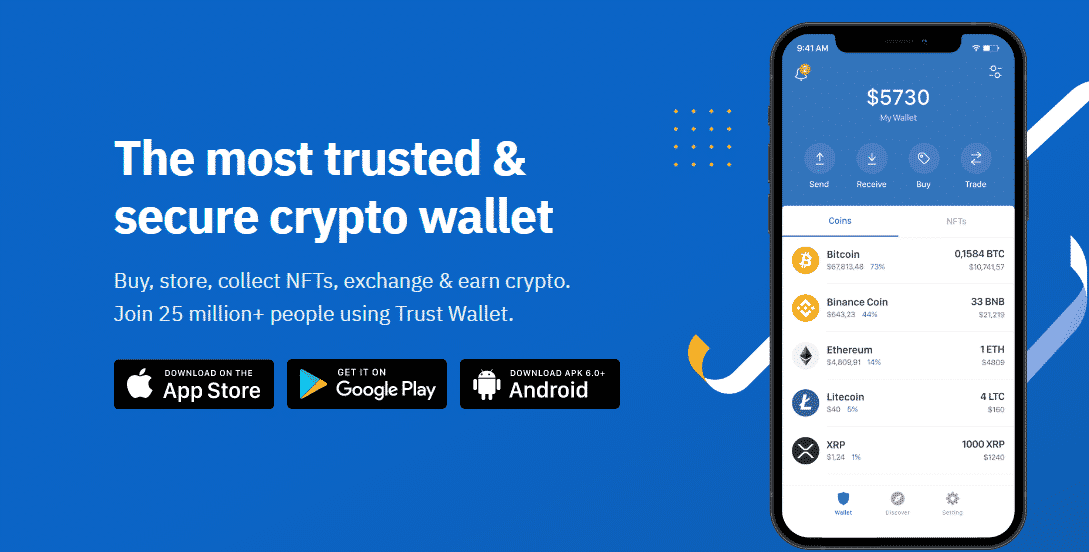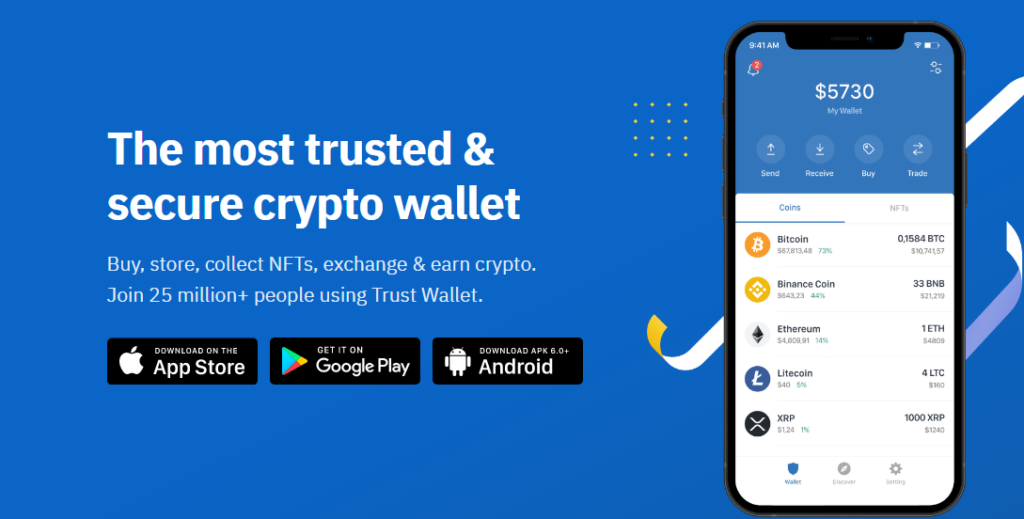 Backed by Binance, Trust Wallet is an open-source, decentralized, and mobile crypto wallet. Traders can earn interest on their crypto coins by staking them in this wallet, which supports over 160K+ assets and multiple blockchains.
The built-in Web3 browser in Trust Wallet makes it easy to explore the decentralized internet's DApps. It's safe to use Trust DApp with blockchain because it's free software that doesn't charge any money when people use it. However, there's a transaction fee that goes directly to miners (known as gas fees)and validators on the different blockchain ecosystems for the use of their processing power.
Why Trust Wallet?
Due to its user-friendly design and wide range of supported assets, it has established itself as one of the most popular crypto wallets to date. Compared to competing wallets, Trust Wallet's wallet staking functionalities definitely provide it a competitive advantage. Also, because it is backed by Binance, consumers can be assured that they will receive excellent support when utilizing the wallet for their transactions.
Pros
Downloading is hassle-free and completely free
User-friendly interface
Compatibility with both iOS and Android smartphones
It can store a wide variety of cryptocurrencies because of EVM and Binance Chain compatibility
The wallet does not keep a copy of the user's private keys on its servers
It allows for the staking of numerous digital assets and the resulting return on investment
Cons
It's a software wallet, which means it's susceptible to hacking
Ledger Nano X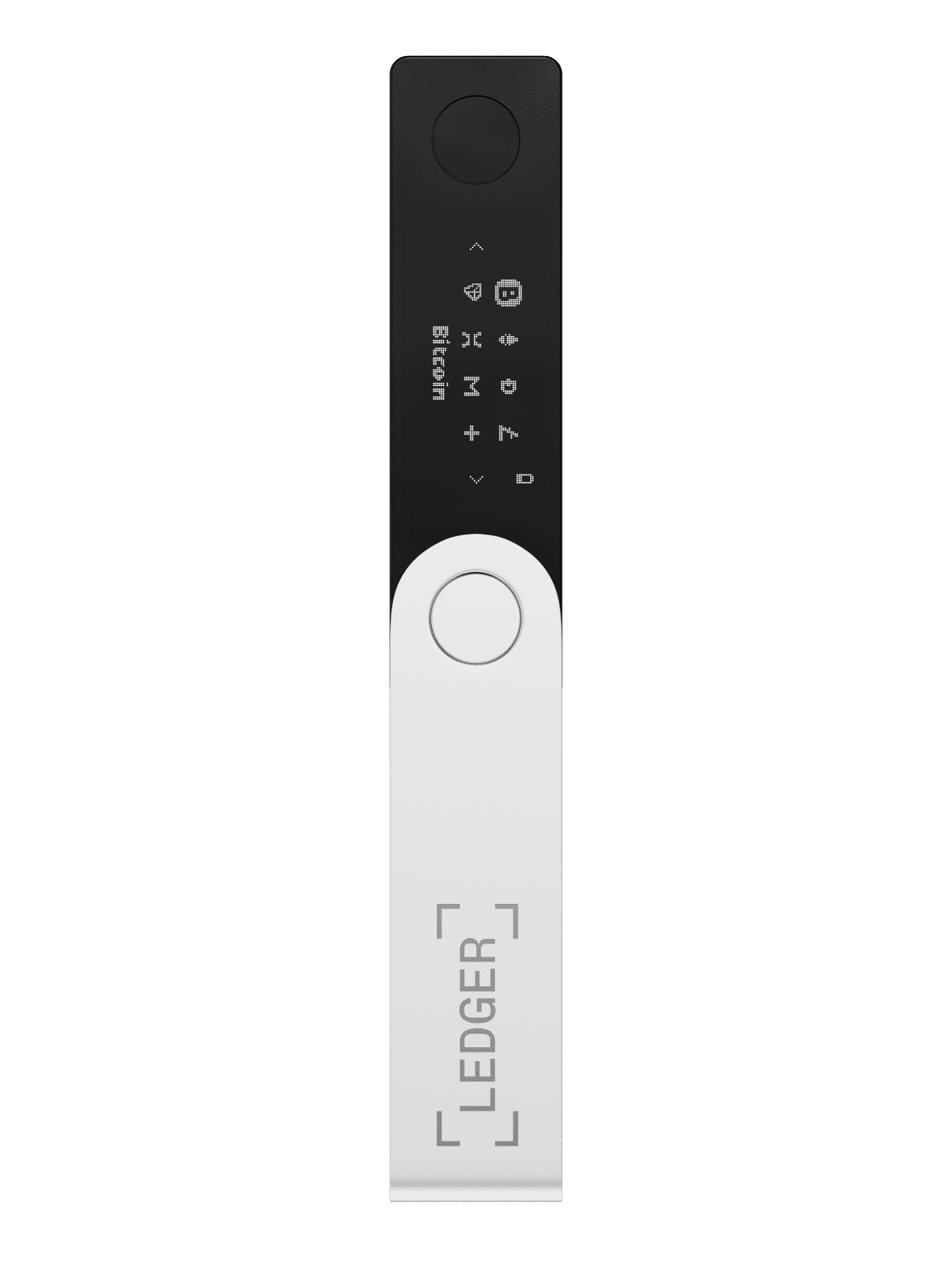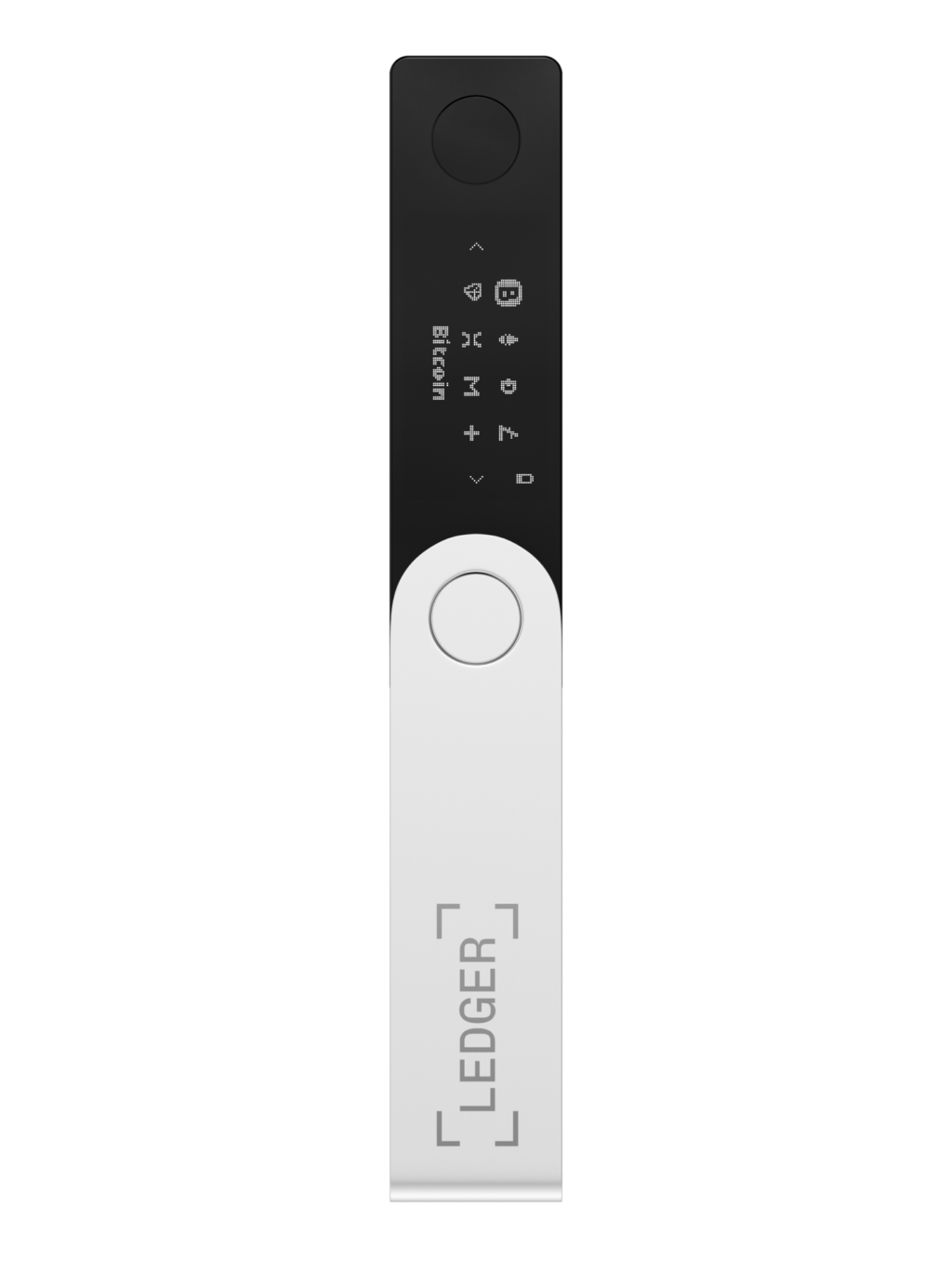 The Ledger Nano X is a step above the rest of the hardware wallets available right now. In fact, it is widely considered to be among the best crypto wallets, thanks to its impeccable security record and user-friendliness. Also, its Bluetooth connectivity and expanded coin capacity make it a crypto asset management powerhouse. The Nano X is an upgrade of the hugely successful Nano S, which is among the best-selling hardware wallets. Essentially, the Nano X has all the features of the Nano S, the same ease of use and greater capabilities.
Why Ledger Nano X?
In addition to its security, the Ledger Nano X's ability to transfer and store 1800+ crypto assets and tokens makes it a popular product. In addition to being easier to use than the Nano S, it features a larger screen, making it even more convenient to read. Additionally, the vast storage space for up to 100 applications means that you may store most, if not all, of your crypto assets on a single device, making it highly convenient.
Pros
Supports 1800+ different cryptocurrencies
An impressive track record of safety
Available on mobile
MetaMask Wallet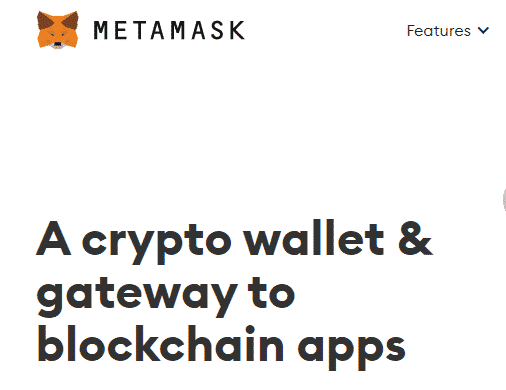 The Metamask wallet is essentially a cryptocurrency wallet that offers support for Ethereum-native tokens. However, as highlighted above, BSC is compatible with the Ethereum ecosystem's EVM, making Metamask supportive of BSC tokens. The wallet is a browser extension wallet whose design makes it easier for users to interact with Ethereum's Dapp ecosystem. It can also be used as a wallet to store ERC-20 tokens, allowing users to use it to access network-based services.
It connects browsers like Firefox, Brave, and Chrome to the Ethereum blockchain. There are many advantages to using MetaMask, including the fact that it doesn't require users to download the complete Ethereum blockchain. Furthermore, with this wallet, e Even if you don't have a full Ethereum node, you can still operate an Ethereum DApp.
Why MetaMask Wallet?
Ethereum-focused wallet Metamask is one of the most popular options available. The BSC ecosystem, on the other hand, is highly interoperable and also readily supports BSC-native tokens such as BEP20 tokens. Like any other browser extension, it comes as a browser plugin that may be readily installed. The Wallet Direct function of the Binance exchange may be useful if you primarily use crypto on the exchange but occasionally utilize DApps.
Pros
Supports hardware wallet integrations
Compatible with BEP-20 and Ethereum-native dApps
Metamask has a very active user community
It has a user-friendly interface
Supports storage of the key locally
Available on mobile and desktop as a browser extension
Cons
An online wallet, which means it is vulnerable to hackers.
Binance Chain Wallet
You can use the Chain Wallet to store your Binance tokens, as well as Ethereum and other cryptocurrencies. It supports the storage and transfer of digital assets, making it effective in trading. Also, the compatibility between the Binance ecosystem and Ethereum makes the Binance wallet supportive of many cryptocurrencies.
Why Binance Chain Wallet?
Binance users will find it simple to integrate their Wallet Direct accounts with their Binance wallets. When moving digital assets between the two, this function restricts copying and pasting recipients' addresses. In many ways, it is a security measure against unauthorized withdrawals. You can also sign up for the wallet using tKey using your Gmail account. Besides that, it allows for cross-chain transfers between the two Binance blockchains.
Pros
Has SegWit address support
It supports hundreds of cryptocurrencies
Outstanding security record
It has an integrated trading platform that makes it easy to trade
It is backed by one of the largest crypto exchanges in the world
Cons
It's a little complicated for beginners.
Coinomi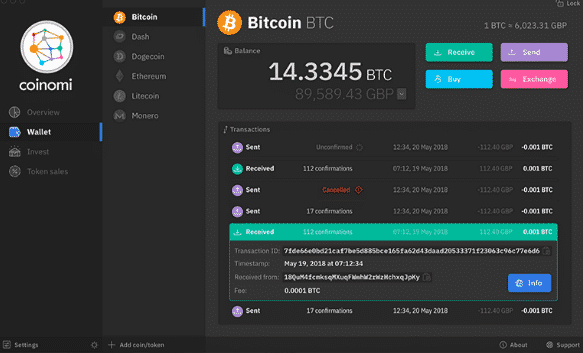 Coinomi is a cryptocurrency wallet that supports many currencies. It has been in existence since 2014, making it one of the oldest wallets available today. It was first made available as an Android wallet, then as an iOS wallet, and now, in 2019, as a desktop wallet.
Why Coinomi?
It features a wide range of coin compatibility, with native support for over 125 blockchain assets. Additionally, the wallet is SegWit-enabled, allowing you to transmit "lighter" transactions easily. Also, users can set transaction fees as "dynamic" or customize them.
A major factor in Coinomi's rise in popularity and a good rationale for its sustained success is that the wallet optimizes privacy. Because privacy is a major concern for many cryptocurrency users, they often prefer keeping their assets away from prying eyes.
With Coinomi, users don't give out their personal details through KYC. In fact, the wallet even supports the masking of IP addresses for an added layer of security and privacy.
Pros
It supports over 1700 cryptocurrencies
In-built exchange
Strong security
Active user community
Cons
Does not support fiat currency purchases
Ellipal Titan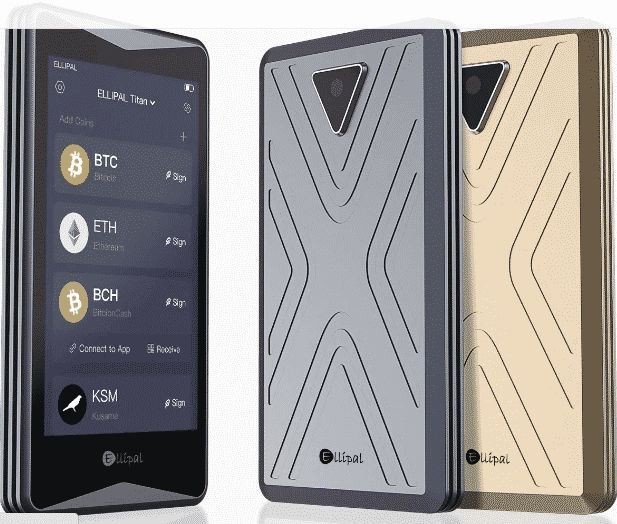 Ellipan Titan is a security-first wallet. As an air-gapped cold wallet, it is safe against remote and internet attacks.
It employs QR Codes to sign all transactions offline, protecting users' assets and also providing for a verifiable method of transacting business. Also, it supports the importation of any private keys and accounts that you may hold in other wallets. As an added layer of security, the discovery of a breach in the wallet results in the automatic destruction of all the data in the wallet.
Why Ellipal Titan?
The wallet is impenetrable from external attacks because it is completely air-gapped. It's a great hardware and software solution for cryptocurrency storage. Also, the wallet has a user-friendly design, even for novices, well-designed and user-friendly.
Its use of QR codes to validate any communication between the app and the wallet gives it a unique standing in the market. Furthermore, staking is possible, and it integrates Changely and SWFT exchanges, making it easy for users who want to go beyond storing their crypto assets.
Pros
QR codes provide a secure means of communication
The app's interface is straightforward and easy to use
Users can stake their assets
Supports multiple cryptocurrencies
Encrypted communications
A combination of hardware and software that is safe to use
Users don't undergo KYC
Cons
Relatively more expensive
Lacks desktop compatibility
Guarda Wallet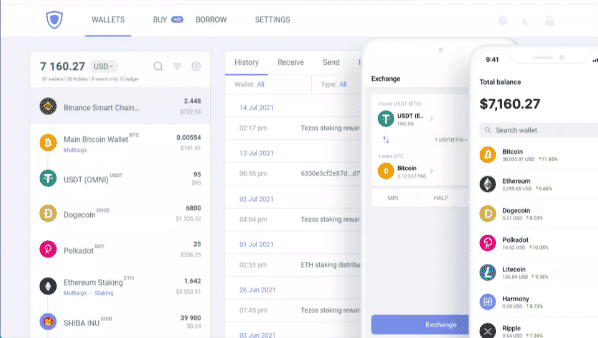 Guarda is a bitcoin wallet that works across several platforms, including both online and offline. Using Guarda, you may save encrypted backups on your device. Furthermore, instead of relying on passwords, you have the option of using face or ID recognition. Additionally, it is a non-custodial wallet, which means that the company has no control over your private keys. It supports approximately 40,000 crypto assets, ERC-20, and BEP-2 tokens.
Why Guarda Wallet?
Security is one of the main advantages of Guarda Wallet. It provides multi-signature security and compatibility for all of the most popular cryptocurrencies and tokens. Also, it supports staking, which is a plus for users who want a wallet that can do more than store their crypto.
Pros
Supports 40,000+assets
Staking might provide an additional source of money
Multi-sig support enhances account security
It syncs with many hardware wallets
Private key encryption
Intuitive user experience
Cons
In-app exchange purchases come with a 3.5% transaction fee
The Math Wallet
MathWallet is a universal cryptocurrency wallet that works on multiple platforms, including desktop, mobile, and hardware devices. It supports more than 100 blockchains and has a native dApp store known as the Math dApp store.
Why Math Wallet?
Its strongest points come from supporting 100+ different blockchains and availability on all major platforms. Also, this wallet has a multi-chain DApp store and integrates with cross-chain token exchanges. These features enable users to enjoy the convenience of a 'one-stop shop' experience.
Pros
The design is simple to use and intuitive
When generating a new wallet, it provides a backup
It's refined to work best with web3
The ability to work with a wide range of EVM blockchains
Cons
Some people may get confused when they use two wallets simultaneously.
Coin98 Wallet


Using Coin98 Wallet, users can store, send and receive crypto assets and connect to a wide range of decentralized applications (dApps). In addition, users can exchange more than 70 different tokens without ever having to leave the app.
Why Coin98 Wallet?
Coin98 Wallet offers various advanced features that bring users several benefits. They include multi-chain management. Also, you can manage multiple digital assets simultaneously, easily, and conveniently. Users can access numerous Defi services across various blockchains seamlessly and concurrently. Optimized transaction fee and processing speed: Adjust your own transaction fee with a gas bar.
Pros
Integrates with the Coin98 DeFi protocol
Supports over 70 crypto assets
Multi-chain support.
Adjustable transaction fees
Cons
Newbies may find the UI complicated.
SafePal S1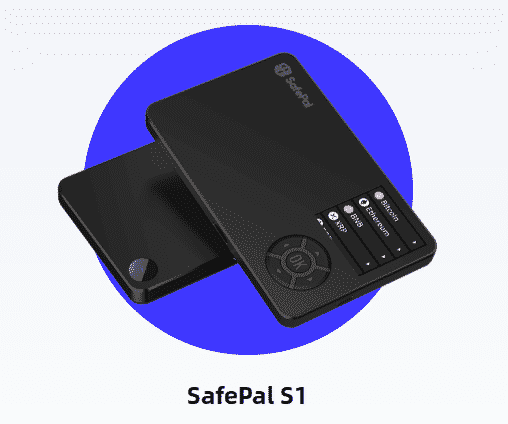 There aren't many hardware wallets like the SafePal out there right now. SafePal is a low-cost, lightweight, and compact cold storage solution. Also, Binance, one of the world's most popular cryptocurrency exchanges, has invested in this hardware wallet company- a first by Binance in the hardware market.
Why SafePal S1?
This wallet blocks many attack avenues because the device is rarely hooked into an internet-connected computer. Additionally, the SafePal S1 wallet employs many levels of protection and user-friendly interfaces, making it easy for users to store, move, and trade crypto.
Pros
Has support for 1000 + assets
In case of an external attack, the device features a self-destruct mechanism.
Has integrated the Binance exchange
Supports 19 major blockchains
Cons
Transacting can be a hassle, especially for new users
TokenPocket Wallet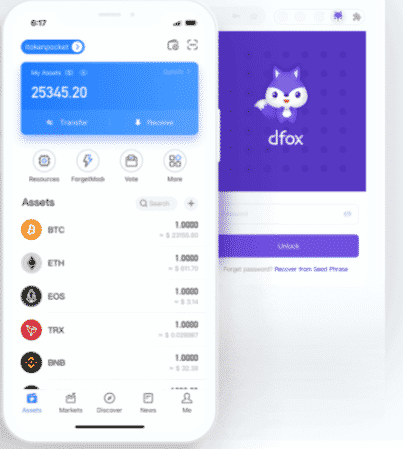 TokenPocket is a multi-chain wallet supporting multiple crypto tokens. Users can store, send, and receive cryptocurrencies, as well as other digital assets. In addition to Android, iOS, and PC, TokenPocket is able to support the majority of the most popular blockchains and cryptocurrencies on the market. Since it's non-custodial, you don't have to worry about a third party accessing your sensitive data.
TokenPocket Token (TPT) is the platform's native currency. It is an essential component of the app because it exposes users to additional features. For instance, you can only access the periodic airdrops by TokenPocket if you hold the token.
Why TokenPocket Wallet?
With TokenPocket, you can access DApps easily through its Web3 browser, allowing you to trade ERC20 tokens, BTC, and EOS on decentralized exchanges (DEX) and play blockchain games right inside the wallet. Additionally, you may access Proof of Stake mining pools, staking, and DeFi resources.
Pros
Open-source
Friendly user interface.
Supports staking
Access to dApps and DEXs
Available for Android, iOS, Windows, Mac OS
Con
It supports comparatively fewer cryptocurrencies
1inch Network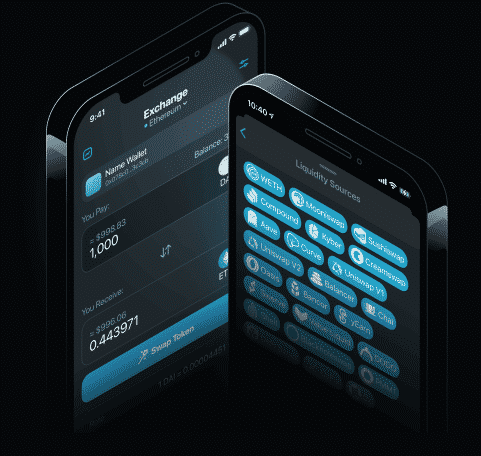 The 1Inch decentralized exchange's developers have created a mobile wallet called 1Inch Wallet (DEX). Its design makes investing in the vast DeFi market a breeze for investors. Users can store, trade, and transfer crypto using the wallet. Also, the 1Inch DEX aggregator provides the token swapping capability.
Why 1inch Network?
It is quite easy to trade your assets using the wallet's trading function. WalletConnect to connect to DeFi decentralized exchanges, lending sites, and yield farming protocols when necessary. Also, it provides access to Apple iCloud, which is a safe place to store financial data. Cloud storage also enables remote access on multiple devices.
Pros
It's designed with minimalism for a great user experience
Supports cloud storage and access
It has an integrated DEX
Available on Android, iOS, and desktop
Cons
It only supports staking with the 1Inch token
Unstoppable Wallet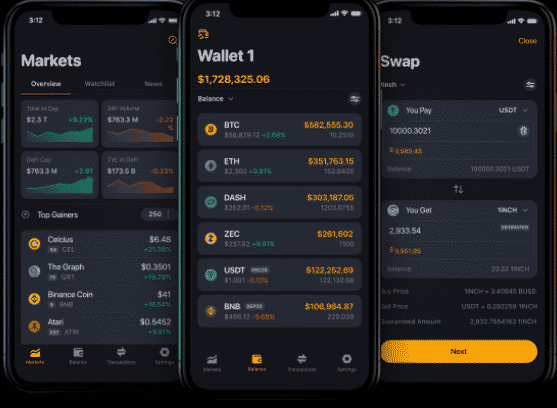 The Unstoppable wallet's non-custodial nature means that users have the ultimate control over their assets. It supports 100+ crypto assets and has undergone audits and approval by t. Certick and Bitcoin.org. The wallet protects user anonymity. The software does not request any personal information from users during the signup process. Based on the current network conditions, this wallet provides fee suggestions. As a result, costs can fluctuate depending on network congestion.
Why Unstoppable Wallet?
For starters, it does not store your transaction data on third-party servers, and neither does it conduct identity checks or KYC processes. Also, with this wallet, users get to store all their Private keys locally on their smartphones. Furthermore, it is multi-wallet, which means that users may safely manage several different wallets at a go using a single account. It is also DeFi-enabled, allowing users to exchange assets, stake their assets, and communicate with any DeFi service through the WalletConnect feature.
Pros
Has multi-wallet functionality
Non-custodial, hence no third-party control
No KYC requirement
Impressive security record
Encrypted Ink

Encrypted ink is a 100% open-source wallet built with the WalletConnect program. It is highly interoperable and works with various prominent blockchains such as Ethereum, Avalanche, BSC, and Polygon.
Why Encrypted Ink?
When it comes to managing and protecting keys, it uses Trust Wallet Core. Its security capabilities increase tremendously with this feature, and hackers cannot access your assets. Also, you don't need a mobile wallet or a browser extension to use websites that accept the WalletConnect protocol. Using a keychain, users can safely keep passwords and other sensitive information.
Pros
Online support that is reliable and trustworthy
Free software
Training using documentation
Users can sign their transactions
High-quality encryption that can't be cracked
Cons
Available only on the MAC platform
Final thoughts
Binance Smart Chain has grown in popularity, and this is likely to continue, mostly due to Ethereum's slower transactions and high gas fees. Also, BSC's compatibility with EVM makes it more scalable. Furthermore, BSC's support for Ethereum-native assets makes Binance Smart Chain wallets essential in handling thousands of crypto assets.
The discussion above has explained how the BSC wallets work. Also, we've covered some of the best Binance wallets and highlighted their strengths and weaknesses. Therefore, these should help you make the right decision when searching for your wallet. Importantly, ensure that the wallet you select meets your needs and investment style.