What is Wabi (WABI)?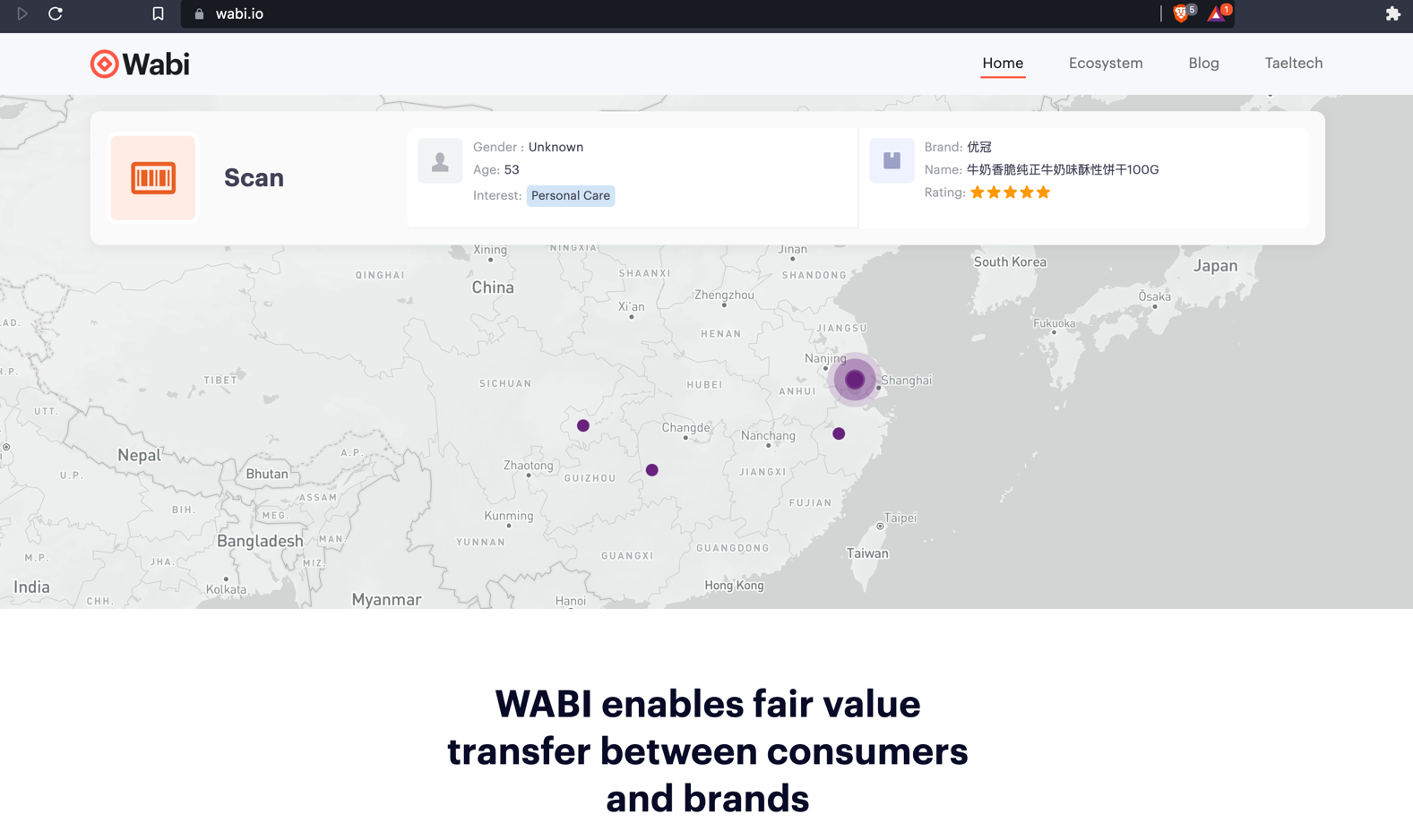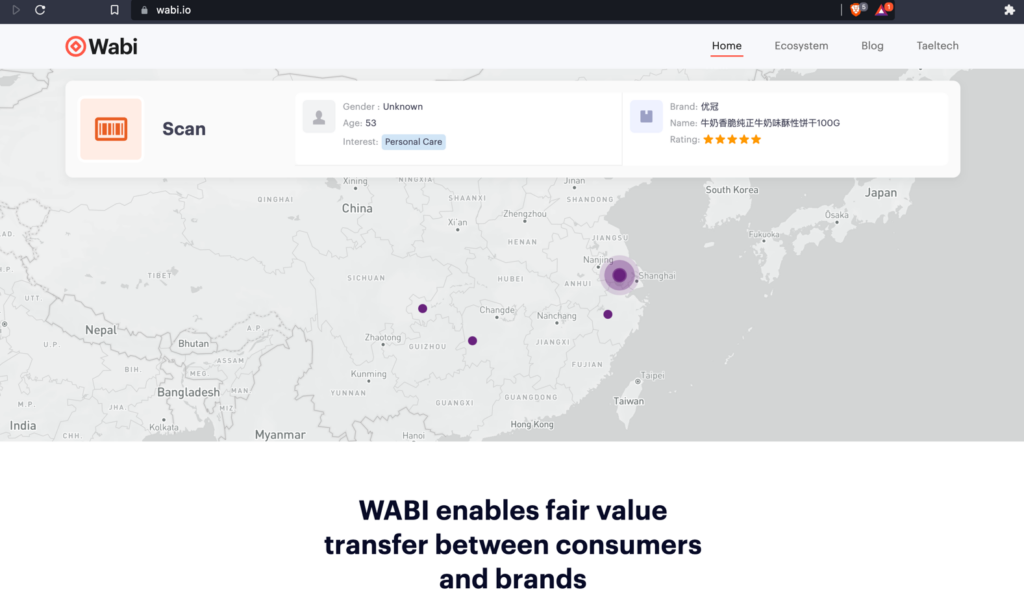 The FMCG (fast-moving consumer goods) industry is a global trillion-dollar industry, affecting every one of the +7.5 billion population. Taeltech, a Chinese-based consumer engagement platform, recognizes this market and has created a platform between millions of consumers and brands.
Wabi is an incentive layer within the Taeltech ecosystem. Consumers are rewarded the Ethereum-based WABI token by participating in authentic surveys, barcode scans, referring new customers, and loyalty programs.
Wabi provides a mutually beneficial relationship between brands and clients. The former save on marketing costs as they receive genuine consumer engagement with powerful behavioral insights.
On the other hand, consumers are incentivized to participate with investment-value crypto rewards, discounts and referral bonuses.
Some of the popular brands using Taeltech include the likes of Rakuten, Nestle, Binance, and countless others who connect with thousands of active users. Despite not being as well known as other cryptos, judging by CoinMarketCap's #704 ranking of the coin, Wabi got its start in 2013.
Two London School of Economics alumni, Alex Busarov and Yaz Belinskiy, created the project to improve the marketing efforts of the FMCG industry. Let's explore more on why this cryptocurrency is a good investment and some WABI price prediction analysis.
Is Wabi a good investment?
The current problem with mass marketing is brands collect large amounts of user information, often unknowingly to consumers and with little or no monetization. Wabi recognized the value exchange between users and businesses was broken, unfair, trustless, and provided little confidentiality.
Hence, the cryptocurrency was created as a fairer, efficient, and more confidential value transfer amongst the two parties where brands receive highly targeted and super-quality marketing insights to fuel their bottom line, while clients are offered various incentives to participate in the marketing campaigns.
Wabi is piggybacking off a precious trillion-dollar industry where demand will always be present regardless of economic conditions. Lastly, it's intriguing to note Wabi has almost reached its 100 million maximum supply, presenting a scarcity factor.
Theoretically, as the supply has almost been maximized, demand is likely to increase if interest in the coin grows.
Should I buy Wabi today: Crypto technical analysis for WABI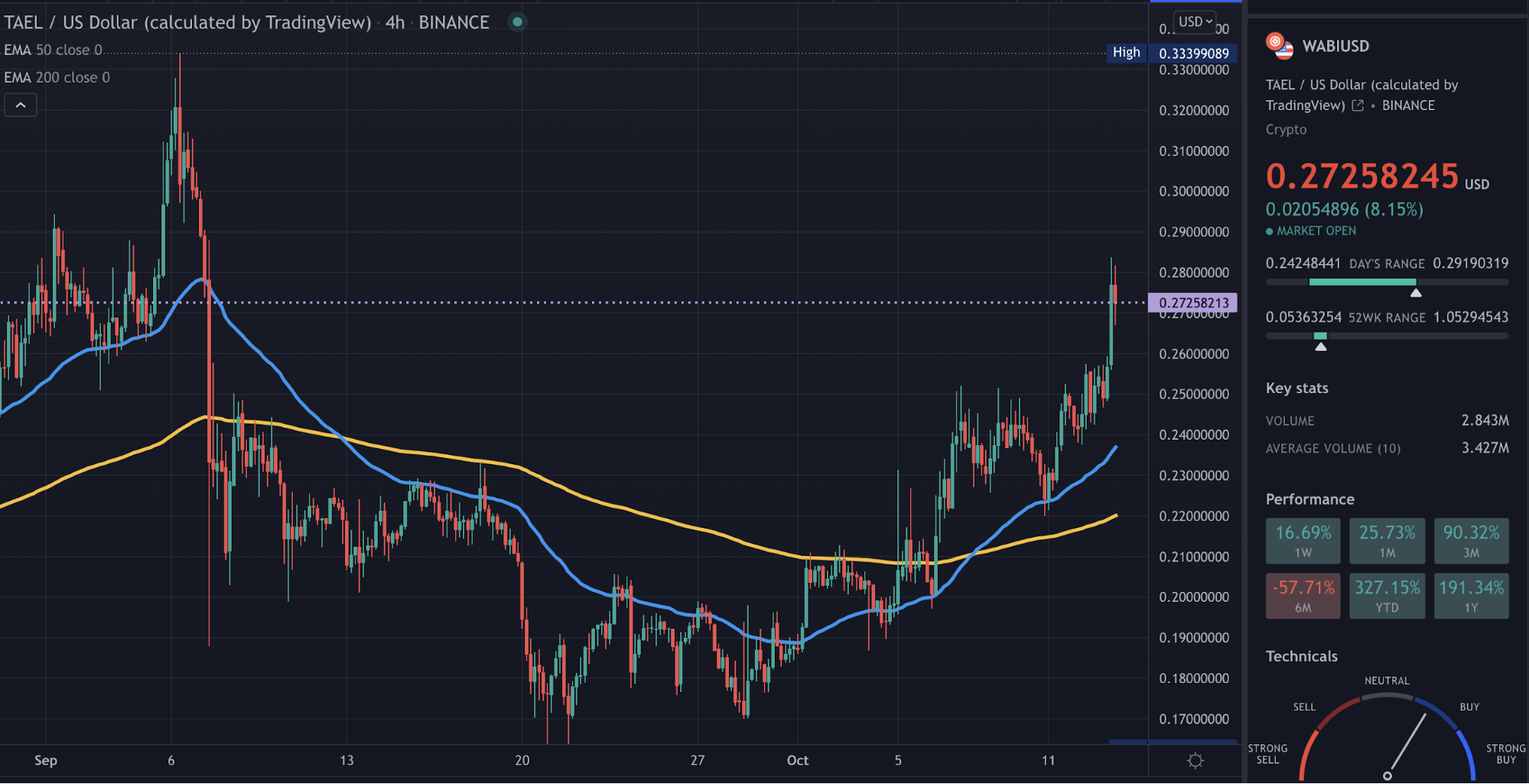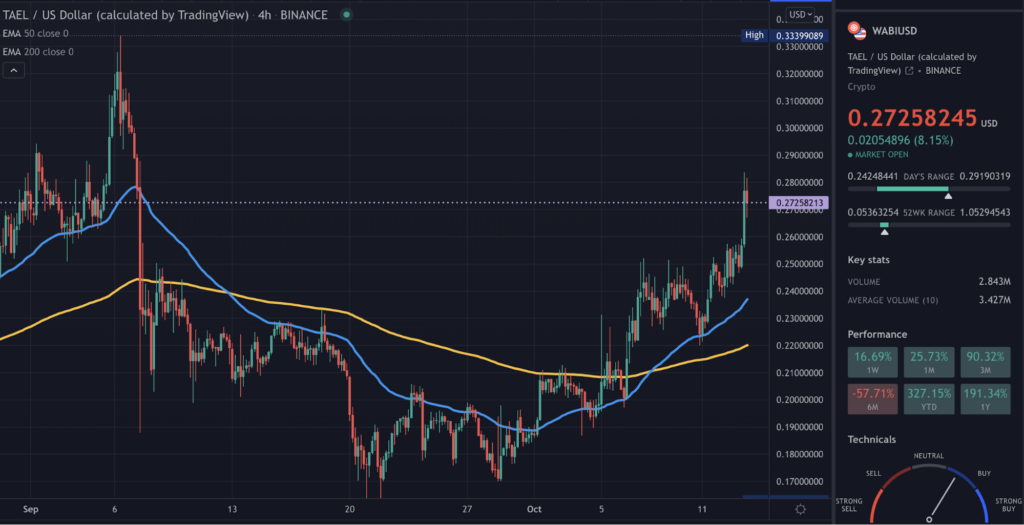 TradingView's technical analysis (located on the bottom right of the chart) suggests a 'BUY.' We can also utilize a straightforward 50-day and 200-day exponential moving average strategy.
The 50 (light blue) must cross above the 200 (orange), while the market must be trading upwards of both moving averages. Fortunately, the chart meets both criteria. So, we have two pieces of evidence suggesting it's a decent time to buy WABI.
For a better entry, traders may want to wait for the price to dip back to the moving averages, assuming the criteria is still valid.
Will Wabi coin price hit $0.50 in a year?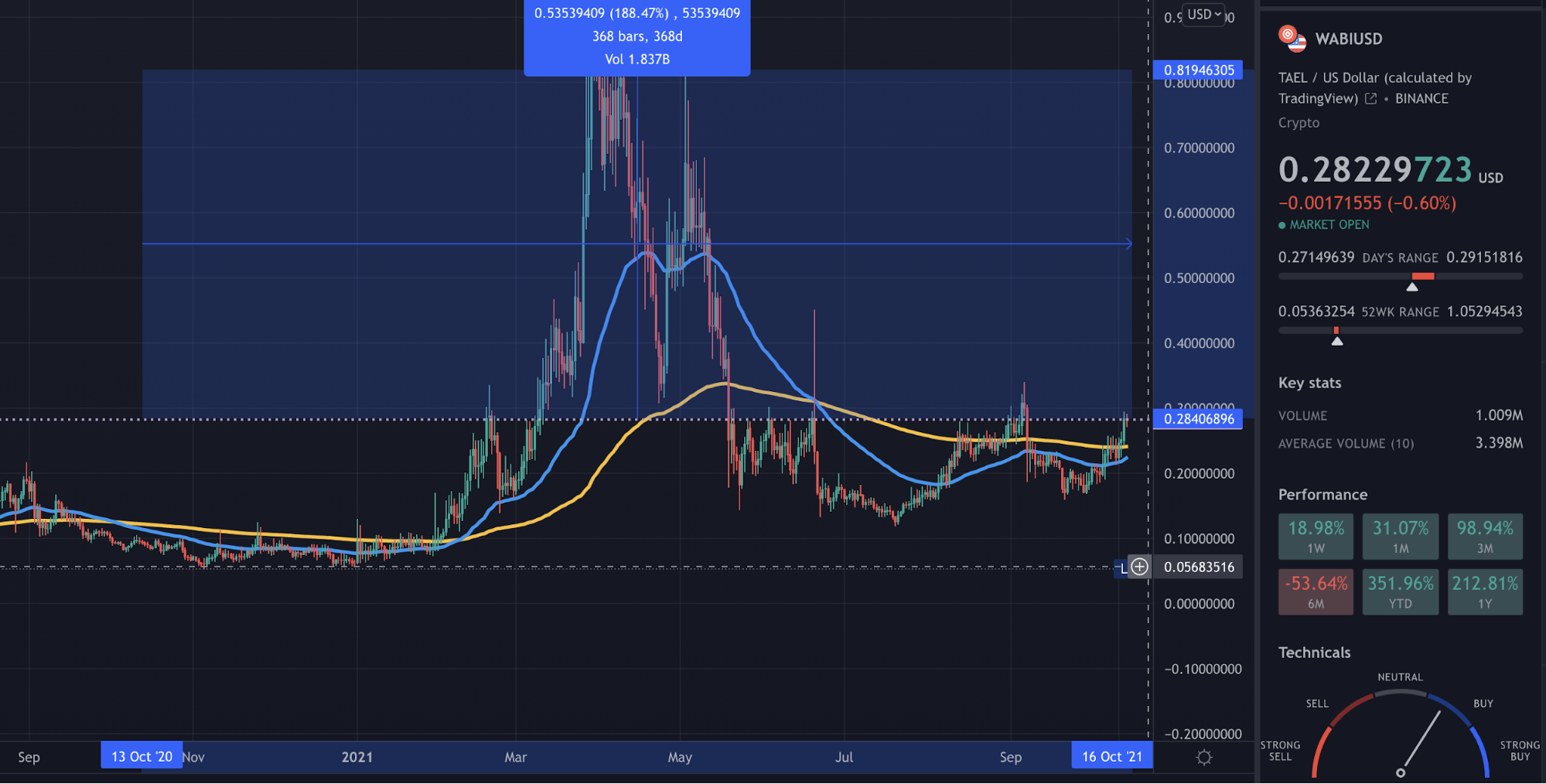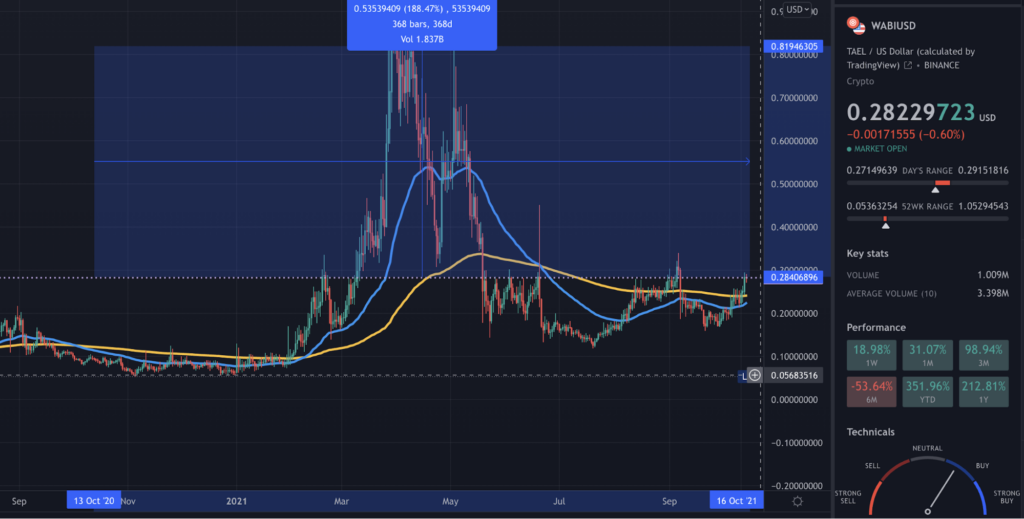 The present value of WABI is $0.28. 50 cents is likely the anticipated target. So, could the coin be worth this much in a year? The coin's value has increased by about 188% within the last 365 days.
If we assumed the price grows by this figure, WABI would be worth roughly $0.81. This performance wouldn't be out of the ordinary for a cryptocurrency. This simple analysis is also confirmed by forecasting from Wallet Investor.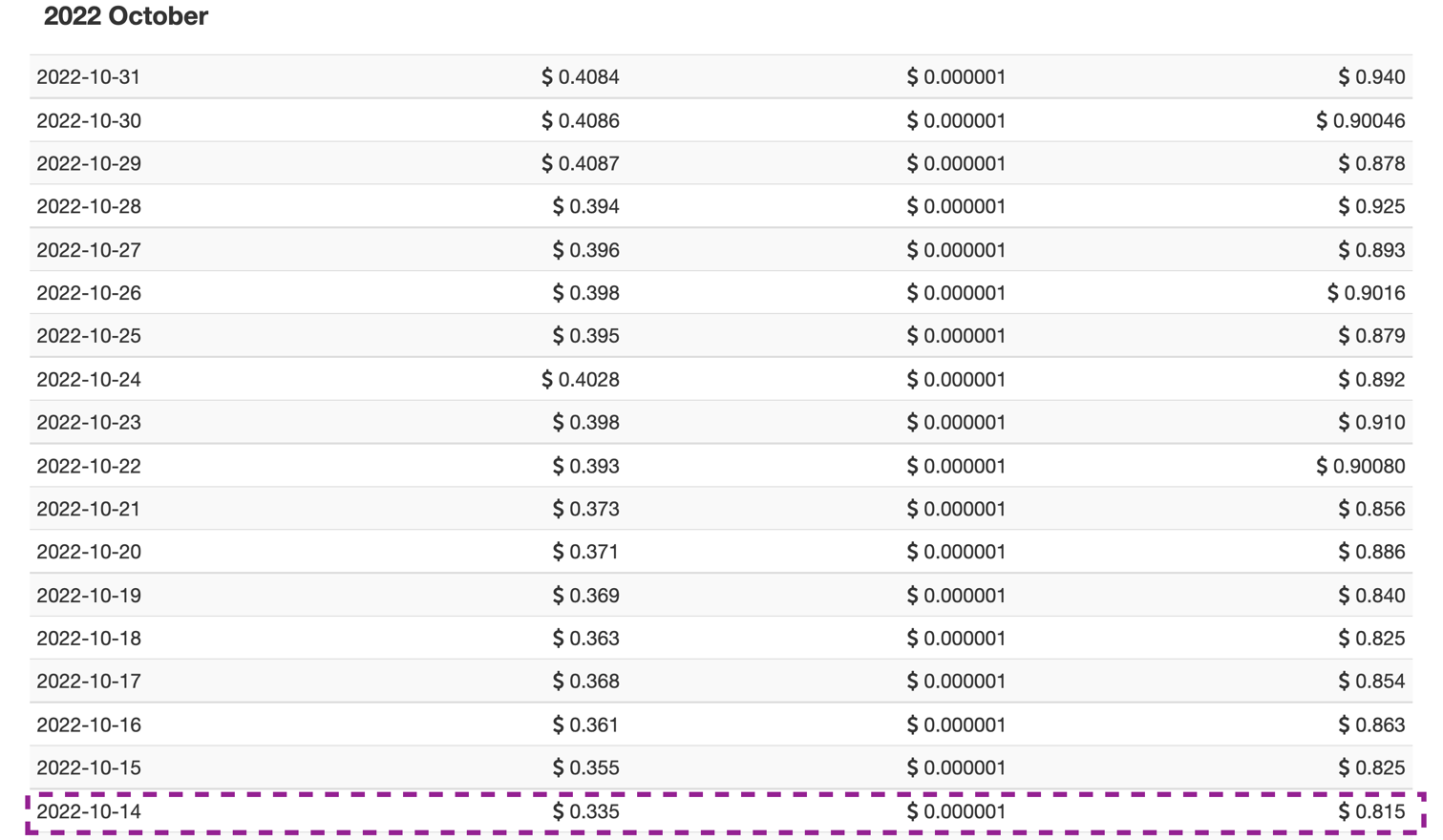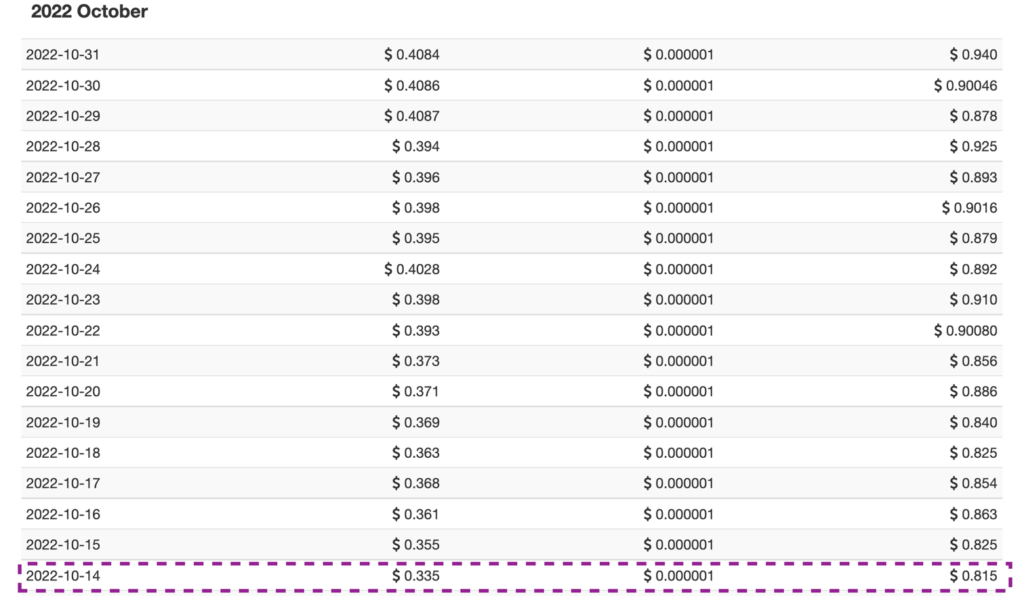 The site speculates for WABI to be valued at a maximum price of $0.81 in a year. Priceprediction.net, another forecasting resource, is less conservative and tips WABI to be worth $0.35 within the same period.
If you have more ambition, you may rely on the former estimate, meaning WABI is likely to cross above 50 cents. Ultimately, these are all predictions, and investors should prepare themselves for any outcome after a year.
What is Wabi's coin price prediction for 2025?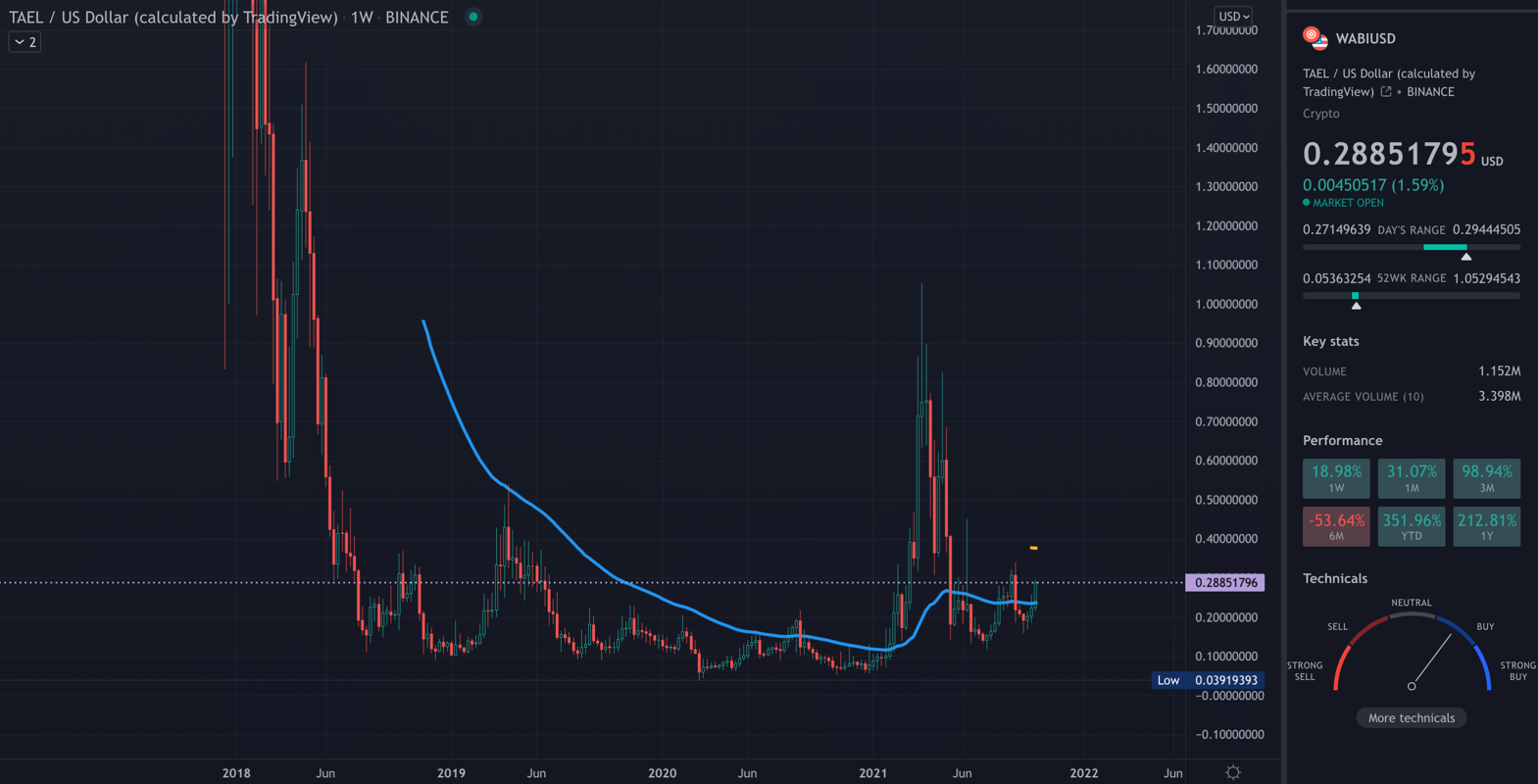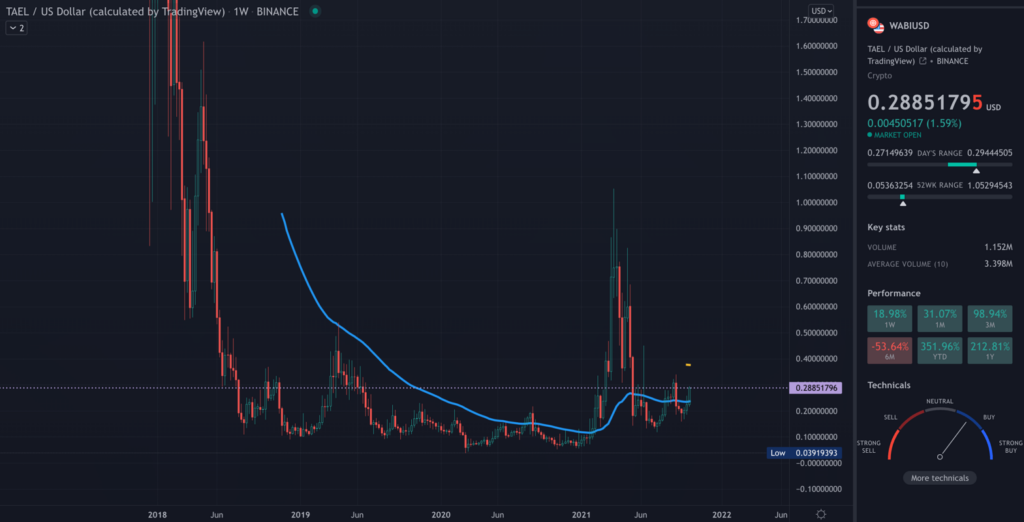 Overall, WABI is a good long-term investment based on its fundamentals and some of the technical analysis we've presented. For 2025, the coin's potential value has diverse estimates considering how far this period is in the future.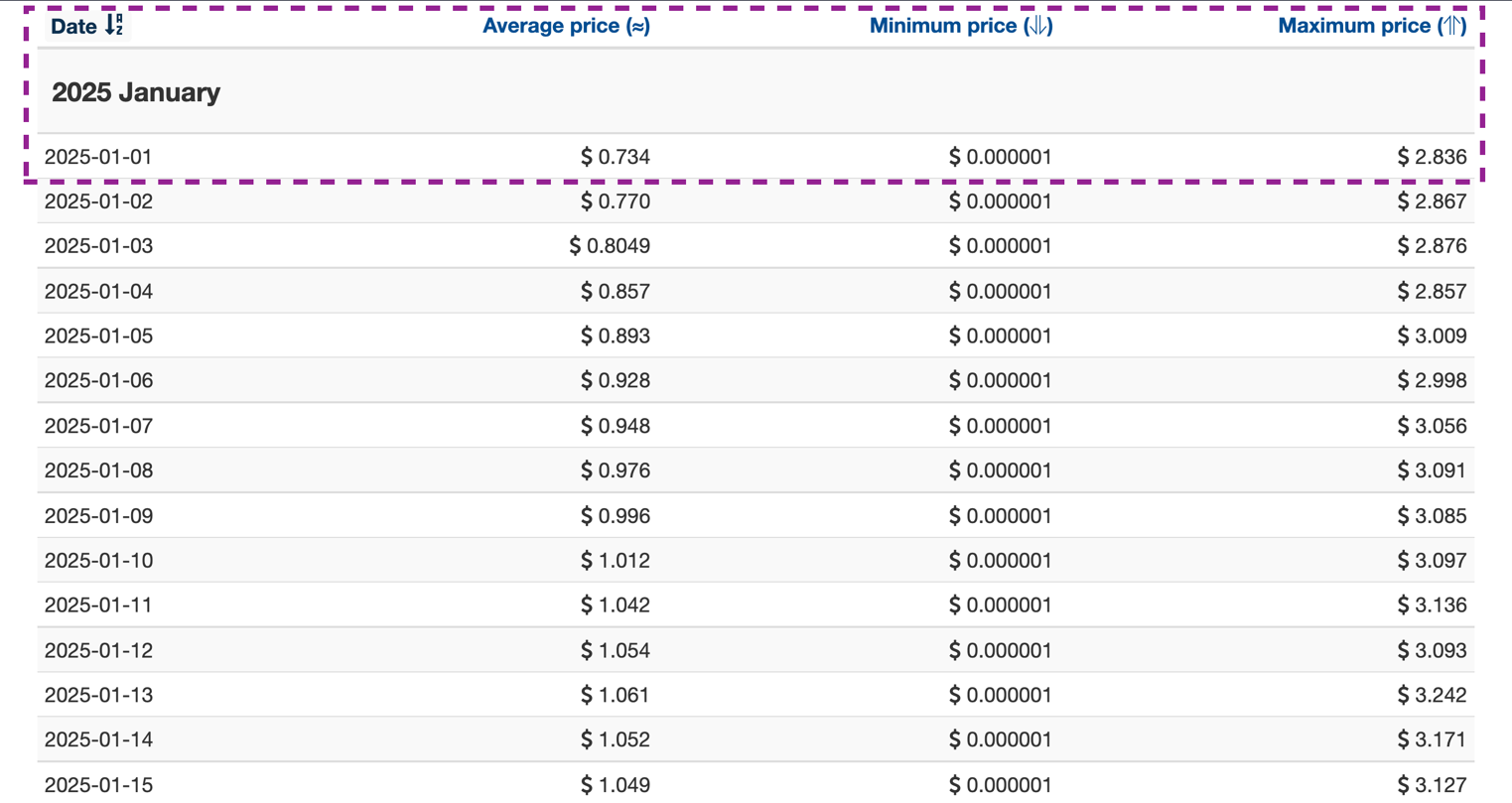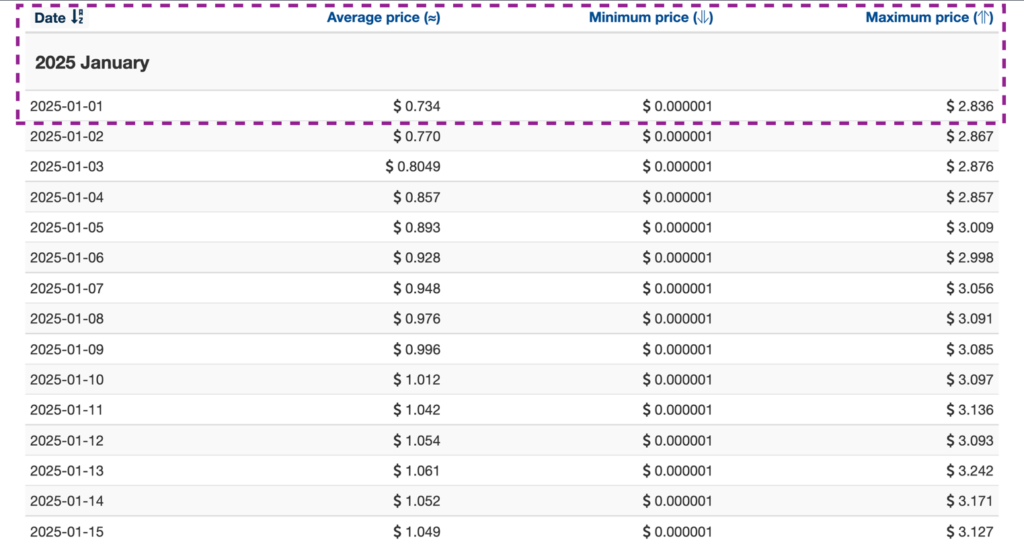 Wallet Investor estimates an average and maximum price of $0.73 and $2.83. Priceprediction.net is still more cautious, pegging WABI at average and maximum prices of $0.07 and $0.80, separately.
A reasonable assumption would be for WABI to be worth a few dollars if it maintained growth of even 50% yearly. Ultimately, these are all speculations, and investors should never rely upon them entirely and understand the uncertainty risks involved.
The best way to buy WABI
CoinMarketCap lists nine exchanges for users to purchase WABI:
± Binance
± Liquid
± STEX
± Pionex
± Fatbtc
± CEX.IO
± Bitglobal
± Bidesk
± CoinDCX
Binance and Pionex provide the most trading volume for WABI. Some of these exchanges may additionally offer a wallet for storage purposes, or you can find one from the dozens of external providers.