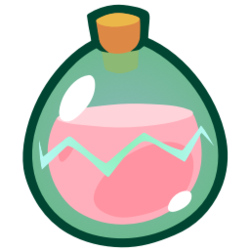 Smooth Love Potion (SLP)
Price
Disclaimer: The information provided here does not constitute any form of financial advice. Readers are fully responsible for conducting their due diligence before making any investment decisions.
What is Smooth Love Potion (SLP)?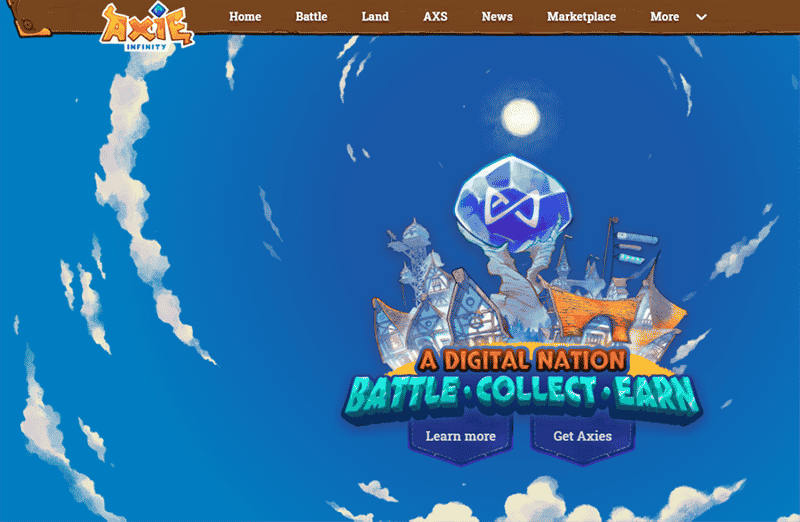 Smooth Love Potion is the peculiarly-named utility token of Axie Infinity, a hugely popular blockchain-based, play-to-earn video game where players collect, raise, trade, and battle axolotl-like creatures named 'axies.'
This project was originally launched in 2018 by Sky Mavis, a game developer from Vietnam. Players turn their 'digital pets' into tradable NFTs based on the rarity of their features and battling prowess.
Furthermore, other resources like flowers, barrels, and land are also available as non-fungible tokens on Axie's marketplace.
Each axie consists of six body parts: eyes, ear, mouth, horns, tail, and back. An axie will be classified as plant, bug, reptile, bird, beast, or aquatic. Moreover, each will have distinct mechanics, damage limitations, and attacking skills.
As you win battles (either as a single player or entering competitions against other players), gamers earn 'experience points' converted into the in-game currency SLP, which they can use to evolve their axies or breed other creatures.
You can also earn this token by completing daily quests. Axie Infinity has an interesting system implemented to avoid the inflation of axies. As a gamer, you can only breed an axie up to seven times, where you will increasingly need more SLP with each successive breeding.
Let's explore whether Smooth Love Potion is an investable project and SLP price predictions.
Is Smooth Love Potion a good investment?
The answer to this question is yes, although with several caveats. Firstly, it's worth noting that SLP's price has declined by more than 99% since reaching an all-time high of 41 cents in July 2021.
This substantial decrease is due to a few reasons. Researchers have expressed some concerns about the sustainability of Axie Infinity as it pertains to the number of 'breeders,' which has been shrinking slowly.
This is one of the factors why SLP isn't being used as much as it should. However, on the plus side, the gap between the current price and the all-time high offers massive room for potential growth.
Axie Infinity is still one of the most widely used blockchain games, with plans by Sky Mavis to reach 10 million active players soon. If the user base does eventually grow, this should increase the number of axies being sold as 'breeders' will find it profitable to create these creatures.
This activity would thereby expand the trading of the SLP token. However, aside from factors related to Axie Infinity itself, the project's success also depends on whether NFTs and play-to-earn gaming will continue to receive widespread adoption.
Should I buy SLP today: Crypto technical analysis for SLP
As briefly mentioned, SLP has been tanking for several months. Our technical analysis indeed confirms it's not the best time to buy the token. We've applied the 50-day (orange) and 200-day (blue) moving averages on the chart above.
The price is well below the MAs, while the 50 is below the 200. These are two typical traits of a bear market. Yet, SLP price predictions for the coming years show some potential for a value increase.
Will the SLP coin price hit $0.10 in a year?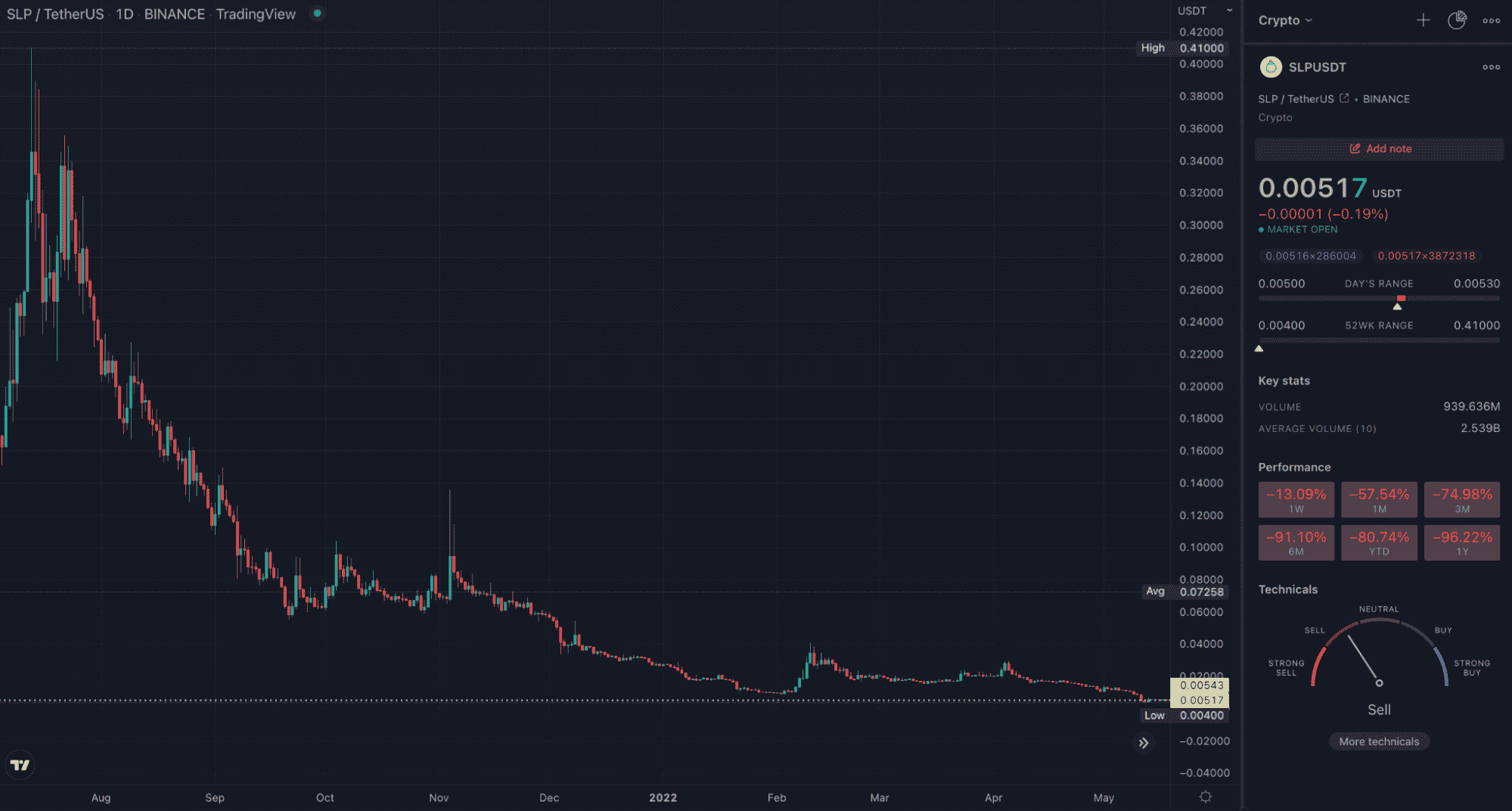 $0.1 or 10 cents is hugely improbable for SLP in a year, with several forecasting sites confirming this sentiment. The average we derived was $0.006, which is more or less the same price of the token presently ($0.005).
This clearly suggests SLP's value might remain stagnant. Digitalcoinprice was the most optimistic site we observed, with minimum and maximum approximations of $0.0067 and $0.00743, respectively.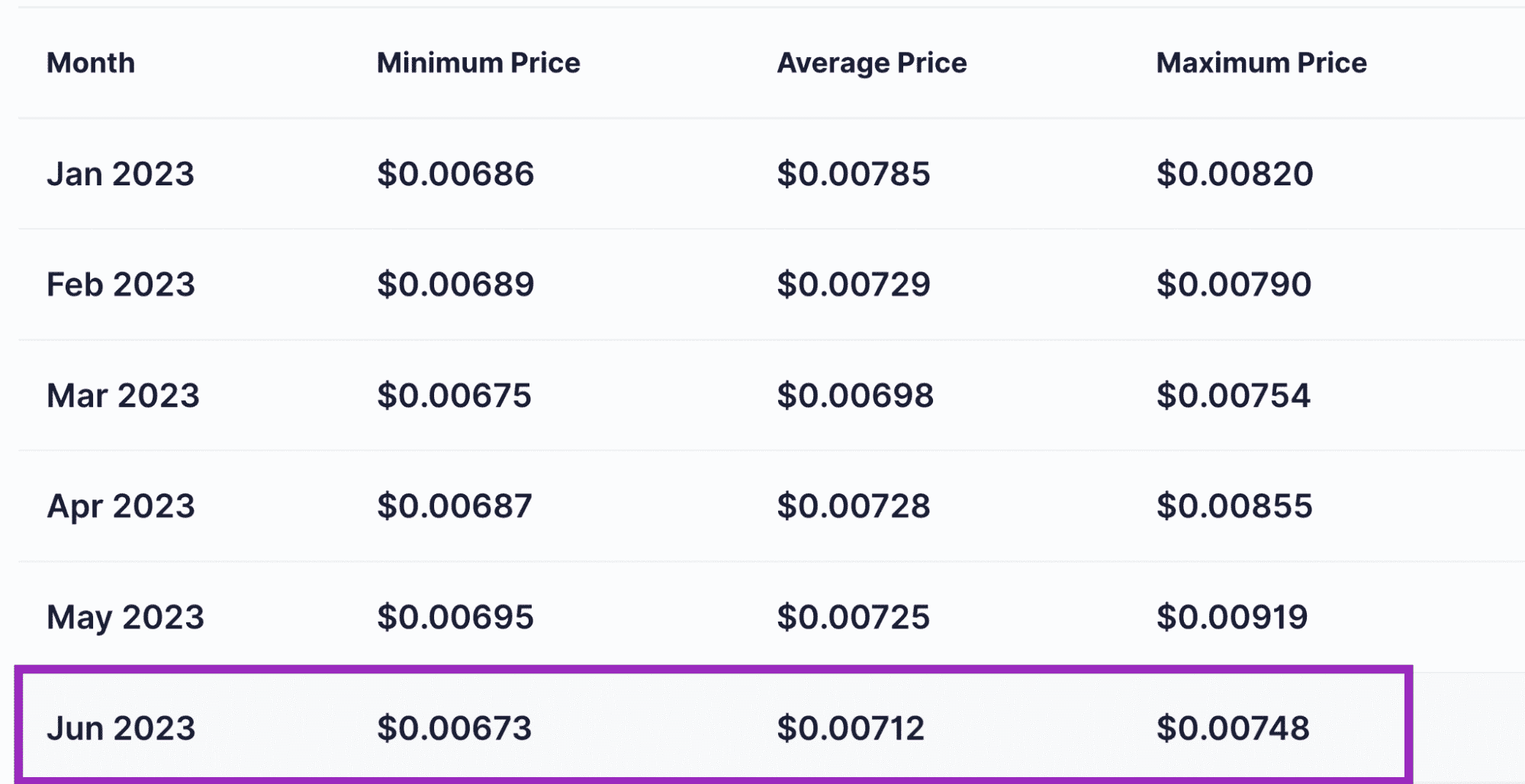 What is SLP's price prediction for 2025?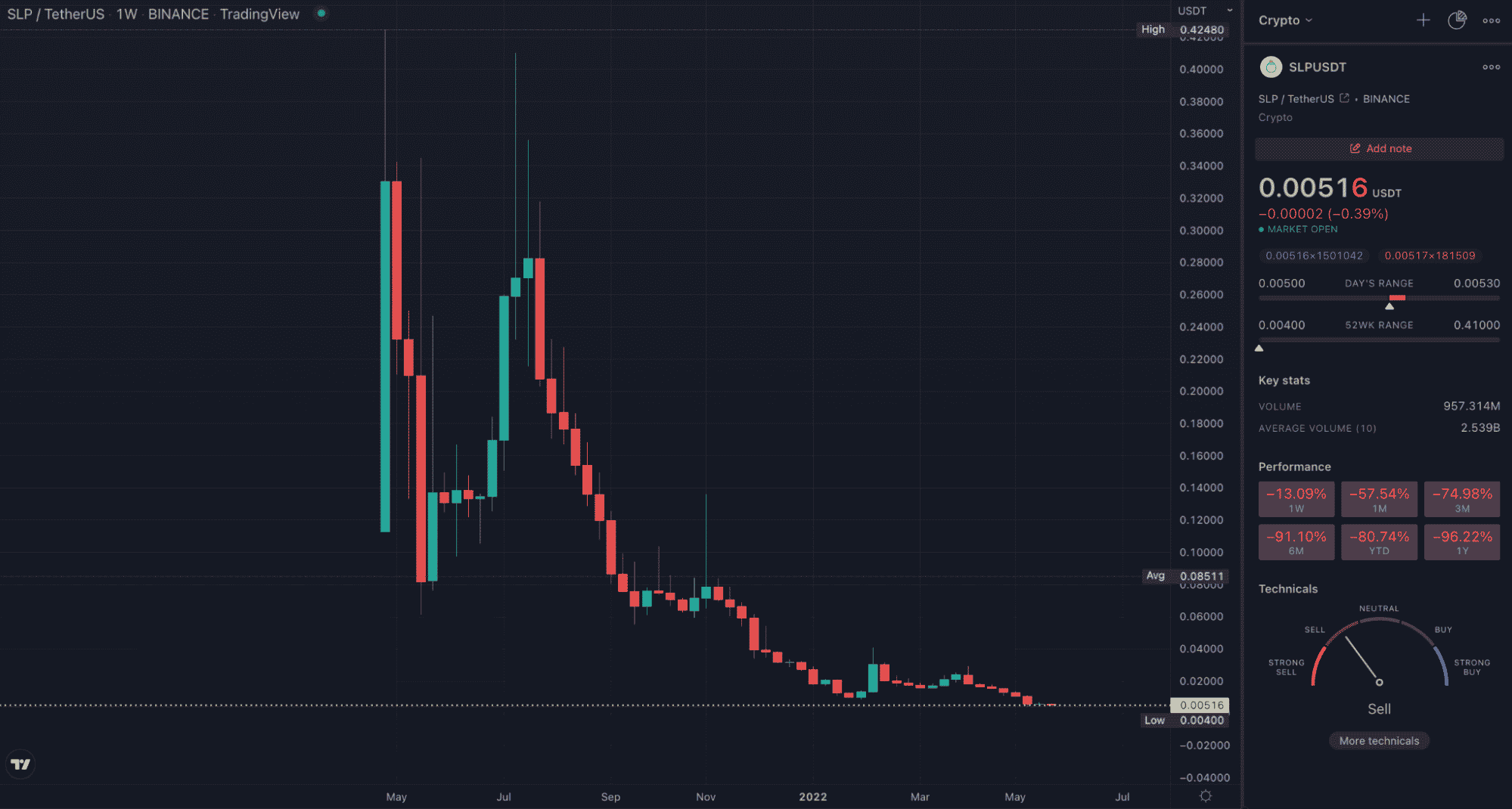 Below are our final positive and negative verdicts for SLP in 2025.
Best-case scenario
For 2025, several prediction sites still see SLP as more valuable, although only marginally. The average we derived for this was $0.0015, which is about three times higher than the current price of $0.005. PricePrediction.net was the most bullish, with low and high prices of $0.021 and $0.024, respectively.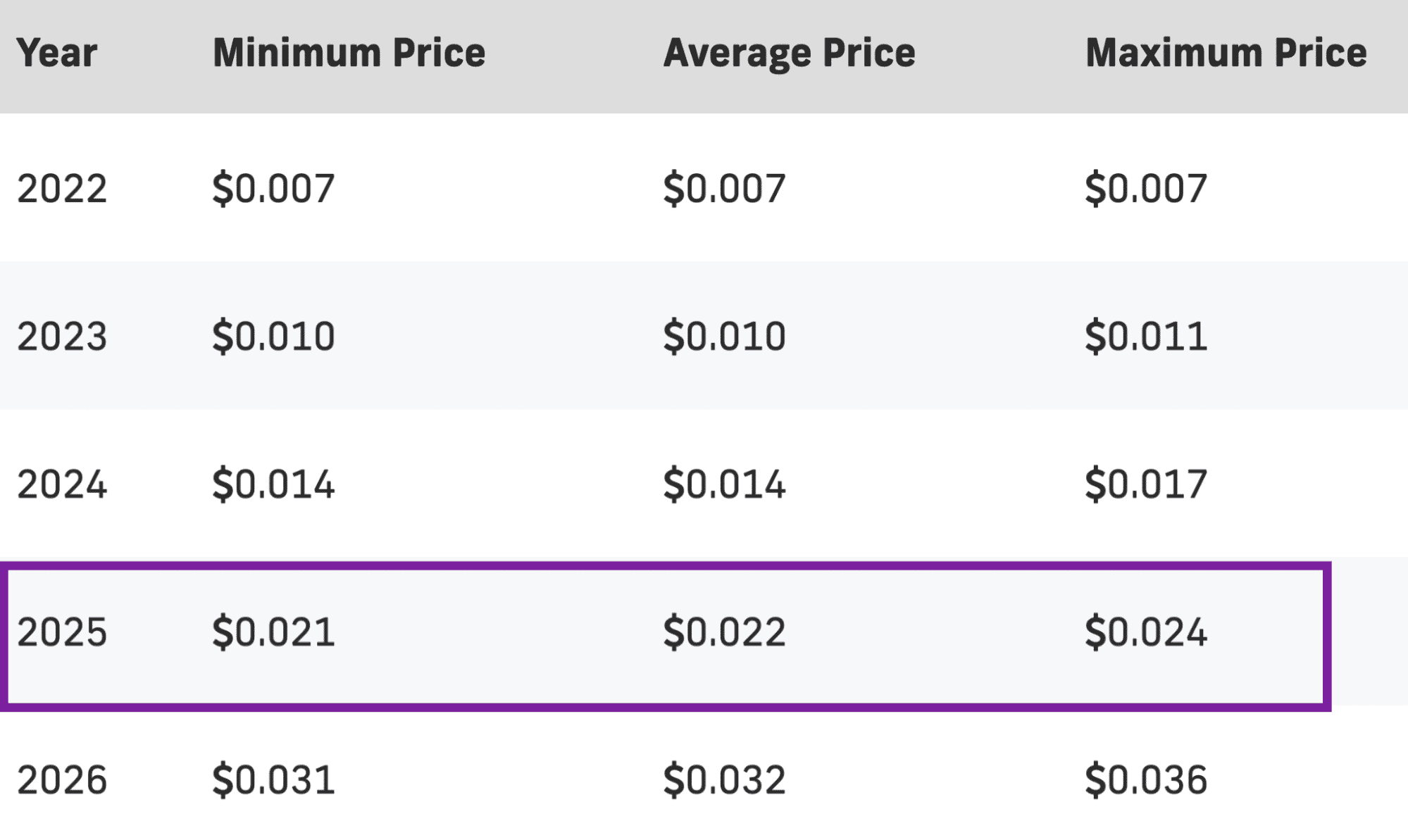 Overall, we shouldn't rely on the 2025 predictions entirely, as SLP can perform much better than expected.
Worst-case scenario
While SLP does exhibit some positive attributes, it remains highly speculative and volatile. Therefore, in the worst case, SLP could be worthless by 2025, or Axie Infinity may not exist at this time.
The best way to buy SLP
As with virtually all altcoins, you can purchase SLP from several popular cryptocurrency exchanges like Binance, FTX, Bybit, Bitstamp, KuCoin, Gemini, OKX, and many more.