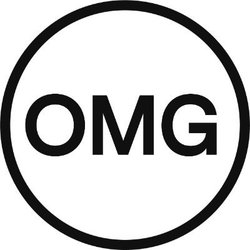 OMG Network (OMG)
Price
What is the OMG Network (OMG)?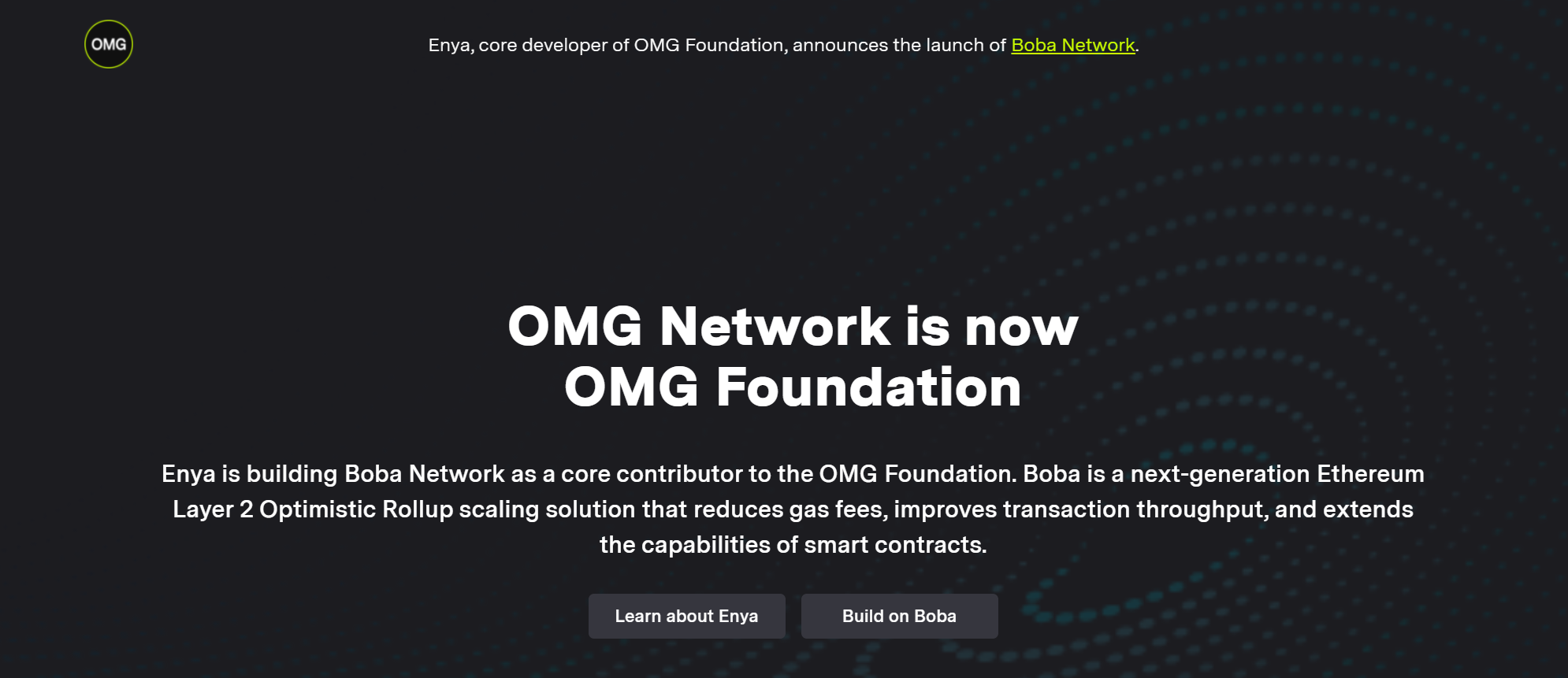 Are you looking for a cryptocurrency project that makes you say 'OMG!'? Well, the OMG Network takes the expression quite literally. OmiseGo or the OMG Network is a P2P network for transferring Ethereum-based or ERC20 tokens and other digital assets at a fraction of the cost of moving these on Ethereum itself.
Additionally, using a remarkable layer-2 plasma architecture, developers can build Ethereum-based decentralized applications with exceptional throughput, low transaction costs, and security. Like any crypto network, OmiseGo has a utility token, OMG, used mostly as payment for fees.
Users on the platform will eventually be able to stake the coin for rewards when OMG migrates to a proof-of-stake model. The project was created by the Thai-based Omise, one of Asia's most prominent payment gateway solutions.
After a successful initial coin offering which raised about $25 million, OMG went onto the public trading market in July 2017. CoinMarketCap ranks OMG 59th with an impressive market cap of about $2.1 billion. Each OMG token is worth $15.24.
This article will provide some OmiseGo price prediction analysis, why the project is a good investment, and the best way of buying the coin.
Is OMG a good investment?
The OMG Network is a good investment for several reasons. At its core, OmiseGo desires Ethereum peer-to-peer transactions to be more attractive for individuals and businesses by making them cheaper, faster, and light on carbon emissions.
On the Ethereum network itself over the last years, issues with slow transfers, abnormally high gas fees, and heavy mining power consumption continue to be well-documented.
These barriers make it tricky and burdensome for everyday use and developers to build products or applications using the network.
OMG ensures all digital assets have the security backing from the underlying Ethereum blockchain while maintaining highly scalable (thousands of transactions per second), cheaper transactions, and energy-conscious blockchain production. Another interesting aspect of OMG is its coin supply.
The developers created the tokens to have a fixed supply of precisely 140 245 398, which has already been reached. 29.9% of the distribution is presently held by the project's team and for future developments.
This scarcity factor ensures there will theoretically always be demand for OMG going forward.
Should I buy OMG today: Crypto technical analysis for OMG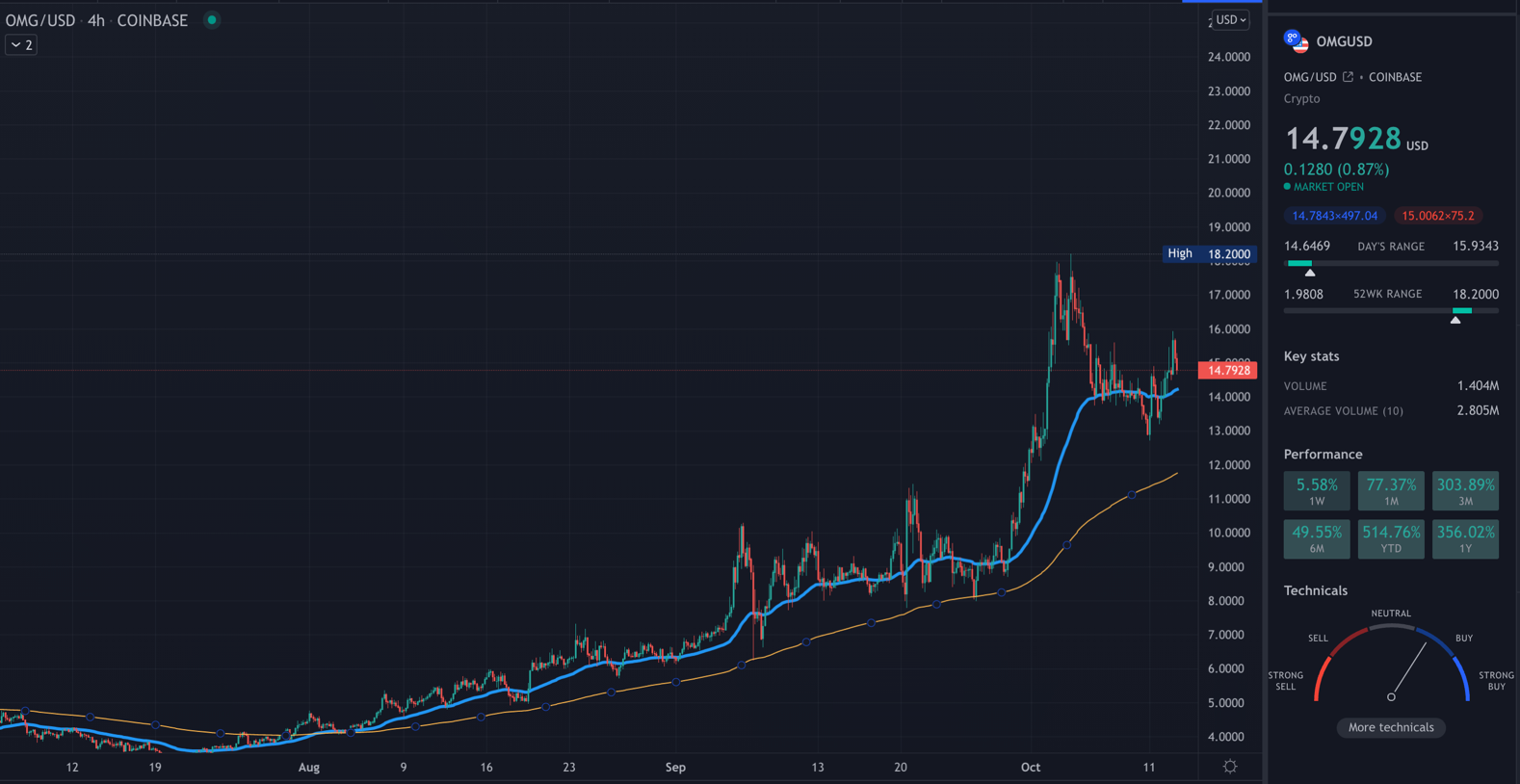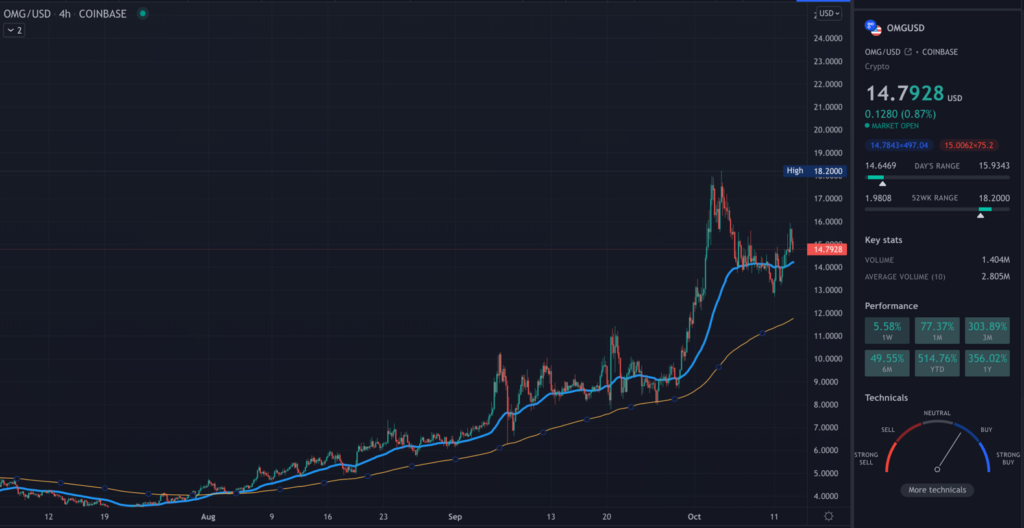 OMG has presented numerous buying opportunities over the past two months, and today is no different. The chart above contains the 50-day and 200-day exponential moving averages, a simple strategy many traders use in all financial markets.
The aim of this system is for the 50 to cross above the 200, while the price should be above both moving averages. We can see the 50 crossed the 200 a while ago. Hence, the buying trigger is still intact and hopefully should be for some time.
Will OMG coin price hit $50 in a year?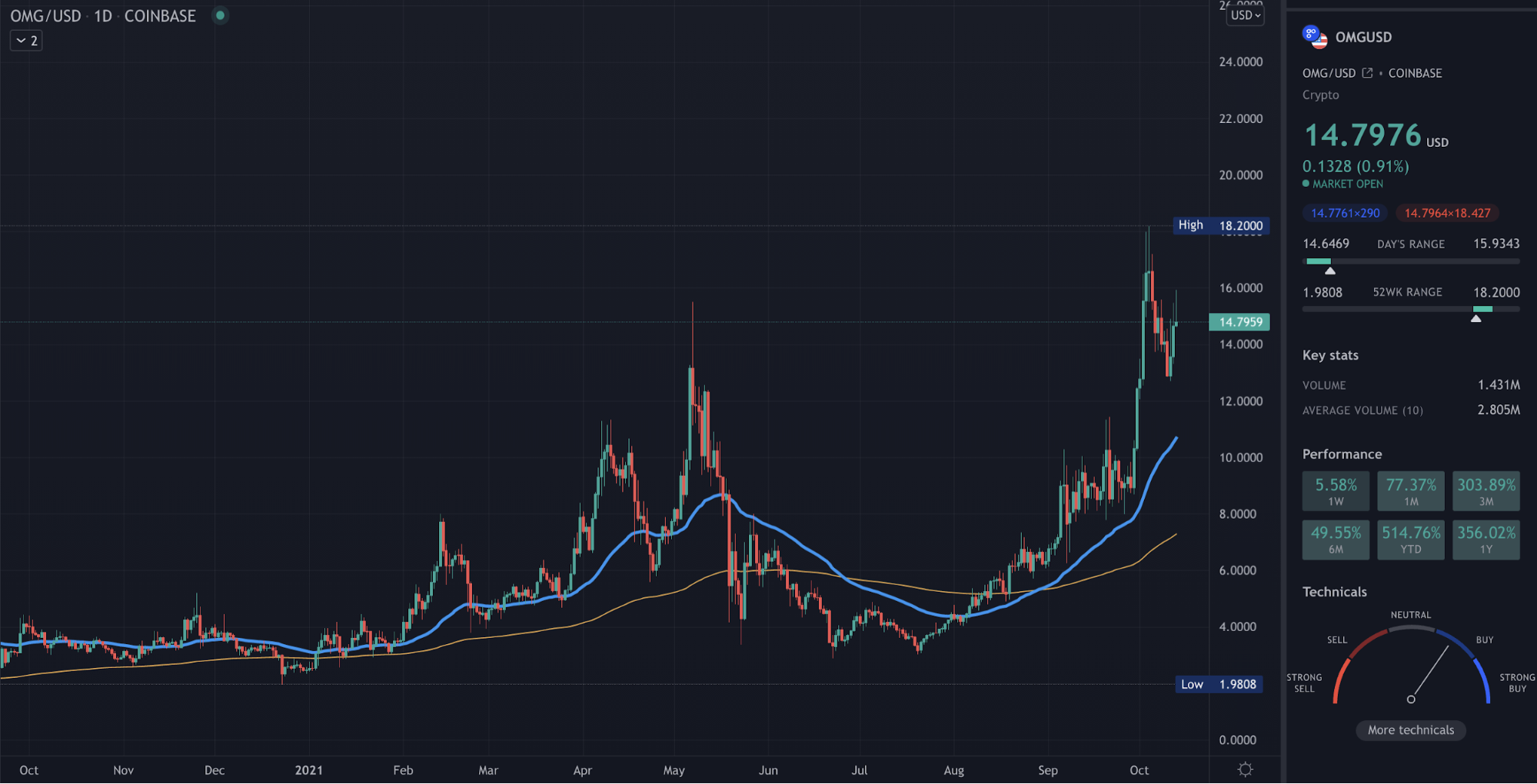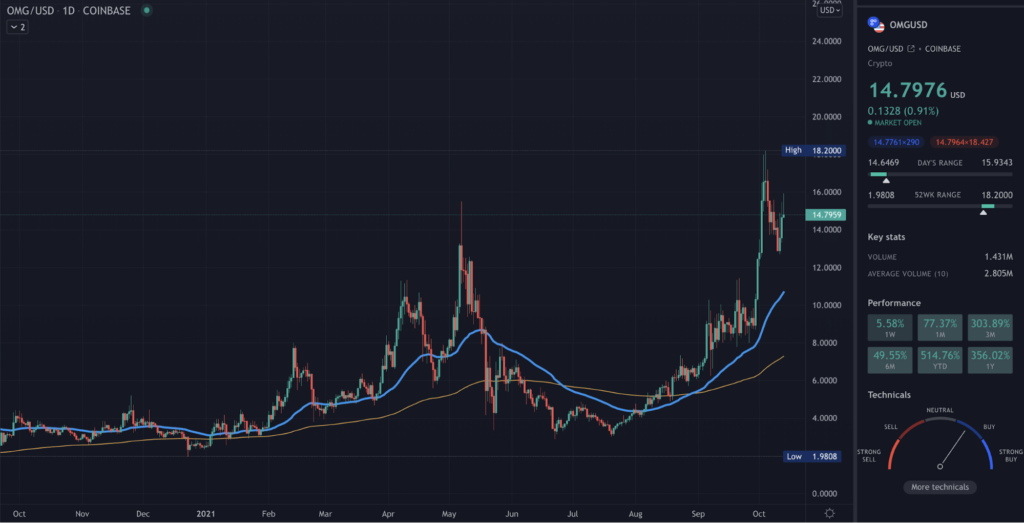 So, how far can this bullish momentum take OMG in a year? OMG's all-time high price is $28.35, which it reached in January 2018. So, the next anticipated target is probably $50. Digitalcoin provides conservative forecasting analysis on future prices of digital currencies.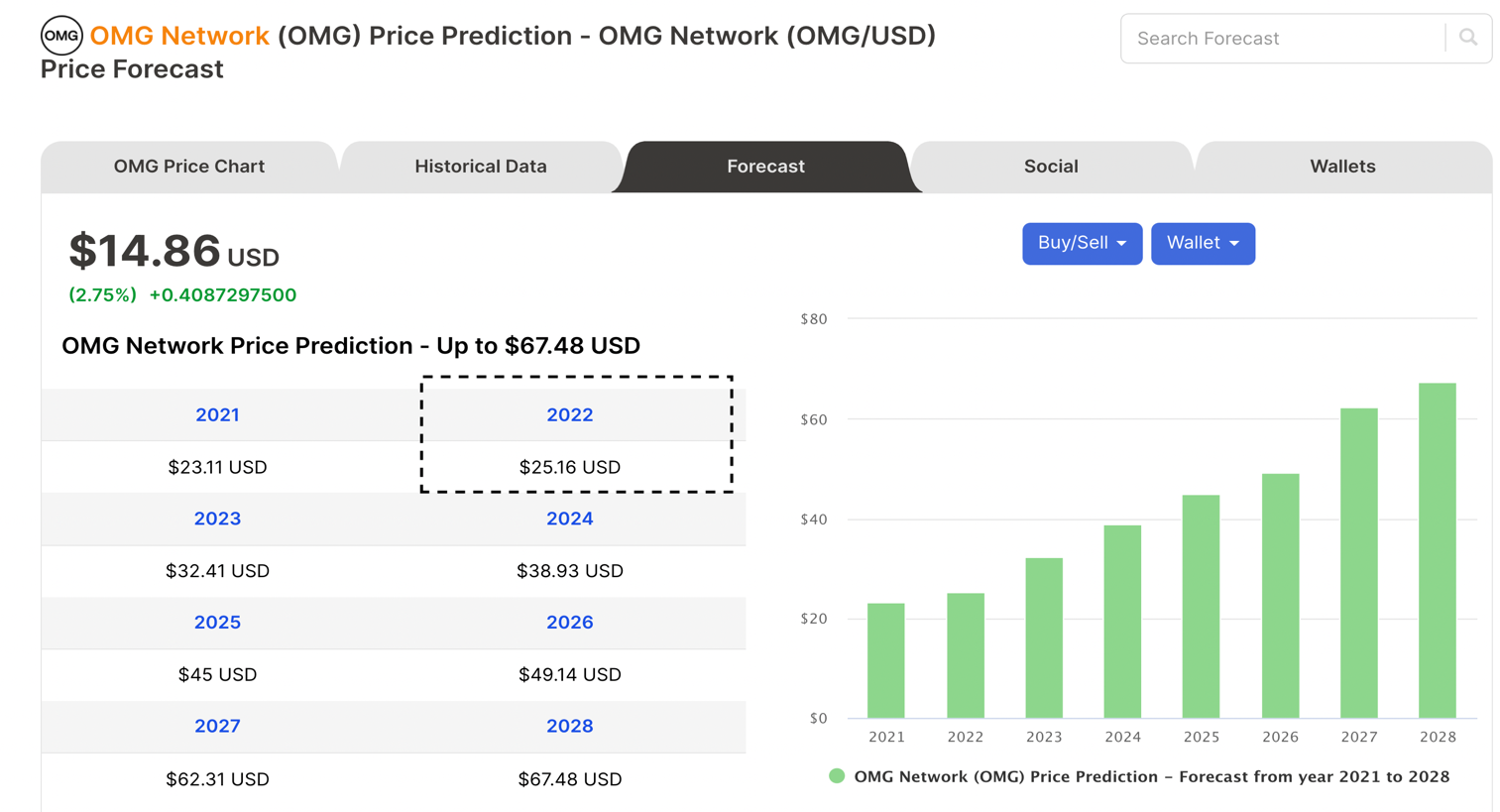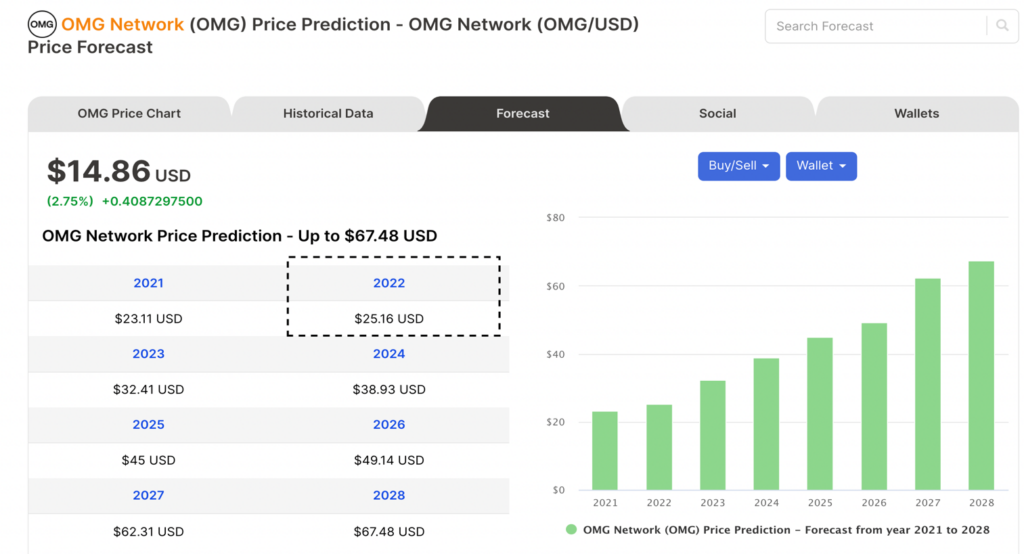 The site speculates a $25.16 valuation for the next year, while Wallet Investor estimates $21.44 by the same time. While both predictions are way below $50, let's consider OMG has increased by about 337% from the same time last year.
If the value managed to grow by this much again in the next, OMG would easily surpass $50. Ultimately, these are speculations which investors should not rely upon entirely, given the volatility uncertainties of cryptocurrencies.
What is OMG's coin price prediction for 2025?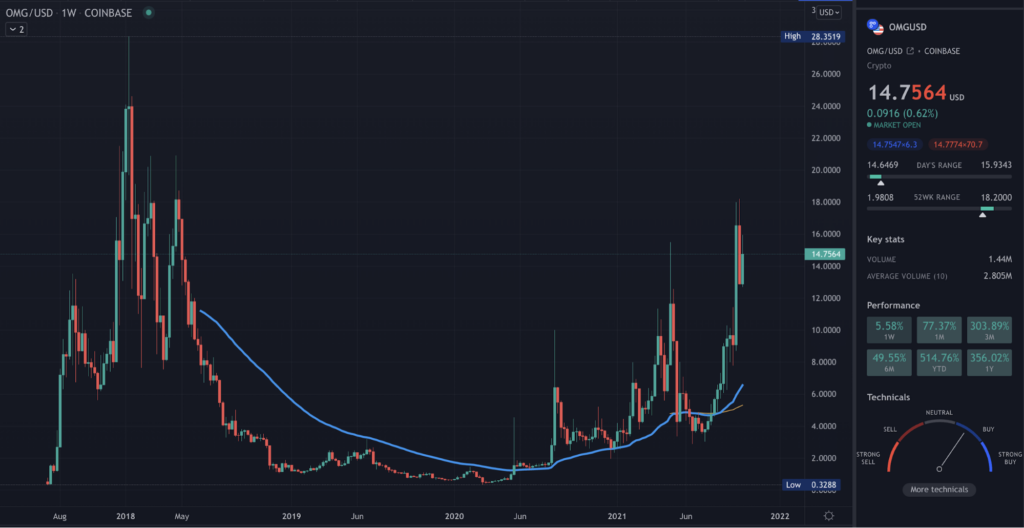 Overall, OMG presents several fundamental and technical reasons why it's likely to be a good long-term investment. So, what about an OmiseGo price prediction for 2025?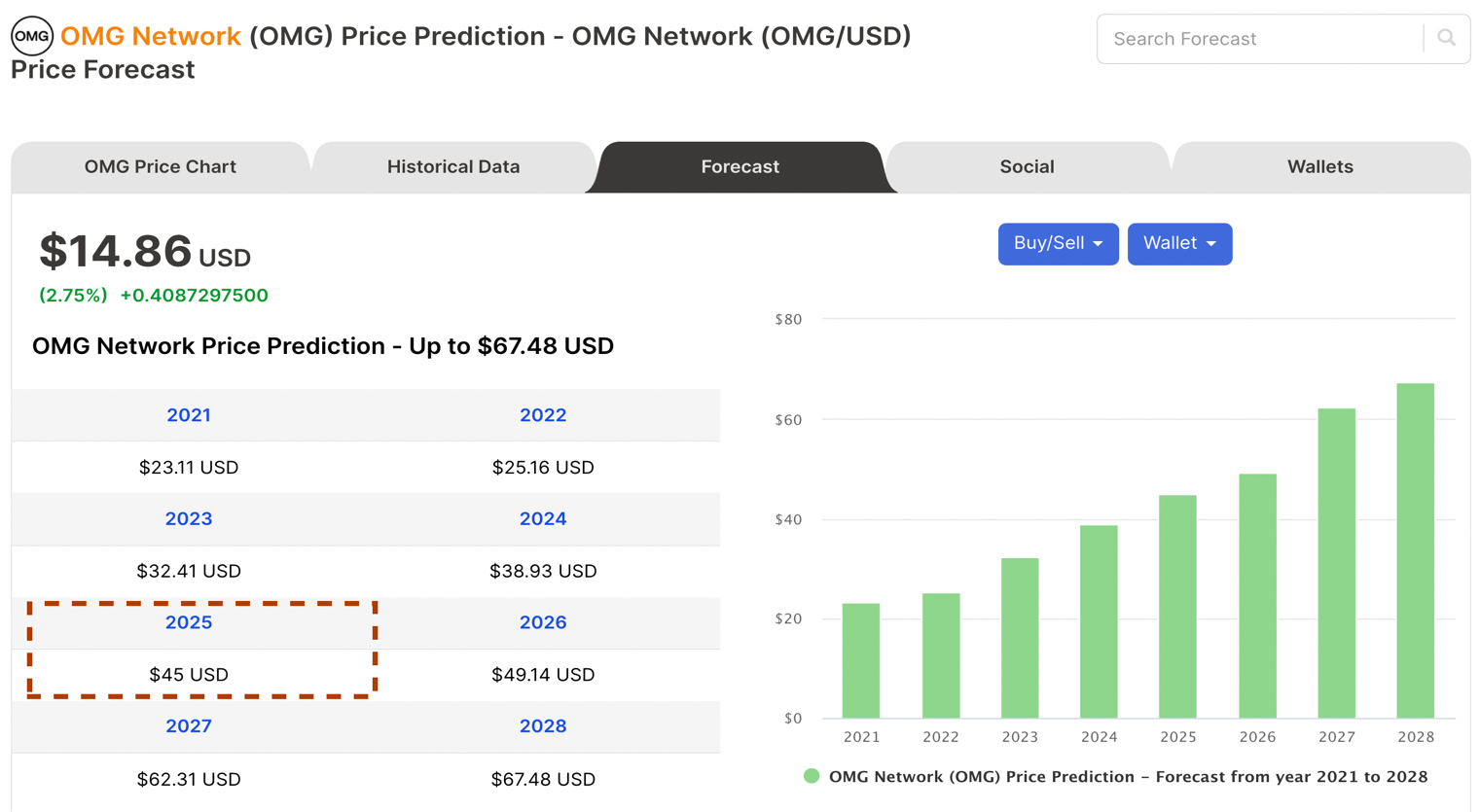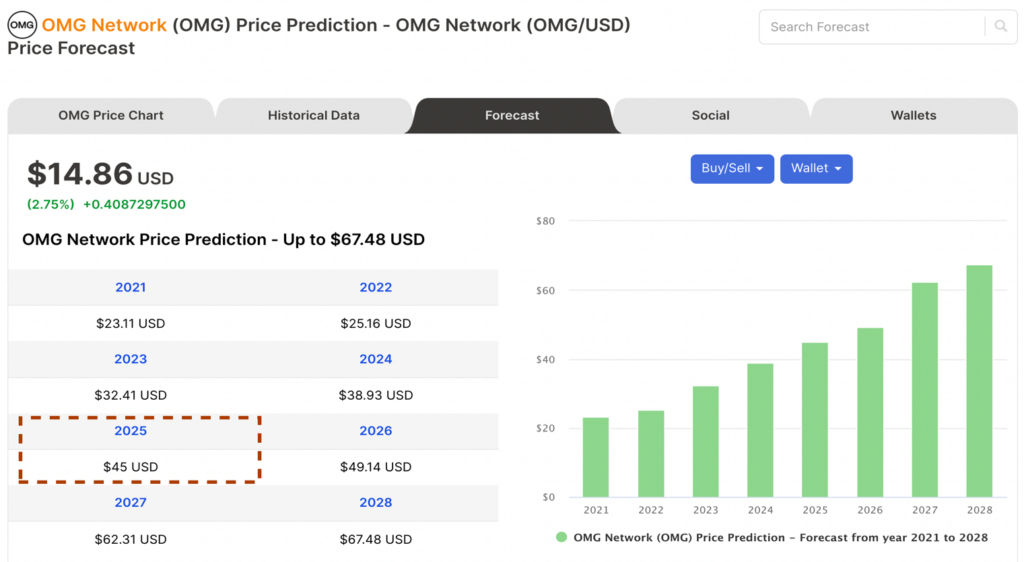 Digitalcoin reckons OMG should be worth $45 by 2025, while Wallet Investor speculates anywhere from $27.5 to $32.63. We can conservatively estimate for OMG to be valued between $25 and $45.
On the other hand, the crypto market is expected to grow massively in the next few years, meaning OMG could surpass such expectations. Investors must understand these risks and invest what they can realistically afford to lose.
The best way to buy OMG
As a hugely popular cryptocurrency, CoinMarketCap lists dozens of exchanges like Binance, Coinbase, Bithumb, FTX, KuCoin, Kraken, and countless others to buy OMG. Some of these exchanges additionally provide an in-built wallet for storage purposes. Otherwise, you can find a hard/software wallet from many external providers online.