Binance is one of the largest cryptocurrency exchanges operating presently across regions. The bandwidth at the exchange right now is close to 1.5 million transactions every second. Hence, a significant proportion of the world's daily crypto transactions happen on Binance, making it a critical component of the crypto-financial system.
A little background 
Changpeng Zhao, who's also known in the crypto circles as "CZ," came up with the idea of establishing an easy-to-use exchange for crypto trading. He was previously a software developer at an HFT firm, having created trading software for them. He also had a decent bit of entrepreneurial experience prior to Binance, having founded Fusion Systems in 2005, a Shanghai firm that built HFT trading systems for brokers. He then forayed into the crypto world in 2013, joining Blockchain.info as the 3rd member of this crypto wallet company. He then served as the CTO for OKCoin for about a year, helping them set up a platform for spot trading between fiat and digital assets.
In 2017, just as decentralized finance was booming, CZ founded Binance, although he immediately faced regulatory hurdles as the United States moved to ban Binance. He then established Binance.US, a separate exchange designed to comply with all the laws and regulations of the United States Financial Crimes Enforcement Network. It was this iteration of Binance that became extremely popular and it had an easy interface and customer-friendly features.
Launching its own crypto
In June 2017, Binance decided to launch its own cryptocurrency known as 'Binance Coin.' It was envisioned by Binance's founder Changpeng Zhao whose intention was to compete with the other exchanges in order to provide innovative solutions to the plethora of issues plaguing the existing cryptocurrency trading infrastructure. The cryptocurrency trades by the symbol BNB and its market capitalization is among the highest in the world. As per estimates, the current market capitalization is roughly 88 billion dollars which is behind only Ethereum and Bitcoin, making it the third-largest cryptocurrency in the world in terms of size.
This cryptocurrency was created to offer an alternative way to pay for the transaction charges levied on the traders that used the Binance exchange. BNB can not only be used for the charges and fees on Binance but can also be traded for other cryptocurrencies. Binance wrapped up its ICO (initial coin offering) on 21st July 2017, offering 100 million BNB in total. All the tokens were sold within a span of 20 days, and the funds raised from this ICO amounted to around 15 million dollars.
Binance Chain and what sets BNB apart
BNB started off by using the ERC-20 token, which is the underlying blockchain of Ethereum, as its base protocol. However, the founders quickly created a separate blockchain backed by Binance known as Binance Chain, which is now the base protocol for BNB. One key difference between these two blockchains is that the smart contracts supported by the ERC-20 aren't supported by the Binance Chain. Nonetheless, the latter does give Binance the advantage of modifying protocols to support the specific usability of BNB and not being dependent on the blockchain of another well-known cryptocurrency which would have defeated the purpose of creating a separate coin.
Binance Chain uses a consensus mechanism known as the Tendermint Byzantine fault-tolerant (BFT). The way this works is that the system has a separate node known as Validator nodes, which are select members of the Binance community that validate transactions. Apart from this, there are witness nodes which oversee the entire process and then broadcast transaction to other nodes. There's also an accelerator node which users can take-up to speed transaction which essentially works in tandem with the validator nodes mentioned earlier.
The one very unique characteristic of BNB is that it's among the few cryptocurrencies in the world that can be traded only with other cryptocurrencies and not with any fiat currency. That means if you wanted to trade your BNB for BTC or ETH, you are free to do so, but if you wanted to exchange your BNB for US dollars, then that wouldn't be possible.
Moreover, Binance has capped the total supply for the coin at 200 million tokens. As mentioned above, 100 million of these were issued at the ICO, while the rest were issued to the founding team and angel investors and were split between these two groups in 4:1 ratio. As more and more of these tokens go into circulation, the value is likely to decrease. In order to combat this future devaluation, Binance intends to 'burn' almost half of the tokens, which means 100 million of the current tokens will be non-existent. Every quarter, Binance uses almost 20% of the profits to repurchase the coins from supply and burn them. The latest of these burning events was in April, 2021 when Binance burned about a million of BNB (~$600 million). It was Binance's 15th quarterly BNB burn and its largest ever in terms of U.S. dollars.
Being a relatively new cryptocurrency, BNB has seen superior returns in the recent past as compared to BTC and ETH. As seen below, investors who would have purchased BNB in June 2019 would have gained 3100% returns and 6000% returns at the peak earlier this year.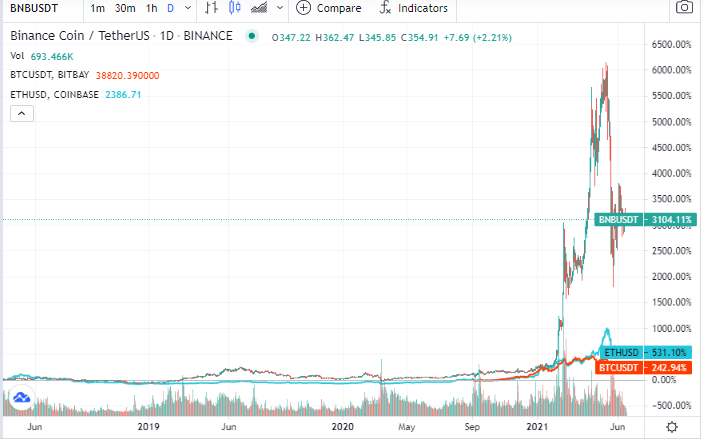 Binance Coin (BNB) Uses and Support
Binance coin can be used to pay the transaction fees charged on various Binance entities such as Binance Chain, Binance DEX, and the exchange itself. Apart from this, there are a number of other platforms where BNB has gained acceptance as a form of payment, and the list is as below (the list is not exhaustive)
Travel Platforms: Travala.com, Trip.io, and TravelbyBit
Payment Platforms: HTC, Crypto.com, and Monetha
Financial Platforms: Moeda and ETHLand
Online Services Platform: BitTorrent, Storm, and Canva
Apart from the ones mentioned above, there are a number of entertainment platforms that allow purchasing gift cards, lotteries, virtual gifts using BNB, making it a widely accepted online currency. BNB is also used to invest in ICOs that are launched through the Launchpad program of Binance.
The most critical part that has initiated the process of a wide acceptance of BNB is the acceptance of BNB on the platform, mobile app, and VISA debit card of Monaco. This triggered many other important partnerships, such as the one with Uplive which is Asia's mainstream high-end live video streaming platform. The partnership entails selling virtual gifts in exchange for BNB to the more than 20 million strong user base of Uplive.
Thus Binance Coin is not just emerging as the leading cryptocurrency but also as a preferred mode of payment for various services.