What is Karatgold (KBC)?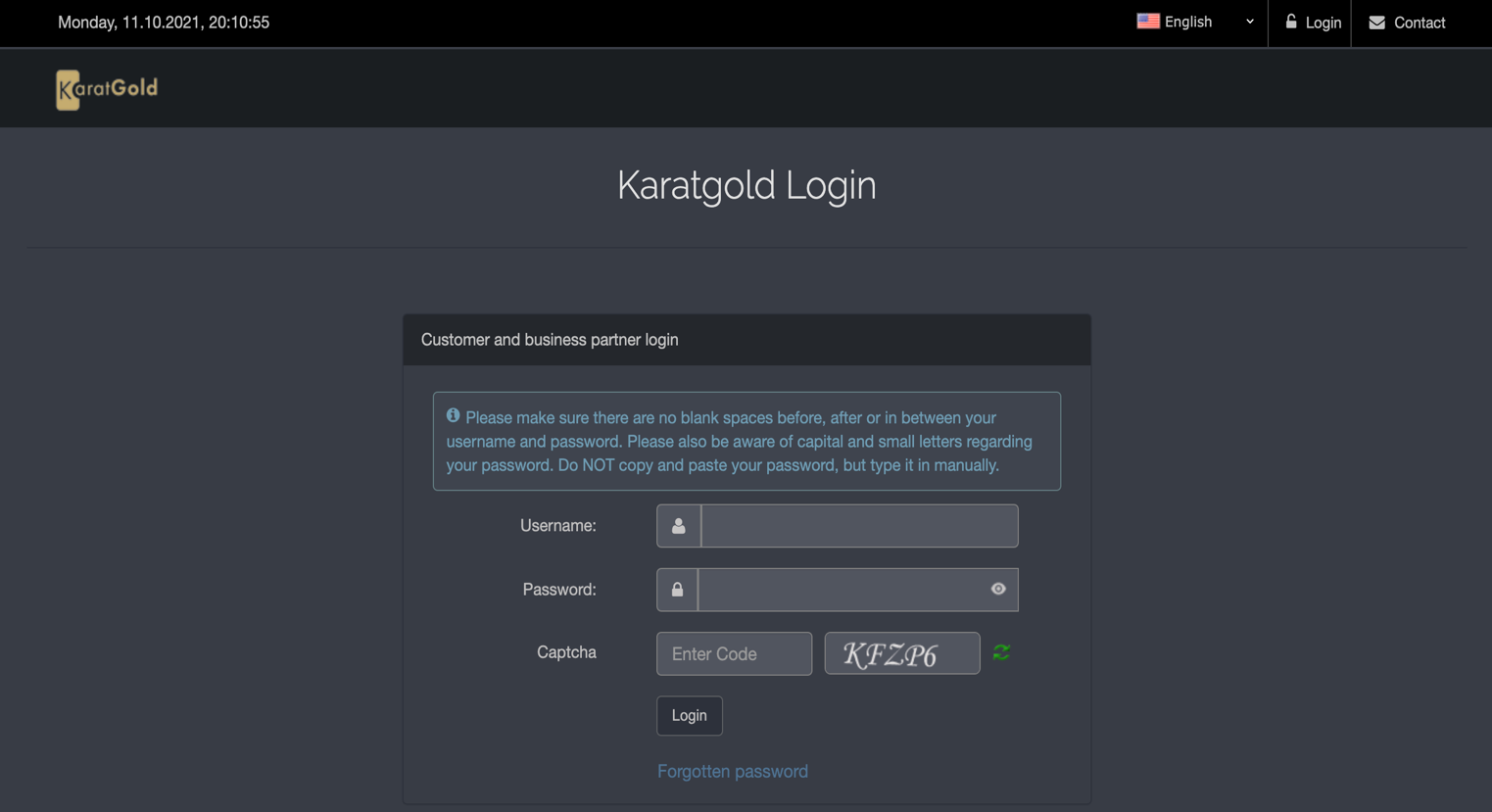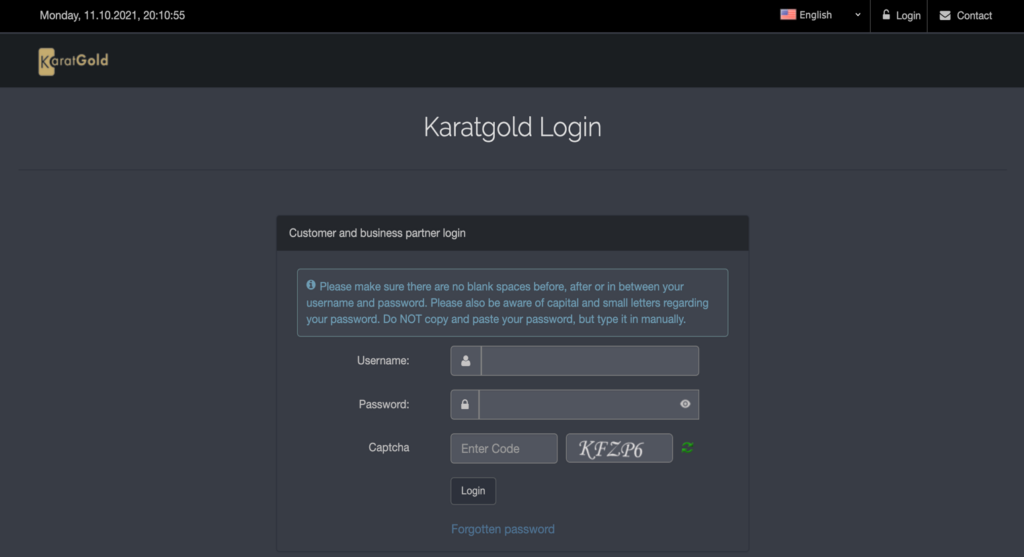 The late, great American financier, J.P. Morgan, once said gold is money, everything else is credit. Since the beginning of time, there's been an obsession and allure over this precious metal.
Cryptocurrencies like Bitcoin are frequently labeled as 'digital gold' along with a host of other projects, one of those being Karatgold. Karatgold (KBC) is an Ethereum-based token introduced in 2018 by Karatbars International.
Its whitepaper claims KBC is the globe's only crypto with tangible gold backing, reviving the millennia-long objective of a modern-day gold standard. The company reportedly has a payment system called CashGold, where a specified amount of KBCs is exchangeable for a certain amount of physically deposited gold.
Ultimately, KBC was designed as a stable payment means backed by gold, addressing the inefficiencies of the present fiat system. CoinMarketCap ranks KBC at #5806 for most traded cryptocurrencies with a value of $0.0011 or about a cent.
Let's explore whether Karatgold is a good investment and look at some price predictions for this coin.
Is KBC a good investment?
Overall, we don't believe Karatgold is a good investment. For starters, while the coin is more than three years old, it's ranked in the thousands with most ranking sites, suggesting a cryptocurrency with not much visibility and little technical analysis to observe.
Moreover, very few exchanges offer KBC for purchase. Another crucial detriment is the reputation around Karatbars, and there doesn't seem to be a consensus over whether the company is fully legit and reputable.
While a project like Karatgold piggybacks off the universal acceptance of gold, there isn't much information on supply, market cap data, marketing, social media presence, and other things we expect from a cryptocurrency.
It seems like you need to be part of Karatbars already to understand the project or have strong beliefs on owning physical gold. One will soon witness that even the technical analysis doesn't suggest KBC is a good investment in the short and long term.
Should I buy Karatgold today: Crypto technical analysis for KBC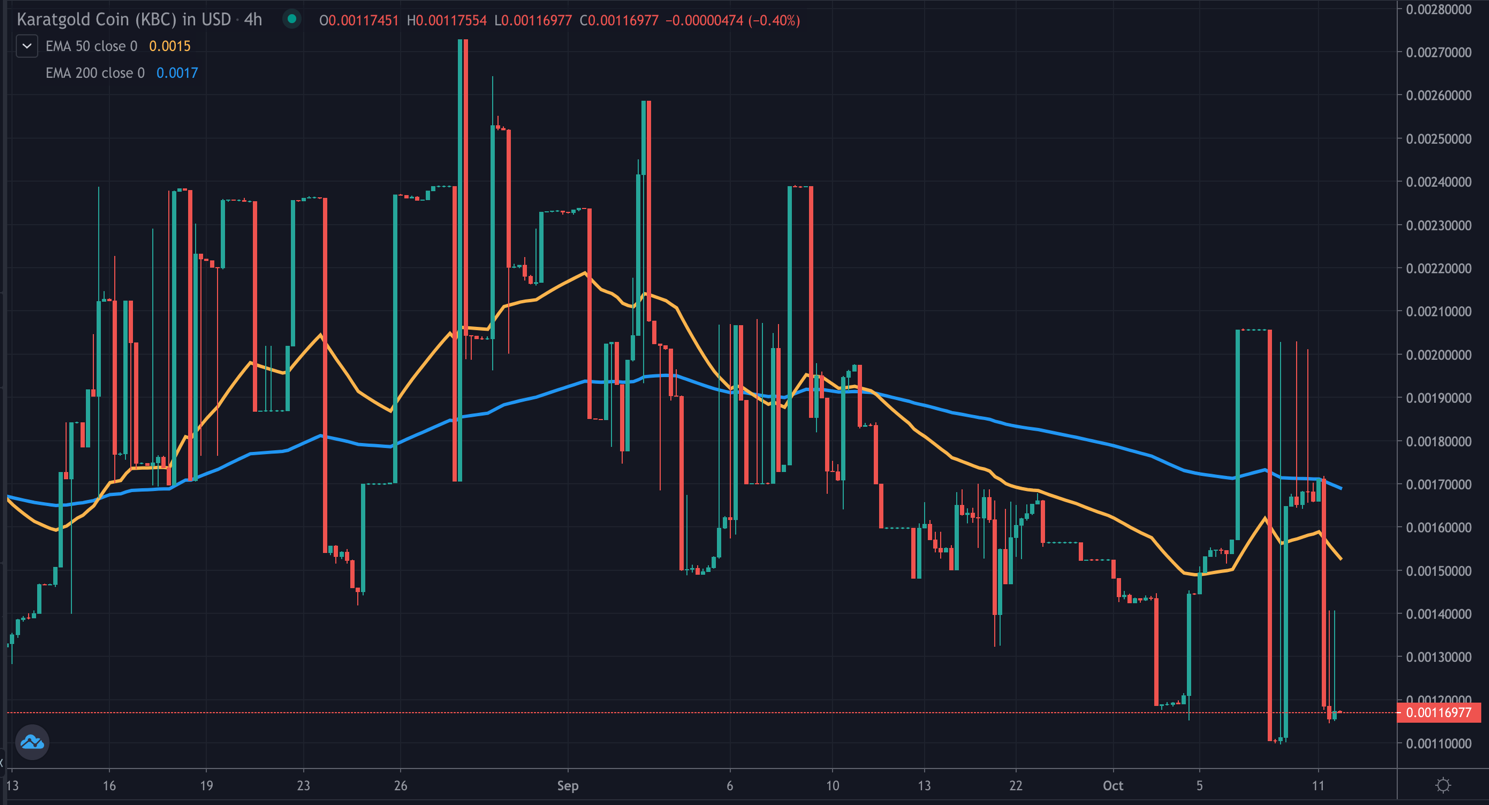 We'll use a straightforward moving average crossover system consisting of the 50-day (orange) and 200-day periods. To generate a buying trigger, traders look for the 50 to cross above the 200, while the market must be trading above both.
KBC doesn't meet either of these criteria on the chart, suggesting it's not a good time to buy it today.
Will KBC's coin price hit 20 cents in a year?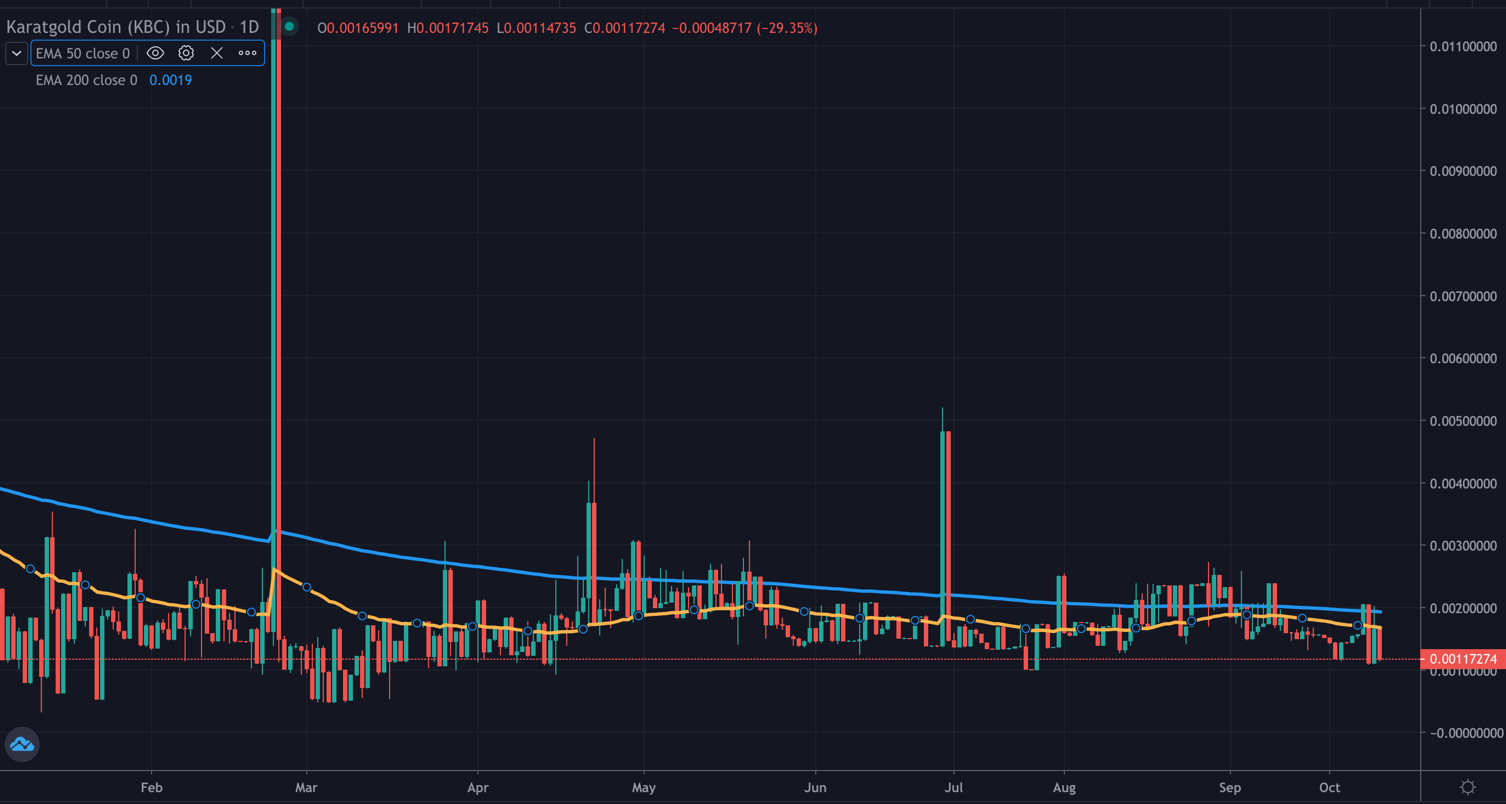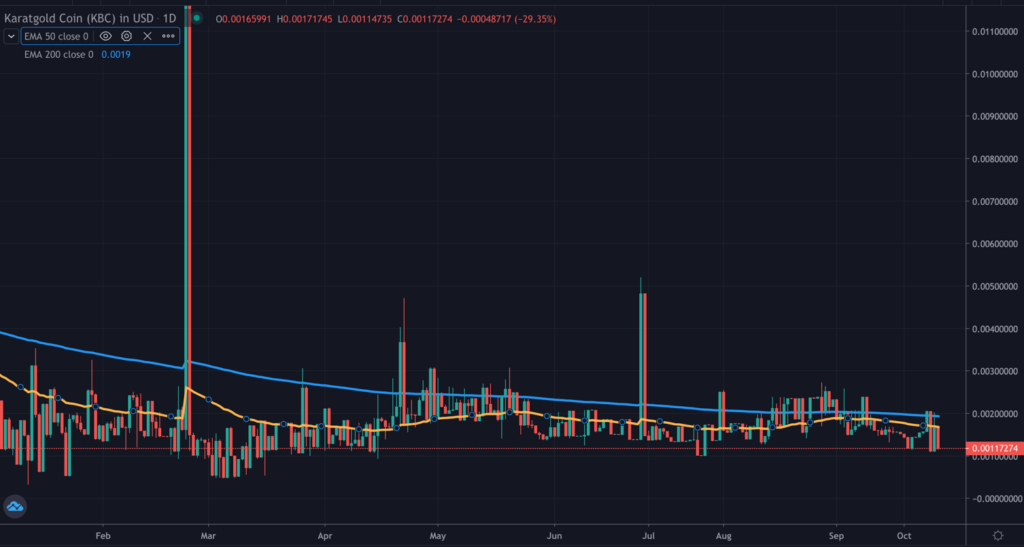 It's worth noting that if you had bought KBC this time last year, your investment would have decreased by 76%. This performance isn't a positive indication of the project's future value.
Such evidence suggests the coin won't increase in price over the long term. We can also see by the flatness of the moving averages the market is in a range, which is characteristic of lower-capped coins.
KBC's all-time high is $0.12, which it reached in July 2019. Naturally, the next anticipated target would be $0.20. Can it reach this market in a year? Let's look at forecasted prices from Wallet Investor.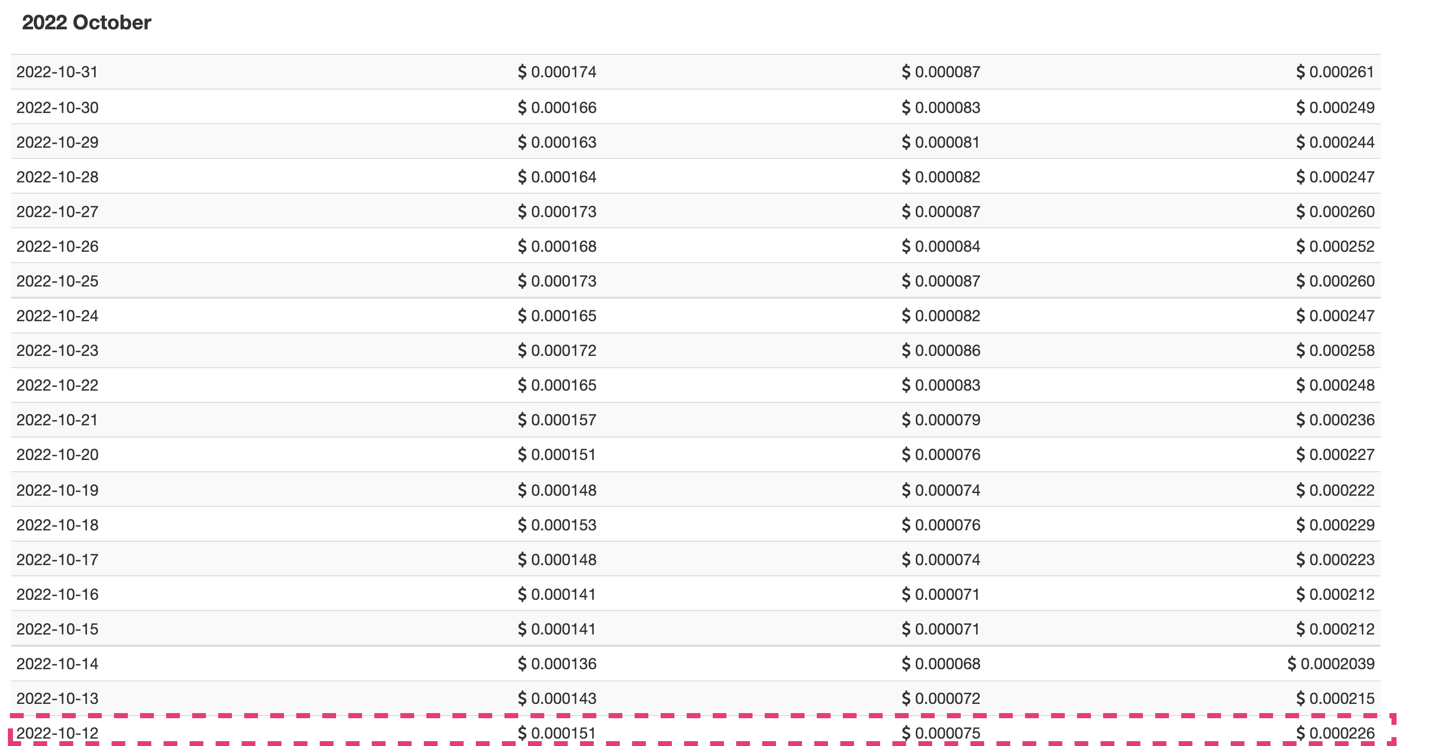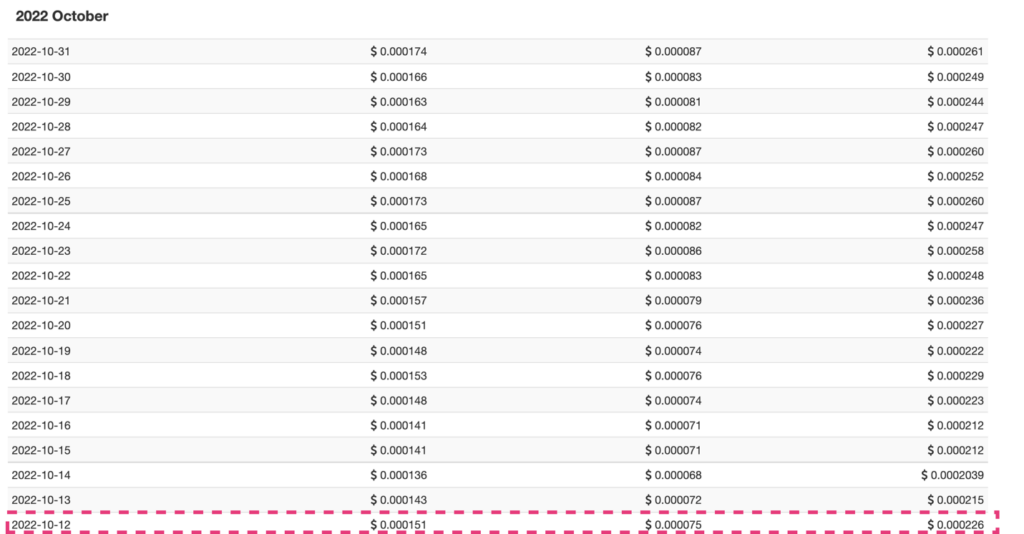 The site doesn't paint a good picture as it estimates minimum and maximum prices of $0.000075 and $0.000226, respectively. This decrease is around the 76% rate the project has moved down over the last year. Nearly all other forecasting resources observed also paint a similar negative picture.
What is KBC's coin price prediction for 2025?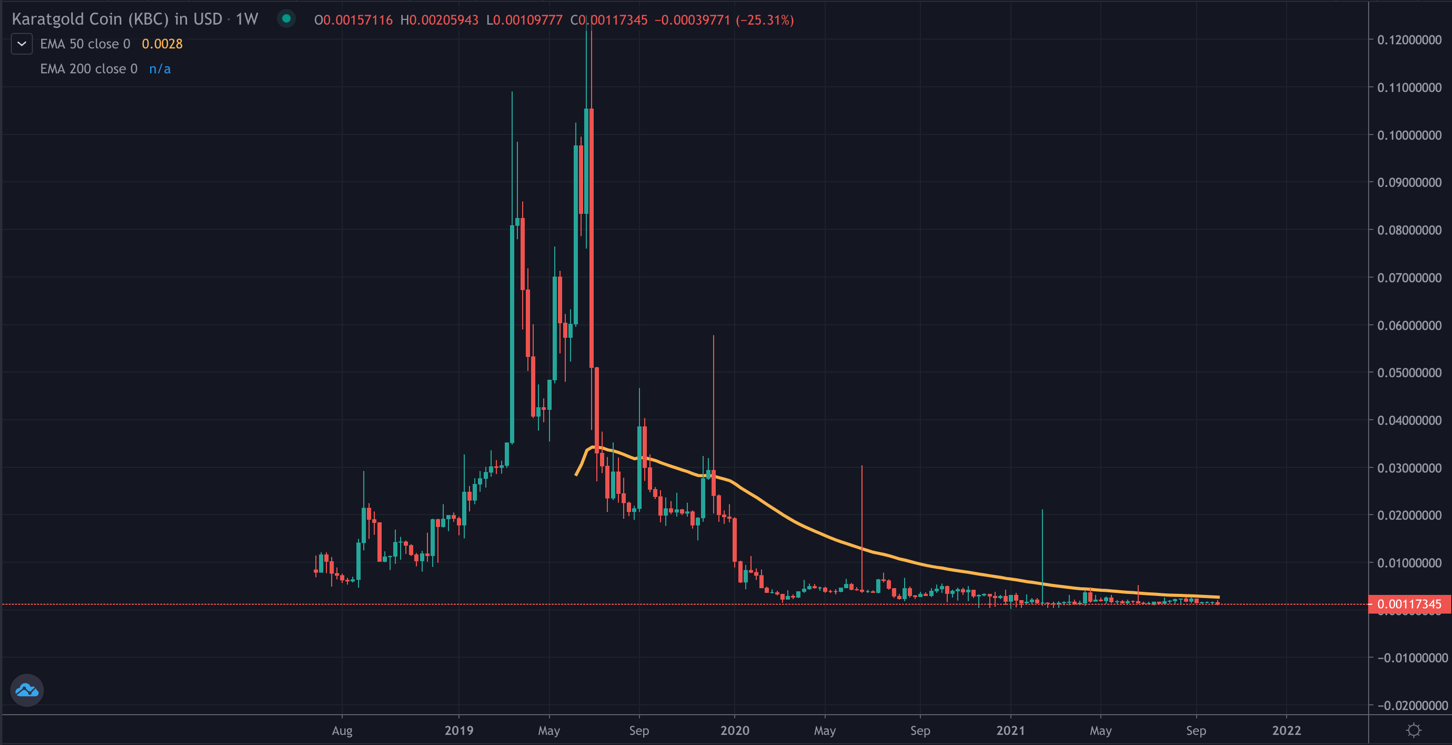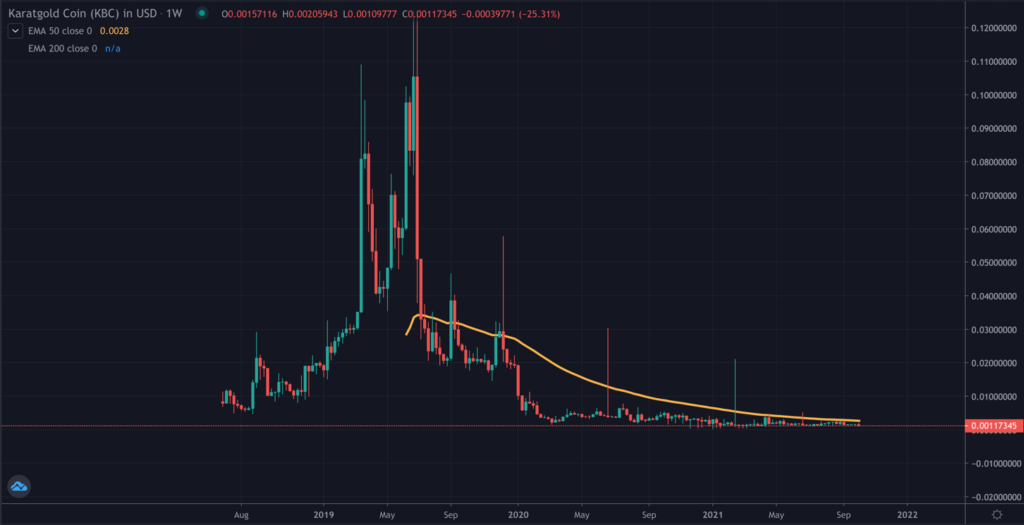 KBC's weekly chart exhibits a similar negative story as with the previous ones. This bleak outlook reflects the inherently pessimistic perception towards the project, which has existed since the start.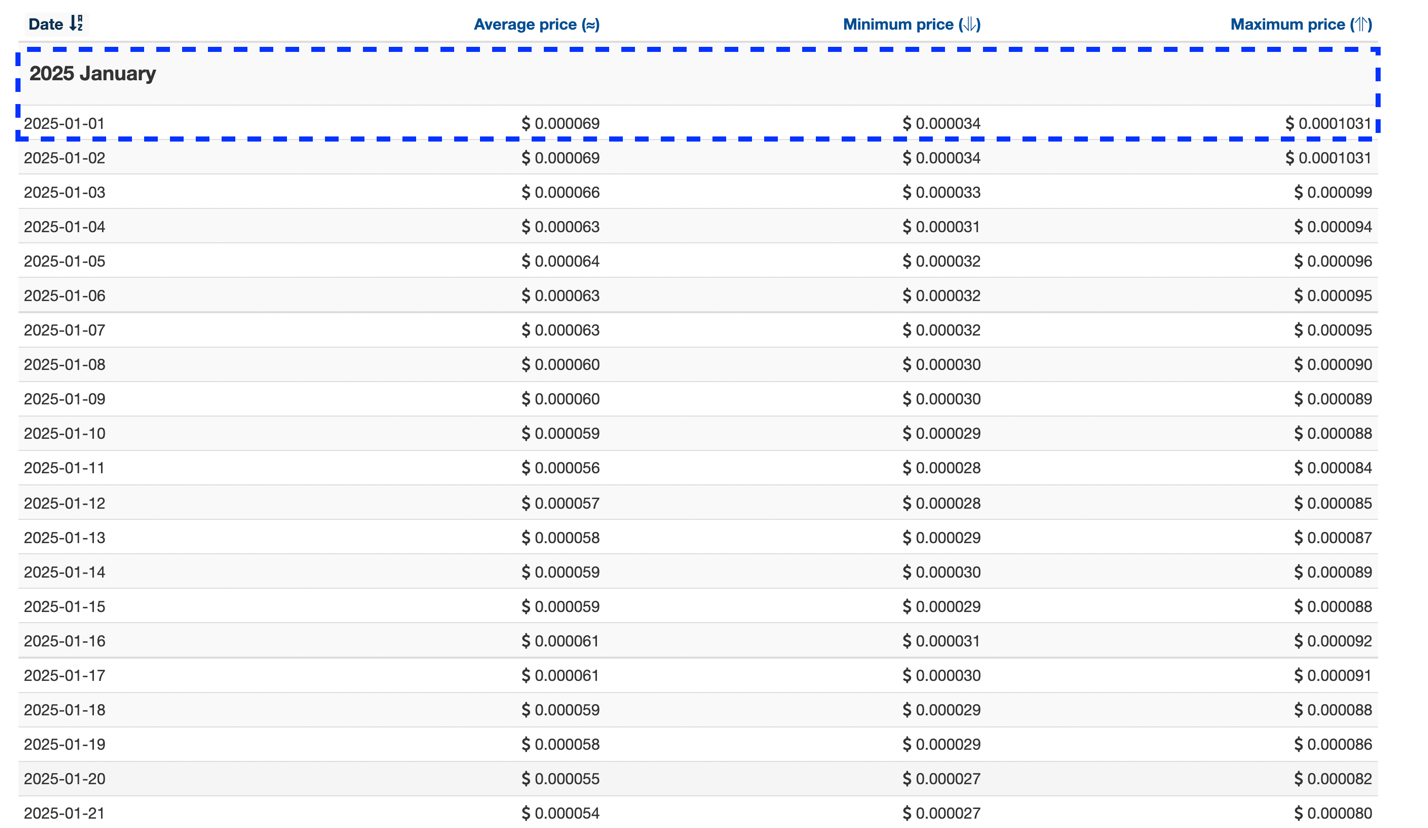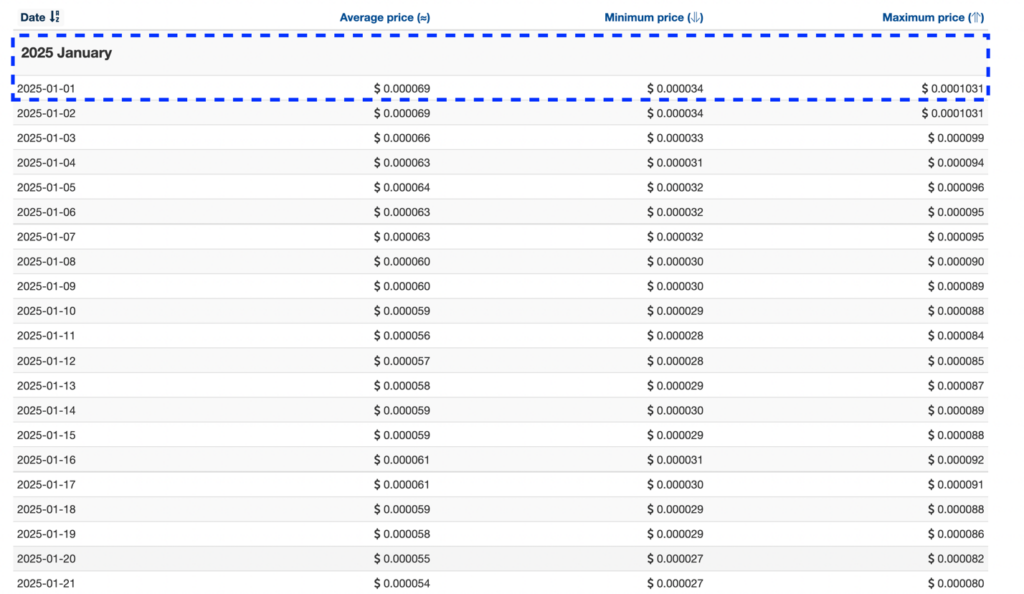 Wallet Investor indicates a minimum of $0.000034 and a maximum price of $0.0001031 by 2025. It's clear the consensus is Karatgold is a bad long-term investment because of the lack of transparency with Karatbars and numerous allegations over scams and multi-level marketing schemes.
Any investor should probably pass on this investment opportunity due to the red flags presented here.
The best way to buy KBC
As a relatively unknown cryptocurrency, very few exchanges exist for purchasing the coin. CoinMarketCap only lists YoBit, meaning it's probably your best bet. There isn't any other information on another method to buy the coin for interested parties, though we assume joining through Karatbars would provide the answers.