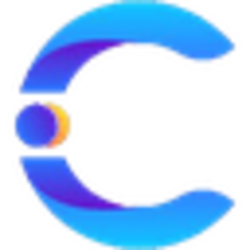 Contentos (COS)
Price
Disclaimer: The information provided here does not constitute any form of financial advice. Readers are fully responsible for conducting their due diligence before making any investment decisions.
What is Contentos (COS)?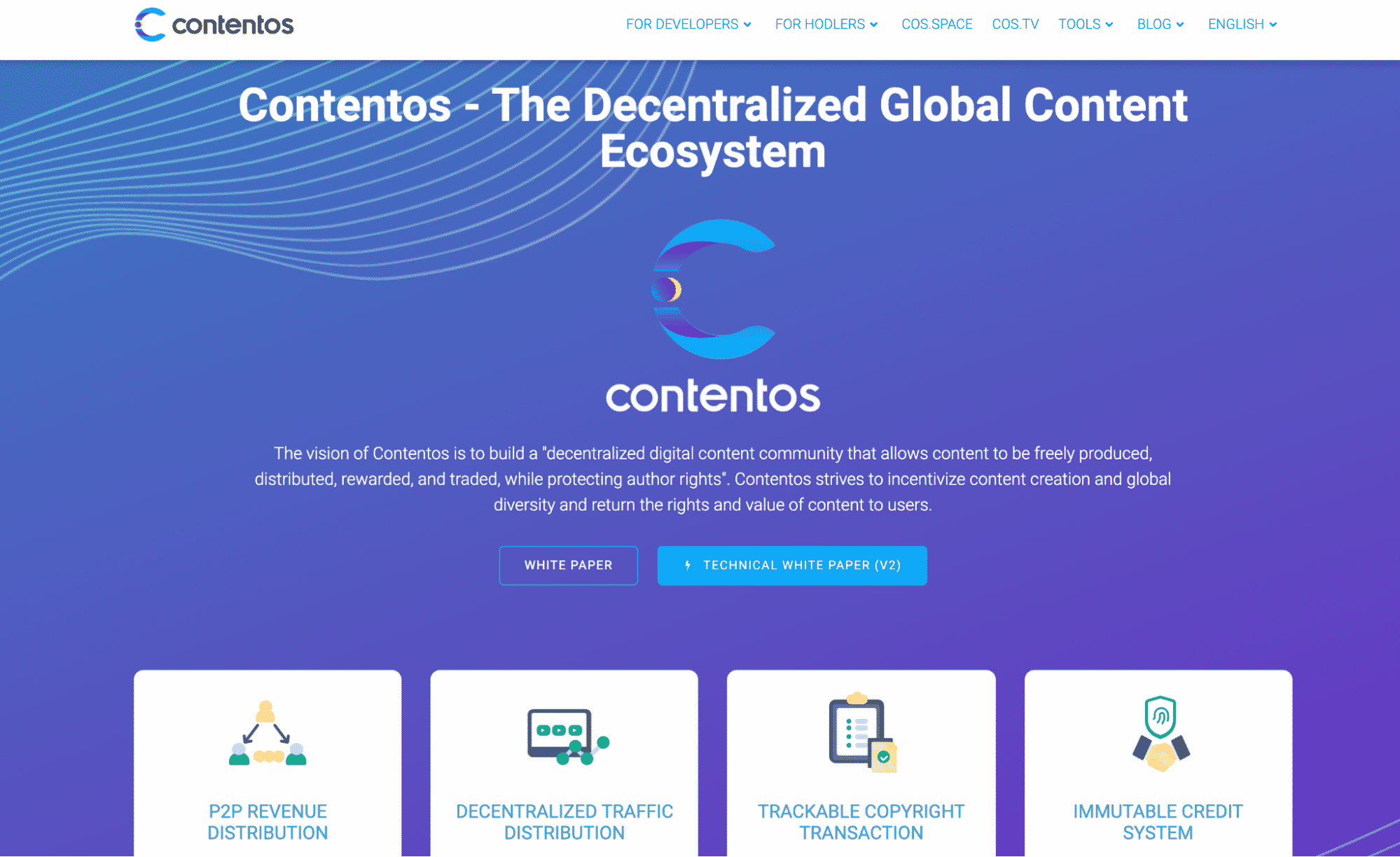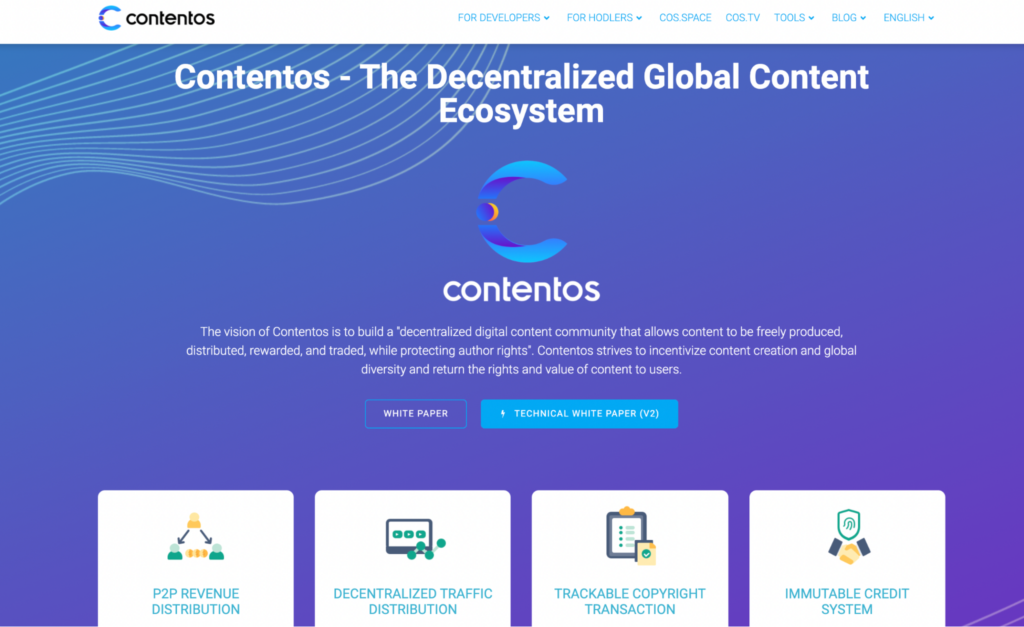 Contentus is a blockchain protocol describing itself as a 'decentralized global content ecosystem.' The mission of this platform is to allow content creators to freely produce and distribute their work while being fairly compensated for it and receiving trackable copyright.
By achieving this goal, Contentos believes it can 'return the rights and value of content to users' and cut out the middleman. Contentos prioritizes decentralized traffic and revenue distribution, verifiable copyright storage, and an immutable credit system for users to interact positively on the network.
Presently, two content platforms are connected through Contentos: PhotoGrid and COS.TV. PhotoGrid is a photo editing app known for having highly aesthetic, Instagram-friendly filters. COS.TV is the platform's proprietary video streaming platform. On both applications, creators can earn COS, the blockchain's utility token powered by the Binance Chain (with Binance being one of Contentos' largest partners).
Contentos was founded by Mick Tsai and was first announced in 2018. The testnet of the blockchain was released in March 2019, and the token began trading on Binance three months later.
It is presently ranked #1 by the market capitalization, with a price of $0.008079. Let's see if this project might be a good investment bet and what the Contentos price predictions are.
Is Contentos a good investment?
Although there are many more established blockchains like TRON and Theta with similar goals, the positive sides of Contentos outweigh the negative ones.
In Contentos' whitepaper, the developers described some of the challenges with the current content ecosystem and how it's facilitated by centralized entities, which heavily rely on advertising revenue and often subject creators to produce content friendly to their advertisers.
The ecosystem challenges lead to less creative expression. Plus, such platforms keep the lion's share of the rewards. Therefore, Contentos takes these services out of the equation by giving money directly to creators while affording them complete artistic freedom.
Interestingly, while there is no fixed supply for COS, the token does go through a quarterly 'burn' where a certain number of tokens are removed from circulation. This makes it a deflationary coin, particularly attractive when evaluating any cryptocurrency.
Contentos' market cap sits around $66 million, making it a small-capped coin (coins with a market cap of less than $1 billion). This suggests that COS is still relatively new and not as established as its competitors.
Generally, projects in this category are characterized by low trading volume, ultra low-priced coins, and higher volatility, making them the riskiest of the lot. However, they can potentially produce much greater returns than the likes of Bitcoin.
Should I buy COS today: crypto technical analysis for COS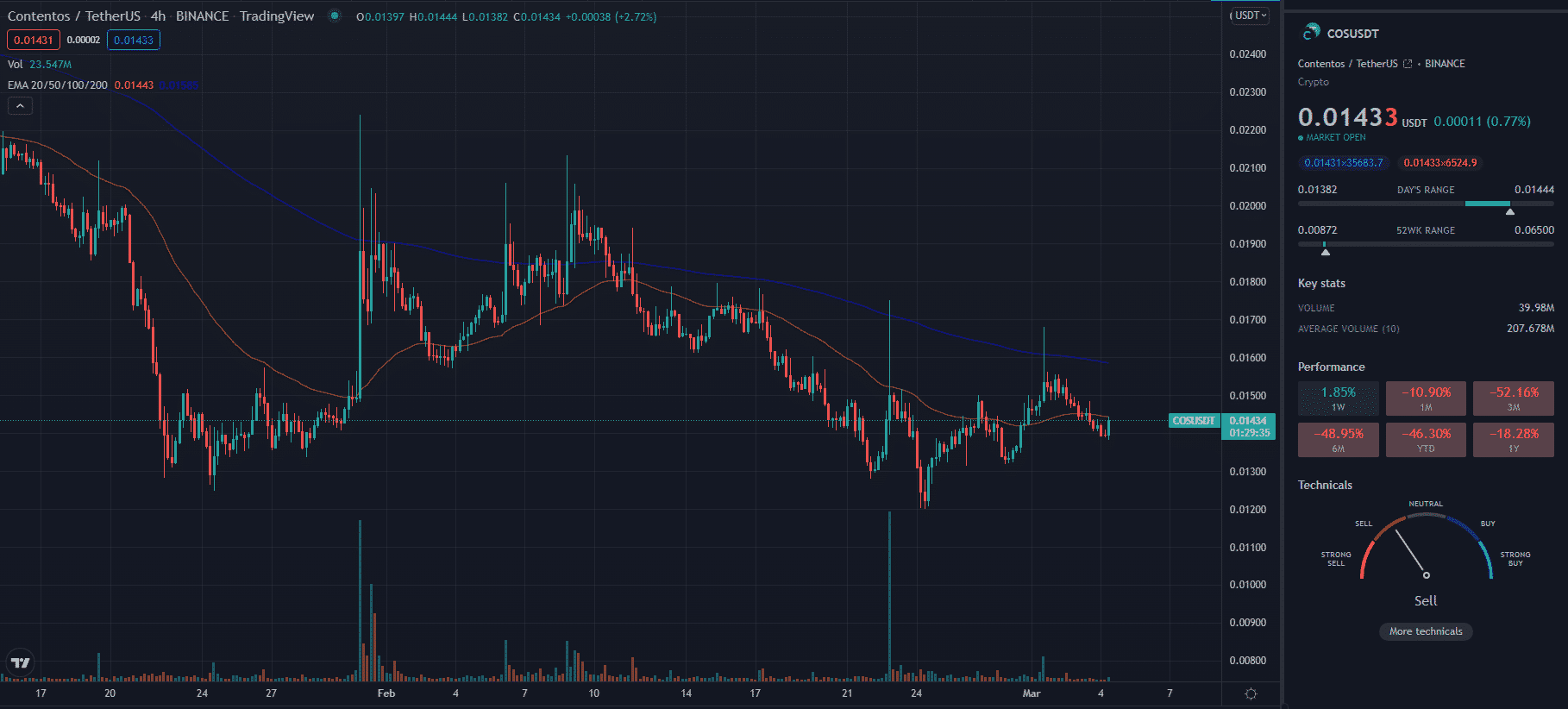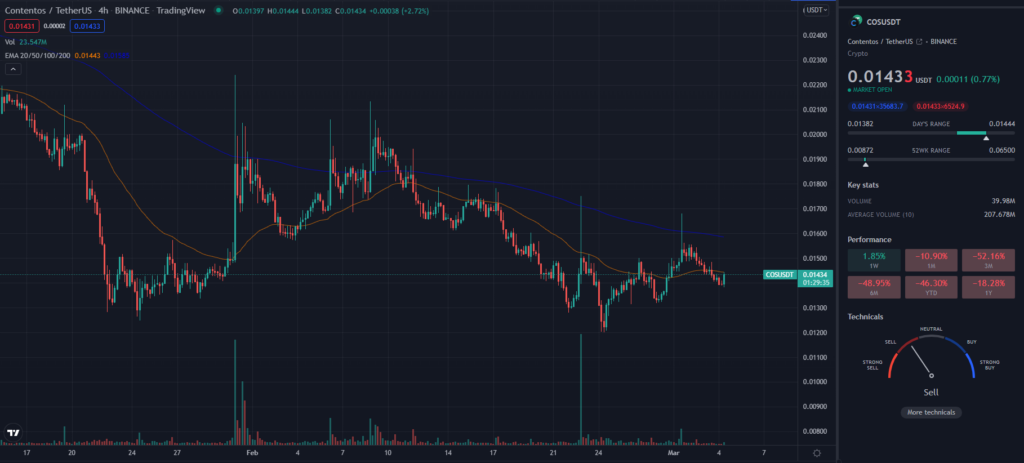 Our technical analysis, consisting of the 50-period (orange) and 200-period (blue) Moving Averages, shows us COS is in a downtrend, meaning it's not the best time to buy this coin.
The price is under the MAs, and the 50-day is below the 200 one. Moreover, TradingView technicals (located on the bottom right corner) suggest a 'Sell.'
Will the COS coin price hit $0.10 in a year?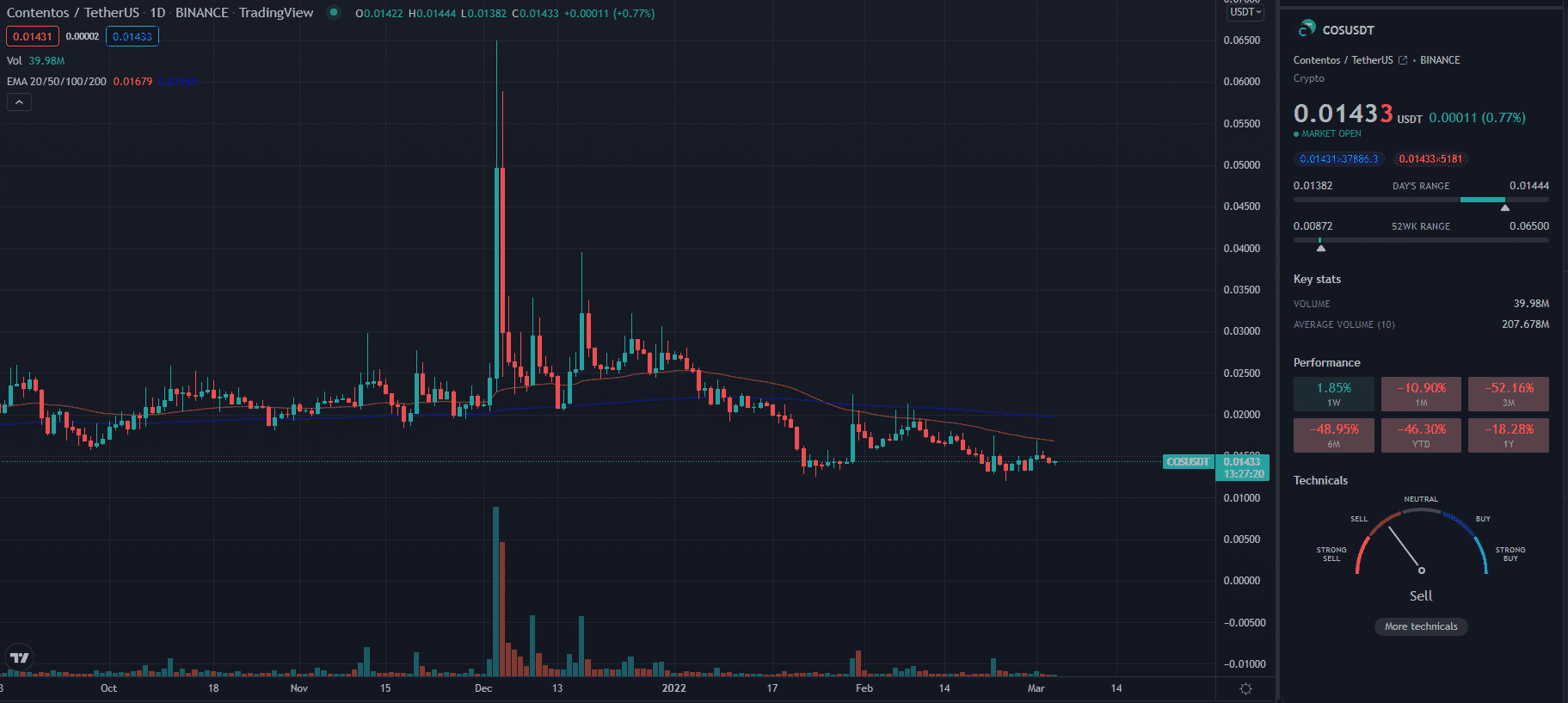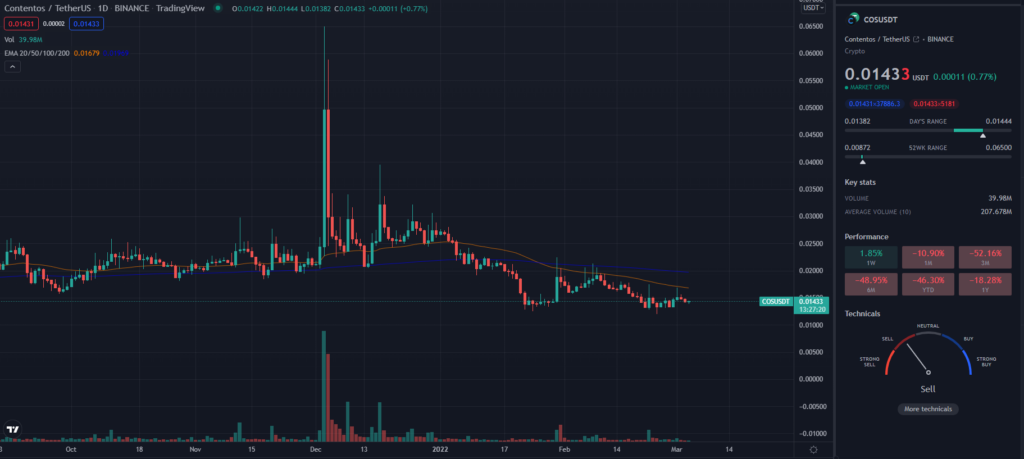 From its current value of $0.016 (about 1 and a half cents), the price would need to increase by 6.25X or 525%. Although this increase isn't uncommon with small-capped altcoins, most prediction sites don't see COS hitting the $0.10 target.
The consensus sits around the $0.03 mark, meaning COS may only double or triple in price at the max. PricePrediction.net presented an average price of $0.035. Gov Capital showed estimates from $0.029 to $0.040. Similarly, Wallet Investor sees COS as being worth $0.023 to $0.043.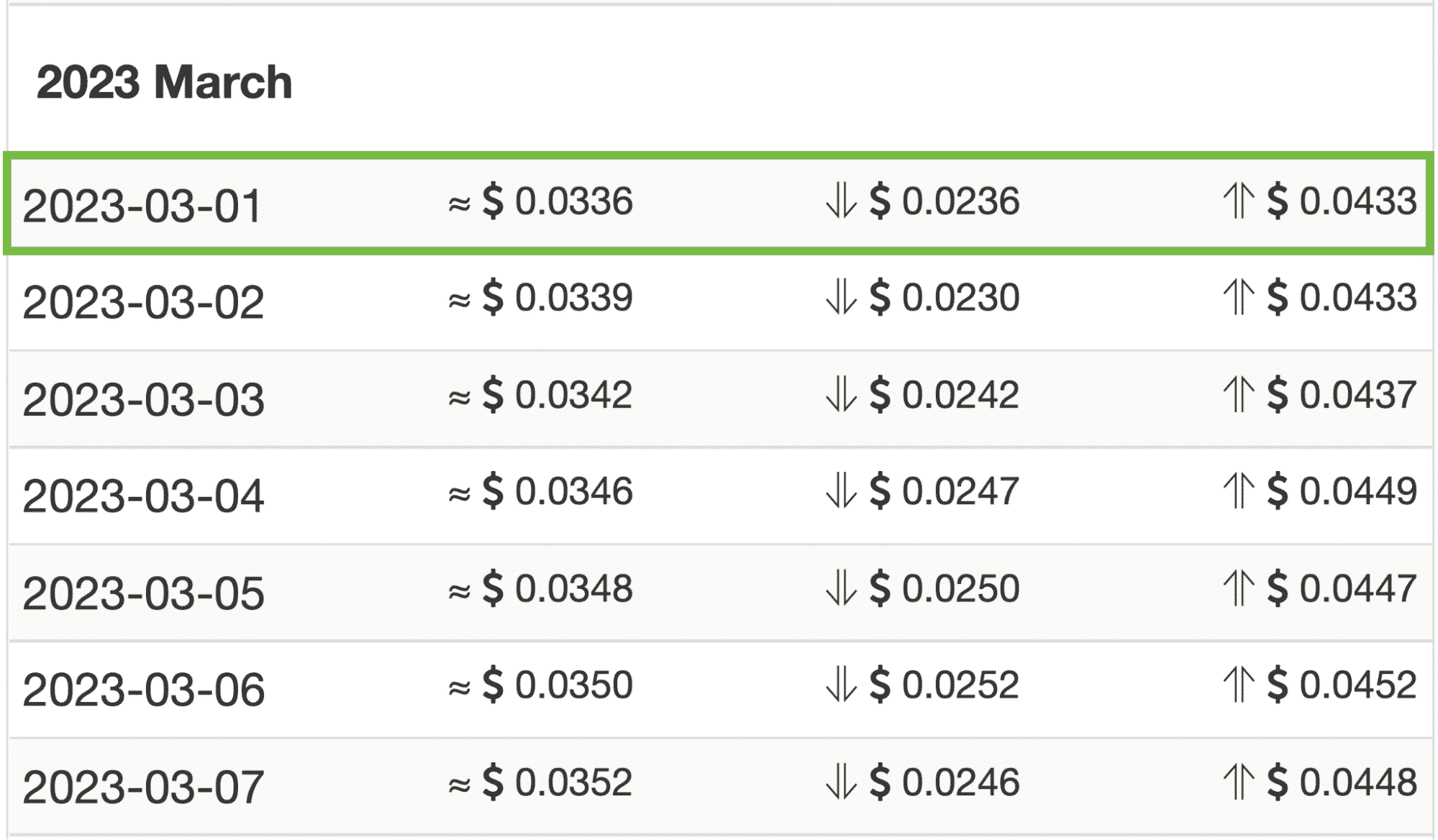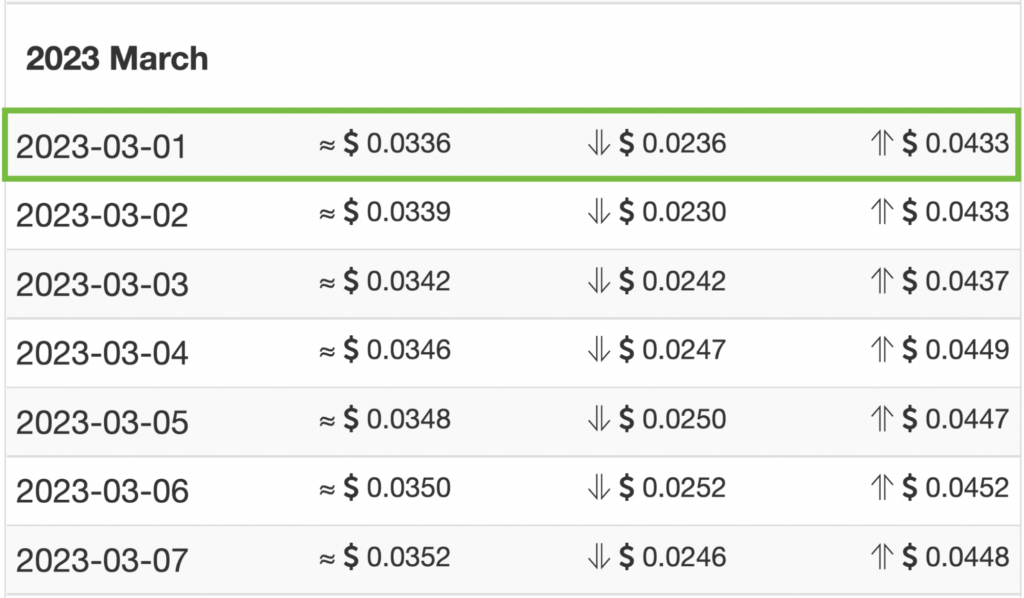 What is COS' price prediction for 2025?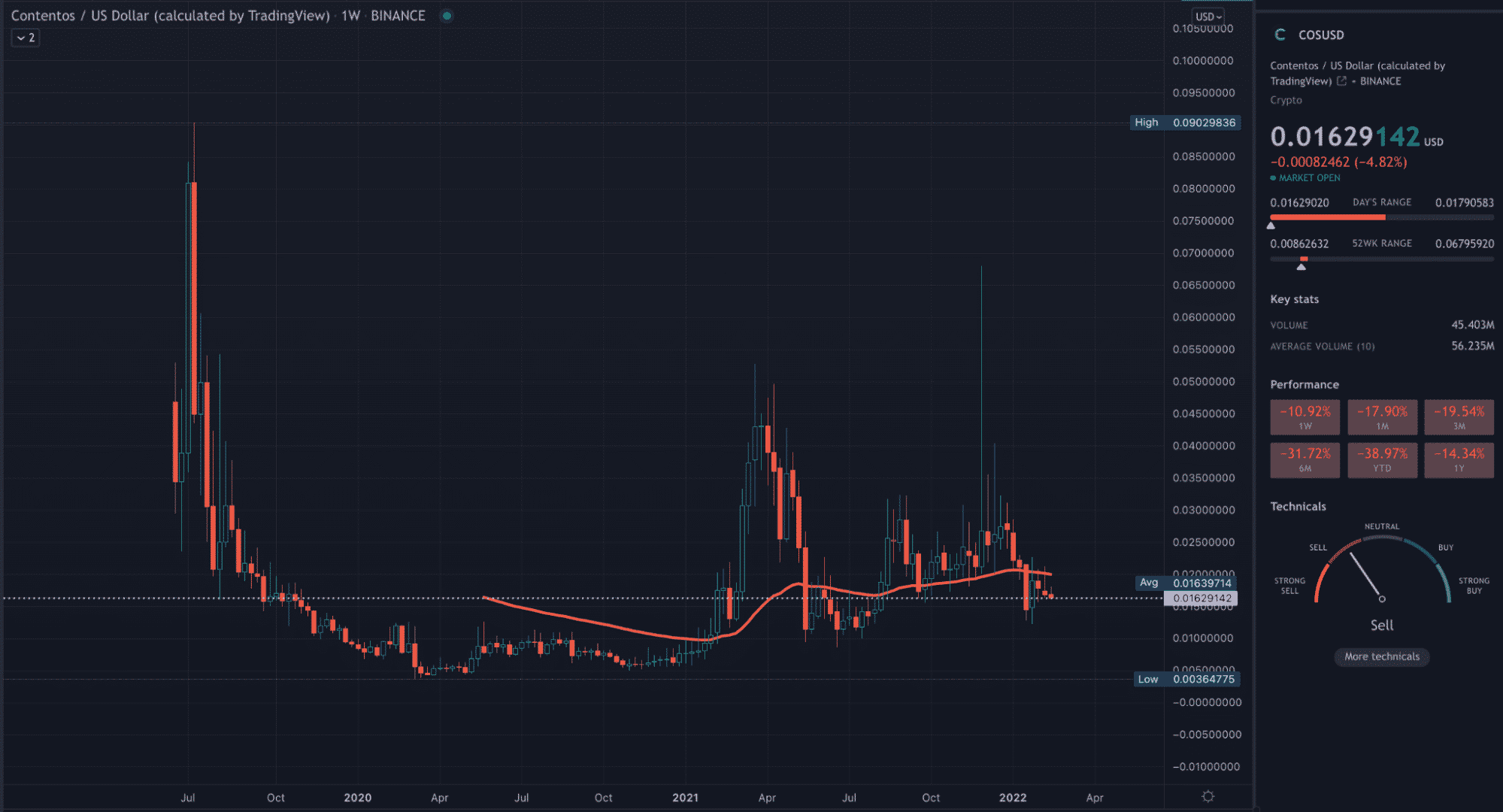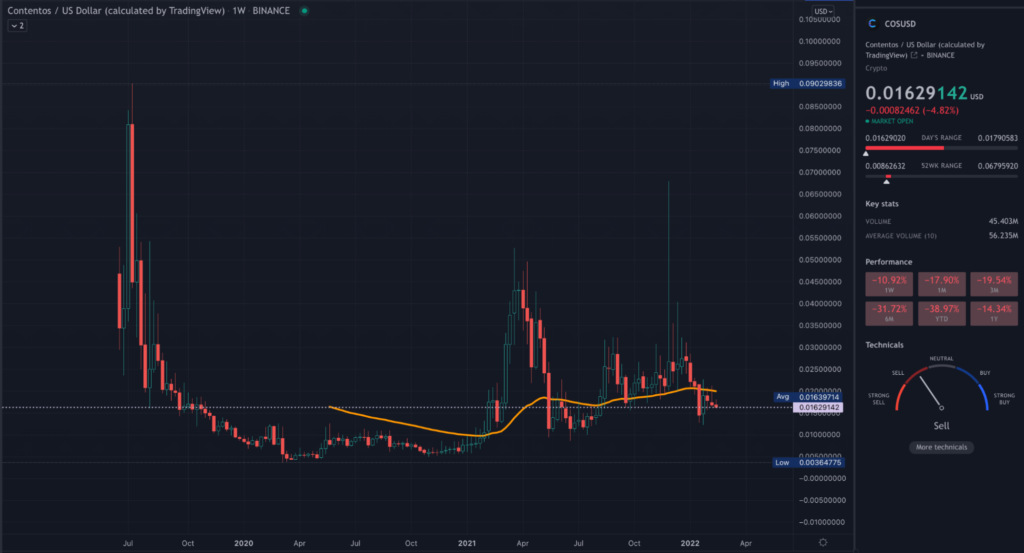 Let's now look at the best and worst that can happen for 2025.
Best-case scenario
By 2025, it's expected that Contentos should have more adoption and integration with other blockchain/cryptocurrency providers. Despite this, the forecasting analysis still doesn't show COS crossing the $0.10 mark.
For instance, PricePrediction presents a minimum value of $0.07; Gov Capital suggests $0.063 to $0.0.086. Wallet Investor estimates from $0.016 up to $0.085 when 2025 begins.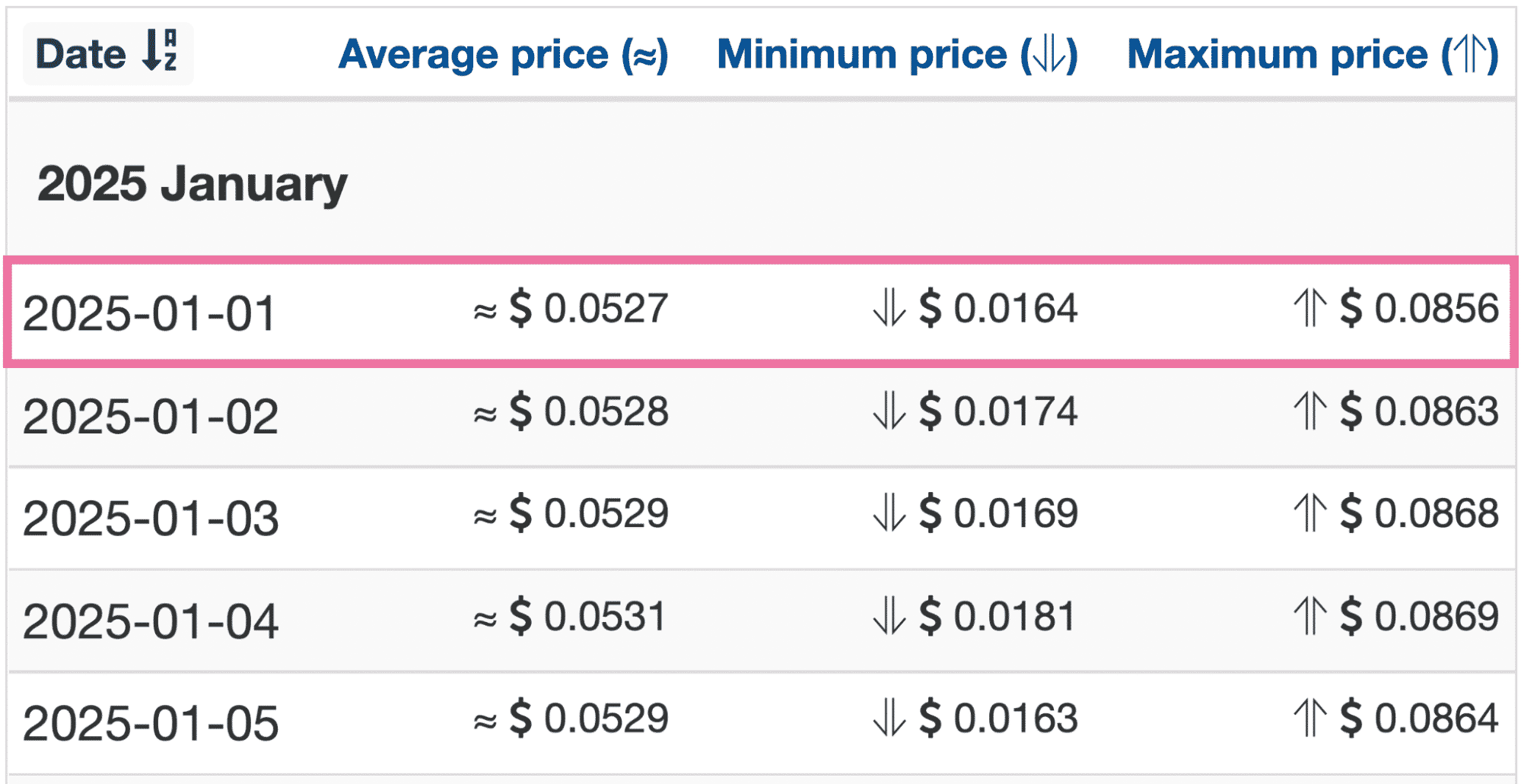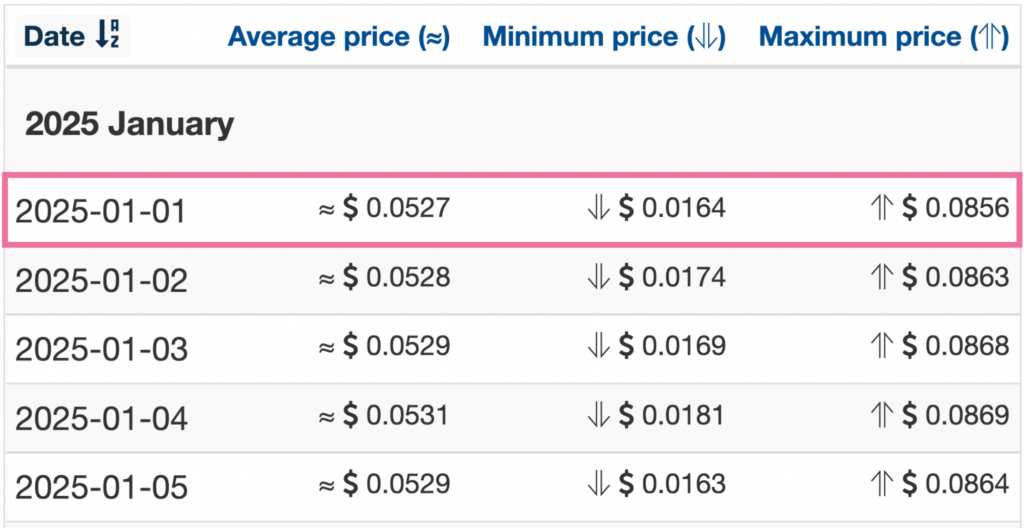 Overall, it's worth noting that there isn't much historical price action to give a realistic prediction because this is a relatively new token. Therefore, anything is possible for 2025.
Worst-case scenario
Well, the worst that can happen with any project is a lack of adoption. Of course, it's too early to say what could threaten Contentos' relevance in the industry, other than competition from other blockchains with more dominance and better technology.
These are the main downsides we've observed that could impact the price of COS in the long run.
The best way to buy COS
Aside from Binance, the top crypto exchanges to buy COS include Binance DEX, Binance TR, Bitexen, Mandala, Gate.io, and Bithumb.